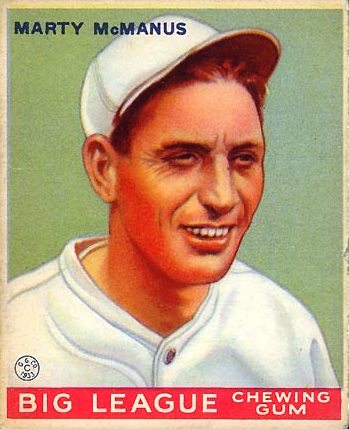 ---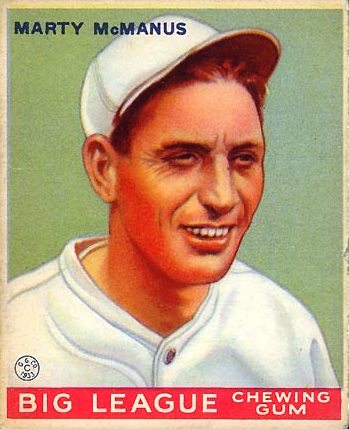 Marty McManus lived a life in baseball, spanning the years 1920 through 1948. He played as a major-league infielder for 15 years and was player-manager for the Boston Red Sox for most of the 1932 and 1933 seasons. When women began to play pro baseball during World War II with the launch of the All-American Girls Professional Baseball League, McManus managed the Kenosha Comets and the South Bend Blue Sox.
Born in Chicago on March 14, 1900, McManus first turned up in the pros with the Tulsa Oilers in 1920. He could have started a couple of years earlier, but the World War intruded and he spent 1918 and 1919 in military service, having volunteered to join the United States Army. He was stationed in the Panama Canal Zone with the 133rd Infantry, and it was apparently there that he first took up baseball. Before the Army, he'd worked as an accountant with Chicago department store Carson Pirie Scott. [McManus entry at www.thebaseballpage.com]
Marty had two siblings, John and Mary. The 1900 census shows his father as Martin, a day laborer who had immigrated from Ireland in 1893, and his mother as Kate, who came from Ireland in 1890. A May 1943 obituary gave his mother's name as Mary.
McManus began playing semipro ball in Chicago, and was first spotted by St. Louis Browns scout Pat Monahan, who discovered him "in the rough." [The Sporting News, May 4, 1924, and Boston Globe, March 14, 1924] Toiling for the Class A Tulsa Oilers in 1920, McManus worked the first-base bag, appearing in 143 Western League ballgames and batting .283 with double digits in all three extra-base categories: 31 doubles, 11 triples, and 10 homers. He earned a trip to the major leagues with the Browns, acquired by them on August 12, 1920. It wasn't an inexpensive deal; McManus cost the Browns a cool $5,000 — a lot of money in 1920. He was 5-feet-10, weighed 160 pounds and batted and threw right-handed, according to the April 9, 1925, edition of The Sporting News.
It was more than a month after his acquisition before McManus saw action. His major-league debut was listed for years as September 26, but a check of box scores shows that his one 1920 game was the day before, on the 25th. McManus played third base for manager Jimmy Burke, batting fifth in the order. He had three chances in the field and muffed one of them. He did better at the plate. In four appearances, he executed one sacrifice and tripled. He's credited with one run batted in. The .333 hitter didn't see minor-league play again until 1935.
The Browns weren't in any pennant race in 1920, so one might have expected McManus to be offered a bit more of a showing. It turns out that "his arm was in such bad shape" that he was tried in just the one game, and his error may have been a result of the bad arm. It was thought he'd go back to Tulsa for further seasoning, but "his nerve was so evident, and his faith in himself so marked, that he was kept on the roster and ordered to report for spring training in 1921." [Atlanta Constitution, April 8, 1923]
In 1921, Lee Fohl took the reins as the skipper for St. Louis, and Jimmy Burke left to coach with the Red Sox. Fohl found McManus still ailing when he reported to spring training. The Atlanta Constitution reported that McManus "had nothing but his determination to carry him through the spring. The spirit was willing, but the arm was weak, and also painful." There were slots ready and waiting for him at third base and at second, but he was "still worthless because of the bad arm." After six days at home, the Browns traveled to Cleveland, and McManus was urged to visit the Youngstown office of the noted physical therapist Bonesetter Reese, who lacked any medical credentials but seemed to have great success rehabilitating a number of people, particularly baseball players. "The famous Bonesetter grabbed McManus here, and punched him there, until Marty thought the Inquisition had him. The grabbing and punching ceased as suddenly as it began and Bonesetter said Marty was a ball player again — pay the fee to the secretary on the way out." [Ibid.]
And so he was. He got into 121 games in 1921, batting a solid .260, with three homers, and drove in 64 runs. Fohl played him at all four infield positions, but most of the time (96 games) he was at second base. He was still hampered in the field, committing 32 errors. McManus tended to stay at second until the Tigers had him play third base later in the decade.
Marty's first homer came in the first game of the June 30 doubleheader against the White Sox. It was a three-run homer in the bottom of the second off Dickey Kerr, sufficient to win the game, 6-1, for St. Louis. His second came at the Polo Grounds on July 27, off Carl Mays of the Yankees, and earned him a subhead in the next day's New York Times: "McMANUS CHIEF SLUGGER: His Triple in Ninth Scores Two Runs and Wins Game for St. Louis — Also Gets Homer." The homer came in the top of the eighth and snapped a 3-3 tie. With a couple of singles, McManus had himself a 4-for-5 game. The home run that broke the tie impressed the Times writer covering the game: "A warrior bearing the martial moniker of Marty McManus disturbed the peace mightily at this juncture … by propelling the pellet into the lower right field stand and sauntering about the circuit." In the top of the ninth, the Browns drove in one run and had two runners on base. Yankees manager Miller Huggins brought in Jack Quinn to relieve. McManus tripled, driving in two more, making it 7-3. The Yanks rallied but only scored two.
On August 14, Ty Cobb homered in the top of the ninth with two men on base, but McManus had homered earlier, also with two men on, driving in half the runs in the Browns' six-run fourth inning. That inning was enough to top the Tigers, 7-5.
In 1922, Marty won a permanent position in the infield, and played every one of St. Louis's 154 ball games, all but one of them at second base. He flubbed one in the only game he played at first base, and he made 32 errors at second — enough to lead the league. At times the errors were costly, such as the pair of ninth-inning errors he committed in the May 17 game in Boston that helped hand the Red Sox a come-from-behind 4-3 win.
The Browns were generally content to overlook the errors, since Marty drove in a career-high 109 runs, while hitting .312. It was a pretty good year for hitting in general, though: Four teams finished with an average of .300 or better. McManus's 109 RBIs were second on the Browns only to Ken Williams, whose 39 homers and 155 RBIs led the league in both categories. Any owner would be pleased with a .312 average, but it's stunning to note that the Browns as a team batted even higher, .313, led by George Sisler's .420. St. Louis finished in second place, just one game behind the New York Yankees. McManus won the September 11 game in St. Louis with a bottom-of-the-ninth bases-loaded single, and the Browns won six of their last seven games to close the gap from 3 1/2 games to one game. But the one-game margin was all it took for New York to win the pennant. For the Yankees, it was just their second pennant, the first coming just the year before. The Giants beat the Yankees both years in the World Series. It was only in 1923 that the Yankees won their first world title.
"Marty McManus Is A Very Promising Lad" read the Los Angeles Times subhead on March 24, 1923. McManus put up numbers consistent with the year before. His average dropped just 3 points to .309, while he increased his home run total to 15. His RBIs dropped to 94. The Browns as a team produced just 688 runs to 1922's 867, and McManus led the team in RBIs. The Browns hit for a .282 average, down more than 30 points from the year before. Sisler missed the whole season due to problems with his vision.
Marty's best single game was probably the first game in the July 30 doubleheader at Shibe Park in Philadelphia, when he hit two homers and drove in four runs to almost single-handedly win the 5-2 game. Earlier, five RBIs during a 4-for-4 game (with a double and a homer) on July 11 had been enough to beat the Senators, 10-4. McManus showed a little fire, too, ejected from the game in Cleveland on May 4, for arguing too strenuously with umpire George Hildebrand after being called out at home plate. The game account said, "It appeared in the press box that McManus had struck at the umpire, but Hildebrand denied this."
McManus held out for more money before the 1924 season, but things were worked out in time for the start of spring training. In the fifth game of the season, Marty had another two-homer game, but the Tigers won the contest. The Browns had swapped with the Red Sox for Norm McMillan, and he got some play when McManus missed 30 games for reasons not now known. Marty hit an even .333, which remains his best year for average. He drove in 80 runs, and — after hitting three homers in April — knocked out only two more all year long.
Holding out even longer in 1925 than the year before, McManus didn't sign until the first of April. He was ready to play by Opening Day, though, and went 2-for-4 with two doubles. The Indians walloped the Browns, 21-14. That evening, April 14, a justice of the peace married McManus and Miss Norma E. Wahl at a ceremony in Clayton, Missouri. Neither marriage nor the holdout held Marty back from playing his position, and he appeared in a full 154 games. He drove in 90 runs, third best on the team behind Sisler and Ken Williams. He led the leagues in doubles with 44 and, uncharacteristically, in strikeouts with 69. Homers increased again, to 13. He had a couple of four-RBI games, but it was a pretty steady year for him overall. His average began to decline a bit after mid-July, but .288 is nothing to sneeze at. Once again, McManus led the league in errors, this time with 31.
In 1926, the average dipped ever so slightly, to .284. Marty's RBIs dropped from 90 to 64, but this was not a year for Browns offense. Williams led the team with 74 RBIs, and Sisler had only 71. Marty still ranked third. Most of the year, he saw duty at third base, though he still put in 61 games at second. St. Louis finished next to last in the league, 29 games out of first place. It was time to shake things up a bit, and on January 15, McManus was part of a seven-player, three-team trade with the Tigers and Toronto. There may have been one holdout too many in Marty's past. The AP story announcing the trade concluded, "McManus, although considered one of the best second basemen in the game, was put on the market largely because he had been at loggerheads with Owner Phil Ball for several years."
Things weren't going well on the home front, either. His wife filed for divorce on the eve of Marty's departure for spring training. Her complaint said that McManus earned $10,000 a year but that he "lost large sums of money on horse races and made no attempt to save any of his earnings." Mrs. McManus asserted also that her husband "showed evidence of ungovernable temper." [Washington Post, February 22, 1927]
For Detroit Marty was relegated to a utility role, but saw a lot of action. He played all four infield positions — 39 games at shortstop and 35 at second, 22 at third, and 6 at first base. He batted in 106 games, and his average declined significantly, to .268, but he drove in one more run than the year before. His temper saw him get in a "row" or "flareup" with his manager, George Moriarty, in early June. It cost Marty a fine of a couple of hundred dollars. Moriarty reportedly shouting in the Tigers clubhouse, "You're fined $100 for any number of good reasons." The manager was upset at how poorly the Tigers had been playing. "Make it $200, why don't you?" McManus shot back. "Two hundred dollars it is, and it sticks," Moriarty said — though when word reached reporters it was quickly intimated that the fine would probably be waived. The incident seemed to wake up the team, which went on to win 17 of its next 21 games. [Washington Post, June 10, 1927, and New York Times, July 26, 1927]
It didn't take long into the 1928 season for McManus to get caught up in something. He and Heinie Manush of St. Louis were ejected during the third game of the year for throwing punches at each other somewhere along the third-base line. Three days later, the Indians beat Detroit 5-4, thanks to two McManus throwing errors.
In 1928 Marty was the starting third baseman for the Tigers and spent most of his games at third (although he appeared in 45 games at first base), taking part in 139 games in all. His average rebounded to .288, and he drove in 73 runs. In 1929, under manager Bucky Harris, he played 150 games at third base, hit .280 and drove in 90 runs. On July 11, Marty had one of the best games of his career, going 5-for-5 at the plate and scoring four runs, then helping execute a triple play against the Red Sox. Two of the hits were homers, half of the four he hit in a very good week.
McManus played in 132 games in 1930, raised his average to .320, drove in 89 runs, and, at the age of 30, suddenly led the league in stolen bases with 23. He had taken 16 the year before, and 1930 was the fifth season in which he reached double digits, but the average over his 14 seasons of major-league play was just nine per year. He's quoted as quipping, "I presume that I might get away with the statement that I am faster than ever before. Or I might tell you that I had some muscles taken from a jackrabbit or deer and parked in my legs. The fact is that I became tired of being like 'Old Man River Just Rolling Along' … then George Moriarty, who used to be one of the great baserunners of the game, gave me some valuable tips." [thebaseballpage.com, McManus entry; Moriarty was a former player and Detroit manager, and then an umpire]
Again seeking a raise, from $12,000 to $13,000 and wanting a $1,000 bonus, too, McManus nonetheless assured the Tigers he would report on time in 1931. He didn't sign until April 13, though, having sat out all of spring training while reportedly suffering from an injured knee and uncertain of his ability to perform. The very next day, Opening Day, he went 2-for-4 with a double and committed his first error of the season.
On May 23, McManus was involved in the fifth triple play of his major-league career, caught this time and two others (October 1, 1922, and August 19, 1927), but involved on the execution side on June 29, 1924, and July 11, 1929.
On August 31, 1931, Marty became a member of the Boston Red Sox in a swap of two veterans: catcher Muddy Ruel went to Detroit, and McManus came to Boston. He was hitting .271 at the time, almost 50 points below his 1930 figure. Both players passed through waivers, the only way such a trade could occur that late in the season under the rules of the day. Neither saw much action. Ruel accumulated only 50 at-bats in 14 games for a .120 average. McManus hit .290 in 62 at-bats (17 games), playing under manager Shano Collins.
It had been a decade since the Red Sox were anything but the doormats of the American League; in almost every year, they'd finished dead last. In 1931, they finished in sixth place (of eight) but were still 45 games out of first place. Collins was hoping that McManus would stabilize things at third base, though his versatility didn't hurt in the least. In 1932 all the Red Sox showed up in Savannah on time except for one player: McManus, though the Associated Press notes, "He's been finding his way to training camps so long without getting lost that Collins is not worrying." McManus showed up the very next day, March 8, but was "a bit too stout to get into his old uniform, and Manager Shano Collins gave him a few days to thin out." [New York Times, March 9, 1932]
Thinned out, Marty hit a game-winning two-run homer in the first spring game, against Hartford on March 24. A three-run homer won another game, against Jersey City on April 3. With President Herbert Hoover in the stands, though, McManus was 0-for-4 on Opening Day, April 11, as the Sox lost 1-0 to the Senators in 10 innings. On April 21, again in Washington, it was the Red Sox on top by the same 1-0 score and it was McManus whose seventh-inning single drove in Tom Oliver with the lone run.
The season itself wasn't as nicely balanced. After the first 55 games, the Red Sox had won only 11, a .200 winning percentage. Shano Collins resigned by telegram from Cleveland, saying he was so discouraged he couldn't go on. "It was all out of a clear sky to me," admitted Red Sox president Bob Quinn. He appointed McManus as interim manager until he could focus his thoughts on conducting a real search. "I'm not saying McManus will be the manager but you can say he is acting manager," Quinn told reporters. Quinn also said Collins had been the one to recommend that McManus take over. Quinn told Collins, "Tell Marty to go ahead and handle the team until we have a chance to talk things over." The Associated Press reported that McManus was "one of the few Red Sox players still popular with Boston fans." [Chicago Tribune and Christian Science Monitor, June 20, 1932]
McManus set a modest goal: to salvage some semblance of respectability for the 1932 season. "The club is so far behind that our only chance is to reach seventh place," he said on his first full day on the job. He said Collins had quit because of his health; he'd lost so much sleep worrying about the team that it had affected him physically. Taking a more laissez-faire approach, McManus declared, "There won't be any strict discipline. I'll try to enforce the rule that requires all the players to be in bed before midnight, but otherwise they'll have a lot of leeway. I'd rather have an enterprising ball club that made mistakes now and then than to have one scared to death to take chances in the pinches." [Washington Post, June 21, 1932]
The other thing Marty did in his first day on the job was get himself thrown out of a ballgame. His starting pitcher couldn't even get through the first inning in Detroit; Ivy Andrews gave up three runs and was replaced after two-thirds of an inning. Later in the game, the new manager argued a play so forcefully from the coaching box that umpire Brick Owens ejected him. Boston lost another one, 6-4. In fact, the Sox lost the first six games under Marty's management, won one, and then lost five more. It took until more than three weeks into his tenure before they won two in a row — and then another two weeks after that before they replicated the feat. An 11-game losing streak in August sank them to a mark of 26 wins and 82 losses. This couldn't have been a lot of fun.
McManus's first move had been to take himself out of the lineup. He was batting only around .240 at the time. The day he put himself back in, at second base on July 6, he doubled in the bottom of the ninth to beat the Browns, 5-4. Quinn was content with McManus's work and even when the Cubs let Rogers Hornsby go in early August, Quinn didn't make a move.
The August 18 game in Boston probably gave McManus a few frightening moments. The Browns scored once in the top of the ninth to tie it, 2-2. Jim Levey hit a homer in the top of the 11th to give St. Louis a one-run lead, but McManus homered in the bottom of the 11th to tie the game again. Hometown hearts sank when the Browns scored three times in the 14th, but the Red Sox matched that total. Finally, in the bottom of the 15th, they pushed across a run that won the game.
Boston finished the season 43-111, in last place and 64 games out of first. The team had gone 32-67 under McManus, a considerable improvement over his predecessor, but not enough to lift them in the standings. The Red Sox could boast of their first batting champion in Dale Alexander, who had come over from Detroit on June 12 with Roy Johnson in a trade for Boston's Earl Webb. Johnson put in three spectacular seasons for the Sox, and Alexander's .367 average (.250 for the Tigers in 16 at-bats and .372 for the Red Sox) was enough to win the AL batting crown.
The perennially last-place Boston team was considered to have a "blight" hanging over its head, and it was well-known that Quinn lacked sufficient funds to improve the club. McManus was kept on as manager, but Irving Vaughan wrote in the Los Angeles Times that "his chances for sticking aren't worth much more than a beer check at a temperance meeting." It wasn't that he'd performed so poorly, Vaughn said. "It isn't exactly a matter of being dissatisfied with McManus. It is a matter of not wishing to do anything that might put a hobble on any prospective purchaser." He began his article, "There still is a hope that a man with enough money to give him a vision of the future will step into control of the Red Sox situation, a matter now causing no little concern to the American League." That man would be Tom Yawkey, but this was not yet known at the time. [Los Angeles Times, November 27, 1932]
When it was announced on December 10 that McManus and Bob Quinn's son John were seeking a new catcher for the Red Sox, it was the first hint that McManus might be retained for the 1933 campaign. Team secretary Hiram Mason said McManus was still running the team until he was replaced, and no replacement had yet been named. Two days later it was made official, as Bob Quinn issued a statement of support: "McManus took over the most thoroughly demoralized ball club that ever existed and was assured by some of the wise ones the club would not win 10 games the rest of the season. He whipped that club into pretty fair shape and I feel if he could do as good as he did under such circumstances he can take the club we have now and have them finish somewhere other than last place." [Washington Post, January 16, 1933]
Burdened with the hope of finishing "somewhere other than last place," Marty prepared for the season to come. A testimonial luncheon held in his honor on February 25 was overshadowed by an occasion of another sort: Bob Quinn sold the ballclub to Thomas A. Yawkey, a multimillionaire three years his junior. Quinn was the under-capitalized owner who had bought the team from Harry Frazee 10 years earlier. He apologized to the Boston public for having been unable to adequately fund the ballclub and passed the torch to Tom Yawkey, who suffered no shortage of cash.
Yawkey installed the future Hall of Famer Eddie Collins as general manager, and Collins held stock in the club as well. Both of the new owners declared their intention to keep McManus. "Mr. Yawkey agrees with me that he is the ideal type to build up the club," said Collins. "Our first task will be to give McManus better material." [New York Times, February 26, 1933] Yawkey's father had been an owner of the Detroit Tigers at one point.
McManus looked forward to the new season, feeling the team was much improved and had overcome its "defeatist complex." He said he couldn't predict a finish even in the first division, but promised it would be a fighting ballclub. Collins said he would build up the scouting staff and send them far and wide, and anticipated creating a farm system for the Red Sox. On March 1, McManus headed south by train from Boston. After arriving in Sarasota, he had a cyst removed from his right eyelid, but he was back in action two days later. The team had to shorten one intrasquad game due to high winds blowing right at the batter, and another because of extreme heat. A fresh feeling of optimism ran through the camp, though, and a couple of weeks into training it was said that the Sox had $250,000 to spend on player upgrades — but hadn't figured how to spend it yet because so many of their existing players were performing with excellence. When the team broke camp on March 29, to start heading north, McManus uttered a prediction: fifth place.
In the early morning hours of April 2, the players were thrown out of their berths as their train derailed and crashed in Delaware. McManus was active in helping other passengers from the wreckage. None of the Red Sox was seriously hurt, but the train's engineer and fireman were killed.
Collins was in favor of having McManus play third base, in part because the Red Sox had no one better. "Marty is still on top of his game," he said. That he was. McManus hit .284 in 1933, playing in 76 games at third, 26 at second base, and four at first. The Sox closed out the exhibition season beating the Braves twice, once at Fenway Park and once at Braves Field, and then beating Boston College at Fenway. The regular season started on a sour note, with the Sox losing their first three and as of May 2 holding a record of 4-12. Not once did they ever reach the .500 mark. There were good moments, such as taking four in a row from the Yankees at Fenway in mid-June, a six-game winning streak climaxing in a doubleheader sweep from Philadelphia on the Fourth of July, and winning nine out of 10 to close out July. Of course, there was also a nine-game losing streak in August and a seven-game dip in early September.
There were signs as early as the first part of July that Marty might not be back in 1934. McMANUS ON THE PLANK read a subhead in the July 14 Hartford Courant, and sports editor Albert W. Keane predicted that regardless of where the team finished, McManus would not return. Many years later, Washington Post columnist Bob Considine wrote, "With a break or two, McManus would have become a top big league manager. He was made for Boston. But ran afoul of Eddie Collins, who used to move Boston outfielders with a wave of his scorecard from his box atop Fenway Park. One day Marty, playing third base, ordered his left fielder to move to a certain defensive spot for a lefthanded hitter. Collins, upstairs, moved him to another spot. The batter lined to the spot [McManus] had selected, but there was no one there and the ball went for extra bases. Marty raised hell, as he should have. He and his general manager drifted apart." [Washington Post. July 13, 1947.]
Later, Mary Pratt of the Kenosha Comets recounted a story from McManus's time managing the Red Sox that jibed with the accounts given as to why he was fired: "One day he told me that he was sitting on the bench, and he had positioned all the players, and all of a sudden he saw them all moving. He went and he walked up to the top of the dugout steps and he looked up into the press box, and there was Eddie Collins pushing every one. … I've contended that's what's been wrong with the Red Sox all these years. The managers don't run the club; it's all up the top there." [Interview with Mary Pratt, April 2006]
It didn't take long to cut Mac loose. On the day after the season ended, Collins announced McManus's unconditional release. Sportswriter Paul Gallico later put it that — rather than being fired – Marty had quit because of Collins's interference. The team had played only 149 games, to a seventh-place finish with a record of 63-86. It was a full 20 games more than they'd won the year before, and 100 points higher in winning percentage, but they had hoped to finish higher, and the conflict between Collins and McManus called out for change. Bucky Harris was hired to lead the Red Sox on a one-year contract.
Marty McManus signed on January 29, 1934, to play with the Brooklyn Dodgers. Cincinnati had thought about hiring him to manage the Reds. The Braves made him an offer, but he turned it down. (Reading between the lines, it seemed the Braves hadn't offered enough.) [Washington Post, December 23, 1933] In mid-January, it was said that the Browns were considering him as a coach. But he ended up with the Dodgers, seen as filling their need at third base. That Bob Quinn was now the GM for Brooklyn may have played a role in the hiring; once Quinn fired manager Max Carey, it was thought McManus might be Quinn's second choice as the new Dodgers manager. Casey Stengel was the clear first choice.
The Dodgers were well-stocked with infielders, and even though Mac had a .290 career average, they didn't truly believe they needed him. When Rabbit Maranville got hurt, however, the Braves did need a second baseman and so approached the Brooklyn club and worked out a deal. On April 11, before the season began, the Braves bought McManus from Brooklyn. It was a good move in more ways than one, in that Marty was said to have a strong following in Boston. An AP story in the April 12 Chicago Tribune read in part, "(T)he Braves got one of the most popular baseball players Boston has had in many years. McManus probably will prevent a widespread stampede to the reconstructed Red Sox, for there are hundreds of his admirers who became disgruntled when Tom Yawkey and Eddie Collins refused Marty the opportunity of trying his managerial luck with some real ballplayers."
McManus didn't play at all in the opening series that pitted the Braves against the Dodgers. His National League debut came on April 20, and his first hit was a solo home run against the New York Giants. A month later, his 10th-inning drive with the bases loaded won one in a 1-0 walkoff over the Reds. Another late-inning hit on June 1 saw Mac beat Brooklyn 8-7 in the bottom of the 16th inning. His July 25 grand slam beat Cincinnati, 7-3. And for the third time in the season, a McManus RBI won another for the Braves, 3-2, on August 8 — and this time he didn't literally need to bat the run in. He worked a bases-loaded walk in the bottom of the ninth which did the trick. A pinch single with the bases loaded supplied the tying and game-winning runs during the seventh inning of the August 17 game against the Cubs. And McManus went out with a bang, going 2-for-5 with a third-inning home run in his final game in major-league ball. Though he'd hit .276 for the Braves, and driven in 47 runs, he may have felt it was a good way to go out. He'd found what he thought might be greener pastures and requested his release on December 6 to take a position managing the St. Paul Saints in the American Association.
As a player-manager, he led the Saints to a somewhat disappointing 75-78 record in 1935, better than they'd done the year before but still a fifth-place finish. Marty assigned himself 276 at-bats, and hit for a .275 average while playing third base. He even pitched one inning. Before the season was over, he let it be known that he would not be coming back, saying that the business management of the team had "failed to cooperate" with him. [Chicago Tribune, September 13, 1935]
The January 5, 1936, Hartford Courant announced that McManus would be the manager of the team he broke into baseball with, the independently-owned Tulsa Oilers. The Oilers came in third in the Texas League with a record of 80-74 but prevailed in the playoffs, beating the Dallas Steers four games to three. It was McManus who won the final game, driving in two runs in the top of the ninth to beat Dallas, 7-5. The winner of the Texas League playoffs met the winner of the Southern Association, the Birmingham Barons, and the Oilers swept the Dixie Series in four games straight.
Marty left the managerial ranks briefly and took part in 24 games for the Albany Senators in the New York-Penn League in 1937, batting .271 in the limited action. That November, he was named manager of the Williamsport Eastern League club, a farm club in the Philadelphia Athletics system, and led the Grays to records of 65-74 and 71-69, both times finishing sixth in the eight-team league. In 1938, he played third base but at one point in July took the mound again since he'd "used up" all the pitchers. To his surprise, he won the game, beating Hazleton. [Hartford Courant, July 25, 1938]
In 1940, it was back to the Texas League. San Antonio was a Browns farm club, and McManus had the opportunity to help Bob Muncrief and Maury Newlin prepare for major-league pitching careers. Both were so successful that they drew huge crowds for the Missions. Working for the Browns was kind of like coming home in that McManus had maintained his residence in St. Louis since about midway through his tenure with the Browns; in his first few years, he had continued to live in Chicago. After the season, the Missions accepted his resignation — but come the following spring, he was back again for another year. The Missions finished second in 1940 but (without their star pitchers) plunged to last place in 1941. Marty pitched four innings in one 1940 game, and nine innings over three games in 1941, walking 13 batters and giving up nine hits.
After 1940, McManus was largely out of the public eye until, early in 1944, he flirted with taking a job in Mexico. He discussed the possibility of managing the Nuevo Laredo team of Jorge Pasqual's Mexican League. [Christian Science Monitor, March 1, 1944] On April 22, however, McManus was named to head one of the clubs in the All-American Girls Professional Baseball League, the Kenosha Comets. Gone was his familiar chaw of tobacco, one paper noted. A couple of others picked up the story of how, during a 1944 road trip, McManus found that he'd accumulated too much dirty laundry. The Associated Press suggested that he was likely "envied by managers of masculine teams" in that, as the Chicago Tribune noted, "some of the gal players came to his aid with a neat washing and ironing job." [July 7, 1944]
McManus wasn't the only Red Sox alumnus to manage in the AAGPBL. Bill Wambsganss managed the 1945 Fort Wayne Daisies, which included later Red Sox pitcher Bill Lee's aunt, Annabelle Lee. Wamby managed Fort Wayne again in 1946, and the Muskegon Lassies in 1947 and 1948. Jimmie Foxx managed the 1952 Fort Wayne Daisies.
Kenosha won the first half-season in 1944 with a record of 36-23, but fell to fifth place in the second half at 25-32. In 1945, the season wasn't split into two halves. McManus's South Bend team came in fifth in the six-team league at 49-60.
In January 1946, McManus signed on as manager of the Chicago Bloomer Girls of the National Girls Softball League. Three of the team's infielders were suspended for failure to report for the August 6 game. The team won, 1-0 in 15 innings, but after the game McManus was suspended indefinitely for insubordination by club owner Emory A. Parichy.
Marty returned to male baseball in 1947, managing the New York Yankees' Denver Bears club. The Bears finished fifth in the six-team Western League, with a record of 54-75. In December, it was announced that he'd quit and would be returning to "girls softball." Arch Ward wrote in the February 9, 1948, Chicago Tribune that he'd been removed as manager of the Bears, "said to be the victim of internal politics."
McManus was back again managing the South Bend Blue Sox in 1948. The team finished third in the five-team Eastern Division. That was Marty's last year with the AAGPBL. He may have worn out his welcome, considering the story pitcher Betsy Jochum told interviewer Jim Sargent. She'd pitched so well that manager McManus suggested she put in for a raise. "He said I deserved more money," she recalled. "So I went down to see [team owner] Doctor Harold Dailey, and he said, 'No.' After it happened, I was traded." [Jim Sargent biography of Betsy Jochum on the AAGPBL website, www.aagpbl.org.]
Given that the way he parted from Denver was far from the first time that McManus had tangled with the brass, and one might deduce that he was strong-willed and sometimes butted heads with those who hired him, perhaps it's understandable that the next time he popped up in the newspapers was in conjunction with a possible union-organizing drive to sign up ballplayers from baseball, the NFL, and the NBA. In June 1951, McManus appeared before the executive council of the AFL-CIO in Chicago and recommended that the federation launch a campaign to organize professional ballplayers. The council took the idea under advisement, but one official said, "There's not much doubt that baseball players are economic slaves, especially those in the minor leagues, but sports is a pretty difficult field to go into." [Chicago Tribune, June 3, 1951] The union leaders were skeptical about the effort, not wanting to take on too big a challenge.
McManus next turned up in the Tribune seven years later, working as a security officer at the city's LaSalle Hotel, mentioned in the "On the Town" column as about to take a night off to appear in an old-timers game between former Detroit Tigers and Boston Red Sox. [May 18, 1958] The game, held in Detroit on June 28, was a two-inning affair that ended in a 1-1 tie. Marty played for the Red Sox and singled, moved to second on a walk to Bobby Doerr, then scored on a wild pitch by Elden Auker. The game included other such figures as Lefty Grove, Jimmie Foxx, and Joe Cronin for the Red Sox, and Ty Cobb, Hank Greenberg, Mickey Cochrane, and Charlie Gehringer for the Tigers. McManus took part in other old-timers games, as late as 1963. He may have been pleased to know that he attracted two votes in BBWAA voting for the Hall of Fame in 1958 and again in 1960.
On February 18, 1966, McManus passed away at Cochran Veterans Hospital in St. Louis, following a cancer operation. He was survived by his son, Martin Jr.; two daughters, Maureen Malloy and Anna Dobelmann; his sister, Mary; and 15 grandchildren.
Sources
The sources used noted within the text.
Born
March 14, 1900 at Chicago, IL (USA)
Died
February 18, 1966 at St. Louis, MO (USA)
If you can help us improve this player's biography, contact us.
http://bioproj.sabr.org/bp_ftp/images3/McManusMarty.jpg
600
800
admin
/wp-content/uploads/2020/02/sabr_logo.png
admin
2012-01-04 20:08:45
2012-01-04 20:08:45
Marty McManus