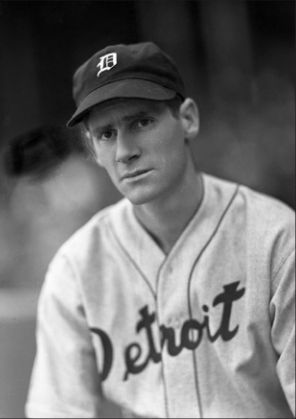 ---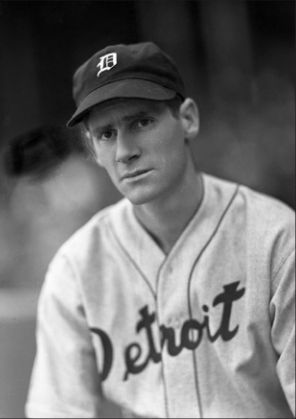 Marv Owen played parts of nine seasons in the big leagues, and was involved in professional baseball for 45 years as player, coach, manager, and scout. He was part of one of history's greatest infields and played a key role in Detroit's first-ever World Series victory. But he is most remembered for one play in the 1934 series, when two men collided on the basepaths, leading to shouting, some brief pushing and shoving, and famous misbehavior from the patrons.
Marvin James Owen was born on March 22, 1906, in Agnew, California, about seven miles northwest of San Jose, to James and Kate Owen. Kate was a homemaker who raised Marvin and his four sisters, while James worked at the local state hospital. James played baseball for the hospital team, and he taught his only son to play soon after he learned to walk, playing catch and hitting fungoes. The children picked pears and tomatoes at local farms, sometimes keeping the bit of money they earned.
When Marvin was about 13, the family moved to San Jose after James's mother died and left her property to her son. James worked as a chef and grocer, and later owned and rented properties in town. Marvin attended San Jose High, and then transferred to Bellarmine College Preparatory, a Catholic school in the town. Besides playing for his school teams, he also played games for several semipro teams when it did not conflict with the school team's schedule. At the insistence of his mother, Marv spent four years at Santa Clara college. "We had recognized early that Marv had tremendous natural ability, and there was never any question but that baseball would be his chosen career," she recalled.1
At Santa Clara, Owen continued to star in baseball while also playing on a number of local teams in the summers. Throughout these years he received many offers from major-league and Pacific Coast League teams. He drew raves for his hitting and for his play at first base. He left Santa Clara with a degree in physical education in May 1930. "The only reason I took it was because it was the easiest class. I was just there to play ball."2 When word got out that Owen had agreed to sign with Seattle in the PCL after his graduation, he lost his eligibility and could not play his senior season. Then he signed with scout Bill Klepper for the Seattle club, getting $2,000 plus another $2,000 when he reported in June.
Though he joined the club late, Marvin played 105 games in the Coast League, mostly at shortstop (a new position) because of an injury to the incumbent, and hit .300 with 30 extra-base hits. This performance led to his sale to the Detroit Tigers for a reported $25,000, a nice profit for Seattle.  In his rookie 1931 season with the Tigers he played shortstop, first base, and third base, and hit just .223 before being optioned to Toronto for the final six weeks of the season. He spent all of 1932 in the minors, with Toronto and Newark, and hit a combined .317 with 63 extra-base hits.  For his efforts, he was named the MVP of the International League. He had proved he could hit in the minors, but he was 26 years old and still needed to secure a major-league job.
Although often called shy, Owen expressed himself throughout his life in letters to friends and family, and also in poetry. His scrapbooks were filled with his own poems, some of which were published years later in a book his sister put together about her brother's life.3 Owen's scrapbooks (which he called his "fathead book" — because they contained only good things about him) were filled with receipts, letters, contracts, photos, and his own handwritten explanations and remembrances.4
From a young age Owen was called "Freck" for the freckles on his face. He was a tall and thin man for his era, 6-feet-1 and 177 pounds. Owen gained a bit of fame as a young player for his large hands. In 1928, when still in college, he was featured in "Ripley's Believe It Not" for being able to hold seven baseballs in one hand. Not long after, he learned to hold seven balls in each hand simultaneously — a total of 14 balls held with his palms facing the camera. Sportswriters later often remarked on the size of his hands.5 "Marvin Owen has the professorial look," wrote H.G. Salsinger. "You would not take him for anything else. He is quiet and unassuming and he spends much of his time arguing theology and theosophy, biology and psychology."6
For 1933, Tigers manager Bucky Harris awarded the third-base position to Owen and he kept it, hitting .262 in 138 games. "I'll be truthful," Owen recalled. "I was scared. When I joined the Coast League, I thought, 'Oh, I can play as well as some of those bums out there.'  But in the big leagues, you think you're in another world.  It took a while to convince myself that I was capable of playing in the big leagues."7 He spent much of the 1933 season suffering from sinus problems that would plague him throughout his career.
After the season, the Tigers purchased catcher Mickey Cochrane from the Philadelphia Athletics, installing him as their player-manager. In 1934 Owen had his greatest year in baseball, batting .317 with 51 extra-base hits and 96 RBIs. He played all 154 games, and helped form one of the best-hitting infields in history, with Hank Greenberg, Charlie Gehringer, and Bill Rogell, all of whom became lifelong friends. Remarkably, three of them played every game in 1934, while Greenberg missed just one, for Rosh Hashanah. Fortified by Cochrane and Goose Goslin, the Tigers offense scored 957 runs, well more than anyone else, and won the pennant by seven games over the Yankees.  In the hard-fought seven-game World Series loss to the Cardinals, Owen managed just two singles in 29 at-bats.
The most famous moment in Owen's career took place in the seventh game of the 1934 Series. In the top of the sixth at Briggs Stadium, with the Cardinals ahead 6-0 in a game they would win 11-0, Joe Medwick tripled to the right-field fence off Tommy Bridges and slid hard into third base. "As I caught the ball," recalled Owen, "he was all over third base. As I bent myself down to catch the ball, my toe spike landed on his right foot. I felt myself on his right foot. So I threw myself on my haunches to get off his foot. That's when he kicked me three times, called me a son of bitch. He just grazed me, though.  And that made me mad. When a guy slides hard, but clean, that's okay, you don't give a damn. But when a guys slides hard and gives a few little extra digs, well, you get a little mad."8 The Cardinals ended up extending their lead to 9-0, but when Medwick assumed his position in left field, the Tiger fans pelted Medwick with fruit, vegetables, and other assorted debris. Commissioner Kenesaw Landis ultimately removed Medwick from the game, with his team way ahead, so that the game could continue.
Beginning in 1935, Owen went to Hot Springs, Arkansas, to take in the baths prior to heading to Florida for spring training, often with teammate Tommy Bridges. The Tigers won the pennant again in 1935, though Owen slumped to .263. He had another disappointing series, just 1-for-20, though the Tigers' victory over the Chicago Cubs likely made up for his slump. And he managed to avoid any physical confrontation with the opponents. When Greenberg hurt his wrist in Game Two, Cochrane asked Owen to play the next day at first base. "Ah, Mickey, they said I can't play first," Owen told him.  "I don't want to play it."9 Nonetheless, Owen played the last four games at first base, helping the Tigers to their first-ever World Series victory.  His lone hit came in the bottom of the sixth inning of the final game, when he was 0-for-19.  His hit tied the game and was a key blow in the Tigers' eventual victory.
Although Owen was inconsistent with the bat, he had great hands and a strong throwing arm at third base, though he had trouble with bunts because he was slow afoot.  Before the 1936 season, coach Del Baker predicted an Owen comeback at bat. "You see, Owen has never been pushed," said Baker. "Maybe he's been a little careless and maybe he took too much for granted. It will different this year; he'll have to buckle down and he'll be a far better hitter than he's been before."10 Owen's bat recovered in 1936, as he hit .295 with a career-high nine home runs and 105 RBIs. The Tigers dropped to second place and it was a very distant second, as they trailed the New York Yankees by 19½ games. After hitting .288 in 107 games in 1937, Owen was part of a six-player trade that landed him on the Chicago White Sox.  He started all of 1938 (batting .288) but lost his third-base job early the next season to Eric McNair. The highlight of Owen's 1939 season was when he was on hand for the first induction ceremony at the Baseball Hall of Fame in Cooperstown, New York — the White Sox were there to play an exhibition game, and Owen got to play in the old-timer's game that featured Babe Ruth, Ty Cobb, Honus Wagner, and several other legendary inductees.  He got a ball signed by 11 inductees, and saved the ball in a safety deposit box thereafter.11
Sold to the Red Sox after the 1939 season, Owen found playing time even harder to come by. "[Manager] Joe Cronin made me a coach. I said, 'I don't want to be a goddamn coach. You're tipping off the National League that I can't major-league ball. Maybe I've still got a chance to play." After he got into 20 games, and batted.211, his major-league career was over.
Owen spent the next six years with the Portland Beavers of the Pacific Coast League.  (He was classified 4-F for the military draft and did not serve during the Second World War.) He hit over .290 in the first five of those seasons, and by 1944 he had become the player-manager. In 1945 the Beavers won the PCL title with the 39-year-old Owen managing and hitting .311 as the third baseman. 
After leaving Portland, and his playing career, Owen managed five years in his hometown of San Jose, and later for Davenport, Durham, and Valdosta.  With San Jose he managed many of the young prospects in the Red Sox system, including Frank Sullivan, Norm Zauchin, Dick Gernert, and Ken Aspromonte. Beginning in 1955 he scouted for the Tigers, signing Lerrin LaGrow among others. He retired in 1973. He spent several years volunteering with the baseball team at Santa Clara.
"I was in baseball forty-five years and I get $132.88 a month," he said in 1991. "It stays the same."12 He also had some rental properties in Santa Clara that helped pay the bills.  Although he would always live in California, he traveled back to Detroit whenever there was a baseball event. He was on hand for both the 1968 and 1984 World Series, many old-timer's games, and the weekend in 1983 when the Tigers honored Greenberg and Gehringer at Tiger Stadium.
Owen married twice.  In 1938 he married Violet Walsh, with Charlie Gehringer serving as best man. (In 1949 Marv returned the favor, acting as Charlie's best man.) They had a son, Marv Jr.  Years later, after they had retired to California, Violet and Marv divorced.  In 1973 he married again, but his second wife died of cancer two years later.
"I've seen eleven thousand professional baseball games, including as a scout. I don't want to see any more of them. I used to go to Candlestick to watch the Giants but that was years ago. Too goddamn cold." This feeling extended to television, which he used only to watch comedians. "I don't get any comedians anymore. What's his name, Buddy Hackett? Or Milton Berle. Those guys are all retired now."13
Owen died on June 22, 1991, in Mountain View, California, having suffered from Alzheimer's disease. Although his passing was felt in the baseball world and in Detroit, he was remembered especially fondly in the region he had called home for most of eight decades. "He came home after his playing career was over, and he stayed," said one writer. "He lent his name and his time to youth programs. If there was a fundraiser to be done or a judgment to be made concerning baseball in the Valley, Owen was always asked. He almost never said no."14
Throughout his life, when Owen was asked to reminisce about his playing career, one event in particular was of primary interest. "Most people will just remember me for Medwick's slide," he later recalled. "It doesn't bother me. Otherwise, they wouldn't know who the hell I was."15
Notes
1 V. Owen, The Adventures of a Quiet Soul — A Scrapbook of Memories (San Jose: Rosicrucian Press, 1996), 5.
2 Richard Bak, Cobb Would Have Caught It — The Golden Age of Baseball in Detroit (Detroit: Great Lakes Press, 1991), 225.
3 V. Owen, The Adventures of a Quiet Soul.
4 Bak, Cobb Would Have Caught It, 233.
5 V. Owen, The Adventures of a Quiet Soul, 30.
6 H.G. Salsinger, "Salsinger Compares," Detroit News, September 12, 1935.
7 Bak, Cobb Would Have Caught It, 226.
8 Bak, Cobb Would Have Caught It, 233.
9 Bak, Cobb Would Have Caught It, 235.
10 H.G. Salsinger, "The Umpire," clipping dated May 11, 1936, probably from the Detroit News, in Owen's Hall of Fame file.
11 V. Owen, The Adventures of a Quiet Soul, 96.
12 Bak, Cobb Would Have Caught It, 239.
13 Bak, Cobb Would Have Caught It, 222.
14 Chuck Hildebrand, Owen obituary, Palo Alto Times Tribune, June 24, 1991.
15 Bak, Cobb Would Have Caught It, 240.
Born
March 22, 1906 at Agnew, CA (USA)
Died
June 22, 1991 at Mountain View, CA (USA)
If you can help us improve this player's biography, contact us.
http://sabr.org/sites/default/files/MarvOwen.JPG
600
800
admin
/wp-content/uploads/2020/02/sabr_logo.png
admin
2012-01-04 20:39:27
2020-10-09 07:50:05
Marv Owen