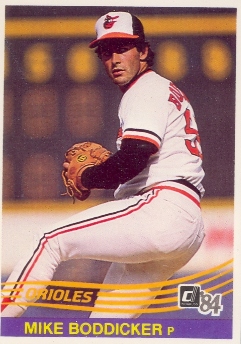 ---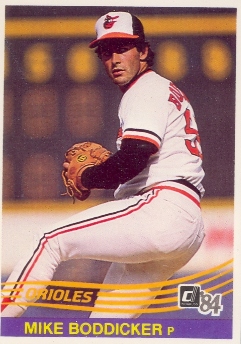 After Hal Trosky retired in 1946, it was 30 years before his hometown, tiny Norway, Iowa, provided its second major leaguer in Bruce Kimm. But while Kimm exited the major leagues in 1980, the very same season marked the debut of Norway's third – and perhaps most successful – player, pitcher Michael James Boddicker.
Born on August 23, 1957, to Harold (called Bus by his friends and family) and Dolly Boddicker, Mike was raised in a family and a community in which excellence was the expected standard in baseball. He was the youngest of Bus and Dolly's five children, and followed elder brothers Butch and Robert onto Norway's community baseball field. Even older sister Sheryl, called Chick by anyone who knew her, and by a few who don't, existed in the baseball world, marrying Mike's high-school baseball coach, Jim Van Scoyoc. (Norway, with a population of only about 600, had astoundingly successful baseball teams. Before Norway High School was closed in 1991 and merged into a regional school district, its baseball team won 20 state titles competing with schools its size.)
"I don't think I was anything special in Norway," said Boddicker,[i] and perhaps not even in his own family. He told the Des Moines Register that his older brother Butch was a better player. "I really just wanted to pitch one day in the big leagues. All the way through the minors, there were always kids better than me as far as physical ability. I knew what I wanted to do – and as long as I stayed healthy, learned and kept getting better – I had that chance."[ii] As a young player, Boddicker patterned himself after Norway star Dick McVay. McVay, a pitcher and third baseman, was the ace of the high-school team, and over one two-year stretch started more than 40 games without a loss. At only 5-feet-11, McVay's mix of normal stature and superhuman accomplishment inspired Mike.
Boddicker's record during his school years included three American Legion World Series appearances under coach Ken Charipar (1974-1976) and two state titles for Norway High School under coach Van Scoyoc. His record as a pitcher for his four-year high-school career was 76-13. His 1,122 strikeouts were a national scholastic record, and his earned run average for the four years was 0.64. He was nearly as proficient with a bat, hitting .397 in more than 200 games, driving in 221 runs, and stealing 72 bases.
According to his coach (and current brother-in-law), Van Scoyoc, "He had some goals and was very poised. He always seemed to be in control of the situation. He was a dominant pitcher and on top of it, he was a good hitter and a good third baseman."[iii] Throughout his professional career Boddicker remained a proud son of Norway. "I know they were all proud of me and my accomplishments," Boddicker said of his family and friends in Norway. "I'd be the first to tell a reporter who said I was from Cedar Rapids, 'No, I'm from a small town outside Cedar Rapids.'"[iv]
Boddicker was drafted by the Montreal Expos out of high school in the eighth round of the 1975 amateur draft. Despite the offer, which would come with a salary considerably higher than the $4.50 an hour he earned working in a grain elevator in the winter, Boddicker passed. Instead he entered the University of Iowa.
During his time at Iowa Mike began dating Lisa Charipar, the daughter of his former American Legion coach. As Steve Wulf noted in Sports Illustrated: " 'It's funny the way they started dating,' says Ken. " 'I ran into Mike at a game in Norway, and he asked me how Lisa was, and I said she'd just got finished with the dentist and wasn't feeling too well. That night he went and visited her, and pretty soon they were going out.' "[v] Lisa, now without wisdom teeth, wasn't great company that evening, but the relationship took off from there. They were eventually married and, in addition to boys Cory and James and girls Stephanie and Brittany, in 2009 the Boddickers welcomed their first grandson.
Boddicker's three-year college career left an impression on the University of Iowa's record books. His six shutouts are a record. As a freshman in 1976, in addition to leading the hitters with nine doubles, he posted what is still their single-season record with a 0.79 earned-run average. As a sophomore he led the pitching staff with 65 innings pitched, eight wins, and 84 strikeouts, and as a junior he led the Hawkeyes at the plate with a .350 batting average and nine doubles, and on the mound with 68 strikeouts.
His time in college also gave him the opportunity to develop a new pitch. Unable to master the forkball grip, he developed a compromise pitch that broke like a screwball, the "foshball." As Boddicker described it to Steve Wulf in 1983: "It looks like a fastball, but it's slow and it sinks. Even the ones they hit, they don't hit very well." Later, when Boddicker reached the Orioles, pitching coach Ray Miller called it a combination of a "dead fish" (changeup) and a screwball, hence foshball.[vi]
Boddicker's performance at Iowa impressed scout Joe Bowman, and the Orioles drafted him in the sixth round of the 1978 draft. The 20-year-old pitcher reported to the Orioles' rookie league team in Bluefield, in the short-season Appalachian League, but after pitching innings as a reliever (with a 0.47 earned-run average) he was promoted to Baltimore's Double-A Southern League team in Charlotte, North Carolina, where he allowed only 42 hits in 65 innings and notched ten wins. That earned him a promotion to Triple-A Rochester (International League), where he won his lone end-of-season start, giving up just one run in five innings.
The next season, 1979, Mike returned to Charlotte to gain some experience in a less pressurized environment, and his 9-3 record in 14 starts effectively forced the organization to return him to Rochester.
Boddicker spent the 1980, 1981, and 1982 seasons on the cusp of the major leagues. He spent most of his time with Rochester, but the Orioles called him up for spot duty on occasion. On October 4, 1980, he made his major-league debut, pitching 7 1/3 innings, striking out four, but giving up five earned runs in a loss to the Cleveland Indians. In 1981 he made two appearances, with no decisions, and in 1982, the 24-year-old pitched 25 2/3 innings for Baltimore and earned his first big-league victory, in a relief role against the New York Yankees on September 13.
But despite his ability, and major-league potential, there simply was no room in the Orioles' pitching rotation for Boddicker. In 1982 manager Earl Weaver's starting rotation included established starters Jim Palmer (Hall of Fame), Scott McGregor, Dennis Martinez, and Mike Flanagan, so a new right-hander like Boddicker had no role to fill. He might have remained with the Orioles out of spring training, but would have idled in the bullpen. The time in Rochester allowed him to refine his craft, to get ready to answer the proverbial door should opportunity knock.
Knock it did, on May 17, 1983, in the opener of a doubleheader against the Chicago White Sox, when Mike Flanagan injured his knee in the first inning and had to leave the game. With an aging Palmer nursing both a dead arm and an array of minor but nagging injuries, the club had recalled Boddicker from Rochester on May 5, mostly to sustain some pitching depth, but it was ill-prepared for any further losses to the staff. As Childs Walker wrote in Baseball Digest: "Diehard Orioles fans could have been forgiven for feeling tinges of panic when Mike Flanagan hobbled off the mound (that day)."[vii]
The injury to Flanagan was the opportunity of a career for Boddicker. Starting the second game of the doubleheader, he struck out eight and allowed no runs, and was installed in Flanagan's spot in the pitching rotation. Boddicker made the most of his opportunity. Of his 16 victories that season (against eight losses), five were shutouts. His 2.77 ERA was the second best in the American League. "Mike went from a longtime Triple-A pitcher to, really, the ace of the staff in a very short period of time," Flanagan said in 1984. "Amazing."[viii]
Even more amazing was Boddicker's postseason performance: two complete games, one each in the American League Championship Series against the White Sox and one in the World Series, each following an Orioles loss in the series opener. In the ALCS against the White Sox he became the first rookie in the American League to throw a playoff shutout, giving up only five hits, striking out 14, and earning the ALCS Most Valuable Player award. It was a brilliant display of pitching surpassed only by his 4-1 World Series victory over the Philadelphia Phillies, in which he gave up just three hits and the Phillies' run was unearned. It was the first time since 1919 that a rookie starter had held the opposition to three or fewer hits in a World Series game. "He kept them off balance the whole game," remembered Jim Van Scoyoc.[ix] In the final inning Boddicker capped his performance by retiring three future Hall-of-Famers: Joe Morgan (fly ball), Pete Rose (groundout), and Mike Schmidt (swinging strikeout on three pitches).
As he would throughout his career, Boddicker returned to Norway after the season. November 4, 1983, was declared Mike Boddicker Day and more than 300 people filled the local American Legion Post that evening for dinner and a chance to hear the mayor recognize their latest baseball success story. The town presented Mike with a new shotgun, a trap, and a lifetime of warm memories.[x] It was 49 years after the town had recognized its earlier baseball stars, Hal Trosky and Bruce Kimm, with similar ceremonies following their rookie campaigns.
After an offseason hunting and trapping small game in Norway and accepting his award as The Sporting News' Rookie of the Year, Boddicker entered the 1984 season under the palpable burden of Baltimore's collective expectations. He did not disappoint. Although the team missed the playoffs, Mike won 20 games, the only pitcher in the American League to reach the milestone that year, led the circuit with a 2.79 ERA, and finished fourth in the voting for the Cy Young Award.
In 1985 Boddicker spent time on the disabled list with a torn ligament in the middle finger of his right hand. Unable to snap his trademark curve, he won 12 games but lost 17, and his ERA skyrocketed to 4.07. The next two seasons were not much easier, as the Orioles struggled, but Boddicker was the ace of the team, winning 14 games in 1986 and 12 in 1987.
On July 29, 1988, Boddicker, his record 6-12 at that point, was traded to the Boston Red Sox for pitcher Curt Schilling and outfielder Brady Anderson. The 1988 season had marked a low point in Orioles franchise history, as the team lost its first 21 games of the season. With a more capable squad behind him in Boston, Boddicker posted a 7-3 record over the final two months, and in October found himself back in the American League Championship Series against the Oakland Athletics.
Mike hated to leave Baltimore. "Saddest day of my life. Driving away from the ballpark, I cried," he told a sportswriter. "I'd been with the Orioles my whole career. I was comfortable there, and the fans were great. So many times, walking off that mound, I deserved to be booed, and they didn't do it."[xi]
By 1988, the 1983 playoff mojo had deserted Boddicker and, in the twilight of an early autumn California evening, he watched a 5-0 Game Three lead evaporate after home runs by Mark McGwire, Carney Lansford, and Ron Hassey. Boddicker took his first postseason loss that night, and the Red Sox fell to the Athletics in four games.
Mike returned to the Red Sox in 1989 and won 15 games. He surpassed that with his 17-8 record, 3.36 ERA, and Gold Glove fielding in 1990. At season's end, he and the Red Sox were back in the playoffs, again facing the Oakland A's. Boddicker pitched a complete game but lost 4-1 as Oakland swept the Red Sox and steamrolled to its third consecutive American League pennant. The defeat (two of the runs were unearned) was Boddicker's last post-season appearance.
In November 1990, despite healthy contract offers from Boston, Minnesota, and Toronto, the free agent wanted to play for the St. Louis Cardinals. Playing there had been another boyhood dream, but General Manager Dal Maxvill never returned agent Ron Shapiro's calls. The next team on Boddicker's list, the Kansas City Royals, offered him a deal, and he signed with them. The Royals were relatively close to Norway, were managed by fellow eastern Iowan John Wathan, and had a competitive roster that included George Brett, Bret Saberhagen, Danny Tartabull, and Brian MacRae. The signing made sense to the Boddickers.
Over the next two seasons Boddicker managed to win 13 games despite battling an occasional dead arm. In 1991 he was placed on the disabled list to make room for pitcher Mark Gubizca's return, but came off soon after. If the baseball experience wasn't ideal (12 victories in 1991 but only one in 1992), the family fell in love with Kansas City, and decided to make their home in the area.
On April 26, 1993, Boddicker was sold to the Milwaukee Brewers. He made ten starts. His last was on June 13, when he gave up five runs to the New York Yankees in 2 1/3 innings. It was his last professional game. Tired of fighting an unwinnable battle against age, he officially retired after the season at the age of 36.
Mike Boddicker posted a career record of 134-116 in the majors, with an ERA of 3.80, and he did so without a dominant fastball. "I just threw a lot of strikes and got people out. I was pretty blessed in my career, given the mediocre crap that I threw up there," he modestly told Brian Klingaman of the Baltimore Sun in 2010.[xii] But the numbers don't lie. He was a steady, often brilliant, pitcher, one who played seven consecutive seasons in which he pitched at least 200 innings. "As a starter, that's what you're trying to give. You can't control errors. You can't control how many runs they're going to score for you. All you can do is keep them close and give them a chance to win it at the end."[xiii]
Klingaman added, "A grandfather now, (Boddicker) pitches batting practice at St. Thomas Aquinas High in Overland Park, Kansas, where he helps to coach his youngest son's team. In middle age, he still throws nearly 75 mph – 'about the same as I did (at times) with the Orioles,' " he said.
Boddicker also did occasional pre- and post-game radio shows for the Royals, and told an interviewer in 2010 that he planned to try his hand at broadcasting, with the Orioles for a test-run.[xiv] He said 2010 would be his final year of active participation as a coach. "I've been doing this since I was 4," he said, "and after 49 years it's time to do something else."[xv]
---
Born
August 23, 1957 at Cedar Rapids, IA (USA)
If you can help us improve this player's biography, contact us.
http://bioproj.sabr.org/bp_ftp/images4/BoddickerMike.jpg
600
800
admin
/wp-content/uploads/2020/02/sabr_logo.png
admin
2012-01-04 20:38:30
2012-01-04 20:38:30
Mike Boddicker