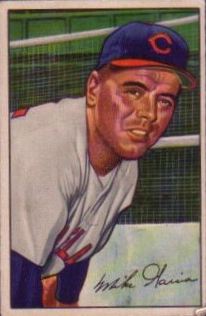 ---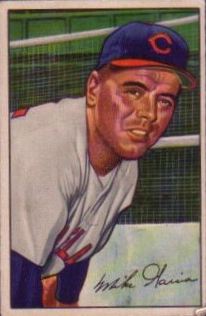 The Cleveland Indians boasted one of the strongest corps of starting pitchers in history in the early 1950s: Bob Feller, Bob Lemon, Early Wynn and Mike Garcia. For a few years Garcia was at least the equal of his Hall of Fame stablemates, but the righthander known as "The Big Bear" burned out early.
Edward Miguel Garcia was born in San Gabriel, California, on November 17, 1923. When he was two years old his father Merced, a Mexican immigrant, moved the family to the tiny farming community of Orosi, in the San Joaquin Valley. Merced owned a ranch and trained and bred horses. Mike said later, "I was one darned good vaquero." He weighed less than 100 pounds when he was 13 and wanted to be a jockey. He rode in one quarter-horse race for $5, but the horse threw him. He soon outgrew his riding dream.
He played for three years at Orosi High School and then transferred to the larger Visalia High for his senior year. A Cleveland scout, Willis Butler, saw him pitching semipro ball in Tulare and signed him for the Appleton Papermakers in the Class D Wisconsin State League.
Garcia posted a 10-10 record in 1942 and then was called into World War II. He spent the next three years stringing telephone wires for the Army Signal Corps, including service in Europe.
After his discharge, the 22-year-old was assigned to Bakersfield in the Class C California League, close to home, in 1946. Called "Ed" Garcia by The Sporting News, he won 22 games and led the league in ERA and strikeouts. The next year he spent spring training with the Indians, who had figured out that his name was actually "Mike," but their veteran coach Bill McKechnie pronounced him not quite ready. He went to Class A ball in Wilkes-Barre, Pennsylvania, of the Eastern League. He made the post-season all-star team with 17 wins and a 3.24 ERA.
In 1948 Garcia moved up to the AA Texas League with Oklahoma City. He pitched a one-hitter and a two-hitter among his 19 victories for a losing team. Cleveland called him up in September and he made his big-league debut in the last game of the regular season. The Indians were playing for the pennant that day, but they fell behind Detroit's Hal Newhouser and Garcia and another rookie, Ernie Groth, mopped up. Cleveland finished tied with the Red Sox, beat Boston in a one-game playoff and won the World Series, but Garcia, as a September call-up, was not eligible to play.
He made the Indians in 1949 and got his first start on May 22 against the Philadelphia Athletics. "Gosh, but I was terrible," he recalled. He was lifted after he walked three men in the first inning. He pitched out of the bullpen until June 12, when he made an emergency start against the Yankees after the scheduled starter, Early Wynn, came down with hives. Garcia held New York to one run before 77,543 fans at a Sunday doubleheader in Cleveland Stadium.
That performance won him a slot in the starting rotation, and he was soon one of the better pitchers in the league. He led the circuit with a 2.36 ERA, pitched five shutouts, won 14 games and was named to The Sporting News rookie all-star team.
Because he spoke Spanish, Garcia was assigned to watch over another rookie, Mexican-born infielder Roberto Avila, who spoke little English. They were roommates for several years.
His veteran teammate Joe Gordon nicknamed him "Bear." Garcia explained that he wore his black hair cut short and "maybe I walk a little like a bear." Maybe he was built a little like a bear, too. He stood 6'1″ and is listed in baseball encyclopedias at 195 to 200 pounds, but he said his actual playing weight was between 215 and 220.
In 1950 Garcia fell off to an 11-11 record as his ERA swelled to 3.86. He struggled with knee and shoulder injuries and his mother died during the season. On January 13, 1951 he married Gerda Martin, a redhead he had met at the Cleveland ballpark. At first she didn't like his nickname, but eventually she bought him a tie adorned with bears.
The 1950 Indians featured a pitching Big Three of future Hall of Famers Feller, Lemon and Wynn. In 1951 Garcia made it a Big Four, beginning a four-year run as one of the game's best pitchers.
His game was power. His first manager, Lou Boudreau, said, "I didn't see Bob Feller at his fastest, but there can't be many of them as fast as Mike right now." When he broke into the majors he had a slider to go with his fastball, but said he didn't become successful until pitching coach Mel Harder taught him a curve. He liked to work to the inside and outside corners of the plate, "east-west" instead of "north-south" in pitcher-speak. The Indians' longtime catcher, Jim Hegan, said Garcia's fastball bore down and in on righthanded hitters. Manager Al Lopez recalled, "He threw such a 'heavy' ball, when you hit it, it felt like you were hitting a rock." Ted Williams accused him of throwing a spitball, and many years later pitching coach Harder told a reporter that Garcia had "a really good spit ball."
When Lopez replaced Boudreau as manager in 1951, Cleveland began a six-year chase of Casey Stengel's Yankee dynasty. The Indians won only one pennant, but finished second every other season. The Yankees claimed five straight world championships from 1949 through 1953, and then won four more American League pennants, and two World Series, from 1955 through 1958.
In 1951 Cleveland finished five games behind the Yankees as Feller, Wynn and Garcia each won at least 20 games and Lemon won 17.
The next season the Tribe mounted their closest challenge. Most sportswriters picked Cleveland as the pre-season 1952 favorite, because Yankee superstar Joe DiMaggio had retired and third baseman Bobby Brown, second baseman Jerry Coleman and pitcher Whitey Ford were lost to military service.
The Indians won their first seven games and swept a three-game series from New York at Yankee Stadium in early May. Fighting off injuries to four of their eight regular position players and a slump by slugging first baseman Luke Easter, they managed to stay close to the Yankees.
Garcia beat New York four times during the season and pitched three straight shutouts in early September, finishing each game in under two hours. Feller had skidded to the worst season of his career, so Lopez used his new Big Three to start 18 of 19 games down the stretch, with Garcia's seven starts leading the way. Cleveland won 16 of 20 games during a September home stand, but their 93 victories fell two short of the Yankees.
Lemon, Wynn and Garcia each won at least 22 games. Garcia's 2.37 ERA was second in the league to New York's Allie Reynolds. His six shutouts tied Reynolds for the league lead. In addition to 36 starts, the Bear relieved in ten games and saved four of them, a statistic that was not computed until years later.
The Big Three won 67 games, but Yankee catcher Yogi Berra noted, "Those three were all the pitchers the Indians had," while the Yankees had six effective pitchers. The Big Three posted an ERA of 2.59, but their supporting cast lagged at 4.57. In fact, the Yankee pitching staff recorded the better ERA, 3.14 to 3.32 for the Indians.
Casey Stengel said his club had another advantage that was usually overlooked: defense. The Yankees turned 199 double plays, to 141 for Cleveland — 58 extra outs for New York. (Teams with poor pitching generally make more double plays because they allow more baserunners; Stengel's Yankee teams were a prominent exception.) Cleveland writer Ed Macauley lamented the home team's "tragedy of errors." Their 155 errors tied the St. Louis Browns for most in the league. New York committed 28 fewer errors — another 28 extra outs. Those extra outs — batters the Yankee pitchers did not have to face — were more than enough to account for New York's two-win advantage.
Garcia signed his 1953 contract for a reported $30,000, compared to $45,000 for Lemon and $37,000 for Wynn. Feller, once baseball's highest-paid player, took a huge cut to $40,000, half his peak salary.
The Indians finished second for the third straight season in 1953, but there was no pennant race. The Yankees reeled off 18 consecutive wins in May and June, including a four-game sweep in Cleveland, and wound up 8 ½ games ahead. Lemon was the team's only 20-game winner (21), though Garcia had 18 and Wynn 17.
Sporting News publisher J.G. Taylor Spink wrote, "[E]ver since they won the world championship in 1948 it has been one thing or another with the Indians. One year they had a superlative defense but not enough hitting. The next year they battered down the fences but their infield fell apart. Only the pitching has been consistent."
The planets finally aligned for Cleveland in 1954. They won 111 games, the most in American League history to that point, and finally gave the Yankees a taste of second place. Many observers, then and since, agreed with manager Lopez's assessment that his pitching staff was the greatest ever. Their 2.78 ERA was the lowest since the lively ball era began in 1920. Lemon and Wynn each won 23 and Garcia added 19, plus fives saves. (Lopez and Stengel were among the last managers to use their top starters in relief.) He led the league in ERA for the second time at 2.64 and allowed the fewest baserunners per nine innings of any AL pitcher. On May 16 he shut out the Athletics on one hit, one of his five shutouts. The victory was Cleveland's fifth straight and lifted them into first place, where, other than for a few days in June, they remained.
This time the Indians had depth behind the Big Three. A revived Feller went 13-3 and shared the fourth starting slot with newly acquired righthander Art Houtteman, who finished 15-7. A pair of rookie relievers, lefthander Don Mossi and righthander Ray Narleski, called the "Tiny Two," combined for nine victories and 20 saves.
On July 4 Garcia left the game against the White Sox after 1 1/3 innings with a broken blood vessel in the middle finger of his pitching hand, although he had not given up a hit. Narleski relieved, then gave way to Wynn in the eighth — with the Sox still hitless. With two out in the ninth, Minnie Minoso singled to break up the gem.
Garcia was chosen for the All-Star team for the third straight year, but missed the game because of the injured finger. On July 26 Gerda gave birth to their first child, Michael Martin, called "Little Bear" by his father. On the same day Mike's father died at age 69.
With the pennant clinched, Garcia took a shot at his twentieth victory in the season's last game, but he said the rest of the lineup was "all the scrubbinies." He pitched 12 innings against Detroit in a 6-6 tie before being relieved in a game the Indians eventually lost. General Manager Hank Greenberg later said Garcia thought he was pitching for a bonus if he won, but was being hit hard. Greenberg said called the dugout for the only time in his front-office career and asked Lopez if he was trying to get the pitcher killed. After the season, Greenberg said, he paid Garcia the bonus anyway.
The 1954 team is renowned for its great pitching, but Cleveland also finished second to the Yankees in runs scored. Lopez pointed out that he had three power hitters in center fielder Larry Doby, third baseman Al Rosen and first baseman Vic Wertz, a mid-season pickup: "So our game was to hold the other side with our good pitching and wait for somebody to sock one out." The Indians' bench was strong enough to withstand injuries to Rosen, second baseman Avila and shortstop George Strickland. Doby led the league with 32 home runs and 126 RBI and Avila won the batting title at .341. (Ted Williams hit .345, but walked so many times that he did not get the 400 at-bats required to qualify for the championship. As a result, the rule was changed to count plate appearances rather than at-bats in future years.)
When the World Series opened, the Indians were heavy favorites over the National League champion New York Giants. Lopez set up a starting rotation of Lemon, Wynn, Feller, then Garcia. After New York took the first two games, the manager bypassed Feller and sent Garcia out for the third. He lasted only three innings, giving up four runs (three earned) as the Giants won 6-2. He came back in relief the next day, pitching the final two scoreless innings as the Giants swept to an upset championship.
The Indians returned to their familiar home in second place behind the Yankees in 1955 and 1956, but Garcia stumbled. In '55 he posted an ERA above 4.00 for the first time in his career and finished 11-13, completing only six of 31 starts. He took a reported $5,000 pay cut to $25,000. In '56 his ERA came down to 3.78, better than average, but his record was 11-12. He said he had shortened his delivery to try to finish in a better fielding position: "I became a great fielder and a lousy pitcher."
Mike and Gerda celebrated the birth of their second child, Lisa Inez, on September 24, 1956. Another daughter, Celeste, was born two days after Christmas 1957.
Manager Lopez left the Indians after the '56 season and the franchise began a downward spiral that did not end for more than 35 years. Under new manager Kerby Farrell in '57, the aging team finished sixth. The 33-year-old Garcia rebounded with a 12-8 record and a 3.75 ERA. He tried out a knuckleball, but relied mostly on curves and sliders. He said, "Every fast ball pitcher sooner or later has to come to the realization that his big one is gone. I have adjusted."
By 1958 he was the last of Cleveland's Big Four. Feller had retired, Wynn was traded to the White Sox and Lemon's devastating slider had finally devastated his elbow, ending his career. During spring training Garcia slipped on a wet mound in Los Angeles and hurt his back. Because there was no room for him on the disabled list — each team could have only two players at a time on the list — Cleveland released him in May.
The club reportedly paid for surgery to correct a slipped disc, and he won a roster spot the next spring. In his first start, he shut out Washington for eight innings but lost on three unearned runs in the ninth. Cleveland writer Hal Lebovitz reported, "It was spine-tingling to witness the lineup of well-wishers who visited his locker to shake his hand." But he pitched only 72 innings that season and was released in the fall.
Garcia said he was healthy and determined to continue pitching. Within weeks he signed with the White Sox, managed by Lopez and owned by former Indians' owner Bill Veeck. During the off-season he sliced off the tip of his right index finger while working on one of his midget racing cars, but it was healed by spring training. He quipped that the shortened finger gave him a natural slider.
His medical troubles were not over; he underwent an emergency appendectomy during spring training. The White Sox released him in May 1960, when rosters were reduced to 25. He stayed with the team as a batting-practice pitcher and was reactivated when the rosters expanded September 1. He pitched just 18 innings in relief during the season and was released again in November.
Chicago invited Garcia to spring training in 1961, but Cincinnati's Vada Pinson hit him with a line drive that broke Mike's leg. After recovering, Garcia worked out with the Washington Senators and was signed on July 19. He pitched 16 times in relief, but was released before the season ended. At age 37, Garcia's baseball days were over.
Over the course of his career Garcia won 142 games and lost 97. His 3.27 ERA was 17 percent better than the league average, after adjusting for the parks where he pitched, equal to that of Gaylord Perry, who had a much longer career. Garcia was a workhorse, starting and relieving and finishing in the top four in innings pitched every year from 1951-1954. He is the only one of Cleveland's Big Four who is not in the Hall of Fame, because his prime years lasted only six seasons, from 1949 through 1954. Analyst Bill James dismissed his low ERA as a product of "cold, cavernous Cleveland Memorial Stadium, which at that time had a pitcher's mound higher than the white cliffs of Dover." His more famous teammates enjoyed the same home-field advantage, but it was Garcia who recorded the staff's lowest ERA in four of those six seasons.
Garcia had bought a dry-cleaning shop in the Cleveland suburb of Parma in 1955 and named it "Big Bear Cleaners." After leaving baseball he ran the business, played some slow-pitch softball, served as commissioner of a local Little League and continued to race his midget cars.
By 1983 he was suffering from diabetes and heart trouble and had shrunk to 180 pounds. "I'm 59. I feel like I'm 80," he told the Cleveland Plain Dealer. The next year he was reported to be undergoing dialysis three times a week because of kidney failure. He had sold his business to pay his medical bills. The Sports Media Association of Cleveland and Ohio organized a benefit on December 2, 1985, to help him with those bills. Garcia and former teammates Feller, Lemon and Wynn autographed limited-edition 16-by-20-inch prints that were sold for $100 each.
Mike Garcia died at 62 on January 13, 1986, his 35th wedding anniversary. Gerda and their three children survived him.
This biography is included in the book Pitching to the Pennant: The 1954 Cleveland Indians (University of Nebraska Press, 2014), edited by Joseph Wancho. For more information, or to purchase the book from University of Nebraska Press, click here.
Sources
The Sporting News, various issues, 1946-1961.
The Washington Post, various issues, 1961.
www.retrosheet.org
Clippings in Garcia's file at the National Baseball Hall of Fame library from the Cleveland Plain Dealer, New York World-Telegram and Sun, The Associated Press, United Press, United Press International and other unidentified sources.
Bob Feller with Bill Gilbert, Now Pitching, Bob Feller. Birch Lane Press/Carol Publishing, 1990.
Bill James, The New Bill James Historical Baseball Abstract. The Free Press, 2001.
Bill James and Rob Neyer, The Neyer/James Guide to Pitchers. Fireside/Simon & Schuster, 2004.
"Al Lopez," in Donald Honig, The Man in the Dugout, from A Donald Honig Reader. Fireside/Simon & Schuster, 1988.
Russell Schneider, The Cleveland Indians Encyclopedia, Second Edition. Sports Publishing, 2001.
Photo Credit
The Topps Company
Born
November 17, 1923 at San Gabriel, CA (USA)
Died
January 13, 1986 at Fairview Park, OH (USA)
If you can help us improve this player's biography, contact us.
http://bioproj.sabr.org/bp_ftp/images/GarciaMike1952B.JPG
600
800
admin
/wp-content/uploads/2020/02/sabr_logo.png
admin
2012-01-04 20:29:21
2012-01-04 20:29:21
Mike Garcia