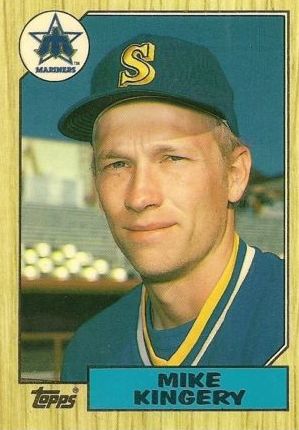 ---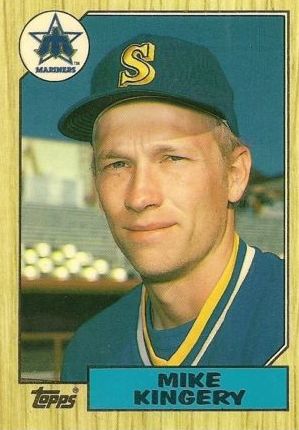 Michael Scott Kingery was born March 29, 1961, in St. James, Minnesota, to Ken and Marion Kingery. The Kingery family moved to Atwater, Minnesota, when Mike was about six months old. There Kingery's father owned and operated the Atwater Bowling Center.
Kingery attended Atwater Public School as did his four brothers, Doug, Bob, Tom and Jim.[1] Each was a standout athlete in his own right. By accounts of many close to the Kingery family, "Doug was the best athlete in the family."[2] Kingery played VFW and American Legion baseball in high school. He attended St. Cloud State University, was drafted by the Royals, and spent six seasons in the minor leagues before being called up by the Royals.
Kingery credits his brother Doug with being the force that found and developed the talents that led to his success in the major leagues. "Although Mike was 11 years Doug's junior, he got to play on his older brother's softball team."[3] Kingery credits Doug for the work ethic he developed. "I was 18 then and I did whatever Doug told me to do. He'd tell me to hit a ground ball to the shortstop and beat it out. So I would hit a ground ball to the shortstop and try to beat it out."[4] Kingery, a born-again Christian, credits Jesus Christ for giving him the innate talent to be a professional athlete as well as the temperament to survive in the major leagues and remain grounded in addition to a retirement that saw the growth of his family, the development of "Solid Foundation Baseball School, Inc.," a baseball training school that Kingery owns and operates, and the ability to deal with the 2006 death of his brother Doug.
While in high school, Kingery played with the American Legion and VFW teams in Willmar. In 1977, Kingery was in this third year playing with the Willmar VFW team. Kingery also played Babe Ruth and American Legion ball in Atwater.[5]
An incident in the summer of 1977 exemplifies the extent of the talent, skill, and leadership abilities that would eventually land Kingery in the major leagues. Curtis Eischens, the shortstop on the 1977 Willmar VFW team, teaches at Orono Middle School and remembers a game in Ely, Minnesota. In the first inning of the first game of a doubleheader, Kingery, singled. Seeing a chance to steal, Kingery took second. Kingery then sensed that the pitcher was not watching, so Kingery stole third. Then in a move that most people would look at as "in your face," Kingery stole home.[6] But, according to Eischens, Kingery was just doing his job. "Mike was just that good," said Eischens.[7]
After the game Eischens remembers the coach, Elsie Klemmetson, getting on the bus and muttering "Geez, stealing second and third, that's OK, but stealing home? That was bad. Now they won't play us."[8]
In fact, according to Steve "Snorkey" Johnson, Ely forfeited the second game rather than play the Willmar team again.[9] It was clear that Kingery was the standout on a team that was filled with talent. Kingery was such a talent that he came to the attention of Kansas City scout Art Stewart.[10]
Kingery was signed by the Kansas City Royals as an amateur free agent just out of high school on August 27, 1979.[11] Kingery remembers it this way: "I went from local high-school baseball [Atwater High School] to professional baseball mainly because I was granted an opportunity to play professional baseball with the Kansas City Royals. There were no D1 [Division 1] baseball colleges interested in me, and only one D2 [Division 2] school. So when I was asked by the Royals to play, I said yes. Coming from a town of 1,000 people, you had the thought this might be your only chance to play professionally."[12]
Between 1979 and 1986 Kingery worked his way through the Kansas City Royals farm system, from rookie ball in the Gulf Coast League through Class A Charleston to Class AA Memphis to Class AAA Omaha.
Kingery is still in the Charleston record book in several categories as of 2008. On the career list, he is 10th in hits with 220 and fifth in batting average at .303; he is fifth on the single-season list of games played with 140.[13]
Kingery paid his dues, playing in the minor leagues for six years before making his major-league debut on July 7, 1986, against the Baltimore Orioles. He played right field and had two hits in four at-bats. In a way, this first appearance would be representative of his career. He hit adequately, fielded with authority, and everyone said "Who is that guy?" The name on his jersey was misspelled.
Being there, contributing in a positive manner, and being part of the unit was always more important to Kingery than being in the spotlight.
Batting and throwing left-handed and weighing in at 180 pounds, Kingery stood six-feet tall. Kingery spent all or parts of the 1986 to 1996 seasons in the major leagues. During that time he played with six teams, Kansas City (1986), Seattle (1987-1989), and Oakland (1992) in the American League and San Francisco (1990-1991), Colorado (1994-1995), and Pittsburgh (1996) in the National League.
Kingery admits his batting technique was never strong.[14] Statistics show his season batting averages fluctuated over his over his 10-year career, from a high of .349 with the Colorado Rockies in 1994 to a low of .107 with the Oakland Athletics in 1992.
Perhaps the greatest asset he brought to every team he played with was the sense of calm and emotional stability that have been the hallmarks of both his professional and personal life. To that end, in July 1996 Sports Spectrum published an article on Kingery in which writer Dave Branon dubbed Kingery "The Ambassador of Baseball." Branon wrote, "Baseball can't come up with a commissioner but maybe they need a goodwill ambassador instead. Someone like Rockies outfielder Mike Kingery."[15]
In Branon's article, Kingery described himself as "just your normal person, born in a small town in Minnesota, just very common; . . . No swagger. No braggadocio. A normal person."[16] The central theme of the article implied that Kingery harkened back to an era when solid performance within a group dynamic was valued as much as personality and perhaps more than being able to grab headlines.
Branon quotes Kingery saying, "Every single at-bat, I try to go up there and do things fundamentally right. As long as I can do that, I can be happy. But they've got 8 guys out there in front of me who are paid to catch the ball. I can do things perfectly and they can still catch the ball, and I would be looked at as a failure, but really in my eyes, I succeeded because I hit the ball hard."[17]
Kingery's friend and teammate Curtis Eischens said, "I don't look at Mike's being traded frequently as a sign of being a player who didn't contribute. I look at it as a team understanding that Mike was valuable in many different ways."[18]
So, while Kingery played for six different teams in 10 years in the majors, he made it to the postseason only once, in 1995 with Colorado. Kingery had two hits in 10 at-bats and scored one run as the Rockies lost in the first round to the Atlanta Braves. At the end of the season, Kingery, then 34, became a free agent and signed with the Pittsburgh Pirates on December 14, 1995. He played one season for the Pirates and was released by them on January 7, 1997.
While he never got to play with the Minnesota Twins, which he would have enjoyed because they were his favorite team growing up, Kingery concluded that he tended to feel most compatible with National League teams.[19] "After I played in both leagues I felt that the National League played better to my skills. With the double switches and more pinch-hitting in the National League, the extra players tended to play more often. I did love the time that I spent with all of the teams."[20]
Once released by the Pirates, Kingery took stock of his situation and retired. He was 36 and had moved his family around a number of times. Home was calling, and he brought his family back to his roots, near Atwater, Minnesota. "Mike married his wife, Chris, in 1982. Chris and the growing Kingery family traveled with Mike through the baseball years. They settled in Minnesota after Mike's retirement from the Pittsburgh Pirates in 1996. Mike and Chris have eight children, Rachel, Anna, Michelle, Rebekah, Elizabeth, Abigail, David, and Joshua, their ages ranging from 24 to 4."[21]
There are probably many professional ball players who have trouble with retirement, but Kingery was not one of them. Once he made the decision, he was emotionally at peace. "My emotional skills were probably the ability to persevere when things didn't go my way. I don't believe that I had that skill when I signed, but [I] believe that the ability to achieve that was after I came to know Jesus Christ personally."[22]
Even before retirement, during the strike of 1994-95, Kingery became a volunteer coach for his high-school team. The head coach, Jeff Tanner, said, "The kids aren't in awe of him, but they certainly respect him. We'll certainly take advantage of him as long as we can."[23]
Kingery now operates Solid Foundation Baseball School, Inc., which he founded in 1997, teaching baseball fundamentals to high-school and college players throughout central and southern Minnesota. This has allowed him to remain active in the sport he has loved all his life, impart his knowledge of the game to future generations, and remain a substantial member of his home community.
Note
A version of this biography appeared in the book Minnesotans in Baseball, edited by Stew Thornley (Nodin, 2009).
Photo Credit
The Topps Company
---
Born
March 29, 1961 at St. James, MN (USA)
If you can help us improve this player's biography, contact us.
http://bioproj.sabr.org/bp_ftp/images4/KingeryMike.jpg
600
800
admin
/wp-content/uploads/2020/02/sabr_logo.png
admin
2012-01-04 20:39:30
2012-01-04 20:39:30
Mike Kingery