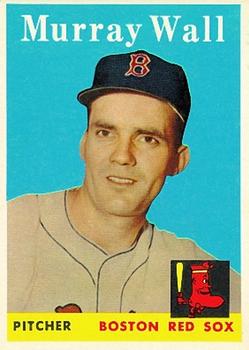 ---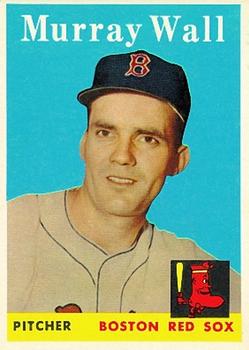 It seemed like Murray Wall and Boston were meant to be together. The right-handed pitcher debuted with the Boston Braves, next made the majors with the Boston Red Sox, and in 1959, was sent from Boston to Washington, but then sent back to Beantown three days later. Wall pitched in 91 big league games, all but one in relief. His career record was 13-14 with a 4.20 ERA.
Wall was born on September 19, 1926 in Dallas. His father was George Murray Wall, a motorman for the Dallas, Texas street railway system and a bus driver. George and his wife Mary (Havens) had two children, Murray and Wallace, at the time of the 1930 census. Ten years later, in 1940, Mary was listed as the head of the family, working in the advertising department of a paper bag company. It appears that George Wall departed the family and married a woman named Ernestine, dying in 1981.
Murray graduated from Woodrow Wilson High School in Dallas and then, after serving in the United States Navy from October 1944 to June 1946, attended the University of Texas at Austin on a baseball scholarship, graduating with a degree in business administration. He trained as an accountant. At U.T., he played baseball under coach Bibb Falk, whom he credited as an important influence. "I was just an ordinary pitcher in high school my first two years," Wall said. "In fact, I didn't win my letter until I was a senior."1 He was a member of the collegiate All-America team in 1949 and 1950, as Texas won back-to-back titles in the College World Series, beating Wake Forest in 1949 and then Washington State in 1950.
Unlike many amateur athletes, Wall stuck to one sport only. He tried basketball early on at college, but in his first game, a simultaneous rebounding effort with Wall and another player resulted in Murray fracturing his jaw in two places along with a cut that took 16 stitches to close.2
The American Association's Milwaukee Brewers trained in Austin in 1949, and played the Texas Longhorns in some early exhibition games, for instance the March 19 game which Wall won, 5-1, throwing a six-hitter without walking a batter. Brewers president Jake Flowers was very impressed with Wall's pitching, to the point that he asked Falk to help the Brewers sign Wall.3
The 6-foot-3, 185-pound Wall's record in Southwest Conference play for Texas in 1950 was 21-3, with a 2.02 ERA.4
Several scouts, including the Boston Red Sox, had been interested in Wall, but on June 24, it was announced that Wall had signed with the Boston Braves while his fellow University of Texas pitcher Charles Gorin signed with the Brewers. Both reported to their respective clubs directly from Omaha and the College World Series.5 "The Cards wanted to send me to Houston, and the Braves offered me a ticket to Boston. I signed with Jack Zeller and the Braves," he told the Atlanta Constitution's Jesse Outlar.6
The plan was for Wall to join the Braves, to be "given a thorough look, then farmed to one of Boston's minor league teams."7 That's just what happened, though how thorough the look was we cannot say. His work was seen favorably, however. In the first game of the July 4 doubleheader at Philadelphia's Shibe Park, the "Whiz Kids" Phillies jumped out to a 9-0 lead through the first four innings off Norm Roy and Johnny Antonelli. Braves manager Billy Southworth pinch-hit for Antonelli in the top of the fifth, and asked Wall to take over pitching duties. Wall gave up five runs (four earned) in four innings of work, walking two and allowing six hits. Though that may not have seemed like a very good outing, Henry McKenna of the Boston Herald wrote, "Caution is urged in judging a rookie pitcher on his first showing but 24-year-old Murray Wall, just in from the University of Texas, impressed just about everybody in his four-inning debut in the majors today. With no minor league experience behind him and unfamiliar with the batters or even the park, the rangy right-handed did an excellent job." Southworth added, "You bet he did all right. I liked his poise but most of all his control. He's getting the ball in there and that's what counts. Yes sir, he did a fine job."8
The Boston Globe's Jack Barry was more restrained: "Young Wall showed remarkable poise for a lad just out of the college ranks, but the Phils got to him after a couple of innings."9
He stuck with the Braves a couple more weeks, throwing batting practice and learning from some of the team veterans. He'd been due to pitch in an exhibition game against the Hartford Chiefs on July 10, but the game was rained out. On July 19, the Braves transferred Bucky Walters from his coaching position to the active roster, and assigned Wall to Milwaukee. After Wall joined the Brewers, he had time to get into 13 games. He held his own in Triple-A ball, going 2-5 but with a respectable 3.91 ERA.
He trained with the Braves in Bradenton, Florida, in the spring of 1951, and then was assigned to pitch for the Brewers again. He worked in 1951 and 1952 for the Brewers – going 15-5 and 16-10 with ERAs of 4.30 and 4.08, respectively. The 1951 Brewers won the American Association pennant and the league championship. In 1952, they finished first in the standings again, though they lost out in the final round of the playoffs. In between, he played winter ball in Puerto Rico, the "lone paleface" on the Santurce club.10 When he reported to Bradenton in the spring of 1952, it was in "full cowboy apparel, 10-gallon hat, dungarees, bright shirt and high heel shoes."11 A photograph in the February 18, 1953, Milwaukee Journal-Sentinel depicted him working in a Weimar, Texas butcher shop during the offseason.
In 1953, the Boston Braves moved the franchise to Milwaukee. He was on the Milwaukee Braves roster for the first month of the season, but saw no action. On May 13, he was assigned to their top Triple-A club, then in Toledo, and Wall worked for the Toledo Sox in both 1953 and 1954. He was 10-8 (3.04) in 1953. Toledo finished first in the 1953 American Association, the third year in a row the Braves' Triple-A club finished first, with Wall pitching each year. Again, they lost in the final round of the playoffs.
At the end of November, both Wall and pitcher Vern Bickford showed up at the minor-league meetings hoping to sign on with a major-league ballclub. Toledo GM Richard "Red" Smith had "given Wall permission to trade or sell himself."12 Wall was, however, back with Toledo for the 1954 season; he was 11-14 with a less-favorable 4.79 ERA. In October 1954, he married former model Suzanne Luhn.13 The following August, Suzanne gave birth to their daughter Doria Lee. A son, Murray Scott Wall, later joined the family.
In 1955, he was dropped a level, pitching in the Double-A Southern Association for the Atlanta Crackers. He threw a career-high 243 innings, and was 12-14 for the seventh-place Crackers, with a 3.85 ERA. That December, he was traded to the New York Giants organization, the player to be named later in a September trade that had netted Milwaukee Red Murff. He was living with his wife in Atlanta that winter, working selling radio time.14
The Giants had him play for the Dallas Eagles in the Texas League, also Double-A baseball. It was, headlined the Dallas Morning News, a "critical season for Murray Wall."15
He was 16-7 in 1956 with a 3.59 ERA, and posted the same win-loss record again in 1957, when the Boston Red Sox made a move and purchased his contract from the Giants' Dallas club on August 1. He'd made big news on July 1 when he threw no-hit ball for nine innings, and one-hit ball until the 13th inning in a game against Fort Worth. Two hits in the 13th cost Wall the 1-0 loss. It was almost a reprise of a 1-0 loss he'd suffered the year before, on April 16 against Birmingham; that one lasted 11 innings. Wall's ERA at the time he finished his time with the 1957 Eagles was 1.79. He'd been with the team deep enough into the season that he qualified to be listed as the league-leader in ERA at season's end. Dallas finished first, but by then Wall was in the big leagues.
The Red Sox had optioned Bob Chakales to San Francisco and purchased Wall for an undisclosed sum to replace him. "Experts" estimated the Sox paid around $25,000.16 Dallas GM Warner Lewis said, "We are very happy to be able to give Murray his first real chance to play major league ball. He is a fine boy and we wish him the best of luck."17
He arrived at Boston's Hotel Kenmore and heard that the ninth inning of the ballgame at Fenway Park was underway, so Wall rushed over to the park and got in just in time to see the Red Sox win it in the bottom of the 10th, 5-4, on an infield single by Jackie Jensen.18
Wall got into his first game on August 4, coming on in relief in the top of the third in a game the White Sox were already winning, 5-0. He pitched 4 1/3 innings, giving up five runs. A week later, he earned a save with a scoreless ninth inning against the visiting Senators. Three more scoreless relief stints followed. On September 2, he earned his first big-league win by giving up a two-run homer in the top of the eighth inning, giving Washington a 7-6 lead, but then seeing his teammates come back and score twice to re-take the lead, 8-7, in the bottom of the eighth.
He went to 2-0 in his next outing, on September 6, coming into a game against the Orioles which the Sox had just tied. He gave up two hits but no runs in the top of the ninth and saw a walk and a Pete Daley double win it for Boston. And he went to 3-0 on September 17; the Athletics were ahead, 8-7, when he came in. Ted Williams homered to tie it and then Billy Klaus singled in Jimmy Piersall in the bottom of the eighth, after which Wall nailed down the win. He finished the season with a 3-0 mark and a 3.33 ERA over 24 1/3 innings in 11 appearances. It had to feel good to the pitcher who had just turned 31 in September.
In 1958, Wall appeared in 52 games with a 3.62 ERA, comparatively better than the team's collective ERA of 3.92. The one start of his major-league career was in the second game of the June 11 doubleheader against the visiting Detroit Tigers. Manager Mike Higgins gave him the start, but he gave up two home runs to Billy Martin: A two-run homer and then a three-run shot. He was tagged for six runs in three innings and took the loss. Wall was 8-9 for the 79-75, third-place Red Sox.
His 1959 season did not start well, as he won his first decision, but then lost his next four, and after his 15th appearance held a 5.40 ERA. On June 11, the Red Sox traded him to the Washington Senators, with infielder Billy Consolo, for submarining pitcher Dick Hyde and second baseman Herb Plews. He worked just 1 1/3 innings for the Senators on June 13, but on the 14th he was sent back to Boston. Hyde, who the Red Sox really wanted, reported with a sore arm, so that portion of the trade was voided and the two pitchers each returned to the club which had traded them.
Back with Boston, it was more of the same. Wall won one more and lost one more and his year-end ERA was 5.54. On July 27, he was sent to Minneapolis, where he pitched in 18 games–three of them starts–and was 3-1 with an ERA of 3.67.
He hung on for two more seasons, pitching in 1960 for Boston's Double-A farm club, the Minneapolis Millers, but that wasn't where he had wanted to pitch. He actually declared he was willing to put up half the $5,000 purchase price for the Dallas-Fort Worth Rangers if they would purchase his contract from the Millers, as Wall wanted to pitch for his hometown team. There was apparently some discussion about it, but the deal was not consummated, so he reported to Minneapolis.19 In 1960, he was 1-1 (3.27) in 12 games (22 innings).
He was then sold even further from home, to the Seattle Rainiers, on May 19. He wound up 0-3 in 45 innings over 20 games for Seattle.
In 1961, Wall finally got his wish, purchased by the Dallas-Fort Worth Rangers, a California Angels affiliate, on February 11. He would also be a "special representative" for the club, available for public appearances locally.20 He pitched three innings in three games, giving up four runs, and ended his playing career with an 0-1 record.
Wall worked in his post-baseball years for First Federal Savings and Loan, rising to the rank of a vice president at the bank. He was also active in the Dallas area, a chairman for the Quarterback Club at one point and running a clinic for young aspiring ballplayers at another. A thousand youngsters were expected at one clinic. Wall was active in the North Texas Oldtimers Professional Baseball Association.
On October 8, 1971, Wall went hunting alone, as he often did, on his property at Live Oak, Texas. Around noon, his body was found in his pickup truck with a bullet hole in his right temple, with an exit wound on the left side of his head, and a small handgun by his side.21 On October 22, it was ruled a suicide.
He was 45 years old. He was the 40th known former major leaguer to commit suicide by a self-inflicted gunshot or shotgun blast. Since his October 8, 1971, suicide, 10 more big-leaguers have killed themselves in the same fashion.22
In 1980, Scott Wall represented his father when Murray Wall was inducted into the Ex-Pro Baseball Players Hall of Fame in Dallas.23
Sources
In addition to the sources noted in this biography, the author also accessed Wall's player file and player questionnaire from the National Baseball Hall of Fame, the Encyclopedia of Minor League Baseball, Retrosheet.org, Baseball-Reference.com, Rod Nelson of SABR's Scouts Committee, and the SABR Minor Leagues Database, accessed online at Baseball-Reference.com.
Notes
Born
September 19, 1926 at Dallas, TX (USA)
Died
October 8, 1971 at Rains County, TX (USA)
If you can help us improve this player's biography, contact us.
https://sabr.org/sites/default/files/WallMurray.jpg
600
800
admin
/wp-content/uploads/2020/02/sabr_logo.png
admin
2017-04-04 11:20:53
2017-04-04 11:20:53
Murray Wall