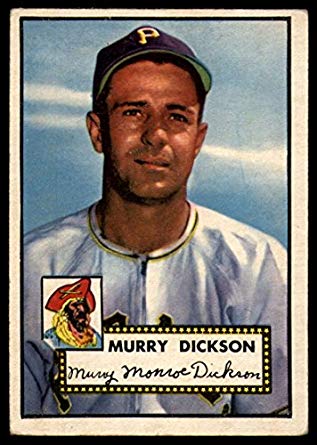 ---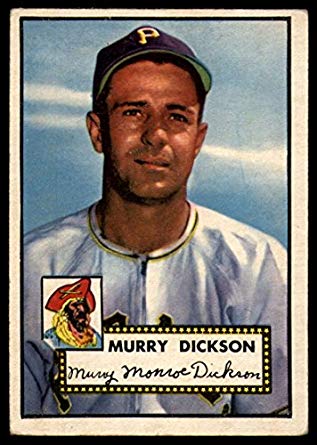 Murry Dickson was a "little righty," a breed of pitcher shunned by today's radar-gun-toting scouts. His longtime manager, Eddie Dyer, nicknamed him "Tom Edison Jr." because he was always experimenting on the mound.
In 18 big league seasons from 1939-1959, Dickson pitched for World Series champions and last-place teams. He once won 20 games in a season and twice lost 20. He was still getting hitters out when he was 43 years old.
Murry Monroe Dickson was born in Tracy, Missouri, on August 21, 1916, the youngest of five children. He was named for the country doctor who delivered him. His father, William, moved the family to Leavenworth, Kansas, when Murry was nine years old. That was his home for the rest of his life.
He was pitching for Leavenworth's American Legion team on Decoration Day 1933, trailing a team from Topeka in a game at the state prison in Lansing. A gang of convicts led by Wilbur Underhill, a desperado known as the "Tri-State Terror," invaded the stands, took the warden hostage, and tried to escape. Guards with tommy guns surrounded the field, stopped the game, and saved Dickson from being shot down in defeat.
When St. Louis Cardinals scout Jack Ryan signed him to a professional contract in 1936, he shaved a year off his age. Beginning at Grand Island in the Class D Nebraska State League the next season, he rose steadily through the Cardinals' vast farm system. He won 14 games for last-place Grand Island, then 16 for Decatur, Illinois.
On February 28, 1939, he married his hometown sweetheart, Julia Wood. That season he hooked up with manager Eddie Dyer at Houston in the Texas League. Dickson won 22 games and was rewarded with his first look at the majors. He pitched 3 2/3 innings of shutout relief in his debut with the Cardinals on September 30.
But he was sent back for two years at the highest minor-league level, Columbus of the American Association. He won 17 games in 1940 and 21 in 1941. That year he twice pitched both games of a doubleheader. On one of those occasions, he confessed that he had spent the morning fishing before going to the ballpark.
He stuck with the Cardinals in 1942. Used primarily in relief, he posted a 2.91 ERA in 36 games, but walked nearly as many batters as he struck out. That club was one of the strongest ever, winner of 106 games – though they barely beat the Dodgers, who won 104, in an epic National League pennant race. St. Louis went on to upset the Yankees in the World Series, but Dickson did not pitch.
He again worked mostly in relief in 1943. This time the Cardinals won 105 games and cruised to the pennant. Just a few days before the World Series, he was drafted into the Army. Commissioner Kenesaw Mountain Landis helped to arrange a furlough for Private Dickson. Perhaps as a going-away present, he relieved in the ninth inning of the decisive fifth game and got the last two meaningless outs as the Yankees won the game and the championship, 2-0.
The Army assigned Dickson to Fort Riley, Kansas, where he joined a powerhouse post team with a number of other professional players, including his teammates, outfielder Harry Walker and pitcher Alpha Brazle, the Dodgers' Pete Reiser and minor league catcher Joe Garagiola. That soft duty didn't last long. Many of the Fort Riley ballplayers were shipped to Europe and into some of the bloodiest combat of the war. Dickson landed with the 35th Division a few weeks after D-Day in 1944, and fought through France, Belgium, Luxembourg and Germany. According to a history of the division, he was a member of a reconnaissance unit – a scout – maneuvering behind enemy lines on "top-secret" missions and was among the first GI's to see the horror of the Dachau concentration camp. Sergeant Dickson came home with four battle stars.
When he spoke of the war, he usually told only the funny stories. On Thanksgiving Day, 1944, his patrol was close to the German lines and facing a dinner of K-rations. Dickson unlimbered his slingshot and silently brought down several chickens for a holiday feast. A favorite tale was his meeting with the swaggering General George S. Patton. As Dickson recounted it, Patton stepped outside an observation post to get a better look at the German artillery, then piled on top of Dickson in a foxhole when a shell exploded nearby. Patton wanted the sergeant to be his driver, but Dickson begged his commanding officer to get him out of that assignment because he thought "crazy" Patton would get him killed.
When World War II ended, the Cardinals enjoyed a glut of quality pitchers who had risen through their farm system beginning before Pearl Harbor: Max Lanier, Ernie White, Howard Pollet, Harry Brecheen, George Munger, Fred Martin, Howard Krist and Johnny Beazley as well as Dickson and Brazle. They were the fortunate ones; a promising member of that class, Henry Nowak, was killed in the war. Another outstanding pre-war prospect, John Grodzicki, never recovered from his combat wounds and won only two major league games. Beazley, a 21-game winner in 1942, had ruined his arm pitching for an Army team and was soon finished.
Dickson was ticketed for the bullpen again in 1946, but Lanier and Martin defected to the Mexican League and the little righty moved into the starting rotation. He posted a 15-6 record with a 2.88 ERA as the Cardinals tied the Dodgers for the National League pennant.
In the first playoff series in major league history, a best-of-three matchup with Brooklyn, Pollet won the opening game 4-2. In game two, Dickson gave up a run in the first inning, then held the Dodgers "helpless" until the ninth. He surrendered three runs and gave way to his friend and roommate Brecheen, who got the last two outs to send St. Louis to the World Series for the fourth time in five years.
Dickson started the Series' third game. In the first inning, with a runner on second, manager Eddie Dyer ordered an intentional walk to Ted Williams. Bad idea; Rudy York followed with a three-run homer to beat the Cardinals.
Dickson was Dyer's choice again for the seventh game, one of the most famous in World Series history. He took a 3-1 lead into the eighth, but put the tying runs on base and gave way to his buddy Brecheen. The little lefty had already won two games, but he was pitching with only one day's rest and was suffering from flu symptoms, though he told no one. He let both runners score.
The bottom of the eighth ignited an enduring controversy. The Cardinals' hard-charging Enos Slaughter scored the winning run all the way from first base on what looked like a harmless single (it was officially scored a double), when Boston shortstop Johnny Pesky hesitated before relaying the ball to the plate. Whether "Pesky held the ball" became a historic debate; at the time, Pesky admitted that he did, because he was stunned to see Slaughter barreling toward home. "I knew I couldn't hit him with a .22," Pesky said after the game. The Cardinals were World Champions.
Dickson didn't see the triumphant finish. He said he was furious at being taken out, and drove around listening to the final innings on his car radio.
After the Series, Murry and Julia joined Harry and Vera Brecheen for a hunting and fishing trip, one of several times the couples vacationed together. Murry was also an amateur magician who entertained his teammates by making cards, cigarettes and watches disappear, along with the boredom of their long train trips from St. Louis to "eastern" cities.
Beginning in 1947, when he turned 31, Dickson worked more than 200 innings in each of the next ten seasons. Every inning was a laboratory experiment in the art and science of pitching. He threw practically any pitch anybody could name, changing speeds and delivering overhand, three-quarters, sidearm and underhand, while shifting from one side of the rubber to the other. Catcher Joe Garagiola said he didn't have enough fingers to call for all of Dickson's pitches. A 1956 article in Sport magazine named him (without supporting evidence) as one of about a dozen pitchers "suspected" of throwing spitballs, but he said he put "woofle dust" on the ball. Catchers, managers and general managers complained that he sometimes became preoccupied with his experiments at the expense of getting batters out.
"Dick," as his teammates called him, lost more games than he won in 1947 and 1948 and gave up a record 39 home runs in 1948. In January 1949 the Cardinals sold him to Pittsburgh for $125,000. St. Louis fans howled – the Cards didn't even get a minor league prospect in the deal. Later accounts indicate that the club's owners, Robert Hannegan and Fred Saigh, needed cash to dissolve their partnership; Saigh bought out Hannegan a few days later. Pittsburgh owner Frank McKinney later revealed that Hannegan had offered to sell superstar Stan Musial for $250,000, but changed his mind and sold Dickson instead. Musial, among many others, believed the loss of Dickson cost the Cardinals the 1949 pennant.
Dickson sounded upbeat: "Pittsburgh could be my big break…And I think the Pirates are going places." They were, but no place he wanted to go.
The Pirates finished sixth in 1949 despite Ralph Kiner's 54 home runs. Dickson won 12 games and lost 14, although his 3.29 ERA was 28 percent better than the league average, after adjusting for his home park. He was 10-15 the following year as the team dropped to the basement.
Dickson turned in a remarkable performance in 1951. The seventh-place Pirates won just 64 games; Dickson won 20 of them while losing 16. He completed 19 of his 35 starts with three shutouts, relieved in 10 more games and pitched 288 2/3 innings. His 4.02 ERA was better than average, but so was his run support. Pittsburgh writer Les Biederman reported, "Dickson has been THE Pirate pitching staff."
The next year he lost 21 games despite a better-than-average ERA. In 1953 he lost 19 more. Pittsburgh finished last both times.
Branch Rickey, who had been the Cardinals' general manager when Dickson broke in, was now running the Pirates. He wanted to dump the losing team's expensive veterans and rebuild with youth. In a "confidential" report to owner John Galbreath, he trashed Kiner, the $90,000-a-year slugger ("a self-appraised star"), and Dickson, who was making around $25,000. "A pitching staff of ten Dicksons would finish about mid-way in the race," Rickey wrote.
He sent Kiner to the Cubs in June 1953. Dickson's turn came after the season. He went to the Philadelphia Phillies for two journeyman players and cash estimated at $70,000 to $80,000, a generous return for a pitcher who now admitted he was 37 years old.
Dickson lost 20 games for the fourth-place Phillies in 1954, although his 3.78 ERA was better than average. Later he complained that manager Mayo Smith didn't want him to throw his knuckleball, a pitch he relied on more and more as he got older. After he finished 12-11 in 1955, with an excellent 3.50 ERA, Philadelphia sent him back to the Cardinals in May 1956.
Dickson was the Cards' best pitcher after the trade, finishing 13-8 with a 3.07 ERA for a .500 team. He won a two-hit shutout over the Cubs and got more hits than he allowed that day – two singles and a triple. He also suffered the first sore arm of his career – his left arm. Shortly before his fortieth birthday, he missed a start because he had bursitis and couldn't lift his glove hand.
Throughout his career, Dickson worked in the off-seasons as a carpenter; he was a member of Union Local 499, along with his father and two brothers. He said the work strengthened his throwing arm, because swinging a hammer mimicked a pitching motion.
In 1957 that "rubber arm" finally began to give out. He had slipped and fallen on an icy sidewalk during the winter and strained his right shoulder. He was able to pitch only 14 times before he went on the disabled list July 30 and stayed there the rest of the season.
The Cardinals released him, but invited him back for 1958. Instead, he signed with the Kansas City Athletics; their ballpark was just 40 minutes away from his home in Leavenworth. He was approaching his 42nd birthday; inevitably, a sportswriter asked him to explain his longevity. He said he ate only one meal a day, starting with coffee and a cigarette for breakfast and skipping lunch. Listed at 5-foot-10 1/2 (maybe an exaggeration), Dickson said he weighed 148 pounds, the same as in his rookie year.
He pitched effectively in relief for the A's. The Yankees, always looking for a useful veteran to boost their pennant drive, acquired him on August 22, the day after he turned 42, for a player to be named later. The deal raised the usual furor about Kansas City serving as an unofficial Yankee farm club; the two teams made many one-sided trades, the most infamous bringing Roger Maris to New York.
Dickson was traded into his fourth World Series. He mopped up in the Yankees' losses in the second and fourth games, yielding two inconsequential runs in four innings, as New York beat the Milwaukee Braves in seven games.
The Yankees re-signed him for 1959, but he did not pitch before he was sold back to Kansas City May 9, when rosters were cut to 25 players. Dickson said he was happy to go home; his wife Julia had recently undergone surgery, and he wanted to be with her. He worked in short relief for the seventh-place A's and served as pitching coach late in the season. Kansas City released him in the fall.
Dickson's career ended after 625 games, 172 wins and 181 losses. His 3.66 ERA was 10 percent better than the league average. He ranked second all-time with 302 home runs allowed; the Phillies' Robin Roberts had passed him for first place in that dubious category in 1957.
He returned to carpentry work, but spent much of his energy in the next several years caring for Julia, who had cancer. She died in 1963, leaving him with daughter Donna Gail and son Steven, still a teenager. A second marriage didn't last long.
Steve Dickson was a star pitcher for Leavenworth's American Legion team in 1966. The boy said, "Dad taught me all of his moves." At 5'10" and 135 pounds, this little righty attracted no interest from professional scouts.
In retirement Dickson moved to a private lake near Leavenworth and filled his time with fishing and trapshooting. He died at 73 at Bethany Medical Center in Kansas City, Kansas, on September 21, 1989, of complications from emphysema. He had been ill for several years.
In 1995 the Baseball Hall of Fame displayed some of Dickson's wartime photographs in a fiftieth-anniversary exhibit called "Baseball Enlists."
Sources
The Sporting News, various issues, 1942-1989. His obituary appeared October 2, 1989.
www.retrosheet.org
Keith Barnwell, stories in the Leavenworth Times, April 2, 4 and 5, 1989, in Dickson's file at the Hall of Fame library.
Bob Broeg, "Dickson Clowns for the Cards," Sport, September, 1948.
Murry Dickson, answers to questionnaire by the National League Service Bureau (undated, but after 1945), in his HOF file.
Murry Dickson's wartime photographs at http://www.baseballhalloffame.org/exhibits/online_exhibits/baseball_enlists/one.htm
James N. Giglio, Musial: From Stash to Stan The Man (University of Missouri Press, 2001).
Milton Gross, "Are They Still Throwing the Spitter?" Sport, October 1956, p. 28.
Bill James and Rob Neyer, The Neyer/James Guide to Pitchers (Fireside, Simon & Schuster, 2004).
Anna Jovanovich, manuscript and interview with the Syracuse Post-Standard, May 5, 1995, p. D-1, both in Dickson's HOF file.
Kevin Kerrane, Dollar Sign on the Muscle (Fireside, Simon & Schuster, 1984), discusses the modern prejudice against "little righties."
William Marshall, Baseball's Pivotal Era: 1945-1951 (The University Press of Kentucky, 1999).
Murray Polner, Branch Rickey (New American Library, 1982).
Frederick Turner, When The Boys Came Back (Henry Holt and Company, 1996).
Born
August 21, 1916 at Tracy, MO (USA)
Died
September 21, 1989 at Kansas City, KS (USA)
If you can help us improve this player's biography, contact us.
https://sabr.org/sites/default/files/murry%20dickson.jpg
600
800
admin
/wp-content/uploads/2020/02/sabr_logo.png
admin
2012-01-04 19:54:54
2012-01-04 19:54:54
Murry Dickson