---
When Ned Garver won his 20th game on the last day of the 1951 season for the lowly St. Louis Browns in 1951, he became the first pitcher in major league history to win 20 games for a team which lost 100. One of the most durable pitchers of his era, the right-handed Garver led the American League in complete games in 1950 and 1951 and recorded 129 victories in his 14-year major career while playing for some of baseball's worst teams in the late 1940s and 1950s.
A baseball career was far from foretold when Ned Franklin Garver was born on Christmas Day, 1925, the fourth of five children to Arl and Susie Garver in the small town of Ney (population 300), Ohio, situated about 65 miles southwest of Toledo. "I was born and raised on a farm," Garver said in an interview with the author. "We farmed by horses. It was a lot of manual labor which was good to develop your physical strength."[fn]The author would like to express sincere thanks to Ned Garver, whom he interviewed on April 27, 2012.[/fn]
Garver's father had been a semipro pitcher and encouraged his sons to play baseball. "When my brothers [Don and Mark] and I went back to our fields to shock wheat, we'd throw the ball. We had a backstop out in one of our pastures where we practiced." At Ney High School, Ned played basketball and starred as a pitcher and shortstop on the baseball team. After his freshman year, he also began to play for his local town team. "It was in the Depression and nobody had any money to do things or go places," Garver recalled about baseball in the 1930s. "Every little community had their own baseball team. You didn't have to go far to play games. That's what we did for recreation — play baseball." As a senior in 1943, he led his high school team to the state baseball tournament by pitching every game, including both games of a doubleheader, but lost 3-2 in the finals. "My mother always said that playing baseball would never get you no place," Garver said with a chuckle about his life in baseball. "She wanted me to be a minister or an undertaker."
"There was never any attention from scouts at my high school games," Garver said. "After high school, I went to Fort Wayne, Indiana, to play for a team in the Federation League [semipro] in 1943. My high-school catcher, Calvin Esther, was also on the team. We'd play on Wednesday night and Sunday afternoon. On Wednesday, he'd drive one week and I'd drive the other week. Then we hitchhiked on Sundays." Pitching and playing third base, Garver led the team, coached by P.L. McCormick, to a national tournament berth in Youngstown, Ohio, where he attracted the attention of scouts from the St. Louis Browns, Pittsburgh Pirates and Washington Senators. Garver had previously enlisted in the service and when he reported to active duty at the conclusion of the season, he thought he had lost his chance to pursue a career in the major leagues. However, he was discharged in the spring of 1944 due to flat feet and returned to McCormick, who was also a bird-dog scout for the Browns. "McCormick got me a contract with the [St. Louis Browns affiliate] Toledo Mud Hens in 1944 for $100 a month," Garver explained. "They sent me on a train to Cape Girardeau, Missouri. That's where the Mud Hens and the St. Louis Browns were taking spring training because it was during the war and the teams couldn't travel far due to gas rationing." Garver opened the season with Toledo, but they wanted to farm him out. "I asked them to send me some place close in case I don't make it."
Reporting to the Newark (Ohio) Moundsmen in the Class D Ohio State League for Opening Day 1944, the stocky 18-year old right-hander led the league in wins (21), innings (245), ERA (1.21), tossed a no-hitter, and batted .407 in his first year of professional baseball.[fn]The Sporting News, June 27, 1944, 24.[/fn] "Back when I played, I didn't receive much help from managers or coaches who happened to play my position," Garver recalled, but there was one notable exception. Garver credited Clay Bryant, former major league pitcher for the Chicago Cubs, for teaching him the art of situational pitching and how to use his change-up and breaking balls effectively.
During the offseason, Ned returned to Ney and his wife, Dorothy (nee Sims), whom he married when he was still in high school. In addition to helping on the farm, Ned worked in local factories during his years in the minor leagues. Once his career with the Browns started, Ned regularly participated on national barnstorming tours in October and often played in exhibition and semipro games in his home town and local area. A lifelong fan of basketball, he refereed high-school games to maintain his conditioning.
Garver spent most of the 1945 season with Toledo, facing seasoned veterans. The youngest pitcher on the staff, Garver split his time as a starter and reliever, going 5-8 with a 4.64 ERA in 132 innings. In late summer he was sent to the Elmira (New York) Pioneers in the Class A Eastern League. "They told me that Elmira had a chance to win the division, but they needed pitching," said Garver, who won three of his four starts for the Pioneers. "Well, when I got there, all they had was pitching and they weren't going to make the playoffs. So I played left field when I didn't pitch. I practiced throwing the Rip Sewell 'eephus' ball. I had some fun horsing around up there."
The 20-year-old was assigned to the Double-A San Antonio Missions in the Texas League for 1946 and 1947 where contact with veteran, former big-league pitchers proved invaluable. "Major league baseball players didn't just quit or retire back then. They didn't have enough money. They played in the major leagues and then went back in the minors to play some more," Garver explained. "Guys like Sig Jakucki [age 36], John Whitehead [37], Johnny Markum [37], and Harry Kimberlin [36] played in the big leagues and were on clubs I was on. I got to watch them pitch and I'd ask how to pitch. I learned you can get batters out by wasting a couple of pitches and then make them hit a change-curve or change-up." After going 8-8 with a 2.86 ERA in 148 innings in his first year with the Missions, Garver improved to 17-14 and logged 257 innings as the ace of the staff in 1947. Acting on the advice of head scout Jack Fournier, the Browns purchased Garver's contract at the end of the season.
With a career in the major leagues beckoning, Ned reported to San Bernardino, California, for his first big-league spring training in 1948. "It was an eye-opener," Garver said about his excitement facing major league players. "You'd see players you'd heard and read about in the papers and admired for years. And now when they call on you, you'll be playing against them." At 5-foot-10 and 180 pounds, Garver was a fearless competitor and impressed manager Zack Taylor. "[Garver] likes to pitch and know how to pitch," Taylor said in spring training unsure how he'd use him.[fn]The Sporting News, May 12, 1948, 9.[/fn]
"I was nervous," Garver said about his major league debut in Washington's Griffith Stadium on May 9. "I was warming up in the bullpen [and] heard somebody else warming up. Zack Taylor had Sam Zoltak warming up, too. I guess he didn't think I'd make it. In the first inning I had the jitters and I couldn't get the ball over like I wanted." After surrendering three runs in the first inning, Garver pitched five scoreless innings, but was charged with the loss in a 3-1 defeat to the Senators.
In his home debut at Sportsman's Park on May 22, he avenged the loss by tossing his first career complete game, defeating the Nats 4-2. Starting in 24 of his 38 appearances, Garver hurled a 10-inning complete game on September 4 against the Indians, giving up eight hits and three runs (two earned) in an impressive 4-3 victory. With the bases loaded with two outs in the 10th inning, Garver rapped a walk-off game-winning single to score Dick Kokos. It was the first of 17 times that Garver pitched at least 10 innings in a game. The Sporting News praised Garver as one of the "cagiest young pitchers in the circuit" and Taylor added Garver has "loads of courage, great pitching sense, and fields his position well."[fn]The Sporting News, September 15, 1948, 13.[/fn] An exceptional all-around athlete, Garver batted .218 in his career (180-for-827), including .288 as a rookie.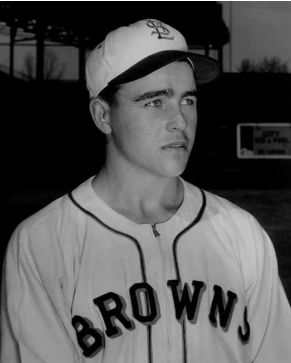 Not known as a hard thrower, Garver's success rested on his cerebral approach to pitching, control, and superior command of his breaking balls. He had a reputation of throwing few pitches in the strike zone and rarely giving batters a "good" pitch to hit. "I was a sinker-slider ball pitcher," Garver said. "I accidentally developed the slider playing catch in St. Louis. I had good control and could throw from different spots — sidearm or overhand. I already had a curveball and a sinker. All of a sudden I threw a slider. I could feel it when it left my hand. I threw the ball again with the same pressure from my finger and that son-of-a-biscuit moved. Ted Williams always said that he could not pick up the spin from my slider. That pitch made the difference in my major league career." Holding right-handed hitters to a career .256 batting average and left-handed hitters to a .267 average, Garver had two different sliders with different breaks. "One I threw like a football pass to left-hand hitters, but I tried to throw it only belt-high," he said. "It would break back in and hit you on the fist of the bat. I had another slider I'd throw three-quarters. I could make the ball drop out and down and I threw it a lot to right-hand hitters."
With a 7-11 record and team-best 3.41 ERA in 198 innings, Garver was one of the most highly sought after pitchers in the majors. Until he was finally dealt in 1952, he found himself the object of trade rumors in every offseason with the cash-strapped Browns, whose roster annually underwent drastic personnel changes. Ranked last in ERA (5.21), fielding (.972), and tied with the Senators with a league-low .254 batting average, the Browns were woeful in 1949, going 53-101; however, Garver, often considered a "one-man pitching staff" during his tenure with the team, developed into one of the league's most durable pitchers.[fn]The Sporting News, May 23, 1951, 15.[/fn] "[Taylor] was like a father to me," Garver said about his manager's trust in him and willingness to let him pitch. "I was coming into the major leagues and was a pretty young guy. He knew how to handle me. If I made a mistake, he'd talk about it so I wouldn't do it the next time." For the first of four consecutive seasons, Garver was the Brownies' Opening Day starter and pitched a complete game on April 19, defeating Bob Feller and the Cleveland Indians 5-1 (and giving the Browns a winning record for the only time the entire season). Plagued by poor run support, Garver was provided three runs or fewer (a total of 23) in 14 of his league-leading 17 losses. Starting in 32 of his 41 games, Garver easily paced the team with 12 wins and 232 innings.
Taylor's solution to the league's worst defense in 1950 was to keep Garver in the game as long as possible and then use him as the team's fireman in selected situations, especially with a bullpen consisting of Dick Starr (5.02 ERA), Fritz Dorish (6.44), Don Johnson (6.09), and Cuddles Marshall (7.88). On May 13, Garver dueled hard-throwing Virgil Trucks at Briggs Stadium for ten scoreless innings before surrendering a walk-off single to Vic Wertz that scored Johnny Lipon with two out in the 11th inning to lose a heartbreaker. Beginning on June 30, when he pitched a career-high 12-2/3 innings losing 3-2 to the White Sox on Gus Zernial's walk-off, 13th-inning home run, Garver completed 17 of his final 18 starts, but won just seven of them, including 10-inning complete games against the Philadelphia Athletics on July 15, winning 3-2, and against the Cleveland Indians winning 2-1 on September 9. The hard-luck ace for the Browns finished with a career-high 260 innings, won 13, lost 18, registered a 3.39 ERA (his 146 ERA+ — a stat not devised until long after he retired — led the AL), and completed a league-leading 22 games.[fn]The Sporting News, December 20, 1950, 19.[/fn]
Earning a reported $18,000, Garver endured offseason rumors that Browns' owner Bill and Charlie DeWitt would sell his contract to any team willing to pay approximately $500,000. Reporting to spring training in Burbank, California, in great shape and a 32-46 career record, the boyish-looking Garver was a low-key pitcher's pitcher whom Browns trainer Bob Baumann called "the most even-tempered athlete I've ever handled."[fn]The Sporting News, January 24, 1951, 5.[/fn] A loner who preferred to spend evenings with his wife and children, Garver shunned the spotlight; however, as the 1951 season progressed, Garver discovered that avoiding the headlines became increasingly difficult to do.
After getting rocked for six runs in 1-2/3 innings in a loss to the White Sox on Opening Day, Garver completed a league-leading 24 of his final 29 starts. Typically inducing more ground balls than fly balls because of his sliders, Garver shut out the Red Sox on June 1, winning 4-0, and also knocked in two runs. With his deliberate delivery and pitches outside of the strike zone, Garver attempted to disrupt batters' timing with occasional fast balls. "He's sneaky-fast," said Ted Williams.[fn]The Sporting News, September 9, 15, 1948, 13.[/fn] After missing the last two weeks of June due to arm tenderness, Garver returned in July to win four of his next five starts, suffering only a complete-game loss to the reigning champion New York Yankees 1-0. In his September drive to become the first Browns pitcher to win 20 games since Bobo Newsom in 1938, Garver completed all seven of his starts, winning his last four. In the Browns' last game of the season, Garver slugged a home run to break a 4-4 tie in the in the bottom of the 4th inning propelling his team to a 9-5 victory over the White Sox in St. Louis.
Garver's season (20 wins, 12 losses, and a 3.73 ERA in 246 innings) was the most celebrated season in Browns history since George Sisler batted .420 in 1922. Garver became the first pitcher in major league history to win 20 games for a team which lost 100 games (the Browns won just 52 times), and was the first pitcher to win 20 games for a last place club since the White Sox' Hollis "Sloppy" Thurston in 1924. Garver also batted a career-high .305 (29-for-95) with nine runs batted in. Leading all AL pitchers in WAR for the second consecutive season and all AL pitchers in total WAR from 1948-51, Garver reached the apex of baseball before a series of arm and leg problems cropped up in 1952 and affected him the rest of his career. Named to his first and only All-Star team, Garver started the game against Robin Roberts and pitched three innings, allowing only an unearned run.
In a highly contested MVP race in the AL, Garver came in second behind Yogi Berra. "I was called by the Associated Press in Cleveland," Garver said about an episode that was a source of disappointment his entire life. "I was told that I won the night before the award was announced. The Associated Press congratulated me for being the MVP. The next morning they called me again and told me they were sorry, but I didn't win the award after all. Apparently New York writers left me off the ballot entirely. I don't have any bitterness toward baseball except for this." Berra, Garver and Allie Reynolds each received six first-place votes; however, Garver received only two second-place votes.
Considered one of the game's great sportsmen, Garver's success in his first four years was a product of his durability and his flexibility to pitch in relief. "Zack Taylor would want me to go to the bullpen and save a game," said Garver, who won two games in relief in his historic 1951 season. "I didn't mind. The day after you pitch, you can pitch the next day for at least an inning and still have good stuff. I never thought managers abused me."
In light of the national headlines about teammate Al Widmar's threat to sue baseball, Congress, led by U.S. Rep. Emanuel Celler, D-N.Y., chair of the House Subcommittee on Monopoly Power, initiated hearings on major league baseball's antitrust immunity granted by the U.S. Supreme Court in 1922. "I do not care where I play baseball as long as I feel I am getting paid what I am worth," Garver told The Sporting News.[fn]The Sporting News, October 24, 1951, 1.[/fn] Because of a barnstorming tour with teammate Satchel Paige, Garver could not testify in person like Widmar; instead, he wrote a letter to Congress. "I said that there was not an adequate substitute for the reserve clause. If all of the best players go to one team, you'd soon have an imbalance," explained Garver. "If a player did not get a chance to play in a certain number of games in a year or two, then the team has to trade or sell him. Players rot on the vine. If you don't have a chance to play, you'll lose your ability. Because your career is short, teams should do something if they don't want to play you." In addition, Garver advocated a type of salary arbitration for all players with at least three years of experience and a players' voice in the selection process for baseball commissioner.
The Browns began the 1952 season with St. Louis legend Rogers Hornsby as the new manager. Hornsby, according to Garver, was aloof and ornery unlike the fatherly Taylor. "[Hornsby didn't help] your attitude, confidence, [or] your approach to hitters. Good God, I played for [him] in 1952 and he didn't even know your name. One time he thought I was Cliff Fannin and that was at the end of spring training." Noting Hornsby's (whose racist tendencies are well documented) peculiar aversion Garver, Satchel Paige remarked in his sardonic dry wit: "[Hornsby] treats Ned worse than he does me."[fn]The Sporting News, June 25, 1952, 1952, 3.[/fn]
Garver inaugurated the 1952 season with two consecutive shutouts, giving him 42 complete games in his last 49 starts, but then stumbled, losing his next six decisions. Bill Veeck, who had taken ownership of the Browns the previous July, had suggested that he had no plans to trade the team's most popular player and its highest paid (at a reported $25,000), but noted "there's no such thing as a player you wouldn't trade", and that the team needed entertaining players, not just an "unspectacular workman" like Garver."[fn]The Sporting News, July 11, 1951, 6.[/fn]
In the "biggest 'waiver' deal in baseball history" Garver was traded along with Bud Black, Jim Delsing and Dave Madison to the Detroit Tigers for Don Lenhardt, Dick Littlefield, Marlin Stuart and Vic Wertz on August 14, 1952.[fn]The Sporting News, August 20, 1952, 13.[/fn] "I heard about my trade when we were in Cleveland," Garver said. "I don't feel bad about the trade. It was a shock to be driving and hear on the radio that I was traded." Garver had struggled all year and missed several starts due to a pinched nerve in his neck, but tossed a complete game, beating his former teammates 4-2 on August 17 in his debut with the Tigers. "In the ninth inning of that game," said Garver in gruesome detail, "I'd throw the ball and my muscle would begin to spasm so bad that I had to hold my hand against my right leg to stop the spasming. Then I could throw again." He didn't pitch again all season and finished with an 8-10 record and a 3.60 ERA in 157-2/3 innings.
After treatment on his arm in the offseason, Garver reported to the Tigers in 1953 healthy, but suffered cartilage damage to his left knee in his third start of the season. With his knee regularly popping out of its socket while pushing off the mound, Garver overcompensated and developed back problems. He pitched in pain the entire season, but his effectiveness was limited. Tossing at least 10 innings four times, Garver paced a bad Tigers team with 11 victories and 198-1/3 innings, but his 4.45 ERA was a career worst for a full season.
Following offseason knee surgery, recuperating from back ailments, and just a year removed from a pinched nerve in his neck, Garver enjoyed the best of his four-plus injury-filled years with the Tigers in 1954. In his first start, Garver pitched a five-hit shutout against the Baltimore Orioles on April 17, winning 1-0. He proceeded to win his first three decisions giving up just two earned runs in 37 innings. The 28-year old was in great health and pitched deep into ball games, completing 16 of 32 starts. General manager Muddy Ruel noted Garver's newfound sense of "confidence" after he hurled three consecutive complete games bookended by a masterful five-hit shutout over the Red Sox on July 30 and an impressive four-hit shutout over the Indians, winners of 111 games, outdueling Early Wynn on August 10.[fn]The Sporting News, September 1, 1954, 5.[/fn] With 14 wins (11 losses) and a career-low 2.81 ERA in 246-1/3 innings, Garver's comeback was unexpected (as would be his 4.4 WAR, 6th best in the AL among pitchers).
In organized baseball since 1944, Garver pitched for a winning team for the first time in his career in 1955. "[Detroit] was my favorite place," he said about playing in Briggs Stadium. "There was nothing negative about St. Louis. They gave me a chance. But Detroit, well, I used to go to games there as a child when it was called Navin Field. Then to be able to play there, it was heaven. My people from back home could see me play." Led by youngsters Al Kaline and pitchers Frank Lary and Billy Hoeft, the relaxed Tigers played well for their new manager. "Bucky Harris was sympathetic," explained Garver. "He didn't even like to take you out in the course of an inning. He waited until the inning was over." Completing 16 of 32 starts for the second consecutive year, Garver pitched a 12-inning complete game beating Yankees 4-3 in Detroit on June 7. With superb run support, Garver won five consecutive starts in July (all complete games), surrendering just 10 runs in 45 innings, and put Detroit within seven games of first place. With the Tigers knocked out of a pennant race owing to a 12-18 record in August, Garver lost seven of his last nine decisions (doomed by the Tigers scoring three runs or fewer in five of them) to finish with a 12-16 record in 230 2/3 innings.
When Garver "popped a muscle" in his right elbow to start the 1956 season, it appeared as though his career might be over.[fn]The Sporting News, May 9, 1956, 16.[/fn] "I pitched in cool weather in Cleveland to start the season against Early Wynn," Garver explained. "The whole series was cold. Then we went to Kansas City and the weather was bad. I was throwing batting practice. In those days starting pitchers threw batting practice. Earl Torgeson came over and told me he wanted me to throw him curveballs. I didn't want to, but I did and boom, I felt it in my arm." Unable to pitch without excruciating pain, Garver made just five more appearances and was limited to 17-2/3 innings on the year.
On December 5, 1956, Garver was traded by the Tigers with Wayne Belardi, Gene Host, Virgil Trucks and $20,000 to the Kansas City Athletics for Jack Crimian, Jim Finigan, Bill Harrington and Eddie Robinson. "I didn't have the kind of stuff I had before the injury," Garver said about his four up-and-down seasons with the Athletics. "I was a different pitcher. I [used to turn] my back to hitters; I threw sidearm and from different angles. I did the stuff Satchel Paige did. [Garver and Paige were teammates on the Browns in 1951 and 1952.] After the injury I couldn't throw my good fastball, slider, and sinker any more. I could still pitch a couple hundred innings a year, but I was not the same pitcher."
For Garver, playing for the Athletics was eerily similar to his tenure with the Browns. Not only were they perennial losers (they averaged almost 90 losses per season while he was on the team), they also had an annually evolving roster. A's owner Arnold Johnson was a business partner with Yankees co-owner Del Webb and the two made deals involving dozens of players. Given extra rest between appearances, Garver led a woeful pitching staff with 23 starts and 145 1/3 innings in 1957, but won just six of 19 decisions. On May 26 he won his 100th career game by hurling a complete-game three-hitter to defeat the Tigers 3-1. In arguably his best game in his career, he pitched the second of three career two-hitters on August 11 when he blanked the Indians at Municipal Stadium, striking out six.
Pitching consistently in 1958 and 1959, Garver notched 12 and 10 wins, respectively, while hurling just over 200 innings each season and completing a combined 19 of 58 starts. Off to a fast start in 1958, Garver shut out the Indians on Opening Day, winning 5-0, and pitched two more shutouts in May, defeating the White Sox 3-0 on May 15 and the Orioles 4-0 on May 25. Aided by Harry Simpson's solo home run in the top of the 11th inning, Garver ground out an 11-inning complete game to defeat the White Sox at Comiskey Park on August 13. In 1959 Garver coupled two of his best offensive games with excellent pitching. On June 21 he went 3-for-4 with two runs, a double, a home run, and two runs batted in while pitching a three-hit shutout against the Orioles at Memorial Stadium. About two weeks later, Garver equaled his career high with four hits (in four at bats) and hit the last of his seven career home runs, but was the hard-luck loser when he surrendered an 11th-inning single to Nellie Fox to score Luis Aparicio in a 4-3 loss to the White Sox at Municipal Stadium in Kansas City.
Struggling in 1960, the 34-year-old Garver lost his spot in the starting rotation in early June (with a 0-5 record and 8.18 ERA). Inserted back into the rotation in late August, Garver unexpectedly surged, winning three of seven starts, tossing four complete games and two shutouts. In his last start of the season on September 28, Garver shut out the Indians on three hits which proved to be his final victory in his major league career.
Sporting a 4-9 record and 3.83 ERA in 122 1/3 innings in 1960, Garver was made available in the AL expansion draft and was chosen by the Los Angeles Angels with their eighth pick. Age and injuries finally caught up with Garver, who worked primarily out of the bullpen before being released on June 10, 1961. "I had been a starting pitcher my entire life, for 17 years," Garver explained. "I started my first game but then was used in relief. I was warming up several times a night and I couldn't survive that. And I couldn't perform, either. I was ready to quit."
A likable and approachable player with contacts in seemingly every organization, Garver did not participate in a big league spring training in 1962, but fielded inquiries from Houston Colt .45s general manager Paul Richards and from his former employers Bill Veeck with the White Sox and Bill DeWitt with the Reds about his interest in joining their respective teams, but he declined. With a 129-157 record and a 3.73 ERA in 2,477 1/3 innings, Garver retired from baseball. He also won 54 games in the minor leagues.
During his playing career, Garver had invested in farms in and around his hometown of Ney, and eagerly returned to his roots, his wife Dorothy, and their three children after his playing career. In addition to farming, he worked for a local meat packing company for 18 years and retired from his second career in 1980. After his wife of 52 years died of leukemia, Garver married Dolores (nee Hart) in 2001. In his later years, Garver resided in Ney and spent the winter months in Florida. He enjoyed golf and participating in occasional reunions of the surviving members of the St. Louis Browns.
He died at age 91 on February 26, 2017.
Last updated: November 7, 2020 (ghw)
Sources
Ancestry.com
BaseballLibrary.com
BaseballReference.com
New York Times
Retrosheet.org
The Sporting News
Born
December 25, 1925 at Ney, OH (USA)
If you can help us improve this player's biography, contact us.
http://dev.sabr.org/wp-content/uploads/2012/11/GarverNed.jpg
600
800
admin
/wp-content/uploads/2020/02/sabr_logo.png
admin
2012-11-09 20:30:33
2021-09-26 15:03:48
Ned Garver