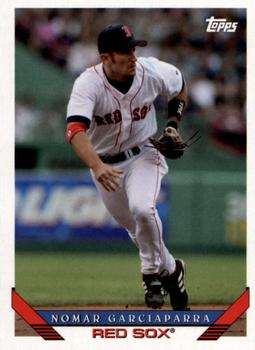 ---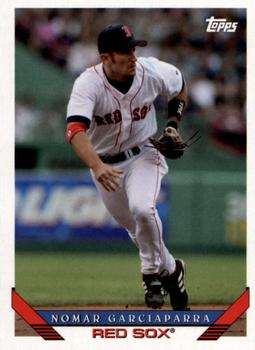 After seeing Nomar Garciaparra play, Red Sox great Ted Williams called Boston's general manager Dan Duquette and said, "That shortstop you brought up reminds me of a player, but I can't figure out who."1
Exuberant upon remembering, Williams called back. Without saying hello, he yelled, "DiMaggio! That's who he reminds me of, DiMaggio! The build, the face, the foot speed, the way he swings and the ease with which he plays the game."2
Born July 23, 1973 in Whittier, California, Anthony Nomar Garciaparra became a star in 1997, when he won the American League Rookie of the Year Award in a unanimous vote. In his first seven full seasons, he finished in the top 10 in voting for the Most Valuable Player Award five times and, in 2000, hit .372, the highest average by a right-handed batter since Joe DiMaggio hit .381 in 1939.
Garciaparra's early years were filled with positivity from fans, media, and management. He was the toast of Boston and, other than needing some occasional privacy, seemingly couldn't have been happier. But as his Red Sox career wore on, his mood darkened. By 2004, the last year of his contract, Garciaparra had become so dissatisfied, that, in a move once unthinkable, he was traded.
Thereafter, Garciaparra's career turned sharply downward. While he amassed 41.3 Wins Above Replacement3 (WAR) in his first eight seasons, he totaled only three WAR in his last six.
A right-handed batter and thrower, Garciaparra spent 14 years in the major leagues, from 1996 through 2009. He played shortstop for the Boston Red Sox; later in his career, he split time at shortstop, third base, and first base with the Chicago Cubs, Los Angeles Dodgers, and Oakland A's.
Garciaparra has two sisters, Monique and Yvette, and a younger brother, Michael, a shortstop in the minor leagues from 2002 through 2010.4 Nomar is married to former professional soccer star Mia Hamm, with whom he has three children.
His parents are Ramon and Sylvia. Garciaparra's middle name, Nomar, is "Ramon" spelled backwards. Nomar went by his middle name because it was unique. When someone yelled "Nomar," he could always be sure the person was calling him.
Ramon, born in Mexico, was a graphic artist and baseball aficionado who trained his son to be a contact hitter. When Nomar played T-ball, Ramon rewarded him with 25 cents each time he got a hit and fined him 50 cents each time he struck out.5
Ramon made sure Nomar knew how to play every position. "At supper [my dad] would draw diagrams of a diamond on a paper napkin and outline different game situations for me," Nomar said. "He'd say, 'Okay, one out, men on first and third, you're catching, runner goes, what are you going to do?'"6
Garciaparra attended St. John Bosco High School in Bellflower, California where he was an All-Star midfielder for the soccer team. He was also a placekicker and wide-receiver7 on the football team and could kick a field goal from 60 yards.8
But Garciaparra's best sport was baseball. As a senior, he batted .492 and made California's All-Southern Section Baseball Team.9 Major-league scouts noticed, and he was selected by the Milwaukee Brewers in the fifth round of the 1991 amateur draft. But rather than signing a contract, Nomar decided to go to college. He was recruited by several, including nearby UCLA, but chose to attend Georgia Institute of Technology (Georgia Tech).10
At Georgia Tech, Garciaparra became teammates with future major leaguers Jay Payton and Jason Varitek. From 1992 through 1994, the three combined to make Georgia Tech one of the best college teams in the country. Varitek and Garciaparra would later be teammates on the Boston Red Sox for parts of eight seasons.
As a freshman, Nomar was named Atlantic Coast Conference (ACC) Rookie of the Year. Georgia Tech finished 45-19 and was ranked as one of the top 25 teams in college baseball. Garciaparra was selected to the first team All-ACC and as a National College Baseball Writers Association first team All-American.11
That summer, Nomar made the 1992 US Olympic Baseball Team as a walk-on and became the starting shortstop. Manager Ron Fraser said, "He acts like he belongs."12 Garciaparra was the only freshman and only walk-on to make the team.
Garciaparra suffered injuries as a sophomore in 1993 that contributed to a down year. Even so, the Yellow Jackets won the ACC Championship and were invited to the NCAA Division I Baseball Tournament.13 After the season, Garciaparra played in the Cape Cod Baseball League, where he led the Orleans Firebirds to a championship. In 2002, Garciaparra was inducted in to the Cape Cod Baseball League Hall of Fame.14
During Georgia Tech's 1994 season, new coach Danny Hall praised Garciaparra, saying, "Defensively, [Nomar is] as good as anybody I've ever coached and that includes [Hall-of-Famer] Barry (Larkin)."15
At the end of his junior season, Nomar was chosen to the All-ACC Team and named an All-American by Collegiate Baseball. He batted .437, second in the ACC between Payton and Varitek. With this powerful core, Georgia Tech led the nation in scoring with an average of 9.7 runs per game16 and had an overall record of 47-16.
The record propelled the Yellow Jackets to the NCAA Division I Baseball Tournament. Georgia Tech scored 53 runs in five games on its way to winning the Midwest II regional. Garciaparra was named the regional's Most Outstanding Player.17
Consequently, Georgia Tech earned its first trip to the College World Series. In the semifinal game, with the score tied in the 12th inning, Garciaparra homered to give Georgia Tech the win and a spot in the finals.18
Nomar's father was at the game. "I always remember the smile on my Dad's face when I hit a home run to win a game in Little League," Garciaparra said. "He had the same smile on his face tonight."19 But the Yellow Jackets' dreams of a national title ended after losing to Oklahoma in the finals. Nomar was named the All-Tournament Team shortstop.20
Garciaparra always wanted to be in the lineup—he was, as ballplayers say, a "gamer." During the College World Series, the first game of a doubleheader was played in 100-degree heat and a severely dehydrated Garciaparra had to be taken to the hospital and given intravenous fluids. After he was disconnected, he hurried back, but didn't arrive until the second game had just started. He begged to play, was inserted as a pinch-hitter and, on the first pitch he saw, hit a home run.21
Including the postseason, Garciaparra batted .427 and was one of only two college players to reach double figures in doubles, triples, and home runs.22
Growing up, Garciaparra had always been a good student and continued that excellence at Georgia Tech. He made the Dean's List every quarter and was an academic All-American in 1993 and 1994.23
In 2002, Garciaparra was named one of the ACC's 50 best players of all time.24
In June 1994, the Boston Red Sox chose Garciaparra 12th in the first round of the amateur draft. The Red Sox sent him to Sarasota of the Florida State League where he played 28 games and hit .295. In the Arizona Fall League, scouts couldn't remember a shortstop with so much range to his left.25
In 1995, the Red Sox promoted Nomar to the Trenton Thunder of the Double A Eastern League. He played all 125 games and led the Thunder in stolen bases, triples, and runs. Although he committed 23 errors,26 he led the league in assists.27
At an even 6-feet, Garciaparra weighed under 160 pounds in college, but by spring training of 1996, he was up to about 180. He had gained strength and a chiseled physique. Garciaparra said, "I knew I couldn't go out with the same body I had in college." Nick Cafardo of the Boston Globe wrote that since the previous year, "Garciaparra has become a 'big' shortstop."28
Garciaparra started the 1996 season with the Triple A Pawtucket Red Sox, but injuries sidelined him until early July. After a short rehab assignment in the Gulf Coast League,29 he returned to Pawtucket.30 In just 43 games, Nomar batted .343, hit 16 home runs, drove in 46 runs31 and was voted Pawtucket's Rookie of the Year. 32
Thus Garciaparra was called up to the major leagues on August 31.33 In his first start, he went 3-for-5 with a home run and two RBIs.34 Former Red Sox player Johnny Pesky said, "I don't like to compare players, but this kid does remind me a lot of [Hall of Famer Luis] Aparicio."35
Garciaparra was so impressive in late 1996 and spring training of 1997 that he was the starting shortstop and leadoff hitter for Boston on Opening Day.
Garciaparra's first full season was auspicious. He hit safely in 30 straight games—an AL rookie record. He led the AL with 209 hits and 11 triples and led the majors in multi-hit games.36 His 98 RBIs set a record for leadoff hitters and his 365 total bases were the fourth-most ever by a rookie and the most ever by a Red Sox rookie.37 Garciaparra unanimously won the Rookie of the Year Award (fifth unanimous choice ever), finished eighth in MVP voting, and won a Silver Slugger Award. Even so, a humble Garciaparra said, "There's room for improvement in everything—offensively and defensively."38
But the Red Sox finished fourth in the AL East, 20 games out of first. Did Nomar think 1997 was successful? "It wasn't bad, personally. But we didn't win anything, so how can I say it was a success?"39
Nomar was wildly popular. Ted Williams said, "I'm looking at someone who is going to be as good as anyone who played the game. I say that, and, boy, I believe it, too. And, the best thing about it is, he's a terrific kid."40
In March of 1998, Garciaparra signed what became a seven-year contract for $44.9341 million. Red Sox general manager Dan Duquette said, "Garciaparra has all the attributes our fans adore. He's got great work ethic, good leadership ability. He's everything you want a ballplayer to be."42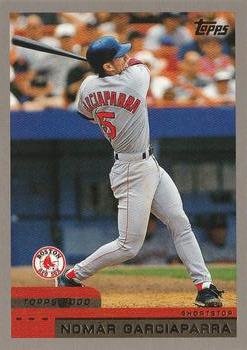 Nomar made a mockery of the sophomore jinx. He hit 35 home runs, scored 111 runs, and drove in 122. He had a 24-game hitting streak and finished second in MVP voting to Juan Gonzalez, who had 45 home runs and 157 RBIs. The Red Sox finished 92-70, 22 games behind the New York Yankees, who won 114.
The 92 wins were enough to make the playoffs as the wild card. But the Red Sox lost the AL Division Series to the Indians, three games to one. With Red Sox down to their final at-bat, Garciaparra exhorted Boston fans to cheer the Red Sox on. Afterward, he hugged his teammates and thanked the fans for their loyalty.43 In the series, Nomar hit .333 with three homers and a double and drove in 11 runs.
In spring training of 1999, a member of the media suggested, with slugging first baseman Mo Vaughn gone, Garciaparra was now "The Man." He responded, "I don't know the definition of 'The Man.' There's no such thing as 'The Man.' Nobody's bigger than the game."44
Garciaparra continued to crush opposing pitchers, leading the American League with a .357 batting average. His On-Base-Plus-Slugging45 (OPS) ranked third in the AL and was the highest of any shortstop in the majors.
In late September, Garciaparra was hit by a pitch on his right wrist.46 Little did he, or anyone else, know the extent of the damage it caused or how much it would affect him in the future.
When asked about the baseball tradition in Boston and his relationship with the fans, Garciaparra said, "That's why I enjoy playing here so much. I can't think of a better place to win. [Winning here] would be one of the greatest days ever."47
The Red Sox won 94 games, enough to make the playoffs as the wild card. Boston beat Cleveland three games to two in the Division Series, but lost to the Yankees in the League Championship Series, four games to one. In the nine playoff games, Garciaparra hit .406, with four doubles, four home runs, eight runs scored, and nine RBIs.
Garciaparra followed his spectacular 1999 season with an even better one in 2000. Again he led the American League in batting average, improving to .372, the highest average by a shortstop in more than 60 years, and his OPS (1.022) was the third-highest by a shortstop since 1901. As if to punctuate the historic season, he finished with a 20-game hitting streak.
From 1997 through 2000, Garciaparra was arguably one of the three best players in baseball; only Alex Rodriguez (29.3) and Barry Bonds (27.8) accumulated more WAR than Garciaparra (27.7). In voting for AL MVP during that span, he finished eighth, second, seventh, and ninth.
In 2001, Rodriguez was making $22 million per year and Derek Jeter, $12 million. Garciaparra, relatively underpaid at $7.25 million, said he wasn't jealous, "I'm making enough to take care of myself and my family. I'm totally content."48
In its March issue, Sports Illustrated ran a story on Garciaparra's offseason training regimen. The cover featured a shirtless Garciaparra appearing puffed-up and looking nothing like the skinny kid he was in college.49 The photo fueled suspicion Garciaparra had used steroids.50
Although Garciaparra felt discomfort in his right wrist in 2000, it hadn't bothered him enough to mention to the Red Sox medical staff. But on February 26, 2001, five days after he arrived at spring training, he awoke in significant pain. Two days later, an MRI showed a split tendon in the wrist.51
On April 2, Red Sox team doctor Bill Morgan performed surgery. The damage Morgan found was more extensive than he anticipated and, although he had to do significant repairs, said the surgery went well. Morgan estimated Garciaparra would be out for eight to 12 weeks.52
The estimate turned out to be optimistic. Garciaparra didn't play for nearly 17 weeks and missed Boston's first 103 games.
He came back on July 29. When he stepped to the plate for his first at-bat, Boston fans gave him a 35-second standing ovation. His third time up, Garciaparra lined a homer that tied the game at 2-2 in bottom of sixth. The next inning, after the White Sox had taken a 3-2 lead, he smacked a two-run single, giving the Red Sox a 4-3 lead they never relinquished. The Boston press likened the hit to Carl Yastrzemski's clutch single on the final day of the 1967 season.53 Garciaparra's triumphant return was front-page news.54
In his first seven games, Garciaparra hit .423, but the wrist was not fully healed. Shortly thereafter, he began missing games and his performance slid.55 When he played his last game on August 26, the Red Sox were 71-58, in second place, only four games out of first. However, Boston proceeded to lose its next seven and 21 of its next 27. When the carnage ended, the Sox record had fallen to 77-79 and the team had been eliminated from playoff contention.
In the midst of the collapse, GM Duquette fired pitching coach John Cumberland in a ham-handed way. "That's why no one wants to (expletive) play here," said an angry Garciaparra.56 It was a rare outburst of discontent. There would be more.
Teammate Scott Hatteberg said of Garciaparra, "Things have to change around here. I think he'll be very careful with his next contract." Hatteberg continued, "I can't imagine anything worse than what's gone on this year. It's been chaos the whole year."57
In 2002, the Red Sox sought to restore order. After John Henry took over as owner, he fired Dan Duquette as GM and Jimy Williams as manager. Initially, the changes seemed to help; at the end of May the Red Sox had a record of 36-15 and were in first place by two games. But, from June through August, Boston went 39-43 and fell 8½ games behind the division-leading Yankees. The Red Sox finished 93-69, in second place in the AL East, six games short of making the playoffs as the wild card.
Whatever lingering problems Garciaparra may have had with his wrist, they didn't keep him from playing; he missed only six games all season. He drove in 120 runs and tied for the league lead with 56 doubles—the most since 1936 and the second-most in Red Sox history. (Earl Webb, the all-time single-season doubles leader with 67, played for the Red Sox.)58
However, some negative signs appeared. Garciaparra's .310 batting average and .880 OPS were good, but down 27 and 83 points, respectively, from the averages he established from 1997 through 2000. A friend said, "He didn't completely trust the wrist."59
Late in the season, Garciaparra was particularly crabby. A notorious first-pitch swinger, he was upset about being criticized for not taking enough pitches. He complained about the way the press portrayed contract negotiations with the Players Association and groused about the lack privacy in the clubhouse. 60
He started 2003 the same way he ended 2002: annoyed with the media. He said, "Somebody will write some (expletive) or whatever. Some (expletive) that I was unhappy. I'm damned if I do and damned if I don't … I'm in a no-win situation."61 The working relationship became so strained Garciaparra had the clubhouse floor marked off with red tape, players on one side, media on the other.62
But, as ornery as he was with sportswriters, he remained kind to fans and civic groups. On an off-day in May, Garciaparra was the front man at a fundraiser for schoolchildren in Boston. Fans were thrilled to shake the hand of their hero. Garciaparra was able to get many Red Sox players to attend, a sign of the respect his teammates had for him. A generous Garciaparra thanked them, saying, "Days off are like gold to us and the fact that my teammates took time on their day off to come here, I can't tell you how big a deal that really is."63
Garciaparra followed an excellent May with an even better June, during which he hit .398 with an OPS of 1.090. On June 21, he went 6-for-6 and on June 24, went 5-for-5.
The two-month tear prompted Gordon Edes of the Boston Globe to write, "Garciaparra's current play, both offensively and defensively is equal to any comparable time before his wrist surgery in 2001."64 Years later, Edes's colleague, Bob Ryan disagreed, writing, "I have always maintained [after the wrist injury, Garciaparra] never hit the ball as consistently hard again."65
At the end of August, Garciaparra was batting .323 with an OPS of .915, but September saw the shortstop swoon. In the season's final month, he batted only .170 with an OPS of .599.
The Red Sox again made the playoffs as the wild card. Boston beat the Oakland A's in the Division Series, but lost the League Championship Series to the Yankees, four games to three. The nail-biting series ended with Aaron Boone's 11th-inning home run in Game Seven.
In the first round, the Red Sox had just won a game to stave off elimination, coming from behind in the eighth inning. As the euphoric Red Sox were boarding the team bus, Garciaparra said, "Why is everyone so happy? As soon as we lose, everyone's just going to rip us."66
In the postseason, Garciaparra's batting average had been better than in September, but he got only two extra-base hits in 12 games. A scout said, "His bat looks slow, he looks like he's guessing, he looks lethargic. That's how it looks when you're struggling, but that's what I see, a slower bat."67 The season-ending slump may have made the Red Sox wonder what version of Garciaparra lay in the future as free agency loomed at the end of the 2004 season.
In early December, the Red Sox tried to trade for Alex Rodriguez, a trade that would have made Garciaparra expendable. On his honeymoon, Nomar was shocked when he found out about the proposed deal in a newspaper. He said to interviewers, "How would you guys feel if your employer was trying to replace you?" Garciaparra's agent said, "[It] was a complete slap in the face."68
But perhaps not an unexpected one, since in spring training of 2003, Garciaparra had rejected the Red Sox contract-extension offer of $60 million over four years. Having originally asked for $68 million, Garciaparra offered to split the difference at $64 million. The Red Sox not only declined, but, citing a downward shift in the market, later reduced the offer to $48 million. These details were leaked by the Red Sox, which irked the intensely private Garciaparra.69
Even though the Rodriguez trade fell through, when spring training started, Garciaparra was more bitter than ever. He said, "When I heard about the [trade], I was thinking, well, the priorities are obviously not for me. They're obviously for someone else." He continued, "Am I still mad? … I was definitely hurt by a lot of it."70
Garciaparra did not play in the opening game of the 2004 season. He said his Achilles tendon had been injured March 5 when he was struck by a ball during batting practice, although no one witnessed the injury.71 Team officials later speculated the injury had occurred in the offseason.72
Dr. Bill Morgan said, other than inflammation, there was nothing structurally wrong with the tendon. Morgan also said two weeks on the disabled list would be precautionary and, if the Red Sox were in a pennant race, Garciaparra would be playing.73
But, more than five weeks into the season, there was still no indication when he would rejoin the team. Red Sox manager Terry Francona said, "At the very beginning we thought it would be three or four days. I don't think anybody [thought his recovery] would be this long. I didn't, Nomar didn't, and the medical people didn't."74
In the Boston Globe, Dan Shaughnessy, ever-critical of Garciaparra, called the injury "mysterious" and the ball that hit Nomar in spring training "the magic bullet theory of sports injuries."75 A reporter asked Garciaparra if, by delaying his return, he was "sticking it to the team."76
On June 9, after more than nine weeks, Garciaparra returned to the lineup. He started slowly, hitting only .235 in June, but recovered in July, posting a batting average of .386 and an OPS of 1.028.
On July 1, the Red Sox played a nationally-televised game against the archrival Yankees. Before the game, Garciaparra told Francona his Achilles was too sore to play. Only two Red Sox position players didn't participate in the dramatic, extra-inning game; one was Garciaparra. His decision to sit out stood in stark contrast to the effort of opposing shortstop Derek Jeter, who careened into the stands after making a game-saving catch. The Red Sox lost, 5-4.77
Garciaparra always publicly stated he wanted to stay with the Red Sox, but, after a mid-July meeting with Nomar, management emerged unconvinced. The combination of not getting the contract he wanted and the Red Sox trying to replace him with Rodriguez had thrown Garciaparra into a funk from which he was never able to recover. Team officials concluded Garciaparra was irreparably unhappy, would leave as a free agent, and the Red Sox would be left with nothing in return.78
Would Garciaparra have gone elsewhere? Probably so. Years later, Francona revealed, "He just got 'Bostoned-out.' Sometimes you just have to move on."79
So, on July 31, the trading deadline, the Red Sox sent Garciaparra and Matt Murton to the Chicago Cubs as part of a four-team deal in which the Red Sox got first baseman Doug Mientkiewicz from the Minnesota Twins and shortstop Orlando Cabrera from the Montreal Expos.
After Garciaparra left, the personality of the team changed.80 Without his brooding presence, the Red Sox were transformed into a carefree bunch of self-described idiots and cowboys. They also became more versatile, faster, and better defensively. About Garciaparra's replacement, Orlando Cabrera, Johnny Damon said, "[Now] we have someone who is dependable, someone who has won a Gold Glove, who is getting better."81
Indeed, the Red Sox got better. At the time of the trade Boston stood at 56-45. Thereafter, the Red Sox won 42 games, lost only 19, and finished with a record of 98-64, Boston's most wins in 26 years. In the playoffs, the Red Sox swept three games from the Angels, beat the Yankees in seven, and swept four from the St. Louis Cardinals to win the World Series. It was Boston's first World Series Championship since 1918, fulfilling the dreams of long-deprived Red Sox fans.
Garciaparra played the rest of 2004 and all of 2005 with the Cubs, then spent three seasons with the Los Angeles Dodgers before ending up with the Oakland Athletics in 2009. In the final five years of his career, Garciaparra was beset by injuries and played only 62, 122, 121, 55, and 65 games. His best season during this stretch was 2006, when he made the NL All-Star Team, won the National League Comeback Player of the Year award, and finished 13th in voting for the MVP Award.
Though his final seasons were mostly unproductive, Garciaparra had a terrific career, retiring with 1,747 hits, 229 home runs, 927 runs scored, and 936 RBIs. His father's training paid off; of expansion-era82 players with slugging percentages above .500, Nomar had the fewest strikeouts per at-bat.
A six-time All-Star, Garciaparra hit more than .300 eight times and had a career batting average of .313, eleventh-highest among players who started their careers after World War II. He got 190 or more hits six times, drove in more than 100 runs four times, and scored more than 100 runs six times.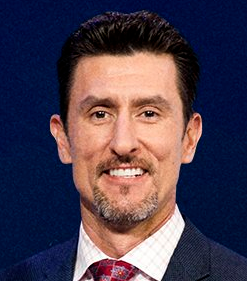 From 1997 through 2003, Garciaparra ranked fourth in total WAR behind only Bonds, Rodriguez, and Andruw Jones. Not counting 2001, when he played only 21 games due to injury, he averaged nearly 7 WAR per season during this span. (Fangraphs rates a season of 6 or more WAR as MVP quality.83)
Garciaparra's 41.2 WAR in his first eight seasons84 are the fifth-most by a shortstop85, ranking behind Cal Ripken (43.6) and ahead of Derek Jeter (36.9). Except Garciaparra and Alex Rodriguez, all of the retired players in the top 10 of this list ended up in the Hall of Fame, suggesting Garciaparra was on track for enshrinement before injuries derailed his career.
On March 10, 2010, Garciaparra signed a one-day contract with Boston so he could retire as a Red Sox.86 Since 2014, he has worked as an analyst for SportsNet LA, which carries the Los Angeles Dodgers.87
Last revised: February 19, 2020
Acknowledgments
This biography was reviewed by Bill Nowlin and Joel Barnhart and fact-checked by Mark Sternman.
Notes
1 Tom Verducci, ".400 Reasons," Sports Illustrated, March 5, 2001: 34.
2 Verducci, 2001.
3 Steve Slowinski, "What Is WAR," https://library.fangraphs.com/misc/war/ Accessed July 13, 2019.
4 John Scher, http://www.espn.com/magazine/vol3no14test.html Accessed October 2, 2019.
5 Verducci, 2000.
6 John Scher, http://www.espn.com/magazine/vol3no14test.html Accessed October 2, 2019.
7 Jeffrey Denberg, "Word Gets Out On Garciaparra," Atlanta Constitution, April 14, 1994: E4.
8 Mark Stewart, Nomar Garciaparra Non-Stop Shortstop (Brookfield, Connecticut: The Millbrook Press, 2000), 7.
9 "High School Baseball," Los Angeles Times, June 21, 1991: C12.
10 Stewart, 7.
11 "For the Record," St. Louis Post-Dispatch, June 6, 1993: 8F.
12 Thomas Stinson, "Garciaparra Safe, Varitek Out as US Makes Final Cuts," Atlanta Constitution, July 11, 1992: D4.
13 Stewart, 11.
14 "Twelve Legends to be Inducted Into CCBL Hall of Fame," http://capecodbaseball.org/news/hofnews/?article_id=241.
15 Jeffrey Denberg, "Word Gets Out On Garciaparra," Atlanta Constitution, April 14, 1994: E4.
16 "Tech's Triple Threat," Atlanta Constitution, June 2, 1994: E1.
17 Mike De Giovanna, "'Unsung Hero' for Georgia Tech Belts Out the Titans Title Hopes," Los Angeles Times, June 9, 1994: C14.
18 De Giovanna.
19 De Giovanna.
20 Stewart, 17.
21 Stewart, 16.
22 Stewart, 16.
23 https://ramblinwreck.com/nine-tech-baseball-players-named-to-acc-anniversary-team/ Accessed June 28, 2019.
24 https://ramblinwreck.com/nine-tech-baseball-players-named-to-acc-anniversary-team/ Accessed June 28, 2019.
25 Stewart, 19.
26 Mike Shalin, Nomar Garciaparra High 5 (New York: Sports Publishing Inc., 1999), 17.
27 Stewart, 16.
28 Nick Cafardo, "Garciaparra Powers Way Into Red Sox Plans," Boston Globe, March 4, 1996: 38.
29 Nick Cafardo, "Suppan's In Plans, But When," Boston Globe, July 7, 1996: 83.
30 Larry Whiteside, "Duquette Lays Groundwork But Will Wait to Deal," Boston Globe, July 12, 1996: 85.
31 Tony Massarotti, in the Boston Herald book Nomar: Fenway's Favorite (New York: Sports Publishing, LLC, 2002), 19.
32 Shalin, 19.
33 Michael Madden, "Trade Winds Blow As Deadline Looms," Boston Globe, September 1, 1996: 54.
34 Michael Madden, "Rookie Shows Why He's a Keeper," Boston Globe, September 2, 1996: 43.
35 Shalin, 25.
36 Shalin, 29.
37 Stewart, 29.
38 Shalin, 39.
39 Shalin, 41.
40 Shalin, 43.
41 https://www.baseball-reference.com/players/g/garcino01.shtml#all_br-salaries Accessed December 31, 2019.
42 Larry Whiteside, "Garciaparra Scoops a Record Contract," Boston Globe, March 11, 1998: D2.
43 Michael Silverman, in the Boston Herald book Nomar: Fenway's Favorite (New York: Sports Publishing, LLC, 2002), 49.
44 Steve Buckley, in the Boston Herald book Nomar: Fenway's Favorite (New York: Sports Publishing, LLC, 2002), 53.
45 http://m.mlb.com/glossary/standard-stats/on-base-plus-slugging Accessed August 23, 2019.
46 Gordon Edes, "Garciaparra Says Surgery Seems Likely," Boston Globe, March 28, 2001: E1.
47 Stewart, 47.
48 Bob Hohler, "He Doesn't Feel Shortchanged?," Boston Globe, January 12, 2001: E2.
49 Verducci, 2001.
50 Dan Shaughnessy, "Sour," Boston Globe, March 11, 2010: C1.
51 Gordon Edes, "Garciaparra Says Surgery Seems Likely."
52 Larry Tye, "Garciaparra Has Surgery on Wrist," Boston Globe, April 3, 2001: F1.
53 The Minnesota Twins and the Red Sox entered the game tied for first place. The Twins led 2-0 in the bottom of the sixth, when Yastrzemski banged a bases-loaded single to center that tied the game. The Sox went on to score five runs in the inning, beat the Twins 5-3, and won the AL pennant.
54 Gordon Edes, "Back With a Blast," Boston Globe, July 30, 2001: A1.
55 Gordon Edes, "Garciaparra is Sidelined," Boston Globe, August 29, 2001: F1.
56 Gordon Edes, "Garciaparra Comments Hang in Air," Boston Globe, September 5, 2001: D1.
57 Edes, "Garciaparra Comments Hang in Air,"
58 Peter May, "Garciaparra Battles on With Another 4-Hit Day," Boston Globe, September 17, 2002: F3.
59 Gordon Edes, "On Baseball," Boston Globe, December 6, 2002: D1.
60 Dan Shaughnessy, "Hot Garciaparra Cranks Out a Few," Boston Globe, September 1, 2002: C1.
61 Dan Shaughnessy, "Pique of His Career," Boston Globe, February 19, 2003: 79.
62 Peter Schworm, "One Last Short Stop," Boston Globe, March 11, 2010: A1.
63 Bob Hohler, "Garciaparra Proves to Be Kingpin With Mates," Boston Globe, May 23, 2003: E5.
64 Gordon Edes, "On Baseball," Boston Globe, June 25, 2003: F1.
65 Bob Ryan, "Sweet," Boston Globe, March 11, 2010: C1.
66 Dan Shaughnessy, "In Short, It Was Time for Him to Go," Boston Globe, August 1, 2004: C1.
67 Gordon Edes, "On Baseball," Boston Globe, October 15, 2003: F2.
68 Bob Hohler, "Fallback Plan in Place?," Boston Globe, December 19, 2003: D6.
69 Bob Hohler, "Fallback Plan in Place?"
70 Gordon Edes, "Shortstop Hasn't Forgotten, Forgiven," Boston Globe, February 25, 2004: F1.
71 Shaughnessy, "Sour."
72 Phil Rogers, "Nomar May Have Short Stop," Chicago Tribune, September 24, 2004: 4-1.
73 Bob Hohler, "Ruling May Be Out," Boston Globe, March 28, 2004: E1.
74 Bob Hohler, "Time Heals, but Very Slowly," Boston Globe, May 19, 2004: D6.
75 Dan Shaughnessy, "Looks Like a Short Stop Is Left for Fenway Fans," Boston Globe, June 10, 2004: C1.
76 Dan Shaughnessy, "Looks Like a Short Stop Is Left for Fenway Fans."
77 Dan Shaughnessy, "Having Found Another Way to Lose, Departure Right on Time," Boston Globe, July 2, 2004: E1.
78 Shaughnessy, "Sour."
79 Bob Ryan, "Sweet," Boston Globe, March 11, 2010: C1.
80 Phil Rogers, "Nomar May Have Short Stop," Chicago Tribune, September 24, 2004: 4-1.
81 Paul Sullivan, "Red Sox Fans Are Sad, but Glad," Chicago Tribune, October 10, 2004: 3-4.
82 1,000 or more games played since 1961.
83 Steve Slowinski, "What Is WAR," https://library.fangraphs.com/misc/war/ Accessed July 13, 2019.
84 In two of the seasons, he played fewer than 25 games.
85 To qualify, 800 games at shortstop were required.
86 Peter Abraham, "A Final Tug for Garciaparra," Boston Globe, March 11, 2010: C2.
87 https://dodgers.mlblogs.com/chase-utley-joining-sportsnet-la-broadcast-team-as-studio-analyst-a0f5b711748a Accessed August 17,2019.
Full Name
Anthony Nomar Garciaparra
Born
July 23, 1973 at Whittier, CA (USA)
If you can help us improve this player's biography, contact us.
https://sabr.org/sites/default/files/Garciaparra-Nomar-2019.jpg
600
800
admin
/wp-content/uploads/2020/02/sabr_logo.png
admin
2020-02-19 15:16:16
2020-04-09 14:37:26
Nomar Garciaparra