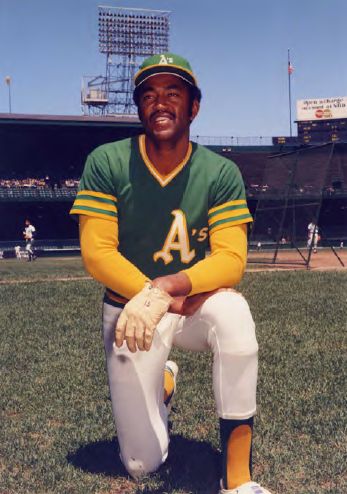 ---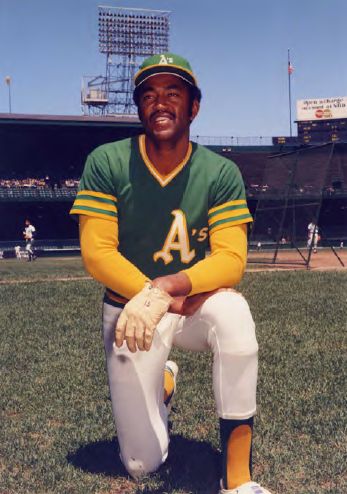 There is a charm to being the first of anything. Most people know that Neil Armstrong was the first man to set foot on the surface of the moon. Far fewer people know that Buzz Aldrin was the second. The first commissioner of baseball and the first to break baseball's color line are also remembered much more widely than their successors. Toward that end, Ollie Brown is a first: the first player in the history of the major-league San Diego Padres.
Ollie Lee Brown was born on February 11, 1944, in Tuscaloosa, Alabama. The middle of three boys born to Willie Frank Brown, Sr. and Mayola Washington Brown, he grew up in a home of athletes. Older brother Willie was a running back at the University of Southern California and played three years (1964-66) in the NFL with the Rams and Eagles; younger brother Oscar played in the major leagues for the Atlanta Braves in parts of five seasons (1969-73).
In the mid-1940s, looking to provide better opportunities for their two young boys, the Browns left Tuscaloosa for Long Beach, California, where Oscar was born in 1946. The Brown boys attended Long Beach's Polytechnic High School, which boasts among its alumni actress Cameron Diaz, rapper Snoop Dogg, tennis great Billie Jean King, and major-league stars Tony Gwynn and Chase Utley.1 Ollie excelled on the baseball and basketball teams at Long Beach Poly, and attended Long Beach College for one year after graduation. He signed with the San Francisco Giants in 1962, three years before the onset of the free-agent draft.
Because of his powerful throwing arm, when Brown signed with the Giants there was some uncertainty about whether he would pitch or play the field. In his first season, 1962, Brown split his time between Salem (Virginia) of the Class D Appalachian League and Decatur of the Class D Midwest League. Between the two teams he posted a .227 batting average in 278 plate appearances. In 1963 he started 21 games as a pitcher for Decatur, throwing a no-hitter but compiling a 4.76 earned-run average (he walked 132 batters in 123 innings), and also playing in 59 games as an outfielder.
The story of how Brown advanced to Decatur after only a few games at Salem, however, is more complicated than just a hotshot prospect advancing through a team's minor-league system. This was 1962. And Ollie Brown was an African American from Southern California. And this was the Appalachian League, six teams in Virginia, West Virginia, Kentucky, and Tennessee. On a trip to West Virginia, the Salem team bus pulled up to a hotel where the white players got off the bus and stayed in the hotel, while the black players were taken to the home of a local black family who housed them.
The incident occurred at the beginning of a two-week road trip, one that saw the 19-year-old Brown lose ten pounds. When the team returned to Salem, he confronted his manager and gave an ultimatum to the Giants organization — move him to another team in the organization or he would quit professional baseball and return home to California. The Giants accommodated Brown's demand and moved him to Decatur, Illinois, where he played the rest of 1962 and all of 1963.2
As a 20-year-old at Class A Fresno in 1964, Brown belted 40 home runs while hitting .329 in 133 games. The big season gave rise to his enduring nickname, Downtown Ollie Brown. The outfield fences in Fresno were in the direction of the city's downtown area, so Brown's power display produced the natural nickname. (Having Brown as a last name probably helped too. It's hard to imagine the nickname would have stuck if he were Downtown Ollie Jones.)
After strong seasons at Fresno (Class A California League) and Tacoma (Triple-A Pacific Coast League) in 1964 and '65, Brown was called up by the Giants at the tail end of the 1965 season. Only 21 years old, he made his debut on September 10 against the Cubs, starting in right field and going 0-for-3. He played in five more games before the rest of the season, going 2-of-6, with his first hit a double off Billy O'Dell of the Milwaukee Braves. 
Brown spent almost all of 1966 with the Giants, hitting .233 with seven home runs and 33 RBIs in 115 games. He managed to stay with the Giants for the entire 1967 season too, posting a .267 average with 13 home runs and 53 RBIs in 120 games. Ken Henderson had opened the season as the Giants' regular right fielder, but a .205 average in May got him benched in favor of Brown. On May 12, shortly after replacing Henderson in the lineup, Brown was hit in the jaw by a fastball thrown by the Astros' Claude Raymond. After receiving a few stitches to close a cut on the inside of his mouth, Brown returned to the lineup the next day, saying, "It was tough enough to get in the lineup in the first place. And I don't want out."3
Over the next month after the beaning, through June 26, Brown hit .290 with 11 home runs and 24 RBIs, including a walk-off home run off the Astros' Raymond just two days after getting hit by Raymond. Brown suffered a groin injury shortly after this stretch and was unable to get going in a similar vein the rest of the season, adding only two more home runs and 26 RBIs.
Entering the 1968 season Brown was still only 24 and had 241 major-league games under his belt. However, he started only 21 games through the end of June and was sent to Triple-A Phoenix because there was no room for him in the Giants' outfield, with Willie Mays still posting MVP-level numbers, Jesús Alou holding down one corner spot, and 22-year-old sensation Bobby Bonds making his debut in late June. Recalled in September, Brown played briefly.
The Giants elected not to protect Ollie in the 1968 National League expansion draft that helped stock the new teams in Montreal and San Diego. (A separate American League expansion draft was held for the new Seattle Pilots and Kansas City Royals.) After getting himself into the Giants' doghouse by not immediately reporting to Phoenix when he was sent down the year before, Brown anticipated that he might be made available for the expansion draft.
Seeing the opportunity to grab a 24-year-old outfielder with a strong arm, power potential, and significant major-league experience, San Diego made Brown its first pick in the expansion draft, making Brown the first major-league Padre. "I'm very serious about doing a good job for San Diego," Brown said.4
As Brown joined the Padres for their inaugural 1969 season, he recognized as much as anyone that his career was at a crossroads. "I've been in the majors for three years off and on without much happening," he said during spring training.5 His new manager, Preston Gómez, thought Brown had all the requisites to be an elite player. "I told Ollie when he reported that he can be as good as he wants to be," said Gomez. "He has all the tools — he can hit, run, and throw." Gomez said he thought that Brown lacked in confidence and hoped that the chance to play consistently would help him.6 "It was a good deal," Brown said in 2005. "If I was going to get some playing time in the big leagues, it was a good thing they had that expansion draft because that opened up some positions for a number of players at that time."7
Brown played in 151 games for the Padres in their inaugural campaign. He led the team with a .264 batting average and was second to Nate Colbert with 20 home runs. (Colbert had 24.) Unsurprisingly, the team struggled to a 52-110 record. In 1970 the Padres improved 11 games to 63-99, and Brown enjoyed his finest all-around season. He played in 139 games, hit .292, and posted career highs in home runs (23) and RBIs (89) as well as in hits, runs scored, doubles, and total bases. He came back with an effective campaign in 1971, but saw his power dip significantly, as his home run total fell to 9 and his slugging percentage plunged over 100 points
While Brown was growing into a solid major leaguer at the plate, one aspect of his game was ever present — his powerful throwing arm. While patrolling right field from 1968 through 1970, he had double-digit numbers in assists. "I think Brown has the best throwing arm in the business," said Preston Gomez. "If I wtere a fan, I'd come to the ballpark early just to see him throw."8 Cincinnati Reds scout Ray Shore thought Brown's arm was the best he had ever seen, and other scouts considered him the equal of the great Roberto Clemente.9
As the 1972 season dawned, Brown was 28 years old and in a mood for reflection. In an interview before spring training he vowed to give 100 percent of himself to the game. "I hope it's not too late to change," he said.  "I'm just beginning to realize what this game is all about. … I know there were games last year where I didn't give 100 percent. Some players have desire right away and some take longer. It has taken me this long to mature. I wish it had happened sooner."10
In the same interview Brown said he had thought he was going to be traded during the offseason. The Padres had several outfielders, and plenty of holes elsewhere. Oakland A's owner Charlie Finley had long coveted Brown, offering $200,000 and four players to the Padres for him after the 1969 season. (The Padres declined.) But in May of 1972, with Brown hitting .171 in half-time duty for the Padres and the A's needing a right-handed-hitting outfielder, Brown was traded to Oakland for three players, none of them a front-liner.
Brown joined the defending World Series champions and played a few games in the outfield. But only six weeks later, in late June, he was sent to the Milwaukee Brewers in what was first announced as a cash transaction, but eventually resulted in the A's getting the rights to Billy Conigliaro from the Brewers.
Brown spent the rest of 1972 and all of 1973 with the Brewers. He hit a respectable .279 in 1972 and .280 in 1973, and along the way added another first to his résumė. On Opening Day 1973 at Baltimore, Brown's became the Brewers' first designated hitter. He went 0-for-3 that day; 314 of his 333 plate appearances that season came as a DH.
After the season Brown was part of a nine-player deal that sent him to the California Angels. Late in spring training he was sold to the Houston Astros. He played in only 27 games for the Astros before moving on in late June to Philadelphia, the last leg of his professional baseball career.
The Phillies were stirring in 1974 after several woeful seasons. The team had begun to get results from its impressive farm system in the likes of Mike Schmidt, Bob Boone, Larry Bowa, and Greg Luzinski. Now 30 and never a part of a playoff team (save for his six weeks in Oakland), Ollie Brown moved into a situation in which he was ideally suited to help a club win. "The years I was there we had real good ballclub," Brown recalled in 2005. "The situation I was in there, I played outfield, but I was part of a platoon system. Most of the time it was Jay Johnstone. Whenever there was a right-handed pitcher, he would play, and whenever there was a left-handed, pitcher I would play. The two of us did real well together.".11
The Phillies went 80-82 in 1974, then won 86 in 1975 before capturing the National League East championship in 1976 and 1977, winning more than 100 games both years. As the right-handed half of the platoon with Johnstone, Brown hit .264 with a .334 on-base percentage in his four years with the Phillies, achieving career highs in batting average (.303) and on-base percentage (.369) in 1975. He got his only taste of the postseason, getting five plate appearances in the Phillies' National League Championship Series losses to the Reds in 1976 and the Dodgers in 1977. "The years I was there, we won a couple of division titles, but in the National League that's when the Big Red Machine was going along, and they had one of the best teams in baseball and we couldn't get past them when we hooked up in the playoffs. We always fell short of getting to the World Series," Brown said of his time with the Phillies.12
After the 1977 season, though he was only 33 year old, Brown retired from professional baseball. He had played 13 major-league seasons and had had enough. "It gets to the point in everybody's career where some guys realize it and other guys don't," Brown said years later. "It's a cycle, and sooner or later, your turn is going to come up. You realize that this is the end, and you have to accept it and move on."13
Brown returned home to Southern California with his wife, Sandra (they had married in 1967), their son, Troy, and their daughter, Danielle. The family suffered tragedy in 2000 when Troy was killed in an auto accident at the age of 32. leaving behind two young daughters.
In his early 70s as of 2014, the Browns lived in Buena Park, California, near Anaheim. Ollie helped Sandra run a promotional products company called Zoe Designs, and spent time with family. "We see our grandchildren often, and that keeps us busy," he said. 14
Sources
Special thanks to Bill Mortell for his extremely important assistance in tracking down Ollie Brown's family information.
In addition to the sources listed, the author consulted Baseball-Reference.com and Retrosheet.org.
Notes
1 "One High School, So Many Future NFL Players," USA Today, April 22, 2008, 2C.
2 Dan Durbin,  " 'Downtown' Ollie Brown Boxing With Giants, aisms.uscannenberg.org, August 5, 2013.
3 Bob Stevens, "Even a Beaning Can't Brake Brown," The Sporting News, July 8, 1967, 19.
4 Paul Cour, "Padres Boast Trade Bait, Seek Flyhawk, Backstop," The Sporting News, November 2, 1968, 41.
5 Paul Cour, "Brown Rewarding Padres Faith," The Sporting News, March 29, 1969, 22.
6 "Brown Rewarding."
7 Mike Scarr, "Downtown Will Always Be No. 1," MLB.com, February 22, 2005.
8 Paul Cour, "Padres Brown Brings Runners to Their Knees," The Sporting News, August 9, 1969, 20.
9 Bruce Markusen, Baseball's Last Dynasty. (Dallas: Masters Press, 1998), 98.
10 Phil Collier, "Padres Brown Vows to Give His All in '72," The Sporting News, February 26, 1972, 41.
11 Scarr.
12 Scarr.
13 Scarr.
14 Scarr.
Born
February 11, 1944 at Tuscaloosa, AL (USA)
Died
April 16, 2015 at Buena Park, CA (USA)
If you can help us improve this player's biography, contact us.
http://sabr.org/sites/default/files/OllieBrown.JPG
600
800
admin
/wp-content/uploads/2020/02/sabr_logo.png
admin
2012-01-04 20:35:39
2020-10-12 05:12:40
Ollie Brown