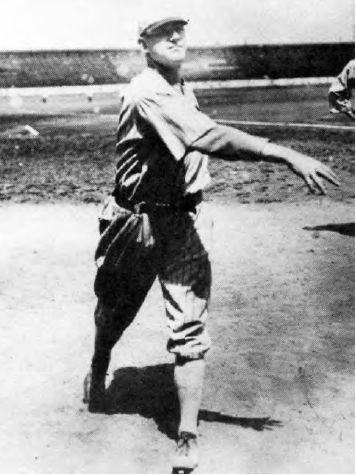 ---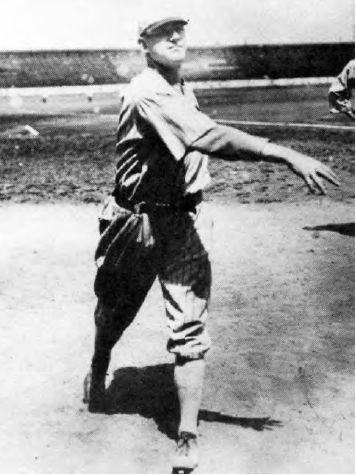 Long before free agency and specialization promoted frequent player movement between teams, the journeyman tag was most aptly applied to men like Pat Ragan. Ragan played for seven major-league clubs between 1909 and 1923, and as of the end of the 1920s was one of only seven men to play for six or more major-league teams.1
Don Carlos Patrick Ragan was born on November 15, 1885, in Blanchard, Iowa. His official name and even his year of birth are the subject of some debate. Ragan's World War I draft card is signed "Patrick Don Carlos Ragan," and the California Death Index labels him "Donn Patrick Ragan."
Additionally, Ragan's birth year is listed as 1880 on his draft card, but this is almost certainly a misprint. Ragan's hometown of Blanchard, in the southwest corner of Iowa, had a population of around 400 at the time he was born, but in the 2010 Census indicated a population of just 32. He was born to C.B. and Luisie Ragan, both natives of Illinois. C.B. worked as a day laborer and Luisie's profession was indicated as "keeping house." Whether this meant she was a homemaker or worked as a housekeeper outside the home is unknown.
Ragan attended two private colleges in Iowa, Simpson and Cornell,2 and broke into professional baseball by going 1-1 with the Terre Haute Hottentots of the Central League as a 19-year-old in 1905. His obituary states that he played for Manchester in the New England League in 1906, but only incomplete statistics for that team have survived.3 After Terre Haute, Ragan played for Omaha of the Western League in 1907 and 1908.
After his two seasons with Omaha, Ragan joined the Cincinnati Reds in 1909, and made his debut on April 21. He pitched in two games for the Reds before he was sold to the Chicago Cubs in late May. He also pitched twice for the Cubs and spent the rest of 1909 and all of 1910 in the Eastern League with Rochester, where in almost two seasons he went 22-13 in more than 360 innings pitched.
Joining Brooklyn of the National League in 1911, Ragan received his first consistent time in the major leagues. He appeared in 22 games, going 4-3 with a 2.11 ERA. From 1912 to 1914, Ragan was a mainstay in the Brooklyn rotation, stellar but unremarkable for Brooklyn's consistently poor outfit. He allowed more hits than innings pitched, struck out few, walked too many and posted an ERA worse than the league average. Over the three seasons he posted a record of 32-51, with a 7-18 mark in 1912.
But Ragan showed enough promise to stay in the rotation; he made at least 25 starts and pitched in at least 200 innings each season from 1912 through 1914. He won nine games in a row in 1913, and after the season was Brooklyn's best pitcher as the club barnstormed in Cuba.4
After the 1913 season, Ragan was one of many major leaguers targeted by the upstart Federal League. "(The Federal League) made me a handsome offer," he told the New York Times. "They offered me a two years' contract at a much better salary than the Brooklyn Club has paid me. While I much prefer to remain in Organized Baseball, sentiment is small consideration, and like every other ballplayer, I am prepared to take advantage of any proposition that carries a satisfactory financial agreement. I have not come to any terms thus far with the Brooklyn management, and shall wait for future developments before I do so."5
Several other Brooklyn players were recruited by the Federals, including Zack Wheat and Nap Rucker. In response, owner Charles Ebbets signed the recruited players, including Ragan, to multiyear deals at friendly salaries. Ragan received a three-year deal. Of locking up his players Ebbets said, "The Federal League wanted my stars — well, so did I."6
Ragan was regarded around the National League as a pitcher who relied upon his curveball to be effective. Contemporary accounts also describe him in terms such as "stout" and "burly."7 Baseball-reference lists the right-hander at 5-feet-10 and 185 pounds.
Ragan gained a reputation as a Giant-killer because of the success he had against John McGraw's club.8 A highlight for Ragan that was not against the Giants came on October 5, 1914, when he struck out three Braves on only nine pitches. Ragan's immaculate inning was the only one turned against the Braves for almost 100 years, until Juan Perez of the Phillies accomplished it in 2011.
Ragan spent four-plus seasons with Brooklyn before he was purchased on waivers by the Boston Braves in April 1915. Brooklyn had initially intended for Ragan to move to Cleveland in the American League, but the Braves claimed him before Cleveland had the opportunity to do so.9
While Ragan showed flashes of excellence in Brooklyn, he became a good starting pitcher on a good team with the Braves, joining Boston the year after they had swept the Philadelphia Athletics in the World Series. Whether he grew into the role or benefited from playing with a better team is a matter of debate.
With Ragan's reputation as a Giant-killer, Boston management believed he was worth his salary solely for his expected performance against New York.10 Ragan took on the men of McGraw for the first time with his new team on June 1, 1915, and outpitched Christy Mathewson in a 7-0 Braves victory. He allowed only two hits, struck out four, had a hit, and scored a run.
On June 23, only eight weeks after Brooklyn let him go, Ragan took the hill against his former Robins teammates. Ragan got the last laugh that day, scattering seven hits and driving in Boston's first two runs in a 3-2 victory.
At season's end, the Braves finished 83-69, good for second place in the National League, seven games behind the pennant-winning Philadelphia Phillies. After coming to Boston, Ragan was the Braves' second-best starter, going 16-12 with a 2.46 ERA in 26 starts. He appeared in 33 games overall, pitched 227 innings and tied for second on the club with three shutouts.
In 1916 the Braves dropped to third place. Ragan went 9-9 with a 2.08 ERA in 23 starts and 182 innings pitched. He posted a 2-to-1 strikeout-to-walk ratio and allowed nearly 40 fewer hits than innings pitched. He went on to post similar numbers for the Braves in 1917 (6-9, 2.93 ERA, 13 starts) before falling to 8-17 with a 3.23 ERA for the 1918 squad, which finished in seventh place.
With World War I raging in Europe, and a work-or-fight order looming for major-leaguers, Ragan appeared before his draft board in Boston's Brighton neighborhood in July 1918.11 With a wife and 2-year-old son to support, he was not called for duty before the war's end.
In May 1919 Ragan made four appearances for the Braves before being sent to the Giants to complete a trade that sent Jim Thorpe to Boston nine days earlier. Ragan stuck with the Giants for only four games before they placed him on waivers and he was claimed by the White Sox.
While the 1919 White Sox were a great club, they had concerns with pitching depth. Future Hall of Famer Red Faber missed large chunks of the season because of arm trouble and illness, and 25-year-old Dickie Kerr was a rookie. Seeking reinforcements for a starting staff that was thin behind aces Eddie Cicotte and Lefty Williams, the White Sox also acquired former 20-game-winner Erskine Mayer (who recorded an 8.37 ERA in six appearances) and tried to acquire Carl Mays from the Red Sox.12 Mays was ultimately sent to the Yankees. When the White Sox were unable to acquire Mays, they signed Ragan, just a day after the Giants cut him loose.
Ragan appeared in only one game for the White Sox, pitching one inning in a 6-5 loss to the Yankees on August 25. Chicago went on to capture the American League pennant, but lost the best-of-nine World Series to the Cincinnati Reds in the fall classic marked by the Black Sox scandal.
After 1919, Ragan and Mayer combined to make only one more appearance in the major leagues, while Carl Mays won 127 games and pitched in two World Series. What would have happened in the infamous World Series had the White Sox acquired Mays instead of Mayer/Ragan? Would a fix have been averted because of Mays's ability? Would Mays have become a part of the conspiracy to dump the Series? It's another layer of mystery on top of the entire scandal.
In 1920 Ragan reported to the US Census bureau that he was living in Omaha as a farmer with his wife, Mae, and their 4-year-old son, Patrick, with Ragan's in-laws, J.A. and Anna (Hokensen) Noble.13
While he didn't appear in the major leagues in 1920, Ragan did pitch in 22 games for Omaha of the Western League and Oakland of the Pacific Coast League. He spent 1921 as a scout for the Boston Braves and in 1922 he managed Waterloo (Iowa) in the Mississippi Valley League.14
In 1923 the Philadelphia Phillies hired Ragan as a coach to work with the team's pitching staff. With the team stuck in last place by early July, Ragan made one last appearance in the majors on July 5, 1923, nearly four years after his last major-league outing. He went three innings, allowing six hits and two runs in a 16-12 loss to the St. Louis Cardinals.15
Ragan returned to the coaching ranks with the Phillies in 1924 under manager Art Fletcher, his former teammate with the Giants. Ragan managed the next two seasons in the low minors, spending 1925 with the Martinsburg Blue Sox of the Class D Blue Ridge League and 1926 with the Cumberland Colts of the Class C Middle Atlantic League.
In his later years, Ragan worked as a security guard for an aircraft company.16 He and his family moved west to California, where he died from kidney cancer on September 4, 1956, at 70. He was survived by his wife, Mae, and son, Pat Jr., and was buried at Forest Lawn Memorial Park in Glendale, California.
Notes
1 "Bobby Roth of Burlington Holds Record in Majors," Milwaukee Sentinel, December 15, 1929, 14.
2 The Sporting News, September 12, 1956.
3 Ibid.
4 Roberto Gonzalez Echevarria, The Pride of Havana (New York: Oxford University Press USA, 2001), 164.
5 "Pat Ragan Considering Offer," New York Times, December 29, 1913.
6 Robert Creamer, Stengel: His Life and Times (New York: Simon & Schuster, 1984), 76.
7 New York Times, September 16, 1917.
8 Rob Neyer and Bill James, The Neyer/James Guide to Pitchers (New York: Touchstone, 2004), 351.
9 "Brooklyn Brief," Sporting Life, May 8, 1915.
10 New York Times, September 16, 1917.
11 Boston Daily Globe, July 5, 1918.
12 Toronto World, July 31, 1919.
13 1920 US Census; California Death Index 1940-97, Ancestry.com.
14 "Pat Ragan Signs to Pilot Waterloo," Cedar Rapids (Iowa) Republican and Times, March 16, 1922.
15 "Hornsby Hits Brace of Homers as Cards Win," Boston Globe, July 6, 1923.
16 Bill Lee, The Baseball Necrology (Jefferson, North Carolina: McFarland & Co., 2003).
Born
November 15, 1883 at Blanchard, MO (USA)
Died
September 4, 1956 at Los Angeles, CA (USA)
If you can help us improve this player's biography, contact us.
http://sabr.org/sites/default/files/PatRagan.JPG
600
800
admin
/wp-content/uploads/2020/02/sabr_logo.png
admin
2012-01-04 20:30:38
2020-10-16 15:50:03
Pat Ragan