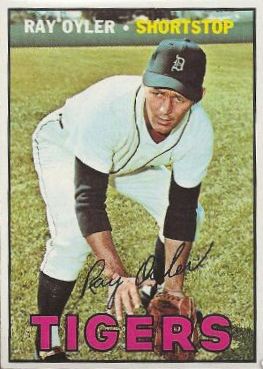 ---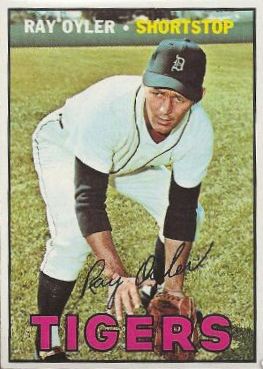 Perhaps the greatest example of the old baseball cliché "good field, no hit," Raymond Francis Oyler was the regular shortstop for two late-1960s Detroit Tigers teams, including the world champion 1968 squad, as well as the original Seattle Pilots the following season. Ray compiled a sub-"Mendoza line" .175 career batting average—the lowest of any player to bat more than 1,000 times since the deadball era. The right-hand-throwing and -hitting Oyler, who stood 5-foot-11 with a playing weight of 165 to 170 pounds, was solid, however, defending his shortstop position. Johnny Sain said Oyler was "one of the best fielders" he saw in a half-century in the game.
Significant about Ray's career, other than the lack of hitting—but a direct result of having not much of a bat to offer—was his involvement in one of the most risky managerial moves in baseball history. Mayo Smith, manager of the 1968 Tigers, inserted Gold Glove center fielder Mickey Stanley to play Oyler's shortstop position for each of the seven games of that season's World Series. Smith then could play all four of his outfielders, with the fourth, Stanley, playing shortstop. The four—Stanley, Al Kaline, Willie Horton, and Jim Northrup—were significantly better hitters than Oyler, who hit a scant .135 that season.
Ray honed his skills—as a defensive whiz in his favorite game—as well as his polite and humble demeanor while growing up in Indiana. He was born August 4, 1938, in Indianapolis, to Raymond H. "Bus" Oyler and Frances M. Harrington Oyler.
Ray's father Bus, otherwise known as "Big Bus" and Ray as "Little Bus," encouraged Ray's development in baseball by working with him for hours, especially in fielding ground balls. "The only ball that gets by you is the one that goes through you," Ray's father said.
Oyler got a taste of professional baseball at age 12 when he became the official batboy of the Indianapolis Indians after winning an essay contest. This whetted his appetite to continue pursuing that common childhood fantasy of being a professional athlete, with baseball now ahead of other sports for Ray, who went on to be the captain of the Indianapolis Cathedral High baseball squad his junior and senior years. Ray also developed talent on the gridiron, leading Cathedral High to a city championship as quarterback, while also filling out his prep schedule on the basketball team.
Immediately upon graduating, Ray joined the Marines and played service ball during his years there,1956–1959. It was during these years that he met his future teammate with Detroit, Earl Wilson, who pitched and hit cleanup.
His military stint, as well as his Midwestern manners, engendered the already soft-spoken Oyler to refer to others politely as "sir." Ray also had a humorous side that was often self-effacing.
Early in 1960, Oyler was signed to a professional contract with the Detroit Tigers by longtime Tigers scout Wayne Blackburn, who patrolled ball diamonds for talent in the Great Lakes region, following Ray's discharge from the military.
He was immediately assigned to the Tigers' Duluth-Superior club in the Class C Northern League, where he was installed as the Dukes' regular shortstop, appearing in all 121 games played. Ray scored 90 runs that season, by far his highest single-season total, fostered by a career-high .396 on-base percentage.
Oyler returned to the Dukes to play shortstop in 1961. While batting .261 to match his 1960 average, with a .388 on-base percentage through 84 games, the Tigers promoted Ray to play shortstop in Knoxville of the Class A South Atlantic League. The promotion slowed Oyler's offense to a .171 crawl in 22 games for the Smokies. Shortly following his promotion to Knoxville, Ray's second daughter was born. Kathleen Marie joined the Oyler team—Ray, wife Joanne, and five-year-old sister Cynthia Kae.
1962 saw Oyler adjust to Sally League pitching, increasing his average to .236 and his home runs, from a previous high of six in 1960, to 11 for the Smokies. Ray patrolled shortstop while appearing in all 140 Knoxville games in 1962, smacking a career-high six triples to go with the 11 homers. Oyler's defense shined as he led Northern League shortstops in putouts and fielding percentage. The Smokies finished 86–54 and made it to the league finals, where they came out on the losing end.
The Detroit organization saw enough in Oyler's 1962 performance that they again promoted him, this time to play with its Triple A International League affiliate in Syracuse. As it did two seasons earlier, Ray's offense swooned as he saw his average dip to .213, with a career-high 130 strikeouts in 146 games for the Chiefs. However, again he flashed the leather, leading IL shortstops in assists.
The following spring, Oyler, now 25, found himself opening the season in the minor leagues for a fifth season. Assigned to repeat with the Syracuse Chiefs for 1964, Ray responded as he did two summers prior in the South Atlantic League, by showing more comfort at the plate, hitting IL pitching at a .251 clip with surprising authority—slugging 19 homers and driving home 61.
With his slick fielding and maturing bat, Oyler's talents were now catching the eye of the Tigers' front office and yet another promotion was just around the corner. Ray didn't see any action with the 1964 Tigers, but he had seen the last of the minor leagues for a while.
Oyler stayed with the big club as they gathered in Lakeland, Florida, in spring 1965. Watson Spoelstra, Tigers beat writer for the Detroit News and The Sporting News, noted that Oyler's 1964 season at Syracuse made him a candidate to unseat the Tigers' incumbent at short, Dick McAuliffe. Tigers skipper Charlie Dressen announced that Ray would play "at least half the games down here," noting that "several scouts have told me he is the best fielding shortstop they've seen. Not our own, but Pittsburgh and New York scouts." Dressen went on to suggest that with Oyler at short, McAuliffe may get a look at third base, sharing time with Don Wert.
Oyler showed enough that spring to prompt Dressen to take him north.
On Sunday, April 18, 1965, Oyler debuted in the majors by starting at shortstop, batting eighth, in place of McAuliffe, as the Tigers played the Angels at Dodger Stadium in Los Angeles. Oyler stepped to the plate in the top of the second against left-hander Rudy May, also, incidentally, making his major league debut. May struck him out—one of ten he recorded that afternoon. Ray went 0-for-2 and participated in five plays at short, with four assists and a putout.
Oyler appeared in several more games, mostly—believe it or not—as a pinch-hitter, batting a total of nine times before collecting his first hit. In a game against Baltimore at Detroit on Sunday, May 23, Oyler singled to center off of lefty Dave McNally in the bottom of the fifth while pinch-hitting for pitcher Phil Regan. Ray's first multi-hit game occurred a week-and-a-half later at Cleveland June 4. His initial extra-base hit took place off of Yankee Pedro Ramos at Detroit on Thursday, July 8, when he doubled to right in the bottom of the eighth, driving in a run and helping to extend the Tigers lead in a 6–1 victory.
Two weeks later, with Cleveland in town, Oyler stepped in against veteran lefty Jack Kralick, leading off the bottom of the second and slashed his first of fifteen major league home runs, igniting a four-run rally that helped propel the Tigers to a 10–5 win.
Oyler collected three hits, including another home run, his third, a solo shot off of the Angels' George Brunet in a 9–5 victory at Detroit Sunday, August 15. Brunet and McNally were each victimized twice by Ray for home runs.
During the course of his rookie season, Oyler's playing time gradually increased due to McAuliffe's being sidelined with a broken wrist. Ray appeared in 27 games in September as the regular shortstop as the Tigers proceeded toward an 89-win season, 13 games behind the pennant-winning Twins. He finished 1965 with a .186 average and five homers, his most in four seasons with Detroit.
Oyler returned to his backup role the following spring. Starting the 1966 season well—batting .297 on the first of June—acting manager Bob Swift started platooning Ray at short in June, July, and early August with McAuliffe against left-handed pitching. His failure to continue his early production (just a single homer in his first game, off Buster Narum of Washington, in April and only nine RBI in more than 200 at-bats) relegated him to fewer appearances—just four games after September 1. The Tigers, 44–27 through June, again finished in the first division, this time with 88 wins, 10 games behind the Orioles.
A highlight for Oyler in 1966 occurred July 17 when he had a pair of hits in each game of a doubleheader against the Indians. He went 4-for-8, as the Tigers were swept in the twin bill, raising his average above .200 for the final time that season. Ray's averaged slipped to .171 by year's end, though.
Oyler's deftness afield impressed the Tigers' new manager, Mayo Smith, enough to move stalwart Dick McAuliffe—who himself noted that Oyler was "the best shortstop I ever played with"—to second base.
Skipper Smith noted, "You've got to see Oyler day in and day out to appreciate him. He's done the job for us. He plays the slow-hit ball as well as I've ever seen it done." Even Tigers' owner John Fetzer weighed in by stating during the 1967 season that "putting Oyler at shortstop was the best move [Smith] made."
Despite the intentions of manager Smith, as the 1967 season wore on, Oyler was forced to split time at short with veteran Dick Tracewski due to continuous nagging leg ailments.
In an effort to pick up his offense, Oyler had arrived in Lakeland early that spring after returning from winter ball in Puerto Rico, where he experimented with switch-hitting. Ray worked on his stroke with a few local amateurs and then spent a great deal of time with hitting coach Wally Moses. "I got so bad I was listening to tips from everybody. I was using a different stance and holding my hands a new way every time I went up to the plate. Now I'm just listening to Moses, using a little, light bat, and going up there with the confidence I'll be able to meet the ball." Ray was able to contribute offensively in his own way, leading the 1967 Tigers with 15 sacrifice bunts.
An example of Oyler's defensive wizardry was what was known as a "daylight" pickoff play at second base. Reporter Watson Spoelstra described this play, which Ray performed with old military pal, pitcher Earl Wilson, and how they were able to catch Mickey Mantle, among others. Spoelstra notes how the play was often triggered by a sign from the catcher, Oyler sneaking in behind the runner at second base with Wilson firing back only if he sees "daylight" between the runner and Oyler.
During the heat of the 1967 pennant race, Oyler showed a rare display of anger when he got involved in a shoving match with Yankees outfielder Bill Robinson. After tagging Robinson out in a rundown, Oyler got an elbow to the ribs, an apparent attempt by Robinson to jar the ball loose. Ray made a running charge at Robinson only to be intercepted by other players on the field. Later, Ray said, "I lost control of myself. I'm sorry I did." Nevertheless, five years later, the two scuffled again after a similar play while both were toiling in the Pacific Coast League.
Oyler's stake at the shortstop position gave way to the desire for more punch with the bat for the last month of the 1967 pennant race when Mayo Smith restored McAuliffe to short, putting Jerry Lumpe in the lineup at second base. Tigers General Manager Jim Campbell brusquely noted the need for "a shortstop who can hit," following the Tigers' near-miss at the 1967 pennant. They praised him for his glove but loathed the lack of hitting. Ray did lift his average to .207, with 29 RBI, both high marks for his big-league career.
Following the conclusion of the 1967 season, several teams inquired about Oyler, due to his defensive prowess. At a postseason banquet, pitcher Dave Wickersham, traded from the Tigers that winter, noted how "Oyler [as the starting shortstop] had a lot to do with" the Tigers allowing 111 fewer runs in 1967 than in 1966.
After an attempted deal with Baltimore for Luis Aparicio fell apart during the 1967–1968 off-season, the Tigers found themselves with the Oyler-Tracewski combo they featured in 1967.
Following a winter as a sporting goods salesman in Detroit, Oyler arrived at camp in Lakeland in February 1968, determined once again to add some more wood to his cache of leather: "I know I can do better than (hit .207) if I play every day.…I've put on a few pounds to 178 and I feel good. You're more relaxed at the plate when you play every day.…I hope to hit .250. I think I've that much in myself."
During spring training, Oyler took to wearing glasses to help him see the ball better while hitting, causing teammate Norm Cash to compare Ray with a World War II German tank soldier. Ray also was one of the first players to have a protective side flap on his batting helmet due to having been hit in the head more often than he cared for.
Tigers fans were also impatient with the "woodless wonder," as Oyler was greeted with boos when introduced as the starting shortstop on opening day. He was cheered derisively when connecting for foul balls and ended the day with a pair of strikeouts and a groundout. "I hated to see them making fun of Ray," said manager Mayo Smith.
As early as April, with fourth outfielder Mickey Stanley off to a hot start with the bat, and Mayo suggesting that "If Mickey keeps hitting, he'll play somewhere," the idea of Stanley taking over at shortstop was brought up. To this Mayo replied, "You're not going to start changing it all in one day," without denying that a shortstop switch could happen.
Low-key Oyler's roommate was Tigers ace pitcher Denny McLain, the antithesis of low-key. On the road, Ray took to answering the phone: "Mr. McLain's office." As many others noted, McLain remarked how Ray was the "finest
defensive shortstop I've ever seen." McLain also reflected how Ray "couldn't hit his way out of a room full of toilet paper with a crowbar.…But the way he could field, I'd keep him on my club if he couldn't hit his weight."
As the season progressed, Oyler's anemic hitting became virtually nonexistent—after singling off of Minnesota's Bob Miller in the eighth inning July 13, Ray failed to collect even one hit in his last 37 trips to the plate, walking just once—and his role was reduced to that of a defensive replacement at short for Tom Matchick and Dick Tracewski.
Oyler gained notoriety for his weak bat with Mayo Smith's move of center fielder Mickey Stanley to start in Oyler's place as Detroit shortstop during the 1968 World Series. In preparation for this World Series position change, the manager had inserted Stanley into the shortstop position in seven September contests and decided to proceed with this daring arrangement for the Series.
Ray was not left shelved on the bench, however, as he supplanted Stanley at shortstop as a late-inning defensive replacement in each of the Tigers' victories, while also contributing a successful sacrifice in his only plate appearance.
As Stanley noted in George Cantor's book The Tigers of '68: Baseball's Last Real Champions: "He never carried a grudge about my replacing him during the series," said Stanley. "He was simply a great guy. To get into the Series and then to have some guy moved entirely out of position to take your place. He'd take me out there during workouts and tried to give me a crash course in shortstop. He was such a great competitor. He played hurt, he played hungover. He never complained. We all loved that guy."
During the series, Mayo Smith assured that Stanley would play short in Oyler's place "only for now." What neither manager Smith nor Oyler knew at the time was that Game 7 at Busch Stadium in St. Louis would be Ray's last appearance as a Tiger.
On October 10, 1968, Oyler celebrated with his Tigers teammates and their fans everywhere as Detroit came back from a 3-games-to-1 deficit to defeat the St. Louis Cardinals for the Tigers' first championship in 23 years. Five days later, Ray was no longer a Tiger. Unprotected for the American League's expansion draft, he was nabbed as the third player chosen by the new league entry in Seattle.
Oyler was to be that rare defensive gem so often absent on new teams. Manager Joe Schultz responded at spring training when asked whether Oyler's hitting would be a liability: "Ah, hell. Ray Oyler will bat .300 for us with his glove." In Jim Bouton's diary of the Pilots, Ball Four, Ray became known as "Oil Can Harry," after the old cartoon character.
Oyler homered in the Pilots' second home game at Sick's Stadium. He went on to hit a career-high seven blasts, due in part to the coziness of Sick's Stadium Oyler was quickly endeared to his new fan base when Seattle disc jockey Bob Hardwick organized a "Let's Help Ray Oyler Hit .300" drive, prompting thousands to join the Ray Oyler "Sock-It-To-Me" fan club. Ray started strong, hitting .350 through the first two weeks, but tailed off, predictably, to a final mark of .165, ten points below his career average In August, Ray reinjured his knee that had hampered him at the start of the 1967 season, while playing in Washington for Seattle, on turf damaged by football players in a recent Redskins game.
The one-year run for Seattle's initial major league franchise ended with 98 losses and a one-way trip to Milwaukee to become the Brewers in 1970. Oyler was traded to Oakland, which then sold him to California in the spring of 1970.
In the aftermath of delivering his first hit as an Angel to ignite a winning rally, Oyler happily exclaimed: "I finally feel like I'm part of the team. I finally did something to help out." Ray replaced Jim Fregosi in the fifth inning in an August 5 tilt against the Twins. He had been just 0-for-9 prior to the hit and he followed the single with a squeeze bunt adding another run for the Angels in the ninth inning. Oyler smiled and said, "I used Fregosi's bat. Heck, I've never had a model of my own." Ray's only other hit was his last in the majors, connecting in the ninth inning of a September 9 Angels loss to the White Sox off of Jerry Janeski.
The 1970 season marked Oyler's final round at the major league level, lasting just 24 games, primarily because of his .083 batting average. Ray's last big-league appearance took place in the Angels' final game October 1. Ray stepped in as a pinch-hitter for pitcher Greg Garrett in the bottom of the seventh and took a called third strike from White Sox rookie hurler Don Eddy. Incidentally, Angels manager Lefty Phillips used Ray as a pinch-hitter nine unsuccessful times, or six more times than during the previous four seasons combined. Ray had collected three pinch hits in eleven such opportunities as a rookie in 1965.
Oyler's played shortstop in 502 games with a fielding percentage of .966—which, as a mark of fielding ability is only part of the picture—and, at .966, is above average but certainly not outstanding; Omar Vizquel's career mark is .984 and Ray's contemporaries, Dal Maxvill at .973 and Luis Aparicio at .972, are higher with many more chances. Another part of the fielding measurement is chances per game (TCG), which characterizes range. Oyler's TCG of 3.8 shows, again, above-average capabilities, but is behind Maxvill (4.1), and way behind the great Aparicio (5.0). Keep in mind, though, they started games more regularly while Oyler was quite often a defensive replacement. Regardless, he was steady, showing excellent instincts, and great afield in 1968, with a .977 fielding average.
Interviewed for an article in The Sporting News in 1970, Oyler's double play partner back in Detroit, Dick McAuliffe, lamented the Tigers' inability to replace Ray's glove, declaring, "Oyler made my job easy because he would show you the ball all the time on ground balls to shortstop. The big thing on double plays is getting the throws at second base at the same speed, Oyler was tops at this too."
After seeing minor league action briefly in the Pacific Coast League in 1970, going 2-for-7 while with the Hawaii Islanders, Oyler joined the Salt Lake City Angels for 1971 as a player-coach, hitting .192 with six homers in 58 games. Salt Lake City won the PCL South Division title and defeated Tacoma, the North Division titlist, in the playoffs.
Oyler returned to play with Hawaii in 1972. Islanders pitcher and former big leaguer Dave Baldwin reminisced: "Ray was my teammate in Hawai'i [in the PCL] in 1972. The Islanders acquired him as the team was beefing up to get a major league franchise. We also had players like Clete Boyer, Mike McCormick, Leon Wagner, and Jimmie Hall. Ray was to be our shortstop and John Donaldson was at second—an outstanding double play combination."
In May 1972, Ray was injured three different times the same week. He left a game against Eugene with a swollen hand after a bad bounce from a grounder hit by Joe Lis smacked him on the right wrist. He missed a game and returned only to be struck in the nose by a pickoff throw from pitcher John Purdin in a game against Salt Lake City. Again, he had to leave the game. The next evening, in game two of a twin bill, Oyler collided with outfielder Jim Hicks on a fly off the bat of the Salt Lake City Angels' Rudy Meoli. He had to be taken off the field on a stretcher to a hospital. The bruised ribs from the collision landed Ray on the disabled list.
Oyler came back a player-coach for Hawaii of the PCL in 1973, his final year in professional baseball. He did not appear as a player that season, however.
While with the Pilots, Oyler fell in love with the Seattle area and retired there following his baseball career, managing a bowling alley in Bellevue and working for Boeing. He also was employed by Safeway Stores as a salesperson.
Oyler resurfaced briefly as the Tigers' batting practice pitcher when they visited Seattle to play the Mariners during the 1977 and 1978 seasons.
He suffered a fatal heart attack January 26, 1981, at age 42, at his home in Redmond, Washington. He was buried at Sunset Hills Memorial Park in Bellevue.
For students of baseball, Ray Oyler will forever be noted for his being able to play regularly while never being able to experience any prolonged offensive success, to a historic extent. Al Pepper notes in Mendoza's Heroes: Fifty Batters Below .200, his book about weak hitters, as their version of the "Mendoza Line" the Tigers had the "Ray Oyler Divide."
Rich Shook, who covered the Tigers for UPI during Oyler's tenure in Detroit, describes Ray's weakness this way: "Almost as soon as a game began, Oyler would come unglued. Perhaps somewhere along the line he'd hit a home run that entranced him. Because Oyler was forever trying to put a power swing on a 5-foot-11, 165-pound body, fastballs defeated him. His head would fly off the ball and he'd end up one-handing an upper cut swing that would miss any pitch with the slightest wrinkle in it."
In Oyler's home town of Indianapolis, they commemorate a favorite son with the Ray Oyler Scholarship, established to recognize students who are overcoming significant obstacles to earn a diploma.
Sources
Bak, Richard. A Place for Summer. Detroit: Wayne State University Press. 1998.
Cantor, George. The Tigers of '68: Baseball's Last Real Champions. Dallas: Taylor Trade Publishing. 1997.
McLain, Denny, and Diles, Dave. Nobody's Perfect. New York: The Dial Press. 1975.
Middlesworth, Hal. 1968 Detroit Tigers Official Yearbook. Detroit: Detroit Tigers. 1968.
Pattison, Mark, and David Raglin. Detroit Tigers Lists and More: Runs, Hits, and Eras. Detroit: Wayne State University Press. 2002.
Pepper, Al. Mendoza's Heroes: Fifty Batters Below .200. Clifton, Va.: Pocol Press. 2002.
Rousso, Nick. Rain Check: Baseball in the Pacific Northwest. Cleveland: The Society for American Baseball Research. 2006.
Society for American Baseball Research. The SABR Baseball List & Record Book. New York: Scribner. 2007.
The Baseball Encyclopedia, 10th ed. New York: MacMillan, 1996.
Herbat, Ray. "Rice Shuffle Salt Lake Deck, Came Up With Winning Hand." The Sporting News, September 25, 1971.
Newhan, Ross. "Queen of Angels Finds Relief in Bullpen." The Sporting News, August 22, 1970.
"Coach Me a Little Bit." Newsweek, April 10, 1967, p. 88.
Sargent, Jim. "Jim Northrup." Society for American Baseball Research BioProject. Accessed at http://bioproj.sabr.org/bioproj.cfm?a=v&v=l&bid=1583&pid=10478
Seattle Times. January 29, 1981 (obituary, courtesy of Eric Sallee at www.thedeadballera.com).
Spoelstra, Watson. "Dressen Taking Hard Look at Glove Smoothie Oyler." The Sporting News, March 13, 1965.
Spoelstra, Watson. "Slick Fielder Oyler Works to Lubricate Batting Stroke." The Sporting News, March 4, 1967.
Spoelstra, Watson. "Sparma Regains Old Yankee-Killer Rep—Bengals Lick Chops." The Sporting News, June 17, 1967.
Spoelstra, Watson. "Oyler Bat Lacks Something, But His Glove Is Super-Sweet." The Sporting News, September 2, 1967.
Spoelstra, Watson. "Mayo Recommends Shortstop Who Can Hit as Cure for Tigers." The Sporting News, October 21, 1967.
Spoelstra, Watson. "Gladding's Departure Saddens Lolich." The Sporting News, December 9, 1967.
Spoelstra, Watson. "Five Clubs Seek Oyler, But There'll Be No Deal." The Sporting News, December 30, 1967.
Spoelstra, Watson. "Anemic Bats Put Oyler On Tiger Spot." The Sporting News, February 17, 1968.
Spoelstra, Watson. "Strike-Bound Writer Couldn't Resist Camp." The Sporting News, March 9, 1968.
Spoelstra, Watson. "Oyler Receives a Barrage of Boos on Opening Day." The Sporting News, April 27, 1968.
Spoelstra, Watson. "'Only for Now,' Says Mayo of Stanley's Tenure at SS." The Sporting News, October 12, 1968.
Spoelstra, Watson. "McAuliffe No. 1 Tiger When It Comes to Praising Cesar." The Sporting News, April 11, 1970.
"Tiger Untamed." Time, September 13, 1968. Accessed at http://www.time.com/time/magazine/article/0,9171,838702-1,00.html
Whittlesey, Merrell. "Gridders Rip Soft Turf; Senators Fighting Mad." The Sporting News, August 23, 1969.
www.baseballanalysts.com
www.BaseballLibrary.com
www.en.wikipedia.org
www.retrosheet.org
http://sunnyside.ltschools.org/news_events/press_release.detail.php?id=1065.
www.thedeadballera.com
Acknowledgements
Dave Baldwin
Jim Bouton
Pete Cava
Peter Morris
National Baseball Hall of Fame & Museum/A. Bartlett Giamatti Research Library
Rod Nelson
Jeff Samoray
Rich Shook
Trey Stecker
www.PaperOfRecord.com
Note
This article originally appeared in the book Sock It To 'Em Tigers–The Incredible Story of the 1968 Detroit Tigers, published by Maple Street Press in 2008.
Photo Credit
The Topps Company
Born
August 4, 1938 at Indianapolis, IN (USA)
Died
January 26, 1981 at Redmond, WA (USA)
If you can help us improve this player's biography, contact us.
http://bioproj.sabr.org/bp_ftp/images3/OylerRay.jpg
600
800
admin
/wp-content/uploads/2020/02/sabr_logo.png
admin
2012-01-04 20:38:06
2012-01-04 20:38:06
Ray Oyler