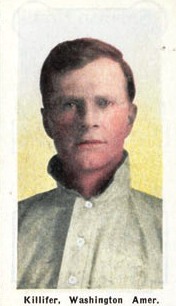 ---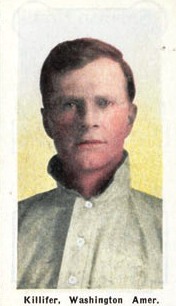 Although there isn't a strong correlation between hair color and personality, it's fair to say that the stereotypical redhead is hot-tempered, fiery and passionate. With his carrot-topped thatch, Wade Killefer personifies this description and was a natural to be called "Red" from birth. Add to the mix a stocky 5'9″ 175-pound frame, a keen intellect, charismatic charm, and a fanatical work ethic, and you have a formula for success on the baseball diamond and in the business world.
Red Killefer spent 35 years in Organized Baseball as a player, coach, manager, team president and owner. He also had a team named after him. A versatile utility man who had a seven-year, 467-game career with Detroit, Washington, Cincinnati, and the New York Giants, Killefer played every position except for pitcher. A lifetime .248 hitter, he used his speed on the bases to good advantage and also had a knack for getting hit-by-pitches, a category where he was a two-time league-leader.
Red was a man of many nicknames. One of the first was "Lollypop," for unknown reasons. After he left the major leagues, the sporting press was fond of calling him "Radiant Red," "Red Dog" and the "Hermosa Hermit." His Cincinnati Reds teammates called him "Doc" because of his education in osteopathy and penchant for successfully treating their ailments. Red abandoned his studies in 1919 when he was manager of the Los Angeles Angels of the Pacific Coast League. By that time, he had started a secondary career as a walnut, citrus fruit, and avocado grower.
In 1917, Killefer embarked on a 798-game career as a player and manager with the Los Angeles Angels and Seattle Indians of the Pacific Coast League, hitting .296 and becoming one of the most popular figures in the circuit. He was inducted into the PCL Hall of Fame as a player and manager in 1957. With five additional seasons managing the PCL's Mission Reds and Hollywood Stars, plus another six years at the helm of the American Association's Indianapolis Indians, Red is 13th on the baseball-reference.com list of minor league managerial wins with a record of 1,940-1,800.
One of the most colorful skippers in minor league history, Red Killefer could motivate and inspire his men to play hard and above their level of ability. An astute judge of talent who could buy, sell and trade with the best of them, often with paltry financial resources, Killefer, according to pitcher Vean Gregg, "makes good with men that no one else wants, [he] likes the irreconcilables, the disturbers. He gets hold of them and makes them take out their spleen in everlasting hustle on the ball field. Wade has the kind of personality that no man however ill-natured, can help responding to."
Relations with umpires were another story. Killefer's outbursts and arguments, run-ins, and feuds with arbiters earned him numerous ejections, fines, and suspensions. According to sportswriter Jack McDonald, "Killefer….was the meanest umpire baiter I ever ran across in the minors….Red had a nasty habit of spitting at Blind Toms. For this, Pacific Coast League President Harry Williams once suspended him for sixty days, a severe penalty." At other times, Killefer would grab an umpire by the collar, wave a fist in his face, or incite fans to riot.
The third of William Sr. and Emma M. (Ferguson) Killefer's four children, Wade Killefer was born on April 13, 1885, in Bloomingdale, Michigan. His father was a Civil War veteran who returned to Bloomingdale in August 1865 and married Emma in June 1880. Their first son Karl was born a year later on June 24. Ola came next on October 10, 1882, and William Jr., who was also a major league ball player, was born exactly five years later on October 10, 1887. At the time of Wade's birth, William Sr. was a farmer. Shortly thereafter he worked at his family's general store. In 1888, he went into the insurance business and moved his family fifteen miles south to Paw Paw. In 1896 he was appointed postmaster of Paw Paw; an appointment as Justice of the Peace came in 1900.
According to Wade, "I can't remember a time since I was a little fellow in grammar school that I haven't had something or other to do with the game [of baseball]." He had been introduced to the game by his brother Karl and passed on his passion to his younger brother Bill, who was often under his care as they grew older. According to Killefer family lore, Karl was the best player in the family. Unfortunately, a hunting accident on October 12, 1895 severely wounded him and ended his life a day later.
A determined and energetic young man, Red Killefer loved competition and was Van Buren County's fastest sprinter, winning the 100- and 220-yard dashes in June 1899. According to The Sporting News, Killefer "thought nothing of running a hundred, two-twenty and a quarter mile in the morning and playing a ball game in the afternoon….Then he would finish the evening by dancing."
After Karl's death, Red was the first Killefer to find success on the ball field. In 1900-01 he starred at shortstop, batted cleanup and was captain of the Paw Paw High School team that amassed a 20-2 record and beat previously undefeated Ludington 9-5 to earn recognition as state champions.
After high school, Red counted on his athletic ability to get an education. "I became a tramp athlete, which was common then. I wanted to go to school and I had to make my own way, so it was the easiest out." Killefer attended Purdue University from September 1902 until June 1903, majoring in civil engineering. He enrolled at Kalamazoo College in January 1903 and attended during the winter and spring terms, playing baseball and running sprints for the track team. The mystery is how Killefer managed to attend classes at colleges 150 miles apart during the winter and spring of 1903.
Red spent the 1903-1904 academic year at the University of Michigan College of Literature, Science and the Arts. Ineligible to play for the varsity baseball team, he practiced with the scrubs and "learned my first lessons in conditioning men, which proved invaluable afterward. I worked under Trainer [Keene] "Jack" Fitzpatrick, and [would] rub down the varsity men when they came in." He was a catcher for the 1907 Lit team that won the university's intramural championship in 1903.
Red returned to Paw Paw and coached the Paw Paw High School football team to a 4-0 record in the 1905-1906 season. There is no record of him playing football at Paw Paw, probably because the school fielded only five teams between 1900 and 1919.
By 1906, Red Killefer had attracted the attention of professional scouts. He signed a contract in March with Kalamazoo of the Southern Michigan League, playing in 103 games and hitting .295, seventh in the league. Red, who was a catcher and team captain for the second place White Sox, was such a lethal hitter that the Detroit Times wrote, "I saw a fellow pass him the other day, and purposely, too, when there were three runners waiting for him to force them round. Of course it brought in a run, but the pitcher wisely concluded he would rather do that than take a chance on a clean-up."
Red was also responsible for giving his brother Bill a start in professional baseball in 1906, telling his manager, Moe Myers, that his brother Bill "was a better than fair young catcher." Moe asked Bill to report late in the season for a workout but didn't offer him a contract, allowing him to practice with the club. When the season ended, Myers signed him for the 1907 season. After his 1907 college season, Bill returned to Michigan and was sent by Myers to the Jackson Convicts, where he caught and played the outfield. A little more than two years later, Bill made his major league debut with the St. Louis Browns. By the end of his playing career in 1921, he had played in over 1,000 games with the Browns, Phillies and Cubs, becoming one of the great defensive catchers in the game.
Red was drafted by the Detroit Tigers in September 1906 and reported to the Tigers spring training camp in March 1907. According to Sporting Life, Killefer "made a favorable impression, in spite of the fact that he got underway hampered by a lame back. He pluckily worked the lameness out and started batting like a house afire…. he has shown steadily increasing speed…. [and] looks like a fine infielder [who] looks to have a grand chance."
On April 6, 1907, the Detroit Tigers purchased Red's contract from Kalamazoo for $300. Unfortunately, Killefer sat on the bench for two months without getting into a game. In early June, Sporting Life reported that, "After doing considerable traveling around the country, 'Red' Killifer of the Detroit crew, has finally been placed at Johnstown, Pennsylvania, where he is playing first base–a new position to him. He is doing well, however." A few days after his arrival, Red went 4-for-5 with two doubles and a triple in a 9-8 loss against eventual champion Williamsport. A month later, the Williamsport Daily Gazette and Bulletin said, "Johnstown made a ten strike when it got Killifer." By the end of his 108 games with the Johnnies, Red had hit .305, fifth in the fledgling Tri-State League. He was recalled by the Tigers in early September, making his major league debut against Chicago on the 16th, going 0-for-4 in a 7-0 win.
Early in 1908, Sporting Life said, "The Detroit club will go through the year well fortified. It will keep Killifer and Downs, substitute infielders….all season long." Late in May, "Wade Killifer filled in for Charlie O'Leary in two games of the Boston series and got two hits each time, batting in four runs." One of the games was a 6-4 Tigers win in Boston where Red went 2-for-4 with a run scored against Cy Young. In the third inning of a game against Boston on June 6, shortstop Killefer was in the middle of a 5-6-3 triple play. On a hit-and-run play, Gavvy Cravath hit a sharp liner to third baseman Germany Schaefer, who whirled and threw to Killefer at second, who doubled up Harry Lord and then fired the ball to Claude Rossman at first before Amby McConnell could get back.
By mid-season, Sporting Life noted that "Red Killifer has taken the place of Jerry Downs as the first substitute on the infield." The Detroit Tigers won the 1908 AL pennant by a half game over Cleveland, losing the World Series in five games to the Chicago Cubs. Killefer saw no action in the series, but posted a .213 average in 28 regular season games. Sporting Life said that "Killifer proved [himself a] capable substitute."
Killefer didn't rush to sign a contract during the winter of 1909, having been paid in 1908 "on the wage scale of a Southern Michigan League graduate," as he told the Detroit Times, rather than the "stipend of a regular" paid to fellow sub Davy Jones. When threatened with an assignment to Jersey City by tight-fisted Tigers owner Frank Navin, Red said "have at it," taking the attitude that he could demonstrate his worth in the minors and find himself with another major league club. Red eventually signed for 1909, but President Navin was working to deal him elsewhere. His hitting improved in the early weeks of the season; in a 2-1 win over Chicago on June 28, a two bagger by Killefer and Schmidt's single won the game for Detroit in the tenth. On July 21, Red hit his first major league home run, a bases-empty shot off Tom Hughes in a 2-0 win over New York.
On August 13, 1909, President Navin traded Red and Germany Schaefer to the Washington Senators for Jim Delahanty. The Washington Post described Killefer, who had hit .279 in 23 games for Detroit, as "a husky youngster, of good speed, and a clever hitter. He can fill the utility role, being both an in and out fielder." Senators manager Joe Cantillon initially thought about using Red as a catcher but ended up using him primarily as an outfielder.
The Washington Post proclaimed Killefer a "Local Hero" when he stroked a twelfth-inning single to center field off a sneering Chief Bender to score the only run of an August 17 win over Philadelphia, a nerve-wracking and remarkable contest that featured Walter Johnson's four-hit pitching. On October 2, the last-place Nationals faced Philadelphia with Walter Johnson on the mound and Red Killefer as his catcher. To Red, it was "The biggest kick I got out of my big league baseball [days]." He walked, was hit by a pitch and scored three runs in a 6-5 loss. At the end of the season, he had appeared in 40 games and hit .174 for Washington.
In 1910, new manager Jim McAleer decided it was best to use Killefer's speed in the infield and outfield rather than at catcher, where he had been used during the spring. On July 11, 1910, Red played against his brother Bill when the St. Louis Browns visited Washington. According to the Post, "Wade Killifer spent most of the day trying to make his brother look bad. He stole second in the opener, third in the fifth, and then tried to steal home, but was nipped in a close finish…. [he also] did some remarkably good work at second." In a 9-1 win over the Browns on August 4, Red was 3-for-5 and his "timely double in the second inning of the first game came with the pillows packed, and netted the Nationals their first two runs."
Red Killefer had a unique batting day on August 27, 1910, in a doubleheader win against Detroit. Batting second, he successfully sacrificed runners along in four straight at-bats, three of whom scored in a 3-1 victory. He stretched his streak to five sacrifices in a row in his first at-bat of the second game.
In September, the Dallas Morning News was skeptical of Killefer's ability to play in the majors. "No ball player has ever been given a better chance to establish himself…. than Wade Killefer of Washington, yet…. he has been found wanting. In the face of his failure to hit, he has been kept in the game day after day in the hope that he would improve….[his] percentage of .181 gives silent evidence that Killefer is still too weak with the bat to be of any material assistance." Manager McAleer subsequently told Red he was "laid off," with salary, along with three others as McAleer began to take a look at some younger players. Red had played in 106 games, mostly at second base, and hit .229. He led the AL in hit-by-pitches with 16, and he was in fifth place with 29 sacrifices.
With his paid vacation, Red Killefer headed home to Paw Paw, where he was picked up by the Benton Harbor Speed Boys, a semi-pro team that was playing the St. Joseph Red Tags for a championship on September 25. The Speed Boys prevailed 5-0, with Killefer getting three hits, including a double and a steal of home. They later lost to Berrien Springs in a three game series in October for another Michigan-Indiana semi-pro championship.
On January 25, 1911, Red and Dorothy Gail Parks, both 25, were married in Kalamazoo, Michigan. She was the daughter of Edward F. and Addie (Bangs) Parks, neighbors of the Killefers in Paw Paw.
In February 1911 Red was sold to the Minneapolis Millers of the American Association, who were managed by his 1909 Washington skipper, "Pongo Joe" Cantillon. As winter became spring, Joe's contract offers didn't suit Red, who refused to report to the club for spring training. It's possible that he felt that he could earn a living as a businessman, having just sold some Washington timber land for a large profit. He was also at home at the bedside of his sick wife, whose condition was very serious for several weeks.
Red eventually signed with the Millers just before opening day. Without the benefit of spring training and nursing a sore arm, Killefer got off to a slow start. He began to hit his stride in early May, prompting the Mansfield News to say that "Killifer….is putting up a fine exhibition of fielding at short," and his batting average was .295 by the end of the month. When former Miller shortstop Dave Altizer returned to the club in July, Red was turned into a utility player and a pinch hitter. The veteran Millers squad, led by Gavvy Cravath and Hall of Fame pitcher Rube Waddell, won the A. A. pennant with a 99-66 record. Red hit .290 on a team that had six regulars who hit over .300. The Indianapolis Star reviewed Killefer's season: "out of position and….made a failure…. [he] kept trying and before the season was over was one of the most popular men on the club. His ability to swat them in the pinches is well known."
For the first time as a professional ball player, Red didn't spend the winter of 1911-1912 in Paw Paw, instead going to Los Angeles, where he enrolled at the College of Osteopathic Physicians and Surgeons in February 1912. Killefer completed eight semesters of study over the next seven years before dropping out in February 1919.
On the eve of the 1912 season, the Killefer family almost lost another member to a hunting mishap. During spring training Red and a teammate went hunting in a marsh near Hickman, Kentucky. While weighted down with hunting paraphernalia, they slid into a bog and barely managed to make it to a log and pull themselves free.
Red Killefer was a third baseman and left fielder for the 1912 Millers. Early in the season, Red was leading the team in hitting and runs, prompting one newspaper to say, "He is fast and full of pepper all the way, fights hard for every game and is a dangerous man at all times on the sacks." With the Millers posting a 107-61 record and another pennant-winning season, Killefer had hit .288 with 45 steals. In the post-season, the Millers faced Denver of the Western League for the western championship, losing all but one of five games. Red scored the winning run in their lone victory on a steal of home in the ninth inning.
Killefer continued to play third base and the outfield for the 1913 Millers, who had an excellent season at 97-70 but finished second to the Milwaukee Brewers. Red played 161 games and hit .268.
In 1914, Red's average, clutch hitting and base running for the Millers found him at the top of the A. A. leader boards. By early July, four major league clubs were bidding for his services, with Cincinnati finally picking him up in August. A slow start and an injury in the outfield hampered his performance for the Reds, but he recovered his form late in the season to hit .277 and steal 11 bases in 42 games.
In late October 1914, Red traveled to Kirksville, Missouri, where he entered the junior class of the American School of Osteopathy. He told a reporter that he planned to be an osteopathic practitioner when his playing days were over.
At age 30, Red Killefer finally became a major league starter as a member of the 1915 Cincinnati Red's outfield. Early in April, TSN gushed, "Killifer's outfield play has been almost unbelievable." In mid-August, TSN mentioned his "matchless outfielding…. [and] numerous two-baggers." At the time, Killefer was hitting .312, fourth in the NL. Red was also using his osteopathic skills to help himself and the club. In July the Boston Globe reported that Red had treated himself for an injured shoulder and was able to keep playing. At the direction of Manager Buck Herzog, Killefer successfully rehabilitated Fritz Mollwitz' sore arm and, as a result, was treating five other members of the club.
Red Killefer had his best major league season for the seventh-place Reds in 1915. He appeared in 155 games, batted .272 and swiped a dozen bases. He also led the NL with 19 HBPs.
After the season concluded, Red went on a post-season tour in the Northwest and West with the All-Nationals team managed by Frank Bancroft.
In January 1916, TSN reported that Killefer was "likely to be traded to another club unless he moderates his salary demands." Besides irritating management with money issues, Killefer reported to spring training overweight and spent a lot of time running to lose the extra tonnage. Once the season began, he returned to form and was hitting .300 in early May. On May 18, he hit one of his three career home runs in a 3-2 win over Boston. Killefer missed a few games due to an injury in June, but came back to play good ball.
On July 20, Red Killefer's major league career took a fateful turn as he and manager Buck Herzog were traded to the New York Giants for three future Hall of Famers- Christy Mathewson, Edd Roush, and Bill McKechnie. Herzog had just been fired as manager of the last-place Reds and, with Mathewson in the last year of his brilliant career, Giants manager John McGraw was widely praised for allowing Mathewson to go to Cincinnati to succeed Herzog as the Reds' skipper.
Killefer made his first Giants appearance on July 22 as a pinch-hitter, drawing an eighth inning walk in a 5-2 loss to the Cubs. On July 23 Red again pinch-hit, stroking a single in an 8-3 loss. "I thought I was sitting on top of the world with John McGraw's club," Red told a reporter ten years later. The feeling didn't last long. Before the Giants left Chicago, Killefer was told to wait in Chicago because a three-way deal that would send him to the Boston Nationals was in the works. Tired of sitting three days later, he traveled to Paw Paw, where he waited for several more days before he learned of his purchase by Louisville of the American Association.
Red Killefer made his debut as the Louisville Colonels left fielder on July 30, 1916. Under manager Bill "Derby Day" Clymer, Louisville won the A. A. pennant with a 101-64 record, riding an eleven-game winning streak in September. Red played 59 games and hit .257 in the leadoff and second slots. Louisville played a post-season series against Omaha, the Western League champ, but Wade didn't make himself available for the games, telling TSN that it remained to be seen whether he would go to another team or retire and hang out his shingle. According to Red, "At the end of the season I had heard so much about California and the Pacific Coast that I decided to winter out there. My wife and I liked it so well that we decided to stay."
With Red refusing to play on the East Coast and threatening to retire from the game, Frank Chance, manager of the PCL's Los Angeles Angels, began negotiations in January 1917 to secure Killefer, finally signing him in late March. In the meantime, Red and Dorothy Killefer welcomed their first child, a son named Tom, on January 7, 1917. They would have three more children, a daughter Anne, born on November 15, 1919, and two sons, Peter, born on August 3, 1922, and John, born on April 3, 1925.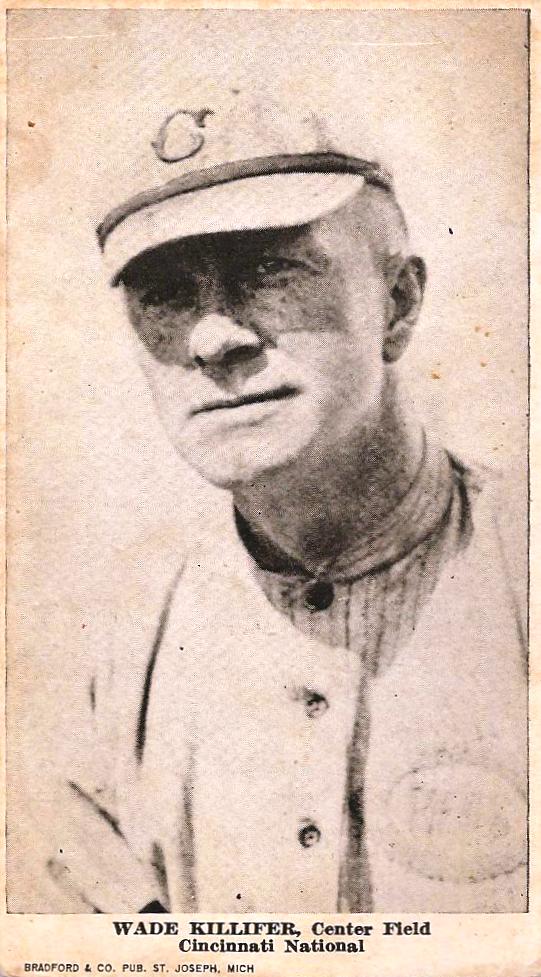 The Los Angeles Times suggested that "the addition of Killefer should materially strengthen the Angels." Reporting without any spring training, Red injured his arm on a throw from the outfield and had to be moved to first, where he played well and hit .300. On July 3, 1917, Frank Chance resigned as the Angels manager due to ill health and recommended Killefer as his replacement. Red was then summoned to owner John Powers' office and offered the job. "Of course I jumped at the chance to handle the team as I had always wanted to try my hand at it," Red said. "We had a corking good ball club, but Chance…. had been too strict a taskmaster and everybody was all tightened up, afraid to play naturally….They played their heads off for me."
In third place and just a few games above .500 in early July, the Angels made a strong run for the pennant. The season went down to the last day and the Seals and Angels both won doubleheaders, giving San Francisco the pennant by one game. The Angels had played at a .600 clip during Red's tenure, and featured an offense led by Irish Meusel, Jack Fournier and Duke Kenworthy, who all hit above .300. Pitchers Doc Crandall and Brad Hogg pitched 700 innings and won 53 games between them. Player-manager Killefer hit .295 in 171 games.
The 1918 season was overshadowed by World War I and the military and defense industry's need for manpower. With a "work or fight" edict in effect for all able-bodied men, playing professional baseball took a back seat. Red Killefer signed "Wahoo Sam" Crawford, his old Tigers teammate, who had just retired from the American League. Crawford's impact was immediate as he hit well and threw out runners at third and home on opening day.
On April 21, in a loss at Salt Lake, Red was involved in the first of his many confrontations with PCL umpires. When one of his players was out for failing to touch first, TSN reported that "Manager Wade Killefer of the Angels nearly tore the clothes off the official, starting a near riot."
The Angels played poorly in the early going but reversed course by mid-May. In July, with the war raging in Europe, PCL owners decided to finish the season early and scheduled a best-of-nine playoff between first place Vernon and second place Los Angeles. On July 22, Los Angeles beat Vernon 4-2 to capture the pennant, five games to two. The Los Angeles Times noted that "Much credit is due to Red Killefer for the clever way he managed the boys throughout the short season." Red hit .295 and was named to the Writers' All-Star team as utility infielder. Ed Barrow, the Boston Red Sox manager, sent a telegram to Red on July 22; "Wire at once lowest terms to play with Red Sox." It's not known if he responded, but he chose to remain with the Angels.
After the conclusion of the season, Red worked as a shipbuilder and served as player-manager of the Southwestern Shipyard team, which won two of its four games before the five-team Service League was shut down.
The 1919 Angels were a heavy hitting aggregation with Crawford, Fournier and Killefer leading the charge, producing an early lead in the pennant race. They had a 9 ½ game cushion in mid-June only to see it disappear by late July when Killefer was sidelined by a knee injury. It was a fierce battle between the Angels and the Vernon Tigers through October, but the Angels lost five straight to the Tigers to finish the season. Killefer described it as "The most heart-breaking pennant I ever lost." According to the Times, "Killefer in center field had a wonderful season….his dash and gameness were epic….Week after week [he] remained in the game when he should have been sitting on the bench propped up with splints and swathed in bandages." Red was 10th in PCL batting with a .320 average.
Red entered a team called Killefer's All-Stars in the 1919 Los Angeles Winter League, featuring Jimmy Austin, Gavvy Cravath and Sam Crawford. In a 4-3 victory over Weaver's All-Stars on November 1, Babe Ruth hit a solo home run over 500 feet, one of the longest and hardest ever seen in that area.
Killefer's Angels got off to a poor start in 1920 and were hitting only .241 in mid-May, convincing him "that a jinx is pursuing the Angels" when his club lost twelve in a row. In June, the team experienced a hangover from the 1919 pennant race against Vernon when Killefer accused ace Salt Lake pitcher Ralph Stroud of accepting a bribe to leave his club during a crucial September series against Vernon. PCL President William McCarthy launched an investigation that ultimately proved Stroud innocent, but found that three Salt Lake players had accepted cash from Vernon first baseman Babe Borton. Although there was no law against throwing a ball game at the time, McCarthy expelled Borton, Harl Maggert, Bill Rumler and Gene Dale from the league. In mid-August, Red Killefer sent a telegram of apology to Stroud.
As the Angels season progressed, injuries and poor performances produced a spotty record. A loss against Vernon on September 16 proved that bad blood continued between the two teams as Killefer and Vernon outfielder Stumpy Edington squared off after the game in what was variously called an "impromptu scrap near the clubhouse" and a "ju jitsu scramble." Another Angels-Tigers series in September was a "battle of tongues" as the Angels made sarcastic references to "buying a pennant [in 1919]." Killefer said a few things that led to second baseman Bob Fisher "trying to cut him down in retaliation." There was also another dust-up with Stumpy Edington and, in an indication of how deep feelings ran, a row between Angels' owner John Powers and Tigers' owner Ed Maier.
The Angels were out of the race by the last game of the season in Sacramento, prompting Red to insert 19-year-old batboy Jimmie Reese into the game at second base. Reese notched a single on a lobbed pitch, scored a run, and had two putouts and three assists in the field. It was the first professional appearance for Reese, who had a long career in Organized Baseball as a major league player and coach, and minor league manager, scout and coach.
Red hit .286 for the 1920 Angels, who finished third in the PCL with 101 wins, nine games behind Vernon.
In Red Killefer's mind, the 1921 Angels were the team to beat in the PCL, although their early play didn't show it. Baffled with the results in June, Red put his squad members' names in a hat and picked the first nine that were drawn out. The Angels still lost. His frustration peaked on July 23 when an argument over Bill Byron's ball and strike calls caused the arbiter to forfeit the game to Seattle. According to the Los Angeles Times, "Killefer was instantly beside himself…he grabbed Byron and shook him thoroughly." Red was fined $50 and suspended for five days by President McCarthy.
The team turned its fortunes around in August behind good pitching and the hitting and running of Crawford, Dixie Carroll, and Jigger Statz; Killefer had been out with an injury for weeks but couldn't find a place for himself in the lineup. The pennant race went down to the final day, when Los Angeles won the pennant by beating Portland 12-3 in the first game of a doubleheader, allowing them to nose out Sacramento by six percentage points. The club became known as "The Old Men," and featured 41-year old Sam Crawford; two 37-year olds, first baseman Art Griggs and catcher Oscar Stanage; and several others in their mid-thirties, outfielder Rube Ellis, pitchers Tom Hughes and Doc Crandall, and second baseman Bert Niehoff. TSN's review of the season concluded that "Killefer [gets] most of the credit for the winning…. [his] men played above their heads and turned a trick by winning the pennant that few other men could accomplish."
On August 31, William Wrigley bought John Powers' interest in the Angels, making him the owner of the Chicago Cubs and the Los Angeles franchise, both managed by the Killefer brothers. According to Red, "Powers' private affairs forced him to sell the club…. on short notice and I got in touch with Wrigley and he consented and bought the Angels." When contract time came in December, Killefer and Angels President Joe Patrick argued over terms, a new experience for the skipper, who was used to handshake deals with Powers. Killefer then took his case directly to William Wrigley in Chicago and agreed to terms later in the month.
After giving up his pursuit of osteopathy in 1919 in favor of managing, Red began another business venture by buying an orchard near Los Angeles. In December 1921, his 12,000 pound walnut harvest grossed $4,000, earning him the nickname "king of nuts."
Red Killefer's 1922 Angels rushed out of the blocks to first place but couldn't maintain the pace in May, falling to third. A month later, TSN commented that "Wade Killefer…. appears to have a temperamental ball club. For a couple of weeks, the Angels will play like world beaters. Then they will not be able to handle a ground ball and they kick a series away."
The Angels stayed close to the lead going into July and appeared on the way up on August 1 when Killefer's mother was killed in an auto accident in Michigan, causing Red to take leave for nearly three weeks. The team wobbled in his absence and reached the end of August seven games behind San Francisco. They were never able to make up the difference and finished the season in third place at 111-88. TSN concluded that "The Los Angeles team played poor baseball on the road…. Some of the players who hit over the .300 mark on the home grounds could not hit the ball out of the infield on the road. The biggest blow to Los Angeles was the injury to [pitcher] Elmer Ponder early in the season."
The 1922 season was the twilight of Red Killefer's playing career. Limited to 53 games, 50 fewer than 1921, he hit .295, but his slugging percentage plunged to .317, his lowest mark ever. He would play just 17 games over the next five years, coming to bat 13 times and reaching base on only three occasions. His last appearance came in the final weeks of 1927 when he pitched a scoreless inning of relief for Seattle, allowing him to finally play every position on the diamond during his professional career.
On March 19, 1923, Killefer and Charles Lockard, Angels' business manager, bought controlling interest in the Seattle Indians PCL club for about $150,000, fulfilling Red's long-held ambition to buy stock in a club.
Fallout from the transaction was immediate. PCL President McCarthy began to investigate an allegation that William Wrigley, Jr. had money in the Seattle ball club, thus creating a Coast League "syndicate" with himself in charge. McCarthy questioned Wrigley, Lockard and Killefer about the matter, realizing that a change in Seattle ownership would cause his ouster. As the season came and went, two factions of PCL owners sparred over McCarthy's leadership. One five-team faction had threatened to form a new league and was successful in defeating McCarthy in a November ballot. McCarthy disputed the result and contended that Seattle wasn't entitled to a vote. The anti-McCarthy faction named a second president, Harry A. Williams, who established his own headquarters, giving the league two presidents and offices simultaneously. The issue was settled in mid-December when the Board of Arbitration of the National Association of Professional Baseball Clubs decided that Williams was the duly elected president. The board also censured Wrigley, Lockard and Killefer for their financial transactions in purchasing the Seattle club.
With manager Harry Wolverton already in place and players ready to go on strike if he was released, Red Killefer assumed the role of traveling secretary, agreeing that he and Lockard would see what the club could do. On July 7, with the Indians mired in the second division at 46-49, Red became the manager. There was also an announcement that Killefer and Lockard had sold a large part of the club to R. O. Harvey, owner of the Wichita Falls Texas League club. By the end of the month, the team was playing good baseball. According to TSN, "the players accepted the sorrel-topped chief as their boss without a squawk." Behind the hitting of outfielders Brick Eldred and Ray Rohwer and the pitching of Harry Gardner and Elmer Jacobs, Seattle finished the 1923 season in fourth place at 99-97.
Killefer's 1924 Indians got off to a slow start but found winning ways by the end of May. Three weeks later, the Indians were in second and barking at the heels of the first place Seals. TSN said "the Indians are playing championship ball…. Men who have been regarded as just ordinary performers are playing flashy ball under the popular Red's tutelage. The players have set their hearts on winning the rag."
Entrenched in a pennant race, Killefer was in hot water with the umpires. In early June, Red was fined and suspended for an on-field fist fight with Vernon catcher Harry Hannah. Later in the month, he was suspended for two days and fined $20 because, as the Los Angeles Times put it, Red "cast asparagus upon the honesty and probity of Umpire Ed Finney [by using] offensive language." Another row with Finney came two days later, earning Red and four other Indians $10 fines.
Three and a half games or less separated the Indians and Seals during August. In October, Seattle won six of seven games from front-running San Francisco, who fell to third place. Seattle came out on top with 109 wins. Vean Gregg (25-11) was the Indians' pitching ace. Outfielder Ray Rohwer (.325) clubbed 33 homers.
According to TSN, "Much of the success of the Seattle team can be attributed to the extraordinary skill of Wade Killefer…. 'Radiant Red' filled these athletes with so much 'pep' and determination that he turned what looked like a very ordinary ball team into a pennant winner….There were many times during the heat of the pennant drive that the Indians appeared to be through, but Killefer always pulled them together…. Maybe, if the 'best team' did not win the pennant, the laurel wreath can be laid at the feet of 'the best manager.'"
There was a report in January 1924 that Red turned down a $15,000 offer to manage the 1925 Brooklyn Dodgers, but the club denied it. At the time, it appeared inevitable that Killefer would eventually be a major league manager. Vean Gregg called him "one of the smartest….and most likeable baseball men the modern game has produced."
Seattle's 1924 attendance didn't suit Killefer, so he traded Ray Rohwer to Portland for hard-hitting third baseman Frank Brazill, a bigger gate attraction. First baseman Babe Herman, a consistent .300 hitter, was also added. Pundits favored the Indians to retain the pennant in 1925, but TSN said the club showed "little of the fight, dash and relish manifest in his title holders of the previous year. The veterans on the Seattle team slowed down perceptibly and the new pitchers….fell shy of expectations." With one-third of the season completed, Red had already been suspended three times. Part of the reason could have been bad breath. Killefer and George Cutshaw, his first base coach, had a habit of chewing garlic during the game. On a disputed decision, they would storm the plate umpire from both sides.
Towards season's end, Seattle tried out a dozen or more recruits in hopes of uncovering something, but the uninspiring rookies led Killefer to try just about anything. On September 5, in an 18-2 Los Angeles blowout of the Indians, Red inserted Wally Krauklis, a Seattle fan from the stands, into the line-up. Krauklis was hitless in three at-bats and recorded one putout in left field.
The 1925 Indians finished in third place. Brazill was second in PCL batting (.395) and Babe Herman was purchased after the season by the Brooklyn Dodgers. Red Killefer was chosen as the league's top manager by TSN's Daniel Dugdale.
Red's 1926 Indians weren't picked as a contender, and when the season ended with them buried in seventh place, his ten-year run of first division clubs was over. Jumbo Jim Elliott, a 240-pound southpaw, was sensational on the mound (26-20) and had a 2.55 ERA. Temperamental Frank Brazill had been sold to Los Angeles after a contract dispute, so the hitting was left up to Fuzzy Hufft, Marty Callaghan and Jack Sherlock, all well above .300. Red's clashes with umpires earned him 38 days in suspensions. Daniel Dugdale again named him as his All-Star manager, calling him "the class of Coast League pilots."
Off-field problems emerged as well. Attendance plummeted and, in mid-August, Seattle switched its Wednesday home games to Vancouver, jaunts that were called off after three trips because of transportation expenses. Vancouver drew good crowds, but the gate receipts didn't justify the trouble. By the end of September Lockard and Killefer put the Seattle franchise on the market, admitting their inability to sell baseball there. No serious buyers emerged by December, so they would stay in business another year.
Red Killefer had a competitive first-division team for the first four months of 1927, but Seattle's fan support was miserable, causing him to sell players to keep the franchise afloat. John Miljus, the Indians' best pitcher, was sent to Pittsburgh for $17,000. Two outfielders, Pid Purdy (.367), and Marty Callaghan, one of the best in the league, were dealt to Cincinnati. Pitcher Ed Brandt (19-11) went to the Boston Braves. Without its best talent, Seattle finished third. TSN remarked that the result was "due more to [Killefer's] manipulation and handling of players, rather than anything else."
In late October, there were reports that Red was considered for the Boston Braves managerial position, a job that went to Jack Slattery. Months later, the Charleston Daily Mail reported that the Braves and Killefer "almost had the matter adjusted satisfactorily to everyone, but Slattery was introduced by mistaken kindness and the Braves lost one of the best baseball managers on the Pacific coast."
On Christmas Day 1927 Seattle resident William Klepper purchased the Indians franchise from Lockard and Killefer for $300,000, ending their five-year tenure in the Pacific Northwest.
Red wasn't out of work for long. On January 14, 1928, President William McCarthy of the Mission Bells PCL franchise named Killefer as manager, succeeding Harry Hooper. The Oakland Tribune reported that the three-year contract included an annual salary of $20,000, believed to be the highest figure ever paid to a minor league manager. The deal was sealed because McCarthy and Killefer were able to put aside animosity about their prolonged fight in 1923 over the money backing the Seattle ownership and McCarthy's ouster as president of the league.
Red Killefer faced a new set of challenges with the Mission club, a two-year-old San Francisco franchise that played second banana to the well-established Seals. Coming off a seventh place finish in 1927, great things were expected of Red now that he had money behind him.
Unfortunately, the Bells' poor pitching doomed them to a dismal start. Atop the second division after a month of play, Killefer responded by cutting dead wood and picking up players jettisoned by other teams. Speed Martin came from Seattle and proved effective on the mound; Ping Bodie was grabbed from the Seals and hit robustly. When Killefer bought pitcher Ernie Nevers, the All-American fullback from Stanford, from the St. Louis Browns, fans became excited. Nevers was the Bells' top pitcher in 1928 with a 14-11 record. Another key pickup was Ike Boone, who supplied punch when he was obtained in a trade from Portland. In a season that was played in two halves, the Bells finished with a 99-93 overall record.
On October 15, the Mission board of directors accepted the resignation of President McCarthy and named Red Killefer president of the club. In April 1929, the Mission club announced that it would no longer be called the Bells, instead adopting the nickname of "Reds," from the fiery thatch of its leader, Red Killefer.
Killefer put together a formidable club for 1929, and the Reds soared into first place in a matter of days. Twelve games up on their nearest challenger and losing only two series by early June, Red said, "We're just too good for the rest of the league. The only thing that can stop us is a train wreck." With the Reds making a runaway of the race, PCL attendance plunged far below that of previous years. Nervous about the implications of dwindling gate receipts, team owners voted in late June to adopt a split-season to keep fans interested. The Missions were declared the winners of the first half with a 60-33 record, four games ahead of the Seals, earning them a $10,000 purse.
The second half was a dogfight between five teams, with the Reds trying their best to again finish first to negate the need for a playoff. The Hollywood Stars emerged as their most dangerous rival as the Reds pitching faltered down the stretch as they lost the drive for the second half crown by dropping a doubleheader on the last day of the season. A best-of-seven playoff series between the Reds and Stars began on October 8, with the Reds winning the first two games at home. When play shifted to Hollywood, the Stars streaked to the pennant by winning four games in a row behind the pitching and hitting of Frank Shellenback.
The loss of the championship was a bitter disappointment for Killefer, who knew he would have to make wholesale changes for the 1930 season. Offensively, the 1929 Reds put up some stunning numbers; Ike Boone (.407) had 323 hits, 55 home runs and an alt-time professional record of 553 total bases; Fuzzy Hufft (.379) and Monk Sherlock (.336) were outstanding, with Hufft poling 39 round-trippers. Together the trio drove in 541 runs.
In early November 1929, Red Killefer underwent surgery for appendicitis at a Redondo Beach hospital. Newspaper reports commented on how calm and tough he was for "lay[ing] on an operating table smoking a cigarette as he watched the doctor remove his appendix."
The 1930 Mission Reds were a disappointment. Killefer's club staggered out of the blocks and never recovered, falling to sixth place by mid-May. With the fans staying away in droves, Red was forced to sell hot-hitting Harry Rosenberg to the New York Giants in early July. A few days later, Ike Boone was peddled to the Dodgers, giving the Missions a total of $90,000 for both players. The Missions finished in seventh place with an overall record of 91-110.
In early December 1930, when traveling east to Montreal and New York for winter meetings, Red was ill and stopped in Battle Creek, Michigan, to see a doctor. From there, he was rushed to Kalamazoo, where he had a major operation for cancer. His wife Dorothy and brother Bill were there to lend their support. Red rapidly recovered and was back at his home in Hermosa Beach by the Christmas holidays.
Regaining his health, Killefer conducted business by phone in an attempt to put together his Mission club for 1931. In early February he had hopes of returning to San Francisco, a plan that was abandoned when he was hospitalized for another major abdominal operation later in the month. Early results were discouraging and by early March George Burns was named to manage the Reds in Killefer's absence. Though his condition improved, he was still weak in late April and was spending time with his family, his first time away from baseball in 28 years. By mid-summer, Red had resigned his positions with the Missions and was recovering his health by playing golf.
In October 1931, Red Killefer, backed by Presidents William Klepper of Seattle and William Lane of Hollywood, was offered as an opponent for Harry A. Williams for the PCL presidency. Both owners believed they could rally enough support to put Killefer in office, but after sixteen ballots at the PCL's November meetings, Williams prevailed by a 4-3 vote, with Cal Ewing garnering the other tally. By the end of the month, Red was telling his friends that he was disgusted with the politics of the Coast League and would seek work elsewhere.
Fully recovered by March 1932, Red was named as a coach for the Hollywood Stars by manager Oscar Vitt. As the season started, there were rumors of discord between Vitt and William Lane, leading to speculation that it might not be long before Killefer, seen by some as angling for the job, was named as manager. This talk became moot on September 24 when Killefer was appointed manager of the Indianapolis Indians of the American Association by President Norman Perry, succeeding Emmett McCann.
Red's recovery was obvious during the Indians opening series of 1933 with the Milwaukee Brewers. Killefer and Milwaukee manager Frank O'Rourke got into a war of words after O'Rourke complained about a lack of batting practice time. Killefer called him a "cry baby" and said that the Brewers were "a bunch of paper mache athletes." A showdown took place in the Indians clubhouse when O'Rourke threw a punch at Killefer's jaw in the midst of an argument. Indian players pushed O'Rourke out of the Borchert Field clubhouse, with Killefer later remarking that he didn't want to take advantage of a cripple because O'Rourke's right hand was wrapped in bandages as a result of a spike wound and broken thumb. Killefer told the press that he made the remarks to help draw crowds to the games.
In mid-May 1933, Norman Perry turned over the club presidency to Red Killefer, citing extensive business interests that required his attention. TSN described Perry and Killefer as "bosom companions….When each home game is over, Perry and Killefer may be seen on their way to the boss' country estate a few minutes after the last out is made."
On the field, the Indians were mediocre, sputtering along in the vicinity of .500. A thirteen game winning streak in early June took them into second place, but the club eventually finished third with an 82-72 record. Second baseman Frank Sigafoos (.370) won the A. A. batting title and had a 39 game hitting streak.
Killefer's 1934 Indians looked like a contender on paper, adding Vernon "George" Washington, a slugging outfielder from the Texas league. Indianapolis was in first place in mid-July and was ten games above .500, but couldn't maintain the pace down the stretch as injuries and underperforming players brought the team down to fifth place. The team hit well, with Washington (.367) losing the batting title by a point. Lefty Logan was 20-14 on the hill, but the team suffered from spotty pitching from the rest of the staff.
The 1935 Indianapolis team got off to a fast start and played winning ball for the first three months of the season, primarily because of excellent stick-work and speed on the bases. The Indians slipped to third place during a road trip in July and had problems with wildness on the part of the pitching staff. TSN estimated that a fourth of the club's defeats were due to walks and at least a half dozen games were lost by walking in the winning run. The Indians stayed close to the league leading Minneapolis Millers through the season's final month but finished second at 85-67, five games back. Red Killefer had assembled a speedy, strong fielding and heavy-hitting team that had as its standouts batting-title winner Johnny Cooney (.371), Riggs Stephenson (.343) and pitchers Vance Page (17-7) and Stew Bolen (13-6).
The Indianapolis Indians had two distinct seasons in 1936. In the first season, from April to mid-August, the club performed listlessly and without a fighting spirit, sinking as low as seventh place in early June. Indians fans were calling for Killefer's ouster but Norman Perry gave him a vote of confidence, saying "Killefer will be manager of the team as long as he cares to keep the job." Over the last six weeks, the Indians conducted a wild drive for the first division, sending the city into baseball hysteria. Indianapolis finished the season in fourth place at 79-75, eking their way into the playoffs against St. Paul. Five games later, they had won the series 4-1 to advance to the A. A. finals against the Minneapolis Millers. This was as far as they could go. The Millers, behind first baseman Rudy York, won the series 4 games to 1. Ox Eckhardt (.353) was the Indians' batting star for the year, with Jim Turner (18-13) and Lefty Logan (16-9) as the top hurlers.
As play began in 1937, the Indians gave no hint of being contenders, sinking to the second division as a result of spotty pitching, poor hitting (with the exception of Ox Eckhardt and Vince Sherlock) and an infield defense that cracked time and again. One of Killefer's better moves was returning catcher Jimmy Crandall, son of Doc, to the mound, his position in high school. Crandall's first outing found him surrendering only one hit to Milwaukee in four innings of relief. Crandall ended the year with a 6-5 record in 139 innings.
The Indians were in fourth place in mid-June on the strength of a 15-4-1 road trip. They fought hard to stay in the race and had enthusiastic fan support, but couldn't get beyond five games above .500, hanging on to fourth place by a thread. By the end of August, the Indians had fallen to fifth place and were below the break-even point. When they were in sixth place at 61-74 in early September, Killefer sold Lefty Logan to the Cubs. Minus their best pitcher, the Indians slogged to a sixth place finish with a 67-85 record.
On November 21, 1937, Red Killefer resigned as Indianapolis manager to become manager and business director of the PCL's Hollywood Stars. Hollywood was the failed Mission Reds franchise moved from San Francisco, where owner Herbert Fleischhacker Sr. took a financial beating.
With no fan base or home ballpark, the 1938 Stars were begrudgingly granted permission to share Wrigley Field with the Angels, but at the steep cost of over $17,000 for the year. Killefer needed to build a team from scratch and had little money to spend on players, so he sometimes had to be creative. On April 22, Red Killefer purchased Jimmy Crandall from Indianapolis in one of the most unique deals in minor league history. With no money to buy him outright, Red prevailed on Norman Perry to cut a deal where Hollywood would receive Crandall for a case of gin, two boxes of limes from Killefer's orchard, and one dollar. Crandall's presence was valuable a few days later when he came into a game against Portland trailing 3-2 and snuffed out a rally. He then belted a double and a home run, driving in four runs in an 8-4 victory. The win enabled the Stars to go into a tie for first with Portland, the high water mark of the year.
By mid-May, Hollywood was four games over .500 and tied for second place when Bill Killefer's Sacramento Solons traveled to Hollywood for a week-long series. Hollywood won the first game but the Solons bounced back to sweep the remaining six. Both brothers were ejected in separate incidents in one of the mid-week games, but the grand finale was on Sunday, "Brotherly Love Day" at Wrigley Field. After a lengthy argument, Red's starting pitcher was tossed for protesting ball-strike calls, and Red and his players surrounded the umpire, refusing to leave the field. Seat cushions and pop bottles started to fly out of the stands, and fights were breaking out. When riot police were called to escort the umpires off the field, the game was forfeited to Sacramento. Red was fined $1,000 for the incident, which prompted the Oakland Tribune to comment that, Killefer "cannot rest unless [he's] hogging the headlines…. [he has] a bad case of swelled dome."
Injuries, dissension, bad breaks and poor play plagued Hollywood for the first four months of the season as they hovered below .500 in sixth and seventh place. Ball players came and went, with some of the deals looking sour in hindsight. TSN opined that, "Manager Red Killefer cannot be blamed for the poor showing of the Stars. Killefer has even been forced to cut off some high-priced talent to pare the payroll."
The Stars finally caught some good breaks in late August, but it was too-little, too-late as they finished the season in seventh place at 79-99. Frenchy Uhalt was the batting leader (.332), and Johnny Babich (19-17) had a 3.27 ERA.
On December 8, 1938, Herbert Fleischhacker sold the Stars to Robert H. Cobb, president of the famous chain of Brown Derby Restaurants. Plans were laid to begin construction of a 12,000 seat ball park in Hollywood, which opened in May 1939.
The Stars got off to a good start during the first week of the 1939 season and were briefly on top of the league, primarily because of the hitting of first baseman Babe Herman and outfielder George Puccinelli. Seven straight losses in early April dropped them into third place at 12-12. May was difficult for Red Killefer, who was ejected three times for protesting decisions too vigorously. The first week of June was a disaster as Hollywood lost six out of seven in Oakland and slipped into the second division due to wobbly pitching and a weakness at shortstop.
June 15 was Hermosa Beach Night at Gilmore Field, as 500 fans honored homeboy Red Killefer, bringing along a band and presenting him with a fountain pen and pencil set. San Diego won the game 5-3. Red hadn't mellowed from the recognition and was ejected two more times in June and July, once for "inciting a riot." The team started July seven games under .500 and in sixth place, but by the end of the month were 15 under and in the cellar.
Mired in seventh place by spotty pitching, poor hitting and injuries, Hollywood was dubbed by Los Angeles writers as "The Dead End Kids" and the "Sunken Stars." In early September, it was common knowledge that Red Killefer would soon be out as Hollywood manager. With mounting frustration, Red was ejected from his final game of the year on September 12 for protesting a decision at first base. The Stars finished the season at 82-94 in sixth place, twenty games behind pennant-winning Seattle.
Bill Cissell (.269) was the club's MVP but didn't have a very good season on or off the field. In early June, Cissell was fined $200 by the PCL and put on suspension and probation for disparaging remarks about President W. C. Tuttle, the worst being that Tuttle "doesn't know anything about baseball." Several movie stars, including Gary Cooper, Barbara Stanwyck, and owner Bob Cobb's wife, actress Gail Patrick, saw the brouhaha as a "free speech" cause and collected money for the fine. A month later, Red Killefer suspended Cissell for a few days for "training rule infractions" ("falling off the wagon") during a train trip from Seattle to Portland.
The Stars made it official on October 13: Red Killefer would not return as manager in 1940 and would be paid his full $10,000 salary. Killifer was out of Organized Baseball for the year and used some of the money to improve his citrus and avocado ranch near Vista, California.
Red spent part of the 1940 summer as a guest of Indianapolis owner Norman Perry, so it didn't come as a surprise when, in November, he agreed to come back for a second stint managing the Indians. Less than a month later, Bill Killefer was appointed manager of the Milwaukee Brewers, assuring fans of more colorful clashes between the Killefer brothers.
Although the Indians took three straight to start the season against Bill's Brewers, they could do little with other clubs. Pitcher Ray Starr won the opener on April 17 and earned three more during the month, one less than the Indians total. Pitcher Lefty Logan was returned to Indianapolis by Cincinnati in mid-May, but couldn't bolster a faltering staff. The Indians surprised in July, winning 11-of-17 on a road swing to put themselves back in contention, and Starr (20-15) was outstanding. The season ended with Indianapolis in sixth place at 65-88. Center fielder Wayne Blackburn (.313) was Indy's top hitter. Red Killefer was 6-5 against Bill's Brewers before Bill was replaced as manager on June 22.
In December 1941, Norman Perry sold the Indians to banker Frank McKinney and Donie Bush, who hired Gabby Hartnett to replace Red Killefer as manager.
The transfer of the Indianapolis franchise was the end of Red Killefer's years in Organized Baseball, but it didn't mean retirement. He would spend the next 17 years managing his ranch, a large spread of lime and avocado groves in Vista, north of San Diego, where he would spend three or four days a week. It was a rugged place to live, but he liked it and had a lot of friends in the area. Red's business did very well and provided a nice supplemental income to Dorothy after his death.
It is no surprise that Killefer worked until a few months before he died. Red and Dorothy, known as "Pops" and "Ga" to their children and grandchildren, instilled an unshakeable work ethic in their children at a very early age. Their oldest son Tom was required to have a summer job from the time he was twelve years old because it was the only surefire way to keep him out of trouble. Some of his teenage summers were spent on the ranch working the irrigation system.
With no baseball team to manage, Red had more time to spend with his family, and his home on the beach at Hermosa was a focal point for everyone. His wife Dorothy, a tall, beautiful, and athletic woman, had raised four children on her own for many years, particularly when Red was gone all summer in Seattle, San Francisco, and Indianapolis.
Killefer's oldest son Tom, who had grown up around baseball and loved to play the game, got his start as a summertime batboy for his father's 1924 Seattle team. He was also a batboy with his Uncle Bill's Chicago Cubs team when they trained on Catalina Island, taking the ferry from Los Angeles every day during his spring break. When he graduated from high school, Tom attended Stanford University and pitched for the baseball team. He also served as student body president, was Phi Beta Kappa, and a Rhodes Scholar.
When he graduated in 1938, Tom had hopes of a professional baseball career, but World War II intervened. He became a Navy flier and was awarded the Distinguished Flying Cross for downing four Japanese Zeros in the South Pacific. He visited his parents in the summer of 1942 before going into action and then spent time with them in April 1944 when his squadron was decommissioned.
Red's daughter Anne was a tall redheaded tomboy and was very athletic, with tennis as her primary passion. Anne followed Tom to Stanford, married Harry Brandel, a classmate, and lived with her parents for a while during the war before moving to New York while he served in the Navy. She then worked in a secretarial position for the Manhattan Project until the war ended, when the couple returned to Hermosa for a brief stay.
Peter Killefer also served in the Navy during the war. When hostilities started and he was slated for active duty, Peter, a former high school baseball player and avid sailor, thought he wouldn't be coming back and sold everything, including his boat. The ship he was on in the Mediterranean was torpedoed in 1943, and he was injured seriously enough to be sent home, eventually making a full recovery. He ended up outliving all of his siblings.
The youngest Killefer, John, followed his father in the avocado business and at one time during the 1960s worked for the California Avocado Advisory Board as merchandising director.
Red Killefer continued to keep up with baseball in his later years, sometimes taking Dorothy to spring training in Arizona. His granddaughter, Nancy Brandel, recalls going to an Angels game at Wrigley Field with him when she was five years old. "Every single usher, every single person in the clubhouse, every single official, everybody knew him. It was 'Oh, Mr. Red, you're here with your little girl,'… I was amazed that all of these people knew my grandfather, and that was quite fun." As a little girl, Brandel and her family spent a lot of time at the Hermosa house with her grandparents and found it to be an idyllic way to spend the summer. Red's personality was "crusty, take no quarters, you got teased unmercifully about practically everything and crying was not an option….you took it no matter what because everything was a game….We were always supposed to be interested in sports….that was just something you needed to know about."
In September 1945, Red Killefer was inducted into the Pacific Coast League Hall of Fame as a player and a manager. His managerial record was 1,485-1,338. As a player, he appeared in 798 games, hit .296, stroked 125 doubles and stole 187 bases.
Red would occasionally attend PCL events at Wrigley Field and was present at Old-Timers games in October 1950 and in August of 1951 and 1952. In August 1957, Killefer and Jigger Statz were honorary managers for a three-inning Los Angeles-Hollywood Old-Timers clash prior to the regular Angels-Stars game.
Red Killefer was an avid hunter as a young man, but horse racing was a favorite pastime during his later years. Since his first love was his grandchildren, he would occasionally take them on an outing to Hollywood Park. According to Brandel, "everybody at the racetrack knew him, too. Going with him was fun, because we got $6 a race. Whatever we won, we kept, and whatever we lost, that was his fun for the day." The Brooklyn Dodgers moved to Los Angeles in 1958. Early that season Red was spotted squiring a half-dozen of his grandchildren to a Dodger afternoon game at the Coliseum.
Red and Dorothy moved from Hermosa to a smaller home in Palos Verdes Estates in 1955. In June 1958 Red had an operation at California Hospital and then recuperated at home. He died three months later on September 4, 1958, the victim of a six-month struggle with cancer of the peritoneum. He was cremated at Pacific Crest Crematory. Services were held at White and Day Funeral Chapel.
Red Killefer's athletic legacy lives on through his grandchildren and great-grandchildren. His grandson Wade, Tom's son, played lacrosse and football at Stanford. A defensive lineman, he lettered in 1969 and made an appearance in the 1971 Rose Bowl victory over Ohio State. Wade is also described by the Stanford athletic website as "one of the greats of Stanford rugby." Onnie Killefer, Tom's daughter, was an All-American field hockey player at Stanford, where she once served as head coach. She is also a certified professional tennis player, certified personal trainer and Program Chair of the Physical Education Department at Cabrillo College in Aptos, California. Great-granddaughter Jennifer Downing was captain of her high school swimming team in Seattle and went to Wellesley College, where she captained the swimming team in her senior year. She now swims for the Cambridge Masters Swim Club in Massachusetts, competing in national and international master's competition in the backstroke, breaststroke and individual medley, earning nine individual USMS Top 10 swims and 15 relay USMS Top 10 swims.
Sources
The Baseball Encyclopedia: The Complete and Definitive Record of Major League Baseball. Boston: Macmillan Company, Incorporated, 1993.
Gillette, Gary, and Pete Palmer, eds. The ESPN Baseball Encyclopedia. 4th ed. New York: Sterling, 2007.
Hamann, Rex, and Bob Koehler. American Association Milwaukee Brewers. Charleston, SC: Arcadia Press, 2004. 101.
Hamann, Rex. "A Tale of Two Seasons: The Minneapolis Millers 1910-1912." The American Association Almanac 6 (2007).
McDonald, Jack. Something to Cheer About: Legends from the Golden Age of Sports. New York: Harcourt, Brace Janovich, 1986.
McNeil, William F. The California Winter League : America's First Integrated Professional Baseball League. Jefferson, NC: McFarland, 2002.
Zingg, Paul J., and Mark Medeiros. Runs, Hits and an Era: the Pacific Coast League 1903-1958. Chicago: University of Illinois Press, 1994.
Other Sources: National Baseball Hall of Fame Library files on Bill Killefer and Wade Killefer; numerous newspaper articles from newspaperacrhive.com, genealogybank.com, The Sporting News through paperofrecord.com, The Library of Congress Chronicling America, and ProQuest Historical Newspapers accessed through the Carnegie-Stout Public Library in Dubuque, Iowa. Other baseball information was accessed on retrosheet.org, baseball-reference.com and the SABR Minor League Database.
Many thanks to Carolyn Killefer and Nancy Brandel for providing valuable information on Red's life during telephone interviews on 8/25/08 and 9/13/08. I'm also indebted to Robert "Butch" Hindenach, Sports Editor of the Courier-Leader (Paw Paw, MI), for Paw Paw High School sports information on both Killefer brothers.
Acknowledgments
Thank you to Peter Morris for sharing his research materials and insights; another thank you to Wade Killefer, Red's grandson, for sending two large volumes of newspaper clippings on Red Killefer and Bill Killefer. I am also grateful to others who provided suggestions and assistance: Carl F. Haas- PCL Historical Society; Steve Wideen- Kalamazoo College Sports Information Office; Liz Smith, Kalamazoo College Library Archivist; Adam Scott- Purdue Sports Information; Rod Nelson- SABR Research Services Manager; Bill Deane- Former Director of Research at HOF; Greg Kinney- Athletic Archivist at Bentley Historical Library, University of Michigan; Dave Stalker- SABR member, Watertown, WI; Michelle Light and Stephen MacLeod, University of California, Irvine Libraries- Special Collections and Archives; Dick Beverage, SABR; and Max Weder and Erick Lewin for help in finding a Red Killefer baseball card. Finally, thank you to Jan Finkel for editing my biographies on both Bill and Red Killefer.
Born
April 13, 1885 at Bloomingdale, MI (USA)
Died
September 4, 1958 at Los Angeles, CA (USA)
If you can help us improve this player's biography, contact us.
http://bioproj.sabr.org/bp_ftp/images2/KilleferRed01.jpg
600
800
admin
/wp-content/uploads/2020/02/sabr_logo.png
admin
2012-01-04 19:54:38
2012-01-04 19:54:38
Red Killefer