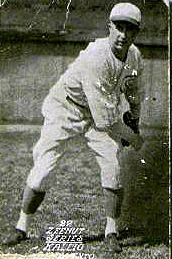 ---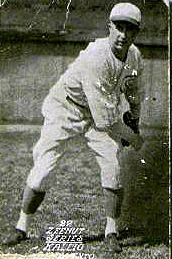 The son of Finnish immigrants, right-handed pitcher Rudy Kallio forged a 21-year career in minor-league baseball and appeared in 49 big-league ballgames. He came from the Pacific Northwest, born in Portland, Oregon, on December 14, 1892. He graduated from Portland High School and began playing professional ball at the age of 20. Baseball gave him the opportunity to get around; in his first five seasons, he played for teams based in two countries – in four states and one Canadian province. The first season was with the Butte Miners in the Class D Union Association in 1913. He was 13-17 in 280 innings.
Three years earlier Kallio had been working as a clerk in a railroad office at the time of the 1910 Census. His father, Mathias Kallio, was a carpenter and cabinetmaker who had arrived from Finland in 1882. His mother, Maria, came to the US two years later. They had five children as of 1910, with the eldest being Arthur, 25, a carpenter like his father. Rudolph was the second-born, eight years after Arthur. Eva, Edith, and Raymond followed. Whether the family was related to Kyosti Kallio, president of Finland from 1937 to 1940, we do not know.
Rudy's daughter-in-law Ann Kallio said that Rudy's father was also a minister and that going into baseball was frowned upon and had to some degree estranged Rudy from the family.[1]
Kallio's baseball career was often unremarkable. A web search of The Sporting News found a total of one innocuous reference to him between the years 1911 and 1931. More often, he turned up in the mainstream press, but the first significant story was "Rudy Kallio Whips Ducks," in the September 9, 1916, Los Angeles Times. He was back home in Portland, pitching for the San Francisco Seals, and he struck out 13 Portland Beavers on the way to a 6-2 victory. The Beavers were sometimes nicknamed the Ducks.
After some semipro ball, notably with the Astorians in 1912, Kallio spent three years playing Class D ball. After his 1913 season with Butte, he traveled north of the border to pitch for the Saskatoon Quakers in the Western Canada League, where he posted a 15-12 record in 1914. His third year saw him head closer to America's Southern border, working in New Mexico for the Las Cruces Farmers in the Rio Grande Association. There he pitched 139 innings, and had a 7-7 record. In 1915 he spent most of the year in Class B with the Great Falls Electrics in the Northwestern League. He almost doubled his innings (to 271) and was 19-15. Near the end of the season he was acquired by the Seals and was 3-1 in eight games. He began 1917 with San Francisco and was 2-3 with a 2.81 ERA but was released on option to the Des Moines (Western League) Boosters on April 12. He won 25 games for Des Moines, against just nine defeats, with a 1.76 ERA. Kallio had found his groove, and was given the opportunity to play big-league ball. (Meanwhile, on July 2, Rudy had married Eva K. Rosenberg.[2] He did not serve in the armed forces during the First World War.)
The Detroit Tigers were the team that gave Kallio that chance; he'd been "returned" to them under an option agreement on August 29.[3] He made his debut for Detroit on April 25, 1918, pitching for manager Hugh Jennings in relief against the Cleveland Indians. He was pitching for a seventh-place team, and was given the game ball for 22 starts, third on the club behind Hooks Dauss (12-16, 2.99) and Bernie Boland (14-10, 2.65). Kallio was 8-13 with a 3.62 ERA, a little higher than the team's staff ERA of 3.40. He walked 76 and struck out 70, throwing ten complete games. One of those strikeouts was of Babe Ruth, on June 1, and his granddaughter Karen said, "Growing up, it was always a thrill to tell people that my grandfather struck out Babe Ruth, and it still is." [4]
Kallio's best game was a 4-0 shutout of the Yankees on June 15, in which he struck out eight and walked one, the "youthful wizard … of Russian descent" allowing just four hits.[5] His worst moment was an August 6 game against the Boston Red Sox. Coming on in relief in the eighth inning, he was fine until the top of the tenth, when he gave up two walks, committed two errors himself, and was hit for a single. The resulting three runs gave the Red Sox a win.
It was a war-shortened season in 1918, or Kallio would have received more work. In 1919, the world war over, Kallio spent the full year with Detroit but appeared in only 12 games and 22 1/3 innings. He had no decisions, starting only one game, and putting up an earned-run average of 5.64. The Tigers finished fourth, Dauss was a 21-game winner, and both Howard Ehmke and Dutch Leonard joined Boland in comprising a decent staff that simply didn't need Kallio as much as in the roster-depleted preceding season. In December he was released to Portland and was able to pitch the 1920 season there before many of the hometown folks. He threw 211 innings and was 9-10 with a 3.37 ERA.
From this point on, into the mid-1930s and except for a brief return to the majors in 1925, Kallio pitched in the Pacific Coast League. He worked through May 1921 for Portland but was then dealt to Salt Lake City; 1921 was a 9-21 combined season, but he found a place to stay in Salt Lake, pitching with the Bees for most of five seasons, from 1921 into 1925. They were good seasons, too: 17-12, 14-9, and 18-14, in 1922, 1923, and 1924. Portland suffered a double defeat on June 23, 1922, when Kallio pitched two complete games in a doubleheader and beat the Beavers both times.
On December 3, 1924, the Boston Red Sox traded outfielder Joe Connolly, some other unnamed players, and some cash to Salt Lake and secured Kallio's contract. He sufficiently impressed manager Lee Fohl ("he looked like a world-beater") and opened the 1925 season with the team out of spring training, back in the big leagues after more than five years away.[6] It was a disappointing time, though; he appeared in seven games, threw 18 2/3 innings, and yet managed to lose four games in what was essentially two full games' worth of work. He was 1-4 with a 7.71 ERA. Kallio's last game was on May 12. The Boston newspapers remarked on his curveball, the not-prescient Sunday Advertiser noting under the headline "Rudy Kallio Sure to Make Good With the Red Sox": "Rudy has a curve that breaks a foot. It drops and hooks and gyrates so that the batter is bewildered and the backstop must be on qui vive to get it."[7]
There is a major-league record Kallio still holds, even in 2011: Most career wins without ever allowing a home run: 9. It's a record he shares with Rube Kisinger (9-12 with Detroit in 1902-1903).
Kallio spent most of 1925 back with the Bees, and was 8-5 (3.63). His final major-league line was 9-17, with a 4.17 ERA.
He hadn't been much at the plate, batting .133 without a single extra-base hit and only three runs batted in. At one point in 1934 he came to the plate with the bases full, facing San Francisco Seals pitcher Walter Mails. Chicago Tribune sports columnist Arch Ward told of an exchange they had. "As Mails prepared to send over the first pitch he yelled to Kallio, 'If they were all hitters like you, I would still be in the big leagues.' To which Kallio replied, 'If they were all hitters like me there wouldn't be any big leagues.' " [8]
From 1926 through 1928, Kallio pitched for Sacramento. He won 18 games in 1926 (3.23) and 12 each in 1927 and 1928. In March 1929 he was traded to the Seattle Indians, his fifth club in the Pacific Coast League. He was 15-19 in '29 and in 1930 was 18-16. There was some bouncing around that began in 1931. Near the end of the 1930 season, some of Kallio's paychecks from Seattle bounced and he protested. Baseball Commissioner Kenesaw M. Landis declared him a free agent, and he cashed in quickly, accepting a reported $3,000 bonus to sign with Portland in March, over the protests of the Seattle club. He began the season with Portland – but didn't perform well and was released in mid-July. He was immediately signed by Seattle.[9] A Kallio family scrapbook includes a few clippings of this time referring to him as Rudy "Financier" Kallio and J. Pierpont Kallio. With a raise to $700 a month, Kallio was also dubbed "one of the highest priced flingers of the league."
In 1932 Kallio pitched for Seattle the full season and then appears to have retired, working as a ribbon salesman in a Portland department store. He was brought back to the Beavers, though, for another run and won his first seven games on his way to a very good year, 17-7 with a 3.41 ERA, in 1933.[10] Then in 1934, his last full year, it was another combined Portland/Seattle season; Kallio began with Portland but was acquired by Seattle in a mid-June trade. It was his third stint for Seattle.
In 1940 a Kallio popped up on the Portland team again – for just two games. It was Rudy's son Jack, signed on February 10. In 2 1/3 innings over the pair of games, he was hammered for nine runs (eight earned) and a 30.86 earned run average. He was briefly with Boise in the Pioneer League in 1941, listed without details as appearing in just one game. Jack, Rudy and Eva's only child, went on to become a longshoreman in Coos Bay, Oregon.[11]
Rudy Kallio's minor-league record over all the years, 1913 through 1934, was 287-270. A true comprehensive ERA is impossible to determine. He did spend time in Portland working with neighborhood children on their pitching ability. At least one boy, John Linde, spent some time in the minor leagues.
Whether Kallio returned to selling ribbons is unclear. Ann Kallio recalled him working as a floorwalker at the Meier and Franks department store in downtown Portland. At the time of the Second World War, he worked for the Willamette Iron and Steel Corp., presumably performing defense-related work. The year after the war, he worked as a scout for the Chicago Cubs. His obituary in The Sporting News said that he served for several years as coach and traveling secretary with the Portland Beavers.[12]
Kallio opened a tavern in Portland appropriately named Rudy Kallio's Tavern, and later owned the Green Meadows Dine and Dance club and lived in Beaverton, Oregon, just outside Portland. His granddaughter Karen Kallio recalled going to the club as a child for steak dinners on the birthdays of herself and her brothers.[13] Ann Kallio said he lost the tavern after making some unwise investments and getting in financial difficulty. He did enjoy gambling and Karen reported, "He loved going to the greyhound races in Portland and would sometimes bring us with him."[14]
Rudy Kallio eventually sold the club and retired, moving to an apartment near Jack's family in Waldport, Oregon. He suffered from prolonged illnesses and became frail, and perhaps understandably became a little bitter, ultimately dying of pneumonia on April 6, 1979.
November 20, 2011
Sources
In addition to the sources noted in this biography, the author also accessed Kallio's player file from the National Baseball Hall of Fame, the Encyclopedia of Minor League Baseball, Retrosheet.org, and Baseball-Reference.com. Thanks to John, Karen, and Ann Kallio.
---
Born
December 14, 1892 at Portland, OR (USA)
Died
April 6, 1979 at Newport, OR (USA)
If you can help us improve this player's biography, contact us.
http://bioproj.sabr.org/bp_ftp/images5/KallioRudy.jpg
600
800
admin
/wp-content/uploads/2020/02/sabr_logo.png
admin
2012-01-04 20:03:59
2012-01-04 20:03:59
Rudy Kallio