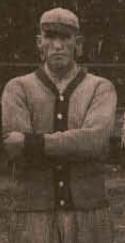 ---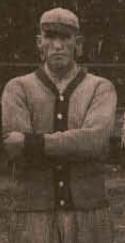 Sled Allen may have been born in Missouri, but he found both his home and his calling in the West Texas town of Lubbock. He fielded a baseball team there in the 1920s and won what was then the country's most prestigious semipro tournament in 1925. He was a top wrestling promoter and later became a top music promoter as well. He can lay claim to bringing both Elvis Presley and Gorgeous George to Lubbock (not on the same bill, obviously).
Still, no mention of Sled Allen would be complete without including the 14 games he played for the St. Louis Browns in 1910, mainly as a third-string catcher. Baseball was what caused him to leave his childhood home and travel across the country, and it remained a passion that never left. For the rest of his life, Sled Allen was featured prominently in the Lubbock newspaper sports section. It could be a news item about a team he was managing or a main event he was booking – or it could just be an excuse for him to tell a story about his playing days.
"He was a ballplayer. Whatever else happened in his life, he was a ballplayer. He even waited until a week after the [1959] World Series was over to go into his last coma and die," recalled Allen's younger son, Terry.1
Terry spent his childhood selling refreshments at Sled Allen's Jamboree Hall and saw everyone from Ernest Tubb to B.B. King. With that early education in music and arts, it's no surprise that he went on to become a renowned singer, songwriter, playwright, painter, and sculptor. One of his most personal works is Dugout, originally an art exhibition and later a book that told the story of a retired baseball player father, a piano-playing mother, and a boy who was born late in their lives.
Fletcher Manson Allen was born on August 23, 1886, in West Plains, Missouri. He was one of four sons born to Samuel and Mary Ann (Galloway) Allen. Samuel was one of five brothers to fight in the Civil War. He and another brother fought for the Confederacy, and the other three for the Union. Samuel was the only one to return. Upon resuming civilian life, he worked as a farmer.2
Life in West Plains wasn't easy. Sled Allen frequently related the story about having to have his tonsils removed in the middle of a blizzard because his throat had nearly swollen shut. His father and brothers had to hold him down while the dentist burned them out with a hot poker.
Somewhere in his childhood, Allen caught baseball fever. Terry believed that he may have seen the game first played at a church social. However Sled discovered baseball, he left Missouri with the intent to become a big-league catcher someday. His younger brother and future teammate, Roy, followed soon after.
According to his file at the Baseball Hall of Fame, Allen's first year of professional ball came in 1908, when he played for a team in Wheeling, West Virginia in the Central League. Baseball Reference also lists his debut in 1908 but shows him playing 109 games for the Enid (Oklahoma) Railroaders of the Western Association. He hit .147 in 320 at-bats with five doubles, one triple, and one home run. Right at the start of his career, he ceased to be known as Fletcher and gained the nickname that stayed with him until his dying day.
"'Sled' Allen received his nickname due to the large size of his feet," wrote Manson Allen (1913-1980), Allen's eldest son and the only child from his first marriage. "He was kidded about being so slow on the bases, but he was remarkably fast in covering his position as a catcher."3
Allen was back with the Railroaders in 1909 and brought his batting average up more than 100 points, to .257. He raised his slugging percentage from .178 to .320 as well, thanks to 15 doubles, a triple, and two homers. He was selected by the St. Louis Browns in the major league draft held on September 1 of that year.4
In December 1909, the Browns traded their primary catcher that season, 37-year-old Lou Criger, to the New York Highlanders. Yet the team still had three other receivers: Jim Stephens, who'd played nearly as much as Criger in 1909, plus rookies Wib Smith and Bill Killefer, who'd seen little action. It didn't look like Allen had much of a chance to crack the roster. However, Smith was not satisfied with the Browns' 1910 contract offer and refused to report to spring training. On March 26 he was released by St. Louis.5
Meanwhile, Allen played well in camp. In mid-March, The Sporting News proclaimed, "Allen has a future, or some expert critics will miss a guess by several miles. That young fellow has astonished already by his work and seems to be sure to stick."6 Indeed, on April 2, Sporting Life confirmed that Allen had won a job. "Manager [Jack] O'Connor now seems thoroughly pleased with catcher Allen, the rangy Enid recruit, whose work behind the bat has been one of the features of the Browns' training season. Allen's success will enable O'Connor to return [utilityman Art] Griggs to second base."7 The impression he made was notable because O'Connor was primarily a catcher in his playing days.
Two weeks later, Sporting Life wrote, "Killifer [sic] and Allen have lived up to the fine minor reputations that preceded them, but until they get more experience they will not help win a championship in the American League. Stevens [sic] is the main dependence so far and is doing very well."8 According to The Sporting News, however, the Browns wanted another established catcher to share the load with Stephens, whose ability to hold up physically was in doubt.9 He also hit just .215 in 289 at-bats and Killefer was even worse, with a .124 average in 215 at-bats. Clearly, there was an opportunity for a catcher, especially one who could hit the ball – and even though Killefer developed into an outstanding defensive backstop, he was a liability in 1910.10
Alas, Allen could not seize the chance. In all, he managed three hits in 23 at-bats for the Browns, with three runs scored and one RBI. In 53 innings behind the plate, he had a .903 fielding percentage.
"He swore it was because of foul lines," Terry said about his father's unsuccessful stint in the majors. "When he learned to play, there was no such thing as foul lines. He couldn't hit it within the confines, he said."11
Allen's big-league debut actually came as a first baseman. He played the final two innings at first in a 14-inning game against Cleveland on May 4, 1910 that ended in a 3-3 tie. His first chance to face major-league pitching came almost two weeks later, on May 17 in New York. He entered the game as a mid-game replacement for Killefer and went 0-for-2 with a run scored. He was also hit by a pitch from the Highlanders' starter, Jack Warhop. Warhop lasted only four innings in that game, making it likely that Allen's first major-league plate appearance resulted in a bruise and a trip to first base.
Allen earned his first major-league hit off the Yankees in his first start the very next day, committing his first major-league error behind the plate as well. Playing time was scanty for the rest of his stay with the Browns. He appeared in five games in June, starting three in a row against Philadelphia (and briefly handling Hall of Famer Rube Waddell, who was just about at the end of the line in the majors). One may infer how Allen's trial went from the oblique reference in The Sporting News soon thereafter to "the present shortage of Brown catchers."12 After the early rave in March, that paper did not mention him by name in the regular season.
Sled did start twice more in June and July but was mostly used as a late-inning replacement. His last game came on August 10, and a double off Athletics hurler Eddie Plank helped raise his batting average to .130.13
The 1910 Browns were an abysmal team, finishing last in the AL with a 47-107 record. The team had a collective batting average of .218. However, Allen ended the season in Louisville, hitting .227 with the Colonels of the American Association. In August, Louisville owner William Grayson purchased the catcher's contract, along with that of Boston's Hap Myers, in an effort to strengthen his team.14
The other highlight of Allen's year took place off the field — he married Viola Catherine Short on September 29, 1910. They met in 1908 while he was playing ball in Oklahoma. The honeymoon must have been a short one. Less than a month later, October 20, Allen was praised for his play as a catcher for the El Paso Mavericks in a late-season game against the Cheyenne Indians.
"Allen, christened John Wesley or some equally good handle, but nicknamed Sled, appeared in a Mav. uniform which was about three sizes too small for the large one," reported the El Paso Herald. "But such catching… Young and full of pep, Allen pleased everyone with his work and showed that he is all and more than claimed for him on the advance advertisements."15
Allen began the following season with Louisville but ended it with the Houston Buffaloes of the Texas League. Houston would be his home for the remainder of his professional playing career.
He did leave Louisville with one noteworthy story. He was staying at the Broadway Hotel one night when he heard a baby's cries. Investigating the source, he found a three-week-old baby who had been abandoned by her mother. A note identified her as Margaret Louise. Allen soothed her cries with her nursing bottle. "She fell for the hit and run sign and went to it for fair," the catcher was quoted as saying. The Louisville team gave Allen some grief for his find but quickly elected the baby as mascot.16
Allen played with the Buffaloes from 1911 through 1916. The Texas League was a tough place to play then. How tough was it?
"My dad told a story that they were playing someplace in the South," Terry said. "Dad was catching, and a batter got hit in the throat with a pitch and went down. It crushed his larynx. He went down and tried to swallow his tongue. My dad got a pencil from the umpire and shoved it through his tongue to keep him from swallowing it, but the guy died. They took the body and carried it behind the bleachers, put a blanket over it and finished the game."17
In his six years as a Buffaloes catcher, Allen averaged 83 games a season. In 1911, he played in 115 games — 76 games in a row at one point, including doubleheaders — and got his first taste of managing a minor-league ballclub. It came in August, when the Houston club owners suspended manager Hunter Hill for the rest of the season after a series of disagreements. After taking the reins, Allen was shorthanded – six Buffaloes went on strike to protest Hill's suspension.18
Allen hit a career best .243 in 1912 but never hit higher than .218 for the rest of his tenure in Houston. His 1913 season was cut short by a fractured skull, suffered when he was beaned in an August game at Fort Worth. Sporting Life wrote, "The news of Sled Allen's injury. . .has created a decided slump in the pennant hopes of Houston fans. Allen created more hope among local fans than any catcher the Buffs have used for several seasons."19
After recovering, in 1914 he was joined by younger brother Roy for a brief time. Roy Allen, a pitcher, won 141 games in the minor leagues but never made it to the majors. He did have a memorable first appearance with the Buffaloes, throwing eight no-hit innings (with big brother Sled as his catcher) before allowing a couple of hits in the ninth.20
Sled Allen played his last season of professional baseball in 1916. However, his ties to baseball never vanished. For the rest of his life, he bounced in and out of baseball in Texas, managing in places like Ranger, Lubbock, and Amarillo from the 1920s through the '40s. When he wasn't managing, he was playing on a semipro team or umpiring. His time as a player and manager made him one of the most well-known sports personalities in West Texas.
The Lubbock Hubbers, which lasted until 1956, existed alternately as a minor-league affiliate of a major-league team and an independent, semipro team. Allen, as player-manager, took the semipro Hubbers to the Denver Post Tournament in 1925. That invitational – sometimes called "The Little World Series" or "The Western World Series" – gathered ten teams from across the nation to compete over ten days.21 The Hubbers made the finals with a 2-1 win over Denver. They won the championship game 3-1, with Allen racing home from third base on a sacrifice fly to score the final run. The Hubbers were presented with a handsome cash prize and various gifts donated by Denver merchants. Allen won the Spalding Trophy for his efforts, as well as a suit of clothes that was offered to the most valuable player of the winning team.22 The Hubbers made it back to the finals in 1926 but could not repeat.
Allen's baseball odyssey was interrupted by the Great Depression. Terry said that his father, like so many Americans desperate to bring home a dollar, hopped on a train and rode to find jobs wherever he could. He would do the same in the offseason when he wasn't managing somewhere in Texas.
"He told me about working in a slaughterhouse in Kansas City for three days," Terry recalled, "and then he couldn't stand the screaming of the pigs. He never ate bacon again."23
Allen always came back to sports, though. As early as 1923, he helped found and operate a golf course in Lubbock. He managed the Hillcrest Country Club golf course in Amarillo in the early 1930s. His son from his first marriage, Manson (Fletcher Manson Jr. was his given name), became a top area golfer. Allen became a wrestling promoter in 1931, took over management of the Auditorium in Lubbock in 1933 and brought some of the greats from the Golden Age of wrestling to town. Even as his wrestling promoter career blossomed, he agreed to take over the reins of the Hubbers again, according to an article that June in the Lubbock Morning Avalanche.24 It helped that Viola Allen handled the business end of the wrestling game.25
The sports page of the Amarillo Avalanche-Journal on May 24, 1936, encapsulated Allen's impact on the West Texas sporting world. First, it looked back at the 1925 Hubbers' accomplishments in the Denver Post Tournament. (The 1926 team was erroneously listed as the championship team, not the 1925 team.) Second came a preview of Allen's wrestling event at the Auditorium, scheduled for the following Wednesday night, featuring a main event of Dick Trout vs. Dale Haddock. Then there was a story about the Lubbock "Methuselahs" – a reunion, spearheaded by Allen, of the old championship Hubbers. They were brought back to play against a young team called the Hub Clothiers, with proceeds being used to build a new ballpark. The blueprints for the park, the paper reported, were already on Allen's desk.
"Better come early," advised the Methuselahs' manager Allen. "We may not last long."26
An Avalanche article from 1940 details plans for "Jodie Tate Day," honoring a former Lubbock Hubber. The ever-quotable Allen mourned that he never had his own day, even though he'd played for 40 years.
"Once I got $13.73 for hitting a home run in Ranger," he added. "The banks were closed and nine bucks of it was in pennies."27
The early 1940s were a turbulent time in Allen's life. Within a span of three years, he was widowed, remarried, and became a new father. He moved from Lubbock to Amarillo to Wichita, Kansas, working along the way as a semipro manager and at other odd jobs. Terry Allen was born on May 7, 1943, the child of 60-year-old Allen and his new bride, 40-year-old Pauline.
Terry said that his parents met at a train station in Amarillo, an appropriate place for two lifelong travelers. Pauline Pierce Allen was a piano player who had been kicked out of Southern Methodist University in the 1920s for playing jazz music in a racially integrated band28. She had lived in California and had come back home to Texas from Denver, where she played organ at the city's last silent movie theater.
Terry was born in Wichita, as his father was working there for Cessna during World War II, but by the time he was two years old, the family had moved back to Allen's old stomping grounds of Lubbock. While he still booked wrestling events, he also leased a shuttered foursquare church and started throwing dances on the weekends. That led to the birth of Sled Allen's Jamboree Hall.
The Jamboree changed locations several times as it grew in popularity, moving from the church to a warehouse to an aircraft hangar, eventually settling at Fair Park Coliseum at the Lubbock fairgrounds, dubbed Sled Allen's Arena. Along with his mainstay wrestling shows, he brought in some of Lubbock's earliest rock & roll shows, including Elvis Presley and Little Richard. Though most of the events were segregated, he hosted the town's first "cosmopolitan dance," a show that brought together whites, blacks, and Hispanics to see Ray Charles.
"There were three tight, really paranoid knots of people in that room, not getting near one another," Terry recalled. "There was one girl who was so nervous about being in the same room with blacks and Hispanics that she got sick and threw up. It was definitely another time."29
All those years as a catcher had caught up with Allen by then.
"Several times we tried to play catch, but his body was pretty much shot," Terry said. "I remember holding onto his hands when I was a kid at church, and it was like holding onto oak knots. His hands had been beat up and broken so many times."30
Sled Allen died of bone cancer on October 16, 1959, at the age of 73.31 He had sold off his wrestling promotional rights just a month before because of his illness. Some time after his death, a trunk containing a lifetime of his baseball memorabilia was destroyed in a garage fire. The only thing that survived was the partially melted Spalding Trophy from the 1925 Denver Post Tournament. Aside from that, his stories formed the only surviving piece of his baseball career.
"That propelled me into wanting to do something with them," Terry explained. "I always wanted to put these stories down and do something with them. Every time I told them, they changed, and I know that every time they told them, they changed."32
In 2003, Allen put together "Dugout," a multi-sensory art exhibition. Through text, artwork, and a play, it helped tie together the two larger-than-life stories of Sled and Pauline Allen, as well as Terry's own childhood. The exhibit debuted at the Austin Museum of Art and eventually became a book, Dugout, published in 2005. The stories are there: Sled's impromptu tonsillectomy, Pauline's abusive former husbands, his admiration of Ty Cobb, her love of "St. Louis Blues," the death of the ballplayer with the crushed larynx, her exile from SMU for playing the Devil's music. Maybe they're all historically accurate and maybe they're not, but they're preserved.
"You don't know how much of those stories are overblown bullshit, but that's part of history too!" Terry said, laughing.33
Thanks to Terry Allen for his gracious help (telephone interview with author, September 25, 2017) and to Lance Cowan of LCMedia for his assistance. This biography was reviewed by Rory Costello and fact-checked by Chris Rainey.
Sources
Baseball Hall of Fame Library, player file for Fletcher "Sled" Allen.
Books
Terry Allen, Dugout, Austin, Texas: University of Texas Press, 2005.
Newspapers
The Avalanche-Journal (Lubbock, Texas), various issues 1936-1959.
Robert Faires, "Tale of a Tale Spinner," The Austin Chronicle, December 19, 2003, www.austinchronicle.com/arts/2002-12-19/190619
Websites
Notes
1 Terry Allen, telephone interview with author, September 25, 2017 (hereafter "Allen interview").
2 1900 United States Federal Census.
3 Baseball Hall of Fame Library, player file for Fletcher "Sled" Allen.
4 "Heavy Major Drafts," Sporting Life, September 11, 1909, 1-2.
5 Terry Bohn, "Wib Smith," SABR BioProject.
6 "May Be O.K. Again," The Sporting News, March 17, 1910, 4.
7 "American League Notes," Sporting Life, April 2, 1910, 3.
8 "Browns Better," Sporting Life, April 16, 1910, 10.
9 "Cards' Turn Now," The Sporting News, May 5, 1910, 4. "Welcome to Cards," The Sporting News, June 23, 1910, 4.
10 Charlie Weatherby, "Bill Killefer," SABR BioProject.
11 Allen interview.
12 "Welcome to Cards."
13 Retrosheet's box scores show Allen with two doubles as a Brown, though its seasonal total shows only one, as does Baseball Reference.
14 "Condensed Dispatches," Sporting Life, August 20, 1910, 6.
15 "El Paso-Cheyenne Series Is Opened." El Paso Herald, October 20, 1910, 8.
16 "Baby, Deserted by Mother, Found by Ballplayer," The Courier-Journal (Louisville, Kentucky.), March 16, 1911, 3.
17 Allen interview.
18 "The Texas League," Sporting Life, August 26, 1911, 23.
19 "Texas Tips," Sporting Life, August 23, 1913, 31.
20 Joe Kelly, "Between the Lines," Lubbock Evening Journal, April 7, 1948, 8.
21 Jay Sanford and Mark Rucker, The Denver Post Tournament, Society for American Baseball Research, 2003.
22 Collier Parris, "Behind the Looking Glass," Lubbock Avalanche-Journal, May 24, 1936, 4.
23 Ibid.
24 "Sled Allen Takes Reins As Boss Of Lubbock Hubber Baseball Outfit," Lubbock Avalanche, June 10, 1933, 4.
25 "Meet The Missus," Lubbock Avalanche, September 1, 1940, 10.
26 "Luminaries of Past in Swan Song Showing," Amarillo Avalanche-Journal, May 24, 1936, 6.
27 Collier Parris, "The Week Starts Lively," Amarillo Avalanche-Journal, September 1, 1940, 10.
28 Robert Faires, "Tale of a Tale Spinner," The Austin Chronicle, December 19, 2003, www.austinchronicle.com/arts/2002-12-19/190619
29 Allen interview.
30 Ibid.
31 "Allen, Former Big-Leaguer, Is Dead," Mexia (Texas) Daily News, October 19, 1959, 6.
32 Allen interview.
33 Ibid.
Born
August 23, 1886 at West Plains, MO (USA)
Died
October 16, 1959 at Lubbock, TX (USA)
If you can help us improve this player's biography, contact us.
https://sabr.org/sites/default/files/AllenSled.jpg
600
800
admin
/wp-content/uploads/2020/02/sabr_logo.png
admin
2018-01-12 15:09:48
2020-04-09 14:40:27
Sled Allen