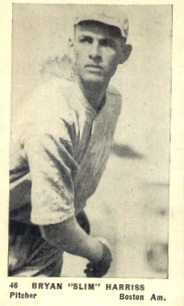 ---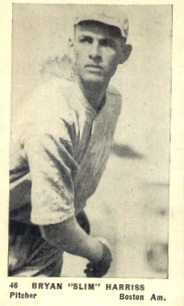 Brown County, Texas, apparently had a fascination with populist politicians around the time the 19th century gave way to the 20th. The 1896 Democratic Party candidate for president, William Jennings Bryan, apparently made quite an impression on Texas farmer Charlie Harriss and his wife, Nannie. They named their newborn son after him. Bryan ran again in 1900 and a third time in 1908. He never won.
The namesake boy born to the Harriss family went on to pitch for nine seasons in the major leagues – for the Philadelphia Athletics and the Boston Red Sox from 1920 through 1928. And he married the sister of another major leaguer named after a different populist politician.
The Harriss family lived on a farm five miles west of Brownwood, Texas, and the 1900 Census reflects William Jennings Bryan Harriss as the eighth child in the family – Dudley (16), Roger (11), and Earl (10) were all listed as "farm help" in the census. Daughters Mattie (14), Effie (8), and Fannie (6) all preceded "Bryan" as he was called, as did Charles Louis Harriss (4).
The youngest later was called Slim, and the extra "s" in his surname was omitted in the 1900 enumeration but corrected in later Censuses. By 1930 there were even more children in the family: Harvey, Nora, Mannie, and Dorilda. Charlie's wife was named Max and the family was living in Bangs, Texas. The man whose occupation was listed as "ballplayer" was recorded as Bryan W. Harriss.
Slim Harriss was born on December 11, 1897, according to the information he supplied the National Baseball Hall of Fame in 1960 (signing the form W. Bryan Harriss). This is in line with his stated age of 2 reported in the 1900 Census, as opposed to the 1896 birth date heretofore ascribed to him.
The small farming community of Bangs was the birthplace of ballplayer Debs Garms (born in 1907 and named after five-time presidential candidate Eugene V. Debs, another progressive who first ran on the Social Democratic Party ticket in 1900, and then four times for the Socialist Party of America (1904, 1908, 1912, and 1920.) In 1907, the Garms family named their son Debs in honor of the candidate. Debs Garms went on to play 12 seasons as an outfielder and occasional infielder for four teams between 1932 and 1945.
The two families were eventually linked through marriage when Debs's older sister Maye Beryle Garms (born around 1904) married William Jennings Bryan Harriss in 1923.
Harriss indicated some Indian blood in his background, describing his ethnicity as "American – Scotch, Irish, Indian" on his Hall of Fame questionnaire. His mother was from Tennessee, born to Tennessee natives. His father was born in Texas, but had a North Carolinian for a father and a Mississippian mother. Slim attended a country school at Clear Creek for eight years, then two years of high school at the Baptist-run Howard Payne College Academy. He never attended college itself. Harriss was a right-hander who was exceptionally tall for the day – 6-feet-6, with a playing weight of 185 pounds.
After playing for the Howard Payne baseball team, he served in the United States Army in 1918 at Forth Sheridan, Illinois. It was apparently just the one year, presumably he was discharged after the Armistice. In 1919, he began his professional baseball career pitching in the Texas League for the Houston Buffaloes. He threw an extraordinary number of innings for Houston – 332 of them – winning 21 games and losing 14, with a league-leading earned-run average of 1.57. It's not surprising that he was offered a post in the major leagues in 1920. The "elongated Texan" had "the wickedest side-arm fastball ever turned loose upon an unsuspecting batter"; it was said to break as far in one direction as his curveball broke in the other. New York Giants scout Dick Kinsella reportedly saw Harriss with Houston and prevailed upon him to change to an overhand delivery, telling him he'd never make it to the big leagues with his side-arm delivery. He lost effectiveness. Philadelphia scout Ira Thomas had been impressed by Harriss earlier in the season, and urged him to return to form.[1]
In July of 1919 the Philadelphia Athletics purchased Harriss' contract and that of his batterymate Glenn Myatt (who was promptly traded to Milwaukee).
Harriss' major-league debut came on April 19, 1920, the third game of the Athletics' season. He was listed as Bryan Harriss. Manager Connie Mack put him into the game to pitch the fifth, sixth, and seventh innings after the Washington Senators put Philadelphia starter Scott Perry in a 5-0 hole. Harriss surrendered three hits and one run. His first decision was a 7-2 complete-game win against the Boston Red Sox on June 1, 1920. By far his best game that first season was a 2-0 two-hitter at Shibe Park against the visiting Detroit Tigers on September 2. The Athletics finished last in 1920, an even 50 games behind first-place Cleveland. Harriss was 9-14 with a 4.08 ERA.
In 1921 he won 11 and lost 16, and his ERA rose slightly to 4.27. The year after that, 1922, he became a 20-game loser (he won nine) with a 5.02 ERA; the team was 65-89. No pitcher had more losses in 1922, but in the spring of 1923, in appraising Harriss, the Philadelphia Bulletin's Edward White Stevenson wrote that he was said by respected veterans to "have the most stuff and ability of any pitcher in the league today, and yet [Mack] is doubtful. For one thing, Harriss is sensitive, and for another he has tipped off what he's going to throw in the past. But his fast ball is a wonder, his curves break beautifully, and he has a nice change of pace that is particularly baffling."[2] Harriss was given the Opening Day start and beat the Senators 3-1, a four-hitter. He had some good games and some bad games, but one of the more remarkable moments came as a batter, not as a pitcher (Harriss was never much of a hitter, a .145 batter in his career). It was September 7 and Howard Ehmke of the Red Sox threw a no-hitter that day. The game was 1-0 in Boston's favor in the sixth inning when Harriss hit a long drive that clattered off Shibe Park's center-field scoreboard and would have given him a two-base hit if he hadn't failed to touch first base in his haste to make second. Harriss was 10-16 with an improved 4.00 ERA in 1923.
A relapse in 1924 saw him finish 6-10 (4.68), even in a year in which Philadelphia rose to fifth place in the standings. In 1925, the Athletics reached lofty heights – second place, though 8½ games behind the dominant reigning world champion Washington Senators. Despite never having had a winning record, Harriss (typically called "Bryan Harris" in game stories of the day) was an innings-eater, and a big enough part of the Athletics' rotation that the Boston Globe declared that "the tall Texan" – with Eddie Rommel – "has been the backbone of the Athletics the last four years."[3]
Harriss had missed time with illness in 1924 and threw only 123 innings, down from his usual 200-plus. Shortly after the season, Connie Mack ordered four of his pitchers and one infielder to have their tonsils removed. Harriss was the first to go under the knife. Strange as it may seem today, at the time it was thought to have medical benefit.[4]
Was it the placebo effect, or did Harriss finally put it all together in 1925? Whatever the cause, he had his best year. Not only did he hit his only big-league home run and get 15 of his 29 career RBIs, he also won 19 games while losing only 12 and posting a career-best 3.49 earned run average. It was the only sub-4.00 ERA year of his career. He shut out the Senators in his second outing, beating The Big Train, Walter Johnson, 3-0. His 2-1 come-from-behind win over the Indians on May 11 started with his double in the top of the eighth. His home run was hit off Walter Johnson, a two-run blast in the second inning on May 28. His bat was hot on June 17 in Cleveland when he went 3-for-5, and drove in three runs. His June 27 sixth-inning double provided the game-winner in his 3-1 win over the Senators in front of 37,000 Philadelphia fans. Harriss was on his way to a lofty .205 batting average for the year. Eddie Rommel was 21-10 that year, and grabbed the lion's share of the headlines, though his ERA was third on the team after Sam Gray and Slim.
Harriss' two-hitter against the Red Sox on July 24 was one of the three wins against no defeats he enjoyed versus Boston that season.
The American League banned the use of the rosin bag in 1926. Whether that had anything at all to do with Harriss returning to his losing ways (he never had another winning season) is unclear. He kicked off the season losing his first four outings, only once getting in seven innings. Though he then won his next three decisions before dropping a fifth, he was packaged to Boston on June 15 along with fellow pitcher Fred Heimach (the Associated Press called them "two capable hurlers") and Baby Doll Jacobson, with Philadelphia getting pitcher Howard Ehmke and outfielder Tom Jenkins in exchange. It was a triangular trade, in that the Athletics had Jacobson to deal only because they'd acquired him for Bing Miller in a separate deal with St. Louis earlier in the day.
There is always interest in how a player performs against his former team. Slim suffered a rough July 3 in Philadelphia. He started the first game of the day's doubleheader between the Red Sox and Athletics and was driven from the mound, giving up four runs while one retiring one batter. Tagged with the 12-4 loss, Slim came back in the second game in relief of Ted Wingfield and gave up the fifth and sixth runs in two innings of work, in another loss, this time 8-5, fortunate that he wasn't charged with two losses in one day. Later in the month, on the 27th, however, Harriss held the Tigers to five hits, shutting them out 7-0, while Baby Doll enjoyed a 5-for-5 day with five RBIs.
From August 21 through September 16, Harriss managed to lose start after start – six in a row. It was not the way he would have wanted to close out the year, but he wound up with a combined 9-15 season and a 4.34 earned run average.
Pitching for the Red Sox in this era was a challenge in itself. Harriss' 1926 totals might not seem like a very good record, but on April 12, 1927, the Washington Post remarked that Harriss was "counted the ace of the Red Sox pitching staff." It's all relative. The winningest pitcher on the 1926 Red Sox had been the 11-16 Ted Wingfield.
Harriss did win 14 games in 1927, four more than anyone else on the team. The 1927 Red Sox finished dead last – as they almost always did in the 1920s – a full 59 games behind the New York Yankees. And Harriss was indeed a big part of their year, again leading the league in losses with 21.
By 1925 newspapers had routinely realized that Harriss' last name ended with the double "s." Around 1926, sportswriters began to call him Slim more often, rather than the Bryan he'd been before.
Harriss came to camp late in 1928, due to illness. He picked up his first win in relief, in a Patriots Day (April 19) win over the Yankees, but it was an up-and-down season, resulting in totals of 8-11, with a 4.63 ERA. That December the Red Sox traded Harriss and Billy Rogell to the St. Paul Saints of the American Association for catcher Alex Gaston, outfielder Russell Scarritt, and a player to be named later.[5]
Slim got in five full seasons of pitching for St. Paul and fared much better at Double A than in the majors, putting up records of 18-10, 18-13, 20-11, 13-22, and 15-15. The Saints won the American Association pennant in 1931, with Harriss on the All-Star team, but then plunged to seventh place in 1932. His standout game came in that 1932 campaign, his fourth with the Saints. On May 18 in Kansas City, he pitched a 9-0 no-hitter against the Blues, walking three but seeing two of them retired on double plays.
After the 1933 season, the Red Sox entered into a working agreement with Kansas City as new owner Tom Yawkey began to build a farm system. The Blues acquired Harriss from St. Paul for two players, first baseman Jim Keesey and third baseman Eddie Pick.[6] For KC and then Milwaukee, Harriss was 3-8 with a 6.91 ERA. And in his last attempt at professional ball, he appeared in just three games for the Dallas Stars in 1935, losing two games in the five innings he worked back in the Texas League where he'd begun.
As a minor leaguer, Harriss was 108-95 (3.16 ERA). His major-league totals were 95-135 with a 4.25 ERA. He struck out 644 big-league batters but walked nearly as many: 630. In 1,750 1/3 innings of work, he yielded 1,963 hits.
After managing a semipro ball team in Ozona, Texas, in 1935 and 1936 (the Permian Basin League), Harriss retired to Brown County, where he farmed and went into politics, serving as a Brown County commissioner for 12 years. He was an alderman in Bangs at the time of his death. Harriss suffered a cerebral hemorrhage in June 1962 and never recovered, dying in a Temple, Texas, hospital on September 19, 1963. He was survived by his wife and their daughter, Alwilda, who was born around 1926 and passed away in 2009.
Sources
In addition to the sources cited above, the author consulted the online SABR Encyclopedia, Retrosheet.org, and Baseball-Reference.com. Thanks to Andrea Lee.
---
Full Name
William Jennings Bryan Harriss
Born
December 11, 1897 at Brownwood, TX (USA)
Died
September 19, 1963 at Temple, TX (USA)
If you can help us improve this player's biography, contact us.
http://bioproj.sabr.org/bp_ftp/images4/HarrissSlim.jpg
600
800
admin
/wp-content/uploads/2020/02/sabr_logo.png
admin
2012-01-04 20:19:18
2012-01-04 20:19:18
Slim Harriss