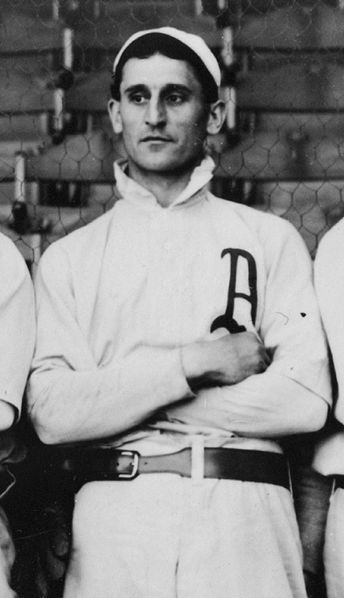 ---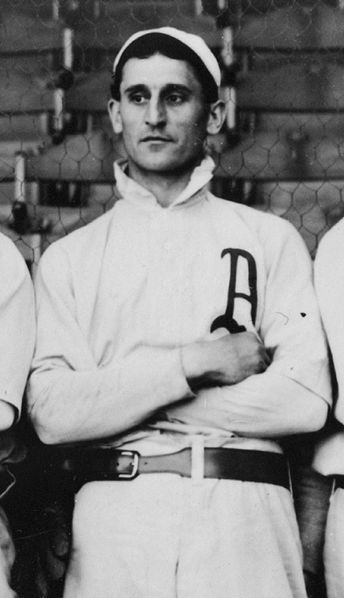 Raising a family of nine surviving children, Henry and Sarah Jane Wiltse seemed destined to field a team of baseball players. Originally farmers in the vicinity of Richfield Springs, New York, the Wiltse name would soon be associated more with the playing of baseball than the family business of growing hops.
Louis Dewitt Wiltse was the sixth son of Henry and Sarah Jane, born on December 5, 1871. The family moved to Pecksport, a village in Eaton, New York, early in 1879. Shortly after moving to Pecksport, George, the youngest child, would be born. Family legend states that father Henry moved the family to Syracuse in 1897 to prevent the boys from further destroying the barn by throwing baseballs against it.
There is some confusion regarding the spelling of Louis' first name. The Wiltse family Bible has it spelled as Louis. Newspaper men would write it as "Lewis" or "Lou," but most commonly he would be identified as "Lew." It was while playing with the Utica Actives that Louis obtained his unique nickname. Theodore (Teed) Pell, an African American player on local teams, stated in an interview "Lew Wiltse, a left-hander, was one of the Actives' star pitchers who carried the club to the championship both seasons. Wiltse had an unusual delivery, in which he twisted all out of shape and he was sure hard to hit. He carried the nickname 'Snake.'"
Louis was at times confused with George in the print media. When the "Fan Craze" card game was issued in 1906, a card with George's likeness was labeled as "Lew Wiltse." The Sporting News made a similar error in its February 23, 1907, issue when it presented under a sketch of George the banner "L. D. Wiltse" and went on to describe how the pitcher was a member of the New York Giants and promised to make Christy Mathewson work hard to retain his title as the team pitching champ. Most newspaper box scores did not indicate which Wiltse had taken part in the game reported on, printing only "Wiltse, p," challenging researchers to keep the brothers straight.
Louis started making appearances on local semi-pro teams in 1894 at the age of 22. Weighing 195 pounds at 6 feet 2 inches, he threw left-handed and batted from the right side of the plate. He traveled the area by train to play for with teams from Bouckville, Utica, Oneonta, Oxford, Brookfield, Waterville, and Rome. He mainly pitched, but he also manned the three sacks and caught when necessary. For "big games," the battery of Louis Wiltse and Charles Behringer would be hired by local "nines" to help secure a desired victory. It was not uncommon for several of the Wiltse boys to be on the same field. A July 26, 1897, newspaper account describes the battery of L. Wiltse and Behringer of the Utica Actives opposing the battery of G. Wiltse and Arity of the Bouckville Summits. Another account, dated August 23, 1897, details a 12-inning game featuring three Wiltses playing for Bouckville versus the Actives. Older brother Arthur manned first base, while Louis and George shared duties in the box and at second. Although the Summits lost the game 9 to 8, the Utica Daily Press reports "the three Wiltse brothers, all southpaws, are shining lights. Had there been more of the family present yesterday, it is doubtful that the Actives would have made a run." Writers in the papers credit Lew as being difficult to hit due to the speed of his pitches and his curve ball, yet they also note his wildness and generosity with free passes to first base.
Louis' first break with a professional team came in 1899 with Ilion of the New York State League. With Ilion, he faced the Cuban X Giants, allowing only 4 hits and no runs; no one had ever performed so well against the barnstorming Giants. In 1900, he was on the roster of the Toledo Mud Hens of the Interstate League as a pitcher, but he did not stay in Ohio long, as he was back in Syracuse by June 25.
While he was pitching for the Syracuse Stars of the New York State League, the Syracuse team started entertaining offers from major league clubs for "Snake." An initial offer from the Philadelphia National League team was refused in 1900. In January 1901, the Stars received an offer they could not refuse, receiving Walter Woods, Patsy Flaherty, and Fred Ketchum from Barney Dreyfuss' Pittsburgh Pirates in exchange for Lew, who became a major league rookie at the age of 29 on June 5, 1901.
Wiltse was not in Pittsburgh for long. The Pirates had four of the top pitchers in the league. Deacon Phillippe, Jack Chesbro, Jesse Tannehill, and Sam Leever collectively possessed the best winning percentage in the league and were all in the top 10 for ERA.
Making five appearances as a spot starter with the Pirates, he was 1 win, 4 losses and an ERA of 4.26. Lew was released by the Pirates on June 27 on grounds that his arm had weakened.
Looking for pitching help for his Philadelphia Athletics, Connie Mack acquired Wiltse for cash on July 20, 1901. It was with the Athletics in 1901 that Lew had his greatest impact as a player. That season he was 13 and 5 in 19 games, for a winning percentage of .722. He also showed his skill with the bat securing 25 hits in 67 at-bats, including his only grand slam. On August 10, he set a major league record for a pitcher achieving 10 total bases in a game by socking two doubles and two triples, and being one of just three pitchers ever to collect four extra base hits in a game.
Wiltse started 1902 with the Athletics, but had a poor start. He had 8 wins with 8 losses, an ERA that ballooned to 5.15, and a dismal batting average of .175. One day short of spending an entire year with the A's, Lew was dispatched to the Baltimore Orioles on July 19. Things did not go much better for Wiltse in Baltimore, as he suffered through the season with a 7 and 11 record, but he did manage to elevate his batting average to .295. Baltimore made more use of Lew's skills in the field. He played 12 games at first, 4 games in the outfield and 1 game at second, achieving a fielding percentage of .955, 1.000, and 1.000 respectively.
The year 1903 started well for Louis, as he married Miss Anna Belle West of Syracuse at Catskill, New York. However, Lew would play baseball in yet another city. Ban Johnson, the czar of the American League, moved the Baltimore franchise to New York City forming the Highlanders in order to compete with the National League counterpart in New York. Appearing in just 4 games, he was winless with 3 losses before being sent back to Baltimore along with a player named Jack Hanlon on June 18. But now Baltimore was an Eastern League franchise under the ownership of Ned Hanlon and under the management of Wilbert Robinson. The Orioles were not able to pay Wiltse the same salary he had been receiving with the major league club, and offered him a reduced salary. At first, Louis refused to accept the offer, but being bound by the reserve clause, he was faced with the decision of playing for less money or not playing at all. He eventually reached a verbal agreement with Robinson, playing for the reduced salary as long as at the end of the season Wiltse would be free to accept offers from other teams for the 1904 season.
"Snake" did not have a good start with Baltimore. Due to his poor performance, Robinson cut Lew, giving him a ten-day notice. Within those ten days, Robinson himself lost his job and was replaced on July 4, 1903, by Hughie Jennings. Jennings decided to give Wiltse another chance, perhaps not knowing about the verbal agreement between Wiltse and Robinson regarding Wiltse's release at the end of the season. Louis completed the season with a record of 19 wins and 12 losses, while batting .305.
Wiltse was surprised to find himself on the reserve list for the Baltimore team at the start of 1904. Louis again had discussions with the Orioles management regarding salary and the reserve clause. Baltimore's ownership insisted the Robinson did not have the authority to offer the verbal contract that Wiltse accepted. Lew petitioned the National Association of Base Ball Players to have his name removed from the reserve list, but in February the board of the National Association turned down his request. Once again, he was faced with playing with a pay cut or finding a new livelihood. This time, Louis signed a standard contract offered all players, but he crossed out the reserve clause in the contract. Since Jennings accepted the contract, Wiltse regarded himself as being free at the end of the season. The Secretary-Treasurer of the National Association of Baseball Players, John H. Farrell, received the contract for promulgation. When he observed the contract with the reserve clause struck out, he determined the contract to be mutilated and enacted it in its entirety. Lew finished the season at 20 wins, 8 losses, a batting average of .266, and his name on the Orioles' reserve list.
As brother George was making his rise in the major league ranks in 1905, "Snake's" career started to fade. Appearing in just 16 games, Lew along with Jack Hayden "jumped" their Baltimore contracts and joined the York, Pennsylvania, team of the Tri- State League for more money than they had been receiving with Baltimore. Hanlon sued Wiltse and Hayden over abandoning their contracts. The Sporting News, through a series of editorial style articles, labeled Wiltse an unappreciative player who was not worthy of a contract due to his wildness, weak arm and weak bat. It further stated that he was "ineffective and careless in his training duties."
Louis Wiltse and Jack Hayden requested reinstatement to the National Association in 1906. Lew wrote to Hanlon requesting that Hanlon not block his reinstatement. George Wiltse and Joseph "Iron Man" McGinnity, who was a teammate of Hanlon in Baltimore and a current member of the New York Giants with George, visited Hanlon in Baltimore on behalf of Lew and his family, asking Hanlon to back Lew's reinstatement. Ned Hanlon promised to release Lew and not interfere with his standing with the league.
The Tri-State League eventually was granted membership into the National Association. When this occurred, twenty-two former major leaguers, including Wiltse and Hayden, where placed on an ineligible list. A battle was waged between the National Commission, consisting of Ban Johnson, Harry Pulliam, and Chairman August Herrmann, and the National Association over the playing status of these players. President P. T. Powers of the National Association was firmly opposed to reinstatement of the players, while National League president Pulliam fought for the players' eligibility.
Jack Hayden defended his actions to the National Commission, by making the case that Ned Hanlon was owner of the Baltimore team and manager of the Brooklyn National League team, and as such could "cover up" players within his minor league team from teams on the major league circuit. Charles Ebbets, owner of the Brooklyn club that Hanlon managed, confessed that there was indeed a cover-up of players between Brooklyn and Baltimore. The National Commission found in favor of Hayden and reinstated him as eligible for service. The Commission denied reinstatement to Wiltse on October 31, 1906, declaring that there were no extenuating circumstances to warrant his reinstatement.
Lew Wiltse then wrote personal letters to Chairman Herrmann, requesting reconsideration of the Commission's decision. Wiltse stated that he was also covered up, and that he could have accepted offers to play with the Detroit Tigers had his contract not been modified by the Orioles and Secretary John Farrell. Louis made a comparison between himself and Hayden, asking how Hayden could be reinstated while Lew was not, having faced the same circumstances. Promising the he had learned his lessons, and to abide by the rules applied to him, he requested a second chance, stating that he could not support his family though any other means than baseball. He had been earning a meager wage as a bowling instructor at a bowling academy in Somersville, New Jersey. His personal pleas apparently struck a chord with Herrmann, as Lew was eventually removed from the ineligible list in 1907. The Sporting News called the event a charitable act on behalf of the Commission to an aging player past his prime.
The Sporting News' assessment of Wiltse's major league career being finished was accurate. Lew obtained service with Syracuse, Jersey City, and Reading of the International League, but never again played for a major league club. His major league career spanned just two years and three days. He started 62 games as the pitcher, finishing 54 with a final record of 29-31. He hit nine career triples and two home runs (the same as brother George over a 10-year career). His final batting average was .278.
Louis Dewitt Wiltse passed away at home in Harrisburg, Pennsylvania, on August 2, 1928. He was once again a victim of his own wildness, as a knife he was using to prune raspberry bushes slipped and severed an artery below the knee in his left leg. His wife Anna Belle applied a bandage, and a call was made to the Harrisburg hospital requesting the visit of a physician. Lew became unconscious when the doctor arrived and died shortly after. He was survived by his widow, a daughter, Pauline, George, and one sister. He is buried in Paxtang Cemetery in Harrisburg.
Sources
Ford, Jim, The Pride of Cidertown (Oriskany Falls, NY: Ad Group Agency, 2009)
Jones, David, ed., Deadball Stars of the American League (Washington, DC: Potomac Books, Inc. 2006) (Byron Bancroft Johnson by Joe Sentry and Cindy Thomson)
Simon, Tom, ed., Deadball Stars of the National League (Washington, DC: Brasseys, Inc. 2004) (Charles Hercules Ebbets by John Saccoman; Edward Hugh Hanlon by Zack Triscutt ; George Wiltse by Gabriel Schechter)
The Sporting News, issues July 1, 1905; July 8, 1905; July 30, 1906; February 23, 1907; January 16, 1908; February 6, 1908
The Niagra Falls Gazette, January 18, 1908 and August 28, 1928
The Elmira Telegram, December 29, 1907
The Elmira Gazette and Free Press, October 31, 1906 and December 19, 1907
The Brooklyn Daily Eagle, February 4, 1904
Baseball-Reference.com
Player file for Louis Dewitt Wiltse, National Baseball Hall of Fame Library.
Born
December 5, 1871 at Bouckville, NY (USA)
Died
August 26, 1928 at Harrisburg, PA (USA)
If you can help us improve this player's biography, contact us.
http://bioproj.sabr.org/bp_ftp/images4/WiltseSnake.jpg
600
800
admin
/wp-content/uploads/2020/02/sabr_logo.png
admin
2012-01-04 20:25:29
2012-01-04 20:25:29
Snake Wiltse