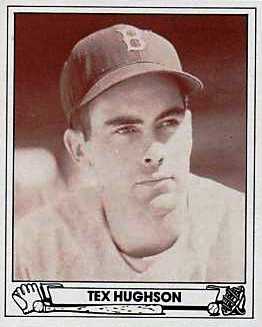 ---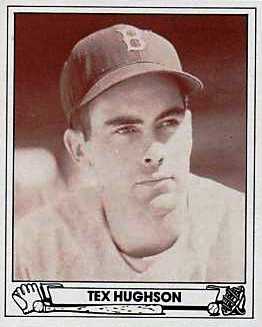 Tex Hughson was a big right-handed power pitcher out of the University of Texas who principally wore the number 21 during his tenure with the Red Sox (he would also be assigned the numbers 29, 15, and 27) and, like his numerical counterpart and fellow Longhorn Roger Clemens four decades later, was the dominant Red Sox hurler of his era; and when healthy, was one of the top starting pitchers in the big leagues. Were it not for military service and arm problems that drastically shortened his career, Hughson would in all likelihood have been on course for Cooperstown immortality and the Red Sox might not have suffered for 86 years between world championships. However, it is unlikely that Hughson would ever complain about the circumstances that shortened his time in baseball as he went on to be a dominant positive force in his Texas community of San Marcos.
Hughson pitched his entire big-league career for the Red Sox during the decade of the 1940s, compiling a record of 96-54, good for (as of 2013) 12th place on the Red Sox career wins list. With a .640 winning percentage, he ranks fifth on the Red Sox all-time winning percentage list among pitchers with at least 100 decisions, ahead of Clemens (.634) and behind only Pedro Martinez (.760), Joe Wood (.676), Babe Ruth (.659) and John Lesterr (.641). When he was healthy and at the top of his game, he was the man the Red Sox wanted on the mound against the opposition's ace. Red Sox teammates Bobby Doerr and Johnny Pesky are reported by writer Oren Renick to have named Hughson as the man they wanted on the mound in a crucial game.
Cecil Carlton Hughson was born to Cecil "Pop" and Ada (Rowland) Hughson on February 9, 1916, in Buda, Texas and grew up in Kyle in Central Texas, 20 miles south of Austin. There he was exposed to the rugged life of a cattle rancher and farmer by his father, who operated the family-owned Hughson Meat Company.
After graduation from Kyle High School (in a class of only 11 to 13, according to his daughter Jane Hughson), he pitched at the University of Texas at Austin for legendary coach William J. "Uncle Billy" Disch, whose teams went 512-180-12 during Disch's career from 1911 to 1939. Tex lettered in baseball in 1937 and compiled an 8-2 record, earning First Team All-Southwest Conference honors. In June 1937, Hughson was signed by the Red Sox. After several years of acquiring expensive major-league talent the Red Sox had changed course — farm director Billy Evans was acquiring home-grown talent that eventually contributed to the team's 1946 pennant winner, including Ted Williams, Bobby Doerr, Dom DiMaggio, Dave "Boo" Ferriss, Hughson, Mickey Harris, Earl Johnson, and Johnny Pesky.
Hughson went to Moultrie of the Class D Georgia-Florida League and got his feet wet in 1937 with a record of 8-6 (2.33 ERA) and a good ratio of strikeouts (76) to walks (38). In 1938, he starred for the Canton Terriers of the Class C Middle Atlantic League, compiling a league-leading .759 winning percentage (22-7, 3.93 ERA) while striking out 129 and walking only 64 in 206 innings. His 22 wins also led the league. He finished the 1938 season with the Red Sox-owned Rocky Mount team in the Class B Piedmont League. In 1939, Tex moved up to Class A ball, teaming with Mickey Harris at Scranton in the Eastern League, but finished 1939 and played in 1940 for the Louisville Colonels of the then Double A American Association, the minors' highest classification.
In 1940, Hughson finished 7-11 with a 3.92 ERA for Louisville but got the parent club's attention in the postseason, finishing 5-0 in the playoffs, first helping the Colonels eliminate Columbus and then beating Newark, the Yankees' International League farm team, twice in the Little World Series. Prior to his playoff run, Tex so impressed Cincinnati Reds scout Jewel Ens in tossing a three-hit shutout against Indianapolis that the Reds reportedly offered the Colonels $50,000 for him. Former Louisville teammate and then Red Sox pitcher "Broadway Charlie" Wagner is credited by sportswriter John Drohan with having sold Red Sox manager Joe Cronin on promoting Tex to the big club in 1941.
On April 16, 1941, the 25-year-old Hughson made his major league debut in relief for the Red Sox in a 12-inning contest against the Washington Senators at Fenway Park, a game won 8-7 by the Red Sox. After two poor relief outings, he then spent some time with Louisville, going 7-1, but was back with the big-league club on July 6 to make his first start. It came against the Senators at Fenway in the second game of a twin bill, facing off against Washington's Bill Zuber.
Tex surrendered two doubles and a single to open the game. Pitching coach Frank Shellenback was running the team, as Joe Cronin had left the game to be with his wife, who was giving birth to a son, and Hughson is said to have pleaded with Shellenback to leave him in the game. Tex settled down after the shaky start en route to a 4-3 complete-game win, his first win as a big-leaguer. He compiled a 5-3, 4.13 record in 12 appearances and 61 innings in his first season. His eight starts included four complete games. The biggest obstacle he would face in his career was not the opposition's bats but the health of his pitching wing. In mid-August 1941, Hughson pulled his deltoid muscle, putting him on the shelf for the rest of the season.
Hughson emerged as the ace of the Red Sox in his breakout 1942 season (the "pitching sensation of the league this season," according to Jack Malaney of the Boston Post), in which the Red Sox won 93 games, their most since 1915. Tex completed 22 of his 30 starts, his first start not having come until May 16 (after he again experienced arm troubles in the spring), an amazing number considering his final win total. His career-best 22 wins, against only six losses, led the American League and tied the Cardinals' Mort Cooper for the major league lead. Hughson also led the league in complete games, innings (a career-high 281), and strikeouts (113). His ERA was an exceptional 2.59. Tex was 5-1 against the World Series-bound Yankees. According to Oren Renick, Tex relished the opportunity to face the Yankees throughout his career. "I would rather beat the Yankees once than any other team twice," he told Renick. "They were the best, and they were cocky, particularly in New York with those Yankee pinstripes on. It was as if you ought not to beat them. You ought to just go out there and rather politely lose."
Tex was named to his first of three All-Star teams in 1942, although he did not enter the game to pitch since starter Spud Chandler of the Yankees and the Tigers' Al Benton were the only two pitchers used by AL skipper Joe McCarthy in its 3-1 win at the Polo Grounds in New York. Hughson was named to The Sporting News All Rookie team along with pitchers Johnny Beazley of the Cardinals and Hank Borowy of the Yankees. He was also selected to The Sporting News Major League All-Star Team.
The 1942 Red Sox finished second, nine games back of the Yankees. Their progress was dramatically affected from 1943 through 1945 by World War II and the military draft, probably more so than any other major-league team. According to Glenn Stout, only Bobby Doerr, Jim Tabor, and Hughson remained in 1943 and '44 from the 1942 starting team (Tony Lupien was with the Sox in 1943 but was traded in 1944). By 1945, even Doerr, Tabor, and Hughson were in the service. No Red Sox regular player hit over .300 in 1943. Hughson led the pitching staff in wins with a 12-15, 2.64 record in 266 innings. His 20 complete games led the league. Hughson was felled by a Jimmy Bloodworth line drive in a game against the Tigers that broke his pitching thumb. His inability to grip the ball properly upon his return explains why he won only one of his last nine decisions in the year. It is thus no surprise that the Red Sox fell to 68-84, 29 games back of the Yankees. Hughson was selected to his second All-Star team. He earned the save in the game, won 5-3 by the American League at Philadelphia's Shibe Park, allowing a pair of runs and five hits in three innings.
Hughson dominated again in 1944, compiling an 18-5, 2.26 (career-best ERA) record, his .783 winning percentage and 1.05 WHIP (walks and hits per inning pitched) leading the league and keeping the Red Sox in contention for the AL flag. Selected to his third and final All-Star team, Hughson was the pitcher of record in the AL's 7-1 loss at Forbes Field in Pittsburgh. After retiring the side in order in the fourth in relief of starter Borowy, Tex allowed four runs, three of them earned, on five hits in the fifth.
On August 9, 1944, Hughson pitched his final game before leaving the team for military induction, defeating the White Sox with a 9-1 four-hitter at Fenway, the ninth game he had won that year by allowing only one run. After the game, the Red Sox stood in second place, 6 1/2 games behind the St. Louis Browns. With the loss of Hughson, coupled with the further loss within a few weeks of both Doerr and catcher Hal Wagner to the military, the Red Sox folded, losing 29 of their final 50 games, including 10 in a row in September, as the Browns won their first and only American League flag.
At the time of his induction into the military, the 6-foot-3, 198-pound Hughson was in the prime of his career. He coupled power pitching with superb control and a masterful knowledge of what to throw to which hitter. The Neyer/James Guide to Pitchers lists Hughson as having thrown a sinking fastball, hard curve, slider, screwball, an occasional knuckleball, and a changeup. He admitted to having thrown an occasional spitter as well to throw the hitter off balance. He was said to have absorbed everything he could relating to pitching. "Youth and experience never go together," Tex told sportswriter Al Hirshberg. "If they did, we would all be great before we were 21. I want the advantage of youth, plus the knowledge of experience.… Once I knew a wise old Dutchman who told me something I will never forget. We are too soon old and too late smart."
Writing in The Sporting News, Shirley Povich quoted an anonymous umpire talking about the AL pitchers at the time of Hughson's August 28 induction into the military: "Tex…was the best. With his stuff he should have won every game he pitched. He got licked usually when he got mad. It upset him when a .220 hitter hit one of his good pitches. If he had kept his temper, they'd never have beaten him. Hughson threw everything. And whatever he threw, he had control. His catcher needed more signals than any catcher. If Hughie was behind in the count on a hitter, he didn't have to ease up to get the ball over like other pitchers. He poured the next two in there. He was the only fellow in the league who could throw the ball and let the batter do the worrying." On Hughson's return from the war in 1946, former Tigers general manager Jack Zeller called him the greatest right-hander in the game at that time, saying, "Compared with…Hughson, the others are only throwers. He has an arm, too, but he puts more headwork into his pitching. He is one of the most cunning pitchers in years." In giving the nod to Hughson, Zeller bypassed Bob Feller, Spud Chandler, Dave Ferriss, and Jack Kramer. In 1948, Joe DiMaggio named Hughson and Virgil Trucks as the pitchers who gave him the most trouble.
Originally intended for induction into the Navy, Hughson wound up in the Army. Much of his war effort was directed toward improving the military morale through baseball at postings ranging from Texas to Hawaii to the Marianas Islands in the Pacific. Tex, by his own admission, "fought World War II with a bat and a glove." In a letter to manager Joe Cronin from Saipan, Tex addressed preparations for the play of a three-team Army Air Force league called the Marianas League, which would feature major league players in the service: "We have been busy building our own tents to live in and our own park to play in. The ball park certainly is no beauty, but will answer the purpose. Of course, there is no grass and the seats for 'customers' are made exclusively of bomb crates, of which we have plenty here." Hughson hurled the first three innings of the Marianas League All-Star game, held in September 1945 and won 3-2 by the American League. His 73rd Wing Bombers, managed by former Red Sox outfielder Buster Mills, won the Marianas League championship.
On January 17, 1946, the Red Sox received great news in the form of Ted Williams being put on the inactive list by the Marine Corps, Dom DiMaggio being released from the Navy, and Hughson being mustered out of the Army Air Forces. With their return, along with Doerr, Pesky and Wagner, the Red Sox busted out of the gate and never looked back, winning 41 of their first 50 games, including 15 in a row from April 25 through May 10, and opening up a 10-game cushion over the Yankees.
Tex won the April 16 season opener in Washington, 6-3. He and 1945 rookie sensation Dave Ferriss teamed up to become the Red Sox' first pair of 20-game winners since Lefty Grove and Wes Ferrell in 1935. Ferriss won 25 games to lead the Sox. Hughson was 20-11 with a 2.75 ERA in a career-high 35 starts, his ERA half a run per game better than that of Ferriss. Hughson's 172 strikeouts established a career high. He led the league in fewest walks per game with 1.65. He tossed six shutouts, including four won by 1-0 scores. The fourth of those 1-0 nailbiters occurred on September 13 at Cleveland, breaking a six-game Red Sox losing streak and clinching the AL flag, a game won by Ted Williams' only career inside-the-park home run (hit to left field to beat a shift), one of only two hits given up by opposing pitcher Red Embree. Tex allowed only three hits of his own in a game reported to have been completed in an hour and 28 minutes. The Red Sox won the American League pennant by 12 games over the Tigers with the Yankees a distant third, 17 games behind.
Hughson faced off against Howie Pollet and the St. Louis Cardinals in Game One of the 1946 World Series at Sportsman's Park in St. Louis on October 6. Tex retired the first six Cardinals in order. The Red Sox scored the first run in the second inning on a Pinky Higgins single that scored Rudy York, who had been hit by a pitch. The Cardinals tied the game in the sixth when Red Schoendienst singled and Stan Musial doubled him home. The Cardinals took a brief lead in the eighth. Whitey Kurowski singled and was driven home on a Joe Garagiola double to center. Hughson was removed after the eighth inning for a pinch-hitter. His line was seven hits and two earned runs over eight innings with five strikeouts and two walks. The Red Sox tied the game in the ninth on singles by Higgins, Rip Russell, and Tom McBride. York homered in the 10th off hard-luck 3-2 loser Pollet. Earl Johnson closed out the contest with two hitless innings and got the win.
Hughson didn't fare well in his second start of the Series, Game Four at Fenway Park. After a one-two-three first, Enos Slaughter opened the second with a homer, one of his four hits in the game. (Kurowski and Garagiola each collected four hits as well). Tex was knocked around for six runs, three of them earned, on five hits with one strikeout in two-plus innings of a 12-3, 20-hit Cardinals win.
Hughson's third and final appearance of the 1946 Series came in Game Six in St. Louis. Intended to be saved along with Ferriss for a possible Game Seven, Tex came on in relief of starter Mickey Harris in the third with the Sox trailing 3-0. He scattered two hits over 4 1/3 innings, striking out two and walking one in the Red Sox' 4-1 loss, which evened the Series at three victories apiece. Hughson's history of arm problems made him unavailable for the deciding seventh game.
After their Game Seven loss to the Cardinals in 1946, the Red Sox saw no reason why they couldn't return to the World Series in 1947. But injuries to the previous year's big three of Hughson, Ferriss, and Harris thwarted the Red Sox' repeat pennant aspirations. Joe Dobson won 18, but Hughson, Ferriss, and Harris won only 29 games combined after totaling 62 in 1946. Each of the three developed a sore arm in the spring. Ferriss went down in late August with a badly cut toe, which was slow to heal. Harris had a bad shoulder that limited him to six starts. The season had started promisingly for Hughson. He retired the first 15 Senators he faced in the season-opening 7-6 victory. On April 24, he tossed a two-hit, 1-0 shutout over the Yankees. Then the physical troubles began again. In May, he became hindered in his pitching efforts by numbness in the tip of the middle finger of his pitching hand. It was also speculated that he had a chipped bone in his elbow. On September 3, in the first game of a doubleheader, Hughson was removed from the game in the fifth with numbness and circulatory trouble in his arm. "The circulation went out completely; I was in terrible pain," he said. He was sent to a specialist, who determined that surgery was necessary.
This surgery was performed at a time when orthopedic surgery was relatively primitive and long before the days of arthroscopic surgery. Writer David Falkner says the first time Hughson heard the term "rotator cuff," years later, he thought it was a type of French shirt. Apparently an overdeveloped muscle had cut off circulation in his pitching arm, an injury similar to that later experienced by both J.R. Richard and Whitey Ford. Hughson's season was over. He was 12-11 with a 3.33 ERA in 29 games and 189 1/3 innings, with 13 complete games and 119 strikeouts. The 1947 Red Sox finished in third, 14 games behind the Yankees. Hughson had offseason surgical procedures on his shoulder and his elbow, and the nerve in his right shoulder responsible for the numbness was severed.
Still recovering, Hughson made slow progress in the spring of 1948. New manager Joe McCarthy was reluctant to put his trust in the rehabbing Sox ace. After pitching in two innings of relief against the Browns on May 8, Hughson was optioned to the Austin Pioneers of the Class B Big State League, 30 miles from his San Marcos home. He hoped that the Texas heat would aid his recovery. Hughson went 4-2 for Austin. He discovered that by warming up slowly and for a long time, he could throw "pretty hard without ill effects." He found curves and sliders to be harder to toss without strain. On July 12, Hughson was recalled by the Red Sox. He pitched the ninth inning of a 3-1 loss to the Tigers on July 17, retiring the side in order. He was used exclusively in relief, 19 1/3 innings pitched in 15 games, winning three and losing one with a 5.12 ERA. A Red Sox fan could only dream of what a healthy Hughson could have contributed to the 96-win Red Sox squads of 1948 and 1949, each of which lost the pennant by just one game.
Of Hughson's 29 appearances in 1949, only two were starts, one each in in April and May. He was 4-2 with a 5.33 ERA in 77 2/3 innings, finishing 17 games. Mel Parnell won 25 games and Ellis Kinder 23. McCarthy wore out both pitchers down the stretch. He used Hughson sparingly in relief for a period, then overused him causing his elbow to swell up. Hughson's final major league appearance came in the final game of the season, in Yankee Stadium with the Red Sox and Yankees tied for first, in the bottom of the eighth with the Yankees up 2-0 and Hughson not having pitched in a game in four weeks. Hughson reportedly said: "They're really scraping the bottom of the barrel." He got Joe DiMaggio to hit into a double play, then gave up singles to Johnny Lindell and Billy Johnson. Hank Bauer ran for Lindell and went to third when Ted Williams bobbled Johnson's hit. Cliff Mapes was intentionally walked, bringing up rookie second baseman Jerry Coleman. Hughson threw hard, high, and inside on Coleman's hands. Coleman managed to dump the ball into no-man's land near the foul line between right fielder Al Zarilla and second baseman Doerr, Zarilla missing the catch, according to the Boston Herald's Arthur Sampson by "the width of a gnat's eyebrow," clearing the bases and giving the Yankees breathing room in their 5-3 win, which painfully wrested the pennant away from the Red Sox. Ted Williams recalled the play in David Halberstam's Summer of '49: "Tex makes a good pitch. A damn good pitch.… I can still see it with my eyes closed.… It's funny how you can remember something so painful so clearly."
Hughson resented McCarthy's reluctance to give him the opportunity to reclaim his position as the staff ace. "The only man in baseball I completely disliked was Joe McCarthy," Hughson told sportswriter George Sullivan. "I asked to be traded and said I wouldn't be back in 1950. So they sold me to the Giants…. I refused to report. I didn't want to live in New York, and I didn't want to start pitching in a new league at my age (then 34). So the Red Sox sent Jack Kramer to the Giants instead and I retired. The same day McCarthy quit in June 1950, Bobby Doerr called me in Texas while I was buying cattle and said they wanted me to go back. 'No, I'm retired for good,' I told him. Yes, I had arm problems my last three seasons. But I'm positive I could have pitched some more. I wouldn't when McCarthy was there, though, and when he was gone it was too late."
Along with his 96-54 career record, Hughson had a 2.94 ERA, 10th on the Red Sox all-time list (through 2014) among pitchers with at least 1,000 innings. He struck out 693 and walked only 372 in 1,375 2/3 innings. His 99 complete games place him 10th on the Red Sox all-time list, and his 19 shutouts place him in a tie for seventh place on the list. The 13 consecutive wins at home in 1944 tie him with Ferriss for the Red Sox record in that department.
Hughson was inducted into the Longhorn Hall of Honor in 1970 and the Texas Sports Hall of Fame in 1987. On November 14, 2002, he was inducted into the Red Sox Hall of Fame, his son Stanley accepting on behalf of the Hughson family. Hughson and the 1946 team were honored at a reunion dinner in 1986 at which he was awarded a World Series ring and a Red Sox jacket which his daughter Jane said he was very proud of and wore all over town.
After retiring from baseball, Hughson became a successful real estate developer in San Marcos. His development of family ranch land was called Hughson Heights and included a tribute to Fenway Park in its Fenway Loop. The front license plate of his car reportedly announced "Boston is baseball." Hughson became a frequent contributor at Red Sox spring training camps and maintained relationships with Pesky, Doerr, and Williams. In 1952, he founded Little League Baseball in San Marcos and in 1954, while serving as the vice president of the San Marcos School Board, successfully moved to integrate the local high school after the United States Supreme Court decision in Brown v. Board of Education found racially separate but equal public schools to be unconstitutional.
Hughson was one of the first to introduce the French Charolais breed of cattle through the family-owned Hughson Meat Company, founded by his father in 1946 and in which the family remained involved in ownership into the 1970s. The company, which provides beef products to the grocery, restaurant and hotel industries and to the public through a retail outlet in San Marcos, is still in business.
Hughson died of kidney failure at Central Texas Medical Center at the age of 77 on August 6, 1993, and was buried in San Marcos Cemetery. With his first wife, Roena Moore, he had two daughters, Dixie Moffitz, born in 1941, and Jane Hughson, born in 1954, and a son, Stanley, born in 1944. Several years after Roena's premature death in 1968, Hughson was married again, to Gladys Watson, who was with him at his death. He was also survived by a brother, Bruce; a sister Mary Helen Conway; and six grandchildren.
Note
This biography originally appeared in the book Spahn, Sain, and Teddy Ballgame: Boston's (almost) Perfect Baseball Summer of 1948, edited by Bill Nowlin and published by Rounder Books in 2008.
Sources
The Associated Press.
Baseball-reference.com.
Boston Red Sox Media Guide 2007.
Falkner, David, "That Farewell to Arms Feeling", The Sporting News, May 20, 1996.
Gentile, Derek, The Complete Boston Red Sox (New York: Black Dog & Leventhal Publishers, Inc., 2003)
Gillette, Gary and Pete Palmer, The Ultimate Red Sox Companion (Hingham, Mass.: Maple Street Press, 2007)
Golenbock, Peter, Red Sox Nation (Chicago: Triumph Books, 2005)
Halberstam, David, Summer of '49 (New York: William Morrow and Company, Inc., 1989)
Hirshberg, Al, The Red Sox, The Bean and The Cod (Boston: Waverly House, 1947)
Interview with Jane Hughson, December 2007.
James, Bill, and Rob Neyer, The Neyer/James Guide to Pitchers (New York: Simon & Schuster, Inc., 2004).
Lieb, Frederick G., The Boston Red Sox (New York: Putnam, 1947).
Linn, Ed, The Great Rivalry, (New York: Ticknor & Fields, 1991)
Looney, Jack, Now Batting, Number… (New York: Black Dog & Leventhal, 2006)
New York Times.
Nowlin, Bill, Day by Day With the Boston Red Sox (Cambridge, Mass.: Rounder Books, 2006)
Paper of Record.com.
Proquest Historical Newspapers.
Renick, Oren, "Cowboy on the Mound: The Tex Hughson Story," San Marcos Daily Record, September 5, 2004
Retrosheet.org.
Snyder, John, Red Sox Journal (Cincinnati: Emmis Books, 2006)
Stout, Glenn, and Richard A. Johnson, Red Sox Century (New York: Houghton Mifflin Company, 2005)
Tan, Cecilia, and Bill Nowlin, The 50 Greatest Red Sox Games (Hoboken, N,J,: John Wiley & Sons, 2006)
TexasSports.com.
The Sporting News.
Sullivan, George, The Picture History of the Boston Red Sox (Indianapolis/New York: The Bobbs-Merrill Company, 1980)
Thorn, John et al., Total Baseball, Sixth Edition (New York: Total Sports, Inc., 1999)
Walton, Ed, This Date in Boston Red Sox History (Briarcliff Manor, N.Y.: Scarborough House, 1978)
The Washington Post.
Born
February 9, 1916 at Buda, TX (USA)
Died
August 6, 1993 at San Marcos, TX (USA)
If you can help us improve this player's biography, contact us.
http://bioproj.sabr.org/bp_ftp/images3/HughsonTex.jpg
600
800
admin
/wp-content/uploads/2020/02/sabr_logo.png
admin
2012-01-04 20:39:24
2012-01-04 20:39:24
Tex Hughson