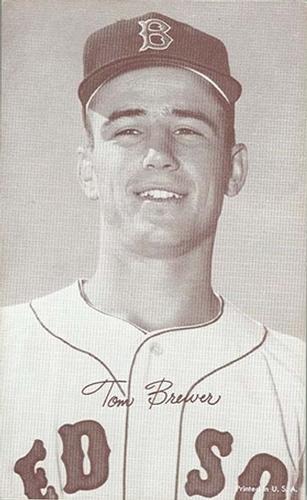 ---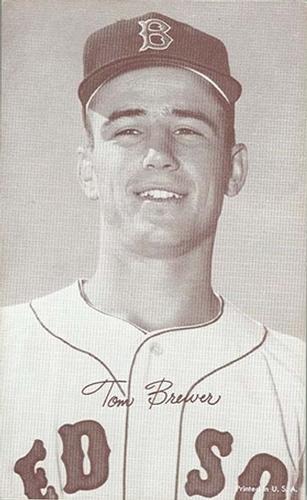 Though Thomas Austin Brewer Jr. was a lifelong resident of Cheraw, South Carolina, he was born in North Carolina on September 3, 1931.1 Cheraw lies in the northern part of South Carolina and was a town of a few thousand inhabitants in 1931 so it happens that the nearest hospital was in Wadesboro, North Carolina, some 20 miles away.
Brewer grew up in Cheraw and went to elementary and high schools there. He played in the major leagues for eight seasons (1954-61), all with the Boston Red Sox, and compiled a record of 91-82. Tom was 6 feet 1 inch tall and normally played between 175 and 180 pounds. He batted and threw right-handed. At various times he was labeled as hard throwing, with a good change-up and a "terrific curve ball."2 Hall of Famer Lou Boudreau, Brewer's first major-league manager, was quoted about how Brewer could be "another Bob Lemon" not only due to being a good pitcher but because "Tom can hit, field his position well, and run."3 Brewer's best year was 1956, when he was selected as an All-Star, finished with a career-best record of 19-9, and received votes for the Most Valuable Player award.
Brewer's family has Carolina roots going back several generations. His father, Thomas Austin Brewer Sr., was born in South Carolina and worked for the post office until he retired. The elder Brewer met and married Pauline McGee Parker, who was born in North Carolina and was a librarian. Together Tom Sr. and Pauline raised three children: Madeleine, Carol, and Thomas Jr., the youngest. As a child, Tom recalled, his father emphasized baseball and played catch with him. His father told Tom he would continue playing catch until Tom Jr. could throw harder than his dad could. "That didn't last too long," Tom said with a chuckle as he recalled the conversation later.4
Brewer played high-school baseball beginning as a seventh-grader and ended up playing six years on the Cheraw High School team. He played third base except for some games in his senior year when he pitched. In addition to being a good hitter, with a strong arm, speed was one of his assets, Brewer said. He also played on the high school football and basketball teams. Recognized as the "first professional athlete of merit from Cheraw," Brewer had his number 13 retired by the school in November 2006.5
During the summer, he played American Legion and "sand hill" ball (a league for high-school-age boys made up of teams from the Carolinas). His last couple of years in high school he joined the Beaunit Mills team in Rockingham, North Carolina, part of the Mill League, an adult league that represented mills in the region. In 1950, after graduating from high school, he played in a summer league, called the Palmetto League, which scheduled games every day. Brewer played with some good players in that league, among them Harry Byrd, 1952 American League Rookie of the Year.
Baseball scouts, including Mace Brown of the Boston Red Sox, took an interest in Brewer while he was in high school. According to Brewer, Brown sent a "bird dog" to Cheraw's championship game, played in Latta, South Carolina, during his last year in high school—not to watch Brewer but to scout another player on the team. Brown's bird dog returned with the advice that Brewer be given a workout. After the ensuing workout, Brown wanted to sign Brewer to a contract but Brewer said he wanted to go to college first. It was Brown who suggested that he attend to North Carolina's Elon College (now Elon University),6 Brown knew the baseball coach. After a workout, the coach decided he wanted Brewer and Tom accepted a scholarship offer.
Brewer attended Elon beginning in the fall 1950 and played varsity ball during the 1951 season.
While at Elon, he was converted to a pitcher; a move urged by Mace Brown, and continued to play the infield. Elon's 1951 team won the North State Conference and Tom was selected to the all-conference team.7 The previous January, however, he had received a draft notice from the U.S. Army. Brewer contacted Brown and told him he would like to play a year of minor-league baseball before joining the service. To have something to look forward to after the service, Brewer wanted the minor-league contract. He said later, "I probably could have gotten out of going into the service but didn't think it was the right thing to do." In April 1951, with his father as a co-signer, Brewer signed with Brown and the Red Sox for a $6,000 bonus,8 Part of which Brewer used to buy a new car, a 1951 Ford.
After signing, Brewer went on to play that 1951 season with the High Point-Thomasville Hi-Toms in the North Carolina State League (Class D). Tom credited two people for helping him in his first year of professional ball, Mace Brown and Cliff Bolton. Bolton, a former major-league catcher, served as Brewer's catcher for most of his Hi-Toms games.9 Tom remembered, "He taught me a lot about pitching, when to do what, and what not to do. They wouldn't let me shake him off; I had to throw what he called. I think that helped me a lot." He went 19-3 and led the league with a 2.55 earned-run average. The High Point-Thomasville team did exceptionally well, finishing in first place by 18 games with a 90-36 record.10 Brewer not only did well on the mound but contributed at bat with a .304 batting average. The team also won the two playoff series and eight of the nine games played. Despite Brewer's winning four of the playoff games, what he remembered for an interviewer was walking in the winning run in a 10th-inning loss.
On December 3, 1951, Brewer was drafted into the Army and served until December 1953. Other than basic training in Fort Jackson, South Carolina, he spent his service time at Camp Atterbury, Indiana. He played ball there and was named to the All-Army team in 1952.11 Over the two years he finished with a record of 35-7.12 One of his games was a five-inning no-hit, no-run game during the National Baseball Congress tournament in 1953. Most of the service teams were loaded with players of some professional experience, and his Camp Atterbury teammates included Frank Lary, the future major-league pitching star.
One would expect that the two-year absence would have been damaging to Brewer's major-league prospects. When asked about it, Tom replied, "I don't regret going into the Army and I feel like it might have helped me in the long run. Still, at the same time, when I was pitching in Boston I pitched my turn and in relief, too, as well as pitch in the rotation. That takes a toll on your arm and back then they didn't know anything about rotator cuffs and stuff like that." Brewer attributed his early major-league success to his minor-league time with High Point-Thomasville, and said that while in the service, he just continued to practice what he learned from that 1951 season.
During his hitch in the Army Brewer decided to get married. He had known Barbara Kay Wilkins (born in August 1934) for years; they had grown up together in Cheraw. Their fathers both worked for the post office. Tom and Barbara were married on May 31, 1952.13 She joined Tom at Camp Atterbury for the remainder of his tour of duty.
The Brewers had three children. Thomas III, their oldest child, was born in Camp Atterbury in 1953 and in 2008 worked as a machinist in Cheraw. A second child, Karen, was born in Bennettsville, South Carolina, in 1955, and in 2008 lived in Durham, North Carolina, where she was a case worker for the federal prison system. Their youngest child was David, born in 1961 in Cheraw, and worked as a tool and die maker. The Brewers have three grandchildren and one great-granddaughter.
Brewer attended an early February 1954 special Red Sox school for pitchers. In spring training, he did well and at one point pitched 28 scoreless innings. Red Sox manager Lou Boudreau was impressed especially with Brewer's change-up, which he declared "almost as good as Ellis Kinder's."14 In its March 31, 1954, issue, The Sporting News devoted a lengthy article to the rookie pitcher with a headline characterizing Brewer as the "Best-Looking Bosox Rookie."15 Writer Bob Holbrook said, "What has amazed the older players mostly is the excellent change-up Brewer has demonstrated. This, plus a good curve and a blazing fast ball, make him one of the brightest prospects of the spring." Another article in the same issue of The Sporting News featured commentary from Boudreau saying Brewer was "the outstanding rookie in camp."16
Brewer's first major-league game was a start against the Philadelphia A's in Boston's Fenway Park on April 18.. He lasted 3⅓ innings, allowing seven hits and four runs (three earned) and received the first loss of his big-league career. Despite this start, Boudreau called Brewer and another rookie, Truman Clevenger, "the best young pitchers I've seen in the big leagues. I know this is going to sound like quite a statement, but in my book, Brewer and Clevenger are better prospects as pitchers than Bob Lemon was when he first started pitching for Cleveland."17
In his second start Brewer lost a 1-0 heartbreaker to the Chicago White Sox; he had a no-hitter until there was one out in the seventh inning. He finally picked up his first win on May 17, against the Detroit Tigers, going seven innings and giving up three runs on eight hits. On June 7 Brewer picked up win number two and fanned 11 batters, a record at the time for Red Sox pitchers, even though it took him 12 innings to do it.
In midseason, though beset with a losing record, Red Sox general manager Joe Cronin was impressed with the club's rookie performers, saying, "When you come up with a [Frank] Sullivan and a Brewer in one year, you've got something other teams want."18 Brewer finished his initial year with a record of 10-9, an earned run average of 4.65, 23 starts, and seven complete games. It was good enough to receive the club's rookie of the year award.19
Brewer's 1955 season got off to a slow start; he did not get his first win of the season until May 27, his ninth start. In June, however, he won four games and Cheraw was showing its pride. "Austin (Tom) Brewer, one of Cheraw's nicest and most well liked young men, who is Boston's ace right hander," the Cheraw Chronicle wrote, referring to Brewer by his middle name. The paper noted that the team started hitting and Brewer "started winning and the more he won the closer Boston got to the top." The Chronicle became a little giddy, suggesting a "World Series Special" train for Cheraw fans to attend the Series in Boston "to see their boy pitch." 20
The World Series was not to be for the fourth-place Red Sox, but Tom ended the season with a record of 11-10 and an earned run average of 4.20, modest improvements over his rookie year performance.
In contrast to his slow start in 1955, Brewer had a record of 11-3 by the All-Star break in 1956. He was beginning to gather national attention, too, with a full-page article about him in the June 20 issue of The Sporting News.21 The writer made a big deal of a flaw in Tom's delivery that was reportedly discovered in spring training by manager Pinky Higgins. Higgins had pitching coach Dave "Boo" Ferriss work with Brewer with the result being a slower delivery. Brewer acknowledged, "I guess I used to hurry too much. …Now I've got better rhythm and my control has been good."22 Looking back in 2008, Brewer confirmed that Ferriss was helpful, and "he and I talked about pitching a lot of times and we worked on things together."
The outstanding first half earned Brewer selection to the All-Star held in Washington's Griffith Stadium. Brewer was one of 10 All-Stars featured on the Sports Illustrated cover of July 9, 1956. Future Hall of Famers Whitey Ford and Early Wynn were on the American League staff and Sports Illustrated gave the AL the edge due to its "depth and skill," noting further that "Brewer has more stuff on his pitches than most batters think pitchers should have."23 Tom pitched the sixth and seventh innings and allowed three runs, one coming on a home run by Stan Musial. The American League lost, 7-3; Brewer did not figure in the decision. However, in later years when he was asked about the game, he recalled a ball Ted Kluszewski hit off him that hit the right-field fence for a double. Brewer said it might have been the hardest ball ever hit off him: "If he would have gotten it up in the air there's no telling where the ball might have landed!"
Brewer ended the 1956 season with his best year in the majors, going 19-9 with a 3.50 earned run average while allowing opposing hitters only a .220 average.24 He had four shutouts, 15 complete games, and nine games in which he held the other team to four hits or fewer. He also had a good year at the plate, hitting.298.
Arm troubles late in the season kept Brewer from being a 20-game winner. He remembered that over his last six appearances of the season, his right elbow would swell up. Then, he would follow up with cortisone injections the day after, which would allow him to start again in four or five days. At 19 wins, he was slated to pitch the last game of the season, in Yankee Stadium, but the team told him that as far as they were concerned he was a 20-game pitcher and they didn't want him to hurt himself permanently. It was a wise move. During the offseason Brewer worked on rehab of his elbow and, along with rest, the pain and swelling were cured and Tom said he never had any more trouble with his elbow.
Brewer was the unanimous choice of the Boston sportswriters as the team's most valuable pitcher.25 Brewer had a good start in 1957 and was being boosted for an All-Star bid again.26 After a win on May 22 against the Cleveland Indians in Fenway Park, he was 6-2 in his first eight starts of the season, with a 2.18 earned-run average and two shutouts, one a two-hitter against the Senators on May 12. He cooled down after that and was not selected for the All-Star team. However, Brewer finished the season with a positive record of 16-13, including 15 complete games for a Red Sox team that finished third with an 82-72 record.
Sports Illustrated's Baseball Issue for the 1958 season predicted good things for the Red Sox pitching, calling Frank Sullivan and Tom Brewer the "bedrock for a good staff."27 But a case of the mumps before spring training and a broken finger on his pitching hand before one spring game seemed to have lingering effects on Brewer and he had a 3-6 record by the All-Star break. He finally got going and beginning with a complete game three-hitter against the Senators in Fenway Park on August 6, he went 6-0 over the course of seven starts. He finished with a 12-12 record and the 1958 team again ended in third place, with a record of 79-75.
Brewer got off to a slow start again in 1959. He came down with the flu in April that caused him to miss a workout. The team's trainer, Jack Fadden, was quoted as saying that "the day Brewer missed working out is the only day in six seasons that Tommy didn't have a workout during the regular season. He's had pulled tendons in his legs and been down with colds, but he's always worked out. He's a real pro."28 In early June, Brewer suffered a hairline fracture on his pitching hand when the Baltimore Orioles' Gus Triandos hit a ball back at him. It was the second time during the 1959 season that Brewer had been hit on his pitching hand by hard-hit balls. The injury was so severe that he was unable to grip a bat and reportedly swung with one hand during one game, even getting a single.29
Brewer was characterized as the team's "hard-luck champ" as the 1959 season wore on.30 On August 23, he lost a 1-0 game when Tito Francona of the Cleveland Indians hit a game-ending home run in the ninth inning for the game's only run. That loss was Brewer's ninth, six of which were by one run. For the season he was 10-12 with a 3.76 ERA.
The 1960 season proved to be Tom's last full season. He was coming off a subpar record on a fifth-place team. Sports Illustrated had this to say in its 1960 Baseball Issue:
"The Red Sox have a pitching staff which is deep in mediocrity. There was a time when it looked as though Tom Brewer and Frank Sullivan, two strong-armed right-handers, would be as good as any pair of pitchers in the league. But in recent years they have won less and lost more until last year they both sank below .500 for the first time. Still, they are the best the team has."31
But, as it turned out, he and Sullivan were not good enough. Brewer posted a 10-15 record with a 4.82 ERA, his worst in his major league career, while Sullivan was a dismal 6-16. The team finished in 7th place with a record of 65-89.
During the 1961 season, Brewer was placed on the disabled list for the first time in his major-league career. On May 15 he started against the Cleveland Indians and lasted one pitch. Brewer had been nursing a sore shoulder since spring training and felt a sharp twinge on the pitch and that was it for the day.32 The Red Sox team doctor prescribed a week's rest and Brewer did not pitch again until May 31 against the Yankees at Fenway Park. He got out of a first-inning jam with only one run scored and two runners left on base, but gave up quick hits to the first two batters in the second inning and he was pulled. Five days later, Brewer tried again and started against the Kansas City A's. He lasted four innings, was wild again, walking five batters, and allowed three hits and three runs, two of which were earned. He went on the disabled list on June 7 with a pulled tendon in his right shoulder. 33 In late June, Brewer felt he could come back and help the club with 10 or 11 victories over the last part of the season. He told The Sporting News, "I feel like I'm cheating the club right now … but I believe I can help them the last part of the season."34 The article added, "Tom is doing a lot of swimming, playing golf and taking other forms of exercise as prescribed by team doctors in an effort to cure his ailing wing."
Brewer's optimism was not enough to cure his physical problems and he got into only two more games that season, both in September. He appeared in his last major-league game on September 27, 1961, when he started in Fenway Park and threw three innings, holding the White Sox to no runs on one hit. He finished with a 3-2 record, having pitched in only 10 games and 42 innings, but with a respectable earned run average of 3.43.
Being on the disabled list and taking nearly three months to rest his arm had not helped Brewer. After that game, he said, he admitted to himself, "That's it. … I can't do it anymore." He was 30 years old. The Red Sox released him after the season but invited him to their 1962 spring training camp as a non-roster player. Tom went to spring training to see if he could pitch and said, "I tried everything I know … and Gene Mauch, who was managing Philadelphia at the time, he called me and asked to sign with them and I told him that I didn't think (the arm) was going to be coming back, and I didn't think I was going to be able to pitch and I was being honest with him. I told him, 'If I thought I could I would tell you right quick. … And I feel it would be best if I don't try to fool you about how it is.'"
Red Sox beat writer Hy Hurwitz wrote in the October 25, 1961 issue of The Sporting News that the Red Sox were committed to a youth movement and that Brewer was among the veterans released. He mentioned the arm trouble Tom developed in the spring, observing that had been the biggest winner on the staff over the past eight seasons but that the extended time on the disabled list did not help restore his arm strength. Hurwitz added, that Brewer "was fortunate to be working for the Tom Yawkey organization. … He was kept on the roster long enough to make him an eight-year veteran and enable him to make a deal for himself."35
Brewer went 91-82 over the course of eight major-league seasons, all with the Red Sox. He maintained a decent career batting average for a pitcher, .207. Tom felt he was always a good hitter, and as he switched from an everyday player in high school and college to a full-time pitcher in the professional leagues, he continued to work on hitting on his own. His ability as a hitter, he said, had been learned from other players over the course of his career.
Brewer also had speed and was often called upon to pinch-run. A chart published in The Sporting News in 1956 listed his speed to first base at 3.8 seconds — not far from the best: Mickey Mantle's 3.3 seconds (from the left side).36 Over the course of his eight seasons with Boston, Brewer averaged 10 games a season in which he pinch-ran.37
Brewer gave credit to a Cheraw friend, Eddie Adeimy, who taught him how to throw a curveball, for being the person most responsible for his conversion to pitching. "That was one of the reasons I started pitching because I had a pretty good curveball back then and I had a pretty good fastball, and all I had to learn was being able to change speeds, and I did that while I was in the service." His old mentor Mace Brown also contributed his advice—he had watched Brewer play in high school and told him to stick to pitching.38
He played with some interesting teammates in the 1950s. He said Ted Williams, Jackie Jensen, Billy Goodman, and George Kell all were friends and he enjoyed playing with them. He remembered Jimmy Piersall, too, and that "you could always count on Piersall — if he didn't have his name in the newspapers for two or three days then he would do something to get his name in the paper the next day." Tom said he kept in contact with his former roommate Willard Nixon for a long time until Nixon died, and said he periodically talked with Frank Sullivan. Another teammate, Wilbur Wood, credited Brewer with giving him good advice when Wood signed his first professional contract, in 1960. Brewer, he said, "explained the ins and outs of signing a baseball contract and told me what a great organization the Red Sox were. … I suppose he was something like an agent to me, but it was all free advice."39
Further, Brewer said, "I never had a bit of trouble with the writers in Boston. … If you stayed out of trouble you didn't have any trouble with them. … .They wrote what they saw. … On the road they would be sitting in the lobby when you came in and if you came in at one in the morning or something like that then they were going to report it."
Brewer had hopes of staying in baseball after his pitching career ended but received no serious offers. In 1962 one team called him about managing one of their minor-league teams for $5,000 that summer but that was not enough for him to take up the offer.
During one offseason Tom worked as a temporary mailman and was assigned a 9.5-mile route. He thought the route would serve as a good morning workout, but it ended up becoming a slow daylong walk as people along his route would recognize him and want to talk baseball and get autographs.40 Most of Brewer's post-baseball career was spent as a probation officer for the South Carolina Probation Office, from which he retired after 25 years. Barbara Brewer worked for J.P. Stevens and then for Stanley Tools, from which she retired.
After leaving the Probation Office, Brewer decided to use some of his free time to help out his alma mater, Cheraw High School. Starting in the early 1990s, he worked with young pitchers as pitching coach for the Cheraw High Braves. As of 2008 they had captured several state championships, including the 1999 Class AA State Baseball Championship.41
As one of South Carolina's best professional athletes Brewer has been recognized at the state and local levels. In 1985 he was inducted in the South Carolina Athletic Hall of Fame. On the local levelBrewer's baseball exploits have been recognized in Cheraw, the community where he was born and raised and lived his entire life. Cheraw High School, where he played and coached, retired his uniform number in 2006. Then, in March 2009, more honors came to Brewer when the Cheraw High School baseball field was named in his honor. In Boston Red Sox script and colors the scoreboard reads "Tom Brewer Field." At the same event Brewer was further honored by the Cheraw Rotary Club which established a scholarship in his name that will be given to a Cheraw High baseball player each year.
This special day was a significant highlight for Brewer and his family. Ironically and sadly, just four days later he had to face the unexpected passing of his wife of 56 years, Barbara. Fortunately, she was able to be at his side at the field naming event and share the happy day with Tom.
A few years later, on January 5, 2011, Tom married Norma Lowrimore in Cheraw.
On February 15, 2018, Tom Brewer passed away in Cheraw where he had lived all of his 86 years. He was buried in the Chatham Hill Memorial Gardens Cemetery in Cheraw.42 His obituary noted his service to the First Presbyterian Church where he served as a deacon, usher, and Sunday morning coffee maker.43
Upon Tom's passing former Cheraw resident and member of the College Football Hall of Fame, Fisher DeBerry, had this to say about Tom: "Austin's impressed me the most not by how fast he could throw a ball but how he cared about people and their lives as evidenced by the tremendous difference he made in so many lives as their Probation Officer and the time he gave to the high school baseball team as well as aspiring young baseball players in nearby communities."44
As a tribute to Brewer on the day he was honored in March 2009 a special song was sung at the ceremony. It is titled "The Ballad of Tom Brewer" written and composed by Cheraw resident Mike Melton.45
Batter steps up to the plate
Digs in, to stand his ground
But you can see the fear in his eyes
As he looks back at the mound
He knows if he just stands there
Then mister there's no doubt
It's fast ball, fast ball, curve ball
Brewers gonna strike him out!
He spent nine years with the Red Sox
Shutting batters down
The who's, who of baseball
No ordinary clowns
Mantle, Mays, Musial
Hall of Fame clout
He treated them all the same
One, two, three, you're out!
He's a Carolina boy
Full of southern charm
He's got thunder in his veins
Lightning in his arm
They loved him up in Boston
But memories tend to fade
They called him a Red Sox
We call him a Brave!!!!
Notes
Born
September 3, 1931 at Wadesboro, NC (USA)
Died
February 15, 2018 at Cheraw, SC (US)
If you can help us improve this player's biography, contact us.
https://sabr.org/sites/default/files/BrewerTom.jpg
600
800
admin
/wp-content/uploads/2020/02/sabr_logo.png
admin
2012-01-04 20:44:48
2012-01-04 20:44:48
Tom Brewer