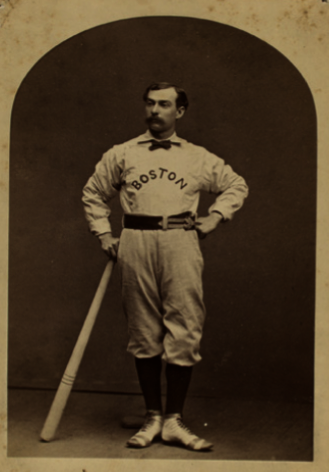 ---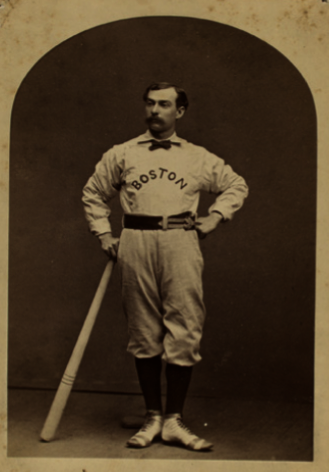 A versatile man who lived on both coasts, played multiple positions for different teams in different leagues, and even went by different names, Tommy Beals played reserve roles for three championship teams in the last three seasons of his six-year professional career. A subpar hitter, Beals on defense "was an exceedingly active player and covered an immense amount of ground."1
On June 18, 1845, two Connecticut natives, Albert Beals (born in 1820 or 1821), a photographer, and Fannie (or Fanny, born in 1822 or 1823) Lamb, married. In August 1850 in either Hartford or New York City,2they had a son named Thomas Lamb Beals. The Beals family lived in Watervliet, New York, north of Albany, in 1860 and in Gold Hill, Nevada, in 1870.
Beals first received notice in 1867 when, playing right field for the Union Club of Morrisania, he "made the most brilliant catch of the game"3in the eighth inning of a 14-12 win over the Brooklyn Atlantics. Beals "distinguished himself … when he played for the Unions, for it was then in the time of lively ball games, when an outfielder had more work to do than the present time."4
At the age of 20 in 1871, Beals, playing under the name W. Thomas (he played as W. Thomas from 1871-1873), made his National Association debut for the Washington Olympics in a July 27 game against the Troy Haymakers. He got his first hit (a single) and made his first error on July 28 in a 10-6 loss to Troy. He finished his rookie season batting .194 in 10 games. In 1872, he started the season batting 4-for-21, but finished on an 8-for-19 run to close the season with a .306 batting average. Beals hit ninth in the order in all 19 games he played in 1871 and 1872.
The Olympics franchise lasted just two years, and the Washington Blue Legs took over the Olympic Grounds for 1873. Beals played for this new team, his last season in Washington, and hit .272 in 37 games.
Over his career Beals split his time almost evenly between the infield (58 games) and outfield (60 games), but in 1873 he caught for the only time in his professional career, putting in 13 games behind the dish.
Beals joined the Boston Red Stockings in 1874 and enjoyed his best day with the bat that year in his first game for his new team on May 9. Still batting ninth, he went 5-for-7 with a triple, three runs scored, and four RBIs as Boston rolled, 28-7, over the Baltimore Canaries at the South End Grounds. The performance earned him a promotion to the second slot in the batting order, which he would occupy more than any other over the rest of the season.
Along with the Philadelphia Athletics, Boston took a European tour in the middle of the 1874 campaign. As the last man on the roster, Beals took tickets at one game5and umpired another.6Back from Europe, Beals also drove in four runs in a home game on October 24 as Boston beat the Hartford Dark Blues, 11-8. As a team, Boston had just seven RBIs in this game because the visitors committed an astounding 21 errors.
The primary spare outfielder in 1875, Beals received more playing time in his last year in Boston than he did in 1874. In a 16-2 rout of Philadelphia on May 11, "The principal feature of the game on the side of the Bostons was the extraordinary play of Beals in the centre field, who caught three very difficult flies in splendid style and was loudly cheered."7
Beals seemed to have a mixed relationship with teammate George Wright. While one source asserts, "George Wright and Tommy Beals went many a day without the interchange of a friendly word,"8another reports that Wright, later a member of the second class of inductees to the Hall of Fame, named his oldest son Beals after Tommy.9
In 1876 Beals left Organized Baseball and moved to Colorado, where he worked as a miner. He later headed to the West Coast, where he would spend his post-baseball career. SABR's Minor League Database reveals that Beals played for the San Francisco Mutuals and the Oakland Pioneers of the California League in 1879, but his name appeared on a list of retired players at the end of that year.10Another report two months later had Beals "and the management of the Chicago Club … in correspondence … on … an engagement [in Chicago for the 1880] season."11
Ross Barnes, Cal McVey, Al Spalding, and Deacon White, four Boston players, left for the Chicago White Stockings in 1876, the first season of the National League. The Red Stockings, aware of Chicago's interest in Beals, asserted that Boston still controlled the rights to him.
Spalding, now secretary of the White Stockings, unsurprisingly disagreed, telling a reporter, "I don't believe Boston has any desire to raise such a foolish question as the expulsion of Beals five years after their difficulty with him, and, under the verbal agreement which he had with them about the matter, they have no chance to argue the case."12
The imbroglio seemed to present an awful lot of fuss about a player of the caliber of Beals, who not surprisingly struggled after missing four years of professional play. While only 29, Beals nevertheless was the oldest player on Chicago's squad of 13.
The 1880 season began on May 1, but Beals did not crack the lineup until July 13, when he played second base and batted eighth, oddly one spot higher in the order than star slugger Cap Anson.13
In 1880, the last season Beals played, he hit just .152, but at least had a more mixed record in the field. After a 9-4 win over the Worcester Ruby Legs on August 26, a report on the game lauded Beals, who had "played the base as well as it could be played. He was particularly strong on thrown balls, and cooperated with [catcher Ned] Williamson in a style that is not surpassed by any second-baseman living. He has a clever way of receiving the ball and at the same time standing in the way of the runner – a thing which requires some nerve, but is the way to play second base."14
After three off days, the same two teams met, with decidedly poorer results for Beals, "who played as though he had never seen a ball-field before. … It may well be doubted whether Beals should be permitted to play second base again."15
A little more than one month later, "Beals … declared his intention of abandoning the ball-field once more, and this time for good, although he has had advantageous offers to play in League clubs next season."16
Beals "quit the game to enter business"17but for a time ended up in government. After marrying Emma MacGregor in Virginia City, Nevada, on September 2, 1884, Beals served in the state legislature from 1894 to 1896 as a Republican member of the Assembly representing Virginia City. He put in a year on the Judiciary Committee.18According to the US Census, Beals worked in San Francisco as a photographer (like his father, who had died on December 4, 1884) in 1900 and as a railroad conductor in 1910, the job he held when he died.19
A widower at the end of his life, Tommy Beals died in San Francisco on October 2, 1915, at the age of 65. His ashes are interred at Cypress Lawn Memorial Park in Colma, California. In 1979 a member of the cemetery staff wrote the following letter to the late Bill Haber, one of the 16 founding members of the Society for American Baseball Research: "Replying to your letter of April 6th regarding information on relatives of the late Thomas L. Beals who was cremated at our cemetery on October 4, 1915, we are sorry to advise that we have no way [of] checking out any survivors."20
Notes
1 Henry Chadwick, Spalding's Base Ball Guide 1896 (New York: American Sports Publishing Company, 1896), 162.
2 The death certificate of Beals and an October 4, 1915, obituary from an unidentified newspaper lists his birthplace as Hartford; baseball-reference.com and Census records show New York as his place of birth. Likewise, Census records from different years give different dates of birth for both of his parents as well as different spellings for his mother's first name. Thanks to reference librarian Cassidy Lent of the National Baseball Hall of Fame and Museum for scanning the Hall's file on Beals.
3 James L. Terry,Long Before the Dodgers: Baseball in Brooklyn, 1855-1884 (Jefferson, North Carolina: McFarland, 2002), 66.
4 Harold Kaese, The Boston Braves 1871-1953 (Boston: Northeastern University Press, 2004), 13.
5 William J. Ryczek, Blackguards and Red Stockings: A History of Baseball's National Association, 1871-1875 (Jefferson, North Carolina: McFarland, 2002), 159.
6 "The American Base-Ball Players in London," New York Times, August 4, 1874: 2. Beals umpired in eight National Association games from 1872 to 1875. See retrosheet.org/boxesetc/B/Pbealt101.htm(accessed August 5, 2015).
7 Boston Daily Globe, May 12, 1875: 4.
8 "Base-Ball," Chicago Daily Tribune, January 19, 1879: 12.
9 Jacob C. Morse, "Hub Happenings," Sporting Life, August 6, 1898: 19. "Beals and Wright were such close friends that the latter named a son after him: Beals Wright (1879-1961), who like his father George and his uncle Harry made it to the Hall of Fame … the International Tennis Hall of Fame. Elected in 1956, Beals won gold medals in singles and doubles at the 1904 St. Louis Olympics, and the U.S. Championship the following year." John Thorn, "The Unions of Morrisania," April 10, 2013, ourgame.mlblogs.com/2013/04/10/ (accessed August 5, 2015).
10 "Base-Ball," Chicago Daily Tribune, December 28, 1879: 12.
11 "Sporting," Chicago Daily Tribune, February 15, 1880: 7.
12 "Sporting News," Chicago Daily Tribune, March 23, 1880: 5.
13 "Sporting Events," Chicago Daily Tribune, July 15, 1880: 8.
14 "Sporting Events," Chicago Daily Tribune, August 27, 1880: 5.
15 "Sporting," Chicago Daily Tribune, August 31, 1880: 8. Beals made three errors in this game, more than in any of the other 44 games for which the author found defensive data in either online or newspaper accounts.
16 "Base-Ball," Chicago Daily Tribune, October 10, 1880: 7.
17 "Boston Stars of '77 Famous Ball Team," The (New London) Day, July 13, 1904: 2.
18 leg.state.nv.us (accessed August 4, 2015). Beals had two sons, Thomas and Albert. The October 4, 1915, obituary of Beals from an unidentified publication in the National Baseball Hall of Fame mentions only Albert.
19 Paul Batesel, Players and Teams of the National Association, 1871-1875 (Jefferson, North Carolina: McFarland, 2002), 23.
20 The National Baseball Hall of Fame and Museum file on Beals includes a copy of this letter.
Born
August , 1850 at New York, NY (USA)
Died
October 2, 1915 at San Francisco, CA (USA)
If you can help us improve this player's biography, contact us.
http://sabr.org/sites/default/files/BealsTommy.png
600
800
admin
/wp-content/uploads/2020/02/sabr_logo.png
admin
2012-01-04 20:41:58
2022-02-09 16:35:39
Tommy Beals