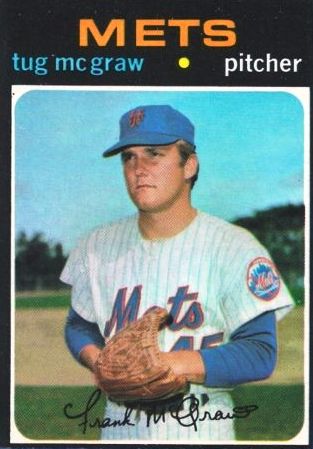 ---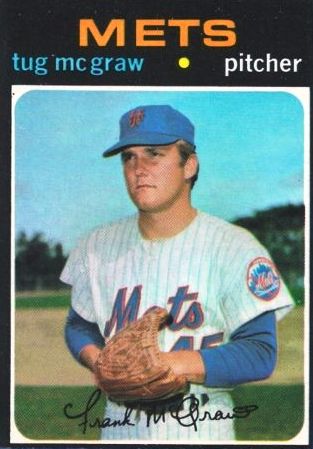 Back when being a character could keep you locked in the minor leagues and being a reliever was considered a career demotion, Tug McGraw excelled in both roles like few before or since. As a rookie starter for Casey Stengel, McGraw ended the Mets' long losing streak against Sandy Koufax; converted to a reliever by Gil Hodges, he was outstanding as the Mets pushed past the Cubs on their way to a Miracle in 1969; and he was as dominant as any reliever in the game in the early 1970s. Just as he was experiencing his worst year, he turned it around and lived his mantra of "Ya Gotta Believe" to help the Mets claim another unlikely pennant. Traded by the Mets, who foolishly thought him damaged goods, McGraw achieved the impossible again: helping the Phillies win their first world championship nearly a century into their existence. His enthusiasm never wavered as his playing career drew to a close and he tried other pursuits.
Even people not in the least interested in baseball recall Tug as the father of country star Tim McGraw, who embraced Tug after years of estrangement. Tim cared for Tug as brain cancer eventually took his dad too soon. Tug McGraw's 59 years were certainly packed with living.
Frank Edwin McGraw was rarely quiet, even as an infant. He was born in Martinez, California, on August 30, 1944, the second of three sons of Frank and Mabel McGraw (a fourth child died shortly after birth). He was never called by his given name.
"I never answered to another name," he told author Stanley Cohen in A Magic Summer. "My mother started calling me Tug when I was an infant because of the way I nursed. 'He's a real Tugger,' she said.
"On my first day of kindergarten, the teacher called the roll and when she finished she said, 'Is there anyone whose name I didn't call?" I raised my hand. 'My name is Tug McGraw,' I said. She looked at the roll and said, 'I have a Frank McGraw.' I said, 'No, that's my dad. He already went to kindergarten.'"
Mabel McGraw was, in Tug's words, "bipolar — the latest term for someone who is manic-depressive — not that we knew about that then." She was physically and verbally abusive. She spent time at a mental health facility and abandoned the family while on a weekend pass from Napa State Mental Hospital. The parents divorced and the three boys grew up under the father's care. It was a sports household.
Although Tug's athletic father, known as Big Mac, never played baseball, he made sure that his boys had the opportunity. His occupations included butcher, trucker, and fireman before studying to be a water treatment plant operator and engineer in Vallejo, California. He sent his sons — Hank, Tug, and Dennis — to a Catholic school, St. Vincent Ferrer, close to the family's Vallejo home. Tug followed his older brother's lead and played baseball despite being just 4-feet-11 and 98 pounds as a high school freshman. Hank, who'd stood a foot taller at that same age, had scouts drooling over his talent as a catcher. He signed with the Mets in 1961. Tug graduated two years later and went to junior college in his hometown. Hank asked Roy Partee, the Mets scout who'd signed him, to take a look at Tug after every other team stopped looking at the young southpaw following a terrible outing in a junior college tournament. Hank was convincing. "He said, 'If there isn't room in this game for my brother, then I don't want to play either,'" Tug told Cohen. "He threatened to quit. The Mets weren't really pleased about it, but Hank was a good prospect, so they offered me a $7,000 bonus and sent me to their rookie league."
Tug was summoned to attend what would be Casey Stengel's last major league spring training camp in 1965. The left-hander made his major league debut a few weeks later at the age of 20. That was partly to protect Tug from being drafted by another organization. A rule at the time required bonus babies — players who'd received more than $4,000 to sign with a club — to stay with the major league club for their first full season or risk being taken by someone else. And the sad sack Mets could ill afford to let any pitcher slip through their fingers.
After just 11 appearances in two stops in the minors in 1964 — all starts, including a no-hitter in his professional debut at Cocoa Beach — McGraw appeared in his first major league game against the Giants in relief at Shea Stadium on April 18, 1965. He was so excited about striking out Orlando Cepeda in his debut that he was given a tranquilizer to calm down in case the Mets needed him in the second game of that day's doubleheader. Tug appeared in 37 games with a 3.32 ERA and a 2-7 record as a rookie. The second of those wins, however, stands out as the most memorable start of his career.
Dodgers legend Sandy Koufax had won his first 13 decisions against the Mets, including his first no-hitter and the first thrown against the franchise, in 1962. In 14 starts against the Mets, Koufax had missed earning the "W" only once — and the Dodgers later won that game. Koufax was 4-0 against the Mets in 1965 and had 21 wins already for the season when he pitched at Shea on August 26. Los Angeles even gave Koufax a lead before he took the mound when Lou Johnson doubled in a run against McGraw in the top of the first. The Mets jumped ahead in the bottom of the inning and McGraw did not allow another run until the eighth. With the score 3-1, Maury Wills tried to stretch a single and was thrown out at second. That was critical because Wes Parker followed with an RBI triple. Jack Fisher took over for McGraw and saved what turned out to be a 5-2 victory that broke the Koufax hex (though he still finished his career with a 17-2 mark against the Mets). The victory over Koufax was McGraw's final win of the year as he dropped his last five decisions.
He struggled at the major league level the next two years. After he hurt his arm "muscling up" with weights in the offseason while serving in the Marine Reserve, the Mets sent Tug all the way to the Instructional League following the 1966 season. Instructor Sheriff Robinson was an old-fashioned guy who didn't want young kids monkeying around with new pitches — it was, after all, only the Instructional League — and Robinson made sure things like that didn't happen on his watch. So Tug McGraw learned the pitch that enabled him to last almost two decades in the big leagues from fellow pitcher Ralph Terry … on the golf course.
Terry had thrown the last pitch in two World Series: 1960 (Bill Mazeroski's famous home run) and 1962 (Willie McCovey's searing Series-ending lineout). By 1966, Terry was relegated to the minor leagues for a franchise that had just made history by not losing 100 games for the first time. Terry was in Florida trying to learn a knuckleball in an attempt to save his career at 31. (Unlike youngsters, apparently, washed-up pitchers could try anything they wanted.)
Typical of those early Mets, Terry had come to the franchise when he didn't have much left. Yet he did have something to show Tug and it changed the young lefty forever: the screwball. That pitch would transform his career, but neither Tug nor his screwball arrived overnight.
McGraw threw his version of the pitch by holding the ball parallel to the seams, while Hall of Famer Carl Hubbell, who talked to Tug about the pitch at Shea Stadium on Old-Timer's Day in 1969, held it differently. The pitch acted the same in both cases, darting in on right-handed batters and away from lefties. The screwball required practice and tinkering, and coaches had to let a pitcher throw it frequently to get it right. Getting the chance to practice was almost as hard as learning the new pitch.
Despite the success many major leaguers had with the pitch, there was always trepidation regarding the pitch. Hubbell had been spurned by Tigers player-manager Ty Cobb in the 1920s because he thought the screwball would ruin the kid's arm. (It did, but not before he'd won 253 games.) John McGraw, whose New York Giants had been dominant behind Christy Mathewson's "fadeaway" — a successful right-handed version of the pitch — signed Hubbell in 1928. John McGraw was long dead by the time Tug McGraw (no relation) was making his way back to the big leagues. And innovative thinking was in short supply in the minor leagues with those moribund Mets.
Not content to spit on Tug's screwball, Sheriff Robinson also tried to change the way Tug threw his curveball. Tug couldn't make it work so he went back to doing it his own way. He earned praise from the salty Sheriff, who thought he'd gotten the young pitcher to see things his way. Tug's brother Hank, who would later famously be suspended for not cutting his hair, set the Sheriff straight. "You dumb high school coach," Hank shouted, "that just goes to show that you don't know what you're talking about. He tried to throw it your way and he couldn't, so he went back to throwing it his way and you like it. Why don't you just leave him alone and let him do his own thing." Hank never reached the big leagues after putting in a dozen years in the minors.
Despite winning the International League ERA title (1.99) for Jacksonville in 1967, Tug McGraw did not pitch in the majors at all the following year — going 9-9 with a 3.42 ERA in 23 starts at Jacksonville — and was available in that fall's expansion draft for the first three rounds. Luckily for the Mets, there were no takers in Montreal or San Diego. After an excellent spring training and a solid start to the 1969 season for Tug — among other April feats, he earned the Mets' first win of the season while handing the Montreal franchise its first-ever defeat — manager Gil Hodges made a decision that would change McGraw's career.
"The only other pitcher with a screwball was Jim Brewer of the Dodgers, so the hitters weren't used to seeing it," McGraw said. "By June, I was still pitching well and Gil called me into his office again. He said, 'Tug, I have three pieces of advice for you. One, I think you should think about staying in the bullpen permanently. You could be a great reliever and at best an average starter. Two, this team needs a late-inning stopper, and I want you to be my stopper. Three, I think you'll make a lot more money as a reliever than as a starter. Now it's up to you.' I said, 'Gil, if you think that's the way for me to go, I'm there already.' The rest is history."
McGraw and veteran righty reliever Ron Taylor were vital instruments in New York's overcoming a 10-game deficit to the Cubs on August 13. While Mets starters were completing 21 of their last 48 starts, the bullpen was nearly flawless when called into service. In his last 19 appearances, McGraw allowed two earned runs over 38 innings for a 0.47 ERA. Together McGraw and Taylor went 7-2 in the final push with 11 saves and an ERA of 1.00. For the year, McGraw had 12 saves and Taylor 13 in the first year in which the save was an official statistic.
McGraw made four early starts, including a complete-game victory in Chicago in May, while relieving 38 times to surpass 100 innings for the first time. And after coming into the year with a 4-19 career record, McGraw went 9-3 with a 2.24 ERA. During the club's pivotal stretch in August and September, McGraw had a decision or a save in eight straight appearances. McGraw was the winner on September 15 in St. Louis, the night Steve Carlton set a record with 19 strikeouts yet lost on two home runs by Ron Swoboda. McGraw went the final four innings as the Mets beat the Cardinals in 11 at Shea on September 23, putting the Mets a game from clinching the first National League East title.
A reliever like McGraw would be an October workhorse in today's game, but he made just one appearance in the 1969 postseason. That appearance, however, was crucial for both the Mets and McGraw. Jerry Koosman couldn't make it out of the fifth after being spotted a big early lead in Game Two of the inaugural National League Championship Series, and McGraw took over for Taylor to start the seventh inning in Atlanta. He threw three shutout innings for the save in the 11-6 victory. It was that outing that made McGraw finally feel that he belonged in the major leagues. Although McGraw didn't get to pitch in the World Series — Mets starters recorded all but eight outs in Games Two through Five — that postseason was the turning point of Tug's career.
"Thanks to that NLCS appearance, I was convinced that I was not only a viable major leaguer, but one who could excel in the future," he wrote years later with Don Yaeger in Ya Gotta Believe! "Everything changed for me in 1969, the year we turned out to be goddamned amazing, all right."
McGraw became known as a nonconformist who took life as it came. He went to Vietnam with several major leaguers on a goodwill tour, where he was slapped by bullpen mate Ron Taylor for smoking marijuana. Back in New York, Tug sprained his ankle on a toboggan run with teammate and fellow free spirit Ron Swoboda; McGraw came up with the excuse that he hurt his leg slipping on ice while taking out the trash.
And he loved giving haircuts. He cut the hair of transients in the Bowery and Mets icons alike. "I had him on Kiner's Korner after a ballgame that he was instrumental in," Ralph Kiner recalled. "He was in the service, he was in the Marines, and he cut hair, so he cut my hair on the show. It took me about four months for me to grow my hair back."
McGraw's barber skills remained questionable, but his pitching continued to improve. He began 1970 by saving Opening Day, the first season opener ever won by the franchise. While his ERA increased to 3.28, he appeared in 15 more games than in the world championship year because the young starting staff was not quite the same invincible group as the previous season. In 1971, McGraw had the best season to that point by a Mets reliever. Sharing fireman duties with Danny Frisella limited McGraw to eight saves, but he went 11-4 while holding batters to a .189 average and .266 slugging. His screwball made him especially tough against righties, who hit just .155 in 306 at-bats.
McGraw had a 1.70 ERA for the second straight year in 1972, and now he was getting more recognition. Manager Yogi Berra, who took over after the death of Gil Hodges that April, used McGraw nearly twice as often as Frisella, which made sense since McGraw's ERA was about half the righty's. McGraw racked up 27 saves, a club record he would hold until another Mets lefty, Jesse Orosco, broke it 12 years later (Orosco also broke McGraw's Mets career saves mark of 86).
McGraw appeared in his only All-Star Game in 1972 (he was named to the NL squad in 1975 but not pitch). He picked up the '72 win when Joe Morgan singled home Nate Colbert in the 10th inning in Atlanta. McGraw struck out four in two innings, including the side in the ninth inning: Reggie Jackson, Norm Cash, and Bobby Grich.
In mid-July, McGraw's ERA rose above 2.00 for the only time all year. It stayed above that mark — though never getting higher than 2.06 — until August 1, when McGraw threw 6 1/3 shutout innings of relief in a game the Mets eventually won in 18 innings over the Phillies at Shea. It went down steadily and capped off at 1.70 with six outings without an earned run to end the season (covering nine innings), though he did lose an 11-inning game against the Phillies on an error. He allowed just three home runs in 106 innings in relief while facing 419 batters. After the season, Cincinnati's pennant-winning manager Sparky Anderson dubbed McGraw, "The Seaver of saves."
McGraw experienced both fame and failure at astonishing levels in 1973. He started out brilliantly, pitching to a 1.32 ERA the first month. He had five saves through May 3, but then came the kind of ERA-inflating, ego-deflating outing that can ruin the back of a reliever's baseball card for a year.
With the Mets leading the Astros with two on and two out in the sixth inning at Shea, McGraw came in to face Cesar Cedeno. He allowed a run-scoring double and then a three-run homer to Bob Watson to tie the game. McGraw came out the next inning and walked in the go-ahead run before being removed. To make things worse, three more runs were charged to him after he left. He got stuck with the loss and a 5.14 ERA that went even higher in his next outing. On May 19 against the Pirates, he allowed a game-tying home run to Bob Robertson in the ninth and a three-run shot to Willie Stargell the next inning. He had already equaled the home run total he allowed in '72. He had just one save over a six-week span. When McGraw finally broke that string in the first game of a doubleheader at Wrigley Field on July 1, he gave up a three-run, game-ending home run to Randy Hundley in the nightcap. Two days at Jarry Park, later he faced 11 Expos and seven scored.
"I'd been playing professional baseball for ten years and I'd been playing ball since I was seven," he commented after the '73 season. "And standing on the mound up in Montreal, I didn't have any feel for the baseball at all. I didn't have any idea how to throw the baseball. It was as though I'd never played before in my entire life."
The Mets were in last place at 33-42 and would've qualified for the basement in any division in baseball. They stood 11½ games behind the Cubs in the NL East. The three-time defending division champion Pirates were just two games ahead of the Mets in fifth place. The division eventually was turned around completely, but not before Tug McGraw turned around his season.
When McGraw blew a save against the Braves on July 7, it upped his ERA to 6.20 and dropped his record to 0-4. Berra started him twice at the end of the month to try to get him to snap out of it. Tug pitched horribly in a game the Mets won with seven in the ninth in Atlanta and pitched decently in a game the Mets wound up losing to Montreal. He returned to the bullpen and showed improvement.
He also had a better outlook because of talks he had with Joe Badamano, a motivational speaker who had been close to Gil Hodges. After lunch with Badamano one day that summer, "Joe kept saying, 'You've got to believe in yourself,'" McGraw said. "If I didn't believe, I could never do it. I had to stop worrying, start thinking positively. 'You gotta believe, Tug,' he said. 'That's it, I guess, you gotta believe.' "
McGraw started repeating that saying to fans, teammates, and even the team chairman. M. Donald Grant held a team meeting to talk about the disappointing season. There had been rumors about a managerial change, but Grant's purpose at the clubhouse meeting was to try to calm the team. "Relax, we love you guys," McGraw recalled the tiresome Grant saying, "We understand there have been a lot of injuries, you wouldn't be here if we didn't. We still believe in you."
The reliever could only contain himself so long when he heard the saying. He later admitted that Grant "took 20 minutes for him to say what should have taken five," and McGraw started shouting his new mantra. He "stopped the speech in its tracks. I jumped and ran around to a couple of lockers, grabbing guys and yelling, 'Do you believe? Ya gotta believe!' " While some of his teammates were laughing, Grant wasn't. He marched out of the Shea locker room "with his entourage of suits behind him."
McGraw's roommate, Ed Kranepool, came over and told him that Grant wasn't happy and he should go straighten it out. McGraw did. Immediately.
In the chairman's office, Grant said that he was offended by the outburst and "the only thing that will keep you here is if we start winning some ballgames." One could say, the rest was history, but the Mets — and McGraw — continued to perform poorly in the weeks immediately after the midsummer summit.
McGraw had some encouraging outings in August — including four scoreless innings before losing in the 13th inning in San Francisco — and then finally won his first game of the season on August 22, this time at the expense of another left-handed screwball pitcher, Jim Brewer. The Dodgers held a 3-2 lead in the ninth at Shea when Felix Millan singled in the tying run off Brewer. After a Rusty Staub single, Brewer was lifted for Pete Richert, who promptly allowed the game-winning single to John Milner. McGraw was now 1-6 and the Mets were 57-67 and still in last place, though only six games behind the first-place Cardinals.
Despite losing three of their next four to fall 12 games under .500 and 6½ games back, the Mets turned out to have the division right where they wanted it. By then, several Mets were finally healthy and the team took off. The offense started scoring runs and the triumvirate of Tom Seaver, Jerry Koosman, and Jon Matlack pitched brilliantly — as did George Stone — to help the Mets push from the basement to the top floor in the NL East in the last five weeks. And leading the way was the believer himself, Tug McGraw.
Starting with McGraw's 14th save in 21 chances on August 27, the Mets reeled off a 24-9 mark to finish the season. The Mets won or at least split each of the 11 remaining series. McGraw saved 12 games, won four more, and put together an ERA of 0.88 over his last 41 innings. As if there wasn't enough going on those final weeks of the season, Tug's wife, Phyllis, gave birth to the family's second child, Cari Lynn, on September 1 (they already had a son, Mark).
McGraw had four saves in five days in mid-September as the Mets climbed to 3½ games behind Pittsburgh. He picked up the win in Chicago to shave another game off that lead and the Mets headed into a five-game home-and-home showdown with the Pirates. The Mets lost the opener at Three Rivers Stadium and were down 4-1 headed into the ninth inning in the second game. On the verge of falling 4½ behind with less than two weeks remaining in the season, the Mets rallied for five runs in the ninth. McGraw got the win when Don Hahn notched the deciding hit. The scene shifted to Shea and Tug earned the save against the Pirates the next night.
Thursday, September 20, was a touchstone game in Mets history: a night when the unbelievers truly started believing. Again, the Mets were down in the ninth inning; this time it was Duffy Dyer coming through with the big hit that tied the game. In the top of the 13th inning, a ball caromed off the top of the left-field wall and instead of landing in the bullpen for a home run, came right back to Cleon Jones, whose throw to Wayne Garrett and relay home nailed Richie Zisk. Rookie catcher Ron Hodges applied the crucial tag and then singled in the winning run in the bottom of the inning. When the Mets won the next night, they were at .500 for the first time since May 29. And they were in first place.
A perfectly-timed seven-game winning streak enabled the Mets to push past the feeble competition in the NL East, but they weren't that far removed from the rabble. The Mets lost the last home game on the schedule at Shea before heading to Chicago for the season-ending four-game set. They waited out three days of rain while the other NL East competitors clumsily tried to make up ground. The Mets finally played a doubleheader on Sunday. The Cubs won the opener, 1-0, bringing hope to the second-place Cardinals and third-place Pirates, both on their way to winning the last game on their schedules. Jerry Koosman won the nightcap at Wrigley to clinch at least a tie.
A doubleheader was scheduled again on Monday. Tom Seaver started and held the lead through six innings, but his last pitch was whacked into the empty seats — the rain-soaked Wrigley crowd numbered just 1,913 — and McGraw was summoned by Berra. He retired the first six batters he faced before allowing a Ken Rudolph single to start the ninth. He struck out Dave Rosello, Tug's fourth K since coming in, to bring up Glenn Beckert, a remnant of the Cubs club that the Mets had rallied past in 1969. Beckert hit a soft pop to Milner, who stepped on first base for the double play and the lowest winning percentage for a postseason berth in history. The second game was scratched and the Mets celebrated in the cramped clubhouse at Wrigley Field.
Mets beat writer Jack Lang wrote, "McGraw kept yelling, 'You gotta believe!' and even Grant, who was also in the clubhouse, did not mind it now."
With the NLCS games starting in the afternoon the following weekend — to accommodate the NFL on television — relievers weren't needed as the squinting Cincinnati hitters flailed at Seaver and Jon Matlack and the Mets emerged with a split against the 99-win Reds. Koosman also went the distance as the Mets took Game Three at Shea, though Bud Harrelson took the loss in his famous scuffle with Pete Rose. A rested McGraw was needed in Game Four, throwing 4 1/3 scoreless innings as the game remained tied through 11. Rose exacted some revenge for the fans' ire with a home run the inning after Tug was removed for a pinch hitter.
It looked as though McGraw's work for the NLCS was done as Seaver cruised into the ninth inning of Game Five with a 7-2 lead. But the Reds loaded the bases to chase Seaver and bring in McGraw to face Joe Morgan with the tying run on deck. He got Morgan to pop up and Dan Driessen followed by pulling a ball to Milner, who flipped to McGraw. The stands, crammed with young fans who had crowded down to the field level, burst forth when McGraw stepped on first. Shea was instantly awash with people tearing up everything in sight and McGraw, who had earned his 12th save since the end of August, dashed off the field to save himself.
"When we flew to San Francisco two days later to open the World Series, we still felt punchy because so many hellish things had happened to us in the last six months," McGraw said via Joseph Durso in Screwball, published after the '73 season. "We'd been denounced, damned, cheered, mobbed, written off, written up, screwed up, and we were bombed out of our minds."
McGraw, one of several Mets from the Bay Area, was disappointed that A's owner Charlie Finley had not put up bunting at Oakland Coliseum, which was not sold out for the Series. McGraw relieved Matlack in the seventh inning of the opener and did not allow a run, but the Mets lost anyway, 2-1. The next day, McGraw took over in the sixth inning, already the fourth Mets pitcher of the game. Although he allowed a pair of two-out hits to tie the game in the bottom of the ninth, he stayed on the hill until the 12th inning after the Mets scored four times in the top of the frame with McGraw getting a hit and scoring a run in the rally. McGraw couldn't get through his seventh inning of relief, allowing a triple to Reggie Jackson after Willie Mays lost a ball in the sun. Following a walk to Gene Tenace, McGraw was replaced by George Stone, who allowed Jackson to score but saved the 10-7 win for McGraw.
For someone who hadn't pitched at all in the 1969 World Series, McGraw logged eight innings in the first two days of the '73 Series. He tossed two more innings in Game Three in frigid Flushing — the first postseason night game in New York City history — but as had happened eight days earlier against the Reds, the inning McGraw came out, Harry Parker allowed the deciding run. McGraw was exhausted but he had the hearts and minds of the city. When he returned to the house he was renting in Manhasset, Long Island, late at night following the cross-country flight after lengthy Game Two, the whole neighborhood had greeted him, complete with a homemade banner on a bedsheet that simply said, "We Believe."
McGraw was given Game Four off, with Ray Sadecki retiring the side in the ninth. McGraw made up for it the next night, throwing 2 2/3 innings to save the 2-0 win in Game Five that put the Mets one win away from a world championship. They never got that win. The Mets lost the last two in Oakland, with McGraw throwing an inning in Game Six to give him a 2.63 ERA over five games and 13 2/3 innings in the Series, more work than any Met except for Matlack, who started three times, and Seaver, who started twice. McGraw worked more than twice the number of innings thrown by Oakland lefty reliever Darold Knowles, who became the first pitcher to work in all seven games of a World Series. Rollie Fingers, who tossed in six games for the A's, threw the same number of innings as McGraw. Jackson, the only Oakland regular to bat .300 and whose homer chased Matlack in Game Seven, was the Series MVP.
The whirlwind '73 season proved impossible to follow. For both McGraw and the Mets. The team had nearly the same mark in mid-August 1974 that they'd had a year earlier. After consecutive wins in relief by McGraw, the Mets stood in fifth place and 8½ games behind first-place Pittsburgh on August 14 — just one game further out and one less team to climb over than on the same date in '73. Only this time there was no miraculous turnaround.
McGraw was one of several Mets injured during the season, suffering through shoulder pain all season. He started giving up grand slams — a major league record four slams amid a career-worst 12 homers allowed in just 88 2/3 innings — and he was taking painkillers to deal with his shoulder. The team's response to McGraw's pain was to start him. He started three times in a row at the end of August, going 2-1 with a complete-game shutout against Atlanta, the only shutout of his 824-game career. He went eight innings in a loss to Montreal on September 10, so when the Mets played 25 innings the next night against St. Louis, the team's top reliever was not available. They lost to the Cardinals on an error by recently called up right-hander Hank Webb. Not surprisingly, McGraw was brought in the next night when the exhausted bullpen got shelled by St. Louis. He finished the season at 6-11 with a 4.16 ERA and just three saves — the most losses, fewest saves, and highest ERA since Gil Hodges had converted him to a reliever.
McGraw started once more on the last Saturday of the year. He was hit hard by the Pirates, who were still in a tight race for the division title with St. Louis — the Mets were 16 games back and suffered their first 90-loss season since 1967. McGraw exited the game in the fifth inning after allowing a two-run home run to Richie Zisk. It was the last game he would ever pitch as a Met.
"They just put me on display," McGraw wrote in Ya Gotta Believe! "By starting, it made me look like I was healthy, which was important because the word had started to spread around the league that I wasn't. So they put me on display as a starter after being a reliever all those years."
The Mets had a new general manager in the waning days of the '74 season. With Joe McDonald taking over for Bob Scheffing, the Mets made a splash at the winter meetings by trading McGraw, Don Hahn, and Dave Schneck to the Phillies for Del Unser, John Stearns, and Mac Scarce. It was the first in a long line of deals that would send away every star player from the '73 team. It also turned out to be the only trade of McGraw's career.
The Phillies knew nothing about McGraw's shoulder problems until he arrived for spring training. He had surgery to remove what turned out to be "a benign mass of gristle that had built up over the years. Removing it was a simple procedure," he said. "I was able to throw freely after that."
Despite not making his Phillies debut until the end of April because of the surgery, he put together an excellent first campaign with the Phillies, going 9-6 with a 2.98 ERA. The first day he ever pitched at Shea wearing a road uniform came on June 29. He wound up throwing seven innings in a twin bill, saving the first game and winning the second. McGraw retired 21 of the 22 Mets he faced in the doubleheader sweep.
In a decade as a Phillie, he was especially overpowering against his former club. His 22 saves against the Mets were more than he had against any team, quite a feat given that his first nine seasons were spent with New York. His 2.39 ERA against the Mets was also his best mark against any team as a Phillie — McGraw had enjoyed a 1.61 ERA against the Phillies as a Met. The Phillies hadn't been to the postseason since 1950; Philadelphia went six times with Tug on the team.
The Phillies won 101 games in both 1976 and 1977. Their solid starting staff included future Hall of Famer Steve Carlton, along with Jim Kaat, Jim Lonborg, and McGraw's close friend Larry Christenson. They also had a strong bullpen that shared the load. Manager Danny Ozark used Ron Reed, Gene Garber, and McGraw equally in save situations. Even lefty starter Tom Underwood picked up a couple of saves as the Phillies ran away with the division in 1976. McGraw pitched poorly twice in the NLCS as the Reds swept in three games.
The Phillies took the NL East again in 1977, although McGraw was fourth on the team in appearances and had just nine saves. Against the Dodgers in the NLCS, McGraw saved the Phillies' first postseason win since 1915, spotting Philadelphia a series lead on the road. The Dodgers won Game Two, but the Phillies had a two-run lead in the ninth with Gene Garber pitching his third inning of relief. A succession of bloops, bunts, and bad plays pushed across three runs for LA as McGraw sat in the bullpen. He came in the next night in a steady rain with the Phillies trailing and threw two scoreless innings as the Dodgers took the pennant.
The Dodgers were the foe again as the Phillies won the division for the third straight time in 1978. McGraw had taken a larger share of the load since Garber was traded to Atlanta during the season for starter Dick Ruthven. Tug pitched three times against Los Angeles and threw the final pitch of the NLCS, a single by Bill Russell that plated Dusty Baker with the pennant-winning run in the bottom of the 10th inning of Game Four.
McGraw had said he felt the Phillies had brought him in to help loosen up the team as well as provide a top-notch reliever. He did just that. Among other things, he had names for all his pitches: "Cutty Sark … because it would sail," "Bo Derek, which had a nice little tail to it," "the John Jameson was hard and straight, just like the Irish whiskey," and even gopher balls had a name — "Frank Sinatra" because the result was "Fly Me to the Moon." The Phillies felt they needed other changes, replacing Richie Hebner at first base with Pete Rose and — after the injury-riddled club tumbled in the standings in 1979 — firing Ozark and elevating farm director Dallas Green to manager.
McGraw, like many Phillies, had a poor '79, but for the first time since his trade from the Mets, he led the team in appearances (65), games finished (43), and saves (16), even if his 5.16 ERA was a full run higher than the team average. It all came together in 1980.
Philadelphia's slogan in spring training was "We, not I," which made some players initially roll their eyes, but it sounded a lot better than the "Philadelphia Pillies," a name picked up after the Double-A farm team's doctor in nearby Reading was caught prescribing diet pills to Phillies wives, who passed them along to their husbands. The team was still barely over .500 in August when Green held a meeting in which he got in many players' faces, including reliever Ron Reed, who had to be restrained. The Phillies won 21 of their last 28.
McGraw was magnificent. He did not allow a run in July (8 2/3 innings) and then doubled his workload the following month, posting a 1.04 ERA. After allowing runs in consecutive outings in Pittsburgh in mid-August, McGraw permitted just one more earned run all season, covering 40 1/3 innings. For those 24 appearances, he had an ERA of 0.22 with nine saves to go with five wins, including the division-clinching victory. The Phillies, one out away from being tied with the Expos on the next to last day of the season at packed Olympic Stadium, evened the score in the ninth on a hit by Bob Boone. McGraw came in and allowed just one hit in three innings. After Mike Schmidt's homer in the top of the 11th made it 6-4, McGraw retired Gary Carter, Warren Cromartie, and Larry Parrish for Philadelphia's fourth division title in five years.
Just as in 1973, McGraw was winless until August and then didn't lose again — though he did not have a volatile start as he did in his "Ya Gotta Believe" season. His final 1980 numbers were 5-4 with a 1.46 ERA in 57 games with 20 saves, the most he'd had since '73. He finished fifth in that year's Cy Young Award balloting to fellow Philly southpaw Steve Carlton and 16th in the National League MVP voting to teammate Mike Schmidt (McGraw had placed 15th in the MVP vote in 1973).
So in the tightest five-game NLCS ever played, it only made sense that McGraw pitch in every game. He threw two innings for the save against the Astros in the opener at Veterans Stadium, a 3-1 win that turned out to be the only game that didn't go extra innings.
He allowed the go-ahead run in the eighth inning in Game Two, only to have the Phillies tie it in the bottom of the inning. Ron Reed took the loss in 10 innings. McGraw suffered the loss the next night when, in his fourth inning of relief, he allowed the only run of the game on a Denny Walling sacrifice fly in the 11th inning. Green brought in Warren Brusstar to save Game Four, but when he allowed the tying run in the ninth and the Phillies scored two runs in the top of the 10th, McGraw took the ball. He was perfect and the series was tied.
With the pennant on the line in the Astrodome, the Phillies rallied for five runs in the eighth inning to knock out Nolan Ryan and take a 7-5 lead. McGraw entered and nearly got out of a jam, striking out both Gary Woods and Enos Cabell looking, but he surrendered run-scoring hits to Rafael Landestoy and Jose Cruz to tie it. Green sent up a pinch hitter to bat for McGraw with two on and two outs in the ninth. The Phils didn't score but Dick Ruthven got the 8-7 win when Garry Maddox knocked in the run that wound up clinching the pennant in the 10th inning.
The World Series seemed a breeze by comparison. Philadelphia faced a Kansas City club that — like the Phillies — had spent the latter half of the 1970s winning division titles repeatedly only to lose in crushing fashion in the League Championship Series. The Phillies added to Kansas City's heartbreak. After the Royals took an early 4-0 lead in the opener, the Phillies scored five in the third and went on to win by a run. McGraw pitched the last two innings, allowing just one hit and earning the save. He was not as sharp in his next outing, surrendering the game-winning hit to Willie Mays Aikens in the bottom of the 10th inning in Game Three. With the Series tied and the Royals leading by a run, the Phillies scored twice off Dan Quisenberry in the ninth inning of Game Five to take the lead. McGraw, who'd been on the mound since the sixth inning, walked the bases full. He struck out Jose Cardenal to end it and put the Phillies a game away from their first-ever World Series title.
"By the time Game Six of the World Series came around," McGraw later admitted, "whenever I threw certain pitches, especially the screwball, I felt like I was banging my elbow on the corner of a table. I had to be careful because I knew I had only a limited amount of pitches left, especially the screwball. And I knew I wouldn't be there if I didn't have the screwball."
McGraw took over for Carlton in the eighth inning of Game Six with two men on and a four-run lead. He allowed a run on a sacrifice fly, and — after being asked by Green if he was okay — he went out for the ninth inning. A single by Cardenal loaded the bases with one out. "I was close to calling Dallas and having him come and get me," McGraw later said.
Ninth-place hitter Frank White — the Series still operated under an every-other-year DH rule regardless of which team was home — popped up in foul ground. Catcher Bob Boone couldn't hear Pete Rose call for the ball. Boone stuck out his glove near the dugout, it popped out … and Rose snagged it out of the air.
With the Phillies an out away from the first world championship in their 97-year history, and with recent sackings of fields by riotous fans in other cities — including Shea Stadium with McGraw on the field in 1973 — Philadelphia police entered the playing field with dogs and officers on horseback. Two innings earlier, McGraw had had to ask a policeman to coerce the German shepard stationed in the bullpen to get off his glove so he could warm up. Now as he stood on the mound ready to pitch to Willie Wilson, McGraw caught sight of a horse relieving itself on the Astroturf at the Vet.
"I just thought, 'Hmmm, if I don't get out of this inning, that's what I'm going to be in this city,'" McGraw said.
He got ahead of Wilson and came with the fastball. Wilson waved at it — for his record 12th strikeout of the Series — and McGraw leaped in the air as the 66,000 fans cheered in the stands. McGraw called it "the high point of my career."
Just as happened after his exceptional workhorse effort in 1973, McGraw had injury problems the following year. He had signed a four-year contract that would keep him in the major leagues until he was 40, but his days as the team's primary reliever were drawing to a close. He led the Phillies with 10 saves in strike-shortened 1981, posting a 2.66 ERA in 34 appearances. Tug had one last superb effort in the postseason as well. With the Phillies playing Montreal in the Division Series created by crowning pre- and post-strike champions, McGraw threw the last three innings of Game Four at the Vet. He allowed just one baserunner and erased him on a double play he started. George Vukovich batted for McGraw in the 10th inning and homered to force a deciding game. The Expos topped the Phillies the next day to advance to the next round. In 1982, for the only time in McGraw's career, he had more blown saves (six) than saves (five).
The gray-haired bullpen of Reed and McGraw remained together as they had been since 1975, but others took more prominent role. Al Holland assumed the ninth-inning responsibility and Willie Hernandez was becoming an elite reliever as well. Even the "Wheeze Kids" didn't have room for the 39-year-old McGraw. He had no saves for the first time since they had become an official statistic in 1969 and he was left off the active roster as the Phillies reached the postseason for the fifth time in six years. Philadelphia took the pennant but lost to the Orioles in the World Series in five games.
McGraw pitched in just 25 games in 1984; old Mets buddy Jerry Koosman, a year older than Tug, pitched 11 more times than that as a starter for the Phillies. McGraw's final big league appearance was at a familiar location yet with an unaccustomed result. He trotted in from the Shea Stadium bullpen in the eighth inning on September 25, the tying run at the plate. In the last couple of years of his career, with his screwball not what it once was, McGraw had actually become more difficult for lefties to hit (.243 by right-handed hitters and .250 by lefties in 1984, compared with .226/.268 for his career). He retired tough lefty swingers Keith Hernandez and Darryl Strawberry to end the eighth. With a chance to get his first save since 1982 and both the Mets and Phillies eliminated from the race, manager Paul Owens sent McGraw out for the ninth.
Hubie Brooks doubled and Mookie Wilson tripled, putting the tying run on third with no one out. McGraw left the field at Shea for the last time. Former '73 Mets heroes came through that inning against reliever Larry Andersen: Ron Hodges, who had won the "Ball on the Wall" game as a rookie just over 11 years earlier, got the tying hit against Andersen, and Rusty Staub, who had hit .423 against the A's in the World Series with an injured shoulder, put a capper on the proceedings with a home run against Andersen.
McGraw officially announced his retirement on February 14, 1985. His record was 96-92 with 180 saves and a 3.14 ERA, numbers that don't begin to measure his value to teams that depended on him to come in with the game in jeopardy, get out of the jam, and throw multiple innings as needed.
One of the great personalities in the game could not simply disappear, however. A syndicated cartoon, Scroogie, about a major league relief pitcher, had appeared in newspapers and in book form during his career. McGraw moved into TV as a reporter and was a sought-after speaker. His wife, Phyllis, tired of years of being a baseball widow and frustrated by his new time-consuming pursuits, continued life without Tug. They eventually divorced in 1987.
Though he spent seven years at Philadelphia's Channel 6, handling colorful features, he struggled with the sports assignments he was asked to do. "I hated going down to the clubhouse and having all the ballplayers look at me in a suit with a microphone in my hand," he later wrote. "We used to heckle reporters — calling them green flies — and now I was one of the annoying flies being swatted at by my former teammates."
He moved to Orlando, California, and later back to Philadelphia with Diane Hovenkamp and her two children from a previous marriage. They married in 1995, shortly after they learned she was pregnant. Matthew was born when Tug was 51; he was McGraw's fourth child and 28 years younger than his first.
Tim McGraw had been born in 1967 to Betty D'Agostino, who had met Tug when he pitched at Triple-A Jacksonville in 1966. He did not acknowledge Tim as his son and met him only twice — reluctantly — during his playing career. A lawsuit finally forced him to accept responsibility and the two became close. Tug helped Tim sign his first recording contract.
Tug thought Tim didn't have the talent to be a professional singer, but his son had determination. While meeting Tug at Mardi Gras in New Orleans, Tim announced to his father that he was selling everything he had — including the car and other items Tug had given him — dropping out of Northeastern Louisiana State University, and moving to Nashville to try it in country music. "That crazy stunt — taking off with no plan like that — made him even more of a McGraw in my eyes," Tug said.
It was during the 10th anniversary of the 1980 world championship that Tug found himself seated next to a record company executive named Bruce Wendell of Curb Records. Tug offered him a ride back to the hotel and he happened to slide Tim's demo tape into the stereo. A few days later a meeting was set up and Tim McGraw was signed to his first recording contract. Another save set up by Tug.
Tug bought Tim a van and a trailer for his new eight-man band to hit the road. His first two albums weren't successful and an executive at Curb suggested he consider going back to Louisiana. Tim said that since his career was on the line that he should be allowed to produce his next album and pick his songs. Not a Moment Too Soon came out in 1994 and sold six million copies. Faith Hill was a singer on the tour. They married in 1996 and had three daughters.
"I'd have to say that while I tried for so many years to deny that I fathered Betty's child, deep inside I must have known that he was mine. That is my only explanation for my confession to Phyllis that I may have a son, my never throwing out his pictures that Betty sent me, and my reluctance to do a paternity test until the day I met him, all grown up, face to face," he wrote in Ya Gotta Believe!, which was published just after his death.
On March 12, 2003, while at spring training as a Phillies instructor in Clearwater, Florida, Tug was hospitalized with a brain tumor. Surgery revealed that the brain cancer was malignant and inoperable. Though he was given three weeks to live, chemotherapy and a cocktail of cancer drugs helped shrink his tumors. But less than three weeks later the cancer had spread again. The end was coming fast. Tim, who had paid for the costly experimental medicine in Tug's treatment and had been involved in all the decisions, spent the last days with his father at the country star's cabin in Brentwood, Tennessee. Tug died there on January 4, 2004, at 4:45 p.m.
In his final year, with the public knowing full well the situation, Tug, Tim, and a cadre of friends toured places he wanted to see for the last time — or the first time. A member of the Mets Hall of Fame since 1993 and the Phillies Wall of Fame since 1999, Tug was able to take part in celebrations at the places he called home and where the fans loved him. He was at Shea Stadium — against the Phillies, it so happened — for the 30th anniversary of his 1973 "Ya Gotta Believe" club. He was in Philadelphia in September for the closing ceremonies at Veterans Stadium.
Both teams honored him posthumously in 2004. The Phillies wore a green shamrock on their sleeve that read "Tug," fitting because he so loved his Irish roots and was responsible for bringing green uniforms to St. Patrick's Day in spring training — even though a genealogical study of his family revealed that his true background was mostly Czech. The 2004 Mets honored him on their sleeve with his name and three simple words: "Ya Gotta Believe."
Even in death, Tug was still represented in these disparate cities at major occasions for each franchise in 2008. Sons Matthew and Mark represented him at Shea Stadium for the final game at the park where their dad debuted in 1965 and where he helped the Mets win two pennants, something that only Tug and nine teammates achieved in the stadium's 44-year history. And when the Phillies reached the 2008 World Series, Tim McGraw took the mound to throw the ceremonial first pitch in Game Four. He sprinkled some of Tug's ashes. Tug had died three months before Citizens Bank Ballpark opened. Part of him would always be on a pitcher's mound.
An earlier version of this biography appeared in SABR's "The Miracle Has Landed: The Amazin' Story of how the 1969 Mets Shocked The World" (Maple Street Press, 2009), edited by Matthew Silverman and Ken Samelson.
Sources
Bock, Duncan, and John Jordan. The Complete Year by Year N.Y. Mets Fan's Almanac. New York: Crown, 1992.
Cohen, Stanley. A Magic Summer: The '69 Mets. New York: Skyhorse Publishing, 2009.
Ralph Kiner, personal interview, June 21, 2007.
Lang, Jack, and Peter Simon. The New York Mets: Twenty-Five Years of Baseball Magic. New York: Henry Holt and Company, 1986.
Mandel, Ken. "Tim McGraw Finds Way to Honor Tug," mlb.com, October 26, 2008.
McGraw, Tug, and Joseph Durso, Screwball. Boston: Houghton Mifflin, 1974.
McGraw, Tug, with Don Yaeger. Ya Gotta Believe! My Roller Coaster Life As a Screwball Pitcher and Part-Time Father, and My Hope-Filled Fight Against Brain Cancer. New York: New American Library, 2004.
www.nndb.com/people/402/000026324/
Born
August 30, 1944 at Martinez, CA (USA)
Died
January 5, 2004 at Brentwood, TN (USA)
If you can help us improve this player's biography, contact us.
http://bioproj.sabr.org/bp_ftp/images4/McGrawTug.jpg
600
800
admin
/wp-content/uploads/2020/02/sabr_logo.png
admin
2012-01-04 19:49:46
2012-01-04 19:49:46
Tug McGraw