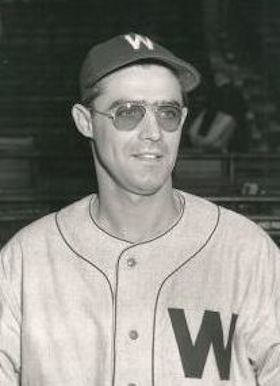 ---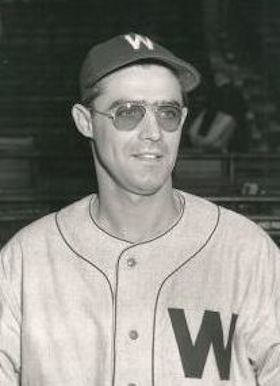 Right-hander Walt Masterson labored many years for the Washington Senators, almost always with losing records for a series of losing teams despite an earned run average of 3.98 over his 11 seasons with Washington. He also pitched in four seasons for the Boston Red Sox and in one (his final season) for the Detroit Tigers. He'd only spent a very few innings in the minors, a perfunctory visit. Masterson had a lengthy major-league career spanning the years 1939 to 1956, working in 399 games and starting in 184 of those. His career ERA was 4.15 with a 78-100 record, a WHIP of 1.515. Twice – in 1947 and 1948 – he was named an All-Star, and started the 1948 game.
Washington Post columnist Bob Addie summed up his career: "Walter was never a great pitcher but on occasion he could be."1
Masterson was from Philadelphia, born there on June 22, 1920. His father Walter Jr. (Walt the pitcher was Walter Edward Masterson III) worked as the assistant manager of a wire mill at the time of the 1930 census and as a clerk for the Bureau of Navigation in the Department of Commerce as the time of the 1940 census. His mother Alberta was, like his father, a native Pennsylvanian. She was a homemaker in 1930, taking care of young Walter and his brother Edwin, who was a couple of years younger. In 1940, Alberta Masterson worked as a saleslady in a department store.
Walt attended Catholic schools, first Holy Innocents and then North East Catholic High School. He grew to become 6-foot-2 and just under 200 pounds.
He played some semipro ball, for the Landreth Seed Co. team of Bristol, Pennsylvania in 1938 and, as he put it himself, writing in the third person: "worked out in Connie Mack's morning class. Was spotted by Joe Cambria, who began to scout him in his semipro games. Cambria finally saw him strike out 10 batters and signed him under the showers."2
Mack had his chance, but Cambria scooped him, as Clark Griffith explained in December 1938: "Ever hear of Walter Masterson? I didn't think so. Well, we signed him off the Philadelphia sandlots right under the nose of Connie Mack. Ira Thomas, the A's scout, was ready to give Masterson a $3,000 bonus for signing. But Mack was in a bad humor that day and wouldn't listen to Thomas. So we got Masterson. If anybody can throw a ball as hard as Feller, he can."3 Griffith said he planned to take 20 pitchers to spring training.
Masterson spent a couple of months traveling with the Nats in 1938 as a nonplaying rookie.4
Washington's Evening Star of January 1, 1939 enthused about the possibilities of Masterson for the Senators. Noting that he'd never yet played professional baseball, the paper reviewed the team's various prospects and wrote, "He is regarded as the best prospect of them all."5 A March 4 story in the Washington Post had Griffith praising Masterson's skills.
Understandably, a few weeks before spring training was over, he was one of nine sent to the minors for seasoning at Charlotte in the Class-B Piedmont League, though he did come back and pitch in a spring training game against the Tigers on March 26.
He wasn't long in the minor leagues. In fact, it was for all of one game – 7 2/3 innings with Charlotte, according to SABR's Minor League Database, though contemporary newspapers say he won the Hornet's opening game. He gave up nine earned runs in those innings. That didn't trouble manager Bucky Harris of the Senators. He was only in Charlotte because of a contractual technicality of the day. "Because Masterson was signed off the Philadelphia sandlots he has to pitch one game for Washington's Charlotte farm club, but Harris says the train can't get him back to the Senators fast enough after he makes his one minor league appearance."6 Harris said, "I broke in Schoolboy Rowe and I wouldn't trade Masterson for two Rowes. The kid is only 19 but has everything. He'll stick."7 The Evening Star explained, "Because he was picked up by the Nats last summer from a direct from a semipro team…Baseball law commands that he be signed to a minor league contract and pitch at least one game for that team."8
He was recalled to Washington on April 27, and debuted on May 8. He was still 18 years old. He pitched the final inning of the game, taking over for starter Ken Chase, who had made it through seven innings without give up a run, then got hammered for six in the bottom of the seventh. Masterson pitched a scoreless inning, though the two walks and one base hit he surrendered had him on thin ice. Another scoreless inning of relief followed, and then he got his first start, on May 17. He pitched a complete-game win, a 4-1 six-hit victory – though the six bases on balls he doled out indicated a lack of control. With two on in the ninth inning, though, he showed poise, striking out Hank Greenberg on three curveballs. By season's end, he had two wins and two losses and a 5.55 ERA. Control problems bedeviled him; he'd struck out 12, but walked 48.
He simply hadn't been ready for the big leagues. "He was too green," wrote Francis E. Stann of the Evening Star. "Masterson began to worry about line drives coming back through the box…He began to step out of the imaginary line of fire before finishing his follow-through and he lost his control. In short, Masterson's first year, if not harmful, was a wasted one."9 That wasn't just paranoia; in one week, he was reportedly struck seven times by line drives.10 The Nats, however, had been needier than most teams in the pitching department.
In 1940, Bucky Harris had been ready to send Masterson to the minors, but the young pitcher overcame what some termed timidity and came through with three impressive innings late in March that sold Harris on him. "Until the other day I was ready to give up on Masterson," he said. "He was ticketed to Charlotte. Last year at this time, I was high on Masterson, but he proved a miserable disappointment. When he got his chance to pitch some big league ball he flopped…He was pitching and pulling up short as if he was afraid of getting hit by a batted ball. I soured on him. But he doesn't look timid this year."11 There was another adjustment Masterson had made. During spring training, before sending Masterson out to pinch-run for Rick Ferrell on second base, Harris had realized Masterson wasn't able to tell him who the baserunner was. "You'd better get some glasses before you get killed," Harris said.12 Masterson was sent to a specialist, and wore eyeglasses from that point forward.13 The glasses were indeed rose-colored, the better to protect him against glare.
He won his first game in 1940 with four innings of one-hit relief against the Red Sox, and was 3-1 by June 5, coming off back-to-back complete games with a good 2.97 ERA. This despite struggling with control, such as the five walks he doled out in the first inning of the May 30 game, a game he won. But after June 5, he couldn't win again. In six of his starts, the Senators were either shut out or scored just one run. But all in all, his ERA for the year was 4.90, higher than the team's overall 4.59, and his record was a depressing 3-13. Masterson was the fourth starter; he started 19 games and relieved in an even dozen. Washington finished 64-90, in seventh place, 26 games behind the first-place Tigers. Sid Hudson (17-16) was the only starter on the staff who had more wins than losses.
It was on-the-job training for Masterson, and Bucky Harris went into the 1941 season saying he hoped Masterson would be ready soon. The Senators certainly hadn't given up on him. They'd re-signed Sid Hudson and Masterson in the autumn. Clark Griffith had sent both of them to "a cabin in the Pennsylvania hills to find some weight for their stringy frames."14 It was thought that some extra eight would help them both become better starters.
Povich of the Post wrote, "He has been acquiring in the big leagues the experience he should have been getting in the minors. Harris by no means is giving up on Masterson. Actually, he thinks the lad will be a good pitcher, perhaps next season."15 Just at the start of spring training, Harris said, "I believe he's due for a big year."16 Clark Griffith, a former pitcher himself, gave Masterson some personal instruction, telling him – among other things – to "junk that slow curve." 17
Catcher Rick Ferrell was exceptionally candid in his appraisal of Washington's other pitchers, but was clear that he, too, didn't think Masterson had proved himself yet he felt he had true potential: "We'd better stop fooling with this trash and hope that we can make a pitcher out of Walter Masterson."18 He didn't get any better; he had six starts and 28 relief appearances, and pitched to a 5.97 ERA in 1941.
On May 26, 1941, he married Virginia Alice Powell. They had been introduced by Sid Hudson, when Virginia was 16 years old. There was a national draft lottery held on July 17; Masterson drew #2, placing him right at the head of the list of those to be called to military service. But by virtue of his marriage, he had a dependent, his wife.
In 1942, he turned it around, cutting his ERA all the way down to 3.34, working almost twice as many innings, with 15 starts and 10 relief stints. It was the first year his strikeouts exceeded his walks, 63-54. He was 5-9 in wins and losses. The game that had turned things around was the June 7 four-hit shutout he threw against the Tigers. Before that he was 0-3 on the season. He threw three more shutouts before the year was done.
And then he joined the Navy. He had tried to enlist before, but been rejected due to color blindness. In early October, he was accepted on his second attempt to enlist. Masterson served as a chief specialist in the United States Navy Reserve for three years, from October 1942 to September 11, 1945. He'd played a great deal of baseball in the Navy and on July 11, 1943 – while stationed at the submarine base at Pearl Harbor – he threw a no-hitter. There was at least one game he pitched, in which the Navy team played against Japanese prisoners of war. During the game, the Japanese pitcher knocked down one of Masterson's Navy teammates. His response: "I took care of that bird the next time he came up."19
With the Navy, he was 17-1 in 1943, 20-4 in 1944, and 18-0 in 1945 for teams in Honolulu, New London, and a semipro team he played for (under the name "Manning") during days he had liberty.20
But his military service was not all fun or games. He served in naval combat at the U. S. base on Midway Island and during the battle to recapture Guam in 1944. He said the experience "messes with your head. When you get to the position where you don't care whether you live or die, you're kind of strange to be around."21
After his separation from the service, honorably discharged as a chief petty officer in the submarine section at New London, Connecticut, he was able to get into four September games for the Senators. His first game back was a two-hit shutout against the Indians, beating Bob Feller. Over his four appearances in 1945, he won that game but lost two despite an overall 1.08 ERA in 25 innings. The Senators finished second in the standings.
In 1946, he had another tough year. Once more, his walks exceeded his strikeouts, and his ERA was his worst yet, 6.01. He had started off well enough, but a pulled rib muscle cost him nearly three weeks in early June, and he did not pitch as well after that. The Senators finished in fourth place. He worked in the offseason as a salesman of electrical goods for Porter Engineering; teammates Gil Coan and Sherry Robertson worked for the same firm. And he co-owned the dry cleaning firm of Masterson and Evans.22
Masterson spent extra time working with manager Ossie Bluege before the 1947 season, as did fellow pitchers Sid Hudson and Ray Scarborough. He came through with perhaps the best season of his career. His first start was a three-hit 3-1 win over the Red Sox. Though he got pounded for eight runs in his next start, he settled in to pitching more consistently – and better – as the season continued. On June 8, he had no decision in the game against the White Sox in Chicago, but he threw 16 innings of scoreless, six-hit ball in a game the Nats won in 18 innings, 1-0. Masterson's next two starts were shutouts, at home against the Tigers and the Browns. In all, he threw 34 consecutive scoreless innings before the streak was snapped. It's little surprise that he was named to the 1947 American League All-Star team.
Masterson matched his career high with four shutouts in 1947, one of them a two-hitter, and put together a 3.13 ERA in 253 innings, a career high. His 135 strikeouts (also a career high – the only time he exceeded 100) well exceeded his 97 walks. He threw 14 complete games. His won/loss record was 12-16, the most games he both won and lost in a single season.
At the 1947 Winter Meetings, the word was out that the Yankees wanted Masterson, but Griffith was firm that he wanted to rebuild the team around Masterson, Early Wynn, Stan Spence, and Mickey Vernon.23 Masterson worked that winter selling automobiles.24
He complained of shoulder stiffness near the start of spring training 1948 and didn't work until pitching three innings of an intrasquad game on March 30. After Masterson won a 2-1, 12-inning game over the Yankees on July 2, Bucky Harris – now Yankees manager – began to think of naming him to the 1948 All-Star team as well, which he did on July 8. Masterson pitched 1 2/3 hitless innings in the 1947 game and started the All-Star Game in 1948, going three innings and giving up two runs (on a first-inning homer by Stan Musial.) The American League won both games. Masterson had said of Harris, "All I know about baseball I got from Bucky. I think I would have quit more than once if it hadn't been for Bucky's encouragement and patience."25
He worked about 50 fewer innings in 1948, under new manager Joe Kuhel, to a 3.83 earned run average with an 8-15 record. Again, a lack of run support hurt him in wins and losses; of his 15 losses, five of them saw the Senators fail to score or score just one run. The bases on balls were out of control, though – he struck out 72 but walked 50 more – 122. The Senators finished seventh again, 40 games out of first place (56-97).
In 1949, he changed teams, but not before having an appendectomy on April 5. Once he was able to start pitching, he was 3-2 for Washington (both losses were in 2-1 games), with a 3.23 ERA at the time he was traded to the Boston Red Sox. The Red Sox got Walt Masterson and the Senators got both left-hander Mickey Harris and outfielder Sam Mele. He had been 3.23 with the 1949 Senators, but was 4.25 (3-4) with the Red Sox, starting five of his 18 games. When the Sox traded for him, Masterson was described by the Christian Science Monitor as "one more dependable starting moundsman to help the staff which almost collapsed beyond recognition on the last Western trip."26 Harold Kaese of the Globe said the Red Sox had been "morally obliged" to make the trade, because of the need to bolster their pitching staff.27 Masterson had won 43 games over eight seasons for the Senators, but everyone knew he was a better pitcher than that total would indicate. Povich of the Post wrote that the Yankees and Red Sox both had been after him for four years.28
He was living in a new apartment, which hadn't had telephones installed yet, and so he first learned of the trade from a friend who dropped by to tell him. "Of course, I was glad," he said. "Who wouldn't be? After all, there's nothing like playing for a winning ball club."29
As with 1948, just one more win would have made all the difference to the Red Sox; both times Boston came up that one win short.
In 1950, the Red Sox were an offensive juggernaut, scoring more runs than any other team in franchise history, and in a 154-game season. In his up-and-down earned run averages, Masterson was up again, to a 5.64 ERA (with a record of 8-6). In both 1949 and 1950, he split his time between starting and relieving (starting 15 of 33 games in 1950) and continued to struggle with control, walking more than he struck out. The Sox as a team finished four games out of first place.
The 1951 season saw Masterson work almost exclusively in relief. He appeared in 30 games, closing 10 of them, but only had one start. He struck out 39 and walked 32. He cut his ERA by more than two runs – to 3.34, but Masterson felt that manager Steve O'Neill didn't like him. "I don't know if he had a personal prejudice against me or what he had, but I couldn't understand it…I was just forgotten, I was 3-0 but only had 59 innings all year."30 He asked GM Joe Cronin to trade him.
Masterson rejoined the Senators in 1952. He'd appeared in five games for the Red Sox and given up 12 earned runs in 9 1/3 innings, and then been paired with Randy Gumpert to go to Washington in exchange for his old teammate, Sid Hudson, in a June 10 trade. He started 21 games over the rest of the season for the Senators, and acquitted himself well – a 3.70 ERA accompanying a 9-8 record.
He seems to have stabilized things over his latter years. In 1953, he won 10 games (losing 12) with four more shutouts (including two-hitters against the Athletics and White Sox) and a 3.63 ERA, and had gotten out ahead with his strikeouts, 95 Ks to 62 walks.
Masterson announced his retirement in January 1954, saying he wanted to devote full time to his work as a sales rep for a shoe firm in Freeport, Maine. He was being paid $18,000 a year to sell shoes, and the Senators team was only offering $4,000.31 He made it very clear he did not blame Griffith, and that he was most appreciative of the opportunities Griffith had accorded him.32 Indeed, some years later, he recalled that after his 3-13 season in 1940, Griffith had called him and gave him a $2,000 bonus. "He said he liked my 'attitude.' Don't think I didn't put out for that man." 33
Masterson was out of organized baseball in 1954 and 1955.
He was still on a Senators contract, but given his release on April 30, 1956. A week and a half later, on May 11, he signed as a free agent with the Detroit Tigers, who planned to use him in the bullpen. He worked a lot of short stints in relief, 49 2/3 innings in 35 appearances. He was 1-1 in wins and losses, with a 4.17 ERA. The Tigers unconditionally released him near the end of October.
Masterson's final season of pro ball was in the Pacific Coast League in 1957 working for the San Francisco Seals. He only worked in six games (1-2, 5.85). By July he was back home in Maryland, escaping an automobile fire that burst out from under the hood of his car while driving.34 He took up work in the flour brokerage business, living in Washington while working for a group of millers in Kansas.
He'd occasionally visit Griffith Stadium to see the Senators play, and would throw batting practice for 10 or 15 minutes.
The Masterson family lived in Woodville, Virginia, where Walt served on the school board.
In November 1979, after a year as assistant coach, he was promoted to head baseball coach at George Mason University, where he served for two years, 1980 and 1981. He moved to North Carolina around 1985 when daughter Patricia married and took up residence there.
On April 5, 2008 he suffered a stroke and died at Duke University Hospital in Durham, North Carolina. He was remembered as a longtime member of the Major League Baseball Players Alumni Association, instrumental in working with Early Wynn to get it underway, "and helped develop baseball's pension plan."35 He credited Commissioner Happy Chandler with getting the pension plan going thanks to a $5 million deal with Gillette.36
He was survived by his wife Virginia, who died in 2012. She was survived by their two children, Patricia and Walter IV, a broker with Merrill Lynch. Her obituary mentioned the time Ted Williams used some salty language in their house while the children were present, and Virginia told him to leave. Williams returned a while later with an apology, a dozen roses, and a box of chocolates.37
Sources
In addition to the sources noted in this biography, the author also accessed Masterson's player file and player questionnaire from the National Baseball Hall of Fame, the Encyclopedia of Minor League Baseball, Retrosheet.org, Baseball-Reference.com, and the SABR Minor Leagues Database, accessed online at Baseball-Reference.com.
Notes
Born
June 22, 1920 at Philadelphia, PA (USA)
Died
April 5, 2008 at Durham, NC (USA)
If you can help us improve this player's biography, contact us.
http://sabr.org/sites/default/files/MastersonWalt.jpg
600
800
admin
/wp-content/uploads/2020/02/sabr_logo.png
admin
2016-06-15 12:26:31
2021-09-24 16:03:35
Walt Masterson