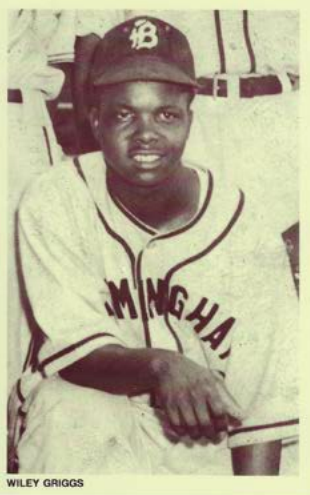 ---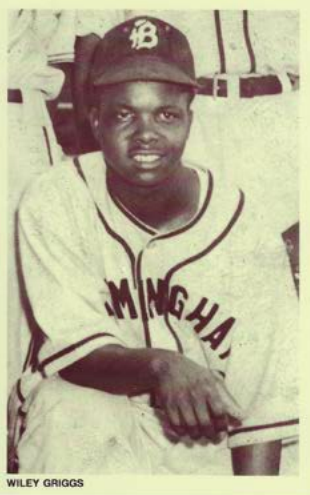 Without war and baseball, it is likely Wiley Lee Griggs III might never have left Birmingham, Alabama. He was born to Wiley Griggs II and Fair Bell Griggs on March 24, 1925, in Union Springs, Alabama. The Griggs family moved sometime before 1930 to Birmingham, which, except for a few seasons with other teams, would be his home for the rest of his life. Both during and after his career, Griggs lived within a few miles of Rickwood Field, where he played with the Birmingham Black Barons during the waning years of the Negro Leagues.
During Griggs's youth, and into much of his adulthood, Birmingham was one of the most racially divided cities in the United States. Life was not easy under the confining limits of Jim Crow in the so called "Magic City." Neither of Wiley's parents had graduated from high school; his father completed the sixth grade, and his mother made it only through third grade. Wiley Griggs II worked in construction as a carpenter for many years, and the Griggs family lived in Titusville, which was one of several predominantly black industrial, working-class neighborhoods adjacent to the booming steel industry on which Birmingham was built.1
As a child, Griggs said, he grew up playing "rag ball" out in the streets with his older brother, Acie "Skeet" Griggs, and his younger brother, Bennie. Around the time he was 14, Wiley joined his first organized league, playing for the Ingalls Iron Works, which was located in Titusville close to his home.2
Wiley attended Parker High School, the only high school for African-Americans in Birmingham at the time. Parker was one of the largest all-black schools in the country with an enrollment of nearly 3,000 students.3 Wiley dropped out of Parker before graduating, most likely to work full-time in one of the industrial plants. A few months after turning 18 during World War II, he enlisted in the US Army on September 28, 1943, and was sent to Fort Benning, Georgia, for basic training.4 He served until after the war ended, being discharged on April 8, 1946.5
According to Griggs, in early 1948, Lorenzo "Piper" Davis extended an invitation to Griggs to attend the Black Barons' spring training. Griggs, who played primarily second base, was vying for the same position as Davis, who was a seasoned veteran. The Birmingham World, the largest African-American newspaper in Alabama, reported on the team's progress in spring training and took note of Griggs in an article headlined "Local Boy Fights," which declared, "Another newcomer, Wiley Lee Griggs, a Birmingham product, is battling for a slot on the Barons roster. Griggs has been handling the second base duties flawlessly in spring games and has surprised many with his stick work to date. He may hold on as a reserve. The would-be-Black Barons played last season with Chattanooga of Negro Southern League"6
The World continued to extol Griggs's abilities throughout the spring, at one point stating that "Wiley Griggs, another newcomer to the Ebony Barons, will hold down the keystone sack. Griggs has been playing ball all spring and is making a serious bid for regular duty with the Barons this year."7 Shortly before training camp broke, the World reported that "another newcomer, Wiley Lee Griggs, has found himself fielding and hitting at a terrific clip to all but insure his presence with the Ebony Barons this season. Griggs … can play short, second, or third base and seems to be retained as the utility infielder in '48."8
During the 1948 season Griggs was given his nickname, "Diamond Jim," by Black Barons pitcher Alonzo Perry.9 Over the course of that season, Griggs filled a backup role and played in only 14 out of 76 league games. He went 8-for-33 with the bat for a .242 average; he hit two doubles and scored six runs.
Following his limited–but successful—1948 season, Griggs was initially listed as one of eight infielders on the preseason roster for the Black Barons in April of 1949.10 Unfortunately, Griggs suffered an injury and was released by the Black Barons. He ended up playing the 1950 season with the Cleveland Buckeyes and Houston Eagles.11 He remained a member of the Eagles after they moved to New Orleans, and played there in 1951. Griggs was selected to represent the Eagles in the annual East-West All-Star Game during his lone season in New Orleans. In the game, which was played on August 12 at Chicago's Comiskey Park, Griggs was hitless in his one at-bat for the East team as a pinch-hitter.12 Before long, however, Griggs was back in Birmingham, where he played the remainder of his career with the Black Barons.
Statistics are incomplete for many of the later seasons that Griggs played with the Black Barons. In 1956, Griggs played in at least 46 games with a 45-for-180 batting line that gave him a .250 average. Available statistics for 1958 show that he played in 31 games, going 17-for-108 – a .157 batting average – with two doubles, one home run, and 11 runs scored.13 Griggs hung up his spikes for good prior to the 1959 season.
Baseball and military service were both family affairs for the Griggses; both of Wiley's brothers also played professional baseball and served tours of duty during the war years. His younger brother, Bennie Lenton Griggs, pitched for the Birmingham All-Stars and several other Negro League teams after having first paid his dues in Birmingham's industrial leagues. Bennie spent 10 seasons in Canada (nonconsecutively) between 1949 and 1963, compiling an 82-41 record in his years north of the border.14 He was drafted into the US Army during the Korean War in 1951 and was awarded a Purple Heart for being wounded in action.15
Wiley's older brother, Acie "Skeet" Griggs, played for the Black Barons, the Atlanta Black Crackers, and the New York Cubans in the late 1940s and 1950s after having served in the US Navy during World War II.  In 1954, Acie and Bennie Griggs played together for the Saskatoon Gems of Canada's Saskatchewan Baseball League.16
In a 1995 interview, Ben Cook asked Griggs if traveling with the Barons had been simple compared to his travel with the Army during World War II. Griggs responded, "It was way better than a piece of cake!" Asked to reflect on his hitting, Griggs conceded, "I could hit, but not what you'd call one of the great hitters. No, I wasn't that. Hitting singles … fair."17
In the same interview, Griggs expressed his belief that even though the Negro Leagues were on the decline during his playing days, the ballplayers were still very good. When asked about the greatest pitcher he ever faced, he gave a familiar name: Satchel Paige. Griggs said of Paige's pinpoint control, "You could ask where you wanted it and he'd get it to you! It's up to you to hit it – if you can! I couldn't do nothing with him. I tell the truth about mine. Some could hit him, but I couldn't do anything about my part."18 Griggs could not think of the best hitter he had seen – he emphasized that there were many good hitters in the league when he played and lamented that all the old-time hitters were likely "dead and gone on!"19
Griggs asserted that his favorite memory as a Black Baron was playing for the 1948 team, especially in the Negro American League playoff series against the Kansas City Monarchs and the final Negro Leagues World Series against the Homestead Grays. As to the end of his career, Griggs said he knew when it was time to retire. He recalled, "Well, I was getting old. One thing I was getting old – and I had a family, so I had to do a little better."20 And do better he did. Griggs got a job with the Birmingham Water Works board, where he worked for 28 years until his retirement in 1987. He and his family were active members of St. Mark C.M.E. Church in Birmingham. Later in his life Wiley became a double amputee and was confined to a wheelchair.21
Griggs said that he kept in touch with some teammates after his playing career, occasionally speaking to them on the phone. He also made it out to Rickwood Field for various events. In a final reflection on his career, Griggs said, "We played for nothing, but still, we enjoyed it. We didn't mind playing. It was nice playing. I enjoyed myself. Wasn't making too much money, but yet still – that was my life. I loved baseball. I played baseball – and I don't have no regrets." He thought he had come along at just the right time to play professional baseball as he also observed that the level of play at the professional level was elevated in modern times, but kids did not seem to have as much of an interest in the game as they had once had.
Wiley Griggs III died on August 23, 1996, in Birmingham. He was buried in Elmwood Cemetery, a short distance from his home and Rickwood Field. He was survived by his wife, Frances Griggs, and his children, Deborah Cunningham, Sharon E. Griggs, Wiley M. Griggs, Andrew Wright, and Adolphus Griggs.22
This biography appears in "Bittersweet Goodbye: The Black Barons, the Grays, and the 1948 Negro League World Series" (SABR, 2017), edited by Frederick C. Bush and Bill Nowlin.
Sources
In addition to the sources listed in the notes below, the author also consulted Ancestry.com, Baseball-Reference.com, and the following:
Negro League Baseball eMuseum.
Negro League Baseball Players Association (nlbpa.com).
Powell, Larry. Black Barons of Birmingham: The South's Greatest Negro League Team and Its Players (Jefferson, North Carolina: McFarland & Company, Inc., 2009).
Notes
1 According to the 1940 Census, the only income in the household was from Wiley Griggs Sr. of $560 for the year, well below the average median income of $956 at the time. Adjusted for inflation, it would mean that the Griggs family of five was surviving off of $9,600 in today's economy – surely a challenge no matter if you look at it in terms of 1940 or 2016.
2 "Wiley Griggs," Oral History Interview, Birmingham Public Library Digital Collections. bplonline.org/virtual/ContentDMSubjectBrowse.aspx?subject=Griggs%2C%20Wiley, accessed January 13, 2017.
3  Parker High School United Alumni Association, parkeralumni.com/history.html, January 12, 2017. (Bill Bruton, who played for the Milwaukee Braves and Detroit Tigers also attended Parker High School. Given that Griggs and Bruton were both born in 1925, it is likely they were classmates or at the very least knew each other.)
4 US World War II Army Enlistment Records, 1938-1946.
5 US Department of Veteran Affairs BIRLS Death Files, 1850-2019.
6 "Black Barons Eye '48 Championship; Leave City for Exhibition Games," Birmingham World, April 6, 1948: 6.
7 "Black Barons, Clowns Set for Doubleheader Sunday," Birmingham World, April 16, 1948: 6.
8  "Black Barons Set to Meet Cleveland Buckeyes May 1, 'Griggs Shines,' " Birmingham World, April 23, 1948: 5.
9 Wiley Griggs, Oral History Interview.
10 "Barons Pilot Picks Squad of Players To Start '49 Season," Indianapolis Recorder, April 9, 1949: 11.11 James A. Riley, The Biographical Encyclopedia of the Negro Baseball Leagues (New York: Carroll & Graf Publisher, Inc., 1994), 342. The Negro Southern League Museum lists Griggs on the Black Barons 1949 roster, but in their summary of statistics for the entire season, Griggs is nowhere to be found. Given that there are no statistics for Griggs for any of the 1949 season with the Barons (or any other team), it seems likely that his injury—which Riley gives the only mention of that I could find—occurred early in the season, and was sever enough, that it kept him sidelined for quite a while.
12 Larry Lester, Black Baseball's National Showcase: The East-West All-Star Game, 1933-1945 (Lincoln: University of Nebraska Press, 2002), 360, 408.
13 Rosters: Negro American League 1958-1962, cnlbr.org/Portals/0/Rosters/Rosters%20-%20Negro%20American%20League%20(1958-1962).pdf,  accessed January 3, 2017.
14 Barry Swanton and Jay-Dell Mah, Black Baseball Players in Canada: A Biographical Dictionary, 1881-1960 (Jefferson, North Carolina: McFarland & Company, Inc., 2009), 79.
15 "Bennie Lenton Griggs," attheplate.com/wcbl/profile_griggs_bennie.html, accessed February 2, 2017.
16 Swanton and Mah, 78.
17 Wiley Griggs, Oral History Interview.
18 Ibid.
19 Ibid.
20 Ibid.
21 Riley, 342.
22 Wiley Griggs, findagrave.com/cgi-bin/fg.cgi?page=gr&GSln=Griggs&GSfn=Wiley&GSbyrel=all&GSdyrel=all&GSst=3&GScntry=4&GSob=n&GRid=99229414&df=all& , accessed January 30, 2017.
Born
March 24, 1925 at Union Springs, AL (US)
Died
August 23, 1996 at Birmingham, AL (US)
If you can help us improve this player's biography, contact us.
https://sabr.org/sites/default/files/GriggsWiley.png
600
800
admin
/wp-content/uploads/2020/02/sabr_logo.png
admin
2015-12-18 11:20:40
2021-09-17 01:07:12
Wiley Griggs