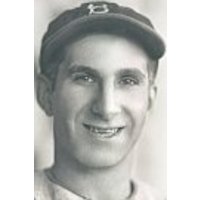 ---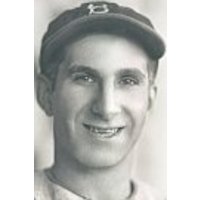 Al Blanche pitched only 33 1/3 innings in the major leagues, all in relief for the woeful Boston Braves/Bees of 1935-36. A star at Providence College who attracted no major league scouts, the tall, slender Italian right-hander pitched batting practice for the Braves until given his own opportunity. While having a short baseball career, Blanche served his country in WWII and lived a long, sweet life in the Boston area, working for a well-known candy factory.
Blanche was born Prospero Albert Bilangio on September 21, 1909, in Somerville, Massachusetts, to Antonio and MaryJane (Castellano) Bilangio, who had both emigrated from Italy in the 1890s. At the 1920 census, Prospero was the youngest of four siblings, with older brothers Frank and John and older sister Rose. The family owned their own home on Mt. Vernon Street in Somerville, and Antonio is listed as a fruit dealer. The Boston Register and Business Directory in 1921 lists Antonio owning a variety store at 660A Main Street in Boston.1 At some point, the family name was changed from Bilangio to Blanche.
Blanche attended the Prescott School in his elementary grades, and the Northeastern Junior High School, both in Somerville. He pitched the opening game of the season for his Somerville High School baseball team on April 16, 1927, striking out 15 Melrose High batters en route to a 7-3 win.2 On May 12, he struck out 10 in shutting out Newton, 2-0, proving "that he is one of the best schoolboy twirlers in Greater Boston," according to the Boston Herald.3 He pitched Somerville's opening game in 1928 and shut out Lynn Classical, 2-0, allowing only two hits and striking out 10.4 He also played for the Everett (Massachusetts) Lodge "Sons of Italy" team, the Somerville Cubs local semi-pro team and St. John's Preparatory School in Danvers, Massachusetts.5
Blanche moved on to Providence (Rhode Island) College in 1931. He arrived determined to be a first baseman, but coach John Flynn immediately saw his potential as a pitcher. He pitched his first game against City College and won, 3-1, striking out 13. Blanche's next start was a 2-1, 10-inning win against St. Mary's.6 As a sophomore on May 24, 1932, he faced the Boston Red Sox in an exhibition game. Boston led by four in the ninth inning but they committed two huge errors which allowed Providence players to scamper the bases and score five runs for the win. Blanche, who pitched scoreless relief from the sixth inning on, got the victory.7 In his junior year he gained victories over Dartmouth, Lowell, and Brown and Boston College twice. In his senior year he shut out Army and broke a long losing streak Providence had at the hands of Yale, allowing only seven singles in a 7-3 win.8 After graduating from Providence with a Bachelor's in Philosophy, Blanche spent the summer of 1934 with the Harwich (Massachusetts) team in the Cape Cod League.9
Blanche had not been pursued by any major league scouts, so he put his career in his own hands. He set out to convince Braves manager Bill McKechnie that he could add to the Braves pitching staff. McKechnie allowed him to travel with the team most of the season, throwing batting practice. Al's opportunity finally came in Lewiston, Maine, where the Braves faced the Cardinals in an exhibition game on August 19, 1935. The Braves trailed 8-0 after four innings as Larry Benton was pounded by the Cardinals. Blanche pitched a scoreless four innings to finish the game, allowing only six hits in Boston's 8-3 loss. The 37-year-old Benton would never pitch in the major leagues again, being released three days later. His 13-year-career was over as he became a Braves' scout, but it earned Blanche a spot, and his career was just beginning.10
Blanche entered his first official game a day later, in the sixth inning after five ineffective innings from Ben Cantwell which saw the Braves trailing Pittsburgh, 5-4. Blanche pitched the last four innings, giving up two earned runs on four hits and two walks. The Braves lost, 7-5. "Blanche is a big fellow and had plenty of speed," wrote the Boston Globe. "He will get a chance to show what else he has in his bag of tricks."11 Blanche next entered the second game of a doubleheader on August 28, pitching a scoreless ninth in a 5-2 loss to Chicago.
Nearly a month went by before Blanche saw any more action, pitching in relief in both games of a doubleheader in Brooklyn in which the Braves suffered their 112th and 113th losses on the season. Blanche pitched a scoreless ninth in the opener, a 5-3 loss, and went 4 1/3 innings of relief in the second game, allowing only four hits and one earned run. Blanche was replaced by Bob Smith in the 10th inning when he suffered a bruised thumb on a return throw from the catcher. The Braves lost in 11 innings, 6-5. On September 27, Blanche pitched a scoreless ninth against New York, an 8-5 Boston loss which was also Cantwell's 25th loss of the season. Probably no one noticed the neat six scoreless innings of relief Blanche pitched in the first game of a doubleheader on September 29, the last day of the season. The Braves lost their 115th game, and at 38-115 are one of the truly worst teams in baseball history. But Blanche made the best of his opportunities, pitching 17 1/3 innings with a 1.56 ERA, walking five and striking out four.
Blanche's impressive outings landed him a job with the Braves, now called the Bees, in 1936. He stayed in shape in the offseason by skating and skiing.12 On April 16 at Philadelphia, he pitched a 1-2-3 ninth inning in a 7-5 Boston loss. In Brooklyn on April 20, Blanche replaced Ray Benge with one out and two runners on in the eighth inning with Boston ahead, 7-3. Blanche allowed one hit, allowing an inherited runner to score, but avoided further damage. He set the Dodgers down in order in the ninth, earning his only career save. The Boston Globe wrote that Blanche, "looks like a recruit who is bound to find his way around in the big leagues. He did a fine job of mopping up."13
The next day in Brooklyn he entered the game in the bottom of the eighth with Boston leading 5-4, but Brooklyn had the tying run on third and no outs. Blanche forced pinch hitter Ox Eckhardt to bounce back to the box for the first out, holding the runner. Pinch hitter Babe Phelps hit a fly ball to center, deep enough to score Jim Bucher with the tying run. The Bees took the lead in the top of the 10th, but Blanche allowed a walk and single to start the bottom of the inning. A sacrifice fly scored the tying run, blowing a chance for Blanche to have a major league win. He got out of the inning, and retired the Dodgers in order in the 11th. Blanche singled for one of his two major league hits in the top of the 12th, but was forced at second. Gene Moore was thrown out at the plate, spoiling another chance for the Braves. Blanche allowed two singles in the bottom of the inning and was relieved by Cantwell, who intentionally walked Bucher and forced Dick Siebert to bounce into an inning-ending double play. The game was called on account of darkness.
On May 7, Blanche entered in the tenth inning of an 8-8 game in Chicago. He walked Stan Hack, who was sacrificed to second. After an intentional walk and strikeout, Blanche surrendered a game-winning double to Billy Herman, who tagged him with his only major league loss. Blanche pitched two hitless innings against Pittsburgh on May 12, but his season unraveled from that point on. On May 16 against St. Louis he allowed five hits and two earned runs in three innings of relief, then was shelled in Brooklyn on May 24, allowing four earned runs in just 2/3 of an inning in an 11-2 loss. His day was even worse at the Polo Grounds on May 29 when he retired no Giants hitters: three hits, one walk, and four runs allowed, in a 15-0 loss. Blanche was on the shelf for the next two weeks with a sore arm.14 In one final appearance on June 19, Blanche gave up a ninth-inning home run to Cincinnati's Ernie Lombardi in an 8-4 loss.
When Blanche was roughed up in an exhibition game at Canton, Ohio, he was optioned to Syracuse of the International League.15 He did not stay long in Syracuse, however, and was sent to Columbia (South Carolina) of the South Atlantic League. His first start there was a disaster as he allowed 11 hits to Augusta.16 He was later sent to Dallas of the Texas League.17 He was apparently in spring training with Dallas in March of 1937, but no further word was mentioned of him and he apparently did not make the team.18
Blanche next surfaced in Nova Scotia in 1939, where he became a brief interim manager for the Sydney Mines Ramblers of the Cape Breton Colliery League.19 He went 1-7 with a 3.62 ERA in 10 games for the Ramblers, while batting .287 in 51 games. On his Hall-of-Fame questionnaire, Blanche claimed that bursitis was the reason his career ended early. Blanche reappears in semi-pro ball for a team in St. Johnsbury, Vermont, in 1940, which won the pennant of the Twin State League.20
Blanche was a WWII veteran, having enlisted on June 1, 1942. He served in the Air Force; according to his draft card he held the rank of Private as a Branch Immaterial-Warrant Officer. He was single at the time and had no dependents.
Blanche married Elva L. Hutchins on August 26, 1953. The couple had no children, and she died in 1972. Blanche married Marie E. Campbell, which added two stepsons to his life. He worked as a fireman's assistant and also for a boiler company in Boston. He and Marie later worked at Schrafft's candy and chocolate company in Charlestown, Massachusetts, just outside Boston. Al worked as a maintenance man and engineer for over 20 years at the company and Marie worked 30 years there.21
The Blanches lived in Arlington, Massachusetts, for 25 years, where Al was involved with the American Legion, Elks Club, and the VFW. The couple lived in nearby Melrose for the last six months of Al's life. He died at the Melrose-Wakefield Hospital on April 2, 1997, at the age of 87 after a short illness.
Acknowledgments
This biography was reviewed by Norman Macht and fact-checked by Alan Cohen.
Sources
Baseball-reference.com
Cassidy Lent, reference librarian at the Giamatti Research Center at the Baseball Hall of Fame in Cooperstown, New York, for Al Blanche's file and questionnaire.
Retrosheet.org
Notes
1 Boston Register and Business Directory Issue 85. (Sampson & Murdoch: Boston, 1921), 775.
2 "Somerville Beats Melrose High, 7-3," Boston Herald, April 17, 1927: 29.
3 "Somerville Shuts out Newton, 2 to 0," Boston Herald, May 12, 1927: 14.
4 "Somerville Opens With 2-0 Victory," Boston Herald, April 15, 1928: 39.
5 Ralph Wheeler, "With the Semi-Pros," Boston Herald, June 10, 1930: 30.
6 Joseph McHenry, "Al Blanche, Our Star Hurler of Recent Years Given Chance to Put Sting in Rejuvenated Boston Bees," The Cowl (student newspaper of Provience College), February 28, 1936: 1.
7 "Providence Tossers Beat Hapless Sox, 9-8," Boston Herald, May 25, 1932: 10.
8 Ibid, 3; "Yale Loses to Providence, 7-3," Springfield Republican, June 7, 1934: 7.
9 Ralph Wheeler, "With the Semi-Pros," Boston Herald, June 1, 1934: 42.
10 "Frankhouse to Face Red Lucas As Pirates Invade Tepee Today," Boston Herald, August 23, 1935: 23; "Cards Win, 8-3, at Lewiston," Boston Herald, August 20, 1935: 19; James C. O'Leary, "Pirates are Here for Four Games," Boston Globe, August 23, 1935: 23.
11 "Notes of the Game," Boston Globe, August 24, 1935: 6.
12 McHenry, 3.
13 "Red Sox Split Even With the Senators––Bees Beat the Dodgers––Giants and Yankees Lose," Boston Globe, April 21, 1936: 23.
14 "Babich Out of Hospital; Al Blanche Works Out," Boston Globe, June 9, 1936: 22.
15 Hy Hurwitz, "Bolster Bees for Reds' Game," Boston Globe, July 9, 1936: 22.
16 "Senators Meet Peaches Today; Lose to Augusta," Columbia Record, July 20, 1936: 8.
17 "Sports Chatter," Fitchburg Sentinel, September 16, 1936: 9.
18 "Frank Grube Reports, Signs Up With Steers Here Tuesday," Longview-News Journal (Texas), March 17, 1937: 9.
19 The Sporting News, June 29, 1939: 11.
20 "St. Johnsbury Senators Clinch Twin-State Flag," Burlington (Vermont) Free Press, September 2, 1940: 11.
21 "P. Albert Blanche," Boston Globe, April 4, 1997: B8; "Marie E. Blanche," gatelyfh.tributes.com/obituary/show/Marie-E.-Blanche-1130768 Retrieved December 9, 2017.
Born
September 21, 1909 at Somerville, MA (USA)
Died
April 2, 1997 at Melrose, MA (USA)
If you can help us improve this player's biography, contact us.
https://sabr.org/sites/default/files/BlancheAl.jpg
600
800
admin
/wp-content/uploads/2020/02/sabr_logo.png
admin
2018-02-06 15:11:04
2020-04-09 14:40:24
Al Blanche