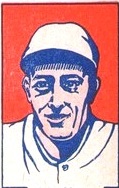 ---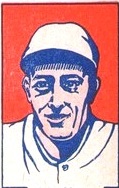 During the time when so many strong ballplayers were making their way from the Boston Red Sox to the New York Yankees, catcher Al DeVormer was one of those sent to Boston in exchange. Most of the deals had already been done. Babe Ruth was sold in January 1920. Others on the 1922 Yankees who had come from Boston included four of New York's five starting pitchers (Joe Bush, Waite Hoyt, Sam Jones, and Carl Mays), as well as key players such as shortstop Everett Scott and the man DeVormer backed up, starting catcher Wally Schang.
The January 3, 1923, trade itself wasn't one of the bigger ones: DeVormer went to Boston (along with some cash) and the Yankees received two prospects, Harvey Hendrick and George Pipgras.
Before his two years with the Yankees, DeVormer had put in his time in the minor leagues, with a taste of big-league play with the Chicago White Sox in the war-shortened year, 1918.
Albert DeVormer came from Grand Rapids, Michigan, the son of Dutch immigrants. His father, Arie DeVormer, had come to the United States in April 1883, traveling in steerage on the Holland-American Line from Rotterdam. The 1900 census shows him as a day laborer, with his wife, Lena, an 1881 arrival from the Netherlands. Albert was born on August 19, 1891, in Grand Rapids. His father's brother, also a day laborer, lived in the household, as did Al's four siblings (two older sisters and a younger sister and brother). Twenty years later Arie DeVormer was recorded as holding a full-time job as a sweeper in a furniture factory.
DeVormer went to the Palmer School in Grand Rapids through 1905, completing his schooling the year he turned 14. What he did for the following eight years is not known, but he began playing semipro ball in Portland, Michigan, in 1913. He became a professional in 1914, playing for Belding in the Michigan State League. In 1915 he began the first of three seasons playing for his hometown team, the Grand Rapids Black Sox in the Class B Central League. Dee, as he was called by his teammates, played a little outfield but primarily worked behind the plate. He improved each year, playing in more games and seeing his average increase from .188 to .255 to .267. In 1917 he married Winifred Alyea. The couple had two sons, Earl and Oral.
The Pacific Coast League's Vernon (California) Tigers hired Bill Essick to run the team in 1918 and he brought three Grand Rapids players with him, one of whom was DeVormer. He hit .302, and as the minor-league season wound down in midseason due to wartime restrictions, Al was sold to the White Sox on July 18 and had the opportunity to fill in briefly for Chicago before the big-league season ended, too. His debut came on August 4, an unsuccessful pinch-hit assignment. He got into eight games, playing right field on August 25, and hit .263 in 19 at-bats, his best day the 3-for-4 game on August 26. The next two years were with Vernon and he struggled badly in 1919, coming back partway in 1920 but without the success he had previously had. He hit only .213 in 1919 but ranked third among PCL catchers in fielding percentage. He stood 6-feet one-half-inch tall and reported weights ranging from 175 to 195 pounds.
After a .242 season for Vernon in 1920, the New York Yankees acquired DeVormer in February 1921; he and Fred Hofmann were backups to Wally Schang. Apparently DeVormer had been "rather a discordant note" with Vernon, and it was time to move him. The Los Angeles Times further said, "Minus his temperament he would be a right capable catcher."[1] DeVormer did well in '21, hitting .347 in 22 games and 49 at-bats. He caught part of one game in the 1921 World Series and pinch-ran in another. A front-page portrait in The Sporting News suggested that many critics believed the Yanks would be better off with Schang moved to the outfield and DeVormer as catcher.[2]
The next year, he garnered 10 more at-bats, in two more games, but dropped off badly to .203 – not a bad average for a catcher of the day, but nothing like what he had enjoyed in 1921. Nonetheless, newspapers originally questioned why he was later traded to the Red Sox, saying that no explanation had been given. Could it have been that he was guilty of a little too much levity in the eyes of Yankees manager Miller Huggins? So speculated The Sporting News, reporting that DeVormer had jumped into Lake Michigan wearing a brand-new suit in the summer of 1922. He did it to win a $10 wager, the paper reported. "He won the wager, but he committed professional hara-kiri at the same time. Miller Huggins, his midget boss, decided that any man who would act like that didn't have the necessary balance for a catcher of a championship team. So he traded Al to the Red Sox the other day for a couple of minor leaguers that no one ever heard of."[3]
There were other interpretations. The trade to the Red Sox was seen by the New York Times as "a third-string catcher" who "would have been a good catcher if he had lived up to even half of what was predicted for him. As it was, Al was of little or no use to Miller Huggins."[4] With the Red Sox in 1923, DeVormer appeared in a career-high 74 games, hitting .258 in 223 plate appearances while playing backup to first-string catcher Val Picinich.
The year done, Big Al – another nickname he reported – was released by Red Sox President Bob Quinn on December 31, to the Mobile Bears. He played the next two years with Mobile, hitting well, .289 and .291 in the Southern Association. He had his best year of all in 1926, after being purchased from Mobile by the Louisville Colonels in the offseason. He hit .368 with seven home runs, both career bests, and even stole 13 bases – something pretty rare for a catcher. This work helped propel him back to the major leagues; he was purchased by John McGraw's New York Giants at the end of August to help fill out a catching staff that had suffered in 1926. Starting the 1927 season at the age of 35, he played in 68 games for the Giants, the most active of four catchers who played in support of catcher Zack Taylor. There was one amusing incident in mid-August when he arrived an hour late at the Polo Grounds; his 8- and 9-year-old sons had been playing ball in the street on St. Nicholas Avenue when a city patrolman ordered them to stop. DeVormer came out from his place, argued a little too much with the officer of the law and was taken to the station house. He was given a suspended sentence.[5]
In an unrelated move, the Giants released him to Toledo on December 17.
DeVormer had five more years of baseball in him, all played for the Toledo Mud Hens of the American Association as a second-string catcher, getting into 214 games over the five years through 1932. That he didn't see more duty was at least partly due to arm problems that cropped up in 1928. After turning 40 DeVormer called it a career as a player. He umpired in 1932 and 1933 in the American Association, managed Springfield (Ohio) in the Middle Atlantic League in 1934 (who the DeVormer is who caught 57 games for Zanesville in the league is uncertain), and then left the game, though he did return much later to umpire in the Michigan State League.
After baseball DeVormer worked at a number of jobs, retiring from a position as a guard at a Grand Rapids firm, American Seating – interestingly, the company that had supplied the seating for Boston's Fenway Park from its opening in 1912 through at least the renovations in early 2010.
Al DeVormer developed cancer in early 1966, and it metastasized to his spine and legs; he died on August 29, 1966, at St. Mary's Hospital in Grand Rapids. He had been preceded in death by his wife, Winifred, but was survived by his sons, Earl and Oral. The latter played very briefly as a catcher (seven at-bats in five games) for the 1939 Lima Pandas in the Class D Ohio State League but had a sore arm and had no opportunity to go any further.
Sources
In addition to the sources noted in this biography, the author also accessed DeVormer's player file at the National Baseball Hall of Fame, the online SABR Encyclopedia, Retrosheet.org, and Baseball-Reference.com.
---
Born
August 19, 1891 at Grand Rapids, MI (USA)
Died
August 29, 1966 at Grand Rapids, MI (USA)
If you can help us improve this player's biography, contact us.
http://bioproj.sabr.org/bp_ftp/images4/DevormerAl.jpg
600
800
admin
/wp-content/uploads/2020/02/sabr_logo.png
admin
2012-01-04 20:01:01
2012-01-04 20:01:01
Al DeVormer