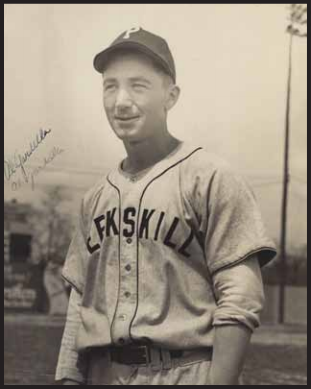 ---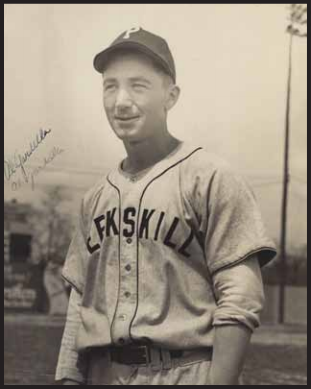 Al Gardella usually wore uniform number 29, but 32 could have been more appropriate.  That was the total of his 16 major-league games with the 1945 Giants and his 16 years in the minors.  A 5-foot-10, 160-pound left-handed batter and thrower, he was 2-for-26 (.077) during his 51 days with New York, and he posted a .961 fielding percentage, committing three errors in nine games at first base.  He played 1,865 games in the minors (1937-1953) with 112 home runs and a .272 average.  Versatile on defense, Gardella was primarily a first baseman, but could play the outfield and pitch, as evidenced by his 190 mound appearances, 38-29 record, and 4.85 ERA in the minors, mostly in relief.1 
Movie-star handsome and possessing a charismatic, tempestuous, and "pepper-pot" personality, Gardella was also a player-manager, posting a record of 347-335 (.509) in six minor-league seasons.  He was conscientious, determined, and a perfectionist as a skipper, and often quoted the words of Vernon Mackie, one of his previous managers, to his players: "THE WOODS ARE FULL OF NICE KIDS. … I NEED SOMEONE WHO CAN HIT THE BALL!"2  According to his daughter Janet, "He could also put a player in his place with a curt look or action or a more tactful saying like, 'You've got a kind face … the kind I'd like to throw tomatoes at!' "3  They usually got the message.  
Alfred Stephen Gardella was born on January 11, 1918, in New York City. He was the second of four children born to Albert and Henrietta Gardella.  He had an older sister, Lillian, and a younger brother and sister, Danny and Rita.  His father was a mason who specialized in fancy inlaid marble floors for banks.  His mother, who emigrated from Italy in 1912, stayed at home with the children. 
The Gardella family lived on East 188th Street in the Fordham Road section of the Bronx.  According to his daughter, "Al started playing baseball in New York as a child.  His father was a hard taskmaster, and when Al made a glove for himself, his father destroyed it."  Al and Danny grew up playing with Bronx sandlot and club teams.  (Danny was two years younger and also played for the Giants.  He is well known for jumping to the Mexican League in 1946, being banned from baseball, and subsequently challenging baseball's reserve clause.)  Al attended Roosevelt High School, where he was named to the All-Scholastic baseball team in 1935.  In 1936 he worked at the Hotel New Yorker and played first base on the hotel's baseball team.  He caught the eye of New York Yankees scouts, who signed him to a contract.
The Yankees sent Gardella to Bassett (Virginia) of the Class D Bi-State League in 1937.  On May 12 he was 2-for-5 with two runs in a 9-2 win at Mount Airy.  He played 21 games for the Furniture Makers through mid-May, hitting .244.  One of his teammates was shortstop Phil Rizzuto.  (Their relationship would prove to be useful to Rizzuto nine years later.)  Gardella then went to Huntington (West Virginia) of the Mountain State League.  After a 6-4 loss at Beckley on June 8, the Beckley Post-Herald said, "Cash and Gardella were the leading swatters for the Cabell county outfit. … Gardella, a classy lefthanded first baseman, got two in four times up [batting third]."4  On July 24 he was 3-for-4 with a triple in an 11-3 loss to Welch. 
In early August Huntington bowed out of the league and Beckley, a Detroit affiliate, purchased Gardella.  According to the Post-Herald, "Gardella is recognized as probably the best first-sacker in the loop.  He is easily the classiest fielder and has been hitting well too.  He with the locals should make the infield click more smoothly."5  Beckley (68-36) won the league championship by beating the Williamson Colts in two games in the playoff finals.  Gardella hit a combined .286 (5 home runs, .410 slugging average) in 88 games with Huntington and Beckley.
Gardella returned to Beckley for the 1938 season and was accompanied by his brother Danny, an outfielder, who also signed with Detroit.  On June 7 Al made what was probably the first of his nearly 200 minor-league pitching appearances when he faced one batter and surrendered a walk in the sixth inning of a loss at Bluefield, and then returned to his position at first base.  On June 3, after the catcher dropped a foul-tip third strike in the bottom of the ninth, Gardella hit a two-run homer, giving the Bengals a 12-10 victory.  He was on the Mountain State League all-star team and hit a grand slam in the third inning of the All-Stars' 10-7 triumph over first-place Logan on August 2.  The second-place Bengals (61-52) upset pennant-winning Logan in the President's Cup Playoffs, a five-game series.  Gardella's three-run triple in the first game propelled Beckley to a 7-4 win on September 8.  He hit .277 with 20 home runs, a .462 slugging average, and 82 RBIs in 113 games.
Detroit moved Gardella up to Hot Springs (Arkansas) of the Class C Cotton States League in 1939.  He struggled in early July, going five straight games without a hit.  On July 5 he broke the spell with a 4-for-5 performance (two homers, a double, and a single) and six RBIs in a 7-6 victory over Pine Bluff.  On August 1 he went 3-for-6 with two home runs, a double, five RBIs, and three runs in an 18-1 demolition of Greenville. Manager Conard Fisher's pitching staff suffered from poor performances and an injury epidemic, which forced him to use Gardella as a reliever. By the end of the season, he had pitched in six games with no decisions, giving up 21 earned runs in 16 innings.  He continued to be more productive with the bat, hitting two home runs in a 15-3 blowout of Monroe in the first game of the playoffs. Hot Springs (71-67) prevailed in five games and faced Greenville in the finals, losing in five games. Gardella (138 games, .273, 100 RBIs) led the league with 32 home runs.
Released by Detroit, Gardella signed with Spartanburg of the Class B South Atlantic League in mid-February 1940.  He got off to a good start, hitting .296 through the first 54 games.  His, and the team's, fortunes went downhill thereafter.  The last-place Spartans, who were plagued by poor attendance and debt, were taken over by the league in July and relocated to Charleston, South Carolina.  One of Gardella's best performances came on July 24 when he was 5-for-5 in a 5-2 loss to Columbus.  On August 22 Gardella (3-for-5, two runs) hit his only home run of the year, a two-run shot in a 12-1 win over Columbia.  Charleston (44-106) finished in last place, 50 games behind first-place Savannah, and tied a league record for losses.  Gardella, who split his games between first base and the outfield, hit .239 with 38 RBIs in 107 games, a severe dropoff from 1939.  
In 1941 Gardella signed with the Red Sox and was assigned to Salem-Roanoke of the Class C Virginia League.  He went 4-for-5 with four runs, a home run, and a double in a 12-1 blowout of Petersburg on May 24.  He also met Emagene Skelton, a frequent ballpark visitor; they married after a whirlwind four-week romance.  Manager Vernon Mackie wanted them to get married at home plate, but according to Gardella's daughter, "Al kept it more traditional.  He liked being a star but not a spectacle."6  The couple made their home in the Bronx; Emagene became a model for Saks Fifth Avenue.  They had two daughters, Janet in 1943 and Lori in 1959. 
Salem (64-55) finished in second place, two games behind pennant-winning Pulaski, but won the playoff championship, three games to two, against Lynchburg.  Gardella hit .288 in 120 games (13 homers, .429 slugging).
In 1942 Gardella returned to Salem-Roanoke, where he batted .274 with 11 homers for the fifth-place Friends (59-69), who finished 21 games behind pennant-winning Pulaski.  One of his better games was on June 10 when he went 2-for-4 with two runs, a double, a homer, and three RBIs in a 4-3 win at Pulaski. 
Gardella started the 1943 season with Roanoke of the Class B Piedmont League, where he was pressed into service on the mound on May 7.  He surrendered eight hits in a 5-0 loss to Lynchburg.  Eleven days later, a first-inning gopher ball resulted in a 6-2 loss to Richmond.  Gardella was 0-3 in three appearances. In 27 games, he hit .132 with no extra-base hits.  On June 10 Utica of the Class A Eastern League purchased Gardella to play first base.  On June 14, in his first game with the Braves, Gardella singled with the bases loaded in the bottom of the ninth, driving in the game's only run.  On September 6, between games of a doubleheader, Gardella was honored as the most popular Utica player.  He hit .232 in 107 games.
In 1944, Gardella played for three semipro teams: Brooklyn's Bushwicks, the Mount Vernon Redcaps, and the Queens club from the Woodside neighborhood.
With World War II raging on two fronts and the military's need for able-bodied men, professional baseball found itself short of qualified players.  Gardella, who was 4-F due to severe varicose veins in his legs, signed with Jersey City of the Double-A International League and won the starting job at first base.  The Sporting News described Gardella as "a slick article around the initial sack,"7 and his contract was purchased by the slumping New York Giants on May 16. He was expected to replace injured first baseman Phil Weintraub. His brother Danny was in his second year with the club. 
Al made his major-league debut on the 17th when he was Weintraub's ninth-inning replacement in an 8-5 win over Chicago.  Danny also played, making them one of nearly 100 sets of brothers who played together in the major leagues.  They appeared in 13 more contests over the next few weeks.  Noting Al's debut, the New York Sun said he "figured in three consecutive putouts and handled himself as though he knew what it was all about, despite the fact that he has had no experience with a big minor league club, other than a few games with the Little Giants."8
Hitless in three pinch-hitting appearances in Pittsburgh, Al Gardella got his first start on June 2 in St. Louis, where he stroked his first major-league hit, a ninth-inning single to center off Al Jurisich.  He also walked twice and scored a run in a 3-2 Giants win.  His only other major-league hit was a second-inning infield single off Brooklyn's Vic Lombardi on June 5.
Assessing his performance, the Sun said, "Al Gardella, now cavorting around the initial bag, is a spirited, hardworking player from whom the utmost of his ability can be expected, but the older brother of Dangerous Dan isn't yet a major league first baseman by any stretch of the imagination.  As a fielder he might, with a little experience, fill the bill.  At the plate, he couldn't possibly do any worse than Weintraub's Western average of .122, but the point is that there isn't one chance in a hundred of Weintraub remaining in his slump indefinitely."9 
Gardella was 0-for-3 in his last start, on June 9 in Boston, a 4-0 loss to the Braves.  His average in six straight starts was .100 (2-for-20).  In the opinion of the New York Post, "Weintraub, even in a slump, would be a more dangerous man at the plate than his first replacement, Al Gardella was."10
Gardella was a pinch-hitter or pinch-runner in six of his last seven appearances (June 23 to July 4).  His only RBI came when he hit for pitcher Ace Adams on June 29 and was hit by Pittsburgh hurler Max Butcher with two outs and the bases loaded in the bottom of the ninth, capping a three-run rally in a 3-2 win.  In his final appearance, on July 4, he batted for pitcher Rube Fischer in the bottom of the ninth in a 19-2 loss to St. Louis, fouling a popup to the catcher.  On July 7 the Giants optioned Al Gardella to the Birmingham of the Southern Association.
According to Gardella's daughter, he injured his left shoulder sliding into a base during his brief time with the Giants.  He did not tell anyone about the injury because he knew there were many others who could take his spot.  Instead, because he was a perfectionist, Gardella tried to play through the injury.  He couldn't recover, however, and told her, "I lost my sweet swing."11
Gardella played 65 games for the Barons (58-82, sixth place) and hit .257.  On August 22 he started a triple play at Memphis.  With runners on first and second, he caught Hub Freeman's drive down the first-base line, doubled up Hugh Holliday at first, and fired the ball to Maurice Wright, who caught Maurice Lee before he could get back to second.  On August 26 he poled a three-run homer in the first inning of a doubleheader nightcap, propelling Birmingham to a 7-4 win over Little Rock.
During the spring of 1946, Jorge Pasquel's Mexican League was offering major-league players generous bonuses and salaries to jump across the border to play baseball.  Danny Gardella was the first to sign and 21 others followed.  One who didn't was Al's friend, Phil Rizzuto, who was offered a $15,000 signing bonus and a five-year contract for $12,000 per season.  The offer was initially conveyed to Rizzuto by Al, who received it from Danny.  Phil's wife, Cora, was pregnant with their son Phil Jr. and Rizzuto confided to Al that he didn't think he could continue playing for the Yankees because he couldn't afford it.  Al told him not to accept the offer; if he did he would never be able to play in the US again.  He told Rizzuto to use the offer to negotiate a better deal from the Yankees.  Phil took Al's advice and the Yankees gave him a $5,000 raise.  Rizzuto once told Al's daughter that he "owed Al his career."12 
In February 1946 Gardella was released by Birmingham and assigned to Peekskill (New York) of the Class D North Atlantic League.  The Highlanders (82-32) won the pennant.  Al hit .292 in 114 games (11 doubles, 16 triples, 6 homers) in his first of four years with the club.  In the final game of the playoff championship against Carbondale, Gardella scored the winning run on a single in the bottom of the 12th.  The victory allowed pitcher Tony Napoles to finish the season with a perfect 22-0 record. 
Gardella became Peekskill's player-manager in January 1947, piloting them to a third-place finish (69-64).  They had a heated rivalry with pennant-winning Kingston, leading the Kingston Daily Freeman to note in May, "Gardella … is rapidly achieving the reputation of Public Enemy No. 1 to Kingston baseball fans,"13 who loved to shower him with abuse.  He took out his frustrations on the umpires; on May 16 the Dodgers presented him with a couple of linen "crying towels" before the game.  The next day's Daily Freeman observed that "Two new umpires, Hunsinger and Warren made their local debut. … They all look alike to bellicose Al Gardella."14  Tempers boiled over the next night when back-and-forth bench jockeying caused a wild melee in the fifth inning of a 10-2 Kingston rout.  Gardella, of course, was right in the middle of it as a few players squared up for fisticuffs before the police and umpires got things under control.  Fines and short suspensions for both sides followed. 
In late August, the Daily Freeman conceded that "Al Gardella's swaggering troupe is the most colorful outfit to visit [Municipal] Stadium [this year]."15  One of Gardella's best days at the plate came during a doubleheader victory over Kingston on September 8, a combined 5-for-8 with five RBIs.  He finished the year at .298 in 133 games and a league-best .991 fielding percentage at first base. He also pitched in 18 games (3-2, 4.42 ERA, 55 innings). Peekskill gained a measure of revenge on Kingston in the playoffs, winning four of five games in the first round.  The Highlanders lost the playoff championship to Carbondale, four games to one.
Now affiliated with the St. Louis Browns, the 1948 Highlanders (84-49) got off to a good start and won the pennant, but lost the playoff championship to Carbondale in four straight games.  Gardella had one of his best years at the plate (.326) and pitched well in 35 games (12-1, 113 innings, 3.19 ERA), all but three in relief.
The 1949 Highlanders (unaffiliated) finished in fourth place (64-75).  Gardella hit and pitched well in June, driving in two runs in the 12th inning on the 9th to earn the pitching victory in a 7-6 win over Carbondale. He went 2-for-4 with a double, homer, and four RBIs in a 5-4 win over Lebanon on the 20th.  On July 31 in Lebanon, he earned a win in relief, a 10-4 victory. He hit .272 in 139 games and posted an 8-7 pitching record (44 games, 135 innings, 6.40 ERA).
In January 1950 the Peekskill franchise was sold to a group of Bangor, Pennsylvania, sportsmen, making the North Atlantic League an all-Pennsylvania circuit.  On May 16 Gardella's bases-loaded triple in the sixth touched off a rally that carried Bangor to a 9-5 win over Carbondale.  He pitched in relief on June 18 against Mahanoy City and fanned seven consecutive batters, a league record, in a 14-5 win.  Danny Gardella played 26 games for the club and hit .337.  The Bangor team (65-71, sixth place) finished 23½ games behind pennant-winning Lebanon.  Gardella appeared in 133 games (31 as a pitcher) and hit .285.  He was 3-5 on the mound (111 innings, 4.78 ERA).
Gardella requested and was granted his release from Bangor in 1951 after he was offered the managerial post with Trois-Rivieres (Three Rivers), Quebec, of the Class C Provincial Baseball League.  According to the St. Maurice Valley Chronicle, "Gardella has all the attributes of a good manager who knows how to handle his charges."16  Six weeks into the season, on June 5, he was given his pink slip after eight straight losses, a record of 11-21, and the club in last place.  There were also reports of dissension in the ranks and the suspension of a player.  Weak pitching and defense added to the team's woes. Gardella, who hit .192 in 20 games, benched himself and put Danny at first base.
The Phillies soon signed Gardella and sent him to Wilmington (Delaware) of the Class B Interstate League.  Although he hit only .219 in 76 games, he made significant contributions to the Blue Rocks' success. On June 21 he doubled down the left-field line, scoring two, and later came in to score himself, in a 10-5 win at Hagerstown.  On the last day of the regular season, manager Danny Carnevale "decided to rest his regular starters and gave … Gardella, who had pitched briefly before, a chance to shine [against last-place Salisbury].  He responded by pitching 18 innings, losing the first game … 2-1, but winning the nightcap, 4-3, to close the season on a positive note."17 
Wilmington defeated Hagerstown, four games to one, in the first round of the playoffs. Gardella came through in the final game with three hits, including a double, and two RBIs in a 4-3 win.  He again produced in the first game of the finals, hitting a triple in the fourth after three singles and three Sunbury errors resulted in four runs.  The Blue Rocks wrapped up the series on September 13 with an 11-3 victory, clinching their second consecutive Governor's Cup. 
In late 1951, Al and Emagene became concerned about "The Bomb," the possibility of New York being a target, and air-raid drill practices at their daughter's school.  They decided to move to a safer place and headed south to Emagene's home town of Salem, Virginia, where they bought a house up the street from her parents.
On March 20, 1952, the Phillies announced that Gardella would manage Pulaski, which returned to the Appalachian League after a year's absence.  A rocky first three months (40-50) found the team in last place on July 31.  Other distractions abounded.  On June 12 the team bus was sideswiped by a cattle truck, killing a truck passenger.  None of the players was seriously injured, but many were shaken up and bruised, causing a doubleheader in Johnson City to be postponed.  Six days later, owner Howard Imboden sold the club because of financial losses.  A new group, the Pulaski Athletic Club, took over.  On August 24, pitching in relief, Gardella doused a five-run Bristol rally in the seventh, then held on in the last two innings in a 7-6 win, recording his seventh decision of the season (7-4, 28 games, 83 innings, 6.11 ERA).  The team rallied in August (17-10) to finish fourth (57-60).  Pulaski won a playoff series against Johnson City two games to one, and then lost the championship to Welch three games to one.  Gardella made a solid contribution at the plate (102 games, .259, 7 homers) and also pitched in 29 games (7-6, 101 innings, 4.81 ERA).
Gardella spent his offseasons working on the New York docks and in a variety of sales positions.  During the winter of 1949-1950, he worked in a New York power plant.  In the winter of 1952-53, he worked as an inspector at a Radford, Virginia, arsenal. 
Franchise instability continued in 1953; Pulaski averaged fewer than 400 fans for its first nine games.  The Sporting News noted that "Pulaski fans chipped in with $900 to keep the team from folding and the team responded with a 10-3 victory over Bluefield, July 27."18  According to the Pulaski Southwest Times, "Ask most of the fans why they are not turning out and they say it's because of the poor showing made by the Phils and the lack of ability on the part of Manager Al Gardella. … Gardella has taken a lot of abuse since he took the team in 1952, some of which was deserved, but the most of which was far from justified. … We feel Gardella knows baseball inside and out, but is too 'motherly' for his own good.  He is too easy on the boys and when he believes in one, is willing to take the blame when he shouldn't."19
After a slow start, and now wearing glasses, Gardella began to deliver at the plate.  On June 8 he hit a two-run double in the eighth that sealed a 5-3 decision over Wytheville.  He hit .270 in 98 games and was 4-4 on the mound (28 games, 81 innings, 6.11 ERA).  Pulaski (66-59) finished third in the standings, but didn't make the playoffs.  Philadelphia gave Gardella his unconditional release in November 1953, citing its new policy of getting younger playing managers. In reporting the story, the Southwest Times noted that Gardella was "one of the most popular Appalachian League managers and may seek a job guiding one of the other clubs in the class D circuit next season,"20 an eventuality that didn't materialize.
During his offseason in Salem, Gardella worked at Yale & Towne Corporation, a lock manufacturer, which offered him a permanent position as a time study engineer, which he accepted in 1953.  According to his daughter, "In 1959 he had a second daughter, Lori, and seemed removed from [baseball]. … He was heartbroken and swore never to go to another game. … After a few years of seemingly avoiding the game I convinced him to start watching baseball again; I started coaching his granddaughter's ball team.  He took it seriously and even taught the girls how to slide into a base without injuring anything."21
Gardella retired from Yale & Towne in 1979.  Six years later, he and Emagene moved to Coconut Creek, Florida, just outside Fort Lauderdale. He was fond of holding court at the community pools where he lived and spent a lot of time doting on his grandchildren and great-grandsons.  He also took one or two cruises every year after 1985.
Al made occasional visits to New York to visit his parents and Danny.  Al's sisters, Lilly and Rita, kept in close contact, with frequent phone calls, letters, and visits to Virginia. 
According to Al's daughter, "Al and Danny were as different as night and day.  Al always said that if he had Danny's talent or if Danny had Al's drive, one of them would have been a HOF caliber player."22  
Al developed leukemia in 2006 and deteriorated quickly.  He would often sit with his daughter and watch a Yankees game, sometimes spending hours talking about the game and memories of his life in it.  He died at 88 on September 10, 2006, in Coral Springs, Florida.  He was survived by his wife, Emagene; his daughters, Janet and Lori; two grandchildren; and two great-grandchildren.  Janet was a medical technologist who worked in Virginia hospitals for years.  When she moved to Florida, she opened a dance studio, L-A Dance, Inc. with her daughter Leigh-Ann. As of 2014, Lori Gardella had been in banking for 34 years, primarily business banking and banking management.23 
Gardella is buried at Our Lady Queen of Heaven Cemetery in North Lauderdale, Florida.
Thanks to Janet Gardella Grausam and Ron Grausam for their assistance.
Notes
1 Pitching statistics for this period are unreliable.
2 Janet Gardella Grausam, letter to author, April 13, 2014 (hereafter cited as Grausam letter).
3 Grausam letter.
4 "Bengals Beat Huntington Again, Beckley Post-Herald, June 9, 1937, 8.
5 "Huntington Booster Bees Fade From Loop," Beckley Post-Herald, August 2, 1937, 9.
6 Grausam letter.
7 Ken Smith, "Voiselle's Fat Pitch Brings $500 Fine After Giants' Fat Lead Shrinks in West," The Sporting News, June 7, 1945, 7.
8 Frank C. True, "Giants Drive Inspires Rooters With Pennant Hopes," New York Sun, May 18, 1945, 30.
9 Frank C. True, "Voiselle Is On Trial Tonight," New York Sun, June 5, 1945, 20.
10 Leonard Cohen, "The Sports Parade," New York Post, June 12, 1945, 30.
11 Grausam letter.
12 Grausam letter.
13 "Dodgers Score Nine Runs in Fifth to Crush Peekskill, 9-2," Kingston Daily Freeman, May 20, 1947, 12.
14 "Peekskill Nips Dodgers in Tenth, 4-3, Booster Night at 8:30," Kingston Daily Freeman, June 17, 1947, 10.
15 Kingston Daily Freeman, August 23, 1947, 7.
16 "Royals Open Season Here Against St. John's May 3rd," St. Maurice Valley Chronicle, April 26, 1951, 4.
17 Elbert Chance, The Blue Rocks – Past and Present: Wilmington's Baseball Team 1940-1999 (Wilmington, Delaware: Cedar Tree Books, 2000), 294-295.
18 The Sporting News, August 5, 1953, 36.
19 "Sport Sparks by Flint," Pulaski Southwest Times, May 15, 1953, 2.
20 "Al Gardella Gets Release From Phillies," Pulaski Southwest Times, November 15, 1953, 3.
21 Grausam letter.
22 Janet Gardella Grausam email to author, June 25, 2014.
23 Communications to author from Lori Gardella and Janet Gardella Grausam, July 3, 2014.
Born
January 11, 1918 at New York, NY (USA)
Died
September 10, 2006 at Coral Springs, FL (USA)
If you can help us improve this player's biography, contact us.
http://sabr.org/sites/default/files/Screen%20Shot%202016-08-08%20at%204.15.21%20PM.png
600
800
admin
/wp-content/uploads/2020/02/sabr_logo.png
admin
2012-01-04 20:24:42
2020-10-14 11:28:01
Al Gardella