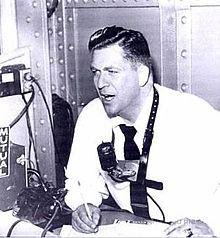 ---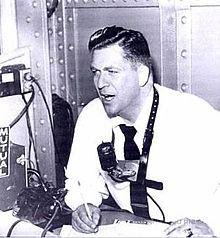 "Brother Al" Helfer was the everyday voice of baseball in small-town America and around the globe. As the lead announcer on the Mutual radio network's Game of the Day from 1950 through 1954, he covered more miles than any scout. His pioneering work earned him recognition in 2019 as the Ford C. Frick Award recipient for baseball broadcasting excellence.
Helfer brought a classic announcer's voice and a salesman's personality to the microphone, but his play-by-play work earned little respect. "Al was not much of a broadcaster," said Frank Graham Jr., the Dodgers publicity director, "but if you were having a huge party and you needed a greeter, Brother Al would absolutely be your first choice."1 His last baseball partner, Monte Moore, described him as "very generic. Accurate, but not very colorful."2
He was popular with sponsors and their ad agencies because he delivered their commercials with conviction. When Helfer said Gillette Blue Blades would make a man "look sharp, feel sharp, be sharp," he sounded like he believed it. That talent kept him employed as a high-level baseball and football announcer, covering many marquee games for nearly two decades.
If not larger than life, Helfer was larger than just about anybody else at 6-feet-3 and 250 to 300 pounds. "He was a huge man who drank triples without any apparent effect and sometimes wore a cashmere cardigan that cost the lives of a herd of goats," sportswriter Ron Bergman wrote.3 (Uh, Ron, combing out the goats' undercoats doesn't kill them.) Helfer's most prominent feature was his ego. When he worked with Dizzy Dean, who could match him in poundage and self-regard, one colleague said, "We needed a referee."4
George Alvin Helfer Jr. was born on September 26, 1911, in Elrama, Pennsylvania, about 25 miles outside Pittsburgh. The first of two sons of George Helfer, an engineer for the Pennsylvania Railroad, and the former Margaret Pritchard, he grew up a few miles away in Monongahela.
Young Al was athletic as well as big. He played fullback for the Generals of Washington and Jefferson College while also lettering in baseball, basketball, and track and field. He entered medical school at the University of Pittsburgh, but dropped out after a year for lack of money. Joining the Pittsburgh Post-Gazette as a sportswriter, he broadcast Pitt football and re-creations of some Pirates games over the paper's radio station in 1933.
Helfer's first big break came in 1935 when WLW and WSAI in Cincinnati hired him to work on the Reds broadcasts with Red Barber, who began calling him "Brother Al." Cincinnati wasn't big enough to hold Helfer. Two years later he moved to New York's WOR, the eastern flagship station of the Mutual network, to cover college football and announce prime-time entertainment shows.
New York's three baseball teams had agreed to a radio blackout so their broadcasts wouldn't compete with the other clubs' home games. When Larry MacPhail moved from Cincinnati to run the Brooklyn Dodgers, he brought Barber with him to end the blackout in 1939. WOR carried the games and assigned its announcer, Helfer, to work with Barber. But the ambitious "ol' Redhead" (who was just 31) ruled the booth. He allowed Helfer only one inning, the fifth, as he set about making himself a Brooklyn icon.
Helfer left the Dodgers to join the navy soon after Pearl Harbor. By this time he was divorced from his first wife, Agnes Charney; they had a son, George. Helfer saw combat during the Allied landings in North Africa and commanded a PT boat in the invasion of Sicily in 1943.
He was rotated back home in time to marry again on June 14, 1944. His bride, Estrild Raymona Myers, was a jazz pianist and singer who used the stage name Ramona. She had performed with Paul Whiteman's orchestra and had several hit records in the 1930s. Twice divorced, the 5-foot-10 brunette was every bit as strong a personality as her new husband. She quit show business to raise their daughter, Raymona, who was born the next year.
Released from service as a lieutenant commander before the 1945 baseball season, Helfer joined Bill Slater on the Yankees and Giants broadcasts. The two teams shared a station and sponsor, and aired only home games since they were never at home at the same time. The sponsor, Gillette, put Slater and Helfer on the Mutual network broadcast of the 1945 World Series, the premier showcase in sports. One survey showed that three-fourths of all men listened to at least some of the games.5
The Yankees and Giants dissolved their radio partnership and went with separate stations in 1946. Left out of the new arrangement, Helfer moved back to Cincinnati, Ramona's hometown, for a job with an ad agency. He returned to network radio in 1948 to report on the presidential nominating conventions for Mutual and follow President Truman's whistle-stop campaign tour in the fall. When he introduced himself to the president, Truman remembered him from his sports broadcasts. "I got a big kick out of that," Helfer recalled.6
He found his way back to baseball in 1949 as Russ Hodges' partner on Giants broadcasts. After the season he was approached by Mutual sports director Paul Jonas, a former song plugger who had met Helfer through Ramona. Jonas wanted him as the voice of a new series of daily major-league broadcasts.7
This was not an original idea. An upstart Texas station owner, Gordon McLendon, had proved the concept with re-creations of big-league games from a Dallas studio over his Liberty network. McLendon ignored such niceties as rights fees and territorial exclusivity; he put the games on the air and dared the majors to stop him. Liberty claimed a weekday audience of 2 million listeners, primarily in the West and South. The baseball commissioner's office jumped at Mutual's offer to pay for daily broadcasts.
Instead of Liberty's re-creations, Mutual promised live coverage from a different ballpark every day, Monday through Saturday. The broadcasts were blacked out in the 10 major-league markets. That played to Mutual's strength; it boasted the largest network, but most of its 400-plus affiliates were in smaller cities and towns. Mutual lacked the lucrative soap operas that dominated the daytime schedules on other networks. Afternoon baseball would fill those hours.
After almost 20 years as an itinerant journeyman announcer, the 38-year-old Helfer embraced the invitation to be Number One. Art Gleeson, a former Pacific Coast League broadcaster, was his assistant, with Gene Kirby as producer, statistician, and extra announcer. Mutual's Game of the Day inaugurated its first season on April 18, 1950, with the Yankees meeting the Red Sox at Fenway Park. (National exposure for the Yanks and Red Sox; some things never change.)
Writing in The Sporting News, Hy Turkin called the Game of the Day "the biggest broadcasting gamble in history."8 No national sponsor would buy the games because they could not be heard in the largest markets, so each local station hustled up its own sponsors. In addition to paying rights fees and AT&T long-distance line charges, Mutual had to manage the costly and complicated logistics of moving three announcers to a different city every day. At times the announcers split up to put one in position to air a backup game in case of rain at the primary location. The broadcast schedule for the week of June 19-24, 1950, illustrates the challenge:
Monday: Yankees at St. Louis
Tuesday: Giants at Brooklyn
Wednesday: Yankees at Cleveland
Thursday: Red Sox at Chicago
Friday: Athletics at St. Louis
Saturday: Pirates at Brooklyn
By June, 312 stations had signed up, and the number kept growing, eventually to more than 450. Mutual's gamble was paying off.
Because the big-league circuit stretched only from Boston to St. Louis, the travel wasn't impossible, but it was constant. Helfer boarded at least one, sometimes two, planes a day, six days a week, 25 weeks a year. With three teams in New York, he was able to spend an occasional night at home in suburban Hartsdale, but not often enough. "For two months after we moved to Hartsdale, neighbors thought I was a widow," Ramona said.9
The hellish schedule opened new opportunities. As Mutual's star announcer, Helfer called five World Series on radio from 1951 through 1955, plus the 1957 Fall Classic on television; four All-Star Games on radio; and four more on TV. In 1951 he broadcast six of the highest-profile sports events: baseball's All-Star Game and World Series, the Giants-Dodgers playoff with Bobby Thomson's "Shot Heard 'Round the World," the Army-Navy football game, the Rose Bowl, and the East-West college football all-star game. He worked seven Rose Bowls and one Orange Bowl, the Indianapolis 500, and basketball at Madison Square Garden. He began a long run as master of ceremonies for the New York Downtown Athletic Club's annual Heisman Trophy banquet. The club eventually awarded him an honorary Heisman.
Mutual's Game of the Day crowned its success and became the exclusive daily network broadcast in 1952, when Falstaff beer began sponsoring the games. Falstaff had previously sponsored McLendon's Liberty network; its defection helped drive Liberty into bankruptcy. McLendon sued major league teams, unsuccessfully, for freezing him out.
Falstaff brought along its St. Louis Browns announcer, the outrageous Dizzy Dean, to join Helfer on some broadcasts. That made for a crowded booth with more than a quarter-ton of announcers, not to mention two gigantic egos. "They were both prima donnas," said Falstaff executive Alvin C. Griesedieck. No surprise that they couldn't stand each other. They traveled on separate planes and arrived at the ballpark in separate cabs.10 One day Diz broke into a chorus of his favorite country song, "The Wabash Cannonball," and Helfer growled — on the air — "If you want to be a damn comedian, go to Las Vegas."11 But they sold beer, and that's all that mattered to Falstaff.
The Mutual broadcasts went around the world over Armed Forces Radio and the Voice of America. Helfer received thousands of cards and letters from listeners overseas, including a cable from a US Navy submarine in the Pacific. When he caught a foul ball and offered to send it to the first youngster who wrote in, he got 5,200 letters.12
Helfer stuck it out for five years and an estimated 4 million miles. In September 1954, he unpacked his suitcase for the final time, saying his doctor had ordered him to quit. He had lasted longer than any of his successors would.
Midway through the 1955 season, Helfer returned to the Dodgers broadcasts when the popular Connie Desmond entered treatment for alcoholism. Helfer was again the second banana, this time to 27-year-old Vin Scully. It was evidently an uneasy partnership. "Great pipes, but hard to work with," said Jerry Doggett, who joined the broadcast team the next year. "If Al had been less temperamental, he might have gone West with Vin."13 Instead, Doggett made the transcontinental transition when the Dodgers moved to Los Angeles after the 1957 season.
The loss of the Dodgers and Giants left New York without National League baseball. WOR-TV tried to fill the void in 1958 by importing Philadelphia Phillies games, with Helfer at the mike. That was about as popular as you'd expect.
Helfer's last network baseball broadcast was the 1958 All-Star Game, his fourth straight for NBC-TV. He went to Houston in 1962, adding a big-league voice to the expansion Colt .45s. When that gig ended after only a year, Helfer and Ramona moved to Denver, where their daughter Mona was studying music. He found work as a newscaster and football announcer for the Inter-Mountain network, and called some college and pro football games for ABC.
One more shot at the majors came out of the blue in 1968 when the Kansas City Athletics moved to Oakland. The A's number-one announcer, Monte Moore, welcomed him; Moore had listened to the Game of the Day while growing up in Oklahoma.
Back in the big leagues at 56, Helfer still knew how to go first class. "We would go out on the road and into fine restaurants," Moore remembered, "and this big fellow would tell the waitress to just give him raw meat, 'warm it up a little, but not very much.'"14 But Helfer struggled on the air. His eyesight had deteriorated, and Moore sometimes had to signal him whether a fly ball was caught in the outfield. Finley, who changed announcers and managers like he changed shirts, thought Helfer lacked enthusiasm. He was let go after two years.
The last stop in Helfer's four-decade career was KRAK in Sacramento, where he served as vice president for news beginning in 1970. Ramona died of cancer in 1972, and he married a Sacramento woman, Margaret Grabbe.
Helfer's one remaining connection to the big time was the annual Heisman dinner in New York. He emceed it for the last time in December 1974. Six months later he died of cancer on May 16, 1975, at 63.
Acknowledgments
This biography was reviewed by Jan Finkel and fact-checked by Chris Rainey.
Notes
Born
September 26, 1911 at Elrama, PA (US)
Died
May 16, 1975 at Sacramento, CA (US)
If you can help us improve this player's biography, contact us.
https://sabr.org/sites/default/files/HelferAl.jpg
600
800
admin
/wp-content/uploads/2020/02/sabr_logo.png
admin
2017-11-06 18:10:54
2020-04-09 14:40:30
Al Helfer