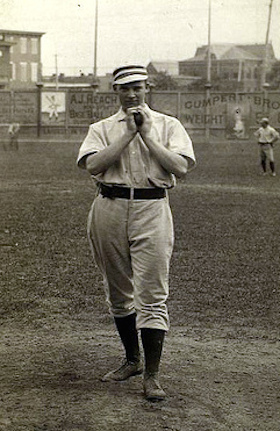 ---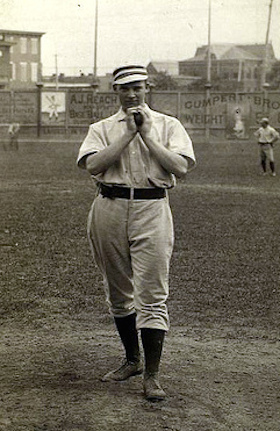 Looking back more than a century, the high regard in which contemporaries held pitcher Al Maul is somewhat puzzling. The stats that he compiled during his 15-season major league tenure are far from eye-catching, and his record is dotted with extended periods of inactivity. Characteristically, his career highlights – a National League ERA crown in 1895 and a 20-win campaign three years later – are separated by seasons wherein he appeared in only a handful of games. Indeed, those two achievements aside, Maul's work was, at best, mediocre. Yet whenever Al announced that his oft-ailing right arm was back in shape, employment awaited him. This lends itself to two conclusions: (1) Maul possessed pitching attributes not reflected in his stats that are now lost to time, or (2) a cheerful countenance, upbeat personality, and steady work habits endeared Maul to club owners and managers as much as it did to baseball fans. Whichever the case, the game provided a lifetime sinecure for Smiling Al Maul. After retirement from playing in 1901, he worked for the Philadelphia Athletics and Phillies for decades.
Baseball lifer Albert Joseph Maul was born in Philadelphia on October 9, 1865. He was the fourth of six children born to Andrew Maul (1832-1902) and his wife Amelia (nee Franzmathes, 1834-1914). The elder Mauls were German-Catholic immigrants who eventually settled in the City of Brotherly Love where Andrew found work as a carpenter and cabinetmaker.1 The Mauls were parishioners at St. Peter's Church where Al attended parochial school through the eighth grade.2 He then entered the local work force as a pocketbook maker.
As Maul later recalled his boyhood, he used "to steal out of the house whenever he could to play ball on Philadelphia's corner lots."3 Good-sized (eventually 6-feet tall and about 200 pounds)4 and a standout right-handed batter and thrower, he thereafter rose to prominence in city amateur ball and semipro circles. At age 18, Maul was given a tryout by the Keystones, Philadelphia's entry in the one-season major league Union Association. On June 20, 1884, he entered the box and took a 7-3 loss to Baltimore. According to a trite Baltimore Sun game account, "Maul, the pitcher for the Keystones, fulfilled the mission which his suggestive name implied. He was severely smitten."5 In truth, the youngster had pitched well, tossing a complete game and allowing Baltimore only one earned run. 6 Still, the Keystones chose not to give him a second chance.
Al joined the professional ranks in earnest the following year, signing with the Binghamton Bingoes of the New York State League. But his freshman pro year ended prematurely, and with a foreshadowing event: a debilitating injury suffered in an early-August game against Utica. Well before the season was over, Al was home recuperating in Philadelphia.7 Recovered, he started the 1886 campaign with the Rochester Maroons of the International League, but was released early in the season.8 He then rejoined Binghamton, now also a member of the IL, but primarily as a position player, rather than a pitcher. This, too, foretold developments that would occur during his ensuing major league days. A capable hitter, Maul was often positioned at first base or in the outfield, particularly during his Pittsburgh years.
But that was in the future. For the time being, Al began 1887 as a pitching-batting sensation for the Nashville Blues of the Southern Association. Blues owner John Morrow, looking to cash in his players before the financially shaky circuit went under, aggressively advertised Maul's prowess. In addition to sporting a 9-3 record in the box,9 Maul "is now hitting in the neighborhood of .500," boasted Morrow. And Maul would have "hit 20 home runs by now" if not for the high leftfield wall at Nashville's home grounds.10 After traveling south to see this phenom in action, Philadelphia Quakers (Phillies) co-owner Al Reach was duly impressed and purchased Maul's release for $2,500, reportedly a record sum for a minor leaguer. He then inked Maul to a handsome $350/month pact with Philadelphia.11
When signing Maul, Reach stated that he intended to play Maul in right field "and develop him gradually as a pitcher."12 But days later, Quakers manager Harry Wright had this new recruit in the box against Washington. Betrayed by the Philadelphia defense (seven errors), he lost 13-7. But press reaction to the debut was generally favorable. "Maul has tremendous speed but the Statesmen batted him very hard," observed the Philadelphia Inquirer. Still, "had he received proper support, the Phillies would have won."13 The sting of defeat, however, was assuaged by raves about Maul's offensive work: a triple, home run, and two walks in five plate appearances. To get the Maul bat into the everyday lineup, he was immediately reassigned to first base – only to be incapacitated shortly thereafter by a severe case of boils.14 Upon recovery, he alternated between pitching and playing the outfield. He finished with decent numbers from the box (4-2, with a 5.54 ERA in 50 1/3 innings pitched) and but he had had problems in the pasture (.818 FA). Where Al really shined was at the plate where 17 base-hits and 15 walks in 71 plate appearances translated into a .451 batting average under the rules peculiar to the 1887 season. When National League president Nick Young released the season's official statistics for the year, the name Al Maul topped the batting list. And for many years thereafter news articles about Maul would recite that he once led the NL in batting.15
Despite its investment in him and Maul's promising start, Philadelphia sold him to Pittsburgh in January 1888 for a mere $1,000.16 With his new club, Maul's position was unsettled, with Alleghenies manager Horace Phillips advising the press that Maul had been acquired to play first base, and would only pitch "once in a while."17 But Al's defensive play at first was ragged, and he failed to hit. By mid-season, Pittsburgh was openly shopping Maul, with minor league clubs in New Orleans and Wheeling, West Virginia, reportedly the most ardent suitors.18 The matter came to naught, however, when telegrams that sought the cooperation of other major league clubs needed to sneak Maul through waivers were leaked to the press.19 Al finished an unhappy first season in Pittsburgh with a meager .208 batting average, and went 0-2 in three pitching efforts.
Maul underwent a reversal of fortune the following year. Playing corner outfield posts on a semi-regular basis, he fielded well and got off to a torrid start at the plate. Eventually, he cooled off, finishing the campaign with a .276 BA, with 16 extra-base hits and 44 RBIs in 68 games. Pitching now seemed an afterthought. Maul's appearances in the box were few (six) and inauspicious (1-4, with a 9.86 ERA in 42 innings pitched). Meanwhile, the Pittsburgh club, like most National League operations, was in turmoil. At season's end, Al joined new manager Ned Hanlon and many of his Alleghenies teammates in the jump to the Pittsburgh entry in the newly-created Players League. Indeed, Maul, a sober-minded man who managed his money carefully, was a prominent franchise investor, sinking at least $3,000 into the venture.20
With pitching talent now spread thin over three major leagues, Maul was pressed into hurling service – and responded with a fine season. Pitching for a losing (60-68) Pittsburgh Burghers team, he went 16-12, throwing more innings (246 2/3) than he had in his prior major league seasons, combined. He also filled in 15 times in the outfield, batting .259 overall. When the PL collapsed at the close of the 1890 season, the rights to Maul reverted to the Pittsburgh club of the National League, where a season of frustration and increased notoriety lay in store.
Plagued by the onset of what would become chronic arm miseries, Al made only three starts for the club now called the Pirates, going 1-2, with a 2.31 ERA in 39 innings pitched. He also did brief and unproductive tours in the Pittsburgh outfield, batting (.188) and fielding (.878 FA) poorly. Meanwhile, Pud Galvin had taken to calling his handsome, well-built teammate "Adonis,"21 heralding a press fixation on Maul's good looks and fastidious tailoring that would last the remainder of his career.
Although Maul was reserved by Pittsburgh for the upcoming 1892 season, newly installed club president William C. Temple released him immediately upon taking office.22 With the demise of the American Association reducing the major leagues scene to the 12-club National League, Maul's employment prospects were bleak. His options appeared limited to accepting an offer from minor league teams in Milwaukee and Los Angeles, or continuing his off-season job at the grocery operated by his older brother Gus.23 In the end, he did neither, choosing instead to sign with the hometown Philadelphia Athletics of the newly-formed Eastern League.24 Unfortunately for Maul, the Athletics' stay in the circuit would be brief. When the club disbanded in mid-June, Maul was dispatched to Buffalo in the Eastern League dispersal draft.25 Engaged as a pitcher, Maul was soon deemed "a dismal failure" and released by Buffalo in mid-July.26 He then went home and rejoined the family grocery.
In March 1893, manager Jim O'Rourke of the pitching-starved Washington Senators decided to take a chance on Maul and signed him.27 His arm evidently benefitted from the layoff. Unaffected by the elongation of the pitching distance to 60-feet, six-inches, Maul turned in yeoman, if not overly effective, work. Tossing a career-high 297 innings for a Senators club headed for a dead-last (40-89, .310) finish, Maul squeezed a team-high 12 victories (against 21 defeats) out of a 5.30 ERA/1.680 WHIP. But an open, genial demeanor and a ready smile had made friends for Maul. He quickly became a favorite with Washington teammates, fans, and sportswriters. The following spring, two other Maul character traits were in evidence: a tough-minded attitude toward salary negotiations and an aversion to spring training camp.
Maul's second campaign in Washington near-repeated his first. He turned in a better-than-the-norm 11-15 (.423) record for another bad (45-87, .341) Senators club. But the following year, Washington, fortified by the acquisition of pitcher Win Mercer, third baseman Bill Joyce, outfielder Kip Selbach, and other first-rate talents, got off to a fast start. Maul, now featuring a pitch described like the modern slider, more than did his part, going 10-5 into July. Then, while throwing a sodden ball during a rainy July 3 game against Baltimore, something snapped in Maul's elbow. He was finished for the season, his only consolation being a National League-leading 2.45 ERA when final stats were tabulated.
While recuperating over the off-season, Al expanded his entrepreneurial ambitions, turning the Maul grocery into something of a gourmet shop. He also dabbled in the jewelry trade, an enterprise befitting a man often bedecked in "sparklers."28 As was becoming his custom, Maul dragged out salary negotiations to avoid spring camp and did not make his first 1896 appearance until mid-May. Al's arm seemed to have recovered, as he posted a 5-2 log while completing seven of eight starts. This included an impressive win over Cleveland that prompted Sporting Life correspondent John Heydler to exclaim, "A more masterly game the smiling twirler never pitched in his career."29 Almost immediately thereafter, Maul's pitching arm failed once again. Although he tried the wing out repeatedly on the sidelines, it failed to respond and Al saw no further game action. As another disappointing campaign drew to a close, Maul joked wanly, "I haven't made much of a record for myself this season, but I lead pitchers in this league in warming up."30 Yet despite the prolonged inactivity, Al remained a local favorite, voted the most popular Washington player in a late-season newspaper poll of Senators fans.31
Although he had been fit to pitch only sporadically over the past two seasons, Washington was loath to let Maul go. Clearly, club brass shared the common view that Maul was "still too good a man to release" and needed to be "retained in the hope of future brilliant work."32 Washington owner J. Earl Wagner was disposed to tender Maul a pay-as-you-pitch-type contract, but the hurler balked. Eventually, the two agreed on a standard player contract for the 1897 season.33 It soon proved a moot point. After a two-inning stint against Baltimore on May 12, Maul walked off the diamond unable to continue. He was released shortly thereafter at his own request.34
Al was taking the waters at the popular spa in Mt. Clemons, Michigan, when he was unexpectedly summoned to report to Baltimore by manager Ned Hanlon, his erstwhile field boss in Pittsburgh. Maul signed with the Orioles, but after a lackluster initial outing in Cincinnati, it appeared that "the Beau Brummel of the diamond had his ticket for Hasbeenville."35 Still ailing, Al made only one other appearance for Baltimore that season. Nevertheless, Hanlon chose to hang on to Maul, reserving him for 1898.36
Used judiciously, Maul turned in a remarkable comeback season for Baltimore. No longer possessed of much of a fastball, Al was now a heady fly-ball pitcher who relied on a variety of off-speed serves to hold the opposition in check. And for a season, he was a marvel, going 20-7, with a 2.10 ERA over 239 2/3 innings pitched, finishing high among NL leaders in ERA (second), winning percentage (second, .741), opponents' on-base percentage (second, .275), and opponents' batting average (fourth, .232). At season's end, Sporting Life called Maul "the most effective hurler in the league,"37 while other press outlets rhapsodized about his sartorial elegance.38
The regard of management was reflected in Maul's inclusion in the contingent of jointly-owned talent that the Baltimore-Brooklyn syndicate shipped to the Brooklyn club that had 1899 pennant hopes. But the clock, alas, was about to strike 12 for our Cinderella. Held in reserve until warm weather arrived, Al posted just two wins for Brooklyn before his arm went dead and he retired to the sidelines. After months of inactivity, he was placed on unpaid leave and sent home to Philadelphia to rehabilitate his limb. Shortly after his arrival, handsome Al Maul, the longtime heartthrob of NL female fans, relinquished his bachelorhood, marrying fellow Philadelphian Anna Hardt.39 Their union would endure for 46 years, but yield no children. In the meantime, the quasi-wedding present provided the happy couple by Brooklyn club management was Al's unconditional release. This permitted him to sign for the coming 1900 season with the Philadelphia Phillies.40
Sporting Life editor Frank Richter enthusiastically endorsed the signing,41 but Maul had little left in his aching right arm. He posted a 2-3 log with a 6.16 ERA in 38 innings for the Phillies, and was then given his release.42 When no other club sought his services, Maul returned to the family grocery business. But he still hankered to pitch. Late in the 1901 season, the New York Giants, then in a dogfight with Cincinnati for the National League basement, afforded Maul his final big leagues fling. He started and lost three late-season games for the Giants, getting pounded each time. After an "awful mauling" by Pittsburgh,43 Maul was given notice of his release, bringing a 15-year run as a major leaguer to an end. On balance, he had had a middling career. In 187 games pitched, he had gone 84-80 (.512), with a 4.43 ERA in 1,431 2/3 innings pitched. Never a strikeout pitcher, Maul had fanned only 346, while walking 518 and hitting 67 enemy batsmen. And the .285 batting average posted against him was high, even for the high octane hitting era that Al had largely pitched in. Maul, however, had been no slouch with the stick himself, posting a respectable .241 lifetime batting average. In fact, his offensive prowess deposited him in more major league games as an outfielder, first baseman, and pinch-hitter (226) than he logged as a pitcher. Through it all and pedestrian numbers notwithstanding, the likeable Al Maul retained the affection and esteem of his contemporaries – club leaders, teammates, sportswriters, and fans, alike.
When April 1902 arrived, Maul haunted the workouts of the new American League Philadelphia Athletics, throwing batting practice and keeping himself in shape for the hoped-for call to play ball somewhere that never came. But the experience landed Maul in good graces with A's part-owner and manager Connie Mack, whose recommendation secured Al the post of baseball coach at nearby Lehigh University.44 Maul guided the Engineers for three enjoyable springs, and then returned to his new fulltime job as the "Cerberus of the upper pavilion" at Columbia Park, the A's home ballpark.45 Soon, Mack assigned Al to more important tasks. Although a man who took little notice of the outside world – in 1898, Maul had reportedly been under the impression that the recently conducted Spanish-American War had been fought against Italy46 — Al had a keen understanding of baseball. For the next decade, he was constantly on the road scouting for prospects. Among his recommendations was the signing of a young Carolina Association outfielder named Joe Jackson.47
After he had passed 50, Maul was relieved of the rigors of scouting and assigned to duties at the entrance gates and the press box at Shibe Park, which he performed into the mid-1940s. In May 1933, the 50-year jubilee celebration of the Philadelphia Phillies found 67-year-old Al Maul back in uniform for an old-timers game; a syndicated news photo showed a beaming Maul standing alongside former batterymate Jack Clements and looking fit.48
In June 1945, 76-year-old Anna Maul suffered a fatal stroke, leaving an aging Al on his own. In time, he was placed in Sharon Hall, a Philadelphia nursing home. He died there from complications of old age on May 3, 1958.49 He was 92. After a Requiem Mass at the Church of St. Therese of the Infant Jesus, the remains of Albert Joseph Maul were interred in the family plot at Most Holy Redeemer Cemetery, Philadelphia. The only reported survivor was nephew Arthur R. Karcher.50
Sources
Sources for the biographical detail provided herein include the Al Maul file with questionnaire maintained at the Giamatti Research Center, National Baseball Hall of Fame and Museum, Cooperstown, New York; Maul family tree information posted on Ancestry.com; US Census reports and listings in Philadelphia city directories; and various of the newspaper articles cited below. Statistics have been taken from Baseball-Reference.
Notes
Born
October 9, 1865 at Philadelphia, PA (USA)
Died
May 3, 1958 at Philadelphia, PA (USA)
If you can help us improve this player's biography, contact us.
http://sabr.org/sites/default/files/images/MaulAl.jpg
600
800
admin
/wp-content/uploads/2020/02/sabr_logo.png
admin
2012-01-13 20:27:24
2012-01-13 20:27:24
Al Maul