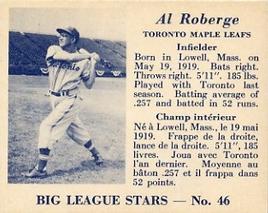 ---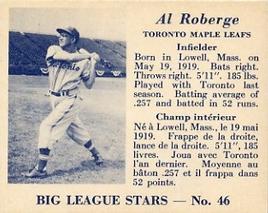 Infielder Albert Roberge played portions of three seasons with the Boston Braves during the 1940s. He appeared in 177 games and compiled a lifetime .220 batting average. Three years of military service during World War II interrupted his baseball career. After playing a brief period in the majors on his return from the war, Roberge played several years in the minor leagues before retiring from professional baseball in 1952.
Joseph Albert Armand "Skippy" Roberge was born on May 19, 1917, in Lowell, Massachusetts, the son of Arthur Roberge and Louisa Simard, both of French-Canadian heritage.1 His father worked as an operative in the Lowell textile mills to support his wife and their eight children.2 Roberge grew up in the Pawtucketville section of Lowell, where he acquired the nickname Skippy as a youth playing sports on the local sandlots. The nickname likely came from the 1931 movie Skippy, in which famous child actor Jackie Cooper played the title role of an adventurous, kind-hearted young boy.3
Roberge was the first child in his large family to receive a secondary-school education, as all four of his older siblings went to work in the local mills after turning 14, then the maximum age in Massachusetts for mandatory school attendance.4 His parents sent him to private Catholic schools rather than to the Lowell public schools. He went to St. Joseph School for the first eight years of his education, before attending Keith Academy for his high-school years.5 Before entering high school, Roberge had already made a name for himself as an athlete. In August 1933, he was the shortstop on the Lowell team that advanced to the final game of the state American Legion championship, which was played at Fenway Park in Boston. A few days earlier the Boston Globe printed a photograph of Roberge under the headline "Live Wire at Shortstop," to recognize his four-hit performance, with two home runs, in Lowell's semifinal victory.6
While growing up in Lowell, 30 miles northwest of Boston, Roberge had significant exposure to major-league baseball in what was then a two-team city. Lowell had direct railroad access to Boston, with convenient trolley connection to both Fenway Park and Braves Field, so Roberge saw many Sunday games played by the two local major-league teams, the Red Sox and Braves (who were called the Bees from 1936 through 1940). Lowell also had a minor-league team in 1933 and 1934, which helped to further stoke Roberge's desire to play professional baseball.
At Keith Academy, Roberge starred on the baseball team. During his summers while in high school, Roberge played shortstop on a variety of baseball teams. In the summers of 1934 and 1935 he played for teams in the lower levels of adult amateur baseball in Lowell, the Junior Twi League and the Gorham Twi League, before advancing in 1936 to play in the semipro Greater Lowell Twilight League. After graduating from high school in 1937, Roberge played for the Pawtucketville Athletic Club, an independent semipro team.
In high school Roberge was a three-sport athlete, as he also played on the football and basketball teams at Keith Academy. Arguably he was a better basketball player than a baseball player. As a junior, Roberge led the Keith basketball team to the championship game of the New England Catholic Tourney. When he was elected captain of the basketball team for his senior year, the accolade was noted not only in the local Lowell Sun but also in the regional Boston Globe.7 During the winter of 1938 he was a guard on the Lowell YMCA basketball team that won the Massachusetts amateur championship. However, in the 1930s, there was no opportunity to earn a living as a professional basketball player, but Roberge could earn a respectable paycheck as a professional baseball player.
In 1938 the 5-foot-11, 185-pound Roberge made a name for himself in the Greater Lowell Twilight League by leading the circuit in hitting and more than capably fielding his shortstop position. "He has big mitts to grab hold of that apple" at shortstop, the Lowell Sun wrote of him in 1938. "He covers lots of ground and always seems to come up smooth with the agate. He makes the hardest knocks look easy without concern."8 Although the right-handed-hitting Roberge was not a power hitter, he consistently rapped out singles and doubles. Local scout Jack Onslow arranged for Roberge to have a tryout with the Boston Bees during the late summer of 1938, which resulted in a contract offer to play in the Bees minor-league farm system.9 After watching Roberge work out with the regular infielders and hit against pitcher Lou Fette, Bees manager Casey Stengel reportedly told onlookers, "There's a ballplayer for you, and don't think I'm kidding."10
Roberge started at the lowest rung in the minor leagues in 1939, with Bradford (Pennsylvania) of the Class D PONY League. At Bradford Roberge played second base and compiled a .292 batting average. He was promoted in 1940 to Evansville (Indiana) in the Class B Three-I League, where he again shined with a .301 average. For 1941, Roberge was elevated to Hartford (Connecticut) in the Class A Eastern League, where he returned to the shortstop position. In a July 8 exhibition game in Hartford against the parent club, Roberge made a favorable impression on Braves management when he went 3-for-5. One week later he was on the train to Boston to play for the Braves. "Gee, it was surely some surprise when Jack Onslow, my Hartford manager, told me I had three-quarters of an hour to grab a train out of Scranton for Boston," Roberge said at the time. "I was so thrilled I left in a hurry and here I am with all my belongings in Hartford."11
Roberge made his major-league debut on July 18, 1941, in a Sunday doubleheader at Braves Field. He started the opener at second base and then replaced the ejected Sibby Sisti at third base in the nightcap. He mostly played second base for the Braves in 1941, with a few games at shortstop and third base. While his fielding average was a spiffy .975, he had a lowly .216 batting average. After the United States entered World War II, Roberge played a full season with the Braves, splitting his time between second base and third in 74 games for the seventh-place Braves, but again had a dismal .215 batting average.
After enlisting in the Army in January 1943, Roberge was initially stationed at nearby Fort Devens in Ayer, Massachusetts. "While in the States, I was a member of the Fort Devens baseball and basketball teams," Roberge recalled in 1967 about his military service.12 The baseball team not only played other military camps in the area during 1943, but they also played exhibition games against the Braves and the Red Sox; Roberge also played on a military all-star team in an exhibition game at Fenway Park on July 12. In May 1944 Roberge was sent overseas to England as a technician fifth grade in the Signal Corps. "While in England, I was on a team which went all over England teaching them the finer points of the game," Roberge remembered.13 After the D-Day invasion of France, Roberge's unit was deployed with infantry divisions as the US Army moved through France, Belgium, and Holland toward Germany.
After repelling Hitler's last-ditch offensive at the Battle of the Bulge in the Ardennes Forest during January 1945, the Army moved east to secure the Roer River to enable the Allies to penetrate further into Germany. A bloody battle ensued for several weeks after the German army, desperate to defend the Roer River gorge, flooded the usually narrow waterway to prevent an easy crossing and put the US troops under constant attack. On February 23, under enemy fire, "the first wave crossed entirely in assault boats," author David Higgins wrote in his book Roer River Battles, instigating a German retreat and enabling "engineers to prepare a pontoon bridge crossing" for infantry troops and support units.14 In late February Roberge was reported wounded, when his father received a telegram from the War Department.15 "I received the Purple Heart for wounds received in the Roer River crossing at Linnich, Germany," Roberge recalled about that pivotal battle.16 After recuperating in a Belgian hospital, he rejoined his unit as the US Army and its allies steadily advanced toward Berlin and forced a German surrender in May 1945.
Roberge returned to the United States in December 1945 and rejoined civilian life. "Due to our moving around so much after V-E Day, I had very little chance to play ball," Roberge recalled about the lack of preparation for returning to his job with the Braves.17 Following his discharge from the Army in January 1946, Roberge headed to spring training with the Braves. "Don't pinch me," Roberge told a sportswriter. "I may wake up and find it is all a dream."18 Roberge made the Braves team as the starting third baseman, where he played 48 games and hit .231 before his last major-league game on Saturday, June 15, 1946.
June 15 was the trading deadline in those days. Just before midnight, the Braves acquired 37-year-old infielder Billy Herman in a trade with the Brooklyn Dodgers.19 To make room for Herman, the Braves demoted Roberge to Indianapolis of the Triple-A American Association. It was a heartless act by the Braves, from two perspectives. Roberge and his father were already on the way to Braves Field for the Father's Day doubleheader on Sunday, June 16, so they missed the telephone call from Braves management to notify him of the trade. While his father sat in the stands waiting to watch his son take the field, Roberge was stunned when told he was being demoted to the minor leagues.20 Equally stunning was the need to cancel Roberge Night, slated for June 19 to honor the Lowell native, for which 400 tickets had already been sold to his hometown fans.21
For the 1946 season, the Braves had a new president, businessman Lou Perini, and a new manager, Billy Southworth. Both hard-charging men probably didn't take to the low-key Roberge. His ability to capably play several infield positions, rather than sparkle at just one, worked against Roberge, who was considered a good-field-no-hit player. He also wasn't a rough-and-tumble man; the Lowell Sun characterized him as "a quiet, conservative guy" and one who "doesn't drink or smoke and is strictly a bachelor."22 Perini had invested a lot of money to install a lighting system to play night games in 1946 at Braves Field, so he was looking for ballplayers who could win games to attract people to the ballpark.
For the remainder of the 1946 season at Indianapolis, Roberge played second base and hit a robust .310 to remain in contention for a promotion back to the Braves. During the minor-league baseball offseason, Roberge worked as the basketball coach at his alma mater, Keith Academy, and continued to play basketball for the Lowell YMCA team. However, during the offseason, the Braves acquired third baseman Bob Elliott from Pittsburgh for the 1947 season, to thwart the best possibility for Roberge to rejoin the Braves.
For the 1947 season the Braves used the Milwaukee club in the American Association as their top farm team, where Roberge was rotated among the infield positions. Since it looked impossible for the 30-year-old Roberge to crack into the Braves infield, especially with phenom Alvin Dark at shortstop for Milwaukee, he played 85 games in the outfield for Milwaukee in 1947 to attempt a different way back to the major leagues. After the Braves won the National League pennant in 1948, and Roberge hit a dismal .254 with Milwaukee, there was virtually no future for him in the Braves organization. Milwaukee sold his contract to Toronto in the Triple-A International League, which was a farm team of the Philadelphia Phillies.23 At Toronto Roberge had a lackluster .257 average in 1949 and was a part-time second baseman in 1950, with little expectation to dislodge Granny Hamner from that position on the Philadelphia Phillies "Whiz Kids" team that won the National League pennant in 1950.
After the 1950 season, the Toronto club became a farm team of the St. Louis Browns, one of the worst teams in the American League. The last straw for Roberge came in March 1951 when Toronto sold his contract to the Browns farm club in San Antonio, Texas, in the Double-A Texas League. Roberge refused to report to San Antonio and left Organized Baseball.24 During the summer of 1951, he played semipro baseball for several teams, including one in Claremont, New Hampshire.25 In 1952 he made a brief return to minor-league baseball, with Detroit's Little Rock farm team in the Double-A Southern League. However, after hitting just .167 in 14 games, Roberge was released and he returned to Lowell.
Following his retirement from baseball, Roberge worked for many years at the General Electric wire and cable division plant in Lowell.26 He never married.27 Roberge lived a quiet life in Lowell and rarely talked publicly about his playing days in baseball. "I enjoyed baseball, it was a nice life," Roberge commented at a 1981 banquet honoring Lowell's former professional baseball players. "I only wish I was there today. In those days there wasn't any money [as there is now]. I'm ashamed to say what I signed for in my first major league contract."28
During the 1950s and 1960s Roberge focused his athletic activities on playing softball and teaching baseball to young ballplayers. For nearly 20 years he was an officer of the Pawtucketville Social Club Softball League and a pitcher on a team in that slow-pitch league.29 His last season on the softball diamond was 1971, when he compiled a 16-9 record as a 54-year-old pitcher.30 Roberge coached teenagers on the baseball teams at Keith Academy and Lowell Trade School, and conducted many clinics for youngsters playing Little League baseball. "He really helped me out," recalled Mike Skaff, the longtime superintendent of the Parks and Recreation Department in Lowell. "And, boy, did the kids listen to him because he was in the big leagues."31 In his later years, Roberge devoted his athletic efforts to bowling and golf.
Roberge died on June 7, 1993, in Lowell and is buried in St. Joseph Cemetery in Chelmsford.32
Acknowledgments
This biography was reviewed by Len Levin and fact-checked by Alan Cohen.
Notes
Full Name
Joseph Albert Armand Roberge
Born
May 19, 1917 at Lowell, MA (USA)
Died
June 7, 1993 at Lowell, MA (USA)
If you can help us improve this player's biography, contact us.
https://sabr.org/sites/default/files/RobergeAlbert.jpg
600
800
admin
/wp-content/uploads/2020/02/sabr_logo.png
admin
2017-05-01 13:23:49
2023-09-20 12:43:14
Albert Roberge