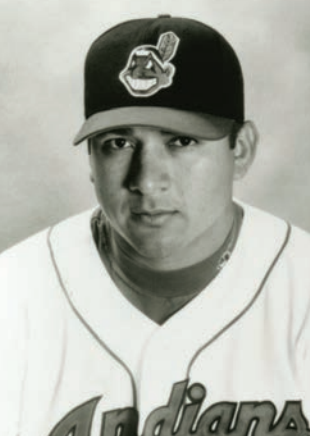 ---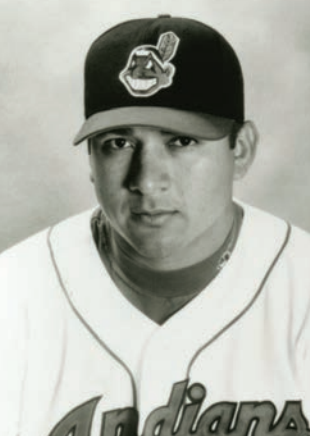 Albert Anthony "Albie" Lopez, of Mexican heritage, was born in Mesa, Arizona, on August 18, 1971, the oldest child of Albert and Gloria Lopez. The elder Albert owned a construction business. Although Albie learned the basic skills of his father's trade, he showed little interest in pursuing it. His love and focus was always baseball. When he was inducted into the Mesa Public Schools Hall of Fame in 2013, he told the Mesa Community College student newsletter, the Mesa Legend, "My entire life has been about baseball. My parents tell me I picked up a baseball at the age of 3, and I haven't put it down yet."1 By the age of 6 he was playing organized Little League.
Albie had a brother, David, and a sister, Amanda. In spite of a six-year difference in ages the boys formed a tight bond growing up. Although they played baseball together as youths, the boys followed two distinctively different paths in life.
Albie started his primary education in parochial school, while most of his friends attended public school. At age 10 he asked his parents to let him go to public school to be with his friends. His folks assented.2 He attended Westwood High School in Mesa, where he was a right-handed pitcher for the Warriors. In 1989, his senior year, he played for the US Junior Olympic team, which won Gold and Bronze Medals.3 He was also drafted in the 46th round of the 1993 amateur draft by the San Francisco Giants but declined to sign. His father was adamant that Albie was too young at only age 17.4
Lopez's baseball talents earned him a full scholarship to Mesa Community College. He led his team to the 1990 Junior College World Series and earned First Team All American honors.5 The Seattle Mariners drafted him in the 19th round of the 1990 amateur draft. He declined for a second time. "The Mariners offered me $50,000, but they kept telling me I couldn't make it," Lopez said. "I knew I could play so I didn't like their attitude. My dad didn't either. He told them I wasn't interested."6
His parents, especially his mother, opposed Lopez's goal of playing professional baseball. She felt he could never make the kind of money he could in private business. In 1991 he was drafted by the Cleveland Indians in the 20th round. By this time he had apparently exhausted his parents with his dream of playing professional baseball, left his scholarship on the table and joined the Cleveland organization. Even though the Indians' offer was less than half that of the Mariners, Cleveland persuasively pitched the impression that it wanted him.7
For the 1991 season Lopez, a slender 6-foot-2 185-pounder, was assigned to the Burlington Royals of the Rookie Appalachian League, where he started 13 games and posted a record of 4-5. In 1992 he advanced to Columbus (Georgia) of the Class A Sally League, where he went 7-2 with a 2.88 ERA and was promoted to Kinston of the High A Carolina League and posted a record of 5-2 with a 3.52 ERA. In 1993 he was assigned to Canton-Akron Indians of the Double-A Eastern League. He was 9-4 record with a 3.11 ERA, third best in the league, and was an Eastern League All-Star.
Because of injuries, the 1993 Indians were in dire need of healthy starters, and called Lopez up for a one-game stint in Oakland on July 6. His parents had driven 2,100 miles from Mesa to Canton to watch him pitch for the Double-A Indians. They arrived just a few hours before Albie had to catch his plane to Oakland. Not all was lost, though. Al and Gloria had planned a month's vacation in the Canton-Akron-Cleveland area. They were able to watch him several times.
Lopez had a promising start against Oakland's Bob Welch, leaving in the seventh inning with a 6-2 lead but got a no-decision when the A's tied the game, 8-8, in the eighth inning. The Indians won the sloppily played contest, 11-8, on a three-run homer by Carlos Martinez. The next day Lopez was optioned to Canton-Akron.
On July 18 the Indians brought him back for another start, and he pitched 7⅓ scoreless innings while earning his first major-league win, 2-1 over the California Angels, 2-1, beating All-Star pitcher Mark Langston. Inserted into the starting rotation, on the 23rd he won again as the Indians beat the Seattle Mariners, 9-4.8
Manager Mike Hargrove knew his freshman pitcher would someday have a bad outing.9 On July 28 his premonition was rewarded. Lopez didn't finish the second inning before giving up five hits, five walks, and nine runs. One of those hits was a grand slam by Robin Ventura as the White Sox coasted to a 9-4 win. Lopez bounced back in his next start, leading the Indians to a 9-4 win over Detroit in a rain-shortened seven-inning game.
Lopez made four more starts in August with no decisions. After showing promise in five starts, he regressed to the point where it was evident he was not ready for prime time. Pitching coach Rick Adair thought he should use his changeup more. Lopez used it less. Accordingly, he was demoted to Charlotte of the Triple-A International League for the balance of the season.
Lopez spent most of the 1994 season at Charlotte, where he pitched well, chalking up a 13-3 record and 3.94 ERA. He was called up twice by the Indians for a total of 19 days in July and August. He started four games, pitched 17 innings, and went 1-2 with an ERA of 4.24. His pitching coach at Charlotte told Albie he needed to develop more mental toughness if he wanted to stay in "The Show." As it was, Lopez still got a paycheck from Charlotte while the Indians players got none when the players went on strike.
The 1995 season was more of the same for Lopez. He spent most of his playing time with the Buffalo Bisons of the Triple-A American Association. The Indians brought him up again. He started two of the six games in which he played and had no decisions. Although it was an AL pennant-winning year for the Indians, Lopez was not on the postseason roster. The next season, 1996, was a step up for Lopez as he split his time between Cleveland and Buffalo. With the Indians he pitched 62 innings in 13 games, 10 of which he started, compiling a 5-4 record with a bloated ERA of 6.39. As usual he had a much better year statistically with the minor-league Bisons, going 10-2 with a 3.87 ERA. Again he failed to make the Indians postseason roster.
Lopez spent all of 1997 as a major leaguer, except for 12 innings with Buffalo. However, his role began to change. He started only 6 of the 37 games in which he was used. In the other 31 games he was a middle/long reliever. He finished the season 3-7 with a 6.93 ERA. His third and last win was a relief stint in St. Louis on June 14 in Cleveland's first-ever interleague game.
Again the Indians were in the playoffs and Lopez was not on the roster. He took a comment from manager Hargrove the wrong way (according to Hargrove), believing it indicated he was on the roster. After telling Lopez of his omission, Mike asked him to stay in shape and accompany the team to New York for the Division Series vs. the Yankees in case he was needed to replace an injured player. Lopez became incensed, refused to board the bus to the airport, and drove home. In response to Lopez's behavior, Hargrove decided that Lopez had pitched his way off the roster. It is most likely that the incident played a part in his future with the Tribe.10
An expansion draft was scheduled for November 18. Two new franchises were to be formed: The Tampa Bay Devil Rays would join the AL and the Arizona Diamondbacks the NL. The local newspapers in the Cleveland area began taking polls to determine whom the fans would most prefer to protect from the draft. Lopez made embarrassingly negative headlines as the one player the fans would least want protected.11 He was put into the draft pool and taken by Tampa Bay.
Lopez's somewhat checkered career with the Indians was over. He had shown signs of genius interspersed with periods of mediocrity. After five years in the Indians organization he had pitched 228 innings in 69 games with the parent club. He started 31 games, completing only one. His record was 12-14 with an ERA of 5.99. Not only was his hurling inconsistent but his demeanor toward Tribe management was critical, sometimes publicly. Considering that he had been optioned 18 times in a 3½-year period, there was certainly some degree of merit to his criticism.
Lopez reported to the Rays spring training for a fresh start on a new team. By this time he weighed 240 pounds. He made the Opening Day roster and was a fixture on the Tampa Bay team for most of four seasons. His hope of making the starting rotation would not materialize his first two seasons. He was used as a set-up man. However, the work was steady. He played in only six minor-league games while a Devil Ray. In 1998 he worked 79⅔ innings, went 7-4 and enjoyed his career-best ERA at 2.60. In the same role in 1999 he worked 64 innings, earned a 3-2 record and watched his ERA move up to 4.64.
An event in February of 1998 involving his brother David was painful for Albie and the entire family. David was charged with attempted murder. The man he allegedly shot was paralyzed from the neck down. The police said that David was the perpetrator and there was "bad blood" between him and his victim. Bond was set at $2.5 million, and David sat in jail for 18 months before his trial. Albie insisted David was innocent. In spite of his belief, the trial determined otherwise. David served 8½ years. He did not get out until 2006.12
The 2000 season was perhaps Lopez's banner year. He was moved into the starting rotation during the course of the season. Of the 45 games in which he played he started 24, throwing four complete games, including a shutout. He compiled an 11-13 record and had a 4.13 ERA. He was named AL player of the week for August 13.
The next season, 2001, was notable for multiple reasons. First of all, Lopez got the nod to start the home opener at Tropicana Field against Toronto. He pitched eight strong innings, allowing only one run and seven scattered hits. The Rays' offense backed him up with 15 hits on the way to an 8-1 victory, the first-ever franchise home-opening win.
When the glow of the Opening Day win faded, reality set in. Lopez had pitched in 20 games, winning 5 and losing 12. His ERA was up to 5.34. The Arizona Diamondbacks, who were in the thick of a battle for their division championship, needed a seasoned starter. On July 25 they made a deal that included Lopez, who was excited to be close to home, where he could be near his family and visit imprisoned David on a regular basis. In addition, he would team up with two of the best pitchers in professional baseball, Curt Schilling and Randy Johnson.
Lopez made his first start on July 28 against the San Francisco Giants with 144 members of his fan club in the upper deck. They had little to cheer about as he gave up 10 hits and 7 runs in an 11-4 drubbing by the visitors. His second outing was another loss, but he got no help from a dormant offense in a 1-0 game. The third start was a repeat of the first one when he again allowed 10 runs while extending his record to 0-3. He won his next three starts in a row. Inconsistency set in again, as he ran his record to 3-7 before winning a crucial game down the stretch to avoid losing his 20th game of the season. As it was, his 19 losses led the majors.
At last Lopez made a postseason roster. He lost an NLDS start against St. Louis and had no decision in the NLCS against Atlanta. He was relieved after three innings. He pitched once in the World Series against the Yankees. It was a relief appearance in Game Five. Chuck Knoblauch singled and moved to second base on a sacrifice bunt by Scott Brosius. Albie then gave up a walk-off single to rookie Alfonso Soriano down the right field line on which Knoblauch managed to reach home before Reggie Sanders's throw arrived. Soriano's hit marked the end of Lopez's one and only World Series appearance and the last game of his career as a Diamondback. Lopez went 0-2 in the postseason. He was granted free agency on November 6 after the Diamondbacks had gone on to win the Series in seven games.
Lopez signed with the Atlanta Braves as a free agent on December 20. He worked mostly in middle relief for the 2002 Braves, for a 1-4 record and 4.37 ERA. The Braves gave him free agency on December 28.
In 2003 Lopez hooked a ride with Kansas City, where he worked 22 innings, enjoyed a winning 4-2 record but compiled a whopping 12.71 ERA. He worked his last game for the Royals and the last game of his major-league career at home against the Twins on June 19. By the time he was called in to relieve starter Kyle Snyder the score was already 7-0 for the visitors. Lopez worked two-thirds of an inning, faced 10 batters, and gave up six hits (including a home run), seven runs, and two walks. The devastation at the end of day was 16-2, Twins. It was a no-decision for Lopez but the end of his major-league career. He was released that same day. On that sour note he took a break from baseball for 2004.
On March 23, 2004, his wife Crystal's birthday, Lopez was "out of baseball, out of shape, and out of sorts." He was up to 260 pounds. He had been casually relaxing, watching baseball games and helping Crystal with their three children.13 He committed himself to getting back into playing shape and did so with unwavering commitment. He met his goal but not the end result he was hoping to achieve, a return to the majors.
Lopez did sign with the Pittsburgh Pirates in January of 2005 but was released on March 23 before the season began. In April he signed with the Mariners but was released on May 19 without having any playing time. He caught on for a short stint with the Tacoma Rainiers of the Pacific Coast League, pitching three relief stints, losing one game, and suffering a 12.60 ERA.
Lopez stayed out of pro ball until 2010 when he joined the Tucson Toros of the independent Golden Baseball League. He signed on as a starting pitcher and started 15 of the 16 games in which he played. His record was 7-5 and an ERA of 3.93. Jay Zucker, owner of the Toros, announced the team would take 2011 off.14 Lopez then jumped to the newly formed North American League to play for the former Golden Baseball League Edmonton Capitals. He played in six games, all of which he started, going 3-0. The team folded at the end of the season, but not before winning the league championship series vs. Rio Grande Valley.
Lopez, at best a journeyman pitcher, never racked up any stats in his 11-year major-league career that approached All-Star caliber by any measure. He never reached the potential many baseball experts had predicted for him. He had a good arm, was a hard thrower, a power pitcher. Inconsistency was his nemesis. In reality, he had a sparkling minor-league career but one that was unspectacular at the major-league level. He was known for always smiling but on a few occasions off the field created tension with management, especially in Cleveland. These incidents went public, diminishing his image with the fans. Coupled with erratic pitching performances, these events managed to alienate the fan base of at least three of the big-league teams he served.
To be fair, he was bounced between the parent Cleveland Indians and the minors like a yo-yo. For 54 percent of his major-league career (per innings pitched), he toiled for Tampa Bay, a perennial last-place team. The problems of his brother David likely added mental distraction to his performance on the mound. He spent a total of 16 seasons, including minor-league service, plying his trade. In 11 major-league seasons he pitched 841⅓ innings (92 starts) and recorded a 47-58 won-lost record with a 4.94 ERA, yielding 112 homers.
In spite of his parents' misgivings, Albie did make a financial success of baseball.
As of 2018 Lopez lived in Gilbert, Arizona. He develops young professional aspirants by coaching and teaching in the instructional camps and clinics he advances, works and/or runs in the Mesa area.
This biography was published in "1995 Cleveland Indians: The Sleeping Giant Awakes" (SABR, 2019), edited by Joseph Wancho.
Sources
In addition to the sources cited in the Notes, the author also consulted Baseball-Reference.com, the Baseball Cube, MLB.com. and Fox Sports.
Notes
1 Mesa Community College Alumni Association website: mesacc.edu/alumni-association/hall-fame/albie-lopez
2 Richard Obert, "Return Home Doesn't Ease All of Lopez's Pain," Arizona Republic (Phoenix), August 17, 2001.
3 Mesa Community College Alumni Association website.
4 Sheldon Ocker, "Albie's Mom and Pop Operation," Akron Beacon Journal," July, 30, 1993.
5 Mesa Community College Alumni Association website.
6 "Albie's Mom and Pop Operation."
7 Ibid.
8 Lopez gave up a history-making homer to Ken Griffey Jr., the fourth in a string of eight consecutive games with a home run, tying a record held by Dale Long (1956) and Don Mattingly (1987).
9 Sheldon Ocker, "Indians Clobber Mariners' Johnson 9-4. Rookie Pitcher Has Strong Outing, Gets Second Big-League Win," Akron Beacon Journal, July 24, 1993.
10 Sheldon Ocker, "Irritated Lopez Refuses to Make Trip," Akron Beacon Journal, September 30, 1997.
11 Michael Weiner, "What, No Albie Lopez?" Akron Beacon Journal, November 16, 1997.
12 "Return Home Doesn't Ease All Lopez's Pain," Arizona Republic, August 17, 2001.
13 Peter Diana, "Lopez's Comeback Taking Shape," Pittsburgh Post-Gazette, February 21, 2005; "TB Stat Sheet," Tampa Tribune, March 30, 1998. Lopez had two children from his first marriage: Kelli Ryan and Albie Jr. At the time of this article they were in California.
14 "Toros on Hiatus; Triple A Beavers Plan to Play at TEP," Arizona Daily Star (Tucson), October 26, 2010.
Born
August 18, 1971 at Mesa, AZ (USA)
If you can help us improve this player's biography, contact us.
https://sabr.org/sites/default/files/LopezAlbie.jpg
600
800
admin
/wp-content/uploads/2020/02/sabr_logo.png
admin
2012-01-04 20:34:31
2012-01-04 20:34:31
Albie Lopez