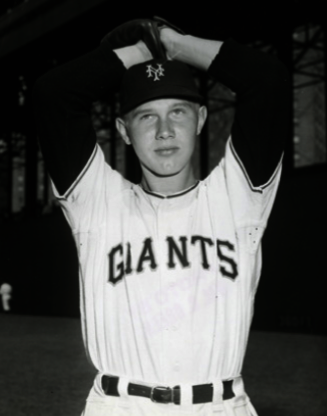 ---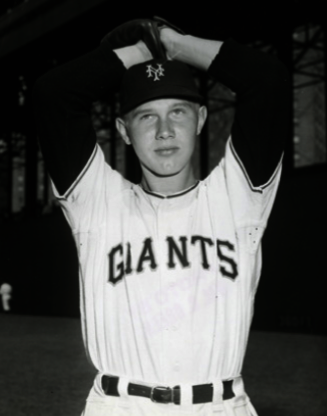 Alex Konikowski's pitching career in major-league baseball was comparatively brief, but the three seasons – or portions thereof – he spent with the New York Giants are etched in diamond lore: 1948, 1951, 1954.
As a 20-year-old rookie of promise, Konikowski was promoted from Jersey City of the International League to New York in June of 1948. One month later, the Giants astounded the baseball world by firing Mel Ott as manager and replacing him with his raucous counterpart from Brooklyn, Leo "The Lip" Durocher. Fans of both teams roared in disbelief.
Konikowski rejoined Durocher's Giants in 1951 during the latter stages of the club's memorable dash to the National League pennant, and he even pitched a scoreless inning against the New York Yankees in Game Five of the World Series. He made 10 relief appearances for the club's 1954 world champions.
Alexander James "Whitey" Konikowski was born in Throop, Pennsylvania, a small town near Scranton, on June 8, 1928, the second youngest of Alexander and Margaret (Machofsky) Konikowski's five children. His father was a coal miner. Seeking a better life during the Depression, the family relocated in the late 1930s to Seymour, a small town divided by the Housatonic River in southern Connecticut. There, Alex began to assert himself on the baseball diamond.
As a 15-year-old junior, Konikowski was the star of the Seymour High School team in 1944, pitching low-hit games on a regular basis and playing center field on afternoons when a teammate pitched. He defeated neighboring Shelton, 1-0, with a one-hitter on May 11 and then, in his season finale on June 8, he celebrated his 16th birthday by tossing a no-hitter against Derby, 3-0, striking out 15 of the 21 batters he faced.1
On the latter afternoon, a Giants scout, George Mack, was watching Konikowski's superb pitching at Coon Hollow Park in Derby. That evening, after meeting with Alex and his father at home, Mack signed the youngster to a free-agent contract, although Alex promised his parents he would return to Seymour High in the fall for his senior year. According to the school's guidance department, he did just that and graduated with the Class of 1945.
With World War II raging, Alex's two older brothers were serving in the US armed forces, Edward with the Marines in the Pacific and Frank in the Army.
The Giants assigned the 16-year-old right-hander to the Erie (Pennsylvania) Sailors of the Class D PONY League, where he pitched reasonably well in his professional debut, compiling a 6-7 record with a 3.82 earned-run average for a fifth-place club. Konikowski fastballs accounted for 90 strikeouts versus 47 walks, in 106 innings.
Konikowski returned to Erie the next season, putting up a 9-8 record with a 3.22 ERA. Elevated to Trenton of the Class B Interstate League in 1946, Konikowski was hampered by wildness and dipped to a 6-14 record (5.22 ERA), although he pitched a no-hitter against Harrisburg and ranked ninth among league pitchers with 123 strikeouts (against 85 walks).
The Giants were pleased, however, with his progress at Manchester of the Class B New England League in 1947, when he fanned 170 batters – third in the league behind Nashua's Don Newcombe (186) and Manchester teammate Lou Lombardo (181) – en route to a creditable 14-8 record and a 3.18 ERA.
After 11 relief appearances (3-0, 25 strikeouts in 33 innings) with Jersey City of the Triple-A International League in 1948, Konikowski was deemed worthy of a promotion to New York in early June. This Giants team of sluggers, led by future Hall of Famer Johnny Mize, Sid Gordon, Walker Cooper, Willard Marshall, and a young outfielder named Bobby Thomson, was clinging to first place.
Alex's debut, on June 16 against the Pittsburgh Pirates at the Polo Grounds, drew mixed reviews. Replacing starter Ray Poat in the third inning, he pitched two scoreless innings before giving up two runs in the sixth and three more in the seventh. He was charged with the defeat in the Giants' 11-5 loss, although only one of the five runs he surrendered in 4⅓ innings of relief was earned.
"The boy was the victim of a bush-league exhibition by his club," Joe King wrote in the New York World-Telegram and Sun.2 "The Giants were in one of those jittery spasms which shimmy through every team from time to time in a frenzied fumbling act for the lead. The lads see first place in sight, and begin playing the World Series prematurely – something that's trying on the nerves, even for a short while in October."
Manager Mel Ott seemed pleased with his rookie's first appearance overall. "(Farm director) Carl Hubbell said he was a cool kid who could get the ball over the plate at the Polo Grounds just as well as in Jersey City, and that's what we need," Ott told King. "He is a cool one, all right. When our scout went up to Seymour, Conn., to sign Konikowski, he found the boy in the kitchen washing dishes. 'Would you like to be a pro?' the scout asked. 'Sure,' the kid said. He dried his hands to sign the contract and then went back to work for his mother."
Konikowski made 22 appearances overall and won two of five decisions. He picked up his first victory, with two innings of scoreless relief against the Pittsburgh Pirates, on July 17, the day after Durocher replaced Ott at the helm. The Giants scored twice in the top of the eighth to win, 6-5.
Konikowski won for the second time, against the Chicago Cubs in Wrigley Field, on August 25, working a scoreless eighth inning in the Giants' 9-4 triumph. He recorded the lone save of his big-league career against the Cubs that season, too, replacing a faltering Larry Jansen and getting the final four outs of a 14-9 New York triumph at the Polo Grounds on July 31.
In the season finale at home, on October 3, Durocher gave Konikowski the lone starting assignment of his major-league career against the National League champion Boston Braves. He failed to survive the third inning as the Braves coasted to an 11-1 verdict. Mize accounted for the Giants' run with his 40th home run, which tied him with the Pirates' Ralph Kiner for the league lead.
Konikowski was back in the minor leagues the next two seasons and for most of 1951 as well. He went 11-7 (5.90 ERA) with Minneapolis of the Triple-A American Association in 1949, and divided the following year between Minneapolis (5-6, 4.99 ERA) and Jersey City (1-3, 3.32 ERA).
If there were doubters in the Giants front office, Konikowski re-established himself in 1951 when, pitching for Triple-A Ottawa, he topped the International League with a 2.59 earned-run average and shared the lead with five shutouts while also relieving 11 times. He won eight of 15 decisions for the seventh-place club and earned a September call-up to New York.3
The Giants, who trailed the favored Brooklyn Dodgers by 13½ games in mid-August, embarked on a 16-game winning streak and won 37 of their final 44 regular-season games to force a three-game playoff with the Dodgers. Durocher called on Konikowski three times during the stretch drive, and he did not disappoint, allowing no runs and striking out five in four innings of work against the Cardinals, Phillies, and Dodgers. In the 9-0 loss to the Dodgers on September 8, Konikowski retired three future Hall of Famers in order, striking out Pee Wee Reese looking, inducing Duke Snider to pop out to third, and getting Jackie Robinson on a fly to center field.
Why didn't he pitch more often? Konikowski offered an explanation in a 1988 story written by Lenn Zonder of the Ansonia (Connecticut) Evening Sentinel. "When I came back up in '51, I made a serious mistake that kept me from pitching more," he told Zonder. "Well, one day I was playing gin rummy with (Durocher). I was winning when I made the mistake. I was beating him pretty good. He didn't like it and I knew it. But I decided to rub the victory in and show him how good I was.
"I had a five of spades and instead of just taking it from my hand and playing it, I let it drop on the table and then moved it out with my elbow. Needless to say, Durocher didn't appreciate it and made me a 'cheerleader' – a bench warmer – from that point on."4
On October 3 Konikowski was in the Giants' bullpen at the Polo Grounds when Bobby Thomson hit the "shot heard 'round the world" off Dodgers reliever Ralph Branca in the bottom of the ninth inning, giving Durocher's team a stunning come-from-behind 5-4 verdict and the National League pennant.
"There was no doubt in his mind where was going," Zonder wrote of Konikowski. " 'We've won it! We've won it!' he yelled in his mind as he raced for home plate. 'I was the first person to reach the plate,' Konikowski said. 'I beat Thomson and (on-deck hitter) Willie Mays. All I could think of is – touch the plate; touch the plate.'"5
In the World Series, the Giants ran out of miracles. After falling behind two games to one, the Yankees came back to win in six games. Durocher employed the 23-year-old relief pitcher from Seymour in a mop-up situation in Game Five. With the Yankees in front 13-1 in the ninth inning, Konikowski surrendered a one-out triple to Gene Woodling, but the Yankees left fielder was cut down at the plate, Clint Hartung to Eddie Stanky to Wes Westrum. Konikowski retired winning pitcher Eddie Lopat on a foul to the catcher and shortstop Phil Rizzuto on a grounder to third.
Three months after the World Series, Konikowski's major-league dreams were interrupted by Uncle Sam and the Korean War; he was drafted into the Army.6 After basic training, he spent most of the next two years playing ball for camp teams. Mays and Pirates shortstop Dick Groat were among his teammates at Fort Myer, Virginia.
British Field Marshal Bernard Montgomery, the legendary World War II hero, visited Fort Myer on one occasion and watched a camp game. Afterward, Konikowski was assigned to escort him on a tour of Washington, D.C.7
"It was easy to see why he was such a military genius. He asked all kinds of questions – not to be polite, but because he was truly interested in learning things. He asked me one hundred questions about baseball bats alone," Konikowski told Evening Sentinel writer Lenn Zonder.
Montgomery took Konikowski to the officers club for a drink, "a kind of thank you," the pitcher said. "The officer in charge – a major – refused to let me be served. After all, I was only a corporal. Montgomery looked at him and said, 'Either you serve him his drink, laddie, or I'll be calling the president.' It was enough of a threat and I got my drink."
Konikowski rejoined the Giants in 1954, the year Willie Mays emerged as a superstar and won his only National League batting title (.345) and Most Valuable Player award. The team captured its second pennant in four years under Durocher, finishing five games in front of its bitter rival, Brooklyn, and went on to sweep the Cleveland Indians in the World Series.
Konikowski's contributions were modest, though. With Marv Grissom and Hoyt Wilhelm handling the bulk of the relief duties, Konikowski appeared in just 10 games during the season (0-0, 7.50 ERA) and not at all during the Series. However, he had the satisfaction of pocketing a winner's share of the World Series money – $11,147.90.
Konikowski spent his final two pro seasons in the high minors, logging an 11-8 record (4.76 ERA) with Minneapolis in 1955 and a combined 6-6 (4.69) with Minneapolis and Portland of the Pacific Coast League the following summer. At age 28, his playing career was over.
In a touch of irony, Konikowski became a teammate of Branca on the 1955 Minneapolis Millers. In his book, A Moment in Time, the former Dodgers pitcher recalled how Alex attempted to console him after the fans had given him an unmerciful razzing following a game. "We heard those fans out there, Ralph," said Alex, "and they were out of line. There's something you should know about the '51 season. I don't know if what we're gonna say will make you feel better or worse."8
Branca already knew. One year earlier, he had learned that the Giants were stealing signs, illegally from opposing catchers, by using a telescope set up in Durocher's office in the team clubhouse. So Bobby Thomson had been alerted to watch for a fastball from Branca on that fateful afternoon in 1951.
"I had a lot of good memories (from baseball)," Konikowski said in a 1988 interview, "and got to meet and know some great men. Some I pitched well against and others not so well. The guy I had the best luck with was one of the best hitters in the history of the game – Stan Musial. He never got a hit off me in 15 (actually four) at-bats."9
After baseball, Konikowski found employment as a plumber with the Seymour Specialty Wire Co. in Seymour, where he and his wife, Patti, raised their family (son Mark and daughter Patti Lee). The marriage ended in divorce. For a while, Alex was the permittee for the Russian-American Club in town.
"He was a giver; he gave money to whoever needed it," recalled the pitcher's nephew, Ed Konnik. "If somebody had a leaky faucet, he'd be there to fix it. If you couldn't pay … you didn't pay."
Alex Konikowski died of cancer at 69 on September 27, 1999, and was buried in the family plot at St. Augustine's Cemetery in Seymour.10
This biography appears in "The Team That Time Won't Forget: The 1951 New York Giants" (SABR, 2015), edited by Bill Nowlin and C. Paul Rogers III.
Sources
Special thanks to Ed Konnik and Bob Konnik, nephews of Alex Konikowski, for sharing memories of their uncle with the author on March 11, 2014; to Dorothy Konnik, Konikowski's niece, for her research assistance; and to Bill Francis of the National Baseball Hall of Fame and Museum for providing Alex Konikowski's clipping file.
Branca, Ralph, with David Ritz, A Moment in Time: An American Story of Baseball, Heartbreak, and Grace (New York: Scribner, 2011).
1955 Official Baseball Guide (St. Louis: Charles C. Spink & Son, 1955).
Hebbard, Matthew W., "Seymour Resident, ex-Giants Hurler Dies," New Haven Register, September 29, 1997.
King, Joe, "Poor Pitching Spikes Strategy, Leo Discovers, as Did Ott," New York World-Telegram & Sun, July 23, 1948.
King, Joe, "Giant Jitters No Help to Their New Kid Pitcher," New York World-Telegram & Sun, June 17, 1948.
Lukowski, Stan, "Konikowski Remembers," Scranton (Pennsylvania) Tribune, December 13, 1987.
Roeder, Bill, "Cards May Shuffle Giants Off That Blissful Cloud," New York World-Telegram & Sun, August 23, 1951.
Zonder, Lenn, "He Beat Thomson Home in Miracle of '51," Ansonia Evening Sentinel, October 11, 1988.
Zonder, Lenn, "Montgomery Goes to Bat for Ex-Big Leaguer," Ansonia Evening Sentinel, October 13, 1988.
Ansonia Evening Sentinel. "Konikowski Signed Up by Giants and Farmed Out to PONY League," June 21, 1944.
Connecticut Post (Bridgeport), Alex Konikowski obituary, September 29, 1997.
New York World-Telegram & Sun, "Konikowski's ERA Tops Int. Loop," December 12, 1951.
United Press, "Giants Hill Rookie Drafted by Army," January 19, 1952.
Notes
1 Ansonia Evening Sentinel, June 21, 1944.
2 New York World-Telegram & Sun, June 17, 1948.
3 New York World-Telegram & Sun, December 12, 1951.
4 Ansonia Evening Sentinel, October 11, 1988.
6 United Press, January 19, 1952.
7 Ansonia Evening Sentinel, October 13, 1988.
8 Ralph Branca with David Ritz, A Moment in Time: An American Story of Baseball, Heartbreak, and Grace (New York: Scribner, 2011), 179.
9 Ansonia Evening Sentinel, October 13, 1988.
10 Connecticut Post (Bridgeport), September 29, 1997.
Full Name
Alexander James Konikowski
Born
June 8, 1928 at Throop, PA (USA)
Died
September 27, 1997 at Seymour, CT (USA)
If you can help us improve this player's biography, contact us.
https://sabr.org/sites/default/files/KonikowskiAlex.png
600
800
admin
/wp-content/uploads/2020/02/sabr_logo.png
admin
2012-01-04 20:30:14
2012-01-04 20:30:14
Alex Konikowski