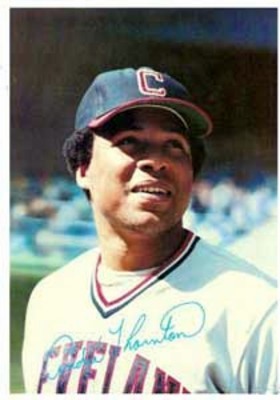 ---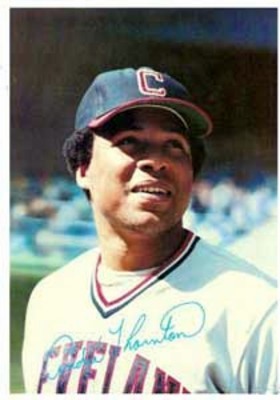 On a cold and raw Boston day in April 1978, the Red Sox hosted Cleveland in an early-season matchup of American League rivals. It was much too early for the game to have any bearing on the Eastern Division, as teams were still bunched together in the standings with only a handful of games separating the division leaders from the cellar dwellers.
But this day belonged to the Indians, and specifically first baseman Andre Thornton. The Indians were leading 13-1 in the top of the eighth inning, courtesy of six runs in the frame, when Thornton stepped to the plate. There was no pressure on the Tribe slugger as he knocked a double off the left field wall at Fenway Park. It capped a big day for Andre, who went 4 for 5 with the double being the last piece to complete the cycle. Thornton hit a single in the first, a triple in the second, and a home run in the seventh inning. He was the sixth player to accomplish the deed in the 78-year history of the Indians.
Looking back on his atypical day, Thornton said the game stood out to him for a couple of reasons. "One, it [hitting for the cycle] was something unusual for a player — any player — but especially for myself because I wasn't the fastest guy in the world. And second, each hit came off a different Boston pitcher [Allen Ripley, Bob Stanley, Jim Wright and Tom Burgmeier]." 1
Andre Thornton was born August 13, 1949, in Tuskegee, Alabama. He was one of seven children (three brothers and three sisters) born to Mr. and Mrs. Harold Thornton. In 1955 the Thornton family moved to Phoenixville, Pennsylvania, located 28 miles northwest of Philadelphia. Harold thought that moving north would provide more of an opportunity to provide for his family and leave behind the racial strife in Alabama. He found work as a machinist while Andre's mother cleaned homes.
Andre starred in football, basketball and baseball at Phoenixville High School, but he also had a love for pool. Beginning at the age of 12, he played games for a few dollars, with the pot growing into the hundreds by the time he was in high school.
The Philadelphia Phillies offered Thornton a tryout at Connie Mack Stadium in 1967. "I batted against [Phillies pitching coach] Larry Shepherd and hit a bunch of balls out of the park," recalled Thornton. In spite of his power display, he was not selected in the June 1967 Amateur Draft, but the Phillies liked what they saw of the powerfully built, right-handed slugger. "The day I signed with the Phillies, the scout [John Ogden] found me in the pool hall. When he came to see me that day, I was in the middle of a game of nine-ball, playing for a $300 pot."2
He began his ascent to the major leagues at Huron, South Dakota of the Northern League. "Going from Philadelphia to South Dakota was a culture shock," said Thornton. "There weren't any blacks in Huron except on the baseball team. I lived in a house with five players. We rented it and slept in the basement. One of my roommates was Toby Harrah."3 Thornton and Harrah were the only players on that Huron team to make a successful climb to the major leagues, and later became teammates in Cleveland.
After his first year in the minors Thornton enlisted in the National Guard and was stationed at Fort Dix in New Jersey. It was in the Army that Thornton established a connection to religion. "The Army is where I found Christ," said Thornton. "I had seen baseball. I had seen the streets. I was watching the result of the senseless killing going on in Vietnam. They tell you to work hard and you'll get a piece of the American Pie. They tell you things are equal. Well, I grew up knowing none of that was true. Reality was a cold place. Several times I had been in the depths of despair. None of it made any sense." 4
Thornton married the former Gertrude Thomas in October 1970. The couple had two children, son Andre Jr., and daughter Theresa.
Thornton spent the next six years in the minors, during which he was traded from Philadelphia to Atlanta. Even though he was starting to show some power with 46 homers over the 1971 and 1972 seasons, the Braves shipped him to the Cubs for Joe Pepitone. He was called up to the North Side, making his major league debut on July 28, 1973, against the Cardinals. He played sparingly over the last two months of the season, but never returned to the bushes.
Cubs manager Jim Marshall was happy with the play of his young first baseman. "He's come a long way in just this one season (1974) and has yet to reach his potential," said Marshall. "He's going to be an even better hitter. But I don't know how much better he can be in the field. He's an outstanding fielder right now." 5
Nicknamed "Thunder" for his meteoric blasts, Thornton was named National League Player of the Month in September 1975 when he hit .321 and clubbed eight of his team-leading 18 home runs. Andre also drove in 60 runs and hit 21 doubles for the year. With Bill Madlock replacing Ron Santo at third base, it appeared the Cubs were set at the corner positions for years to come. But that idea was washed away when Thornton was dealt to Montreal on May 17, 1976. The Cubs received pitcher Steve Renko and first baseman-outfielder Larry Bittner in the trade. Thornton had gotten off to a slow start for the Cubs and eventually lost his spot in the starting lineup. Combined with Chicago's need for a starting pitcher, the front office pulled the trigger on the deal.
Thornton changed his address again later in the year when the Expos traded him to Cleveland on December 10th for pitcher Jackie Brown. The Indians were looking for insurance at first base, as Boog Powell was aging and coming off an injury-plagued year. Eventually, Powell was released and Thornton was inserted at first base. "I consider him a real big addition to our team. He's a good player and potentially a 25-homer man," said Indians General Manager Phil Seghi. "He's still a young man, a right-handed hitter which we need and a very good glove man."6
Seghi's assessment proved accurate as Thornton turned into the right-handed power hitter the Tribe craved. Over the next three seasons (1977-1979), he smacked 87 homers and drove in 268 runs. He was touted as the first long ball threat the Indians had since Rocky Colavito. Perhaps the reason for the comparison was that "The Rock" was the Indians hitting coach when Thornton joined the team. "Rocky was really my first, true batting instructor. He was a guy who connected with me right away. We respected one another. We never said much other then the fact that he reminded me of the things to do in order to be successful. He's one of those people I owe a great deal to,"7 said Thornton. Or as Boston's Carl Yastrzemski said of Thornton, "He's always had great power. Now he's hitting the ball hard all the time, even on outs." 8
But it was more than power hitting that Thornton contributed to the team. In the same three-year span, he committed just 20 errors at first base, averaging a .995 fielding percentage. He proved to be an excellent fielder, showing more quickness and better hands than the Cleveland front office had thought. "Andy really is impressive," said Tribe skipper Jeff Torborg. "The more you watch him, he's an excellent first baseman."9
On October 17, 1977, tragedy hit the Thornton family hard. Andre, Gertrude, and their two children were traveling to West Chester, Pennsylvania, for a wedding, when a sudden snowstorm and high winds pushed the family van across the icy road and flipped it over into a ditch on the Pennsylvania Turnpike. Theresa was sleeping in her mother's arms in the front seat, while Andre Jr. was in the back seat. At the hospital Andre learned that Gertrude and Theresa lost their lives, while Andre Jr. had survived the crash. "It was then that I truly felt the power of God," explained Thornton. "I sensed Him telling me 'I will never leave you or forsake you.' I told my son it was just him and me now, but I don't know if he understood because he was so young." 10
Six years later, Thornton wrote about his faith in God and the challenges he faced in the aftermath of the fatal accident. The book, Triumph Born of Tragedy, was a best seller in Cleveland. Although many books by baseball stars are high on bestseller lists because of gossip and inside dirt, Thornton's book barely mentions baseball at all, Thornton choosing instead to focus on his religious beliefs.
Thornton refocused his attention to the baseball diamond in 1978, as his name dotted the leader board in the American League. He finished fourth in home runs (33), runs scored (97), walks (93) and RBIs (97). Baltimore pitcher Jim Palmer revealed the strategy that he and many other pitchers around the league followed when facing Thornton. "When I face Cleveland, I just want to be able to pitch around Thornton. He'll turn my 1-0 win into a 2-1 loss." 11
Thornton remarried after the season when he exchanged "I dos" with the former Gail Ellen Jones of Chicago. Andre met her through her father, Dr. Howard Jones, an associate evangelist with the Billy Graham Evangelist Association. They had two sons together, Dean and Jonathon.
The next two years Thornton saw very little action on the ball diamond. After he injured his right knee during a spring training game in 1980, surgery was performed on the knee, but it did not heal correctly. The front office did not believe that he was pushing himself to return to playing condition. When he told them the knee was not healing properly, the front office did not buy it. It was discovered that a second surgery was needed to remove damaged cartilage, but the season was lost for Andre. 12 The following year featured an extended players strike, resulting in the cancellation of 713 games or 38% of the major league schedule in 1981. Even so, Thornton suffered a broken hand from a pitched ball in spring training, which further derailed his comeback attempt.
When he did return to the team, his primary role changed to that of designated hitter. Cleveland had obtained Mike Hargrove from the San Diego Padres for outfielder Paul Dade in 1979. Hargrove had fallen on hard times, first in Texas and then in San Diego. The former Rookie of the Year winner revitalized his career in Cleveland, taking over the duties at first base in 1980 after Thornton went down in spring training. Although Hargrove was a good fielder and a better then average hitter, he lacked Thornton's power.
But much as he had rebounded from personal adversity, Thunder did the same on the diamond in 1982. He smacked 32 homers, drove in 116 runs, and walked 109 times, good enough to rank third in the American League in RBIs and walks. He was named to his first All-Star game in Montreal, and at season's end Thornton was named Comeback Player of the Year by The Sporting News. "All I needed was my health," said Thornton. "If I could stay sound, I knew I could produce. Just check my record. If I don't get hurt, I can put up some good numbers. To me, this season was gratifying, but it certainly didn't shock me." 13
Seghi agreed. "I know that Thornton has been hurt quite a bit. But every injury has been a serious one–broken bones, knee troubles. The man wants to play. When he can, he is one of the best power hitters in the game."14
After his power slumped a bit in 1983, Thornton's 33 round trippers in 1984 were the most by a DH, he was named by The Sporting News to the American League Silver Slugger Team. He made his second appearance in the Midsummer Classic, collecting a single in the third inning at Candlestick Park.
Like many players who spent a majority of their playing days in Cleveland from the 1960s through the 1980s, the postseason was just a dream. The reality was more disturbing, playing to small crowds in cavernous Cleveland Stadium. In Andre's 11 years wearing an Indians uniform, the team finished over .500 just three times, and two of those were by a single game.
His playing time continued to diminish through the mid-1980s, and at the end of the 1987 season Thornton retired. His 214 home runs ranked him fourth in Cleveland history. "The numbers are not what you really remember. I've already forgotten some of the things that have happened on the field. What I'll remember most are the friendships. That's what sticks with you."15
In retirement, Thornton owned a chain of Applebee's restaurants as well as his own sports marketing firm. As of 2011, he was the CEO and chairman of ASW Global, a supply chain management company based in Mogadore, Ohio. He is also in demand on the public speaking circuit at churches and various organizations.
In 2007, he was named to the Cleveland Indians Hall of Fame. "To spend 11 years with the Indians and compile a record that people think is worthy of their Hall of Fame. … I'm just humbled by it." 16
Five weeks after the fatal accident in 1977, Jeff Torborg was at home. It was Thanksgiving time, and he was thinking of what Andre Thornton must be going through. "He was on our minds constantly, so I told my wife I was going to give Andy a call, hoping maybe I could boost his morale a bit," recalled Torborg. "We spoke on the phone for 30 minutes; I think I spoke a minute. Andy spoke the other 29 and he strengthened me!"17
Andre Thornton may have been a power hitter, a strong performer on the baseball diamond. But it was his inner strength that enabled him to overcome personal tragedy in his life. It was from this fortitude that family, friends, and teammates found strength to shape their own lives.
Last revised: January 14, 2012
Sources
http://www.baseball-reference.com/
http://cleveland.indians.mlb.com/index.jsp?c_id=cle
National Baseball Hall of Fame, Andre Thornton's file.
Born
August 13, 1949 at Tuskegee, AL (USA)
If you can help us improve this player's biography, contact us.
http://bioproj.sabr.org/bp_ftp/images6/ThorntonAndre.jpg
600
800
admin
/wp-content/uploads/2020/02/sabr_logo.png
admin
2012-01-16 20:33:10
2012-01-16 20:33:10
Andre Thornton