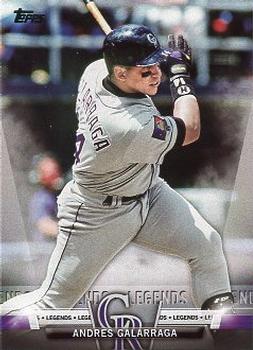 ---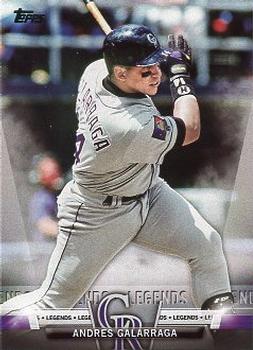 Andrés Jose Padovani Galarraga was known as the Big Cat, or El Gran Gato, during his 19-year major-league baseball career, a career in which he became the Colorado Rockies' first big star. He looked like a slugger but what made him so popular, and helped secure his nickname, was his quickness around the first-base bag. Along the way he helped establish the Rockies' tradition of great infield defense.
Galarraga was the first of the "Blake Street Bombers" and one of the key reasons the Rockies established a major-league record for attendance during their first year and by year three were in the playoffs.
During his big-league career, he hit 399 home runs, became a five-time All-Star, two-time Gold Glove winner, and two-time Comeback Player of the Year. Most importantly, Galarraga is a two-time cancer survivor.
When his career ended in 2005, after a brief stint with the New York Mets in spring training, he had hit more home runs than any native Venezuelan (since broken by Miguel Cabrera) and was considered a national hero in his native land.1
Andrés Galarraga was born June 18, 1961, in the capital city of Caracas. His father, Francisco Padovani, was an Italian immigrant who painted houses for a living, while his mother, Juana, helped raise his three brothers and one sister. Orlando, Alfonso, Francisco, and sister Haide were Andrés' siblings.2
Andrés played sandlot ball growing up until the age of 16, when he began playing professional ball in the Venezuelan winter league. He began his career as a third baseman and catcher. It was there in 1979 that Felipe Alou first saw him play and, after getting over his "chubbiness," recommended to Montreal farm director Jim Fanning that the Expos sign him.3
The signing is an interesting story. According to an Alou recollection, he was friends with the Caracas manager, Oscar Minaya.4 He brought a rooster to give him as a present and in return Oscar told him about this player named Andrés Galarraga. Alou watched him play and proceeded to call Fanning and recommend signing the young slugger. Fanning balked at the $10,000 figure Alou gave him, and while there is some discrepancy over how much Galarraga actually signed for — either $5,000 (per Alou's memory) or $1,500 according to most other reports — the Expos had him under contract as an amateur free agent.5
He was given the moniker "Big Cat" by his manager (and former big leaguer) Bob Bailey while playing Rookie League ball at Calgary in 1979, for his cat-like quickness and agility around the first-base bag.6 He stood 6-feet-3 and listed at 235 pounds.
Galarraga's first impression of the United States was not all that favorable and he experienced many of the same frustrations other Latino ballplayers do when arriving in the country for the first time. According to Bob Kravitz, Andrés didn't speak a lick of English when he arrived in West Palm Beach.7 In an interview with Kravitz years later, Galarraga remembered he was so homesick when he first arrived that he wanted to call his parents every day but only had the money to do so on a weekly basis. He was also the only Latino on his teams in Calgary and at Jamestown in the Class-A New York-Penn League.
Galarraga's road to English understanding mimicked many other Latin players' efforts in adapting to a new country and a strange language. He watched TV and he read the dictionary and newspapers to understand the language. According to Jill Leiber, Galarraga had the TV on 24 hours a day to learn English.8 He recalled the frustration with simple day-to-day tasks such as ordering food from a menu in an American restaurant where he and his fellow Latinos had to simply point at the item to order it.
Future big leaguer Randy St. Claire was a teammate of Galarraga's at Jamestown and also helped with his English.9
Perhaps because of these cultural adjustments, Galarraga's career did not get off to a rousing start. In fact, he was so bad in his first professional appearance in West Palm Beach that he was demoted to Rookie League Calgary during his first professional season. He stayed in Calgary until he was promoted to the Expos' low Single-A club in Jamestown, New York, for the 1981 season.
He was back in West Palm Beach and high Single-A ball for the 1982-83 seasons before being promoted to Double-A Jacksonville in 1984. There he became the Southern League's Most Valuable Player by hitting .289 with 27 home runs and 87 RBIs. He had now also established himself as a full-time first baseman. He was promoted to Montreal's top farm club at Triple-A Indianapolis in 1985 and was named the International League's Rookie of the Year. He hit .269 with 25 homers and had 85 RBIs before being promoted to Montreal in August.
Galarraga made his major-league debut on August 23, 1985. Getting into 24 games that first year, he hit .187 with 2 home runs and 4 RBIs.
His official rookie year, 1986, was off to a promising start but he injured a knee that required arthroscopic surgery. Later in the season he also pulled a rib-cage muscle. Despite the injuries, he played in 105 games and slugged 10 home runs.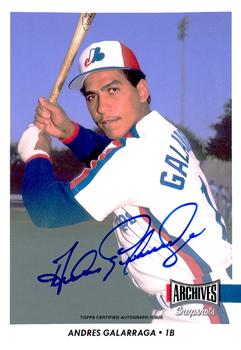 Galarraga's career took off in 1987 when he played a full season, batted.300 for the first time (.305), knocked in 90 runs and finished second in the NL with 40 doubles. The next year he fully blossomed with his first All-Star berth while being named the Expos Player of the Year. He hit .302 with 29 home runs, 92 RBIs, and 99 runs scored while leading the league in hits (184) and doubles (42).
That was to be Galarraga's high point for the Expos as he suffered through injuries and a lack of production while leading the league in strikeouts for three consecutive years (1988-90). After knee surgery again during the 1991 season and the worst batting average of his career (.219) outside of his 1985 season, he was traded in November to the St. Louis Cardinals for pitcher Ken Hill.
The 1992 season started miserably as Galarraga broke his wrist in the second game of the year. When he returned from the injury he hit only .243 with 10 home runs and 39 RBIs. He did, however, meet the man who was to transform his game and his batting approach: St. Louis hitting coach Don Baylor. Baylor liked Galarraga and when he became the Colorado Rockies' first manager for their inaugural 1993 season, he persuaded team ownership to sign the player as a free agent following his release by the Cardinals.
Toward the end of Galarraga's tenure in St. Louis, Baylor got him to alter his batting stance. This transformed Galarraga's career: He hit .301 over his last 45 games. His stance was soon to be recognizable by baseball fans everywhere for its unconventionality. Baylor persuaded Galarraga to stand so that both eyes were facing the pitcher and then stride into the pitch from that stance.10
Galarraga signed as the Rockies' first free agent on November 16, 1992, one day prior to the expansion draft that produced the team's first-ever roster. With him coming off two subpar seasons in succession, the Rockies were able to sign Galarraga for a mere $600,000, probably the team's best-ever free-agent signing. Galarraga's 1993 contract included $250,000 in incentives, bringing his total to $850,000.11
Galarraga was 31 years old and his career was about to take off as he became an immediate fan favorite in the Rockies' inaugural season. He was the cleanup hitter for the Rockies' first game, against the New York Mets on April 5, 1993. It was the first of five consecutive Opening Day starts for the Big Cat as a member of the Rockies. With his new open stance paying huge dividends, Galarraga flirted with .400 for much of the season. He was hitting .391 at the All-Star break and became the Rockies' first participant in the midsummer classic.
He ended the season with a major-league-leading .370 batting average. He knocked in 98 runs, hit 22 home runs, and finished with a 1.005 OPS, the best of his career, all of this despite missing 42 games with two stints on the disabled list. During his second DL stint, the Rockies lost a team-record 13 consecutive games, a record that still stood as of 2018.12
His .370 batting average was the highest by a right-handed hitter since Joe DiMaggio hit .381 in 1939.13 Galarraga was named the Comeback Player of the Year (the first of two such selections in his career) by The Sporting News and finished 10th in MVP voting.
Galarraga underwent yet another knee surgery during the offseason, but also capitalized on his 1993 year by signing a $12 million, four-year contract in December 1993. With incentives and bonuses, Galarraga eventually made $17.2 million over the course of the next four years.14
During the Rockies' second season, which was cut short at midseason by the players strike, Galarraga had an April to remember. He drove in 30 runs during the month, a National League record that Barry Bonds was to break two years later. But he broke his hand on July 28 and when the strike began on August 12, his season was over. He did lead the Rockies in home runs with 31, hit .319, and knocked in 85 runs while playing in only 103 games.
The 1995 season was to be one of the most memorable in Rockies history with the opening of Coors Field in a renovated area of downtown Denver known as LODO, for lower downtown. Galarraga played a key role in the Rockies' playoff push culminating in their first appearance in postseason play.
He was also healthy for a full season for the first time in four years and produced again with a .280 average, 31 home runs, and 106 RBIs. Galarraga also led the league in strikeouts (146) for the fourth and last time in his career.
He became part of the Blake Street Bombers that year, a reference to the location of Coors Field at the corner of 20th and Blake. The Bombers consisted of Galarraga, Larry Walker, Vinny Castilla, Dante Bichette, and Ellis Burks. In 1995 Galarraga, Bichette, Walker, and Castilla made major-league history and tied the 1977 Dodgers with four players on a team hitting 30 or more homers in the same season.
Galarraga also made more major-league history that year by hitting home runs in three consecutive innings against San Diego on June 23 to tie a National League record. Two weeks later he went 6-for-6 with two home runs and five RBIs against Houston on July 3.15 (His six hits in a game for the Rockies were matched by Charlie Blackmon in 2014.)
The Rockies lost to eventual World Series champion Atlanta Braves in the Division Series.
The next year Galarraga led the NL in homers with 47 and RBIs with 150. He stroked 39 doubles and had a slugging percentage of .601 while playing in 159 games, the most of his career.
The 1997 season was Galarraga's last in Colorado. He went out with a flourish, leading the NL again in RBIs with 140, scoring 120 runs (the most of his career) and being named to his third All-Star team.
Galarraga hit the most famous of his many home runs, a grand slam, on May 31, 1997, off the Marlins' Kevin Brown at Pro Player Stadium in Miami. There is no doubt where he hit the ball — it landed 20 rows up in the upper deck on a blue tarp in a closed-off section — and while initial estimates put the distance at 573 feet, it was later recalculated at 529 feet and then recalibrated 14 years later using ESPN's Home Run Tracker at 468 feet.16 However, a recent exhaustive study of the home run by Jose Lopez and others has seemingly answered the question once and for all. Lopez and his fellow authors used the latest LIDAR technology along with a 3D mathematical model to determine that his mammoth shot probably traveled 524 feet, making it "one of the few hit prior to Statcast proven to have exceed the 500-foot distance in the history of MLB."17
With young prospect Todd Helton on the horizon, the Rockies said goodbye to the Big Cat after the 1997 season. He signed with Atlanta in November and earned more than $25 million during the next three years with the Braves.
His initial season with the Braves saw him play in 153 games, hit .305, knock in 121 runs, and hit 44 homers. He made the All-Star team for the fourth time. He became the first major leaguer to hit 40 home runs in two consecutive seasons for different teams.
The 1999 season was a nightmare for the Big Cat. He missed the entire season after being diagnosed with non-Hodgkin's lymphoma in spring training. It had settled into his lower back on the second lumbar vertebra. He went through five months of chemotherapy and radiation. Yet he was determined to play baseball again and went through a rigorous rehabilitation routine at the Powerhouse Gym in West Palm Beach, where he lived in the offseason.18 It was successful and he was back to playing baseball in the spring of 2000.
In the Braves' first game he hit the game-winning home run in the seventh inning and also provided a game-saving defensive gem in Greg Maddux's 2-0 win. He played in 141 games in his comeback season and received his second Comeback Player of the Year Award by hitting .302 with 28 home runs and 100 RBIs.
After the 2000 season Galarraga asked the Braves for a two-year contract. They offered only a one-year deal and Galarraga switched leagues for the first time in his career by signing with the Texas Rangers.
His did not adapt to the American League well and, with star Rafael Palmeiro a fixture at first base, he mostly DHed and pinch-hit. After 72 games and with a .235 batting average, 10 home runs, and 34 RBIs, the Rangers traded Galarraga back to the NL and the San Francisco Giants on July 24. He finished the season with the Giants playing in 49 games and hitting .288 with 7 more homers and 35 more RBIs.
A free agent again after the season, Galarraga signed with his original team, the Montreal Expos, in the spring of 2002. At 41 years old, he played in 104 games for the Expos and saw a decline in his batting numbers. He hit 9 homers, knocked in 40 runs, and batted .260.
The decline had begun and, although he managed to hang on and play 110 games with San Francisco in 2003, Galarraga was never again the player he was before going to the American League. He hit a respectable .301 with the Giants but his power numbers were fading. He hit 12 home runs with 42 RBIs in his last full season in the majors.
After the season, Galarraga once again faced cancer. After being diagnosed with the same form of non-Hodgkin's lymphoma in November, he spent most of January 2004 at the Robert H. Lurie Comprehensive Cancer Center at Northwestern University. He went through a stem-cell transplant and chemotherapy and radiation again.19
Not wanting to give up his baseball career yet, Galarraga battled back from his second bout with cancer and signed a contract with the Anaheim Angels' minor-league club in Salt Lake City. He was called up to the Angels when rosters expanded on September 1. He hit his final major-league home run, the 399th of his career, while getting 10 at-bats. His last major-league appearance came on October 3, 2004, 19 years after his first major-league game.
The next season Galarraga, at 43 years old, was invited to the New York Mets' spring training. Realizing it was the end of a long and productive career, he retired officially on March 29, 2005.20
Galarraga's final career numbers are impressive. He finished with a .288 career average, 399 home runs, and 1,425 RBIs. He had 444 doubles, 32 triples, and 128 stolen bases — not bad for someone once considered too chubby to play professional baseball.
Galarraga and his wife, Eneyda, whom he married on Valentine's Day 1984, took up residence in West Palm Beach after his retirement. They have three children. Katherine, Andria and Andrianna.
Last revised: April 1, 2018
An updated version of this biography appears in "Major League Baseball A Mile High: The First Quarter Century of the Colorado Rockies" (SABR, 2018), edited by Bill Nowlin and Paul T. Parker.
Sources
In addition to the sources cited in the Notes, the author also consulted Baseball-Reference.com and the following:
Beaton, Rod. "Galarraga Says Support Makes Me Feel So Strong," USA Today, March 18, 1999.
Heyman, Jon. "Big Cat's Doggedness Provides Inspiration," Newsday.com, January 14, 2005.
MacDonald, Ian. "Cooperstown Bound?" The Sporting News, July 4, 1988.
Price, S.L. "Cat and Mouth Game," Sports Illustrated, March 13, 2000.
Saunders, Patrick. "Andrés 'Big Cat' Galarraga Still a Big Hit in Denver," Denver Post, June 5, 2013.
Tucker, Tim. "Even Schuerholz, Kasten Are Moved by Galarraga," Atlanta Journal Constitution, April 4, 2000.
Vecsey, George. "Sports of the Times; Galarraga Brought Angels to the Gym," New York Times, June 28, 2000.
York, Marty. "Expos' Unknown Superstar," Globe and Mail (Toronto), June 10, 1988.
Notes
1 Carlos Frias, "Beloved Big Cat," Atlanta Constitution, February 6, 2000.
2 Bob Kravitz, "Rocky Mountain High: Colorado Fans are Seeing Galarraga at His Peak," Houston Chronicle, June 27, 1993.
3 Felipe Alou, "Fat Cat Is Big Hit at Third in Venezuela," Rocky Mountain News (Denver), September 25, 2003.
4 Michael Farber, "Cat Quick," Sports Illustrated, June 2, 1997.
5 Jill Leiber, "The Big Cat," USA Today, August 27, 1998.
6 Farber.
7 Kravitz.
8 Leiber.
9 Kravitz.
10 Farber.
11 Doug Pappas, Baseball Reference website/SABR; John Mossman, "Galarraga Re-Signs with Rockies," Deseret News (Salt Lake City), December 7, 1993.
12 Mossman.
13 Morris Eckhouse, "The Ballplayers: Andrés Galarraga," Baseball Library.com.
14 Mossman, and Pappas.
15 Owen Perkins, "Rox Reflect Fondly on Blake Street Bombers," special to MLB.com, October 19, 2007.
16 Patrick Saunders, "Rockies Legend Andrés Galarraga Talks About His Famous Homer vs. Marlins," Denver Post, June 13, 2015.
17 Jose L. Lopez, Oscar A. Lopez, Elizabeth Raven and Adrian Lopez, "Analysis of Andrés Galarraga's Home Run of May 31, 1997," Baseball Research Journal, 46 (2), (2017): 83-90.
18 Tracy Ringolsby, "Galarraga Diagnosed With Cancerous Tumor," Rocky Mountain News (Denver), February 19, 1999; Frias.
19 George Vecsey, "The Princely Smile Says Galarraga, the Big Cat, Is Back," New York Times, February 16, 2004.
20 Pat Borzi, "Galarraga Decides to Retire to Spare the Mets Some Angst," New York Times, March 30, 2005.
Born
June 18, 1961 at Caracas, Distrito Federal (Venezuela)
If you can help us improve this player's biography, contact us.
https://sabr.org/sites/default/files/Galarraga-Andres-COL.jpg
600
800
admin
/wp-content/uploads/2020/02/sabr_logo.png
admin
2012-01-04 20:20:01
2012-01-04 20:20:01
Andres Galarraga