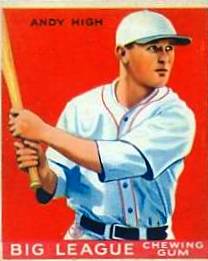 ---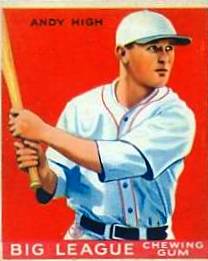 "It was at the Polo Grounds on Opening Day in 1922. I was standing at shortstop and I'll tell you how I felt. It looked like there were 100,000 people in the stands, and it seemed like every one of them was looking down at little Andy High from Ava, Illinois." That was High's response to a question posed by historian Eugene Murdock in a 1979 oral interview: "Describe your greatest thrill in baseball." The April 12, 1922, season opener in New York marked High's debut as a major leaguer; he wore the uniform of the Brooklyn Robins.
Andy High's professional baseball career began in 1919, and spanned six decades. He played the infield for five National League teams in 13 seasons from 1922 to 1934, with a lifetime batting average of .284. Later he managed minor-league clubs, served as a major-league coach and was a longtime scout with the Dodgers, retiring as chief scout in 1963. He picked up two nicknames during his playing days: "Knee" High, and "Handy Andy." The first name referred to his size (5'6" and 155 pounds); the latter was earned, most notably as a clutch performer with the St. Louis Cardinals pennant teams in 1928, '30 and '31.
High's baseball timeline was interrupted by service in World Wars I and II. He joined the navy as a 20-year-old in 1918, served 14 months, and was honorably discharged as an electrician's mate third class. Andy was 45 years old when he re-enlisted in 1943, and spent 21 months with the SeaBees as a chief boatswain's mate.
Born on November 21, 1897, in Ava, Illinois, Andrew Aird High was the seventh of 13 children (six boys and seven girls) in the household of Richard and Margret Aird High. The two had met while Richard was stationed with the army at Jefferson Barracks near St. Louis. At the time of Andy's birth, Richard worked at a grain mill in Ava. He later became an electrical engineer specializing in the winding of armatures. In 1903 the family moved to St. Louis; the city offered more lucrative employment for Richard and better education opportunities for the children. The High boys also took advantage of the active sandlot baseball programs in the area.
Brother Hugh, 10 years older than Andy, was the first of three High brothers to make it to the big leagues. An outfielder, he joined the Tigers in 1913 and ended his career in the Show with the Yankees in 1918. Charlie High, a year younger than Andy and the tallest of the trio at 5'9", played briefly in the outfield for the Philadelphia Athletics in 1919-20. All three brothers were left-handed hitters.
Scout Charlie Barrett knew all the ballplayers around St. Louis, and in 1917 sent Andy to a Mason City, Iowa tryout camp. The prospect was released after three days and returned home to play sandlot ball. In 1918 he enlisted in the navy, took electrical training at Brooklyn Navy Yard, then was transferred to Norfolk, Virginia, just in time for the start of baseball season on the base. He made the "big team" there, and his baseball skills improved with the higher level of competition.
When High left the navy in 1919, Charlie Barrett arranged for him to sign with the Memphis Chicks. Southern Association clubs were restricted to one rookie on the roster, and High filled the bill. The youngster had spent some time playing the outfield in the service, and with veteran Carl Manda at third base for the Chicks, Andy took over the left field spot and batted .227 in 121 games.
John McCloskey succeeded Cy Barger as Memphis manager in 1920 and moved Andy to third base; he improved to .281 at the plate. The following year he upped his average to .321 and led the league with 136 runs scored. Scout Nap Rucker, who covered the South for Brooklyn in 1921, secured five players for delivery to the Robins in 1922. He took pitcher Dazzy Vance, catcher Hank DeBerry and outfielder Bert Griffith from New Orleans. From Memphis he grabbed catcher Bud Hungling and infielder Andy High.
Regular Brooklyn third baseman Jimmy Johnston was a holdout in 1922 spring training; High stepped in and made a good impression on skipper Wilbert Robinson. When Johnston finally signed, High was moved to shortstop and opened the season there. Several weeks later he moved back to the hot corner, while Johnston split playing time with Ivy Olson at short. Andy had a commendable rookie season; in 153 games he batted .283 and drove in 65 runs.
Andy and Mildred Matel were married in Chicago in 1922, and when Robins owner Charles Ebbets failed to raise his 1923 salary the newlywed held out until a week before the season opener. He eventually signed and hit .270 in 123 games. In 1924 he posted career highs in batting (.328), runs scored (98), and hits (191). The Robins were in the pennant race all the way to the end, finishing second to the New York Giants by 1½ games. Brooklyn was blessed with two big bats in the lineup: first baseman Jack Fournier led the league with 27 homers and hit .334, while outfielder Zack Wheat's .375 bat mark was second in the NL to the phenomenal .424 average of the Cardinals' Rogers Hornsby.
High told author Eugene Murdock that his uncle and namesake, Dr. Andrew Aird, had a hand in his increased offensive production. A YMCA worker before becoming a country doctor, Aird was a keen baseball observer. Aird attended a game in St. Louis when High came to town with the visiting Robins and noticed that Andy wasn't able to reach low pitches consistently with his upright batting stance. At dinner after the game, Uncle Andrew suggested that he crouch a bit in the box. He did so and the next day laced out a pair of hits and was on his way.
High broke an ankle in 1925 training camp. The idleness was costly; after playing in 44 games and hitting .200, he was put on waivers. On July 25 he was claimed by the Braves, where he batted .288 in 60 games. Boston finished in fifth place, two games ahead of Brooklyn.
Andy had a productive year in 1926; his .296 average produced a career-high RBI total of 66. His final season with Boston was 1927, when he hit .302. The lack of power hitters in the Boston lineup often resulted in skipper Dave Bancroft writing Andy's name in the cleanup spot; his home run total, however, was only 10 in the three total seasons in Boston. Mediocre pitching also contributed to the Braves' seventh-place finishes in 1926-27.
High's career took a favorable turn in 1928 when he was traded to the Cardinals for third baseman Les Bell. In the next four seasons he became a popular player in his adopted home town while St. Louis won three pennants, capped off with the World Series crown in 1931. The Redbirds captured the 1928 flag by two games over the Giants. On September 28, with just three games left on the schedule, St. Louis led New York by a single game. Playing that day at Boston, the Cardinals were behind, 3-2, in the top of the ninth. High knocked in the tying run to knot the score. St. Louis scored seven runs in the 15th inning for a 10-3 victory, and clinched the pennant with another win the next day.
High split time with Wattie Holm at the hot corner in '28, and occasionally spelled Frankie Frisch at second base. He batted .285, with six homers and 37 RBI in 111 games. Jim Bottomley (.325 BA, 31 home runs, 136 RBI) and Chick Hafey (.337, 27, 111) provided the lineup with a formidable one-two punch. Veterans Bill Sherdel (21-10), Jesse Haines (20-8), and Pete Alexander (16-9) anchored manager Bill McKechnie's pitching staff.
The New York Yankees swept the Cards in the fall classic by scores of 4-1, 9-3, 7-3, and 7-3; Lou Gehrig (.545 average and four home runs) and Babe Ruth (.625 and three round-trippers) powered the Yankees' offense. St. Louis was held to a .206 team average by Yankee moundsmen; High's five hits led the club. The Series whitewash cost McKechnie his job, and the 1929 season began with Billy Southworth as St. Louis skipper.
Southworth stationed veteran Fred Haney at third base to start the campaign, but he failed to hit and High was soon placed at third for the remainder of the season. He responded by leading National League third basemen in fielding and batting a solid .295 with 10 home runs and 63 RBI. Twice during the season he had four-hit games; on May 4 two of the four safeties were home runs.
Bottomley and Hafey repeated their heroics at the plate, while Frisch, Taylor Douthit, Ernie Orsatti, and Jimmy Wilson all topped the .300 mark. The Chicago Cubs put together a 98-win season and cruised to the pennant; St. Louis was a disappointing fourth, 20 games behind. Southworth was replaced after 88 games and McKechnie was re-hired to complete the year.
In 1929, Atlanta Constitution columnist Ralph McGill penned a column entitled, "Aggressiveness Wins Job for Andy High." McGill wrote: "His career illustrates just what a valuable asset an aggressive temperament can be and what a distressing liability lack of one is. High is a hustling ballplayer but a colorless one. He never pushes himself into the forefront. He attracts no great amount of attention. He is steady rather than brilliant."
The '29 season turned out to be High's final one as an everyday player in the major leagues. Before the 1930 campaign the Cardinals acquired Sparky Adams from Pittsburgh to play third base and add more speed at the top of the lineup. The club started the season slowly under its new manager, Gabby Street; on August 9, the Cardinals were in fourth place at 53-52, 12 games out of first, but took off on a hot streak to win 39 of the final 49 games and overtook Chicago, New York and Brooklyn.
Handy Andy's role was to come off the bench and give Adams a breather at the hot corner, or step into the batter's box and bang out a timely pinch hit. Subbing for Adams on June 15 at Brooklyn, High tripled and homered to drive in four runs in a 9-4 St. Louis victory. On August 28 the Redbirds won a 20-inning battle over the league-leading Cubs, 8-7, at Wrigley Field. Andy's three hits included the game-winner in the final frame.
The race to the finish line in September gave High more opportunities to shine. On September 10 his pinch single started a four-run rally in the eighth inning as the Cardinals beat the Giants, 5-3. At Ebbets Field on the 16th, St. Louis beat Brooklyn in 10 innings, 1-0, to snap the Robins' 11-game winning streak. High led off the 10th with a pinch-hit double off Dazzy Vance and scored the game's only run on Taylor Douthit's single. The following day in Flatbush he cracked out another pinch two-bagger. With the game knotted 3-3 in the top of the ninth, Andy's hit knocked in two runs and St. Louis won, 5-3. The losses were tough on the Robins; in the final two weeks of the campaign they dropped from first place to fourth.
With the Cubs trailing by two games and the pennant nailed down, Street gave Frisch the day off in the season finale on September 28, and High played second base in the 3-1 victory over Pittsburgh. The highlight of the afternoon was the major-league debut of Dizzy Dean, who threw a complete-game, three-hitter.
The lively ball in 1930 produced a St. Louis lineup in which all regular players hit .300 or better; the overall team average was .314. Hafey's .336 was embellished with 26 home runs and 107 RBI. Frisch knocked in 114 with 10 homers and a .346 BA. High's contribution was 60 base hits, with several labeled "clutch," and a .279 average in 72 games played. All five starters on the pitching staff had winning records; Bill Hallahan was 15-9; Syl Johnson, 12-10; Jesse Haines, 13-8; Burleigh Grimes, 13-6; and Flint Rhem, 12-8.
St. Louis met the Philadelphia Athletics in the World Series, and the men of Connie Mack prevailed, four games to two. Lefty Grove and George Earnshaw dominated on the hill, each winning twice. The two Cardinal wins were recorded on Hallahan's 5-0 shutout and Haines' 3-1 triumph over Grove. The hitting duo of Al Simmons (.364, two homers, four RBI) and Jimmie Foxx (.333, one, three) led the way for the victors. Shortstop Charley Gelbert's .353 (6-for-17) was the lone bright spot in the St. Louis lineup. In a limited role, High hit safely once in two plate appearances.
In a controversial move in November 1930, Andy was sold to Rochester, the St. Louis farm club in the International League. When he threatened to retire from the game, cooler heads prevailed and he was restored to the parent team's roster in 1931. The Cardinals clicked on all cylinders that year; at the season's conclusion they led the second-place Giants by 13 games. The hurling corps was bolstered by rookie Paul Derringer, who won 18 games. Hallahan's 19 victories tied for the league lead and Grimes recorded 17 wins. Rhem and Johnson totaled 11 each, and Haines was a 12-game winner in a spot starter's role.
On the offensive side, Hafey won the NL batting title (.349). Frisch hit .311 and was the circuit's stolen base leader with 28. Adams was the loop's doubles champion (46) and batted .293. Bottomley missed part of the season, but hit .348 in 108 games. A pair of 27-year-old rookies attracted attention: first baseman Ripper Collins took part in 89 games and batted .301, and Pepper Martin hit an even .300 in his first full season in the St. Louis outfield.
For High, playing time was reduced to 63 games; he batted .267 (35-for-131), and was 5-for-19 as a pinch-hitter. He continued to be a Handy Andy, however. On April 16 at Cincinnati he pinch hit for Haines in the seventh inning in a 1-1 tie, singled in two runs to break the deadlock and the Cardinals went on to a 6-3 victory.
At Brooklyn on May 19, with St. Louis trailing the Robins, 2-1, High's pinch-hit single contributed to a five-run outburst in the eighth inning to sink the host team, 6-2. In a rare start at second base at Sportsman's Park on May 29, Andy drove in three runs with a single and triple as the Reds were beaten, 14-9. Another high-scoring affair took place on July 13 in St. Louis, with the Cardinals toppling the Cubs, 12-5. Playing third base, High was 4-for-4, scored two runs and batted in a pair.
He delivered again on July 19 in St. Louis. With the Giants holding a 1-0 lead in the bottom of the ninth, he singled with one out to plate Pepper Martin with the tying run and later tallied the winning marker on a hit by Ernie Orsatti to beat New York, 2-1. The Cardinals didn't need High's September magic of the previous year to win the pennant, but he played a major role in Game Seven of the 1931 World Series.
The Athletics again were the opposition, having won 107 games to outdistance the second-place Yankees by 13 ½ lengths. Al Simmons won the AL hitting crown (.390), slugged 22 home runs and totaled 128 RBI. Jimmie Foxx had 30 round-trippers and 120 RBI, and catcher Mickey Cochrane's .349 plate mark and 89 RBI complemented the work of his powerful teammates. Lefty Grove had a phenomenal year in 1931, leading both leagues in wins (31-4), ERA (2.06), and strikeouts (175). Two other hurlers on the staff turned in notable seasons: George Earnshaw (21-7), and Rube Walberg (20-12).
St. Louis racked up 101 wins and was primed to avenge the previous year's Series loss. The 1931 World Series opened at Sportsman's Park, featuring a pitching matchup of veteran Grove and rookie Derringer. The left-hander went the distance in the 6-2 Philadelphia win, despite surrendering 12 hits. Derringer gave up all six runs on 11 hits, including a two-run homer by Simmons. With Adams hobbled by a leg injury, High played third base and batted in the leadoff spot, going 1-for-4. Martin had three hits for the Cardinals, and Game One was the beginning of a fantastic post-season for the Oklahoma speedster.
Game Two was a classic duel between southpaw Hallahan and right-hander Earnshaw. The lefty prevailed, 2-0, surrendering just three safeties. Martin had two hits, two stolen bases, and scored both runs. Both High and Adams sat on the bench as Jake Flowers played third base and went hitless in four plate appearances.
Moving to Shibe Park for Game Three, Grimes bested Grove, 5-2, going the distance and limiting the A's to just two hits, one a two-run homer by Simmons in the ninth inning. The St. Louis right-hander also chipped in with a single to drive in a pair of runs, and Martin had two more hits. Adams started at the hot corner and was hitless in three at-bats before Flowers took over. High remained on the bench.
The Athletics evened the series at two games apiece by winning Game Four, 3-0. Earnshaw rationed out two hits, both by Martin. High replaced starter Jake at the hot corner in the second inning and went 0-for-3. Sylvester Johnson, the starter and loser, was touched for a homer by Foxx.
In Game Five at Shibe Park, Hallahan, the starter and winner in Game Two, came back to throttle the Athletics, 5-1, going the route and scattering nine hits. Martin supplied all the offensive punch St. Louis needed; his sacrifice fly in the first inning scored High, running for the injured Adams. Pepper brought home three tallies on a two-run homer in the sixth and a single in the eighth. Veteran right-hander Waite Hoyt took the loss. High went 0-for-4 after replacing Adams.
Back in Sportsman's Park for Game Six, Mr. Mack called on Grove to take the mound, and Lefty evened the series at three games apiece, winning 8-1 and allowing just five hits. The game was scoreless until the fifth, when an error by Flowers on Foxx's grounder to third paved the way to four unearned runs. Derringer started for the Cards, couldn't find the plate, and issued four walks and three hits to go with the costly error. A miscue by Hafey contributed to another four-run uprising in the seventh.
Decisive Game Seven saw Grimes, the future Hall of Famer, take the hill for St. Louis. Mr. Mack gave the ball to Earnshaw, the shutout winner of Game Four. With Adams unable to take the field, Handy Andy High got the start at third, and led off the bottom of the first inning with a base hit. George Watkins followed with another single, and both runners advanced on Frisch's sacrifice bunt. Earnshaw wild-pitched High home, and Watkins scored on an error by Foxx for an early 2-0 lead. In the third inning High singled in front of Watkins' two-run homer to finish off the St. Louis scoring.
The score remained 4-0 until the ninth, when Grimes, obviously spent, walked two batters and allowed a two-out single to load the bases. Pinch-hitter Doc Cramer's single plated two runs before Hallahan came on in relief to retire Max Bishop on a fly ball to center and seal the 1931 World Series title for the Cardinals. St. Louis totaled only five hits in Game Seven: three singles by High and a single and homer by Watkins. Andy's three hits raised his '31 post-season mark to .267 (4-for-15). The Cardinal standout was Pepper Martin; he batted .500 (12-for-24), with four doubles, one home run, five RBI, five runs scored and five stolen bases.
After 10 years in the major leagues, Andy High, the little man from Ava, Illinois, had reached the pinnacle in baseball: a World Series championship. There would be no repeat for Handy Andy, however; on December 2, 1931, he was dealt to cellar-dwelling Cincinnati for outfielder Nick Cullop and cash.
The Reds made several roster moves before the 1932 season. A six-player trade with Brooklyn brought outfielder Babe Herman, catcher Ernie Lombardi and third baseman Wally Gilbert. George Grantham was obtained from Pittsburgh to play second base, and after High's acquisition, outfielder Chick Hafey was acquired from St. Louis. Already with Cincinnati were two other former Cardinal teammates, outfielders Wally Roettger and Taylor Douthit.
Even with the new faces the Reds couldn't escape the basement. They were 30 games behind the pennant-winning Cubs at season's end and 12 lengths in back of the Giants and Cardinals, who tied for sixth place. High was used sparingly, playing 84 games at second or third base and pinch-hitting. He batted only .188 (36-for-191) with just 12 RBI. Two of the runs were driven in against Chicago at Redland Field on May 20. With the Reds trailing, 2-1, in the bottom of the 11th, Andy's pinch triple with two out off Lon Warneke scored Grantham and Herman for a 3-2 victory.
Donie Bush replaced Dan Howley as Cincinnati manager in 1933, but the team finished last again. High's time with Cincinnati ended on July 12 when he drew his unconditional release after playing in 24 games and batting .209 (9-for-43). Ten days later he signed a minor-league contract with Columbus of the American Association, where he batted .340 (18-for-53) in 20 games.
In 1934 Andy accepted a position with the Syracuse club of the International League as player-manager. He was hitting .313 after 56 games, but the Chiefs were in seventh place and he was fired. On July 2 he was signed as a free agent by the Phillies and returned to the Show for a last hurrah. He played in 47 games, came to bat 68 times, hit just .206 and was released after the season.
Writer John Drebinger complimented Handy Andy's major-league career in an April 1941 Baseball Magazine article entitled "Baseball's Second Line of Defense," when he wrote: "Experienced, well-seasoned infielders, even though well past their prime, are always regarded as excellent infield insurance. Andy High, who played with the Dodgers and Cardinals, was one of these. Andy never was a really great player. But he hung on long after he passed his peak for he could always be counted upon to do a smart, dependable, workmanlike job. He was an infielder to whom the others instinctively looked for the right move."
Andy's 13-year major-league career produced a batting average of .284 with 1,250 hits, 44 home runs, and 482 RBI. One of his strengths as a hitter was making contact; he struck out only 130 times in 4,400 official at-bats and fanned twice in a game only three times. His composite batting average in three trips to the World Series was .294 (10-for-34).
High accepted the Phillies' offer to serve as player-manager of its affiliate in the Class A New York-Pennsylvania League in 1935. He hadn't been an everyday player since 1929, but at age 37 he went to Hazleton and played 131 games at third base. In 521 at bats he hit safely 163 times, averaged .313, scored 99 times and knocked in 76 runs. The Mountaineers made a spirited run for the flag and finished in third place, 4 ½ games behind Scranton, the league champion. Two of Andy's key players were future major-leaguer Morrie Arnovich, who hit .305, and ex-Washington first sacker Pete Susko, who led the league in RBI (110) and batted .326.
High returned to Hazleton the following year, but became ill with pneumonia and was forced to relinquish his duties after playing in only 24 games and batting .323. The Mountaineers eventually wound up in seventh place, and the door was closed on Andy's career as a player and manager.
Good news came in November 1936, however, when close friend Burleigh Grimes punched Andy's ticket back to the Show. Grimes replaced Casey Stengel as Brooklyn's manager and selected High, his former Dodger and Cardinal teammate, to serve as a coach for the 1937 season. The rookie pilot had a difficult task, taking over a team that hadn't finished in the first division since 1932. The old spitballer lasted only two years at the helm; the club finished sixth in 1937 and seventh in '38. Known as "Old Stubblebeard," the fiery Grimes drew the wrath of umpires; he was thrown out of 15 games in 1937-38. High ran the club during the skipper's early exits from the dugout.
A change in the Brooklyn front office had taken place in January of 1938 with the arrival of Larry MacPhail as general manager and executive vice-president. With the team buried in the second division and fans staying away from Ebbets Field, MacPhail made a move to bring them back to the ballpark when he added the retired Babe Ruth to the coaching staff in '38. Ruth's job was twofold: get the fans out early to watch him hit home runs in batting practice and occupy the first-base coach's box during games.
The Babe was gone in October, though, as was Grimes. MacPhail chose shortstop Leo Durocher to fill the role of player-manager in 1939; he had played for MacPhail in Cincinnati before the Dodgers acquired him in October, 1937. High lost his job as coach, but remained on the club payroll as a new member of the scouting department.
In 1938 Andy had become a member of the Association of Professional Ball Players of America. The organization was formed on the Pacific Coast in 1924 by minor leaguers, and the nominal annual dues were used to provide financial assistance to members in need. The membership expanded in later years to include major leaguers, coaches, umpires, scouts and clubhouse men. Former pitching great Walter Johnson was elected president of the APBPA in February, 1938, and his vice- president was High, who continued in that office into the 1950s and later served as an advisor.
High's initial task as a Dodger scout was to cover the Midwest, where a player he followed closely in 1939 was Louisville shortstop Harold "Pee Wee" Reese. Only 20 years old and the property of the Red Sox, Reese was marketable because Boston's shortstop was Joe Cronin, also the club's manager. Andy was instrumental in Brooklyn obtaining the youngster for $35,000 and three players.
Three other players High signed early in his scouting career were Charlie Gilbert, John Douglas, and George Kell. An outfielder, Gilbert was signed off the Nashville roster in 1939, appeared briefly with Brooklyn in '40 and was traded to the Cubs the following season, and played six years in the National League. Douglas, a first baseman signed in 1940, played one year in the minor leagues prior to serving in the armed forces. He spent two weeks on the Dodger roster in 1945, went hitless in nine at-bats, was sent to Mobile, and languished in the high minor leagues until calling it a career in 1953.
Kell was signed before the 1940 season, and played two years for the Dodgers' Newport farm club in the Northeast Arkansas League. When the league folded he was sent to Lancaster of the Interstate League in an "unknown transaction." His .396 batting average in 1943 was the highest in organized baseball, and he went on to a 15-year career in the major leagues. Later, Kell became one of two players signed by High to be inducted into the National Baseball Hall of Fame; the other was Reese.
Another player Andy admired was pitcher Ewell Blackwell, discovered in a tryout camp. Reportedly, before he would agree to sign with Brooklyn, Blackwell wanted an invitation to the Dodgers spring training camp. When MacPhail refused, the tall right-hander contracted with Cincinnati and became a reliable starter with the Reds.
In 1939 the Dodgers picked up momentum under Durocher and finished in third place. The club climbed to second place the following year, and in 1941 Brooklyn captured its first pennant since 1920. The Yankees won the World Series in five games, and in '42 the Cardinals beat out the second-place Dodgers by two games for the NL flag.
After the 1942 season MacPhail enlisted in the army. Branch Rickey was named his successor on November 1; the previous day he had resigned as vice president and general manager of the St. Louis Cardinals. With Rickey in as president, things didn't look promising for High; his relationship with Rickey had been strained when the two were in St. Louis. High was dismissed from the scouting staff and, shortly thereafter, volunteered for duty with the Navy SeaBees. After training at Camp Endicott in Rhode Island, he shipped out with the navy construction battalion to the South Pacific, where the focus was on building airstrips and bridges at strategic island locations.
Andy was discharged in 1945 and rejoined the Brooklyn scouting department; apparently he and Rickey buried the hatchet. High resumed the search for new prospects and the evaluation of players already in the organization. One player already in the fold was Jackie Robinson; Rickey signed him off the roster of the Kansas City Monarchs of the Negro American League in October 1945. The future Dodger star paved the way for others of his race to be integrated into organized baseball.
Beginning in 1946, the Dodgers became serious pennant contenders. They won NL championships in '47 and '49, but suffered World Series losses in both years to the Yankees. The 1950 post-season was filled with intrigue in the Brooklyn front office: on October 26, 1950, Walter O'Malley, the club's attorney, became the principal owner and forced Rickey out. E. J. "Buzzie" Bavasi, who began his career in the Dodgers minor-league system in 1939, replaced Rickey as general manager and Andy High was named chief scout.
In the 1950s the Dodgers dominated the National League; in eight of the ten years they finished either first or second. They won five pennants (1952, '53, '55, '56, and '59), and the club broke through to beat the Yankees in the 1955 World Series, with young Johnny Podres pitching a 2-0 gem in Game Seven. A sore spot early in the decade was the playoff loss to the Giants in 1951, when Bobby Thomson's home run off the delivery of Ralph Branca became known as the "shot heard 'round the world."
High followed the New York Yankees in the final weeks of the 1951 season in anticipation of a Dodger-Yankee matchup in the World Series and prepared a detailed report on the American League club. The file was turned over to the Giants after they had beaten the Dodgers in the three-game playoff. Somehow, Life magazine obtained the report, published parts of it a week after the World Series, and Andy was upset. Six years later, in its September 21, 1957, issue, the Saturday Evening Post published an article entitled, "They Spy for the Series," commenting on various advance scouts, including High. In regard to his 1951 report, the Post story included the following: "Scout Andy High was mightily embarrassed at having his private observations about the Yankee players put on public display, including these dispassionate comments on a fading Joe DiMaggio: 'He can't stop quickly and throw hard. He can't run and won't bunt. His reflexes are very slow and he can't pull a good fast ball at all.' DiMaggio retired after that season, and it is thought that the shock of reading this unvarnished size-up may have strengthened his determination to quit."
Brooklyn's success during Bavasi's tenure arguably was due to the core group of steady players year after year. High and his scouting staff worked in tandem with the GM, finding useful players when needed. Sportswriter Harold C. Burr wrote a column regarding Andy's scouting philosophy that featured a quote in baseball terms: "It's up to me to make a good play—or come up with a bad one. I'm off there in the wilds all by myself. If I sign up a boy who turns out to be a star I've made a good play. If he's a bust, that's a bad play. No matter what the outcome I've made the decision."
When asked by email in October 2005 about his relationship with High, Bavasi sent the following reply: "When you talk about Andy High, you are talking about my all time favorite. Whether it was playing, scouting, etc. he was above the average. (He) was a good friend and more than a scout for me. He was a great consultant." With the move from Brooklyn to Los Angeles in 1958, the scouting department was revamped. In 1960 Al Campanis was designated director of scouting, while High remained as chief scout. Three years later he retired; it was time to call it a career.
Andy and Mildred High had established a home in Webster Groves, just outside St. Louis. Their son, Andrew Jr., was born there in 1931 and accompanied his father on several scouting trips. The younger Andy graduated from the University of Missouri with a degree in education along with a teaching credential, and relocated to Toledo, Ohio, with his wife and three children, Martha, Kimberly Ann, and Andrew Aird III. He taught high school English until retirement in 1986.
After retirement from baseball, Handy Andy enjoyed visits with family, attending reunions with former teammates in and around St. Louis, and being interviewed by sportswriters. According to grand-daughter Kimberly High, he also spent time "tinkering with things electrical," utilizing the skills he had learned in the navy and as a licensed electrician. Also an active gardener, he specialized in the cultivation of roses and tomatoes. And the birds flying around the property weren't to be denied; Andy faithfully kept their feeders filled.
In 1980 Andy suffered a stroke, and went to live at his son's home in Toledo. The little man with the big heart, who came up even larger in the game he loved, passed away in 1981 at age 83. The date of death was February 22, also the birthday of George Washington, the father of the country Andrew Aird High proudly served in two world wars. He was laid to rest at Evergreen Cemetery in Ava, Illinois, his birthplace, alongside his wife, Mildred, who died in 1974.
The citizens of Webster Groves honored their former neighbor, ballplayer and scout in the 1980s when they built a youth baseball facility in the community and named it "Andy High Field."
Sources
Andy High File at Baseball Hall of Fame Library & Research Center, Cooperstown, New York
Murdock, Eugene C. Baseball Players and Their Times: Oral Histories of the Game, 1920-1940. Westport, Connecticut: Meckler Publishing, 1991.
Drebinger, John. "Baseball's Second Line of Defense." Baseball Magazine, April 1, 1941, Vol. 66, Issue #5, page 52.
Baseball Encyclopedia, 9th Edition. New York: Macmillan Publishing.
Correspondence with Andrew High Jr., October 13, 2005
Telephone conversation with Andrew High Jr., June 17, 2009
Telephone conversation with Kimberly High, November 11, 2009
Email from E.J. "Buzzie" Bavasi, October 20, 2005
Johnson, Lloyd and Wolff, Miles. Encyclopedia of Minor League Baseball, Third Edition. Durham, North Carolina: Baseball America, 2007.
Thanks to SABR members Ray Nemec and Jim Sandoval.
Thanks to Oscar Kuver, former minor league pitcher and World War II navy hospital corpsman, who met Andy High on New Caledonia in 1944.
Internet sources
ProQuest Historical Newspapers
Retrosheet
Baseball-Reference
Baseball Index
Baseball Library
Ancestry.com
APBPA
Born
November 21, 1897 at Ava, IL (USA)
Died
February 22, 1981 at Sylvania, OH (USA)
If you can help us improve this player's biography, contact us.
http://bioproj.sabr.org/bp_ftp/images3/HighAndy.jpg
600
800
admin
/wp-content/uploads/2020/02/sabr_logo.png
admin
2012-01-04 20:42:50
2012-01-04 20:42:50
Andy High