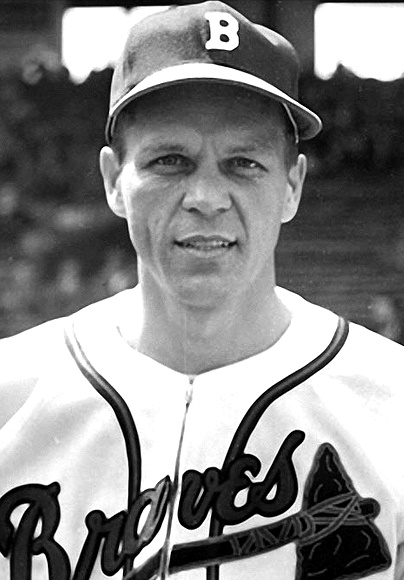 ---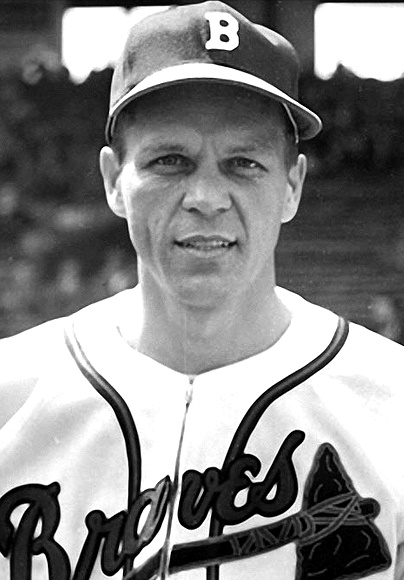 Andy Karl was one of those ballplayers who were able to benefit by the departure of many established ballplayers during the Second World War. He broke into Organized Baseball in 1937, playing for the Boston Red Sox affiliate in Rocky Mount, North Carolina. Karl was a right-handed pitcher who stood 6-feet-1 and weighed 175 pounds. After six years in the minor leagues, he made the major-league team in 1943. Once up, he was able to stick in the majors for five seasons.
Karl's grandparents were all from Germany. His mother, Elizabeth, came from New York and his father, Andrew, from Massachusetts. The two met and lived in Mount Vernon, New York, where Andrew worked as a house plumber. Their first-born was Beatrice, three years older than Anton Andrew Karl, who was born on April 8, 1914. There were two other Karl families living at the same address in Mount Vernon at the time of the 1920 census. Andy went to DeWitt Clinton elementary school and then Mount Vernon High School, and attended Manhattan College, graduating with a degree in industrial engineering. While at Manhattan, he played baseball for three years and was captain of the team his last year there. Karl also played basketball at college, and then played a couple of years of semipro ball (he was 18-3 with the Mount Vernon Scarlets) before being signed by Jack Egan of the Red Sox and assigned to the Piedmont League.[1]
Pitching for manager Nemo Leibold for the Class B Rocky Mount Red Sox, Karl put up a 12-9 season in 181 innings of work. Early in the season, he pitched in four games in Class A, for the Hazelton Red Sox (0-3 under skipper Specs Toporcer), but he wasn't quite ready for the higher level of play and was optioned back to Rocky Mount. There he defeated Asheville, that year's championship team, five times, but he struggled against other teams. There was one game where circumstances called for Leibold to put a pitcher – Karl – in the outfield. He played center fielder in a game against Winston-Salem and recorded nine putouts.[2] In 1938 he began with Rocky Mount (1-3, in 12 games) but was sent lower again, to the Canton Terriers, a Class C team, where he was 10-7 with a 3.98 ERA. The following April, he was optioned to Scranton and spent three seasons pitching in the Eastern League.
Scranton was Class A ball, and Karl was able to hold his own, working mainly in relief. He never had a winning record. In the three years, 1939 through 1941, he was 9-10, 7-8, and 6-10. He had a 3.81 ERA over his time in Class A. Karl married Myra McBride on November 21, 1939.
He was able to climb one more rung on the ladder, to the Double A Louisville Colonels in 1942. On June 11, in Toledo, he threw the last 11 innings of a 20-inning game against the Mud Hens, escaping bases-loaded situations in both the 17th and 18th. The game ended in a 6-6 tie, called due to the 1:00 A.M. curfew. Again, it seemed there was one team he could dominate; that game was part of a stretch of 32 consecutive scoreless innings against Toledo.
Karl was called up to the Boston Red Sox in September 1942 and was given a start by manager Joe Cronin, pitching the September 15 game at Comiskey Park against future Hall of Famer Ted Lyons. The game saw rookie Johnny Pesky collect his 200th hit of the season, but the White Sox held a 4-3 lead when play was stopped in the bottom of the fourth due to rain. Pesky was able to get his real 200th hit the next day, in St. Louis, but with the game rained out, Karl's start was wiped from the record and no trace of his first appearance remains on the books.[3]
There was every reason to think he'd make the team in 1943, with so many players having already headed off to war or to defense work. "Red Sox, Braves Getting Low on Playing Talent," headlined a January 28 story in the Christian Science Monitor. The Red Sox took only 28 players to spring training, and Karl was among them. Writing from spring training in April 1943, the Boston Post's Jack Malaney said, "Andy Karl will be a better pitcher as he goes along and the catchers get used to receiving his excellent knucklers."[4] He was still a little raw, though; on May 5 in Yankee Stadium, he was on in relief of Tex Hughson and loaded the bases, then balked in the winning run. He'd won his first game just three days earlier, throwing three innings of a 7-6 win over Philadelphia.
In late June, after his June 17 game, the Red Sox sent Karl down to Louisville and brought up Pinky Woods. But Karl refused to report. He declared, "If I can't make it this year, when can I?" and took up work as a mechanical engineer at a war industry plant in New York.[5] Something was worked out, however, and he was sold to the Phillies on July 8, pitching – primarily in relief – in nine games starting on July 11. He had been 1-1 with the Red Sox and was 1-2 with the Phillies, though his 3.46 ERA in Boston was far better than the 7.09 in Philadelphia. On September 4 he was traded to the Cubs (with Dick Conger) for pitcher Ken Raffensberger and infielder Rip Russell.
Once again Karl refused to report to his new team, not having turned up by April 1, 1944. A couple of months later, though, he had come to terms and appeared in his first game on June 18. He worked as a reliever, closing 20 of the 38 games in which he appeared. He never started a game. He was 3-2 with an excellent 2.33 ERA, helped in large part by the September 7 game against the Dodgers in which he pitched six full innings, facing the minimum 18 batters.
In April 1945 Karl declared that he would only work part-time, when the team was playing in the East, and would thus better be able to concentrate on his plumbing business. In fact, he pitched often enough to appear in a league-leading (and record at the time) 67 games, and he led the National League in saves as well, with 15. He kept his ERA just under 3.00 (at 2.99) over the 180 2/3 innings he threw for the Phillies. It was a very good season. There was one game that took him six weeks to win, though. Phillies manager Fred Fitzsimmons had called Karl to pitch in relief against the Pirates. The game was called after six innings, and resumed six weeks later – when Ben Chapman was managing in Philadelphia.
In 1946, of course, many of the veterans who'd served during the war returned. Whether it was a higher level of play on offense, or that Karl had just lost some of his effectiveness, his ERA was almost two runs worse, at 4.96. His record was 3-7. He was busy, though not as busy as the year before; he appeared in 39 games.
The Phils never used Karl in 1947; late in spring training, on March 27, he was traded to Boston (to the Braves) for Don Padgett and first appeared on April 17.
On August 13, playing against the Dodgers at Ebbets Field, the team held a "day" for Mount Vernon resident Ralph Branca, but since Karl was in town, the community leaders included him in the ceremonies, too. In 27 games for the Braves, he was 2-3 with a 3.86 earned-run average.
Karl's major-league totals were 18-23, 3.51, in 191 games. Over the course of 95 at-bats, he drove in six runs and hit for a .168 average. After the season with the Braves, he did not return to the minor leagues, but called it a career. He went into the family business, as he listed his occupation on his Hall of Fame player questionnaire as plumbing and heating contractor for A.H. Karl and Bros. Inc. The brothers in question may well have been those who shared the same address in Mount Vernon at the time of the 1920 census. Sister Beatrice seems to have been involved in the work, too, listed in the 1930 census as "private secretary, plumber."
Baseball still held appeal. A brief note in the June 20, 1951, Sporting News had Karl pitching for the New York Athletic Club and beating a team from Lafayette College, 6-2. Before moving to New Fairfield, Connecticut, in 1969, Karl served as president of the Mount Vernon Little League. He was on the board of directors of the Boys' Club and was involved in the Lions Club. For many years, he was a volunteer for the Pope John Health Center in Danbury.[6]
Karl died on April 8, 1989, on his 75th birthday, at Scripps Memorial Hospital in La Jolla, California, survived by his wife Myra, of New Fairfield, his daughter, Rose Marie, and two sons, Andrew and Kevin. He had five grandchildren.
September 20, 2011
Sources
In addition to the sources noted in this biography, the author also accessed Karl's player file from the National Baseball Hall of Fame, the Encyclopedia of Minor League Baseball, Retrosheet.org, and Baseball-Reference.com.
---
Born
April 8, 1914 at Mount Vernon, NY (USA)
Died
April 8, 1989 at La Jolla, CA (USA)
If you can help us improve this player's biography, contact us.
http://bioproj.sabr.org/bp_ftp/images5/KarlAndy.jpg
600
800
admin
/wp-content/uploads/2020/02/sabr_logo.png
admin
2012-01-04 20:18:43
2012-01-04 20:18:43
Andy Karl