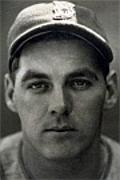 ---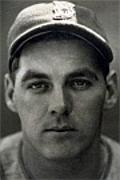 Art Doll had a strong arm which allowed him to play professional baseball as both a catcher and a pitcher. His talents, however, resulted in only seven major-league games for the Boston Braves/Bees of 1935, 1936 and 1938, where he pitched in four games and caught three others. "Moose," as he was known for his solid 6-foot-1, 190-pound frame more suited for a fullback at the time, was still talented enough to kick around the minor leagues for 14 years, the last five of which he served as a player-manager.
Doll came from a ball-playing family, as his future manager, Spencer Abbott, would recall decades later. Abbott had grown up in Chicago and remembered playing against a team of Dolls in 1902. Art's father, John Garen Doll, was born into a family of nine, eight of them boys who formed their own Doll team. "I played with a semipro team out there in 1902 and we had a series with the Doll team, and believe you me, they were good. They used to beat my club and I took quite a liking to Art's uncle Fred. He was known as 'Shorty' and was most versatile for he caught, pitched or played the outfield. And Art's father was no slouch. He was also a catcher and a pitcher. He had major-league offers, but turned them down because he could not leave his wife, who had a nervous condition around that time."1 Abbott would later be Fred Doll's roommate on the 1903 Superior (Wisconsin) club of the Northern League. "He was tough, a hard worker and a very good hitter." Art's father was a catcher for the New York Central team in Chicago, "and when Art was a youngster in knee pants, he served as mascot for this team."2
Arthur James Doll was born on May 7, 1913, in Chicago, Illinois. In the 1920 census, Art seems to have been listed with his parents, John and Anna (Johnson), who lived on Hartwell Street in Chicago, and with his uncle Fred and Aunt Grace, who lived in a rented home on 68th Street. John's father had emigrated from Canada, his mother from Scotland, while Anna's parents were both Norwegian. John worked as a switchman on the railroad. John and Anna also had two older sons, Harry and Charles, and a younger son, John. The 1930 census listed the couple living on East 68th Street in a home they owned, with John working as an air brake inspector.
Art attended Chicago's St. Columbanus Elementary School and DeLaSalle High School, where he played baseball — pitching and catching — and football. A teammate on the football team was Ed "Moose" Krause, who later starred at Notre Dame. Following high school, Art continued his football career, playing for the 124th Field Artillery, earning his own nickname of "Moose" while playing fullback.3
Doll was working at Chicago City Hall in 1934 but "found office work too confining," according to the Brooklyn Eagle, "and quit his job to take a fling at organized ball with Peoria [Illinois]."4 Doll had unsuccessfully attempted to make the roster of the Davenport, Iowa, baseball team in the Western League in the spring.5 Doll played for Peoria of the Central League and was reported to have thrown out four base stealers and tagged out three runners at the plate in a single game while batting 3-for-4.6 When the league folded, Doll joined Richmond (Virginia) in the Piedmont League, where he batted .257 in 43 games. He also played for the Reading, Pennsylvania, club of the International League.7
Doll returned to Richmond in 1935, but they released him.8 He moved on to McKeesport of the Pennsylvania State League, where he batted .285 in 74 games. Purchased by the Boston Braves, he caught three games at the end of the season. He made his major league debut on September 21 in the second game of a doubleheader, going 0-for-4 batting eighth. He secured the first of his two major league hits the next day off Philadelphia's Hal Kellefer. Art started the last game of the season in New York, a 9-2 Boston win. Doll was involved in two of the team's pitifully low 38 victories (versus 115 losses), one of baseball's all-time worst records.
The Braves played a postseason exhibition game in Yarmouth, Nova Scotia, on September 26, the only major league team to ever visit the province. Doll hit a 400-foot home run in Boston's 20-2 rout.9
In 1936 Doll spent the beginning of the season with Boston, now known as the Bees. In June team president Bob Quinn purchased the Columbia, South Carolina, team in the South Atlantic League, and Doll was sent there to work on his pitching mechanics.10 Doll batted .263 in 37 games and also pitched in 26 games, going 8-7 with a 4.62 ERA.
Doll was recalled to Boston in late August when the rosters expanded.11 He made one pitching appearance, starting against the Giants on September 25. Doll allowed a run in the first, but carried himself well as the game with the Giants was deadlocked 1-1 into the eighth. The Giants sat some regulars as they were preparing for the World Series while the Bees, as usual, had nothing at stake in their last home game. Mel Ott doubled and Johnny McCarthy homered to right to send Doll to a loss, 3-2. While allowing 11 hits, Doll managed to get himself out of trouble. "He exhibited a promising fast ball and plenty of courage," wrote Gerry Moore of the Boston Globe. "All in all, his bow as a catching convert out of Class B must be judged a success."12
Doll spent the 1937 season in Scranton, Pennsylvania, a Boston affiliate in the New York-Penn League. Bob Coleman, his manager at Scranton, convinced Doll to concentrate on becoming a fulltime pitcher. Two highlights of Doll's season were a two-hit shutout over Williamsport in June13 and a one-hit shutout over Trenton in August.14 But it was a tough-luck season for him on the mound (7-14, 3.43) while batting a meager .243 in 58 games.
Doll was a hitting machine for the relocated Scranton club, which in 1938 moved to Hartford, Connecticut, in the Eastern League. He batted .366 in 65 games and went 17-10 with a 3.54 ERA in 39 appearances. The ultimate team player, Doll did whatever was asked of him. "If [manager] Eddie [Onslow] wants me to catch all he has to do is ask me. I'll play anywhere, anytime to help the team."15 He was recognized by the fans on "Art Doll Day" in September and was presented a watch with a plaque which read, "for conscientious, willing and excellent service."16 His season earned him second place in the voting for MVP of the Eastern League.17
Recalled to Boston for the last two weeks of the season, he entered in relief in the eighth inning on September 14 with the Bees trailing the Cubs, 5-2, and was roughed up for three hits and a run in his two innings of work. He pitched an inning of mop-up relief two more times to finish the season with a 2.25 ERA and no decisions. That would conclude his major-league career, going 0-1 with a 3.00 ERA in 12 innings pitched and going 2-for-13 at the plate.
Doll made the Bees roster out of spring training in 1939, but never got into a game. He was returned to Hartford in the middle of May,18 and finished the season 10-13 with a 3.59 ERA in 34 games, starting 20. His numbers at the plate plummeted to .239 in 159 at-bats.
On September 15, Doll married Ardath Stephens, who was from Scranton, Pennsylvania.19 In December he was purchased by Indianapolis of the American Association, a Double-A league.20 After appearing in five games early in the 1940 season, he was returned to Hartford in May. Lester P. Koelling of the Indianapolis News commented that Doll "was sent back to Hartford for further seasoning. While with the Indians Doll showed flashes of success, but was far too unsteady for regular Double A work."21 He responded early for Hartford, pitching a four-hit shutout over Albany in June.22 His final numbers for Hartford were 11-16 with a 4.02 ERA.
Doll returned to Harford for 1941 but was traded to Eastern League rival Williamsport (Pennsylvania) in July.23 Doll was 2-5 in 60 1/3 innings pitched at the time of the trade24 and finished with a combined 4-7 with a 3.72 ERA in 109 innings pitched.
Prior to the 1942 season, Doll was sold to the Springfield (Massachusetts) club of the Class-A Eastern League. "He is a handy man to have around because he can catch or play first base or serve as a pinch hitter whenever a southpaw is hurling for the enemy," wrote the Springfield Republican.25 He batted .215 in 53 games but also accumulated a ridiculous pitching line of 1-15 with an ERA of only 4.00 in 153 innings. A late season 2-0 loss to Wilkes-Barre in which he allowed only four hits epitomized his tough-luck season when he received little run support.26
Doll returned to Springfield in 1943, where he was named the team captain. He was also given a 3-A military designation, keeping him away from the draft due to the hardship it would cause for his family.27 In August, Doll was traded in a cash deal to Albany, also in the Eastern League. Doll was described as a pitcher-catcher-first baseman-outfielder.28 Some records are incomplete, but the unofficial statistics posted in the Star-Gazette of Elmira, New York listed him batting a combined .278 in 45 games for both teams.29 He also went 9-8 with a 3.33 ERA in 154 innings pitched in 30 games. At the end of the season Doll was voted in as a "utility player" by the Eastern League Baseball Writers Association on a mock all-star team. This was just a recognition, as no game was actually played.30
Doll was drafted into the Army in 1944, where he displayed his strong arm instructing soldiers in the handling and throwing of hand grenades.31 A press release by the National Association of Professional Baseball Leagues boasted of Doll's bravery during combat missions in Italy. "Trained in the hills of Colorado for duty in the Italian Alps with the 10th Mountain Division, Doll was decorated for rescuing a badly wounded buddy from an exposed position under steady enemy fire."32
When his tour of duty was completed, while he waited for his ship to take him home, he was able to get got into some games, winning one game and losing another, 2-1, in 18 innings.33
After returning to the States, Doll spent three seasons as the player-manager of three Class-D teams in the Pittsburgh organization. In 1946, it was Tallahassee of the Georgia-Florida League. "I can promise the Tallahassee fans one thing this summer," Doll predicted in April, "We'll have a scrapping ballclub that will be in there to win every time they take the field."34 Doll batted a strong .290 and went 6-6 on the mound with a 2.75 ERA. The team finished in fifth place at 63-62.
In 1947, Doll was the player-manager of the Hornell (New York) team in the Pennsylvania-Ontario-New York (PONY). League. He batted .398 in 43 games for the dreadful 40-84 club. In 1948, it was on to Salisbury of the North Carolina State League, where he won 12 games on the mound and batted .277. He was released by the Pirates' organization at the end of the season after a 51-53 sixth-place finish.35
In 1949, Doll moved from the warm countryside of North Carolina to the frigid plains as he became player-manager of the Fargo-Moorhead Twins of the Class C Northern League. The team represented the twin-cities which bordered North Dakota and Minnesota, and its isolation was not just geographical. The club had no major-league affiliation, unlike Doll's previous managerial stints. That setup was fine for Doll. "This year I have the opportunity to put victory first," he said. "My main thought will be winning the game. A farm team pilot cannot do that. For example, I've had pitchers on my Class D teams who were not ready. But they had some promise. I'd tell the farm boss that we can't win with this kid or that one, but the reply would always be the same. 'There is no lower classification to send the boy. Keep using him even if he loses. Some day he will come around.' It's tough to satisfy the fans in such an arrangement. I'm looking forward to our first try at independent ball. We figure to develop our share of material, but I won't have to work a player who can't help me win. That will be a new enjoyment."36 Doll's first appearance on the mound was an 8-0 win over Redwood Falls.37 Doll had a respectable season: .264 batting and 4-7 with a 3.43 ERA on the mound, but the team floundered in seventh place at 56-70.
Doll had one final hurrah in 1950 as the player-manager of Fargo-Moorhead. He threw a one-hit, 1-0 shutout of Sioux Falls on September 7 in which he also drove in the lone run.38 The club finished in eighth place at 49-77 and Doll was released the following January.39
After his playing days were over, Art and Ardath settled in Calumet City, Illinois. The couple had four children: two daughters, Judy and Kathy, and two sons, Jeff and Art Jr. Doll worked at Southeastern Construction Company of Hammond, Indiana, and Payless Auto Parts in Calumet City. He was a lifetime member of the Professional Baseball Players of America.40
Art Doll died in Calumet City on April 28, 1978, at the age of 64 and was buried at Holy Cross Cemetery in that city.
Acknowledgments
This biography was reviewed by Norman Macht and fact-checked by Kevin Larkin.
Sources
In addition to the sources listed in the Notes, the author was assisted by the following:
Baseball-reference.com
Cassidy Lent, Reference Librarian at the Giamatti Research Center at the Baseball Hall of Fame, who provided the author Art Doll's file and questionnaire.
Familysearch.org
Retrosheet.org
Notes
1 George Springer, "Doll Family Boasted Own Club in Chicago," Springfield Republican, July 18, 1943: 2B.
2 Ibid; the exact identity of this team and league is unknown to the author.
3 "Doll, Mueller Bid For Bees' Catching Jobs," Brooklyn Daily Eagle, February 11, 1936: 22; Springer; A box score from the News-Palladium of Benton Harbor Michigan on October 23, 1933 shows Doll starting at fullback for "Chicago Army."
4 Ibid.
5 Jack O'Donnell, ""Hard Job Ahead to Pick Right Ones, He Says," Quad City (Iowa) Times, May 2, 1934: 11.
6 O'Donnell.
7 "Reading Club Signs Trio," Evening Report (Lebanon, Pennsylvania), June 11, 1934: 5.
8 Ibid.
9 Ibid; "Braves Win One," Springfield Republican, September 27, 1935: 22.
10 James C. O'Leary, "Bees Buy Columbia, SC, Club For a 'Farm,'" Boston Globe, June 14, 1936: A30.
11 "Bees Recalling Players," Boston Globe, August 25, 1936: 21.
12 Gerry Moore, "Bees Drop One to the Champs 3 to 2," Boston Globe, September 26, 1936: 7.
13 "Scranton Shuts Out Williamsport Twice," Trenton Evening Times, June 19, 1937: 15.
14 "2500 Fans See Sox Beat Barons Twice," Wilkes-Barre Times Leader, August 26, 1937: 24.
15 Bert Keane, "Calling 'Em Right," Hartford Courant, July 16, 1938: 9.
16 Bert Keane, "Hartford Splits, Gains on Lawmakers and Grays in Race for Play-Off Chance," Hartford Courant, September 5, 1938: 9; "Plaque Given Art Doll By Hartford Fans," Hartford Courant, September 6, 1938: 12.
17 Bert Keane, "Tommy Holmes Named Most Valuable Eastern League Player," Hartford Courant, September 22, 1938: 17.
18 "Arthur Doll Will Report to Senators," Hartford Courant, May 15, 1939: 9.
19 "Art Doll Married to Scranton Girl," Hartford Courant, October 4, 1939: 15.
20 "Facts, Rumors from Cincinnati Baseball Meets," Chicago Tribune, December 7, 1939: 30.
21 Lester P. Koelling, "Red Bird Opener is Frozen Out," Indianapolis News, May 17, 1940: 23.
22 Ronald Melcher, "Art Doll Shuts Out Albany in Nightcap, 2 to 0, to Give Hartford Even Split," Hartford Courant, June 3, 1940: 11.
23 "Williamsport Buys Doll From Hartford," Philadelphia Inquirer, July 3, 1941: 23.
24 "Complete Batting, Fielding Averages of the Senators," Hartford Courant, September 7, 1941: 44.
25 J. Earl Chevalier, "'Nats' Purchase Pitcher and Get New Trainer," Springfield Republican, March 12, 1942: 12.
26 "Mock Twirls as Barons Blanks Rifles, Set Record," Springfield Republican, August 30, 1942: 19.
27 "Elmira, Binghamton Meet Rifles This Week," Springfield Republican, May 9, 1943: 22.
28 "Senators Acquire Rifles' Pitcher," The Times Record (Troy, New York), August 10, 1943: 15; "Albany Buys Art Doll," Star-Gazette, August 10, 1943: 8.
2929] "Elmira Wins League Batting Title; Smith, Lutz Take Honors," Star-Gazette (Elmira, New York), September 18, 1943: 7.
30 Howard Pierce, "Five Pioneers Named on Two All-Star Teams," Star-Gazette, December 3, 1943: 15.
31 Ned West, "West Wind Blows," Tallahassee Democrat, April 11, 1946: 13.
32 Ibid, June 25, 1946: 7.
33 Ibid, March 4, 1946: 5.
34 Ibid, April 11, 1946: 13.
35 "Doll Released by Salisbury," Statesville Daily Record (North Carolina), December 4, 1948: 15.
36 Joe Hendrickson, "Sports Opinions," Star Tribune, April 29, 1949: 23.
37 Frank Farrington, "The Fanning Mill," St. Cloud Times, May 2, 1949: 19.
38 "Doll's Shutout Gives F-M Split," St. Cloud Times, September 8, 1950: 13.
39 Frank Farrington, "The Fanning Mill," St. Cloud Times, January 16, 1951: 12.
40 "Arthur J. Doll," obituary of unknown origin in Art Doll's Hall of Fame file.
Born
May 7, 1913 at Chicago, IL (USA)
Died
April 28, 1978 at Calumet City, IL (USA)
If you can help us improve this player's biography, contact us.
https://sabr.org/sites/default/files/DollArt.jpg
600
800
admin
/wp-content/uploads/2020/02/sabr_logo.png
admin
2018-02-02 16:12:36
2020-04-09 14:40:24
Art Doll