---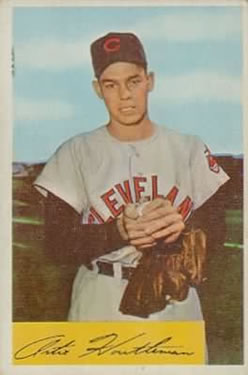 Pitcher Art Houtteman was known as "Hard Luck" Houtteman — and that was before he was nearly killed in a car wreck and before his baby daughter was killed in another wreck.
Arthur James Houtteman was born in Detroit on August 7, 1927. His grandfather, Joseph, had immigrated from Belgium. They had called themselves "HOOT-uh-man" until a relative told his father that only the black-sheep side of the family used that pronunciation. Thereafter they were the "HOWT-uh-mans."
His father, also named Arthur, was a longtime player in the city's fast sandlot leagues and was pitching a game on the afternoon that his wife gave birth to their only son. When the news arrived at the ball field, the new dad tossed his glove in the air and vowed that the boy would be a big leaguer by the time he was 17.
Young Arthur signed with the Tigers 16 days after his seventeenth birthday. Scout Wish Egan had been following him for two years at Catholic Central High School, in American Legion ball with Thomas A. Edison Post 187 and on the sandlots, where his father played right field in one of his starts. Egan brought the teenager to Briggs Stadium several times to work out with the big leaguers. In a scouting report, he praised the righthander's "perfect pitching motion." The Tigers signed Houtteman for $20,000, beating out a half-dozen other clubs.
He went to spring training with the Tigers in 1945 along with another Detroit sandlot product, lefthander Billy Pierce. Most major leaguers were serving in World War II, but the 17-year-olds were too young for the military draft.
Houtteman spent the early weeks of the season with the Tigers' top farm club at Buffalo in the International League. He was recalled when the big league club's pitching staff was thinned by injuries. He worked just 25 innings in relief and lost his only two decisions. Detroit won the American League pennant behind pitchers Hal Newhouser and Dizzy Trout, who were exempt from military service because of health problems, and the late-season slugging of Hank Greenberg, who had been discharged after more than four years in the Army. The teenager did not pitch as the Tigers beat the Chicago Cubs in the World Series.
He went back to Buffalo in 1946, when most war veterans returned to the majors. Described as a "19-year-old hill sensation," he posted a 16-13 record and led the league in strikeouts.
He began 1947 in Buffalo, but was recalled in July. In his second start, shortly after his twentieth birthday, he shut out Washington on five hits. General Manager Billy Evans crowed, "In 40 years I've never seen a better pitching job by a first year pitcher. We now know that Houtteman is really a big leaguer." Next time out, he beat Boston on five hits and then shut out the St. Louis Browns. Manager Steve O'Neill said Houtteman had learned to throw a sinking fastball along with his curve and sidearm crossfire. He finished with a 7-2 record and an excellent 3.41 ERA. He also batted .300.
Joe DiMaggio predicted a bright future for Houtteman and another young sinkerballer, Cleveland's Bob Lemon: "They have more stuff and more pitching sense than any other young fellows I've seen come up in a long while." After DiMaggio retired, he named Houtteman as one of toughest pitchers he had faced.
O'Neill put him in the starting rotation in 1948, but the season turned into a nightmare. Houtteman lost his first eight decisions; the club never gave him more than five runs. That's when the nickname "Hard Luck Houtteman" first hit the headlines.
He got his first victory in relief, but had to drive home the winning run himself to beat Washington in 10 innings. In his next start he defeated Philadelphia in a 10-inning five-hitter. Then he held Cleveland to just two runs on June 30. Emblematic of the way Houtteman's season was going, the Indians' Bob Lemon pitched a no-hit shutout that day.
Houtteman didn't win another game. He finished 2-16 for a team that went 78-76. Detroit writer H.G. Salsinger insisted he was the victim of "bad luck not bad pitching." His 4.66 ERA was just 6 percent worse than the league average, after ballpark adjustments. He started 20 games, relieved in 23 more and was effective enough to earn 10 saves, a statistic that was not computed until years later. O'Neill remained confident in the 21-year-old, predicting, "He'll be a big winner someday."
Nineteen forty-eight had been bad; 1949 started even worse. During spring training in Lakeland, Florida, he was returning from a dance at Florida Southern College when his convertible collided with a fruit truck. Houtteman suffered a fractured skull. At first his survival was in doubt, but he was able to talk to reporters within a few days. One of his passengers, Arthur Falls (a cousin of future Detroit sportswriter Joe Falls), was also seriously hurt; two women in the car came away with minor injuries.
Houtteman was sent home to recuperate. An ambulance was waiting for him at the Detroit train station, but he sneaked away and caught a cab to Henry Ford Hospital.
Houtteman returned to the mound on May 21, barely more than two months after the accident. He lost his first three decisions, giving him 11 losses in a row over 11 months. Then his fortunes turned. He won 15 games, lost 10, and his 3.71 ERA was 12 percent better than average. The Tigers' new manager, Red Rolfe, said, "Arthur has developed a beauty of a slow curve to go with his fast ball and his crossfire pitch." At 22, he was living up to his promise.
After the season the Philadelphia Sports Writers Association honored him as the year's "Most Courageous Athlete." Bob Hope got most of the laughs at the January banquet, but Houtteman quipped, "All a fellow has to do to get on this dais is to get hit by a five-ton truck."
He took another step forward in 1950: a 19-12 record and 3.53 ERA in 275 innings. In his only All-Star Game appearance, in July at Chicago's Comiskey Park, Houtteman pitched three innings but gave up a game-tying home run to Ralph Kiner in the ninth. The National League won on Red Schoendienst's 14th-inning homer off Houtteman's friend and roommate, lefthander Ted Gray.
He pitched a one-hitter against the Browns August 19, facing the minimum 27 batters. Jim Delsing singled in the second inning and was caught stealing. The two men Houtteman walked were erased in double plays. He twice failed to gain his 20th win in September, but was the Tigers' ace as they finished second, three games behind the Yankees.
The day after the season ended, October 2, Houtteman married Shelagh Marie Kelly of Rahway, New Jersey. They had met the previous year when he and some teammates spent an off-day at the famous Grossinger's resort in New York's Catskill Mountains, where Shelagh was a swimmer in the aquatic show. Two days after the couple returned from their honeymoon, the groom was drafted into the Army.
Houtteman had once been classified 4-F (medically ineligible for the draft) because of a high school knee injury. He later groused that he was drafted only because he was a prominent athlete; the Yankees' top rookie, Whitey Ford, was also called into the Army that fall as the Korean War intensified and Willie Mays would get his draft notice the next spring. But when Houtteman reported to Camp Pickett, Virginia, he was declared unfit for combat because the noise of gunfire gave him severe headaches. Doctors said that was likely a lingering effect of his skull fracture. He was put on limited duty pitching for the camp baseball team. After 11 months — when the baseball season was about over — he received a medical discharge.
Houtteman came home to his wife and first child, Sheryl, who had been born in August. He signed a 1952 contract for a reported $22,000. Manager Rolfe predicted, "Artie should be our best pitcher."
On April 2, 1952, Shelagh was driving the baby and Art's mother home from spring training when her new Cadillac ran off a mountain road near Benton, Tennessee, and rolled over twice. Seven-month-old Sheryl was thrown from the car and killed.
Returning to the Tigers after burying his daughter, Houtteman was one out away from a no-hitter against the Indians on April 26. Catcher Joe Ginsberg called for a curve, but Houtteman shook him off and threw a fastball to outfielder Harry Simpson — and Simpson singled to left. Houtteman said, "This was the only pitch I shook Ginsberg off the whole game." For years afterward, fellow Detroiter Ginsberg said, he would rag Houtteman: "If you'd listened to me, I'd have you in the Hall of Fame."
For the rest of the season Hard Luck Houtteman was back in town. He lost 20 games against eight wins, even though he gave up less than one hit per inning and didn't walk many batters. His 4.36 ERA was worse than average, but he was the victim of weak run support; in his starts, Tiger hitters scored just 71 percent of their average number of runs, according to calculations in The Baseball Encyclopedia (2004 edition). Detroit was shut out in four of his losses and scored only one or two runs in four others. His misery had plenty of company: The Tigers lost 104 games and finished last for the first time in their history.
After the season general manager Charlie Gehringer acknowledged that Houtteman might be traded if the right offer came along, but Gehringer was not giving up on him. "Art has always had good stuff," he said, "much too good to be a 20-game loser."
Houtteman spent the winter selling cars and making public appearances for the Tigers. He got off to a feeble start in 1953; he gave up 20 runs, including five homers, in his first 13 innings and lost six straight decisions. At the June 15 trading deadline he was swapped to Cleveland in an eight-player deal that boiled down to Houtteman for infielder Ray Boone and veteran pitcher Steve Gromek. Indians' manager Al Lopez praised his "very live arm," adding, "Houtteman had all the equipment to win, but he wasn't winning. He had an excellent fast ball, a good curve and slider. All he needed was to regain his confidence; to get back in the groove." Of his last two tough seasons in Detroit, Houtteman later said, "I began to experiment, try new things and that's the scourge of all pitchers. Soon you get completely lost. That's what I became — lost and bewildered." He said Lopez and Cleveland's pitching coach, Mel Harder, "did a complete overhaul on me."
Lopez soon moved him into the starting rotation, demoting the Indians' fading superstar, Bob Feller, to spot duty. Houtteman finished 7-7 for Cleveland with a 3.80 ERA.
On February 22, 1954, he and Shelagh celebrated the birth of daughter Hollis Ann, who was called Holly.
The 1954 Indians won an American League record 111 games behind a pitching "dream team" and knocked off the Yankees, who had claimed five consecutive world championships. Future Hall of Famers Bob Lemon and Early Wynn each won 23 games with ERAs under 3.00; Mike Garcia led the league with a 2.64 ERA and won 19. The 35-year-old Feller rebounded with a 13-3 mark. Houtteman shared the fourth spot in the rotation with the no-longer-Rapid Robert. He posted a 15-7 record and 3.35 ERA in 25 starts, but was the most obscure member of the staff, so obscure that a 2004 biography of Feller refers to him as a lefthander.
The Indians' 2.78 ERA was the lowest in the American League since the long-ball era began in 1920. They allowed only 504 runs, by far the fewest in the league. Although the club is celebrated for its pitching, Cleveland also finished second to the Yankees in runs scored.
In the World Series against the Giants, the Indians ran into two superstar performers: Willie Mays, whose back-to-the-plate grab of Vic Wertz's long fly ball in game one is known simply as The Catch; and Dusty Rhodes, a superstar for a week, who hit two home runs and drove in seven. The Giants swept the Series in four games. Houtteman relieved Garcia with Cleveland trailing in the fourth inning of game three and gave up one run in two innings.
Houtteman had been a major contributor to a record-setting team, but he lost his starting job in 1955 to "the most talked-about rookie in all the major league training camps:" 22-year-old lefty fireballer Herb Score. Score made Cleveland's Big Three starters a Big Four, with a 16-10 record and a league-leading 245 strikeouts. Houtteman served as a reliever and spot starter and won 10 games.
The Houttemans' son Jeff was born December 29, not without drama. A friend, Detroit Lions football star Leon Hart, was visiting their home when Shelagh suddenly went into labor. The two men delivered the baby in the kitchen. Another daughter, Sharon, was born in 1959.
In 1956 a reporter described Houtteman as Cleveland's "virtually forgotten man." He pitched only 22 times, mostly in relief. In 1957 Kerby Farrell replaced Lopez as manager and Houtteman immediately landed in his doghouse. Farrell reamed him out in front of his teammates after a poor performance in spring training. The Indians put him on the trading block but drew no serious offers, since other teams knew the club was desperate to get rid of him. In May he was sold to the Baltimore Orioles for a reported $20,000. Cleveland News sportswriter Hal Lebovitz called him "a pitcher of considerable promise but who somehow has yet to cash in on it." He was still a few months short of his thirtieth birthday.
Houtteman was battered in four relief appearances with Baltimore and was sent down to Vancouver of the Pacific Coast League. The Orioles recalled him late in the season. He pitched the last of his 325 major-league games on September 22. His career record was 87-91 with a 4.14 ERA.
Baltimore released him just before opening day in 1958. He worked out with the Tigers and signed with their AAA farm club in Charleston, West Virginia. He pitched two straight shutouts in midseason and finished with a 3.25 ERA, but a 7-9 record, for the American Association pennant winner. The Kansas City Athletics gave him a tryout in spring training 1959, but decided to go with young pitchers and released him, despite what one reporter called an "impressive" spring showing. He caught on with Portland in the Pacific Coast League, winning six games and losing nine with a 3.69 ERA. After the season he quit baseball at age 32.
Houtteman tried his hand at television that winter, reporting sports for a Detroit station. Then he started a new career as a sales executive with Paragon Steel in Detroit. He stayed with the company until he reached retirement age. In 1973 the Detroit News reported that he owned three Arabian show horses. He seldom attended ball games, but joined other former Tigers in 1999 at the final game in Tiger Stadium (known as Briggs Stadium in his day).
Art Houtteman died at his home in the Detroit suburb of Rochester Hills on May 6, 2003, of an apparent heart attack. He was 75. Shelagh, their three children and six grandchildren survived.
This biography is included in the book Pitching to the Pennant: The 1954 Cleveland Indians (University of Nebraska Press, 2014), edited by Joseph Wancho. For more information, or to purchase the book from University of Nebraska Press, click here.
Sources
Most information about Houtteman's career comes from The Sporting News and the indispensable Retrosheet. Major league statistics from Lee Sinins' Sabermetric Baseball Encyclopedia and Pete Palmer and Gary Gillette, eds., The Baseball Encyclopedia (Barnes & Noble, 2004).
Minor league statistics from Old Time Data, Shawnee Mission, Kansas.
Houtteman's file at the National Baseball Hall of Fame library contains unidentified (some undated) clippings from Detroit papers, the New York World-Telegram and Sun, Baseball Digest and the Associated Press.
Gene Fehler, Tales From Baseball's Golden Age (Sports Publishing, 2000), pp. 84 and 105.
Dennis Lustig, "Where Are They Now?" Detroit News, June 20, 1973.
George Sipple, "Former Tiger Whiz Kid Houtteman Dies," Detroit Free Press, May 8, 2003, p. 5C.
Lyall Smith, "Art Houtteman, The Comeback Kid," Sport, July 1950, pp. 25ff.
U.S. Census, Wayne County, Michigan, 1920.
Born
August 7, 1927 at Detroit, MI (USA)
Died
May 6, 2003 at Rochester Hills, MI (USA)
If you can help us improve this player's biography, contact us.
https://h2j7w4j4.stackpathcdn.com/wp-content/uploads/2020/03/research-collection4_350x300.jpg
300
350
admin
/wp-content/uploads/2020/02/sabr_logo.png
admin
2012-01-04 20:19:50
2012-01-04 20:19:50
Art Houtteman