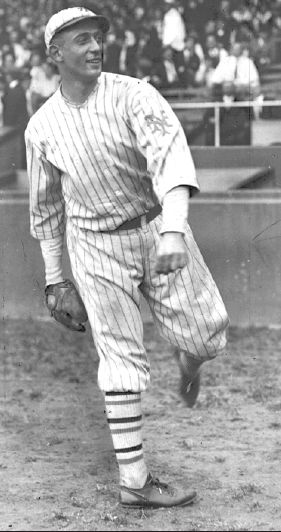 ---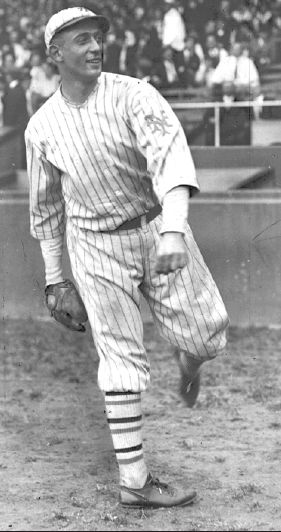 When manager John McGraw needed a clutch win for his New York Giants during their four-year run as National League champions (1921-1924), he often relied on ace southpaw Art Nehf, winner of 184 games for four teams in his 15-year career (1915-1929). Described as a "money pitcher" by sportswriter Frederick G. Lieb, Nehf won the deciding game of the World Series in both 1921 and 1922 by tossing a shutout and a five-hitter respectively against the New York Yankees.1 His World Series résumé also includes a six-hit shutout against the Yankees in 1923 and an epic 12-inning complete-game victory versus Walter Johnson and the Washington Senators in 1924. "Nehf is one of the finest, gamest pitchers the game has ever known," McGraw once said.2 Plagued by arm and hand miseries, Nehf was waived by the Giants in 1926, but resurrected his career with the Chicago Cubs and helped them to the fall classic in 1929.
Arthur Neukom Nehf was born on July 31, 1892, in Terre Haute, Indiana, to Charles and Wilhelmine "Minnie" (Neukom) Nehf.  The German-American Nehfs were a prosperous and well-respected family and owned a jewelry store in town. They raised their only child to appreciate education, music, and sports. A slightly built left-hander, Nehf gathered most of his initial baseball experience from school teams. Upon graduation from Wiley High School in 1910, he enrolled at Rose Polytechnic Institute (now known as Rose-Hulman Institute of Technology), where he played football, basketball, and baseball. He set a school record with a 99-yard touchdown as a quarterback in 1911, but was even more spectacular on the diamond. Described by Sporting Life as the "premiere pitcher in the Indiana College League" in 1911 and 1912, Nehf was a strikeout artist who supposedly fanned 98 batters in eight games, including 20 in a no-hitter.3 In the summer of 1912, Nehf signed with Negaunee of the independent Iron and Copper League of northern Michigan. "The spectators were mostly miners," recalled Nehf. "The fights they used to have among themselves over close games were more thrilling than the games."4
Nehf's foray into Organized Baseball got off to a rocky start when he signed with the Kansas City Blues of the Double-A American Association in 1913. Homesick, dejected, and feeling out of place, Nehf pitched just twice in relief before being transferred to the Sioux City (Iowa) Packers in the Class A Western League. He won his first professional game and posted a 5.01 ERA in 32⅓ innings with the Packers but ended his season prematurely so that he could return to college.
In 1914 Nehf graduated with a degree in electrical engineering from Rose Polytechnic, but decided to give baseball another shot when he discovered the poor wages engineers earned at the time. After getting his unconditional release from Kansas City, he signed with the local Terre Haute Terre-iers of the Class B Central League, for whom he won 11 of 18 decisions and logged 174⅔ innings in less than two-thirds of the season.
Freed from the confines of his academic schedule, Nehf showed his potential in his first full year of professional baseball, in 1915. His Terre Haute minor-league team was now known as the Highlanders. By midseason, scouts from the Chicago White Sox, New York Giants, Philadelphia Athletics, and Washington Senators, as well as the Federal League flocked to see "Little Arthur," the stocky, 5-foot-9, 170-pound hurler whose accomplishments included a no-hitter and a league-record 17 strikeouts in another game.5 The Boston Braves, acting on a tip from Terre Haute infielder Joe Evers (whose brother Johnny Evers played for Boston), dispatched scout Fred Mitchell to follow the 22-year old southpaw. Lauded as "brilliantly spectacular," Nehf posted a 19-10 record and led the league with 218 strikeouts and a minuscule 1.38 ERA.6 On August 4 the Braves purchased Nehf's contract for a reported record $3,500 and secured his immediate transfer to the big-league club. In a widely circulated contemporary story, Johnny Evers had the opportunity to sign Nehf in 1913 when the Hall of Fame infielder was player-manager of the Chicago Cubs; however, Evers dismissed Nehf after a tryout as too small.
Nehf joined the reigning World Series champion Boston Braves, who were struggling to play .500-ball. With his star hurler, Bill James, suffering from arm miseries, manager George Stallings desperately needed an effective pitcher. After tossing batting practice for a week, Nehf made his big-league debut on August 13 against the first-place Philadelphia Phillies at the Baker Bowl. In relief of starter Dick Rudolph, he threw two scoreless innings with no hits allowed in a 5-3 loss. His first big-league start came on August 21 at Braves Field in the second game of a double header. The southpaw shut out the Pittsburgh Pirates on seven hits and singled in both sixth-inning runs of a 2-0 victory. Described as a "one of the best left-handed pitchers who have broken into the National League in years," Nehf tossed shutouts in two of his next three starts (including the first of three career one-hitters) to blank the Brooklyn Robins, 6-0, in Boston on September 4.7 The reinvigorated Braves challenged the Phillies for the pennant, but eventually ended seven games behind to settle for second place. In a seamless transition to the big leagues, Nehf went 5-4, tying veteran Tom Hughes for the team lead in shutouts (4), and carved out a robust 2.53 ERA in 78⅓ innings.
In an era when critics considered baseball players uncouth and immoral, Nehf was a shining exception. Erudite, studious, and cultivated, Nehf had interests other than baseball. He was an excellent piano and organ player, earning the nickname "The Organist" from teammates when he played vaudeville during his years with the New York Giants. "The way [Nehf] ambles over the piano keys pounding out real harmony," opined a contemporary paper, "makes some folks wonder why he picked baseball as a profession."8 Nehf enjoyed the company of sportswriters, and according Frederick G. Lieb "was a skilled conversationalist who could talk well on most any subject.9
In 1916, Nehf's first full season began with great anticipation. "Stallings has a star in Nehf,"10 wrote Grantland Rice, but the left-hander was derailed by a season-long battle with what physicians initially feared was typhoid fever (it wasn't). In early September, Nehf was hospitalized and missed three weeks of action.11 Rested and seemingly cured, he returned for the final two weeks, but finished with a disappointing 7-5 record and only 13 starts. Nehf completed 121 innings, along with an ERA of 2.01, as the Braves finished four games behind in third place.
Upon receiving his contract calling for a substantial pay cut for the 1917 season, Nehf threatened to quit baseball.12 Unlike most players, Nehf had viable career options: he was a trained engineer and worked as a jeweler in his home town of Terre Haute. James E. Gaffney, owner of the cash-strapped Braves, ultimately acquiesced to Nehf's demands, and the lefty reported to spring training in Miami. However, Stallings wasn't pleased and relegated Nehf to the bullpen for the first six weeks of the season. On June 2 he finally started (a complete-game victory over the Cincinnati Reds) and proved to be the most consistent winner on a weak, sixth-place team. During a dominant stretch of five starts in September, Nehf hurled 41 consecutive scoreless innings, tying Jack Chesbro (Pirates in 1902) and Grover Cleveland "Pete" Alexander (Phillies in 1911) for the second-longest such streak in NL history behind Ed Reulbach's 44 innings in 1908 (with the Chicago Cubs). Nehf's scoreless streak accomplishment ties him for ninth-longest in NL history as of the end of the 2013 season.  The streak included three overpowering outings (the latter two on three days' rest) on the road: a three-hitter against the Pittsburgh Pirates, followed by a 14-inning tie versus the St. Louis Cardinals and a four-hitter against the Reds. Nehf finished the season with a 17-8 record, completed 16 of 23 starts among his 38 appearances, and posted a stellar 2.16 ERA in 233⅓ innings.
Nehf was primarily a breaking-ball pitcher with a good fastball that belied his small stature. His success, the New York Times once suggested, came from the combination of "speed and immaculate control."13 He also altered his pitching motion, much to the chagrin of batters. Baseball Magazine noted that he had a "puzzling underhand or sidearm delivery alternating occasionally with an overhand movement."14 By 1920 he had also developed a slowball that was described as a "floater" or "fingernail ball" and fluttered much like a knuckleball.15
The 1918 season, played against the backdrop of a world war and General Enoch Crowder's "work or fight" decree, ended four weeks early, on Labor Day. While the seventh-place Braves fell precipitously from their "miracle" championship just four years earlier, Nehf rose to new heights. He completed a NL-leading and career-best 28 games (in 31 starts), including 18 in a row. The streak concluded in a marathon on August 1 at Braves Field. Nehf held the Pittsburgh Pirates scoreless on eight hits for 20 innings. In the 21st frame he was tagged for four hits and two runs, and collared with a heartbreaking 2-0 loss in which he faced 77 batters. He split his 30 decisions and posted a 2.69 ERA in a career-best 284⅓ innings.
Nehf experienced an uncertain offseason. While World War I cast doubts on the 1919 season, owners took advantage of the situation to release all players (in effect, granting them free-agent status) with a "gentleman's agreement" not to sign each other's players. Consequently, Nehf inked a contract to play semipro ball in the competitive Triangle Factory League in Dayton, Ohio, where he also worked to support the war effort.16
In fulfillment of sportswriters' predictions for a last-place finish, the Braves started the 1919 season with nine consecutive losses. The dubious streak was broken by Nehf's 11-inning, complete-game victory over the New York Giants which also reignited offseason rumors of New York's eventual acquisition of the hurler with an "elusive, tantalizing curve."17 The trade was finally consummated on August 1 when the Giants sent pitchers Red Causey, Johnny Jones, and Joe Oeschger, catcher Mickey O'Neil, and an "immense sum" of money (reportedly $40,000 to $55,000) to the Braves.18
Nehf's arrival in New York was met with universal approval by fans and sportswriters who thought the left-hander would play the deciding role in the Giants' quest for a pennant. "[Nehf] is like a high-class horse hitched to a dray. He showed a lot of class but could get anywhere," read one report.19 Following frustrating losses in his first two starts, Nehf commenced one of the most impressive stretches in his career. He won a career-best nine consecutive decisions, hurled eight complete games during his last ten starts, and posted a microscopic 1.45 ERA in 87 innings; nonetheless, the Giants still lost ground to the eventual pennant winning Cincinnati Reds. In a season shorted by 14 games, Nehf finished with 17 wins and a 2.49 ERA in 270⅔ innings for the Braves and Giants.
Manager John McGraw counted on the "sweetest staff in the NL" to guide the Giants to the pennant in 1920, but the team got off to an unexpectedly slow start, fighting to play .500 ball through July.20 After a brutal start to the season (34 hits and 18 runs in just 14 innings), the "priceless portside flinger" Nehf finally found his rhythm by winning nine of ten decisions from June 24 to August 2.21 The Giants came roaring back in August and September (38-20) to challenge Brooklyn and Cincinnati, but ultimately finished in second place for the third straight season. Nehf showed his mettle by hurling a 17-inning complete game on three days' rest to defeat the Reds at Redland Field, 6-4, on August 27 during the first game of a doubleheader. Allowing just five earned runs in 41⅓ innings in September, Nehf closed out the season on a tear, finishing with a career-high 21 wins and joining Jesse Barnes (20-15) and Fred Toney (21-11) to form the NL's first trio of 20-game winners since the 1913 Giants. Nehf also helped his cause by recording a record-tying 11 double plays (Curt Davis broke the mark with 12 in 1934).
In 1921 the Giants waged a season-long battle against the Pittsburgh Pirates for supremacy in the NL. The league's highest-scoring offense was led by a quartet of future Hall of Famers, youngsters Frankie Frisch, Ross Youngs, and High Pockets Kelly, and veteran Dave Bancroft; however, "Little Napoleon" McGraw leaned on his pitchers Nehf, Barnes, Toney, and Phil Douglas, who combined for 68 of the team's 94 victories and logged almost 1,000 innings.  Nehf came through when the Giants needed him most by defeating the Pirates seven consecutive times (all by complete game) and posting a 1.14 ERA. "The name of Nehf produces the same effect upon a Pirate as a conjurer's imprecation," wrote the New York Times.22  The Giants overcame a 7½-game deficit on August 23 to take the lead on September 9 and held on to capture their first of four consecutive pennants. Nehf paced the staff with 20 wins and 260⅔ innings. "Once [Nehf] gains the upper-hand, he is poison," wrote syndicated columnist and AL umpire Billy Evans about the southpaw's emerging reputation as a big-game pitcher.23
The New York Giants and their tenants in the Polo Grounds, the New York Yankees, squared off in what H.G. Salsinger called "probably the best World Series ever played."24 The third and final installment of the experimental best-of nine format, the series was a clash of philosophies, pitting McGraw's Deadball Era tactics of "small ball" versus Miller Huggins's "long ball" embodied by Babe Ruth. During the regular season, the Yankees had hit 134 homers compared with the Giants' 75. In spite of the media's new-found fascination with the home run, the World Series contained an epic battle between two pitchers, 21-year-old right-hander and future Hall of Famer Waite Hoyt (19-13) of the Yankees and Nehf. 
Nehf held the vaunted Yankees lineup to just three hits and one earned run in Game Two, but lost, 3-0, as Hoyt subdued the Giants on two hits. In Game Five Nehf surrendered six hits and three runs, but his teammates could manage only one unearned run on ten hits against Hoyt. On two days' rest, Nehf and Hoyt squared off for the third time with the Yankees on the brink of elimination. In what was described as "one of the most brilliant games ever twirled in a World's Series," Nehf exacted revenge in Game Eight, holding the Yankees to four hits in his third straight complete game.25 In the bottom of the ninth, nursing a precarious 1-0 lead, Nehf dispatched pinch-hitter Ruth, (who was suffering from an infected arm and bad back and did not play in Game Six or Seven), then walked Aaron Ward. The game ended when Home Run Baker grounded out and Ward was thrown out going for third.  "If courage is the test of heroism," wrote The Sporting News of the Giants gaining their first championship since 1905, "then Art Nehf … is the pitching hero of the World Series."26
The NL's stingiest pitching corps (3.45 ERA) and a high-octane offense led the Giants to the pennant in 1922. Nehf, the unequivocal staff ace, led the team in innings (268⅓), starts (a career-high 35), complete games (20), and wins (19). His 3.29 ERA ranked fifth in the NL. "Nehf is a wonder," said McGraw, trying to explain his lefty's durability and success despite his size.27 An excellent, nimble fielder, Nehf either led or tied for the lead with NL pitchers in putouts for the second time in three years, and ranked in the top four every year from 1918 to 1923.
The 1922 Series was back to a best-of-seven status. In the Opening Game of the World Series rematch, Nehf limited the Yankees to six hits and two runs (one earned) in seven innings of work. He was lifted for Earl Smith, who unsuccessfully pinch-hit with the bases loaded in the bottom of the seventh. A three-run rally in the eighth inning provided the Giants their only runs in a hard-fought victory. Game Two had ended in a ten-inning 3-3 tie. The Giants took the next two games by scores of 3-0 and 4-3 to go up three games to none on the Yankees. On a rainy, overcast day, Nehf took the mound in Game Five on October 8 with the Giants on the verge of another championship. In a sense of déjà vu, Nehf, "the master of situations,"28 hurled a complete-game five-hitter, surrendering just three runs. The Giants' three-run rally in the eighth inning made Nehf the winner, 5-3, and the Giants the kings of New York.
Nehf had an unexpectedly erratic season in 1923 during which he completed just seven of 27 starts and posted the league's fourth-highest ERA (4.50 in 196 innings). "Nehf is breaking down," wrote John B. Foster;29 while Henry L. Farrell noted that the lefty was "awfully good or terribly bad."30 For the first time in his life, Nehf was bothered by chronic arm pain all season long.31 With an ERA well over 5.00 by the end of July, Nehf was relegated to a once-a-week starter and occasional reliever in August and September. The extra rest seemed to pay dividends, as the 30-year-old hurler sliced his ERA by nearly a run at season's end.  Nehf's shutout against Brooklyn in his last start of the season rekindled fans' hope that the staff ace would be ready to face the New York Yankees for the third consecutive year in the World Series.
With the World Series tied one game apiece, Nehf (13-10) started Game Three at Yankee Stadium, inaugurated just that year and located across the Harlem River from the Polo Grounds.  Described as the "diminutive star" by the Associated Press, Nehf blanked the Yankees on six hits to earn the victory, 1-0, courtesy of Casey Stengel's home run.32 Nehf's wizardry over the Yankees ended in the deciding Game Six at the Polo Grounds. Through 7⅓ innings, he was dominant, surrendering just two hits and a run. Then the bottom fell out. He gave up two singles and walked the next two batters on eight pitches. With one run in and the bases loaded, Nehf was mercifully removed and sobbed on his way to the dugout.33 The Yankees blasted reliever Rosy Ryan for four runs (three charged to Nehf) to win the game and the first championship in their history.
McGraw told the press even before the 1924 campaign started that he was not "banking on Nehf."34 The "Terre Haute Terror," as Nehf was sometimes called, pitched sparing through July, starting just nine times in an effort to save wear and tear on his arm. McGraw, bracing for an annual battle for the pennant, counted on his experienced pitcher during the final, tense two months during which the Giants lost a nine-game lead. "Surpassing McGraw's expectations," Nehf tossed nine complete-game victories in 12 starts between July 29 and September 25 and reclaimed his place as the staff ace.35 Always adept with the bat (.210 career average), Nehf went on a slugging rampage during this stretch, belting five of his career eight home runs and knocking in 11 runs in just 30 at-bats. Nehf's 14th and final victory of the season completed a three-game sweep of the Pittsburgh Pirates on September 25 and effectively clinched the Giants' fourth consecutive pennant with two games remaining.
The World Series opened in Griffith Stadium in Washington, D.C., where Nehf took the mound against the Washington Senators' legendary ace, 36-year old Walter Johnson, winner of 377 games and pitching in his first fall classic. Through 11 innings the two veterans battled to a 2-2 tie before the Giants rallied for two runs off the Big Train in the 12th frame. Calling on his "cunning and endurance," Nehf extinguished the Nationals' rally to earn the victory, 4-3.36 The exciting win was tempered by news that Nehf had injured his hand batting down a line drive. His next start was pushed back to Game Six with the championship on the line. Through seven innings, Nehf yielded just four hits and two runs before being lifted for pinch-hitter Frank Snyder in the eighth. The Giants managed just one run off southpaw Tom Zachary to make Nehf the hard-luck loser. Nehf hurled two-thirds of an inning of relief in Game Seven which ended on Ed McNeely's "bad-hop" walk-off double scoring Muddy Ruel in the 12th inning to give the Senators their first and only championship in D.C.
Eighteen months after his duel with Walter Johnson, Nehf's career seemed washed up. Since as early as 1924, he had suffered from what physicians ultimately diagnosed as neuritis, a debilitating disease that caused numbness in his fingers, making holding a ball, not to mention throwing one, a difficult task. After logging just 155 innings while winning 11 of 20 decisions in 1925, Nehf was sold on May 11, 1926, to the Cincinnati Reds in a waiver transaction.  He pitched in only nine games combined for the Giants and Reds in 1926, followed by 21 for the Reds in 1927 before he was given his unconditional release on August 30.
Nehf signed with the Chicago Cubs as a free agent two days after his release and experienced an unexpected rebirth. Thrown into a pennant race, Nehf made eight appearances in just over three weeks, tossed his first shutout in more than two years, and notched an impressive 1.37 ERA in 26⅓ innings. More importantly, he pitched his way to a contract for 1928.
Nehf vindicated manager Joe McCarthy's decision to keep him by shutting out the Reds on six hits in the third game of the 1928 season. The veteran southpaw became one of a core group of six hurlers (Sheriff Blake, Guy Bush, Pat Malone, Charlie Root, and Percy Jones) who started between 19 and 30 games and cumulatively won 87 of the team's 91 victories. Nehf, the oldest of the sextet by almost six years, flourished in his role as a once-a-week starter. He showed his former skipper, John McGraw (against whom he carried a grudge and supposedly refused to speak to for having sold him to Cincinnati) that he could still pitch by holding the Giants to one unearned run over 13 innings in a an eventual 2-1 Cubs victory in 15 frames during the first game of a doubleheader then threw 12 innings of a 13-inning, 3-2 loss, during consecutive starts in July. The dagger in the heart of his former team came on September 27 in the first game of a double header at the Polo Grounds. With New York just one game out of first place, Nehf hurled a masterful six-hitter versus rookie Carl Hubbell to earn a 3-2 victory. In a tight three-team pennant race, the Cubs finished in third place, four games behind the St. Louis Cardinals. Nehf's comeback season included a 13-7 record and the NL's third-best ERA (2.65) in 176⅔ innings.
Described by reporter Edward Burns as the "fine and cultured patriarch of the Cubs," Nehf divided his time between starts and relief appearances in 1929.37 He went 8-5, but was hit hard, posting a career-worst 5.59 ERA in 120⅔ innings for the pennant-winning Cubs. In Chicago's much anticipated World Series with the Philadelphia Athletics, Nehf pitched a scoreless inning of relief in the Cubs' Game Two loss. In what proved to be his last appearance in the big leagues, Nehf relieved Charlie Root in Game Four with one out and two runners on in the seventh in one of the epic collapses in Series history. The first batter Nehf faced, Mule Haas, hit a towering, but routine fly ball that center fielder Hack Wilson lost in the sunlight. The ball dropped for an inside-the-park, three-run homer. After walking Mickey Cochrane, Nehf was replaced by Sheriff Blake, the third of four Cubs pitchers in that fateful inning during which they collectively yielded ten runs in a 10-8 loss to go down three games to one. The A's captured the title two days later with another comeback rally in Game Five.
Nehf announced his retirement in the offseason, bringing his 15-year career to an end. He won 184 and lost 120 while posting a 3.20 ERA in 2,707⅔ innings.  In five World Series he split his eight decisions, carved out a 2.16 ERA in 79 innings (seventh-most as of the end of 2013), and held the opposition to a minuscule .174 batting average.
Nehf and his wife, Elizabeth (May) Neff, settled in Phoenix, where they had established their home in the mid-1920s. They raised three children — Arthur, Daniel, and Elizabeth. A respected and successful businessman, Nehf suffered a debilitating heart attack in 1932 that forced him into permanent retirement. He remained actively interested in local semipro leagues in Phoenix, and helped arrange tryouts for several players, most notably All-Star outfielder Hank Leiber, who had a ten-season career with the New York Giants and Chicago Cubs. Nehf was inducted into the Arizona Sports Hall of Fame in 1959, and posthumously into the Indiana Baseball Hall of Fame in 1989.
In poor health the last few years of his life, Nehf passed away at the age of 68 on December 18, 1960. The cause was cancer. Honorary pallbearers at the funeral service included Del E. Webb, co-owner of the New York Yankees, and Horace C. Stoneham, president of the San Francisco Giants. Nehf was cremated and his ashes were interred at the Greenwood Memorial Park in Phoenix. Rose-Hulman Institute of Technology renamed its baseball field Art Nehf Field in his honor, and later inducted him into its athletic hall of fame.38
Sources
Chicago Daily Tribune
New York Times
The Sporting News
Ancestry.com
BaseballLibrary.com
Baseball-Reference.com
Retrosheet.org
SABR.org
Art Nehf player file, National Baseball Hall of Fame, Cooperstown, New York.
Notes
1 The Sporting News, December 28, 1960, 36.
2 Associated Press, "Drama of Series Enacted in Team Dressing Rooms," Altoona (Pennsylvania) Tribune, October 16, 1923, 8.
3 "Blues Sign Pitcher Nehf," Indianapolis News, July 11, 1913, 14.
4 "The Man Who Gave The Braves Their Final Spurt," Baseball Magazine, November 1915, 34.
5 Ibid.
6 Ibid.
7 "The Man Who Gave The Braves Their Final Spurt,"  33.
8 "JOB, McGraw Puts End To Rumors About Ross Youngs," San Antonio Evening News, March 5, 1920, 17
9 The Sporting News, December 28, 1960, 36.
10 Grantland Rice, Sporting Life, March 25, 1916, 16.
11 Sporting Life, September 16, 1916, 4.
12 "Art Nehf balks," Indianapolis News, February 19, 1917, 13.
13 "Giants Down Cards as Corsairs Lose," New York Times, September 27, 1921, 16.
14 "The Man Who Gave The Braves Their Final Spurt," 33.
15 "McGraw Puts His Faith in His Three Aces," Nevada State Journal (Reno, Nevada), April 18, 1920, 5.
16 "More Diamond Stars join Factory League," Fort Wayne Journal-Gazette, August 4, 1918, 9.
17 "Braves Find Giants In Relenting Mood," New York Times, May 9, 1919, 18.
18 W.A. Phelon, "Who Will Win the Big League Pennants?," Baseball Magazine, October 1919, 329.
19 "Critics Size Up Arthur Nehf," Terre Haute Saturday Spectator, October 4, 1919, 33.
20 "Hurlers Fail to Make Grade in Major Loops," Indianapolis News, April 21, 1920, 18.
21 "Giants Win When Nehf Tames Cubs," New York Times, June 25, 1920, 13.
22 "Nehf Weaves Spell Over Pirates," New York Times, August 28, 1921, 93.
23 Billy Evans, "Billy Evans Sizes Up New York Giants an Good, Not Great, But Game Ball Club," Fort Wayne Journal-Gazette, October 1, 1921, 11.
24 The Sporting News, October 20, 1921, 1.
25 "Giants Win World Series; Nehf Beats Hoyt, 1-0 in Thrilling Finish," New York Times, October 14, 1921, 1.
26 The Sporting News, October 20, 1921, 1.
27 "McGraw Names an All-Star Baseball Team For The National League," San Francisco Chronicle, December 2, 1922, 3.
28 "Giants Take Series Without Defeat; Win Last Game, 5-3," New York Times, October 9, 1922, 1.
29 John B. Foster, "Hard Fight to Keep Giants at the Top," Harrisburg Telegraph, July 16, 1923, 13.
30 Henry L. Farrell, "Pirates Are Most To Be Feared By M'Graw's Giants," News-Herald (Franklin, Pennsylvania), May 17, 1923, 8.
31 "Not Banking on Nehf," Evening News (Harrisburg, Pennsylvania), January 10, 1924, 21.
32 Associated Press, "Nehf May Pitch for Giants and Pennock Yankees," Morning Sun (Yuma, Arizona), October 10, 1923, 1.
33 Associated Press, "Drama of Series Enacted in Team Dressing Rooms," Altoona (Pennsylvania) Tribune, October 16, 1923, 8.
34 Not Banking on Nehf," Evening News (Harrisburg, Pennsylvania), January 10, 1924, 21.
35 Norman E. Brown, "Jack Bentley and Art Nehf Are Hot To Beat in Older Organization," San Bernardino County Sun (San Bernardino, California), August 2, 1924, 16.
36 Associated Press, "Mogridge and Johnson Stand Between Giants and Winning Flag," Post-Crescent (Appleton, Wisconsin), October 7, 1924, 5.
37 Edward Burns, "Stephenson and Grimm Hit 'Em, Nehf Holds 'Em," Chicago Daily Tribune, May 8, 1929, 29.
38 "Art Nehf,"  Rose-Hulman Fightin' Engineers.  .edu/athletics/athletic-hall-of-fame/current-hall-of-fame-inductees/nehf.aspx.
Born
July 31, 1892 at Terre Haute, IN (USA)
Died
December 18, 1960 at Phoenix, AZ (USA)
If you can help us improve this player's biography, contact us.
http://sabr.org/sites/default/files/ArtNehf.JPG
600
800
admin
/wp-content/uploads/2020/02/sabr_logo.png
admin
2012-01-04 20:03:33
2020-10-14 17:12:44
Art Nehf