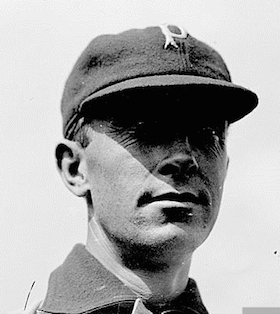 ---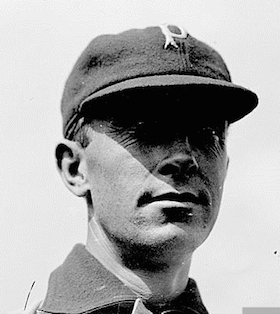 For decades, professional baseball players surnamed Weaver were routinely dubbed Buck by the sporting press. The game's two most prominent Buck Weavers – the Black Sox third baseman and the late-19th-century outfielder also called Farmer Weaver – are already the subject of excellent BioProject portraits. The following is a biography of a lesser-known Buck Weaver, a journeyman catcher with four different early-Deadball Era ballclubs. This Buck Weaver was a light-hitting defensive standout whose most memorable feature during his major-league tenure was his tall, spindly physique, a characteristic that constantly stimulated the comedic impulses of era sportswriters.1 Among other things, the press labeled him Scissors, Stilt, the Human Hatpin, the thinnest catcher in captivity, and, most evocatively, Six O'Clock Weaver, so called because when his elongated frame straightened up from a catching crouch, he was said to remind observers of the hands of a timepiece stuck on the dinner hour. Less humorously, Weaver's rail-thin build was likely a manifestation of the chronic health problems that shortened his playing career, and may even have prefigured his untimely death at age 37.
Our multi-nicknamed subject entered life as Arthur Coggshall Weaver. He was born on April 7, 1879, in Wichita, Kansas, the fourth of five children raised by millhand-turned-locomotive engineer-turned farmer John W. Weaver (born 1846) and his wife, the former Belle Coggshall (born 1852).2 The elder Weavers were married in Michigan, and lived either there or in Kansas while their children were growing up. Next to nothing is known of young Arthur's early life. But by his late teens, he was living in Holland, Michigan, and had become a good-enough ballplayer to earn a place on Holland's fast semipro team.3 Evidently, he also acquired sufficient education to later enroll at Kansas State Normal, a teachers college in Emporia, where he was on the school's baseball team.4 Weaver began his professional baseball career in 1901, signing with the Cedar Rapids (Iowa) Rabbits of the newly formed Class B Three-I League.5 There, he forged a career-long pattern of weak hitting (.228 BA in 108 games) and strong defensive play (.977 FA). Despite his modest batting stats, the Rockford (Illinois) Morning Star named the "reliable" Weaver and Frank Roth of Evansville as the league's all-star catchers.6 The hometown Cedar Rapids Republican felt much the same, naming Weaver the "timeliest hitter, best thrower, strongest backstop, and hardest worker" among circuit receivers.7
When the Three-I campaign came to a close, Weaver moved up to late-season action against better competition, joining the Omaha Omahogs of the Class A Western League. The Rockford Republic predicted success: "Arthur Weaver, who caught splendidly for Cedar Rapids this season, will catch for Omaha the remainder of the season. 'Buck' ought to make good."8 Appearing in a handful of contests, Weaver apparently made a favorable-enough impression to be placed on the Omaha reserve list.9 But he began the 1902 season back in Cedar Rapids. The solid work of his sophomore year (.278 BA/.972 FA) attracted notice, and by late August, Sporting Life was reporting that Weaver had been signed by a major-league club, the American League Cleveland Bronchos.10 But for reasons undiscovered, he never played in Cleveland. Rather, Weaver's big-league debut came in the livery of the senior circuit's St. Louis Cardinals.
On September 14, 1902, Weaver and fellow call-up Jim Hackett formed the giant battery (both were 6-feet-2 or better)11 sent out in the fourth inning in relief of the O'Neill brothers (pitcher Mike and catcher Jack) to face the Pittsburgh Pirates. Although the newcomers bore little blame, the final results were not pretty, a 9-6 Pittsburgh victory marred by the commission of 13 errors, total. Weaver was charged with one of those miscues, but fared better at the plate, with a double in three trips against left-hander Warren McLaughlin. Strangely, given Weaver's 14 years in Organized Baseball, it is uncertain which side of the plate that he batted from. No definitive statement on the subject was found during review of contemporary reportage, and modern baseball authorities like Baseball-Reference and Retrosheet list Weaver as: throws-right; bats-unknown. Certain newspaper descriptions of the extra-base hits of his minor-league days, however, suggest that Weaver was likely a righty batter.12 Whatever the case, Buck "never shone much as a hitter."13 His underwhelming .182 (6-for-33) batting average in 11 late-season games for St. Louis was prophetic, the pacesetter for his lifetime .183 major-league average.
Weaver made the Cardinals roster in 1903, but saw little game action. In 16 appearances he batted a respectable .245 (12-for-49), but without power (no extra-base hits and only five RBIs). Still, when released by St. Louis in early June, he was quickly snatched up by the league-leading Pirates as catching insurance for regular receiverEd Phelps and backup Harry Smith.14 Used sparingly behind the plate (11 games) and occasionally at first base (5 games), Weaver hit .229 (11-for-48) with a triple, the first extra-base blow of his big-league career, as the (91-49, .650) Pirates coasted to the National League pennant. Thereafter, he never stirred from the bench as Pittsburgh was upset by the AL Boston Pilgrims in the first modern World Series, five games to three.
After the season, Buck married, taking Kansas-born Louise (maiden name unknown) as his bride. The new benedict was not in Pittsburgh's 1904 plans, but his announced transfer to Chicago was rescinded once catcher Jack O'Neill signed with the Cubs.15 Buck's contract was then dispatched to the Columbus Senators of the Class A American Association.16 Weaver, however, spent little time in Columbus. He was quickly sold to a league rival, the Minneapolis Millers.17 Although he batted just .244 in 106 games,18 Weaver again attracted major-league interest, and was reportedly taken by the Philadelphia A's in the minor-league player draft that fall. But again for reasons undiscovered, the start of the 1905 season saw Weaver back in St. Louis, this time in the employ of the American League Browns.19
Weaver got off fast in spring camp, with the Wilkes-Barre Times informing readers: "Buck Weaver, the Browns recruit, is showing up splendidly. He is hitting the ball well and his receiving is all that could be asked for."20 But once the regular season began, he could not buy a hit, batting an anemic .120 (11-for-92), with three RBIs in 28 games. In the end, however, it was a defensive lapse by the normally sound backstop that triggered his departure from St. Louis. During a July 2 game against Cleveland, Weaver's muff of a third strike launched a three-run outburst that cost pitcher Harry Howell and the Browns a 3-2 decision. The next day, Buck was sent to the Indianapolis Indians of the American Association in exchange for catcher Frank Roth.21
Thus began a downward trajectory that over the next three seasons carried Weaver from Class A baseball in Indianapolis (1905-1906) to Class B (Terre Haute Hottentots/Central League, 1906) to Class C (Wichita Jobbers/Western Association, 1907). With his career in seeming decline, Weaver's inclusion among the four Wichita players selected by the Chicago White Sox in the fall 1907 minor-league draft was surprising.22 Against the odds, Buck made the 1908 White Sox club – the only one of the seven White Sox minor-league draftees to do so – beating out Charlie Armbruster for the third-string receiver job.23 But during the season he saw little action, appearing in only 15 games. When given the chance, Weaver exhibited the defensive skills that hallmarked his game. Unhappily, his puny.200/.222/.229 slash line was also typical. Over the winter, Weaver was put on waivers, and once he cleared, sold back to Wichita.24
Buck Weaver would play professional baseball for another six seasons, but his major-league days were now behind him. During four big-league campaigns, he had appeared in only 86 games. A career .183 batting average with little power (only seven extra-base hits and 15 RBIs in 270 plate appearances) had made him little threat with the bat. But first-rate receiving skills and a rifle arm had afforded him a marginal career at the game's highest echelon. An agreeable, upbeat personality – Weaver was well-liked by teammates, the local sports press, and club fans wherever he went – had also served him well. Those attributes would permit his professional playing days to continue. But around 1909, Buck's health, never robust, began to fail him. In the seasons to come, severe asthma attacks would often put him on the sidelines. Although unreported during his lifetime, The Sporting News would later diagnose Weaver as suffering from tuberculosis.25 In either case, his baseball career had entered borrowed time.
Weaver played well for Wichita (.280 BA), now graduated to the Western League. But periodic asthma attacks and the brutal Midwest summer heat limited his availability to little more than half the club's games. After the season he was traded to Western League rival Denver, where, it was thought, playing in the Mile High City would be easier on Weaver.26 The Denver climate suited Buck, but road trips to less hospitable locales were another matter. In the midst of June away games, an asthma attack required that he be sent back to Denver, leaving the Grizzlies dangerously thin at catcher.27 As the road trip continued, an anxious Denver Daily News observed: "Should catcher [Hugh] McMurray get hurt Buck Weaver is ready to join the team at a moment's notice, but it would be almost a crime to take him down to the low country."28 Weaver was taken ill again during a subsequent road trip,29 and thereafter stopped accompanying the club out of town. He became a Denver home-games-only catcher. Notwithstanding that, Buck gave value (.256 BA and sterling defense) when in the pennant-winning Grizzlies lineup. He also became a great favorite of Denver fans and sportswriters.
No longer able to tolerate the weather at the Weaver farm in Manhattan, Kansas, Buck and Louise relocated to Denver that fall.30 In January, the couple's family expanded via the birth of daughter Lena, their only child. Ostensibly retired from the game when the 1911 season arrived, Buck snuck in appearances behind the plate for local semipro nines that summer.31 And he remained on call for emergency duty with the Grizzlies, stepping in and catching "with all his old-time cleverness" in a 7-4 Denver win over Pueblo on July 9, 1911.32 Sensing his health improved and desirous of remaining active in the game, Weaver signed as player-manager for the 1912 season with another arid-venue club, the Salt Lake City Skyscrapers of the Class D Union Association. When Buck reported for duty, club boss Dick Cooley described him as "the picture of health. More brown than a farmer and with more ginger than many of the youngsters."33 But history soon repeated itself. In late July, a severe asthma attack left Weaver's health in critical condition. Indeed, "it is feared that he will not recover," intoned Sporting Life, solemnly.34 But he did. Severing connection with the Salt Lake club (for whom he had hit a career-best .355 in 67 games), Weaver recuperated back home in Denver. In time he recovered, and then, amazingly, served once again as emergency catcher for the Denver Grizzlies, replacing injured backstop Larry Spahr in crucial late-September contests.35 After he garnered six hits in his first four Denver games and caught both ends of a doubleheader, the Denver Post proclaimed: "There is little question but that Weaver would be one of the greatest catchers outside of the major leagues if he had good health."36 Although he did not go on the Grizzlies' final road trip,37 Buck's contribution to the club's successful defense of its Western League crown was much appreciated by the locals. Both Denver dailies included his photo in the player collage of the champion Denver Grizzlies published at season end.38
A return engagement in the Union Association of 1913 followed a now-familiar pattern. Weaver signed with a high-elevation club, the Great Falls (Montana) Electrics; performed well in the early going; fell ill once the club went on the road; and returned home to Denver to recuperate.39 He played intermittently thereafter but saw enough action (77 games) to be named the catcher on the Union Association All-Star team selected by the Salt Lake Telegram.40 When the Great Falls club disbanded over the winter, Salt Lake City and the newly formed Boise Irrigators vied for Weaver's services, with the latter coming out on top. Buck also became a minor investor in the Boise franchise.41 He was batting .314 in 54 games when felled by his annual asthma attack.42 Soon thereafter, the Boise club folded. Salt Lake promptly claimed Weaver in the Boise player dispersal draft, but he declined to report. Instead, he went home to Denver, his 14-season professional playing career finally over.
In February 1915, an admiring profile in the Denver Post revealed that Buck Weaver had "ended his diamond career … and is now a Denver businessman." The Post added that the level-headed Weaver had saved his money "and is now on easy street financially, even though only 35 years old."43 Before the year was out, however, Buck's new position as superintendent of the Mountain Motor Oils Company plant in Denver would nearly cost him his life.
On the morning of November 24, 1915, a massive explosion – probably caused by an electric spark that ignited oil fumes – reduced the plant to flaming rubble. Weaver and a teamster named Charles Peters were rescued from the debris by firefighters and rushed to a nearby hospital, but given little chance of survival.44 Within days, Peters succumbed to his injuries, but Weaver, despite suffering from serious burns, surprised his doctors by responding to treatment. In time he was discharged from the hospital. And after four-month convalescence, Weaver was able to return to work.45 But unbeknownst to him, he had less than a year to live.
In the end, neither his chronic asthma nor his suspected tuberculosis nor aftereffects of the plant explosion killed Buck Weaver. He died from failed surgery. Admitted to St. Joseph Hospital with an inflamed appendix on March 14, 1917, Weaver survived the operation only to develop post-operative peritonitis.46 Over the ensuing days, his condition deteriorated. Death came on March 23, 1917. Arthur Coggshall "Buck" Weaver was 37. Following funeral services, his remains were interred in Fairmount Cemetery, Denver. Survivors included his wife, Louise; 6-year-old daughter Lena; his parents; and his four siblings. Weaver's obituary in The Sporting News concluded with this sentence: "Personally, he was one of the best-liked players that ever donned a uniform, and in spite of the disappointment due to the knowledge that his health was failing him, he never lost his optimism or good cheer."47
Sources
Sources for the biographical detail provided herein include the Art Weaver file maintained at the Giamatti Research Center, National Baseball Hall of Fame and Museum, Cooperstown, New York; Weaver family info and probate documents posted on Ancestry.com; and certain of the newspaper articles cited below. Unless otherwise noted, stats have been taken from Baseball-Reference.
Notes
Born
April 7, 1879 at Wichita, KS (USA)
Died
March 23, 1917 at Denver, CO (USA)
If you can help us improve this player's biography, contact us.
http://sabr.org/sites/default/files/WeaverArt.jpg
600
800
admin
/wp-content/uploads/2020/02/sabr_logo.png
admin
2016-04-12 18:34:01
2016-04-12 18:34:01
Art Weaver