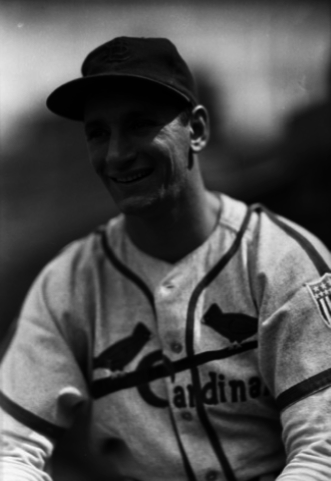 ---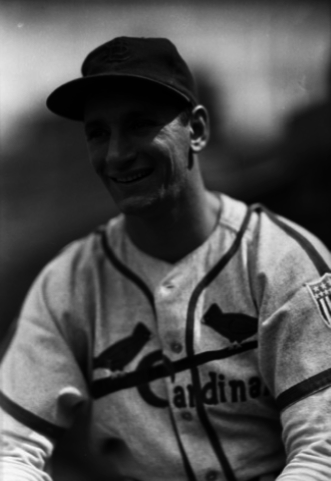 When big-league players heeded the call of duty during World War II, many teams were left scrambling to find replacement players. One such wartime player was slap-hitting Augie Bergamo, who debuted with the St. Louis Cardinals in 1944 after six years in the minor leagues. A versatile outfielder and pinch-hitter with a good eye, Bergamo batted .304 as a part-time starter in 1944 and 1945. Despite his success, after the war ended he went unclaimed on waivers by all 16 major-league teams, and returned to the minors in 1946.
August Samuel Bergamo was born on Valentine's Day 1917 in Detroit. His parents, Joseph and Jennie (Dasaro) Bergamo, were both born in Italy and came to America at the turn of the 20th century. Like many of the millions of unskilled immigrants who poured into urban areas all over the rapidly developing country, Joseph found employment in construction and listed his job as "cement finisher" in a city directory at the time. The Bergamos lived in the Elmwood Park neighborhood, just east of the city center in Detroit, and raised at least six children born in the US.
By all accounts, Augie was an athletic youngster whose first introduction to baseball came on the sandlots that dotted his neighborhood. He attended Eastern High School (now named Martin Luther King High School), where he played basketball, earning honorable mention in the Detroit News during his senior year in1936. He was also a champion table-tennis player. After graduation, Bergamo took a job at a local roller-bearing company and played semipro baseball on the weekends. Standing just 5-feet-9 and weighing only 165 pounds, the left-handed Bergamo established a reputation as a clever pitcher. He later developed arm problems and switched to the outfield.
Bergamo seemed destined to spend his life in a factory, but he had an understanding boss, Norman Phillips, who recognized his passion for baseball. Phillips encouraged Bergamo to attend a tryout camp the St. Louis Cardinals conducted in Flint, about 70 miles north of Detroit. "There were about 800 kids there," said Bergamo. "I was put under contract, and hustled to another elimination tryout camp in Pine Bluff, Arkansas."1
The 21-year-old Bergamo began his professional career with the Paducah (Kentucky) Indians of the Kentucky-Illinois-Tennessee (Kitty) League, one of the 13 Class D affiliates among the Cardinals' 27 farm teams. The speedy left-hander batted a league-best .355 to earn a promotion to the Columbus (Georgia) Red Birds of the Class B South Atlantic (Sally) League in 1939. Described as a "wiry little star," Bergamo batted .345 and led the circuit with 190 hits and 18 triples.2
After jumping two classes, Bergamo spent the next four seasons (1940-1943) with two of the Cardinals' three top minor-league teams, the Rochester Red Wings of the International League and the Columbus (Ohio) Red Birds of the American Association. In his a season and a half with Rochester, Bergamo played for four different managers, including his future big-league skipper, Billy Southworth. In 1940 he was lauded for his "brilliant" defensive work in the outfield (he could play all three positions), and batted a robust .286 against more seasoned competition, many of whom had big-league experience.3 He smashed a home run on September 13 to help the Red Wings clinch the regular-season title.
In mid-1941, Bergamo was transferred to Columbus, where he was platooned in 1941 and 1942. Manager Burt Shotton piloted the Red Birds, arguably the most stacked team in the entire minor leagues, to the league title in 1941 and then to the Junior World Series title over the Montreal Royals of the IL. The following season, Bergamo improved his average from .266 to .303 while playing for manager Eddie Dyer. After a third-place regular-season finish, the Red Birds were on the brink of elimination in Game Seven of their first-round playoff series against Kansas City. In the bottom of the 13th inning of a game tied 3-3, Bergamo singled off the Blues' ace, 21-game winner Butch Wensloff, to score Jim Gleeson for a dramatic, walk-off series-clinching upset.4 Columbus then beat the Toledo Mud Hens for the league championship and the IL's Syracuse Chiefs to capture another Junior World Series title.
Bergamo finally cracked the starting lineup in 1943. The Red Birds had their third manager in three years, but the results were the same. They captured the league title (despite a third-place finish) and then beat the Chiefs again for their third consecutive Junior World Series title. Bergamo proved to be an effective slap hitter who had a knack for finding the outfield gaps. He batted. 324 (fifth best in the AA) and tied for the league lead with 35 doubles. He continued to prove his patience and discerning eye at the plate by drawing a league-best 109 bases on balls while striking out just 41 times in a career-high 626 plate appearances.
Major-league teams saw their rosters depleted in 1943 as players enlisted or were drafted en masse for the war effort at home and abroad. With their deep farm system, the Cardinals were in a perfect position to adjust to the new reality. In October 1943 they purchased Bergamo's contract and added him to their 40-man roster. Described as an "outfield star" by the Associated Press,5 Bergamo was classified as 4-F (medically unfit to serve) and was viewed as an excellent replacement for outfielder Harry Walker, who was soon to be serving Uncle Sam.6
Bergamo reported to Cardinals spring training, held in Cairo, Illinois, due to wartime travel restrictions. The two-time reigning NL champions had won 106 and 105 games respectively in 1942 and 1943, and were widely considered the favorites again in 1944. An Associated Press report predicted that Bergamo would make an "emphatic bid for a regular playing berth" as camp opened.7 Notwithstanding the Cardinals' veteran roster, Bergamo distinguished himself with his hustle and timely hitting, prompting The Sporting News to christen him the "outstanding rookie in camp."8
Bergamo's six-year wait to play in a big-league game ended on April 25 when he pinch-hit against the Cincinnati Reds at Crosley Field. He picked up his first hit in his next pinch-hit appearance, on May 4 against the Pittsburgh Pirates at Forbes Field, connecting for a single off Max Butcher. Given the Cardinals' depth in the outfield (Stan Musial, Johnny Hopp, and Danny Litwhiler), Bergamo played sparingly prior to the All-Star break, but batted a robust .324 (11-for-34) as a pinch-hitter and late-inning defensive replacement at all three outfield positions. "I was amazed by the power displayed when I saw him hit his first ball here," said manager Southworth. "It's all in his shoulders. Augie won't be a home-run hitter, but he'll hit plenty of line drives off the fences."9
Bergamo proved his mettle over a nine-game span in late July when he effectively replaced an injured Litwhiler in left field. He pounded out 12 hits in 35 at-bats, scored nine times, whacked his only two home runs of the season, and drove in eight runs. His success led to 13 more starts in August (11 in left field and two in right). Despite a shaky end to the regular season (14-19), St. Louis cruised to its third consecutive pennant with a 105-49 record. Bergamo wielded a Rogers Hornsby model, 33-ounce Louisville Slugger bat and finished the season with an impressive .286 batting average (55-for-192). He "would probably have won a regular job in most outfields," wrote The Sporting News, which named him to its All-Rookie team, joining Andy Pafko and 40-year-old Chuck Hostetler in the outfield.10
The "Trolley World Series" of 1944 pitted the St. Louis Cardinals against the St. Louis Browns with all games played at Sportsman's Park, which both teams called home (but was owned by the Browns). In Game One, Bergamo walked in the bottom of the seventh inning pinch-hitting for second baseman Emil Verban, and then replaced Litwhiler in left field to start the eighth inning. With the Cardinals down 2-0 with no outs in the ninth inning, Bergamo advanced Marty Marion from second to third on a groundout. Marion later scored the Redbirds' only run in the team's surprising 2-1 loss. Bergamo started Game Two in left at batted leadoff. Though he went 0-for-5 in the Cardinals' dramatic 11-inning, 3-2 victory, his sharp grounder to second base in the third inning drove in Verban and accounted for the team's first run. His last appearance in the Series occurred when he drew a walk pinch-hitting for pitcher Freddy Schmidt in Game Three. In an unexpectedly competitive World Series, the Cardinals won the last three games to capture their second title in three years.
With the loss of Stan Musial to the military, Bergamo was the Opening Day starter in right field in 1945 and batted leadoff. He started 20 of the team's first 21 games until he injured a tendon sliding into third base against the Boston Braves on May 16. The Cardinals reconfigured their outfield in his absence, eventually moving Hopp to right field. Relegated to the role of backup for the remainder of the season, Bergamo served as a valuable replacement when Hopp went down with an injury, and also made seven starts in left field and even one at first base. Bergamo enjoyed one of the most productive doubleheaders in Cardinals history on July 4 facing the New York Giants at the Polo Grounds. In the first game, he went 3-for 5 with a triple, scored twice, and drove in one run in the Cardinals' 8-4 victory. He supplied the fireworks in the nightcap by banging out five hits in six at-bats, scoring four times and driving in eight runs. "[Bergamo's] display of pyrotechnics left a trace of destruction," wrote The Sporting News.11 He belted two home runs, including his only grand slam, in that 19-2 thrashing of the Giants. Bergamo finished the season with a .316 batting average (96-for-304), 44 RBIs, and 43 walks. His .401 on-base percentage was the best on the club for players with at least 150 at-bats. The Cardinals won 95 games but finished runner-up to the pennant-winning Chicago Cubs.
Immediately after the season, the press and Cardinal fans speculated about what the Cardinals would do with their deep outfield with the expected return of Musial and Walker for the 1946 season. Bergamo was placed on waivers, but not one of the 16 big-league teams placed a claim. "Frankly I was surprised that no one put in a bid for Bergamo," said Cardinals owner and president Sam Breadon. "With our crack outfielders returning, we had no room for Augie."12 Upon news that he had been assigned to Columbus, Bergamo threatened to quit baseball, claiming he was unjustly demoted.13
Just 29 years old, Bergamo was not yet ready to give up on another shot at making the big leagues. He batted .302 and was named to the American Association all-star team for the Red Birds in 1946, but also battled nagging shoulder and leg injuries that ultimately affected his play in subsequent seasons. In the following three campaigns (1947-1949), Bergamo played for five different minor-league teams in four organizations, and saw his average dip and his playing time reduced. After spending the 1949 season in Double-A, he retired. Injuries derailed an abbreviated comeback in 1951. In his two-year big-league career, he batted .304 with a .400 on-base percentage over 174 games. He batted .301 during his 11 seasons in the minor leagues.
A Detroit lifer, Bergamo lived in the Motor City in the offseasons during his playing career. He settled down with his wife, Clara Frances "Fran" (Dunn) Bergamo, in nearby Grosse Pointe, and worked as a manufacturer's representative for the Condamatic Company. Bergamo maintained a connection to baseball by participating in annual Major League Baseball golf tournaments in Florida through the mid-1960s. He also attended the Cardinals' 20th-anniversary celebration of the 1944 World Series championship.
On August 19, 1974, Augie Bergamo died at the age of 57 at Bon Secour Hospital in Grosse Point. The cause of death was pancreatic cancer; he also suffered from diabetes.14 He was survived by his wife and daughter, Kimberly, and was buried at Forest Lawn Cemetery in Detroit.
This biography originally appeared in "Van Lingle Mungo: The Man, The Song, The Players" (SABR, 2014), edited by Bill Nowlin.
Sources
New York Times
The Sporting News
Ancestry.com
BaseballLibrary.com
Baseball-Reference.com
Retrosheet.org
Notes
Born
February 14, 1917 at Detroit, MI (USA)
Died
August 19, 1974 at Grosse Pointe, MI (USA)
If you can help us improve this player's biography, contact us.
http://sabr.org/sites/default/files/BergamoAugie.png
600
800
admin
/wp-content/uploads/2020/02/sabr_logo.png
admin
2012-01-04 20:35:47
2012-01-04 20:35:47
Augie Bergamo