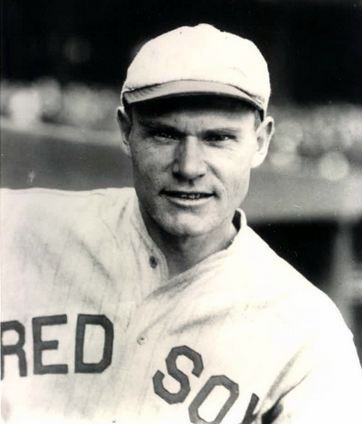 ---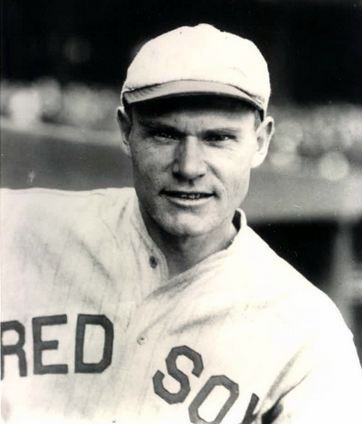 A big, hulking 6-foot-3, 215-pound outfielder named Baby Doll? There has to be a story behind that nickname. More than one, as it happens, though they overlap. The story out of Jacobson's own mouth is probably the right one. In his obituary, The Sporting News quoted him: "Everybody called me Bill until that day in Mobile. It was opening day and a band was playing. Just before the first pitch, they struck up 'Oh, You Beautiful Doll,' a popular song at the time. Well, I led off with a homer on the first pitch and a lady sitting behind the plate jumped up and shouted: 'You must be that beautiful doll they were talking about.' The name stuck with me and that was it." 1 The next day's Mobile Register ran his photograph with the caption "That Baby Doll."2
Bill Jacobson was born in Cable, Illinois, on August 16, 1890, to Swedish father Gustaf Jacobson and his wife Albatina, born in Illinois but to two Swedish parents. Gustaf Jacobson is listed in the 1910 census as a general farmer. William Chester Jacobson was the oldest of four children, the others being Vern, Gertrude, and Mary. Bill played 11 seasons of major-league ball from 1915 to 1927 and, playing for five different teams, hit a productive .311 for his career, with 83 homers and 818 RBIs in 1,472 big-league games. It was for the St. Louis Browns that he worked 1,243 of those games.
Cable is even in the early 21st century an unincorporated community in western Illinois about 20 to 25 miles south of Davenport, Iowa. Bill Jacobson attended what he described as a "country school" there for eight years, and then moved and went to high school in Geneseo for 3¾ years.3 Perhaps the demands of farming prevented him from fully completing high school. It may also have been the opportunity to begin his first year in professional baseball, a few months before he turned 19. The first team to hire him was the Rock Island Islanders of the Class B Three-I League. In 1909 he appeared in 43 games, batting .185 with six extra-base hits but no home runs. His first work was as both an outfielder and a catcher, the latter position one where hitting for average was not as important.
In 1910 Jacobson spent most of the year in Class D with the Southern Michigan League's Battle Creek Crickets. He had begun the year with Rock Island, but was hitting just .140 and seeing infrequent action before being optioned to Battle Creek in mid-August. There he hit for a .223 mark in 55 games. He returned to Rock Island in 1911 and found his stroke, playing in an even 100 games and hitting .304, with his first four home runs. Seventy of those games saw him catching. His contract was purchased by the New York Giants in September for $3,500.
Manager John McGraw ranked Jacobson high, claiming that the Three-I statistics were incorrect and that Jacobson had hit .328 and led the league. He called Jacobson "one of the most determined players I ever saw."4 Writers were impressed with his size, calling him "massive" and "a mountain in size." He was indeed one of the bigger men in baseball during his day. He worked hard and took seriously McGraw's instructions regarding hitting and baserunning during spring training in Marlin, Texas.
The Giants released Jacobson to the Mobile Sea Gulls in March 1912 as they began to play their way to the north, and "Big Bill" played in the Class A Southern Association for Mobile in 139 games, hitting .261. After 1911, he is listed strictly as an outfielder. Procedurally, the Giants recalled him on August 28, but he was sold to Mobile on April 25, 1913. He didn't hit as well (.244) and didn't play in as many games (54) in 1913, in large part because he was suspended by the Sea Gulls on July 9. Four weeks later, Mobile sold Jacobson's contract back to the Giants. New York sold his contract to Chattanooga (another Southern Association team) for the 1914 season, where he played in 155 games for the Lookouts, batting .319 with 15 home runs. They took advantage and sold Jacobson's contract to the Detroit Tigers.
Jacobson made his debut in the major leagues on Opening Day 1915 in Detroit. Major-league pitching was, of course, higher caliber than any he had faced before. He hit .215 in 37 games for the Tigers, but with Ty Cobb and Sam Crawford both playing in every one of Detroit's games all season long and left fielder Bobby Veach missing only four, Jacobson's time was limited to pinch-hitting, filling in now and again, and some late-inning work. The Tigers were in a pennant race with the Boston Red Sox (finishing only 2½ games behind), and manager Hughie Jennings was pleased to pick up right-handed pitcher Bill James from the St. Louis Browns for Jacobson and $15,000 on August 18. James contributed seven wins (7-3, 2.42 ERA) in what remained of the season. Jacobson hit .209 for the Browns in the closing weeks, one of the hits his first big-league home run, on September 14 in Philadelphia.
Another year of seasoning in the minor leagues saw Baby Doll in Little Rock with the Travelers, his third Southern Association team. If he might not have seemed ready for the bigs, he was perhaps overqualified for A ball. He hit .346 with six home runs, and in 1917 he was back with the Browns as their regular right fielder, hitting .248 and driving in 55 runs. Just before the end of the year, he was in the United States Navy and missed the entire 1918 season while the World War was in progress. He was discharged on January 2, 1919, and rejoined the Browns. That March he married Vurl Cruse.5
Jacobson was 28 when he returned from the service, and he hit well over .300 for each of the next seven seasons, beginning with .323 in 1919 and – playing every game of the season – a career-high .355 in 1920 – driving in 122 runs, tied with teammate George Sisler, with the two of them second only to Babe Ruth's 137 RBIs. In the offseason, he worked as a millwright in a tractor works. Jacobson was the center fielder for St. Louis throughout. He credited manager Jimmy Burke for helping turn his career around when, before the 1919 season, Burke called him aside. He asked Jacobson, "Say, you big stiff. Where's your wife?" Jacobson said she was in Illinois. Burke said he thought she always stayed with him during the season, and Jacobson replied she did, when he was settled down for the summer. "Send for your wife today," Burke told him. "You're settled down for the summer." He'd made the team and wasn't going to be sent down again. He told reporter John B. Sheridan that he had started seeing the ball better than he ever had before, now that he was relieved of the worry he'd always had. "After five years of trial and five years of failure I have made good at last. That's all I know. Whatever improvement I have shown is due to Burke's four words, 'Send for your wife.' When Burke made that crack, he made me a success where I had been one of the most pitiable failures in baseball."6
The Browns climbed into the first division, then went to third place in 1921 (with Jacobson .352, 90 RBIs) and second place in 1922 (.317, 102 RBIs). He may not have had great speed, but in one game in 1922 he hit three triples against the Tigers. The St. Louis outfield featured Ken Williams, Jacobson, and Jack Tobin; from 1919 through 1923 each of them hit over .300, and in 1924 Tobin missed by just one point (.299).
From 1923 through 1925, Jacobson hit .309, .318, and .341, still producing runs (he scored 103 runs both in 1924 and 1925). His 19 homers in 1924 were the most he ever hit; he was third in the American League behind Babe Ruth and Joe Hauser. One of his homers that season was part of hitting for the cycle on April 17. That same year he set a major-league fielding record, with 488 putouts, which he held until Dom DiMaggio broke the record with 503 putouts in 1948. Jacobson reportedly held 13 fielding records at one time or another. The secret wasn't his speed. It was average at best compared with other outfielders of the day. "Play the batters and you have the secret," he explained.7 There was, however, also a stretch with the Red Sox in 1927 when he played in seven consecutive games without recording either a putout or assist.8
Jacobson also expounded at some length to baseball writer F.C. Lane as to the importance of form in batting, and how he had adopted his own style, the one that suited him best.9
After 50 games in 1926, the Browns traded Jacobson to the Philadelphia Athletics for Bing Miller as the two teams swapped center fielders. Jacobson had been hitting .286. Miller hit .331 for the Browns, but Jacobson never played for the Athletics in 1926. The same day he was acquired by them, Philadelphia packaged him in a trade to the Red Sox, sending Slim Harriss, Fred Heimach, and Jacobson to Boston for Howard Ehmke and Tom Jenkins. For Boston, Jacobson played all three outfield positions, though mainly center and right. He hit for a .305 average and drove in 69 runs in the 98 games he played for the last-place Red Sox. His best day was soon after he arrived; he went 4-for-6 with a homer and a double on June 21, 1926.
Baby Doll's time with Boston lasted almost precisely one year. He was sold on June 12, 1927, to the Cleveland Indians. That season he hit .245 in 45 games for the Red Sox, then .252 in 32 games for the Indians, who placed him on waivers, where he was claimed by the Athletics on August 5. Finally getting his chance to play for Philadelphia, he got into just 17 games, hitting .229 with one final home run.
Jacobson was 36 years old but wasn't ready to return to the farm quite yet, and he played two more years in the minor leagues, doing duty with four teams in 1928 (Chattanooga, Baltimore, Toledo, and Indianapolis). He was .342 in the American Association for the two latter teams. In 1929, his final year, he played in Class B baseball, for the Quincy Indians of the Three-I League. He hit for a .304 average, then retired to work his farm in Coal Valley, Illinois. He did play some semipro ball in the Henry County League in 1930.
Jacobson lived a good long life, with three children, William, Carita, and Julian, and another son coming later.
Jacobson married a second time in April 1948 (to Ida Rankin), and lived almost another 30 years until his death on January 16, 1977, in Orion, Illinois, at the age of 86.
Sources
In addition to the sources noted in this biography, the author also accessed Jacobson's player file from the National Baseball Hall of Fame, the online SABR Encyclopedia, the Encyclopedia of Minor League Baseball, Retrosheet.org, and Baseball-Reference.com.
Notes
Born
August 16, 1890 at Cable, IL (USA)
Died
January 16, 1977 at Orion, IL (USA)
If you can help us improve this player's biography, contact us.
http://bioproj.sabr.org/bp_ftp/images5/JacobsonBabyDoll.JPG
600
800
admin
/wp-content/uploads/2020/02/sabr_logo.png
admin
2012-01-04 20:37:02
2012-01-04 20:37:02
Baby Doll Jacobson