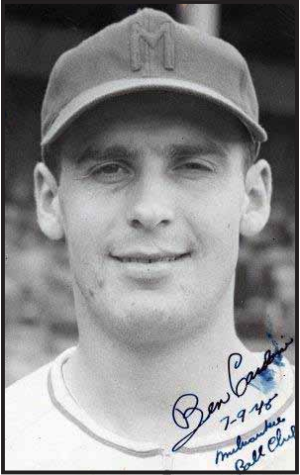 ---
With a weak heart that would eventually fail prematurely and a 4-F designation that allowed him to play wartime ball at the highest level,  Ben Cardoni failed to record a win in 36 appearances for the Boston Braves from 1943 to 1945 but did manage a quartet of single milestones with exactly one career complete game, double play, RBI, and save.1 Oddly for someone with such an obscure career, Cardoni was linked to a trio of eventual Hall of Famers in 1946, after his time in major-league baseball had ended.
The son of Italian immigrants Alfonso Cardoni, a coal miner, and Adelle (Mezzanotte) Cardoni, Armand Joseph Cardoni was born on August 21, 1920, in Jessup, Pennsylvania, about 10 miles east of Scranton.  The 1940 Census showed Ben, older brother Aldo, younger sister Norma, and both parents still living in Lackawanna County.
Cardoni took a roundabout route to the big leagues.  According to an obituary, "He spent the last six weeks of the 1937 season with Scranton in the then New York-Pennsylvania League. …  He pitched during the 1938-39 campaigns with Evansville, Ind., in the Three-I League, and in 1940 was with Charleston of the Middle Atlantic League.  He was out of action in 1941 due to an elbow injury [and] was with Bradford of the Pony League in 1942 and joined Hartford in the Eastern League for the 1943 season."2
A right-hander, listed at 6-feet-3 and 195 pounds, Cardoni jumped straight to the majors without ever pitching at the Double-A level (today's Triple-A). With Hartford of the Class A Eastern League, Cardoni went 8-10, according to contemporary sources (although Baseball-reference.com says he went 10-8).3  A day after his 23rd birthday, he debuted on August 22, 1943, with a scoreless ninth in the second game of a doubleheader sweep by the visiting St. Louis Cardinals, the defending World Series champions who would soon win the second of three consecutive National League pennants.  Cardoni yielded a hit and a walk but did not allow a run.
Cardoni pitched in the next game against St. Louis, too, but fared far worse in long-relief duty.  He came in for the top of the fourth inning with the Cardinals ahead 6-2.  After retiring the first four hitters, Cardoni collapsed and gave up 12 hits and eight runs over the final six innings.  He did not miss many bats, although he did record his first career strikeout.4
Boston manager Casey Stengel sat Cardoni for nearly two weeks after this rout, but Cardoni made nine more appearances in September.  He ended up finishing 10 of the 11 games in which he appeared in 1943 and earned his lone career save against St. Louis.  Even here, however, Cardoni hardly pitched well.  He entered the September 28 game in the bottom of the 10th inning with a two-run lead and gave up two hits and a run as Boston held on to win 6-5. Cardoni ended the season with no wins or losses and a bloated ERA of 6.43, mostly in mop-up duty.
In 1944 Cardoni recorded all six of his major-league decisions and all five of his starts.  His first loss came to Brooklyn in arguably his finest performance.  With the Dodgers leading 6-5 going into the bottom of the fifth, Cardoni came on to hurl six innings of scoreless ball and even pitched out of a bases-loaded jam in the 10th inning.  He began the 11th, however, by walking Paul Waner, who would come around to score the winning run.  In his 6⅔ innings, Cardoni gave up just four hits and struck out three, but his lack of control (a career-high five walks) led to defeat.
In spite of giving up four homers, Cardoni pitched reasonably well as a starter (0-4 but a solid 3.67 ERA with only one dud).  In July alone he had three notable performances.   He went seven innings with only two earned runs5 against the Cubs; suffered a complete-game 4-2 loss to the Cubs again when Dom Dallessandro broke a tie with a two-run homer in the eighth; and began promisingly against the Reds, opening with five shutout frames in his third career start before giving up two runs each in the sixth and seventh innings. Embarrassingly for Cardoni, Cincinnati starter Arnold Carter opened the Cincinnati scoring with his first career home run. (Carter also homered in his next game, too, for his only two home runs in 65 at-bats over two seasons.)
On August 15 Cardoni earned his lone RBI, in a 7-5 loss at Pittsburgh. In the second inning, with runners on first and third and nobody out, he laid down a squeeze bunt and drove in Buck Etchison while reaching base himself on the throw to the plate. Cardoni started the game but did not figure in the decision.  His record for the season was 0-6, but his 3.93 ERA was just a tick below league average.
Cardoni closed his big-league career in 1945 with two early-season appearances and one swan song in late September.  He escaped unscathed in only the first game, in which he got two outs but hit a batter, walked a batter, and threw a wild pitch.  The second game went far worse, as Cardoni contributed to what the always brutal and occasionally sarcastic Boston press called "a nightmare" attributable in part to his "nice pitching" when in one-third of an inning he gave up a single followed by two walks, both of which forced in runs.6
A few days later, the Braves loaned Cardoni to Indianapolis, although Boston manager Bob Coleman, who had succeeded Stengel, complimented Cardoni on the way out of town by saying, "Cardoni has a big league arm and he ought to be a great pitcher."7
Back in the minors, Cardoni could win again.  Having made his way from Indianapolis to Milwaukee, he won a 5-1 game from St. Paul to clinch the American Association pennant for the Brewers.8
By the time Cardoni returned for his final cup of coffee in the big leagues, Coleman had departed, so manager Del Bissonette gave Cardoni, one of "his best pitching prospects for 1946,"9 a look on the season's last day.  The New York Giants had edged the Braves, 1-0 in 13 innings, in the first game of the day's doubleheader.   Relieving Mort Cooper with a 1-0 lead after two innings and with a chance to earn his elusive first win, Cardoni gave up New York's only two runs in a three-inning stint that ended in a seven-inning, 2-2 tie.
The end of World War II meant good news for baseball fans but meant tougher times ahead for marginal players like Cardoni, who could not or did not get into optimal shape to battle stiffer major-league competition in 1946.  During spring training the Boston Globe observed, "Ben Cardoni looks heavier and says he has not touched a baseball in months."10
In March Cardoni decided to go home after Boston demoted him to Little Rock of the Southern Association. But the machinations of a baseball immortal had plans for him.  In June Brooklyn general manager Branch Rickey traded second baseman Billy Herman to Boston for catcher Stew Hofferth and got Cardoni as a player-to-be-named-later throw-in.  Rickey "was so high on the pitcher at one time that he was prepared to give up $25,000 for him. …"11
Thanks to the trade of a Hall of Fame player by a Hall of Fame general manager, Cardoni got to play with another Hall of Fame player in his first season in the Brooklyn organization: Jackie Robinson.  In his only Triple-A season, with the Montreal Royals, Cardoni went just 3-4 for a powerhouse squad that won 100 games. Montreal won the Junior World Series in six games.  Cardoni appeared once, in Game Three, which Montreal lost 15-6.
No record exists of Cardoni pitching in 1947,12 but Brooklyn retained his rights and demoted him to Double-A Mobile in 1948.  That August he "asked to be placed on the voluntarily retired list.  Cardoni had been bothered by a sore arm most of the season."13
Cardoni would never play above A ball again.  He resurfaced in the Class D Pony League with Bradford in 1949 and "won a steak dinner offered by a Bee fan"14 for striking out nine.
Returning to Boston but to the American League this time, Cardoni pitched Single-A ball in the Red Sox system from 1950 to 1953.  He did face major-league hitters during a midseason exhibition game, but failed to take advantage of the opportunity to showcase his talents, giving up nine hits and eight runs in five innings.15
After struggling to a 6-12 record in his first two seasons for the Scranton Red Sox, Cardoni starred for the Albany Senators in 1952 (the new Red Sox Class A team, as the Browns had taken over the Scranton franchise).  Converted to relief, he went 14-2 and won a trophy as the Eastern League's most valuable pitcher.  The 32-year-old Cardoni received his release from Albany in 1953 after a preseason injury to his neck.16  The Scranton Miners, by then the Class A team of the Washington Senators, picked him up and returned him to starting duties, and two days later Cardoni blanked his former Albany teammates and struck out 10.17
In 1954 the Class A Wilkes-Barre Barons, bought Cardoni for $750,18 a far cry from the $25,000 Branch Rickey had supposedly contemplated offering for him eight years earlier.  Cardoni closed his career back in the bullpen with a fine 8-2 campaign.
Ben Cardoni owned and ran a tavern, but lived just 15 more years, dying in Jessup on April 2, 1969.  Only 48, he passed away after suffering a heart attack in a car.  He is buried in Jessup's St. John Cemetery.  His wife, Julia, son, and four siblings survived him.  Although he struggled in the National League, Cardoni exhibited courage in playing his sport at its highest level in spite of having a heart so weak that it would eventually kill him at a young age.
Notes
1  Cardoni had "what was said to be 'a bad heart.'"  Charley Young, "Cardoni, Relief Star in '52, Now Ace Starter, Too," The Sporting News, July 1, 1953, 15.
2  Cardoni's Hall of Fame file clip entitled "Former Pitching Star Found Dead in His Car," April 2, 1969.  By contrast, baseball-reference.com has Cardoni at Bradford in 1939-1942 albeit with no 1940 statistics whatsoever.
3  Harold Kaese, "Reds Sink Braves, 7 to 5," Boston Globe, August 20, 1943, 6; "Reds Halt Braves with 3 in 6th, 7 to 5," New York Times, August 20, 1943.
4  "Cardoni's prize feat was striking out Walker Cooper in the seventh."  Harold Kaese, "Cards Flatten Braves, 14 to 5," Boston Globe, August 24, 1943: 6.  
5  Cardoni's error accounted for an unearned run.  He also turned his lone double play in this game on a 1-6-3 play.  See retrosheet.org/boxesetc/1944/B07042CHN1944.htm.
6  Melville Webb, "Giants Hand Braves Double Jolt, 15-5, 6-4," Boston Globe, May 6, 1945, D28.
7  Roger Birtwell, "Braves Buy 35-Year-Old Minor League Southpaw," Boston Globe, May 9, 1945, 21.
8  Associated Press, "Milwaukee Wins Flag," Boston Globe, September 9, 1945, D33.
9  Melville Webb, "Braves End Season in Two Twin Bills Against the Giants," Boston Globe, September 29, 1945, 2.
10  Melville Webb, "Braves Plan 20 Arc Light Home Games," Boston Globe, February 14, 1946, 8.
11  Harold C. Burr, "Dodgers Spear Cardoni as Part of Herman Deal," Brooklyn Daily Eagle, July 23, 1946, 13.  A similar version of this story appears in an unsigned article in The Sporting News, "Rickey Gets His Man, Nabs Cardoni in Herman Deal," July 31, 1946,  7.  A list of transactions in Cardoni's Hall of Fame file says he was released outright to Montreal, Brooklyn's Triple-A team, on June 27, 1946.  
12  "In 1947, the well-known Midvalley hurler was forced to retire temporarily due to illness."  Scranton Tribune, "Find Armond Cardoni Dead; Pitched for Hartford Laurels," April 3, 1969, 12.  
13  The Sporting News, August 11, 1948, 28.
14 Cardoni's Hall of Fame file clip date-stamped July 16, 1949.  Baseball-reference.com has no record for Cardoni in 1949.  "He managed Hazleton in the North Atlantic League in 1949, but did no pitching."    Charley Young, "Vet Cardoni, 32, Rolls Up 9 Wins in Rescue Roles," The Sporting News, August 6, 1952, 15.
15  Hy Hurwitz, "Sox Trying Hard to Make Pitcher Deal," Boston Globe, June 13, 1950, 10.  
16  "[T]he day before the 1953 season opened he was hit on the neck by a batted ball and a blood clot formed.  It moved into his pitching arm and he was sidelined for virtually the first half of the campaign."  Charley Young, "Eastern's Big Ben May Punch Out at Close of '54 Race," The Sporting News, July 21, 1954, 38.
17  "Cardoni Shows Up Old Mates," The Sporting News, June 10, 1953, 33.
18  The Sporting News, February 24, 1954, 30.
Born
August 21, 1920 at Jessup, PA (USA)
Died
April 2, 1969 at Jessup, PA (USA)
If you can help us improve this player's biography, contact us.
http://sabr.org/sites/default/files/Screen%20Shot%202016-08-07%20at%201.40.48%20PM.png
600
800
admin
/wp-content/uploads/2020/02/sabr_logo.png
admin
2012-01-04 20:46:27
2020-10-14 08:43:59
Ben Cardoni