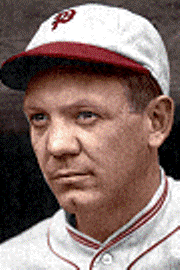 ---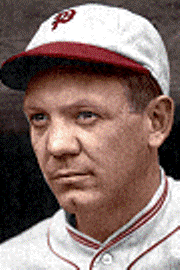 New Hampshire native Bernie Friberg was one of the better utility players in the 1920s. He was born in Manchester on August 18, 1899, and raised in another manufacturing city, Lynn, Massachusetts, just north of Boston. His parents were immigrants from Sweden, Gustav and Jennie Roslin Friberg. Gustav worked as a McKay stitcher in a shoe factory.[1] New Hampshire and Massachusetts were home to many shoe factories before much of both the textile and footwear industries moved south in search of cheaper nonunionized labor in the early couple of decades of the 20th century. Bernie and his older sister, Ebba, were born in New Hampshire. (Curiously, Baseball-reference.com says Friberg was born Gustaf Bernhard and was known as Bernard Albert.)
Bernie (or Barney, as he was more popularly known) was mostly a catcher in his earliest days, playing ball in his boyhood and attending Lynn's Ingalls Grammar School – though an extant early clipping depicts him as pitcher and manager of the Ingalls team, undefeated winner of the Grammar School Baseball League. He led the league with a .687 average and with 31 stolen bases.[2]
Bernie went on to play a couple of years for Lynn English High School, starting in 1916, active in football and track, too – fast enough to tie the area interscholastic record for the 60-yard dash at one point. On the diamond, he was versatile – as he was after he made the majors (he caught one game in the big leagues, and he pitched once, too.) It wasn't uncommon for Friberg to pitch and bat cleanup. In the summer of 1916 he was also seen playing for the Lynn Gas and Electric team. After Lynn English, Friberg spent 1918 at Colby Academy (New London, New Hampshire) and 1919 at Worcester Academy in Worcester, Massachusetts, while playing in the summers with the semipro Lynn Cornets for five years in a row – all the way through high school and beyond. (Lynn had had a pro team through 1916, but then not again until 1926.) He credited Cornets manager John Morrissey for much of his development.[3] The Lynn team took its name from sponsor George A. Cornet, and saw four players make the major leagues: Bump Hadley, John "Blondy" Ryan, and Buck Burke besides Friberg. Lynn natives who made the majors include Jim Hegan and Harry Agganis.
It was straight from the semipro sandlot at Little River Playground to the major leagues for Bernie Friberg. Bill Joyce, the supervisor of playgrounds in Lynn, reached out to a fellow New Englander, Fred Mitchell, who had managed the Chicago Cubs since 1917. When the time came in 1919 that the Chicago Cubs needed someone to play center field, Mitchell brought 19-year-old Bernie on board.[4] He debuted on August 20, coming into a game against the Philadelphia Phillies in the eighth inning of the day's second game. The Chicago Tribune praised his defense: "Friberg's first feat was a sensational running catch of a fly from Rixey which was all that stood between the Cubs and defeat in the tenth inning. There were two Phils on bases when Eppa hit the pill. Friberg made the stab with one hand over his head as he was tearing toward the bleachers under the ball." The paper added, "He had only one time at bat and fouled out." The Cubs won the game in the 11th.[5]
Friberg got into only eight games, but he hit a creditable .200 in 20 at-bats that first year, without any errors. His one RBI, on his first hit, won a game – also against the Phils, on September 15. He'd been put in as a pinch-runner, and came to bat in the bottom of the 10th inning with two on base and two outs. He singled to win the game, 4-3.
A postseason exhibition contest saw Friberg and Babe Ruth as teammates for a game on October 3, Ruth playing first base for the Cornets and against his erstwhile team, the Boston Red Sox. Both Bernie and the Babe homered, but the Sox won, 9-8. It was just a few days after Ruth had played his final regular season game for the Red Sox. There were two later exhibition games – one in Rutland, Vermont, and one in Beverly, Massachusetts, against a team from nearby Marblehead. Ruth homered in both of those games, too, playing in a Red Sox uniform. Friberg played left field for Marblehead.
In November 1918 Friberg made another move with someone named Ruth – he married his childhood sweetheart from Lynn English, Ruth Bernice Call. The two were musically compatible as well – Friberg played the banjo while his bride played the piano.
A second year, a full season with the Cubs (Mitchell's final season), saw Friberg get into 50 games, batting .211 with seven runs batted in while splitting his time in the field – 24 games in the outfield and 24 at second base. He was right-handed, stood 5-feet-11, and had a playing weight of 178 pounds.
After the 1920 season Friberg finally got his first taste of the minor leagues. Released right near the end of spring training, he spent all of 1921 with the Kansas City Blues playing Double-A ball in the American Association. He got into 124 games, had 464 at-bats, and hit .289 with four home runs, six triples, and 27 doubles. He didn't return to the minors until 1933.
The demotion was understandably disappointing at first, but Friberg realized how much it helped. "I figured I was a failure when they sent me to the minors, and I was discouraged and downhearted to a point where I was just about a total loss," he said. "But it turned out to be just the thing for me. [Manager Otto] Knabe cheered me up, and I braced and began to play the game. It helped me more than I can tell, that season under Knabe."[6]
The year with Kansas City seemed to jump-start Friberg's career. On his return to the Cubs in 1922 (he was formally recalled in early September 1921), he hit .311 (with a .391 on-base percentage) and drove in 23 runs, while scoring 51 times. In 1923, he became primarily a third baseman, not an outfielder, and had his best year of all, batting .318 and homering 12 times – his first home runs in the major leagues. He drove in a career-best 88 runs and scored 91 times, also a personal best. Friberg finished his career with a .281 average and 38 homers, with 471 runs batted in. He scored 544 runs. In early August 1924, manager Bill Killefer appointed him field captain of the Cubs. He hadn't quite turned 25 years of age.
There were holes in Friberg's game. One problem was the rate at which he was caught stealing. Throughout his 14 big-league seasons, he stole 51 bases but was caught stealing 60 times. Almost half of those were in 1924, when he stole 19 bases but led the league in getting erased in the attempt with 27 times caught stealing.
Friberg also struck out a fair amount, even leading the league in 1926 (with 77, which seems rather low nearly 80 years later).
The 1924 season saw him start to tail off a bit, his batting down to a still quite respectable .279, though his 82 RBIs were 15 more than anyone else on the team. Despite that, he wasn't guaranteed the third-base job in 1925 (for what it's worth, he worked at a sporting-goods store in Lynn in the winters.) The Cubs struggled badly in early 1925, and Friberg was hitting .257 when Chicago trimmed the roster and he was placed on waivers on June 15. The Phillies snapped him up and he filled their needs for eight seasons. It was with the Phils that season that he appeared in one game as a catcher and another as a pitcher. The mound work came on August 25 at Baker Bowl in Philadelphia facing the visiting St. Louis Cardinals. Starter Ray Pierce was hammered early and two other relievers each gave up three runs. It was 12-5 when Bernie was given the ball. He pitched the final four innings, allowing the rest of the staff a break (it was the first game of a doubleheader); he allowed two runs on four hits, and walked three batters. Friberg had played second base and third base for the Phillies; earlier in the year, he'd played first base and shortstop – and the outfield – for the Cubs.
With the Phillies from June 1925 through 1932, Friberg averaged almost exactly 100 games per season. He hit .274, down from the .290 he'd hit for the Cubs, hitting rather poorly in 1927 and 1928 (.233 and .202), but rebounding with a .301 season in 1929 and his best season for average (.341) in 1930. It's no surprise that manager Burt Shotton, whose tenure with the Phils almost paralleled Friberg's, once called him "the most valuable man on our team." After the 1929 season Friberg was named captain of the Phillies. After a couple of years hitting around .250, the Phillies released him in January 4, 1933. Two days later, the Boston Red Sox – perennially a last-place team in these years – signed him up with an eye toward using him at second base. He hit .317 for the Red Sox, but it was in only 17 games. His last game was on June 27; the Red Sox had sent him to the Mission Reds, in the Pacific Coast League, as partial payment for pitching prospect Bucky Walters.
Friberg finished the season for the Mission team, getting into 69 games and hitting .272. In 1934 he played back in the East, for the Albany Senators of the International League, batting .263 in 78 games. In his 271 minor-league games, Friberg hit .279. In his 1,299 big-league games, he hit .281.
For a few years, Friberg worked as a coach at Saugus High School and was director of physical education there as of 1940. He then took up work at General Electric as a dispatcher in the transportation department.
On December 8, 1958, Friberg was found dead in his car, which had crashed into a stone wall in Swampscott, Massachusetts, not far from his home. Both his wife, Ruth, and daughter, Virginia, were on duty at Lynn Hospital at the time the ambulance arrived. The certificate of death indicated that he had heart disease and gave cause of death as "presumably coronary thrombosis." Friberg left Ruth and their three children, Virginia, William Bernard, and Robert. He was 59 years old. Some reports indicate that Friberg was on his way to work when he crashed, though the local paper's news story said that "up until recently" he'd been employed by G. E. The car apparently came to a halt against a wall, and damage was minimal. [7]
Bizarrely, Bernie's father, Gustav Friberg, had also died of a coronary at the wheel of his automobile – found idling at curbside in East Saugus, Massachusetts, on September 25, 1920. He was on his way home from a ballgame that saw the Salem nine play the Lynn Cornets.[8]
Sources
In addition to the sources noted in this biography, the author also accessed Friberg's player file from the National Baseball Hall of Fame, the online SABR Encyclopedia, Retrosheet.org, and Baseball-Reference.com, and the Encyclopedia of Minor League Baseball.
---
Born
August 18, 1899 at Manchester, NH (USA)
Died
December 8, 1958 at Lynn, MA (USA)
If you can help us improve this player's biography, contact us.
http://bioproj.sabr.org/bp_ftp/images4/FribergBarney.gif
600
800
admin
/wp-content/uploads/2020/02/sabr_logo.png
admin
2012-01-04 20:19:40
2012-01-04 20:19:40
Bernie Friberg