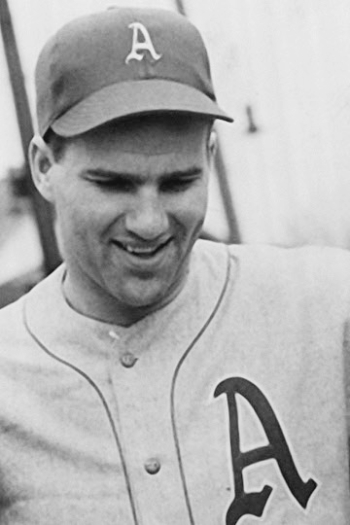 ---
Baseball and football are very different games. In a way, both of them are easy. Football is easy if you're crazy as hell. Baseball is easy if you've got patience. They'd both be easier for me if I were a little more crazy – and a little more patient. – Bo Jackson1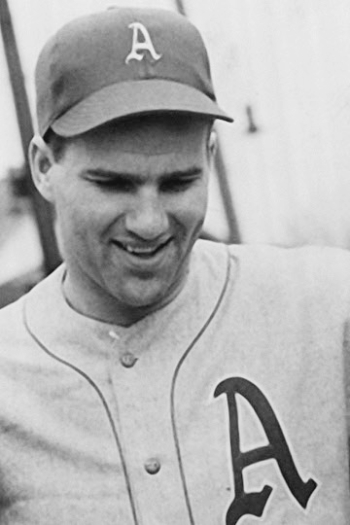 No record exists to indicate whether Bert Kuczynski was either crazy or patient, though one might presume he developed the latter characteristic when he became a high school teacher years after his playing career. In 1943, this superb athlete joined the long list of players from Ed Abbaticchio to Joe Zapustas who played professional baseball and football. Three decades later, Kuczynski told author Harrington E. Crissey, Jr.: "I loved [those sports] so much I couldn't make up my mind which I wanted to pursue. Time eventually ran out on me, but I enjoyed taking part in both."2
Bernard Carl "Bert" Kuczynski was born on January 8, 1920, the last of four children of Anthony K. and Victoria (Buraczyk) Kuczynski, in Philadelphia, Pennsylvania. Both of his parents were Polish immigrants who arrived in the United States around the turn of the 20th century. It is unknown if they were married before they arrived, but the union dissolved a few years after Bert was born.
In the 1930 census, Victoria and the children were inexplicably listed under the surname of Burzynski, the maiden name of Anthony's mother. On his 1932 death certificate, Anthony was listed simply as a "laborer," and it is possible that his relatives were compelled to support Victoria and her children at the outset of the Great Depression.3 The children (and presumably Victoria as well) reverted to the name 'Kuczynski' at some point thereafter.
The family grew up on Edgemont Street, blocks west of the Delaware River. Moreover, their house was less than four miles east of both Shibe Park and Baker Bowl, the homes of the Philadelphia Athletics and Phillies, respectively. From 1933-35, during their first three years of existence, professional football's Philadelphia Eagles also occupied Baker Bowl.
Approximately 3,000 feet to the east in the city's Fairhill neighborhood was Northeast Manual Training School (aka Edison High School), the school Bert attended.4 The proximity to these sporting arenas, combined with the fact that Kuczynski idolized Athletics manager Connie Mack and outfield standout Al Simmons, appear to have had a significant influence on the youngster's athletic development.
Growing up in and around Philadelphia's historic working class neighborhoods of Fairhill, Port Richmond, Kensington, and Fishtown also afforded Kuczynski proximity to Temple University and the University of Pennsylvania, two prestigious institutions of higher learning less than five miles from where he was raised. In 1939, following his graduation from high school, Kuczynski enrolled at the latter school. While studying for a Bachelor of Science in Education, Kuczynski joined the Delta Upsilon fraternity and, during his senior year, the secretive Sphinx Society.
But his greatest contributions were on the gridiron and the diamond. A three-year varsity defensive left end under famed Penn Quakers football coach George Munger (another report suggests Kuczynski also played tight end for the offensive squad), the talented leader was elected team captain in 1942. Despite a season "hampered by injuries," he also earned recognition as an All-American.5
But it was his baseball performance which would attract Kuczynski's first professional endeavors. In 1943, after patrolling the outfield for the Quakers for one season, he became a pitcher at the urging of the assistant coach. Though his mound success quickly attracted several major-league scouts, Kuczynski would entertain offers solely from the hometown Athletics. Within days of his college graduation, he moved straight from the campus grounds to the team's clubhouse.
The immediate jump to the big leagues was born of necessity. Following the 1942 season, the Athletics lost at least 13 players to military service during the Second World War, and four additional players, including Kuczynski, joined the military ranks in 1943. The patchwork Athletics roster in 1943 included 22 players making their major-league debut as well as six returning veterans, three of whom were seeing big league action for the first time in at least five years (the club used a league leading 60 players during the season).
On June 2, 1943, Kuczynski made his major-league debut at Philadelphia's Shibe Park, replacing fellow reliever Tom Clyde, a 19-year-old righthander who himself had made his debut just two days earlier. Entering the ninth inning against the Detroit Tigers trailing 7-1, Kuczynski managed to survive the inning unscathed despite surrendering a walk and two hits.
He returned to the same mound 10 days later against the New York Yankees in a mop-up role. Entering the third inning with the Athletics trailing 9-4, Kuczynski yielded a bases-loaded single before striking out future Hall of Famer Joe Gordon to end the inning. "'Young man, that was very fine pitching,' Mack told the youngster when he returned to the dugout."6 Kuczynski remained in the game through the end, surrendering two earned runs over the final six innings.
Kuczynski made three additional relief appearances through June with mixed results (cumulatively, 17 hits and seven earned runs in 13 innings) before Connie Mack moved him into the rotation in the first game of an Independence Day doubleheader against the White Sox in Chicago's Comiskey Park. The White Sox jumped on him early with two runs in the first followed by a run in each of the next two innings (the last, a home run by rookie third baseman Jimmy Grant) before Kuczynski retired the side unscored upon in the fourth. It proved to be his last inning of work in the majors when veteran lefthander Herman Besse replaced him in the fifth. Kuczynski absorbed the eventual 5-2 loss, marking the only decision in his month-long big league career. Days later he enlisted in the U.S. Marines Corps.
Kuczynski's tenure in the Marines proved brief when, within weeks of reporting to the recruiting depot at Parris Island, South Carolina, he sustained a knee injury resulting in his honorable discharge. The injury was not severe enough for him to discontinue his athletic pursuits. Shortly after his return to Philadelphia, Kuczynski approached Mack for permission to play professional football. On April 8, 1943, Kuczynski had been selected by the Detroit Lions in the 19th round of National Football League draft. He was anxious to discover what he could accomplish on the professional gridiron. "I was young and adventurous," Kuczynski recalled years later. "[H]aving been drafted by the Lions I wanted to make the most of my opportunities."7
Since the team had lost sizable investments on two players who were injured playing football for Duke University years earlier, Mack had inserted a clause in all players' contracts prohibiting athletic pursuits outside of baseball without the club's permission. In November 1933, he sent Dick Barrett to the International League after spotting the promising righthander pictured in a Philadelphia newspaper playing football. Fourteen year later, Mack prohibited righthander Bill McCahan from playing professional basketball. It thus came as a surprise to some observers when Mack granted Kuczynski's request.
The Lions were far removed from the team that captured the NFL title eight years earlier. One year following an 0-11 season, the war-depleted 33-player roster consisted of 16 rookies. Though detailed statistics are unavailable, evidence indicates Kuczynski joined the team while the season was in progress. He made two appearances at tight end, one as a starter, and caught one pass for a four-yard gain. The brief stint made Kuczynski one of the few players in history to play their rookie seasons in Major League Baseball and the National Football League during the same year.
The Lions' season ended on November 21, and, sometime between then and the start of the 1944 spring training, Kuczynski contacted the US Navy recruitment office about enlistment. In February, he reported to the Athletics camp in Frederick, MD and one report indicates he was in uniform when the club opened the 1944 season in Washington, D.C.
But, a week into the season, Kuczynski learned that, despite the knee injury that ended his earlier service, the Navy would find use for him in a supporting role. He reported to the Naval Training Center in Bainbridge, MD, 35 miles northeast of Baltimore. Kuczynski played baseball and, later that fall, football for the Training Center (he was one of 27 current or former professional players on the base's gridiron).
He continued with both sports following transfers to the Navy's Training and Distribution Center in Shoemaker, CA and a subsequent posting in Honolulu, Hawaii. He played alongside baseball greats Joe DiMaggio and Stan Musial, and, in 1945, Kuczynski, Musial, and minor league infielder Harvey Storey got permission to grow beards to play in exhibitions with the House of David in Oakland, California. In late 1945, months after hostilities with Japan had ceased, Kuczynski was flown to California to play in a service All-Star football game in San Francisco's Kezar Stadium.
In May 1946, Kuczynski was discharged by the Navy. Upon his return to Philadelphia the Athletics immediately assigned him to the Class-B Lancaster (Pennsylvania) Red Roses in the Interstate League. Kuczynski's totals of 28 hits and 18 walks in just 27 innings quickly caused him to abandon baseball altogether and concentrate on football.
Many years later he revealed that his poor performance was due to injury. "I had developed arm trouble [while in the service]," Kuczynski said. "[At times I] couldn't . . . raise my arm and comb my hair."8 Before the 1946 football season "he was traded to the Philadelphia Eagles" in an undisclosed transaction.9 Kuczynski made one catch over three appearances for his hometown team, a nine-yard touchdown grab. He retired after the season.
Kuczynski returned to the University of Pennsylvania where, in 1949, he secured a Master's degree in education. A year earlier, he had joined the faculty of Catasauqua High School, located about 60 miles northwest of Philadelphia. Kuczynski taught history for 27 years and from 1948-59 was the school's head football coach. He also coached baseball for 11 seasons.10 In the 1970s, Kuczynski joined the Society for American Baseball Research. In 1988, 13 years after he retired from teaching, he was inducted into the Lehigh Valley (Pennsylvania) Sports Hall of Fame.
In 1948, Kuczynski married Pennsylvania native Doris M. Berry. Three years his junior, the union produced a son and a daughter and lasted until Doris' passing in 1995. Tragically, their son preceded them in death in 1988.
On January 19, 1997, 11 days after his 77th birthday, Kuczynski died. He was buried next to his wife and son in Schoenersville Cemetery in Schoenersville, Pennsylvania, five miles southeast of Northampton. He was survived by his daughter Donna and sister Jenny.
In reference to his being one of the few players to play his rookie season in Major League Baseball and the National Football League in the same year, Kuczynski, in 1987, said: "I never gave it (making history) much thought. I was young (23) and proud and loved both sports and just wanted to play them."11
His time spent in both was short: one touchdown and two receptions covering 13 yards over two seasons of professional football; a record of 0-1, 4.01 in 24⅔ innings in less than five weeks in the major leagues. Despite its brevity, Kuczynski will forever be etched among a select few athletes to play two major professional sports.
Sources
In addition to the sources cited in the Notes, the author consulted Ancestry.com and Baseball-Reference.com. The author wishes to thank SABR member Bill Mortell for his invaluable research.
Notes
Born
January 8, 1920 at Philadelphia, PA (USA)
Died
January 19, 1997 at Allentown, PA (USA)
If you can help us improve this player's biography, contact us.
https://sabr.org/sites/default/files/KuczynskiBert.jpg
600
800
admin
/wp-content/uploads/2020/02/sabr_logo.png
admin
2017-04-04 11:31:09
2021-09-24 08:52:36
Bert Kuczynski