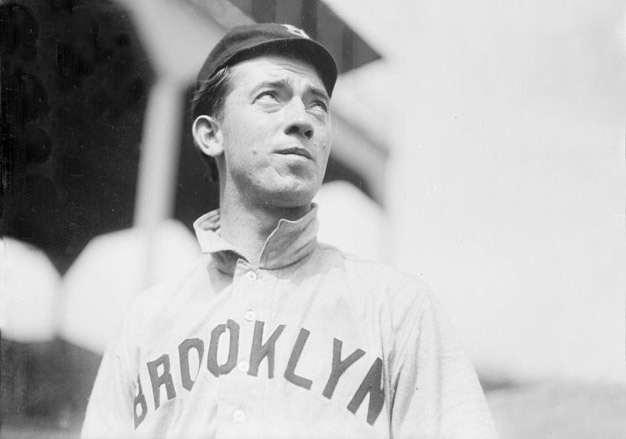 ---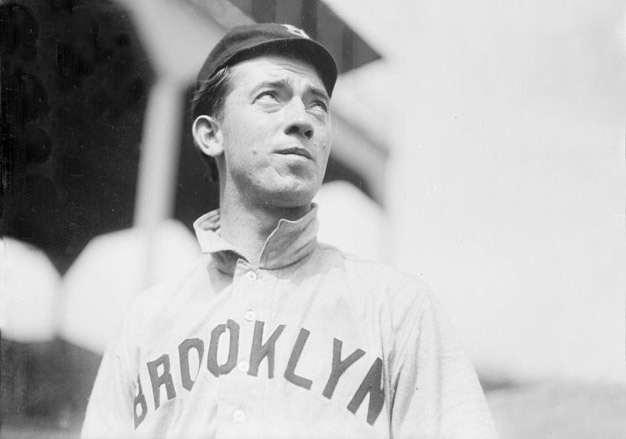 The caption beneath Bill Bergen's image in a 1908 issue of The Sporting News stated that he "ranks with the best receivers in modern baseball. He is an intelligent student of the points of a batsman, a true and fast thrower and is without a peer in judging and capturing foul flies."
Alas, if the descriptions could stop there, Billy, as he was sometimes called, may have faded into anonymity rather than ignominy. But decades after his career ended, baseball historians became fascinated with his offensive ineptitude. Bergen's lifetime batting average of .170 stands as the nadir of futility; no other major leaguer with 2,500 at bats finished his career with a batting average lower than .210. He collected only two home runs in 3,028 at bats, which is noteworthy even for the Deadball Era. Bergen's lifetime on-base percentage is a deplorable .194, and his .201 lifetime slugging percentage is just as bad. One other peculiar statistic stands out: In 3,028 at bats he was never hit by a pitch, which may be indicative of his approach to hitting — and lack of success.
The second son of Michael and Catherine (Delaney) Bergen, both of whom were born in Ireland, William Aloysius Bergen was born on June 13, 1878, in North Brookfield, Massachusetts. As a youngster Bill learned the skills of catching from his brother, Martin, nearly seven years older. Marty Bergen went on to become an excellent National League backstop for the 1896-99 Boston Beaneaters. Today, however, he is remembered as the much-troubled soul who tragically murdered his wife and children before taking his own life in January 1900. In sharp contrast to his psychotic brother, Bill Bergen was personable and got along well with his teammates.
Bill began his professional career in 1898 with Pawtucket of the New England League.
Graduating to the Inter-State League in 1899, he played the next two seasons for Fort Wayne, Indiana. One afternoon, after Fort Wayne had fallen into a bases-loaded, no-out predicament, Bergen demonstrated his developing skills behind the plate by picking off all three runners. In 1901 the 6-foot, 185-pound receiver got his first taste of major-league ball when he joined the National League's Cincinnati Reds. Bergen was Cincinnati's primary catcher as a rookie and again in 1902, but his batting averages of .179 and .180 convinced the Reds to give utility man Heinie Peitz the lion's share of the starts behind the plate in 1903. Appearing in just 58 games, Bergen batted .227 that year, the only time in his 11-year career that he hit for an average higher than .190. Despite his banner season with the bat, the Reds sold him to Brooklyn in February 1904.
The Superbas already had a backstop named Lew "Old Dog" Ritter, and for several seasons he and Bergen shared Brooklyn's catching duties. Despite playing part-time, Bergen earned a reputation for the strongest throwing arm in the National League, so strong that his mere presence behind the plate was enough to intimidate base runners. Notes in newspapers of the day often remarked on his lightning release and ability to throw to second base on a line while standing flatfooted.
On August 23, 1909, Bergen gunned down six St. Louis Cardinals attempting to steal (for years it was reported that he threw out seven on that date, but recent research confirmed that the number was six). Despite catching only 941 games, Bergen still ranks in the all-time top 10 for career assists by a catcher. And while only seven catchers in the Hall of Fame (through the 2021 season) ever amassed as many as 100 assists in a single season, Bergen accomplished that feat in nine of his 11 major-league campaigns, failing only in 1903 and 1907, the two seasons he caught fewer than 60 games. He reached a high of 202 assists in 1909, making him one of only a handful of backstops ever to accumulate more than 200 in a season. And it wasn't just in throwing that Bergen excelled. His lifetime fielding average exceeded the league average for catchers, .972 vs. .969, and he caught two no-hitters.
Bergen's offense, however, was another story. Though it hardly seems possible, his batting actually got worse as the years went on. In 1909 he batted .139, the lowest post-1900 mark ever for a batting-title qualifier. That year Bergen also managed to put together the longest hitless streak in major-league history.1 After singling in his first at-bat on June 29, 1909, he went 45 at-bats before singling again in his second trip to the plate in the second game of a doubleheader on July 17. The streak breaker, appropriately, was of the infield variety.
According to statistical evidence, Bergen's defensive skills were still adequate in 1911 when he compiled an NL-leading .981 fielding average. His pitiful offensive skills sank to a new low, however, even for him — a .132 batting average and just 10 RBI in 227 at-bats. With promising young catcher Otto Miller now on the Brooklyn roster, Bergen was released at the close of the season.
At age 33, Bill Bergen still had an affinity for the game. He played in the International League in 1912-13, first for Newark and later for Baltimore. Despite failing health, Bergen continued to play for Scranton of the New York State League in 1914, but his offensive numbers began to mirror his major-league production: a .161 batting average in 298 at-bats. He hung on as an active player through 1917, but by 1919 his health was limiting him to managing semipro teams in the vicinity of his home in Worcester, Massachusetts, where he had settled in 1903, the same year he wed Alice Moran.
By 1930 Bergen's baseball days were over, his activities reduced by a worsening heart condition. Little is known of the last years of his life, but on December 6, 1943, his condition necessitated admission to Worcester City Hospital. Thirteen days later he succumbed; the official cause of death was arteriosclerotic heart disease. His widow, Alice, survived him, as did two sisters, Margaret McAvoy and Katherine Drumgoll. There was no mention of any children in numerous obituaries. After a requiem high mass in St. Paul's Church, Bill Bergen's once rifle-like throwing arm was put to final rest in St. John's Cemetery in Worcester.
An earlier version of this biography appeared in SABR's "Deadball Stars of the National League" (Brassey's, 2004), edited by Tom Simon.
For this biography, the author used a number of contemporary sources, especially those found in the subject's file at the National Baseball Hall of Fame Library.
Notes
1 In 2011, Eugenio Vélez of the Los Angeles Dodgers surpassed Bergen's mark when he ended the season (and his major-league career) on a streak of 46 consecutive hitless at-bats. Two players, Dave Campbell in 1973 and Craig Counsell earlier in 2011, had matched Bergen at 0 for 45. Chris Davis of the Baltimore Orioles surpassed them all in 2019 when he ended an 0 for 54 streak that stretched back to the previous September.
Born
June 13, 1878 at North Brookfield, MA (USA)
Died
December 19, 1943 at Worcester, MA (USA)
If you can help us improve this player's biography, contact us.
https://sabr.org/sites/default/files/BergenBill-NBHOF.jpg
600
800
admin
/wp-content/uploads/2020/02/sabr_logo.png
admin
2012-01-04 20:42:40
2022-01-29 15:13:30
Bill Bergen