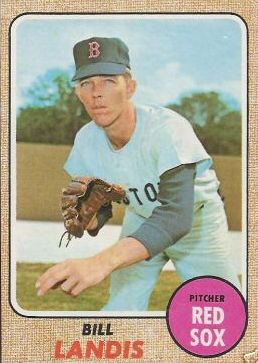 ---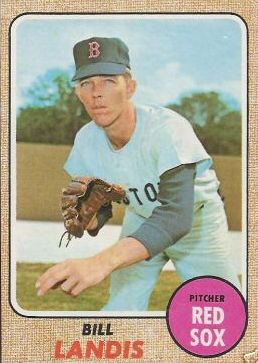 To many, there can be no greater honor than to serve one's country, but occasionally the call to duty comes at an inopportune time. Bill Landis expresses no regrets, but history should nonetheless note that he played the full 1967 season for the 1967 Boston Red Sox, perhaps the most beloved of all Red Sox teams — yet was called into the Army just days before the end of the regular season, departing the team when they had just four games to play.
Landis was a relief specialist who won just a single game in 1967 — in a season where one win made all the difference. Yet he had to watch the World Series from Fort Polk, Louisiana — and then only because the commanding officer of his unit was from Boston.
William Henry Landis was born October 8, 1942 in Hanford, a largely agricultural community of some 10,500 in California's Central Valley. One of the largest flour mills in the valley was located in Hanford, and fruit processing and shipping were major industries in Hanford as well. Bill's parents were Robert and Betty Landis, Robert handling employment matters for farms in the area for the California Agriculture Department and Betty working to help collect taxes in the Kings County Treasurer's Office. Bill also had a brother, Rick, some six years younger.
Bill's first memory of baseball is of playing catch with his grandfather Fred Donahoo. "He was the one baseball fan in the family," Bill recalls. As a youngster, Bill played sandlot ball, first getting involved in organized baseball with Little League at the age of 11. He was a mid-game reliever during his years in the majors, and did pitch some as a youth, but mostly played first base. He batted left and threw left.
The first professional games he saw were in Visalia, about 20 miles east of Hanford, where the Visalia Oaks played in the California League. When the New York Giants relocated to San Francisco in 1958, Bill followed them quite often on radio. The first major league ballgame he ever saw, though, was in Philadelphia. He was a freshman in high school at the time, and had traveled to Pennsylvania for the 1957 Boy Scouts' National Jamboree in Valley Forge. He saw the Phillies host the Milwaukee Braves.
Bill played for Hanford High School, pitching some but also playing first base and the outfield. "We had an exceptionally talented high school team," he explains. "We had two other pitchers that signed with significant bonuses off our team. Chuck Nieson with the Twins was up for a very short time. The other one was Randy Davis,.who signed with the Phillies. Eventually, I think there were six guys off that team who signed. I signed out of college, Coalinga. I signed after my freshman year." Coalinga was a junior college located about 60 miles from Hanford; the school is now known as West Hills Community College.
Living in California offered the chance to play more baseball, and Hanford High played a 46-game schedule. Landis later told the Boston Globe's Roger Birtwell, "My three years there, we won the Central Yosemite Valley Championship all three years." Bill's role at the time was exclusively as an outfielder. It was in college that he became a pitcher. "They didn't have any pitchers. The coach thought I could throw pretty hard. So he made me a pitcher." Landis later went back and got his degree, both at Coalinga and at College of the Sequoias in Visalia. While at Coalinga, Bill made California's All-America Junior College All-Star team as a pitcher on the first team — and as an outfielder on the second team.
The scout who signed Landis was former Red Sox player Al "Zeke" Zarilla, and he was able to offer a $35,000 bonus for signing with the Kansas City A's. Zarilla's interest wasn't surprising; The Sporting News reports that Landis had struck out 151 batters in just 80 innings with Coalinga. As it happened, Visalia was a Kansas City farm team so Bill was able to play ball close to home in the same city he'd first seen pro ball, appearing in 21 games pitching for the Visalia Athletics in 1961. "I think they wanted a local boy to play close to home, frankly for the tickets," he says. It was only after signing that he made the transition to pitching full time. His debut was far from promising. On June 14, he gave up eight runs on six hits, a hit batter, and two wild pitches. By season's end, the lefthanded Landis had thrown six complete games and 121 total innings, but wound up with a disappointing 4-11 record and a 6.47 ERA. He walked 128 batters that season, but it was teammate, Jose Santiago who led the league.
The A's brought him to the West Palm Beach big league camp for spring training in 1962, then assigned him to Lewiston, Idaho, in the Class-B Northwest League where he improved his ERA to 5.76, with 152 strikeouts. He led the league in walks, though, with 151, and he lost his first eight decisions. His 4-15 record gave him the league lead in losses. The A's moved to Bradenton for spring training in 1963[,] and Landis performed well, earning a promotion to Binghamton in the Eastern League. He posted a 3.67 ERA with a 9-11 record, and struck out 147 while bringing his bases on balls down to 76, despite a heavy workload of 184 innings. At the very end of the year, Bill was called up to the majors and got his first taste of the Show. He'd been rated one of the Eastern League's most improved pitchers and had walked three or fewer batters in his last 17 games.
He worked out with the team for a week or so; the first trip he went on with the A's brought him to Boston. Landis got in just one game, pitching mid-game relief for manager Eddie Lopat in a game against Cleveland on September 28, 1963. Landis threw 1 2/3 innings, walking one but striking out three and yielding neither a hit nor a run. It would nonetheless be more than three years before he returned to the majors.
In 1964, the A's sent him to Dallas, which, despite its location, was part of the Pacific Coast League at the time. He is pretty frank about his miserable season: "I had a terrible year at Dallas. I had a tremendous control problem." The record shows a 4-17 mark, with a 5.71 ERA and more walks than strikeouts (108 to 101.) He always relied on his fastball, but in 1964 he simply had a hard time locating it properly. The A's stuck with him, though, and in 1965, working for Birmingham in the Southern League, Bill bounced back with a 4.02 ERA and his first winning record in pro ball (8-5), with seven complete games.
In 1966, Landis, still in the Kansas City system, pitched for the Vancouver Mounties in the PCL, and posted a record of 11-10, with a 3.40 ERA. The Boston Red Sox must have seen something, because they claimed Bill Landis in the Rule 5 draft after the 1966 season and invited him to Winter Haven. Bill was playing winter ball for Licey in the Dominican Republic when he received a letter from Red Sox general manager Dick O'Connell informing him of the transaction. He'd been the fourth pick overall in the first round. Landis was soon traded from Licey to the Estrellas Orientales in Dominican League play. A few weeks later, he shut out Licey on two hits. Landis had pitched briefly for Haywood Sullivan at Vancouver, and Red Sox scout Glenn Wright highly recommended him.
It might have seemed like a step down; Boston had played even worse than the A's in 1966. But at least Landis had a better shot to play, since Rule V draftees must be kept on the major league roster for a year or returned to the club from which they were acquired. The Red Sox had tried to sign Landis when he was an amateur. Scout Charlie Wallgren had even given Landis his choice — he could sign either as a pitcher or as an outfielder. Despite the flexibility, not offered by any other scout, Landis signed with Kansas City because he felt that the organization offered him a better opportunity to advance, given its evident need for good pitchers.
Landis pitched well in spring training, and the Red Sox chose to keep him on the roster. Bill was with the team for the entire season, until military service called at the very end, appearing in 21 scattered games. His first appearance came at Yankee Stadium on April 16, a Sunday game that ran 18 innings and ended in a 7-6 Yankees win. Jim Lonborg had started for Boston, but was taken out for a pinch hitter in the top of the sixth. Landis took over, and showed some control problems, walking the first two batters, then allowing Ruben Amaro to bunt safely to load the bases. He struck out pinch hitter Bill Robinson, but when he walked Tom Tresh to force in a run, Dick Williams had seen enough and called on Don McMahon. "I thought Dick was a very good manager," he offers. "He was hard-nosed. My first game, I walked some guys and I don't think I pitched for three weeks after that. He didn't play favorites. He actually turned that organization into a winning organization — not by himself — I think that had a lot to do with Dick O'Connell, too, the general manager — but he certainly was the manager who came in and it's been a winning organization since he was there."
Hard-nosed wasn't the half of it. Williams, in his 1990 autobiography, pulled no punches. His take on the game: "Bill Landis was pitching for us like he had no brain — meaning he was walking people. I guess he'd forgotten that the first step to building a winning baseball team is taken when pitchers stop walking people. Just throw the fucking ball over the plate. How hard is that? After Landis had walked three batters, I strolled to the mound, carefully, because he had shit all over himself, and I didn't want to step in it. I told him that if he didn't straighten up, his next pitches would be from the back of my doghouse. No sooner did I return to the dugout than he walked another guy. Needless to say, I didn't pitch him for another 28 days."
Williams misremembered, in that Landis walked three batters total, not four. And it wasn't 28 days, but it was nearly three weeks before Landis got another chance. When he did, he acquitted himself well, retiring the Twins in order in the eighth inning of the May 6 game.
Landis was used from time to time, save for a two-week stint with the Army Reserve in late June. He completed his season with a 1-0 record, the one win coming at Fenway Park on July 26 against the California Angels. Bill pitched the top of the seventh, taking over for Darrell Brandon and allowing just one hit and no runs. The Angels were leading, 4-1, but Boston scored six runs in the bottom of the seventh and took a lead that held up. Three Red Sox pitchers closed out the game, but Landis got the win. He says, "When you pitch relief, that's your job. You hope your team does something, or you stop the other team."
Used three times as a pinch runner (twice for Dalton Jones), Landis' stats show that he scored one run in the major leagues. It came on July 5, 1967, when he ran for Jerry Adair in the top of the ninth in a game at Anaheim Stadium. Landis was on first, but was able to trot around the bases and score the tying run when George Thomas homered, giving the Red Sox a 3-2 lead in the game. He also pinch-ran once in 1969.
Landis enjoyed working with pitching coach Sal Maglie. "We got along great. He was a quiet guy. He'd help you when he could." Bill got his one and only start of the year on August 3; three times before, he'd been scheduled to start and three times the game had been rained out. He was bombed for three hits and three runs in just two innings. Fortunately, Dave Morehead came on, the Red Sox bats went to work, and Morehead won the game, 5-3.
From his next appearance, August 13, to the end of the year, Landis appeared sporadically, in just seven games. He held the Yankees scoreless for 2 1/3 innings on August 29. He didn't pitch again until September 19, when Dick Williams welcomed Landis to the mound in relief of Jose Santiago. Williams reportedly asked his reliever, "Do you know what the oblong thing is there?" It was the bottom of the ninth in a 4-3 game, with two runners on base. Bill correctly identified the pitching rubber, took the ball, and struck out Detroit pinch hitter Eddie Mathews. Some writers, such as Bill Reynolds of the Providence Journal-Bulletin, put the strikeout of Landis right up there with the Jose Tartabull throw/Elston Howard tag of Ken Berry. After the strikeout, Russ Gibson told Bill, "You just struck out 500 home runs. If you want to faint now, it's OK." (The Sporting News, April 6, 1969) Gary Bell came in to get the last out of the game.
Not once in those final six appearances, though, did he give up even one earned run, allowing just four scattered hits over 6 2/3 innings of work. In a year when the Red Sox won the pennant by just one game, one might argue that Landis's efforts made a difference. Every player dreams of making the World Series. The Red Sox truly had lived the Impossible Dream in 1967, but with his strong finish, why wasn't Bill Landis on the post-season roster?
He didn't have a choice. He'd previously signed up for the Army Reserve and it was a six-year commitment involving two weeks of training each summer and a weekend once a month. There was also a six-month training requirement that needed to be filled, and when the Army had beckoned earlier in the season, Landis went to Massachusetts' Fort Devens and argued as a professional athlete for an extension. He was granted one, but the next date that came up saw him have to leave just before the season was over — and miss out on the wild celebration on the field at Fenway and the World Series, too.
Landis was sent to Fort Polk, Louisiana, but was lucky enough to be able to at least watch the games on television. "My commanding officer was from Boston[,] and he let me watch all the games on television in the rec room," Bill explains. Maybe if he'd been on the team…? "You never know," he says philosophically.
Bill got out the day before spring training began in 1968, his service commitment fulfilled. In 1968, Landis more than doubled his workload from the year before, appearing in 38 games and throwing a full 60 innings in relief. His ERA was an excellent 3.15 and his record an even 3-3 with a strikeout-to-walk ratio of almost 2 to 1. The following winter, he played ball in San Juan, Puerto Rico, his second experience with winter ball.
In 1969, Bill won five and lost five. In fact, the first three wins the Red Sox had in 1969 were all Bill Landis wins — on April 8, 11, and 12. He gave up just one hit in 7 2/3 innings over the three games. The Sox had lost the second game of the season, so Landis told Williams that his personal goal was 161 wins. In the end, he upped his innings to 82 1/3 getting into 45 games. The walks went up and the strikeouts came down, and his ERA bumped up to 5.25. After '69, he pitched some winter ball with the San Juan Senators in Puerto Rico. The Red Sox asked him to pitch in Louisville in 1970, and he complied. He had been expecting to be traded to the San Francisco Giants along with Russ Gibson, but as it turned out, Gibson was the only one who went, in April 1970. In 101 innings, Landis posted a 4.46 ERA in the International League, with a 5-9 record. In October, he was traded to the Cardinals for Billy McCool.
Landis spent spring training 1971 with St. Louis, but he had a sore arm and it refused to get better. The Cardinals left him in Florida in hopes the arm would come around, then sent him to their Tulsa affiliate in the American Association to try to rehab it, but he got in just 10 innings as the arm never improved. He'd worked in Boston in the off-season in sales for the Arrow Shirt Company and was offered a full-time job with the company. Bill wrote St. Louis, told them that his arm was just not responding, and that he would not be going to spring training. That was it.
"The whole time I was in Boston, it was very enjoyable," he remembers. "There wasn't one thing I didn't like about it. I liked the organization. I liked Massachusetts. Well, there was one thing. I didn't like the snow."
Landis worked for Arrow Shirt for three years, then a year for Buxton Leather out of Springfield, Massachusetts. Then he moved back to California. Back in the Golden State, Bill switched careers completely, going into law enforcement. He worked a full 25 years for the Kings County Sheriff's Department, starting as a patrolman and working his way up to Assistant Sheriff until he retired. Now he has the opportunity to play golf almost every day.
Bill and his wife, Vicki, had met at Hanford High. They married in 1962 and had an infant daughter who passed away a few days after birth, but raised two sons. Both played baseball and soccer, but neither pursued baseball actively. Brady Landis was into BMX bicycle racing and competed, winning in the nationals in Texas. Bill's younger son, Justin, played professional golf for a while. Both ultimately pursued other careers.
Bill felt particularly close to a number of players on the 1967 Red Sox, including Mike Andrews, Jim Lonborg, Russ Gibson, and Sparky Lyle. There was one last question put to him in the interview for this book. We saw that Bill only became a full-time pitcher when he signed professionally. He must have been a pretty good hitter in high school and college to have attracted the attention he had. Yet he had 19 major league at-bats and never quite seemed to manage to get a hit in the major leagues. "I know!" he laughs. When you focus on your pitching, "you just don't get to practice as much, and consequently your timing's not as good as it was. It happens. I just call it 0-for-3. 0 for three years!"
Note
This biography originally appeared in the book The 1967 Impossible Dream Red Sox: Pandemonium On The Field, edited by Bill Nowlin and Dan Desrochers, and published by Rounder Books in 2007.
Sources
Interview with Bill Landis done by the author on December 30, 2005.
Retrosheet
Baseball-reference.com
Minor league data provided by SABR's Ray Nemec.
Coleman, Ken and Dan Valenti, The Impossible Dream Remembered. The Stephen Greene Press, 1987.
Miller, Jeff, Down to the Wire. Taylor Publishing, 1992.
Reynolds, Bill, Lost Summer: The '67 Red Sox and the Impossible Dream. Time Warner, 1992.
Williams, Dick and Bill Plaschke, No More Mr. Nice Guy. Harcourt Brace Jovanovich, 1990.
Born
October 8, 1942 at Hanford, CA (USA)
If you can help us improve this player's biography, contact us.
http://bioproj.sabr.org/bp_ftp/images2/LandisBill.jpg
600
800
admin
/wp-content/uploads/2020/02/sabr_logo.png
admin
2012-01-04 20:37:44
2012-01-04 20:37:44
Bill Landis