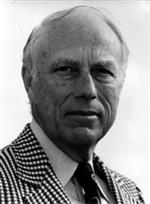 ---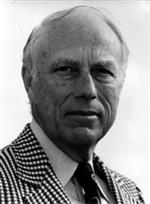 Vaughan Pallmore "Bing" Devine, a soft-spoken, modest man, spent more than a quarter-century as a baseball executive and played a major role in building four National League champions and three World Series winners. Devine left his biggest mark as the general manager of the St. Louis Cardinals, whose owner fired him in 1964 just as his years of work and patience were finally paying off. He made some of the most famous deals in baseball history, acquiring Lou Brock, dealing Steve Carlton, and trading Curt Flood, an event that changed baseball forever. Through it all, Devine maintained the respect of his peers and the knowledgeable people around the game who twice named him Executive of the Year.
Devine was born on March 1, 1916, in the St. Louis suburb of Overland, Missouri, to Grover W. and Pearl P. Devine. His younger sister, Barbara Alice, died at the age of 2 of scarlet fever, so he grew up an only child. His lifelong nickname, Bing, was given to him by his Aunt Daisy, who noticed the way he threw things around when he was a baby, making them go "bing" and "bang." "He's a binger!" she concluded.1 He was called Bing throughout his childhood, but the name faded away for several years until a college reporter told him he didn't like calling him Vaughan in the paper. Devine confessed to his old nickname, and it returned for the rest of his life. Bob Broeg, long-time sports editor with the St. Louis Post-Dispatch, called his friend "Der Bingle."
Devine's love of baseball, and all sports—he would have liked to play them every minute of the day—was no doubt influenced by his father, a big baseball fan who took his family on vacations often centered around St. Louis Cardinals road trips.. Before his senior year at University City High School in St. Louis he attended a four-week baseball camp in Hot Springs, Arkansas, that he later said was an important time in his life. "I got an inkling that maybe I wasn't as good as I thought I was," he recalled.2
He played baseball and basketball at Washington University in St. Louis, and is a member of their Sports Hall of Fame for his basketball exploits. While in college he edited the school newspaper and also wrote for the Watchman Advocate, a newspaper in the St. Louis suburb of Clayton. After his college years he still played amateur baseball around the city.
Upon Devine's graduation in 1938, his father helped him get a job interview with the Cardinals, who hired him as a part-time publicity man. In reality he did whatever needed to be done around the office, along with occasionally pitching batting practice. These were the Cardinals of Sam Breadon and Branch Rickey, though Devine's menial work did not get him much face time with his famous bosses. In 1941, the 25-year-old Devine became the general manager for one of the Cardinals' many minor-league teams, an Appalachian League club in Johnson City, Tennessee. Faced with a roster shortage due to the military draft, Devine signed himself to a player contract and played 27 games at second base. After hitting just .118, with no extra-base hits, and committing nine errors in 139 chances in the field (.935), he hung up his uniform.
While in Johnson City he managed to scout himself a life partner, meeting his future wife, Mary. At the time Mary was dating one of his players, whom Devine soon got rid of (or, at least, that's how he often related the story). After the season, on October 25, 1941, Devine and Mary were married, and honeymooned in Fresno, California, where Devine's career took him next. In 1942, he ran the Fresno club in the California League. When the league folded, Devine finished the season in Decatur, Illinois.
After three years in the Navy, all spent in Hawaii, Devine returned to the Cardinals' organization, spending two seasons running the club in Columbus, Georgia (Single-A South Atlantic League), and seven more in Rochester, New York (Triple-A International League). In Rochester Devine worked not only with many future major-league players, but also with managers Johnny Keane and Harry Walker, both future big-league managers with whom Devine would remain close. After a successful run in Rochester, including two league championships, Devine was promoted to the Cardinals in 1956 as general manager Frank Lane's assistant. This role did not give Devine much to do, since Lane did not involve advisers in his deal-making. "If Frank Lane didn't make a deal in a month," recalled Devine, "he'd be nasty, just like a smoker who needed a cigarette." 3
After the 1957 season Lane resigned and owner August "Gussie" Busch hired Devine to replace him. Devine held the job for nearly seven years. Lane had worked out a final deal in which the Cardinals would give up Ken Boyer, who Lane thought was soft. Devine nixed the deal, one of the best decisions he made in his career. Boyer went on to earn MVP honors in 1964,win five Gold Glove awards, and retire with the third highest slugging average by a third baseman.
In his memoirs, Devine credited Lane for instilling in him the willingness to take a chance, to be aggressive in making trades. Devine would never be the deal-maker that Lane was, but he thought Lane's example allowed him to not be afraid to make a trade that might be unpopular. Devine outlined his four rules to make a good trade4:
You've got to need the player.

You've got to have good reports from your scouts and talent evaluators.

You've got to have the guts to make the deal.

You've got to get lucky.
Unlike Lane, Devine sought and received a lot of input, and credited other people for his successful deals. Eddie Stanky became an important Devine adviser, as did Harry Walker and whoever the team's manager happened to be. Devine then had to consult with Busch's assistant, Dick Meyer, who would run everything past Busch. Unlike Lane, Devine developed a good relationship with Meyer and they became close friends. Devine felt that Busch had every right to want to be notified on possible deals, and the owner rarely interfered. In fact, if Busch expressed any misgivings, Meyer would likely as not lobby on Devine's behalf to get the deal approved.5
Devine made his first trade in December 1957, when he dealt three pitchers—only one of whom, reliever Willard Schmidt, had major-league experience—to the Cincinnati Reds for outfielder Joe Taylor and infielder-outfielder Curt Flood. Both acquisitions had limited major-league experience, but each had shown promise—Taylor as a slugger, Flood as a hitter and defensive player. Flood was just 19 at the time of the deal and had not yet played higher than Single-A. He would be slow to develop, but would turn into a good hitter and a great defensive center fielder.
Before the 1959 season Devine acquired first baseman-outfielder Bill White from the San Francisco Giants. White was caught in a logjam with the Giants—after a fine rookie year in 1956 he spent most of the next two seasons in the Army. When he returned, he had lost his first base job to Orlando Cepeda, and asked for a trade. Also arriving in 1959 was Bob Gibson, a fireballing right-handed pitcher the Cardinals had signed from Creighton University. Like Flood and White, Gibson was African-American, and the three men helped the Cardinals become a proudly integrated club filled with strong personalities, both white and black.
In 1959, at Busch's insistence, Devine hired Solly Hemus to manage the club, then experienced three difficult years filled with player turmoil. Midway through the 1961 season Devine was finally allowed to hire his own manager, and he chose Johnny Keane, a longtime friend and veteran of the Cardinals' organization. Devine continued to remake the roster, acquiring infielder Julian Javier from the Pirates in early 1960 and Dick Groat from the Pirates after the 1962 season.
Busch was frustrated that the club did not contend and began to put more pressure on his general manager. Notably, in late 1962 he hired Branch Rickey as an adviser who would report directly to the owner. One evening shortly after Rickey had joined the club, he asked Devine, "Are we going to have trouble if I'm here to run the club?" Devine boldly replied, "Mr. Rickey, we're not going to have trouble. We have trouble right now." Devine knew that his career was on the line, but he had no interest in playing second fiddle after so many years in charge. According to Devine, he and Rickey did not speak much after that. When a writer asked about the reported feud, Dick Meyer said, "Bing Devine is still the general manager."6 As it happened, Rickey advised Busch to veto the Groat trade, but Busch did not.
Despite the distractions in the front office, the Cardinals finally took a step forward in 1963, finishing second at 93-69. They drew to within one game of the Dodgers with 12 to play, but lost three straight to Los Angeles on the way to losing six in a row and finished six games out. The team's success was largely credited to Devine, whose trades were seen as the key to the team. This was especially on display in the All-Star Game, which featured all four Cardinals infielders (White, Javier, Groat, and Boyer) starting the game for the National League—three of them acquired by Bing Devine. After the season he was named baseball's Executive of the Year by The Sporting News.
The Cardinals began the 1964 season playing well, and were just one game behind the first-place San Francisco Giants on May 22. The team then slumped badly, however, dropping 17 of 23 games to fall seven games behind the front-running Phillies by the June 15 trade deadline. During the weeks leading up to the deadline Devine looked desperately for outfielders to acquire. The man he most wanted was Chicago Cubs outfielder Lou Brock, and Devine finally pulled off a deal: He sent pitchers Ernie Broglio and Bobby Shantz, and outfielder Doug Clemens to the Cubs for Brock and pitchers Jack Spring and Paul Toth. It became the most famous trade of Devine's career, and perhaps the best in Cardinals history. In Bob Gibson's words, "Presto, we were transformed." Batting second behind Flood, Brock hit .348 with 42 extra-base hits in 103 games to finish out the season.
Despite providing the final piece to his team, Devine would not be on the scene when the Cardinals tasted glory. On August 17 Busch fired Devine and hired Bob Howsam, longtime minor-league operator in Denver, at Rickey's suggestion. One thing that might have helped trigger the dismissal was an incident involving Keane and Groat in July. Keane had given Groat the freedom to call a hit-and-run play when he was batting, but after it failed a few times early in the season, Keane revoked the privilege. According to Gibson, Groat stopped talking to Keane and their feud divided the team for a while. Devine told Keane to hold a team meeting to air out the problem; Keane confronted Groat, and Groat apologized to the team, putting the issue to rest. Busch heard about the problem though (weeks after it had been solved), and took it as a sign that there were problems on the team that Devine was keeping from him.7
Devine, for one, believed he was dismissed mainly because of Busch's frustration over the performance of the team. Devine had been running the ballclub for nearly seven years and only once, the previous season, had it won more than 86 games. Now, with 1963's fine second-place finish appearing more like a fluke than a real step forward, Busch reconsidered the leadership of his team.
The 1964 Cardinals' final record, 93-69, was unchanged from 1963, though it was enough to win a thrilling pennant race; they went on to beat the Yankees in the World Series. When the season finished, Devine's role in creating the club began to take over the narrative. Keane, Devine's friend and hand-picked manager, resigned shortly afterward. The Sporting News named Devine the major-league Executive of the Year, as it had in 1963. Busch was humbled by the experience, and ordered Howsam to fire Rickey early in the offseason.
Devine spent the next three years with the New York Mets, two as George Weiss's assistant before becoming team president in 1967. In reality, he acted as the team's general manager for all three years, helping build the team that would win the World Series in 1969. A key to the Mets' eventual success was the acquisition of Tom Seaver. In early 1966 Commissioner William Eckert ruled that the Atlanta Braves had improperly signed Seaver, a pitcher for the University of Southern California, to a contract after the college season had begun. Eckert ruled that any team that wished to assume the terms of the contract, including a $50,000 bonus, could enter into a drawing. Devine successfully lobbied Weiss to enter, and the Mets were eventually selected among the three interested teams. Devine made important moves to further help the team, trading for Jerry Grote, Tommie Agee, and Art Shamsky, while keeping the organization focused on player development. He also lured Gil Hodges from the Senators to manage the club. Although the team was not yet winning, the pieces were falling in to place.
Meanwhile, back in St. Louis, Howsam left the Cardinals for the Reds after the 1966 season and was replaced by Stan Musial. After the Cardinals won the World Series again in 1967, Musial resigned his post and Dick Meyer suggested to Busch that he hire Devine to replace him. Busch had long regretted his decision to fire Devine, and quickly agreed. Convincing Devine was not difficult—he had been born and raised in St. Louis, and his wife and three daughters had remained there while Devine commuted to New York for three years. Devine eagerly agreed. He made few changes to the championship club that won another pennant in 1968, and remained at the helm for another 10 years.
One of Devine's least popular deals took place just prior to the 1969 season when he dealt first baseman Orlando Cepeda to the Atlanta Braves for Joe Torre. Cepeda was considered one of the leaders of the recent Cardinals squads, though Torre had more production left in him. After the season Devine then pulled off his most famous deal, a seven-player swap with the Phillies that sent Curt Flood and Tim McCarver to Philadelphia for slugger Dick Allen. Flood refused to accept the deal, however, and instead filed suit against baseball, a suit that he ultimately lost in the U.S. Supreme Court in 1971.
While Devine built a championship team during his first tenure with the Cardinals, his second tenure saw the team head in the opposite direction. One reason for the decline was Busch's inability to deal with the growing independence of his players, which led Devine to make several ill-conceived trades in the early 1970s. After winning 20 games in 1971, left-hander Steve Carlton asked for a big raise, and the negotiations were too much for the owner. Busch demanded that Devine trade him, and badgered him every day until he did—to the Phillies for Rick Wise. A few weeks later, Devine traded pitcher Jerry Reuss (to the Astros for Lance Clemons and Scipio Spinks) at Busch's insistence, reportedly because Busch did not like Reuss's facial hair. Carlton and Reuss went on to win a combined 450 games after their banishments.
Although the Cardinals remained on the fringe of contention for a few years in the early 1970s, they dropped to 72-90 in 1976 and then to 69-93 in 1978 despite new organization-developed stars like Ted Simmons, Keith Hernandez, and Bob Forsch. After the 1978 season Devine was fired again, this time for good.
Devine worked as a special-assignment scout for the Giants in 1979, and as vice president of player development for the Montreal Expos in 1980 and 1981. In 1981 he became the general manager of the St. Louis (and later Arizona) football Cardinals, a job he held for six years. He worked for the St. Louis Sports Commission for several years, but eventually returned to baseball's Cardinals as a special adviser in 2000.
Bing and Mary Devine raised three daughters—Joanne, Janice, and Jane—and stayed in Bing's beloved St. Louis. In 2004 Mary reflected on her then 62 years of marriage, and admitted to the sacrifices they had made while Bing traveled for half of the year. "We missed you, the girls and I, but we were proud of you. So has life in baseball been easy? Heck no! But has it been good? Definitely yes!"
Devine died at the age of 90 on January 27, 2007, in St. Louis. He was survived by Mary, his three daughters, eight grandchildren, and three great-grandchildren. What's more, he left behind an impeccable reputation around the game, especially in his native city. "Bing Devine put this organization on top," recalled Mike Shannon, who played for Devine's team and later worked in the broadcast booth for the club. "The Cardinals are class because of his class."8
This biography is included in the book "Drama and Pride in the Gateway City: The 1964 St. Louis Cardinals" (University of Nebraska Press, 2013), edited by John Harry Stahl and Bill Nowlin. For more information, or to purchase the book from University of Nebraska Press, click here.
Notes
Born
March 1, 1916 at Overland, MO (US)
Died
January 27, 2007 at St. Louis, MO (US)
If you can help us improve this player's biography, contact us.
https://sabr.org/sites/default/files/DevineBing.jpg
600
800
admin
/wp-content/uploads/2020/02/sabr_logo.png
admin
2012-01-01 00:00:00
2021-09-24 13:43:39
Bing Devine