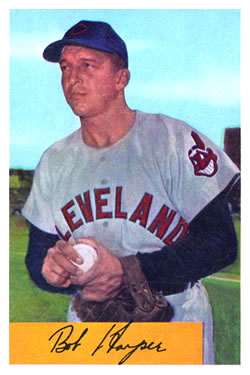 ---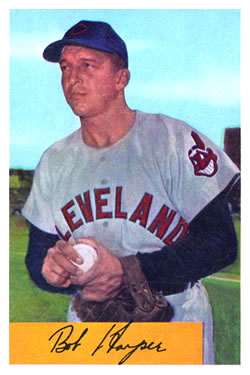 It was the kind of trade that barely got noticed. A few lines buried within the stories of the daily newspaper and perhaps mentioned in the "transactions" column in the back of the sports section. During the season it might have been mentioned on the local sportscast, with some statistics mixed in. But the news that Cleveland had traded pitcher Dick Rozek and a minor-league player to the Philadelphia Athletics for pitcher Bob Hooper barely caused a ripple. It was, after all, December 19, 1952, and even baseball fans were more caught up in the hustle and bustle of the holiday season than the swap of a little-used pitcher (Rozek) and a minor-league infielder (Bobby Wilson) for a pitcher with a history of arm trouble (Hooper).
The Indians were in position to challenge the New York Yankees for the American League flag in 1953. Their staff had boasted three 20-game winners in 1952 (Bob Lemon, Mike Garcia, and Early Wynn). Tribe skipper Al Lopez was forced at times to use the Big Three, as they had come to be known, in various relief roles. He was hoping that the addition of Hooper and perhaps Dave Hoskins would improve the team's second-line pitching.
The Indians found out soon enough how their new pitcher would fare. Cleveland opened the 1953 season in Detroit, winning the opener 6-0. In the second game, both teams were swinging the lumber, and the score was 9-8 in favor of the Indians at the end of five innings. Starting pitcher Mike Garcia gave up seven runs in four innings, and relief man Ted Wilks pitched a scoreless fifth inning.
Into the game came Hooper. He shut the door on the Tigers, surrendering just two hits over the final four frames. Hooper showed some moxie in the eighth inning. The Tigers' Owen Friend hit a shallow fly ball to center field. Center fielder Larry Doby, second baseman Bobby Avila, and shortstop Ray Boone all converged on it. None of the three could make the play, and Friend, seeing that second base was unguarded, raced to the bag. Hooper hustled to the base and took the throw from Doby. He applied a backhand tag on Friend, erasing the runner for the third out. He was awarded the victory in relief. "See, I told you," said Hooper. "I told you that when the season started my arm would be good and strong. My arm feels fine. No pain at all."[fn]Hal Lebovitz, "Hooper's Pitching Lifts Tribe's Hopes for Stronger Bullpen," Cleveland News, April 17, 1953.[/fn] Lopez, who had intended to use Hooper for only an inning or two, was elated with his new pitcher's early success. "It was one of those games that could have gotten away and have been a pain to remember later on," said Lopez. "We've had too many like that the last two years. Hooper landed this one."[fn]Frank Gibbons, "Bullpen Bonfire Kept Hooper Hot," Cleveland Press, April 17, 1953.[/fn]
Robert Nelson Hooper was born on May 30, 1922, in Leamington, Ontario. It is unclear what circumstances brought Hooper to live in New Jersey with his uncle and aunt, Mr. and Mrs. William Herdman. The Herdmans lived in South Orange, where William made a living as a butcher.[fn]United States Census, 1940. [/fn] Hooper attended grade school and then Columbia High School, both in South Orange.
Hooper was signed by the New York Giants out of high school. Over the next two years he played for five teams in leagues ranging from Class D to A-1 (he played for four of the teams in 1942), with a 10-9 won-lost record. He served in the US Army Air Corps from 1942 to 1945, training as a pilot.
After he was discharged from the service, Hooper returned to the Giants farm system. He was unable to post a winning record until 1948, when he went 20-9 with a 2.45 earned-run average at Jacksonville of the Class A South Atlantic League. After that breakout season, he was drafted by Detroit and was assigned to the Buffalo Bisons of the International League, where he went 19-3 in 1949, including an 11-game winning streak as the Bisons, managed by Paul Richards, finished in first place but lost to Montreal in the playoff finals.
Hooper got a break when the Philadelphia Athletics purchased his contract after the season. Three of the starters on manager Connie Mack's mound corps were southpaws (Bobby Shantz, Lou Brissie, and Alex Kellner) and Mack was looking to even the rotation out with a right-hander. Not only did Hooper start 20 games in 1950, he relieved in 25 others, earning him the nickname the Leamington Workhorse.
The Athletics were 52-102, finishing in last place in the American League. Of those 52 victories, 15 belonged to Hooper, who was the only Athletics pitcher to record double-digit wins. (11 of his victories came against second-division teams.) He also showed control problems, walking 91 in 170 innings while striking out 58 batters. It was a trend that would hamper him for most of his major-league career.
Hooper developed a sore arm in spring training in 1951 that was brought on by a pinched nerve. It became a yearly occurrence that he would develop arm trouble of some sort in camp after the offseason. The Athletics improved to 70-84 in 1951 under new manager Jimmy Dykes (Mack had retired), and Hooper was 12-10, lowering his walk total to 61 in 189 innings. He was a thorn in the side of Chicago and his old friend, White Sox manager Paul Richards, that season. He stopped Chicago's 14-game winning streak on June 2, scattering five hits and striking out three in the 5-1 win. On June 15 he stopped the Chisox again, halting their road winning streak at 15. This time Hooper went into extra innings in the 4-3 Athletics win. On July 15, with Chicago trailing league-leading Boston by one game, Hooper shut down the White Sox yet again. He surrendered one unearned run in a 3-1 victory. His three-run homer with two out in the top of the ninth backed his fine, pitching performance.
"He helped me, I'll tell you," said mound mate Joe Coleman. "He taught me how to throw a slider, and he had a great one. It's thrown like you throw a football. You grip down on the outside of the ball and the ball slides across the plate. To the batter, it looks like a fastball, and then all of a sudden, it's gone."[fn]Jim Shearon, Canada's Baseball Legends (Kanata, Ontario: Malin Head Press, 1994), 129-131. [/fn]
Hooper's 12-victory season was the last in which he reached double digits in the win column. He suffered constant shoulder and arm injuries that earned him more innings coming out of the bullpen than as a starter. "Towards the end of his career he had shoulder problems," said Joe Coleman. "That bothered him a lot. It's what they call rotator cuff today. They didn't have a cure at that time. Today they can take care of it in no time."[fn]Ibid.[/fn]
After he was traded to Cleveland, Hooper was given cortisone shots that relieved his pain for a brief time. But the Indians were hoping Hooper would give them some productive innings in relief, as their starting rotation was not only set, it was supreme. "Those guys won 20 games a year. The only time you could pitch for them was in doubleheader,"[fn]Ibid.[/fn] a said outfielder Barney McCosky, a teammate of Hooper's in both Cleveland and Philadelphia.
In 1953 Cleveland finished second to New York for the third consecutive year, Hooper contributing five victories, all in relief. The next season the Indians finally knocked down the Yankees' door, breaking through with a then-record 111 victories (43 losses) and winning the American League pennant. Hooper appeared in 17 games, but did not record a decision. He was seeing less time with the emergence of Don Mossi and Ray Narleski getting regular calls from the bullpen by manager Lopez. Nor did he make an appearance in the World Series against the Giants, who swept Cleveland in four games.
Cincinnati purchased Hooper's contract just before the 1955 season. "Both Birdie (Tebbetts) and I think Hooper's worth the gamble, said Reds general manager Gabe Paul. "Birdie, you know, played on the same club with him and knows what t But Hooper was ineffective for the Reds. He made his last major-league appearance on May 14 in relief against the Brooklyn Dodgers. He surrendered six hits, three walks, and seven runs in just two-thirds of an inning. His career record was 40-41 with an ERA of 4.80.
Meanwhile, Hooper's old friend Paul Richards had been named general manager in Baltimore in an effort to right the Orioles' losing ways. Richards was given complete control of the baseball operations, and hired Hooper to manage in the minor leagues. From 1957 to 1960, Hooper managed Baltimore farm teams in the lower minors.
After his days were done on the diamond, Hooper returned to New Jersey. During his playing days he had taken courses at the Panzer College of Physical Education. He received a bachelor's degree in education from Panzer, which has since merged with Montclair State University. Hooper taught physical education at the Washington School in New Brunswick and at New Brunswick High School until he retired in 1979.
Hooper died on March 17, 1980, after a heart attack. He was survived by his wife, Helen Coyle Hooper, and their daughter, Barbara.
This biography is included in the book Pitching to the Pennant: The 1954 Cleveland Indians (University of Nebraska Press, 2014), edited by Joseph Wancho. For more information, or to purchase the book from University of Nebraska Press, click here.
Born
May 30, 1922 at Leamington, ON (CAN)
Died
March 17, 1980 at Brunswick, NJ (USA)
If you can help us improve this player's biography, contact us.
http://sabr.org/sites/default/files/HooperBob-1954-Topps.jpg
600
800
admin
/wp-content/uploads/2020/02/sabr_logo.png
admin
2012-01-04 20:35:40
2012-01-04 20:35:40
Bob Hooper