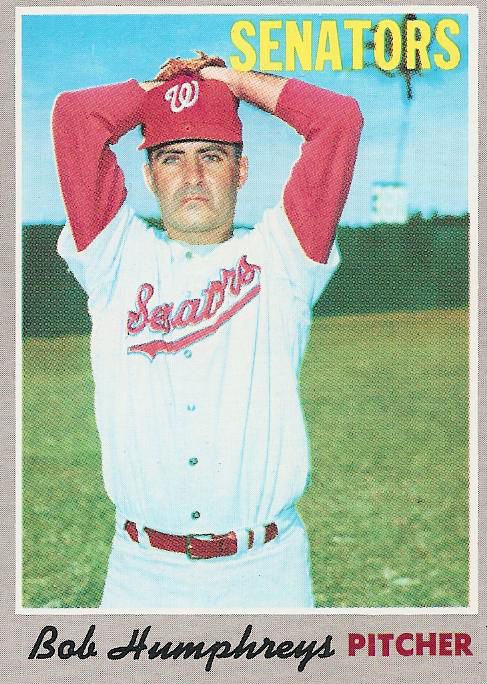 ---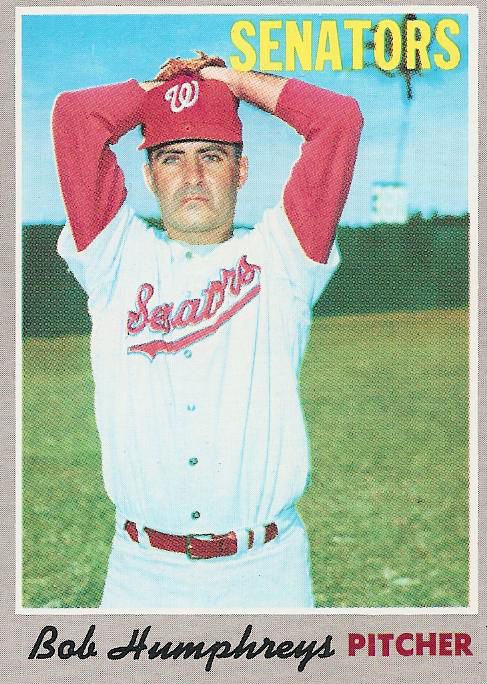 "YOU CAN'T MAKE IT!" Bob Humphreys once wrote that in large letters on the wristband of his baseball glove. The words summarized an early 1963 evaluation of his pitching skills by a major-league team.1 Although the glove subsequently wore out in 1963 winter ball,2 Humphreys continued to use those words as a motivator to fashion a nine-year major-league pitching career, including a trip to the World Series with the 1964 St. Louis Cardinals. Humphreys later identified "playing in the '64 World Series with St. Louis," as his outstanding baseball achievement.
Robert William Humphreys was born on August 18, 1935, in Covington, Virginia. His father, Russell, worked as a contract hauler. Bob had three sisters, Sylvia, Betty, and Linda.
In 1954 he graduated from Montvale (Virginia) High School, where he played baseball and basketball. In his junior and senior years his team won its baseball district title. In the fall of 1954 he entered nearby Hampden-Sydney College, where he lettered in both baseball and basketball for the Hampden-Sydney Tigers and, as a pitcher and third baseman, was the team's most valuable baseball player for two of his four seasons. After suffering a serious eye injury in batting practice that could have ended his baseball career, Humphreys concentrated on pitching, and in 1957 and 1958 he made the All Mason-Dixon Conference baseball team. During the summers, he played semiprofessional baseball in the Roanoke and New Market (Virginia) areas.
Standing 5-feet-11 and weighing 165 pounds, Humphreys was not as physically imposing as many pitchers. Instead, he relied on his intelligence and moxie. In his senior year he began using what he called a "weird" pitching windup. Hiding the ball in his glove with his hands together, he pumped pendulum-style in a wide arc to a point behind his right hip, then fired. The unorthodox motion was sometimes characterized as his "rocking chair." His approach emphasized hiding the ball from hitters as long as possible. It was successful enough for him to use throughout his major-league career.3
Off the diamond, Humphreys was elected vice president of his senior class. He graduated from Hampden-Sydney with a bachelor's degree in liberal arts. In 1988, during the inaugural year, Hampden-Sydney inducted him into its Athletic Hall of Fame.4
After Humphreys graduated, Detroit Tigers scout Frank Skaff signed him to a contract for a $1,000 bonus and a $250-a-month salary, and he broke in with Montgomery of the Alabama-Florida League (Class D), where he pitched 126 innings and posted a 10-5 record with a 2.29 earned-run average. After the 1958 season he fulfilled his military obligation, serving with the Marines for six months. Then from 1959 through 1961 he worked his way up through Detroit's minor-league system, pitching for Durham in the Carolina League (Class B), Victoria in the Texas League (Class AA), Knoxville in the Sally League (Class A), and Birmingham in the Southern League (Class AA), pitching both as a starter and in relief. (At Knoxville, Humphreys pitched what would be a career-high 169 innings.)
Humphreys began the 1962 season with Denver in the Triple-A American Association. Used exclusively in relief, he appeared in a career-high 58 games and posted a 9-7 record with a 2.88 ERA. His solid performance earned him a late season call-up to the Tigers, where he made his major-league debut on September 8, 1962, in Detroit. Entering at the beginning of the eighth inning with the Tigers losing 8-2 to the Minnesota Twins, he gave up a single to Earl Battey,the first hitter he faced, and a subsequent double and an infield single plated another Twins run. Despite giving up a three-run homer in the ninth inning, Humphreys earned his first major league save the next day.
Two days later, against the New York Yankees, Humphreys entered the game in the ninth inning with the score tied, 9-9 and two Yankees on base. He promptly got Clete Boyer to hit into a double play. In the tenth, though, Yogi Berra hit a home run and Humphreys suffered his first major-league loss.5
By the end of the season he had pitched a total of five innings in four games, posting a 0-1 record with a 7.20 ERA.
After the season the Tigers embarked on a six-week exhibition tour of Japan. After two Tigers pitchers dropped out, Humphreys was added to the group, and was able to take his new bride, Tania Lee Taylor, along. They were married on October 6, 1962. "Quite a week for me," he exclaimed. "I never thought I'd be taking a honeymoon trip to Hawaii, Japan, and places like that."6 (The couple had two daughters, Kristina and Kari, and a son, Scott.) However, Humphreys pitched only five innings on this trip, signaling the beginning of the end of his time with the Detroit organization. During spring training in 1963 Humphreys saw no action, and eventually the Tigers informed him that he was being returned to the minors "because we have too many pitchers like you." That led him to write "YOU CAN'T MAKE IT!" on the back of his glove. "Every time that glove goes up before my eyes," he said later, "I seem to pitch just a little bit harder."
Although Humphreys' time with the Tigers ended on a sour note, he received important help from a teammate, pitcher Frank Lary, who taught him how to throw a slider/cutter. When Humphreys subsequently hurt his elbow in 1965, he was forced to rely heavily on the slider/cutter, which became his best pitch.7 Later, after an arm injury, he came to rely on a knuckleball.
On March 25, 1963, instead of farming Humphreys out, the Tigers sold him to the St. Louis Cardinals. .The Cardinals' Eddie Stanky had scouted Humphreys at Denver and liked him. He was assigned to their Triple-A team in Atlanta where, working in relief he posted a 5-1record with a 1.13 ERA before being recalled by the Cardinals in late May. (Before he left Atlanta, Humphreys was taught by teammate Bobby Tiefenauer how to throw the knuckleball, which helped extend his career later when he suffered a shoulder injury.8)
On June 28 Humphreys suffered a torn lumbar muscle and a tear in the abdominal wall, and was sidelined for nearly a month. He was later optioned back to Atlanta and ended with a 7-2 record and 1.92 ERA for the Crackers. During the International League playoffs, Bob was pitching in relief when him manager, Harry Walker, moved him to left field for one hitter. Humphreys then returned to the mound and struck out two more batters to save the game. Bob was brought back to St. Louis and appeared in one more game before the season ended. In all, for the Cardinals, he pitched in nine games, posting an 0-1 record and a 5.06 ERA.
Like many major league players at the time, Humphreys played winter ball in the Dominican Republic to supplement his income. In later years he said his success facing major leaguers in winter ball boosted his confidence. In 1963, he played for the Licey team managed by Cardinals third-base coach Vern Benson.
In 1964 Humphreys was back in Triple-A, with Jacksonville. Once more he began fast, posting a 6-2 record with a 3.07 ERA, and when the Cardinals needed pitching help, they brought him back to the major leagues at the end of June. He saw his first action on July 2 against the Braves in Milwaukee, holding them scoreless and hitless, for three innings and earning a save. His first victory came over the Chicago Cubs on September 6 in St. Louis. Entering the game in the tenth inning with runners on second and third and no one out, he held the Cubs scoreless. He did the same in the 11th, and got the win when the Cardinals scored in the bottom of the inning. The win was particularly special for Humphreys because it was the first time his father saw him pitch in the major leagues. The elder Humphreys had driven from Virginia to see the game.
Three days later Humphreys won his second game, holding the league-leading Phillies scoreless in the 10th and 11th innings as the Cardinals rallied for a come-from-behind victory. In the top of the 11th inning, Humphreys got his first major-league hit and RBI with a solid single to center field scoring Javier from second base.
Humphreys made one appearance in the World Series, pitching a scoreless ninth inning during the Game Six loss to New York. His teammates voted him a three-quarters share of the players' World Series money. During the regular season, Humphreys appeared in 28 games going 2-0 with a 2.53 ERA.
Shortly after the World Series, Humphreys went back to the Dominican League. During the 64-game season, he pitched 99⅔ innings in 44 games, a workload he characterized as "not too smart," because he injured his elbow. Some good came out of his misfortune. Because his curveball put a lot of stress on his elbow, Humphreys began relying more on the cutter/slider he had learned from Frank Lary while with the Tigers, and it became his best pitch.
On April 7, 1965, the Cardinals traded Humphreys to the Chicago Cubs, who already had a deep bullpen headed by Ted Abernathy and Lindy McDaniel. Pitching mostly in middle relief, Humphreys made 41 appearances for the Cubs totaling 65⅔ innings. He won two games but had no saves. His ERA was 3.15.
At the end of the season Humphreys asked Cubs General Manager John Holland to trade him. He said he did not enjoy pitching in Chicago because of all the day games. Just before the end of spring training on April 2, 1966, the Cubs traded Humphreys to the Washington Senators where, after being on three major-league teams for parts of five seasons. he found some stability. Except for a two-game stay in Buffalo in 1968, Humphreys stayed with the Senators for four full seasons and part of another (1966-1970), pitching 396 of his 566 major-league innings. In 1966 he reached highs in appearances (58) and innings pitched (111⅔). He won seven games (three in five days in August) and saved three, a solid record for a club that finished eighth in the American League with a 71-88 record.
During the remainder of his time with the Senators (1967-part of 1970), Humphreys was 14-12 for Senator teams that posted a combined 253-287 record. While in Washington he was the team's player representative, an important but thankless job. During several off-seasons, he also worked in the Capitol Hill office of a Virginia congressman.
Before the 1970 season Humphreys began light training at a University of Maryland indoor facility. One day the Maryland baseball coach asked him to demonstrate his breaking ball for his pitchers. Humphreys promptly re-injured his right elbow. Then he tore a muscle in his right shoulder during spring training, and the Senators sent him to Denver. After he returned, he pitched 6⅔ innings in five games with a 1.35 ERA before Washington suddenly released him on June 13. Humphreys later described himself as the "most surprised man around" when the team let him go.
Humphreys wasn't jobless for long. On June 15, he signed with the Milwaukee Brewers. Milwaukee manager Dave Bristol liked him. "He's a competitor," Bristol said. "He can pitch his way out of a jam, and that's the kind of performance our club needs." Bristol told Humphreys to use his knuckleball as his primary pitch.9 Humphreys did, and with good results. In his first seven appearances he notched three saves and one victory. By the end of the season he had appeared in 23 games, pitching 45⅔ innings with a 3.15 ERA and a 2-4 record. Win number two came in his last major-league appearance, and it was in an unaccustomed role. He started the second game of a doubleheader against the White Sox in the last week of the season and pitched five innings, allowing one run in the Brewers' 3-2 victory.
Of the 319 major-league games Humphreys appeared in, all but four were in relief. In his major-league starts, including his swan-song appearance with the Brewers in 1970, he was 3-1 with an ERA of 0.95.
The Brewers released Humphreys near the end of spring training in 1971. He caught on with the Brewers' Triple-A affiliate in Evansville (American Association). He pitched in 10 games, recording a 1-2 record with a 7.11 ERA. Frustrated with his performance, Bob asked his manager, Del Crandall, for his release, and his request was granted. That was the end of the road for Humphreys as a player. In 15 seasons in professional baseball, he had appeared in exactly 600 games and pitched 1,392⅔ innings.
From 1974 to 1978 Humphreys was the baseball coach at Virginia Tech University. During his five-year tenure, his teams won 135 games and lost 60, twice making the NCAA regional playoffs, and winning 31 games in a row in 1977. Humphreys acknowledged that he wanted to get back in the major leagues as soon as possible. "The job at Virginia Tech is a great opportunity," he said, "but I'd leave tomorrow for a job in the majors." He got his wish in February 1979 when the Toronto Blue Jays hired him as a minor-league pitching instructor. In 1981 Humphreys managed the Blue Jays Triple-A affiliate in Syracuse. The team finished 60-80, and Humphreys went back to instructing the Jays' minor-league pitching prospects. From 1984 through 2004 he was a minor-league pitching coach for Baltimore, Milwaukee, and St. Louis, with two years out (2000-2001) while he recovered from major knee surgery. He also spent 13 years as a pitching coach in winter ball in Venezuela.
In 1983 Humphreys married his second wife, Genevieve Stanley Wood of Bedford, Virginia. The couple honeymooned in Medicine Hat, Alberta, one of the places he visited as the Jays' minor-league pitching instructor.
In early 2011 Bob was living in Bedford, in southwestern Virginia, where he was active in several community organizations and enjoyed playing golf.
Asked in a questionnaire during his career whether, if he could do it all over, he would still play professional baseball, Humphreys responded, "Definitely yes."10
Notes
Born
August 18, 1935 at Covington, VA (USA)
If you can help us improve this player's biography, contact us.
https://sabr.org/sites/default/files/HumphreysBob.jpeg
600
800
admin
/wp-content/uploads/2020/02/sabr_logo.png
admin
2012-01-04 20:39:08
2021-09-24 08:00:05
Bob Humphreys