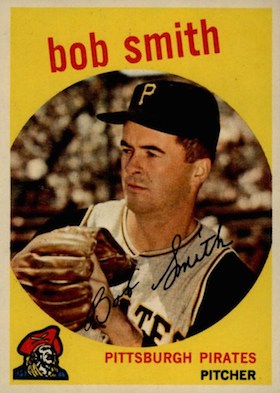 ---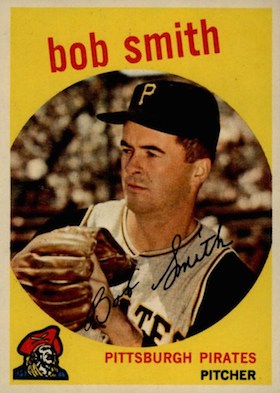 In the early 1950s, the Boston Red Sox had two left-handed pitchers named Bob Smith in their system. They both batted right-handed and they both were about the same height and weight. Robert Gilchrist Smith was the first one signed, in 1948. In 1951, the Sox signed Robert Walkup Smith.
The Smith we write about here was Robert Gilchrist Smith, born on February 1, 1930, in Woodsville, New Hampshire. Woodsville is a "census-designated place" – a village – in the town of Haverhill, New Hampshire, situated on the Connecticut River bordering the state of Vermont about 40 miles east of Montpelier and 40 miles north of Hanover. The village had about 1,100 population in 2010 but had produced two major-league players, Smith and Chad Paronto, as well as John Bagonzi, who signed a Red Sox contract and pitched in their farm system and later was baseball coach for Woodsville High School and Plymouth State University.
Smith's parents were Henry and Hazel (Beattie) Smith. Henry was a Vermonter who worked as a bank cashier in Grafton, New Hampshire. At the time of the 1930 census, he and Hazel had two children – Constance and her younger brother Robert. They were prosperous enough to have a 21-year-old live-in servant, Eva Lamarre. As a kid, Smith sometimes made the 140-mile trek with his father to Fenway Park to see his favorite Red Sox play.1
He played American Legion ball and three years of semipro ball in northern New Hampshire, in Lincoln and Woodsville. He'd been an All-State basketball player for Woodsville High in 1947. He was captain of both the baseball and basketball teams for two years in high school.
Smith graduated from Woodsville High School in the Class of 1948 and was signed to a professional baseball contract on June 17. Somewhat earlier he had traveled to Boston to an open tryout for the Boston Braves. He wasn't selected, but said he picked up some valuable suggestions offered him by Warren Spahn. "He gave me an education in pitching I haven't forgotten."2 He progressed to the point that a Red Sox scout, perhaps Joe Brawley, signed him.3
Smith reported attending the University of New Hampshire for one year.4
His results in his first year were not at all encouraging. He pitched in 16 games for the Wellsville (New York) Red Sox in the Class-D PONY (Pennsylvania-Ontario-New York) League. His record was 0-6, and his ERA was a worse-than-mediocre 7.95. Perhaps it was his youthful age and something the coaches had seen in him that warranted bringing him back for another year in the league, this time with the Hornell Maple Leafs (the Red Sox had made Hornell their affiliate, in place of Wellsville) in 1949. His second year – 1949 – saw him with an ERA of 5.32 and a record of 8-10.
The year of experience must have helped. Bumped up to Class-C ball and pitching in 1950 for the Oneonta Red Sox in the Canadian-American League, he was 13-5 (reflecting a stronger team, of course), but with an improved ERA of 3.65. In 1951 he pitched in Class B (Roanoke) and, very briefly, in Class A (Scranton). The time with Roanoke (153 of his total of 173 innings) saw him maintain his earned run average (3.71), despite a 6-14 record.
It was during the 1951 season that the Red Sox signed another Bob Smith – the one from Missouri – who was just finishing up at the University of Missouri Columbia.
In early February 1952, Smith reported to the Red Sox and pitched in Sarasota during an intramural "Sophomores" versus "Junior Varsity" team at Payne Park. But the Korean War was on in earnest, and Smith found himself out of baseball and in military service for the full seasons of 1952 and 1953. A photograph of U. S. Army Sgt. Smith examining the arm of Red Sox pitcher Dick Brodowski at the Newark, New Jersey, induction center ran in the December 4, 1952, Boston American.5 In September 1952, he had married Carol Whitcomb.
Once he had completed his term of duty, Smith returned to baseball and the Red Sox assigned him to the Shreveport Sports in the Double-A Texas League. The time off hadn't hurt him at all. The Sports finished first, and Smith was 13-5, with a league-leading 2.89 ERA. His personal best for strikeouts was 13 in a game against Fort Worth.
It was no surprise when he was brought to Sarasota for spring training 1955. Along with fellow New Englander Harry Agganis, he boarded the "Red Sox Special" train out of Boston's South Station. He impressed manager Pinky Higgins with his "control and poise" and was rated "the most pleasant surprise in the Red Sox camp."6 And the Red Sox needed left-handers. He made the team.
Smith had his major-league debut on April 29, at Comiskey Park in Chicago. The White Sox had a 5-0 lead in the bottom of the sixth, and they had runners on first and second with one out. Smith was brought in from the bullpen, the third pitcher of the game for Boston. He walked Nellie Fox to load the bases, then Minnie Minoso hit a single to left field scoring the two inherited runners. There was a caught stealing and then George Kell grounded out to end the inning. In the seventh he retired all three batters on fly balls, two of them caught by infielders. He was replaced by a pinch-hitter (Agganis) in the top of the eighth. At long last, he'd achieved his childhood dream of pitching for the Red Sox. It was the one and only time he did.
On May 11, without appearing in another game and when it was time to cut back rosters, he was sent to Louisville. There he pitched well again, 10-6 with a 2.48 ERA.
In 1956 the Red Sox placed him with the San Francisco Seals. The "other Bob Smith" had been signed by the Red Sox in 1951, and had been to Scranton, Roanoke and Albany, joining Louisville in 1952. Both Bob Smiths were on the Louisville team in 1955 and in San Francisco in 1956. (Some Boston fans no doubt still remembered yet another Bob Smith, who had pitched for the Boston Braves 1925-30 and 1933-37.)
Robert G. Smith didn't think he was going anywhere, and he was bitter. In March 1956, he said, "They've just given me the word. I'm 26 years old. I'm not a rookie any longer. I still think I can make it. But they don't think so. They win the argument. They always do."7 He was 8-11, 4.38 with the Seals. At the Winter Meetings, he was not protected and was given new life when on December 3 he was taken by the St. Louis Cardinals in that year's Rule 5 draft. Robert Walkup Smith returned to the Seals in 1957 and eventually made the Boston Red Sox in 1958.
As for Robert Gilchrist Smith, he appeared in six games for St. Louis in 1957. He had no decisions, but did have one save and one blown save, the latter coming on a groundball he had induced, which was misplayed by the shortstop, allowing the tying run to score in the bottom of the ninth in Pittsburgh. It was the only batter he faced in the game. The very next day, May 1, he worked 2 1/3 innings of one-hit ball against the Pirates, earning a save.
On May 12, Pittsburgh purchased his contract from the Cardinals. He appeared in 20 games, mostly in relief. He had one spot start in early June, which resulted in a no-decision, but was 0-3 in relief until given a second start on September 8 in the second game of a doubleheader against the Phillies. He won that game, working a complete game, 6-2, with eight hits, one base on balls, and six strikeouts. It was his first major-league win. "I've been ready to pitch all year," he said, "and just needed a chance."8
Five days later, he got another, a 2-1 win over the Cubs at Wrigley, allowing four hits in the eight innings he worked. His third and final start of the season was in Cincinnati. He worked 8 1/3 innings in a game that was tied, 1-1, heading into the bottom of the ninth. Smith had been the last batter in the top of the ninth but manager Danny Murtaugh let him hit for himself and he struck out. To that point, Smith had only given up one base hit. In the bottom of the ninth, he struck out the first batter, but then gave up two singles, walked a batter intentionally, and gave up a game-winning RBI single to Smoky Burgess, pinch-hitting for Reds pitcher Brooks Lawrence.
In the 55 innings he worked for the Pirates in 1957, he had an ERA of 3.11. A couple of injuries, one of which occurred when he was struck by a pregame practice pitch on August 17, kept him from getting more work.
They brought him back in 1958 and he worked in 35 games, with four starts in the first part of the season. He was 0-2 as a starter and 2-0 as a reliever, finishing with an ERA of 4.43.
In 1959, Smith appeared in 20 games, all in relief and without a decision, and pitching well enough, with a 3.49, but the Pirates placed him on waivers and he was selected by the Detroit Tigers on June 13. He had been Harvey Haddix's roommate at the time Haddix pitched his 12-innings of no-hit ball. Smith did not pitch well for the Tigers. In nine relief stints, he lost one game in extra innings and blew leads in two more, with an 8.18 ERA and a record of 0-3 over the nine appearances. After the first two of the three losses, he had been sent to Triple-A Charleston (West Virginia), where he appeared in 11 games before being recalled in September. (For what it's worth, Robert Walkup Smith was with the Cleveland Indians during the time Robert Gilchrist Smith was with the Tigers, but they never worked in the same game. There was once, on July 12, when Robert Walkup Smith worked in a game against the Tigers, but Robert Gilchrist Smith remained in the Detroit bullpen.)
Smith was assigned to the Denver Bears in October and spent 1960 pitching for the Bears, mixing 11 starts and 23 relief appearances and coming up 5-5, 4.23. The Bears won the American Association pennant. Starting in the playoffs, Smith won two more games against Houston, and lost a 2-1 game to ultimate champion Louisville. (In the Little World Series, Robert Walkup Smith pitched for Toronto and helped the International League team beat the American Association's Louisville Colonels.)
In 1961, still on a Denver contract, he found himself something of a man on the move, working in the minor leagues for three different teams – Louisville, Columbus, and Rochester – for three different big-league affiliates (the Braves, Pirates again, and the Orioles).9
In 1962 his contract was purchased by the Hawaii Islanders, a Los Angeles Angels farm team in the Pacific Coast League.10 He was 7-7, 5.13, in 37 games (17 starts).
His last two seasons saw him back in the Boston Red Sox system, with the Seattle Rainiers (also in the PCL) in 1963 and 1964. He worked exclusively in relief, appearing in 103 games over the two years with winning records both times and reasonably good earned run averages – 2.52 and 3.94. They were his last two years in baseball.
After his time in baseball, Smith took up work as a purchasing manager for Georgia Pacific in the pulp and paper industry.11
Smith was married later in life, to Anita Steinberg of Stafford, Texas, in July 1985 at New London, Connecticut. The couple lived in Texarkana, Ark., and in retirement moved to Gulf Breeze, Florida, and in 2000 to Aiken, South Carolina.12
Bob Smith died in University Hospital at Augusta, Georgia, on April 1, 2013. He is buried in North Monroe Cemetery, Monroe, New Hampshire.
Sources
In addition to the sources noted in this biography, the author also accessed Smith's player file and player questionnaire from the National Baseball Hall of Fame, the Encyclopedia of Minor League Baseball, Retrosheet.org, Baseball-Reference.com, Rod Nelson of SABR's Scouts Committee, and the SABR Minor Leagues Database, accessed online at Baseball-Reference.com.
Notes
Born
February 1, 1930 at Woodsville, NH (USA)
Died
April 1, 2013 at Augusta, GA (USA)
If you can help us improve this player's biography, contact us.
http://sabr.org/sites/default/files/SmithRobertG.jpg
600
800
admin
/wp-content/uploads/2020/02/sabr_logo.png
admin
2016-12-22 13:19:02
2016-12-22 13:19:02
Bob Smith